Recently, Amazon came with the following dynamic updates on some of its policies.
As the leading sourcing agency in China, Leelinesourcing gives you a summary of Amazon's policies changes.
It is our hope this will help you understand the Amazon market better and make good preparation to sell.
1. Amazon cancels online customer service
The online customer service function cannot be found in the seller support interface in the background of Amazon. Although some accounts still have the chat button, no one responds when you open a case. However, phone calls and emails are still available. Without the chat feature, it is very inconvenient for sellers to reply to emails for at least half an hour.
In response, a seller chatted with an online customer service representative who had not previously been canceled. The representative said that in a survey made by Amazon, email and phone calls were faster ways to solve the problem. Time should be part of the cancellation of the chat function, the full cancellation time is tentatively scheduled, and there should be specific notice by then.
2. Amazon Turkey station will be operational by the end of September
Amazon Turkey station will be officially launched in late September and early October. In addition, according to relevant foreign media sources, after Amazon Turkey launches its online operation, it will promote two key categories of books and electronic products. It is worth noting that Turkey, as an important country along China's "One Belt And One Road" policy, has become a new blue sea market that attracts the attention of cross-border e-commerce under the premise of national policy support and Turkey's own advantages.
3. Amazon launches Hindi language website and APP operation
Amazon made its first foray into the Hindi market, building its own website and apps in Hindi. Soon, users of Indian sites or applications can choose Hindi as their preferred language. If the Hindi version of its website and app is successful, Amazon will plan to quickly add shopping options for other major Indian languages, such as Bengali, Tamil, and Telugu, which dominate outside the Hindi belt.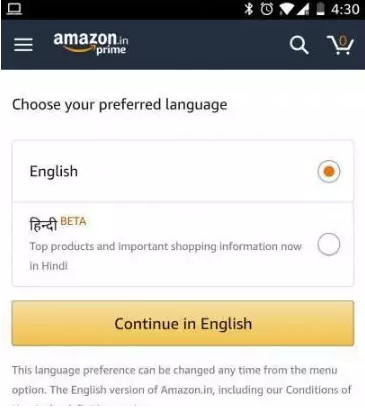 Amazon has ambitions to expand its business in India and get the upper hand in its battle with Flipkart. So far, Amazon's e-commerce site in India only supports English pages. This puts it at a disadvantage in a market with the world's second-largest number of Internet users. It is crucial for Amazon to create a Hindi site that goes beyond the English version. India has become one of the world's fastest growing e-commerce markets, and the market share is expected to grow to $70 billion to $80 billion by 2020.
4. Add new comment keyword scores to Review
Some sellers said that their Review had changed, and a column of evaluation scores classified according to their characteristics added below the score. This category is automatically graded by the system from the keywords of all comments. However, at present, this change is only for household products. Other categories are yet to change.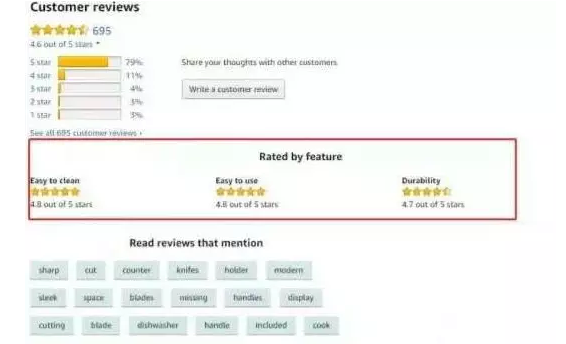 This function directly let consumers see the characteristics of the product and to some extent can promote impulse buying. This reduces the buyers' attention to negative comments. However, there are certain requirements for the content of the review. If the review does not involve such content, the system cannot recognize it. Therefore, this kind of "keywords" can be appropriately added during operation evaluation according to product features.
5. Amazon ads will be reprogramed
There will be a big change in the Amazon Advertising module in the near future. From now on, Amazon will unify AMS (Amazon Marketing Services), AMG (Amazon media Group) and AAP (Amazon Advertising Platform) into Amazon Advertising. The current Amazon advertising contains six items; sponsor ads, Display ads, interest, Video ads, Stores, amazon DSP, and Measurement. In addition to sponsor advertising and branded shops which are directly available to us ordinary sellers, other advertisements require application or privileges.
6. Amazon UK launches free return policy
Starting on September 5, 2018, Amazon is offering customers free return of all jewelry, watches and luggage items. For now, Amazon has informed sellers that the free return service for jewelry and watches will start as scheduled, but the free return service for bags and suitcases will be delayed. Based on past experience of Amazon's saying" delayed until further notice," means that the service may be delayed indefinitely.
If you are using FBA to manage inventory and process orders, this means Amazon will allow customers to return items for free if you sell jewelry or watches, and you may suffer additional cost losses.
FBA return processing fees: according to the policy, FBA return processing fees will apply to customer returns in the jewelry and watch categories from September 5, 2018.
7. Free label for return goods
Amazon offers free returns with a "Free returns" sign next to the price on the product page. Generally, free returns apply when goods are sold or shipped by Amazon to a UK address and then returned from within the UK. Of course, if the goods are sold and delivered by Amazon's third-party sellers, Amazon does not offer a free return service, and sellers can set their own return policies. The free return service policy of Amazon undoubtedly weakens the competitiveness of sellers if they cannot offer the same. After all, when consumers purchase products, they pay great attention to whether they can return them for free, especially for valuables such as jewelry and watches.
8. The FBA is banned for deletion of the shipment plan
From August 31, 2018, you will need to send the specified amount of each product in your approved delivery plan to the factory designated by Amazon. Amazon will notify you when we observe behavior that does not comply with this policy (for example, cancel part of the multi-destination shipping plan after your approval, wrong route shipping or send incomplete shipments). If Amazon finds that you continue to violate this policy, they may suspend your right to deliver.
All along, there have been no major changes to the FBA rules. Some people speculate that this is because many sellers deliberately fill in or even delete the delivery plan to prevent them from splitting the warehouse when they deliver the goods, which severely affects Amazon's profits. This is not impossible, but I think it's more of an inconvenience for Amazon to store and put products on the platform, especially as the peak season is coming soon. If all the sellers are doing these things, the speed of putting products on the platform will get slower and slower.

9. Brand sellers can upload video directly
The picture bar can be posted on video, but so far, very few sellers know about it. In fact, as long as you are the brand seller, you upload videos in the picture column. (The brand is not available during the registration process)
The entry point is at amazon's back-end ADVERTISING < Enhance Brand Content. Just input the SKU of the listing of video that you want to upload and then upload video, and it will be displayed after review.
10. Amazon Influencers project
Amazon Influencers program is also known as the redskins program. The plan is similar to Amazon affiliate marketing but target groups in the Internet celebrity. Internet celebrity will get a commission if the product is sold, but the amount has not been disclosed.
But not all Internet stars are eligible for the program! Amazon takes into account various factors of the Internet celebrity themselves, including the degree of interaction, content, and relevance to Amazon. In addition, they need to apply in three steps to join. First they need to open their social media account, then Amazon will verify the email address, and finally, they will be audited!
11. The adjusted Amazon influencer Program
Adjusted, Amazon quietly enabled a self-service tool for the YouTube celebrity, allowing them to apply and join a heavily vetted program to begin a new endeavor. Amazon will also boost its Shop page for approved celebrities. In this page, you can see all the products recommended by the celebrity. This not only increases the celebrity's transaction commission for the seller but also has some advantages. If the seller collaborates with the web celebrity who promotes popular items, browsing may create a sales connection. Help with exposure is double! In addition, the celebrity will have the program's key URL that can be shared. However, the adjusted feature isn't available to every YouTube user, and Amazon still requires the above metrics.
Well, this is the end of this summary of the Amazon policy changes. If you have any other questions, please contact Leelinesourcing by email or through the website (https://leelinesourcing.com/).
We are sorry that this post was not useful for you!
Let us improve this post!
Tell us how we can improve this post?