Have you got scammed on Alibaba ever? That may be for some reasons, especially if you are a beginner. So, you need to put the solution to avoid scams from the Alibaba scammer list.
Being import experts for the last ten years, we can help you find ways and get trustworthy suppliers to buy from Alibaba. Alibaba scams are due for multiple reasons. When you don't choose the gold supplier having only trade assurance orders, it may be the justification.
So, do you want to keep scammers away from your business? Great! Here is a detailed guide for possible reasons for scams.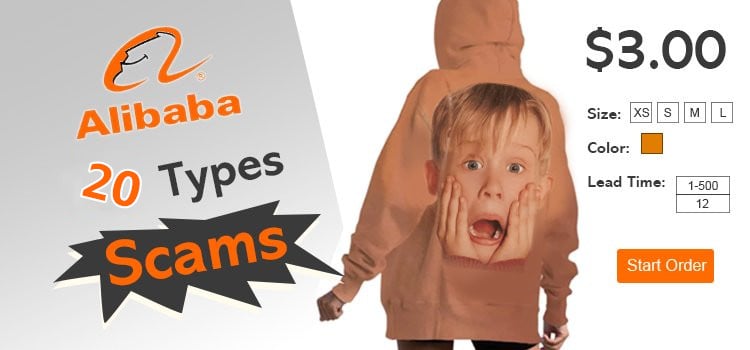 Different Scams Types on Alibaba
There is no single type of scam, as you might assume. Alibaba Scammers come with different strategies for fraudulent activities. Here are possible types of common Alibaba scams.
Payment Scams: The scammers are clever enough to do payment scams. They will request you to send money to their company bank account directly. Sometimes, they will say their bank account has been changed. So, transfer the funds to another bank. So, don't do bank transfers directly.Beware that there are multiple types of bank account scams and if you're aware of them, you're also less likely to fall prey to them.
Product Quality Scams: The scammers will send you low quality goods. Sometimes, products appear alright but lose their strength quickly.
Sample Scams: In samples scams, the samples sent to you differ greatly from the item quality. Before ordering a product, checking the suppliers' profiles is better.
Pricing Scams: To attract customers, the scammers might put the items on sale at competitive price. These are hard-to-believe prices. So, more buyers get attracted to those products.
Shipment scams: Shipment scams are pretty popular. For example, the supplier doesn't give you a tracking number. The product arrives many months later after the promised date.
Top 20 Alibaba Scammer List
1. Sending FAKE branded inventory!
It is one of the most famous scams on Alibaba. The worse thing is that many individuals who receive fake products from a Chinese vendor do not realize it.
The vendor will try to send you copies of the brands to sell branded products in the main. Every brand from all niches can be included in the fake and copied goods scam list.
As simple as that when you see a branded item available at an affordable rate. That is a red flag for you. Avoid buying branded goods at Alibaba.com.
2. Selling BRANDED goods but delivering nothing!
It is the same as the above scam, but the difference is that here, you will pay the money.
But you will not receive the item. The sellers will show you branded products and try to allure you by selling at reduced prices. When they succeed in the task, they will ask you for payment before sending the product to you.
Once they receive the amount, they will not send you anything. So you will be left empty-handed.
First of all, you can never find Western branded goods on Alibaba. If you do, that is the warning signal for you. Avoid buying branded goods at any cost if you do not want to be scammed.
3. Unverified Alibaba profile for a UK or US company account!
Chinese Alibaba suppliers change their names and disguise their profiles as UK or US trading companies.
But in fact, they sell their fake goods. Some Chinese suppliers will change their profile names to UK or US companies. They will try to sell their Chinese Alibaba products to you in exchange for your money.
So how to find the difference?
How to know if they are trying to scam you?
Alibaba website lets you distinguish genuine sellers from fake ones. You will find a "blue tick" on the seller's page if they are real.
The blue tick implies that the seller is genuine and sells original products.
Whereas no blue tick means the seller is not yet verified, you have to be careful.
4. Sending money to the boss' bank account
Other suppliers may ask for the payment to someone else's account rather than the business account when you will be asked to pay the amount before receiving the goods.
The scam Alibaba suppliers might ask you to pay on their boss' account for various reasons. Sometimes, you will receive the product, but there is no guarantee. There is no reason to panic, though.
It can happen with authentic suppliers as well as they can ask to receive money excluding the taxes.
Suppose you have an intuition that there is something wrong. You should then refrain from paying in advance or paying to your account.
5. Asking for additional payment for customs clearance
Above all, This issue happens a lot of times. Many customers complain that the seller did not send them Alibaba products ever, even when they paid the amount in advance.
Most of the time, your seller will ask you for the payment in advance. You may pay the money and wait for your product to be delivered to you.
Yet, the seller often asks you to send additional money to clear the customs. If you pay the amount, that is well and good.
If your vendor asks for additional payment and threatens not to deliver, it is time to opt out of the deal. But if you refuse to pay the amount, the seller will give you a fake tracking ID. You will keep waiting for your product to arrive, but it never will.
There is no customs clearance cost for sending goods from China when you get an e-mail stating that you have to pay the additional amount.
Sad to say, you have already lost your money. You need to accept the fact that your money is lost.
Or next time, do not pay the money in advance.
Also, check the contract of trade terms.
6. Selling fake DVDs, software, video games, Blu-rays
Another scam that made its place on our Alibaba scams list is selling fakes. Such as DVDs, video games, Blu-rays, and so on.
The sellers will send you high-end products once you receive them. You will notice that they are the cheapest, poor-quality, and illegal-to-sell products.
Never buy such products from Alibaba. You will not be able to purchase or find genuine tech-related products. Instead, you will get only fake or pirated ones.
Alibaba has filtered these products out of the website. But there might be some illegal and cheap products still on the web.
So use your sense and avoid buying these products online.
7. Refusing to send samples
So you like a product, and you place a massive order for them. But once you receive the goods, you only see low-quality and damaged goods.
Some sellers will try to send you products in bulk quantity. But when you ask them to get a sample first to check the quality of the product.
They will refuse you and give illogical reasons.
We do not say it is a sign of a scam. Yet it is better to avoid new suppliers who do not want to send their products as samples.
New suppliers take your money, and Usually running new suppliers that have been doing business for less than a year will do this. Anyone can be a supplier on Alibaba if they pay an annual membership fee. Some new suppliers find it difficult to continue doing business after a year, so they will scam as many clients as they can in a short amount of time and then disappear
A legit supplier will agree to send you samples, but when someone disagrees. It is time to move on.
8. Only accepting payment via Western Union or MoneyGram!
Well, It is not a solid sign of a scam. But you still need to be careful with It one.
Once you get the Proforma invoice, you will receive the information on who to send money to and which medium.
If you find Western Union or MoneyGram there, you should think twice before sending money.
Sending money using Western Union means sending to individuals and not business license sellers or a trading company. So chances are your money is not safe.
Hence, choose other payment options or look for a seller who accepts Paypal, Escrow, or Bank transfers. These methods are solid and increase your chances of receiving high-quality goods.
Paying by PayPal (specifically a credit card and not bank transfer) offers you very strong protection.
9. Selling FAKE memory products!
Again, tech-related products do not come with a guarantee if they are genuine or fake. Like we have said earlier, try to stay away from such Alibaba scams. Some vendors will try to send you tech-related items.
For example, a memory card, USB devices, and so on. These high-tech products can only be purchased physically when you find a seller selling these products at the lowest possible rates.
Turn yourself aside as they might be trying to scam you.
You need to ensure that the seller is reputable and sells good products. What you should do is:
Ask them to send you a sample first.
Check if they are Gold or verified suppliers.
Make sure to check the information provided for the product.
10. Invoice made to a personal bank account
We have already talked about It. You do not need to send the payment to your bank accounts. Instead, opt for the sellers who use secure methods to receive payments.
As stated earlier, the sellers will send you their account details. They will ask you to send money there.
Never send the money to a personal account. You need to ensure you still want to send the funds through Wire transfer. The account is of a trading company and not any individual.
Also, for further verification, check the company's profile on Alibaba or Google it.
11. Increase Price After Placing Order While Quoting Competitive Price in the Beginning
As we had mentioned earlier. Some suppliers will try to attract customers by offering lower prices at first. But after you pay for the product, they will increase the price.
They will ask you for labeling, packaging, and shipping fee.
To avoid such a scam, you have to consider having 2-3 suppliers at the same time. So when one unreliable supplier asks you for extra money, you can contact the other one or the shipping company.
Also, make sure to talk to them about pricing terms and conditions.
So that they do not increase the prices after placing the first order.
12. Send Out Sample With Premium Quality, But Rather Poor Quality for huge Order
Some scammers are now conning people by providing samples but sending counterfeit products afterward.
Some suppliers are ahead of everyone in the competition but in a negative way. They will send you the best sample. But once you place the bulk order, they will send you the cheapest quality products. It can occur with everyday products like kitchen hardware, clothes, etc.
In most cases, these substandard products cannot pass strict customs and end up being discarded, destroyed, or charged an extra fine.
Alibaba introduced an Alibaba trade assurance to help in such a situation.
There is an agreement where you are expected to give all the details of the product you want, such as quality, material, and color.
So when you do not get the quality you desire, you will be refunded your money from the gold supplier with the help of Alibaba.
13. Use Fake Certificates to Demonstrate Their Products Comply With The Regulations of Your Country
What some suppliers do is when you buy from Alibaba, you can ask the supplier to show you their certificate. Now what will happen:
Either they will show you the certificate (but that might be forged)
Or they will never show you the certificate.
There are two types of scams concerning this. The first one is that suppliers will claim they have such certificates, but they are forged through Photoshop by changing the company name. Second, they promise to provide those certificates after placing an order. Then they will give you excuses and never show you a certificate or an expired one.
To avoid this problem altogether, try to deal with larger factories. You can normally get a pretty good feel for a company's size by browsing its Alibaba page.
The downside is that you will have to pay for the goods yourself, or your products will get blocked from the customs clearance.
Good luck; knowing such certificates will help you find genuine sellers.
14. Change Products without Notification at the Time of Dispatch
It is quite a common problem. It is the most typical example of an online business. Many vendors will send you the products you never placed an order for.
For example, they can change the color of the product. Or they can send you somewhat different products.
Once you get in touch with the supplier, they give you excuses about the changed products.
In This instance, we recommend that regardless of it is your first order or a repeated one. Make sure to check the poor quality products or for extra assurance, use Alibaba Trade Assurance.
15. Agree to Use Trade Assurance in the Beginning, Then Lie Do Not Receive Money
One of the biggest Alibaba scams is that the seller will agree to comply with the Trade Assurance. It is their strong strategy to draw in customers.
But if you spend the money, they will try to cancel the order based on not receiving the money (that is the lie they use the most).
Again, make sure to make good use of Trade Assurance. When a seller is not sure about the quality, they will try not to use Trade Assurance at any cost. Our advice is to stick with the Trade Assurance process.
16. Supplier Email Hacking, Asking For Payment to Another Bank Account
It is not, in fact, the work of a supplier, but a hacker is behind The scam. Because the supplier has many emails in their accounts, and buyers agree to send the amount online.
Hackers may take It as an opportunity to hack the seller's account and send you an e-mail with instructions to send the money to their accounts instead.
The safest way is to reach the supplier through other means.
For example, direct call, skype, or WhatsApp them. Ask them to verify their bank details.
Double-check with the supplier on where to send payment.
17. Buy Alibaba Gold Supplier (3-5 years) Account to Scam with Fake or Poor Quality Products
Anyone can become an Alibaba Gold seller by paying $4,000 a year. Some people get Gold membership and then start using fake products at high costs.
There is no way to tell if the seller is genuine or not.
But some ways can help you to stay away from Alibaba scams.
Engage a third-party (Leelinesourcingis the perfect solution for It)
Make a visit to the factory for inspecting the products.
Check their production capacity.
Check if they have a compliance certificate.
A bit of research will help you in taking the necessary steps. To avoid getting scammed.
18. Cut Communication And Disappear After Receiving Payment Before Production or Delivery
The scam occurs with new vendors who have been in the Alibaba business for just a year or even less. Since we understand, everybody can become a vendor on Alibaba if they give the yearly Alibaba subscription fee.
For a few new vendors, they might find it hard to keep up with Alibaba's business following the first year.
Hence, they begin to scam customers to the extent they can and vanish after getting money.
To avoid such scams, you need to apply Trade Assurance to handle those new vendors. Or choose gold suppliers with many years of outstanding records so that things will be more reliable.
Want to buy on Alibaba easily and safely?
Leeline Sourcing helps buyers source the right product and solve all their payment problems at the best service.
19. Ask for Higher Price Using Different Reasons and Threatens Not to Deliver Goods
It is, in fact, the scam of cost changes, and It is the most common as well.
Besides the above reason for products being blacklisted by customs clearance, there are many excuses. For instance, the vendor will claim the cost of raw materials has inflated a lot.
Following the initial quotes at a low cost. After you confirm all the details for packaging, samples and whatnot they will give you a higher quote. Hence they will need to change the cost for them to begin manufacturing.
It can be fine, but the real reason might be that they may not tolerate the loss of profits because of the increased raw material cost.
Some will also delay manufacturing, waiting for the cost of raw materials to go back to their last level.
Often, they would instead wait for about 1 or 2 months, not telling you the truth. That they have begun manufacturing, but they have not.
If This scenario occurs, the possibility is that you will run short on the finest exporting seasons. For the most part, for seasonal goods, such as Christmas presents or summer goods. Such as swim costumes, pool toys, and so on.
20. Sell Brand Products at Very Attractive Price to Make You Hard to Resist
We discovered that It is one of the most straightforward Alibaba scams you can fall for when doing research. Buyers tend to consider branded goods, such as phones, PlayStations and are created in China.
So the costs will be more affordable if they buy straight from China.
Sad to say that those products on the Alibaba platform with low prices are all scams. Although a few vendors claim to be OEM producers of these branded goods.
How to avoid Alibaba scams?
The thing to know is that every branded product has official deals or sales channels. You can only get authentic goods from official shops or reliable online platforms.
Hence, the next time when you decide to place an order. Make sure to contemplate the prices others have given to ignore other scams. For saving yourself from the exhausting processes of cheap after-sales services. Once you got scammed.
The Ultimate Checklist How to buy on Alibaba safely
Scams on Alibaba are a serious and the most critical issue. Do you want to avoid it?
Here is the checklist assuring the safety of buyers on Alibaba.
Alibaba Gold Suppliers:
Alibaba doesn't offer the gold supplier status to every seller. Instead, a limited number of Chinese suppliers get qualified for it and enjoy Its status.
Moreover, to achieve Alibaba Gold supplier status, supplier has to pay a fee. If a supplier has gold status, there are maximum chances he will be an authentic Chinese supplier.
So, to trade safely, check out the Alibaba gold supplier.
Alibaba Verified Suppliers:
Alibaba verified suppliers are not ordinary suppliers. The Alibaba inspection team goes through the factory analysis and ensures the supplier is genuine. Furthermore, there are other qualifications for suppliers.
A verified Alibaba supplier has a blue logo on the profile. When looking at the verified supplier, close inspect that logo. If that is present, it might be your supplier.
Trade Assurance Suppliers:
Trade assurance is a program available to buyers for safe payments and refunds. If a supplier tries to scam, the buyer can ask for a full refund. Moreover, the possible reasons for scams are the high defect ratio, low-quality products, and late shipments.
When ordering a Chinese supplier, you can check whether the supplier allows a trade assurance order or not. If the suppliers allow, it is excellent!
Check Buyer's Review:
Feedback is an excellent resource to check the authenticity of a supplier. It doesn't only apply to the Alibaba sellers. Instead, you can try the It method on all the eCommerce website suppliers.
Simply visit the supplier's website and check their company information or verify their contact details (you have their email? also call them).
Visit the review page on the products. Apart from that, you can see the suppliers' profiles and check buyers' feedback.
Go through suppliers' transaction history and progress:
Chinese suppliers go through the phase of selling inventory to their consumers. When checking out the supplier's data, you can see the orange Diamond icon next to the profile.
Do you know what it exhibits? It shows the number of transactions. You can check that and develop the analysis; of whether the supplier is fake.
Inspect factory, whether online or offline:
Factory inspection reports determine two factors:
Seller is authentic
How does the supplier manufacture the products, and what is the quality control of the process?
Both of these aspects are crucial when finding the exact supplier. So, it is better to go live with the suppliers' factory. If you want to request a factory tour, nothing would be better than that. Go right away! You contact them via a video call and request one.
Ensure Supplier has ISO registration:
Nowadays, many suppliers use fake certifications. Do you know the importance of certification? Maybe not, but it has a significant impact when you find a suitable supplier.
To trade safely, check the ISO registration status of the supplier and ask them to show their ISO registration certificate.
If you hard to negotiate with suppliers and pay on alibaba.com safely?
LeelineSourcing is ready to help you buy from alibaba low cost and efficiently.
FAQs
How Alibaba trade assurance ensures safety?
Alibaba's trade assurance is an excellent program. An Alibaba trade assurance supplier provides a money-back guarantee when:
1. Product quality is lower than expected
2. Product shipment is late
You can apply for a complete and half refund.
Why should I choose the Alibaba gold supplier?
Gold supplier membership is usually paid. But, it ensures:
1. The supplier is genuine
2. Verification of the suppliers occurs through its method
3. Such Chinese suppliers mainly offer Alibaba trade assurance.
On the profile, you can see the gold membership status.
What are secure payment methods on Alibaba?
There are many methods for secure funds transfer. Here are these:
1. Via Western Union
2. Bank Transfer
3. Paypal account
4. Telegraphic transfer
Remember, you are using the Escrow payment system to enhance safety.
Are Chinese manufacturers reliable?
Yes. There is a misconception among people about Chinese sellers. They are pretty reliable and offer:
1. Wholesale prices
2. Safe payment transactions
3. Negotiations of the price
4. Item quality
5. Safe shipments to your doorstep
There are scammers also there. You need to avoid them when considering Chinese sellers.
How do we identify and choose verified suppliers on Alibaba?
Look, you can get scammed on Alibaba unless you choose verified suppliers. The suppliers have a blue badge on their profile pictures.
Moreover, if you check the profile, you can ensure whether the status shows verification or not. 
How risky are new suppliers on Alibaba?
The risk associated with new suppliers is that they may abandon or close their Alibaba account. A new supplier with a 1-year membership poses a greater risk. If you do choose a 1-year membership supplier, be sure to use Trade Assurance or consider PayPal.
What not to do on Alibaba?
(1) Send money to a sales representative's personal account, even for a significant discount.
(2) Send money to a new, different bank account.
(3) Give up on using Trade Assurance.
Can I buy branded goods on Alibaba?
Yes, but buying brand names on Alibaba is not recommended as they are almost certainly not authentic.
Conclusion
Research tools which lean on public U.S. customs records can be precious for finding and verifying Suppliers. For more company website information, Google the supplier name. You can also search the company name with words like scam, bad reviews, etc. The best way to avoid such scammers is to engage a third-party company.
We hope that This guide provides excellent information, insights, and confidence. It is mainly for new buyer who is afraid of getting scammed by Alibaba scams.
But we assure you that you will be able to get the finest products with our guide and quality services. The actual thing is you have to be a little careful when and where to send your money.
To avoid Alibaba scams, LeeLine Sourcing experts are there to help you. We have an endless list of trustworthy suppliers, hit us now.
We are sorry that this post was not useful for you!
Let us improve this post!
Tell us how we can improve this post?