Looking for the best eCommerce platform for dropshipping?
eCommerce Dropshipping is a growing industry. Starters face difficulty in choosing the right platform. Here dropshipping experts have reviewed hundreds of platforms. Compiled this guidebook for the 6 best platforms.
Save your cost and time to scale your business with the right choice. Make more money in a short time.
Keep moving to read a review of the 6 best dropshipping platforms. User-friendly and easy-to-start platforms.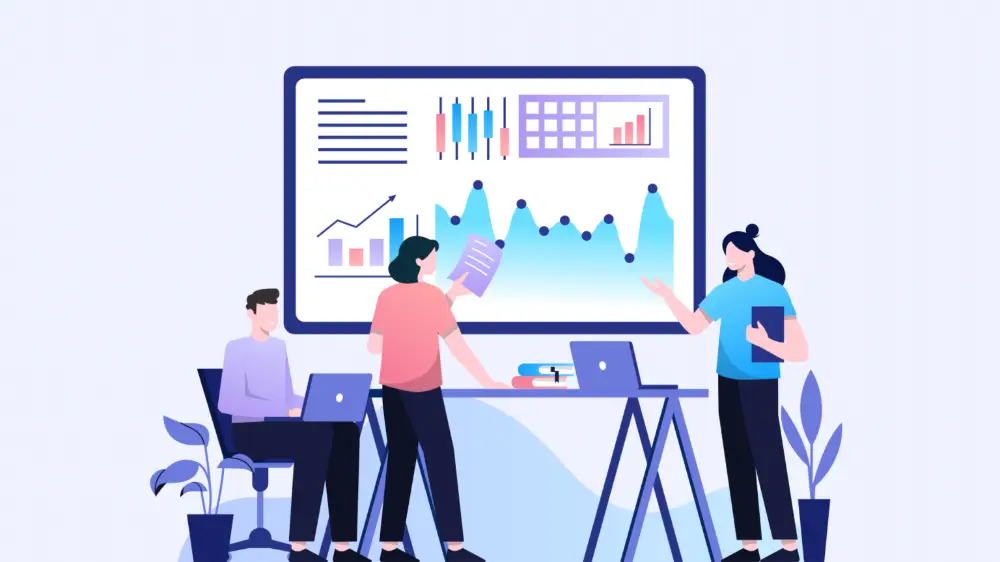 1. WooCommerce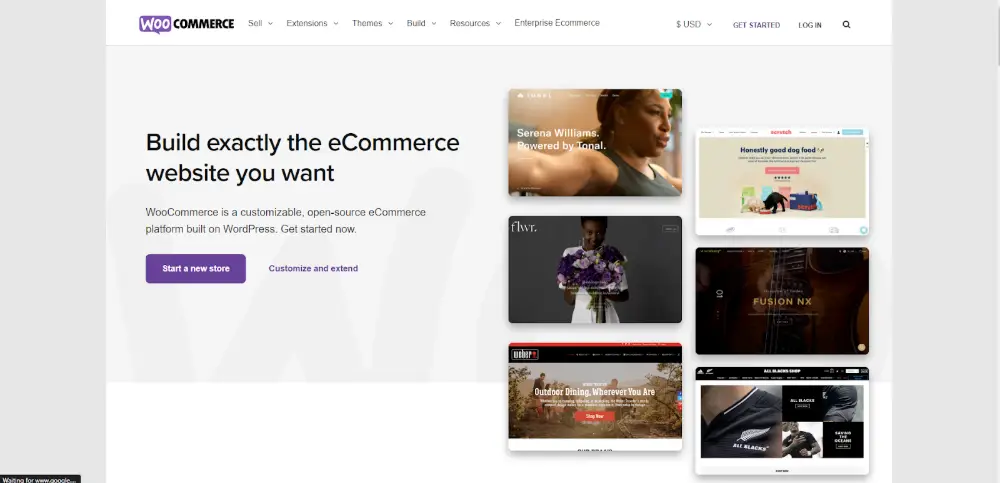 Woo Commerce is a free WordPress plugin to install. It has no initial fee, while some features are for premium plans. Buy premium plans to unlock those features. Turn your WordPress website into an online store with payment integration.
Pros:
You don't need to build a new website for the store. Turn existing websites into a store. The best option for bloggers is to turn their blogging audience into customers.
Easy to Customize your eCommerce store or websites. Use pre-built dropshipping plugins and themes in the directory. Good customization and design help you to stand out from the crowd.
Add multiple payment gateways like Paypal or stripe into your WooCommerce store. Regular security updates make it more secure. Get time-to-time encrypted information backup.
Cons:
It's specific to WordPress sites. The plugin turns a simple website into a store with payment gateways. Not a self-hosted dropshipping platform.
2. Shopify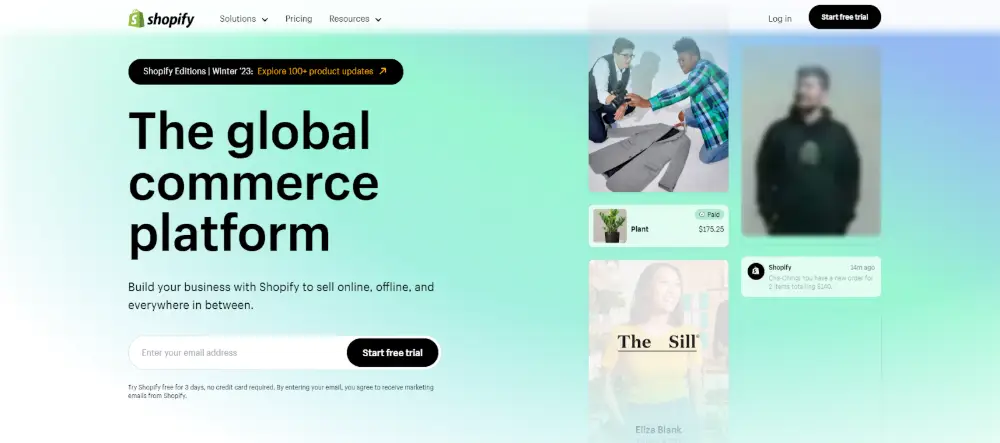 Shopify is my FAVORITE website for dropshipping. The reason? It has flexible selling processes and higher profit margins.
Shopify is the most used dropshipping eCommerce platform. It is a hosted platform and comes with many payment gateways. Shopify's payment infrastructure makes it the first choice globally. Also, dropshipping app directory has hundreds of paid and free Apps. Make your eCommerce and dropshipping easier and more profitable. 
Pros:
Free and Paid themes help in customization. Their designer and developer community contributes continuously. Make your business policies pages in a short time.
Integrate your carriers in your store for better shipping management. Automate your Aliexpress and app dropshipping with pre-build Apps. Fulfill your dropship order in a few clicks.
Interconnected Payment gateways and hostings for a smooth experience. There are no delays and errors in customer experience. Boosts sales with smooth experience.
Cons:
Shopify has a lock-in feature that is a barrier to switching and exiting.
3. Wix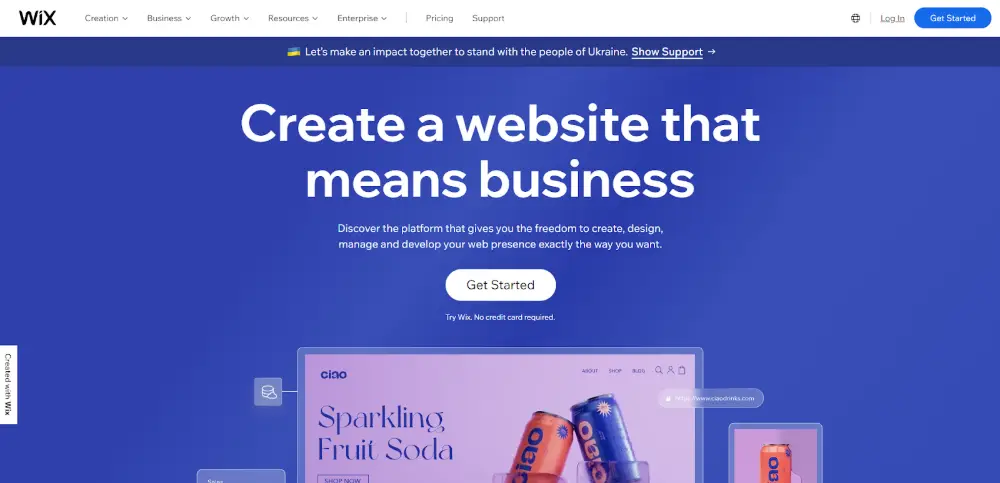 It's a self-hosted drop shipping platform. WIX ADI, or artificial intelligence, guides you through a complex process. Makes setup & customization easy for beginners. You work on the mobile version of your website separately. 24/7 customer support and also community support.
Pros:
400+ Pre-build templates in their themes directory. I can build a stunning dropshipping store from scratch with minimum technical knowledge.
Beginner-friendly dashboard to manage your sales channels, blogs, and products. Easy Integration of your sales channel solutions and payment gateways.
Cons:
Wix's free plan has branding and limitations. Better to go with a paid plan for a good user experience.
4. eBay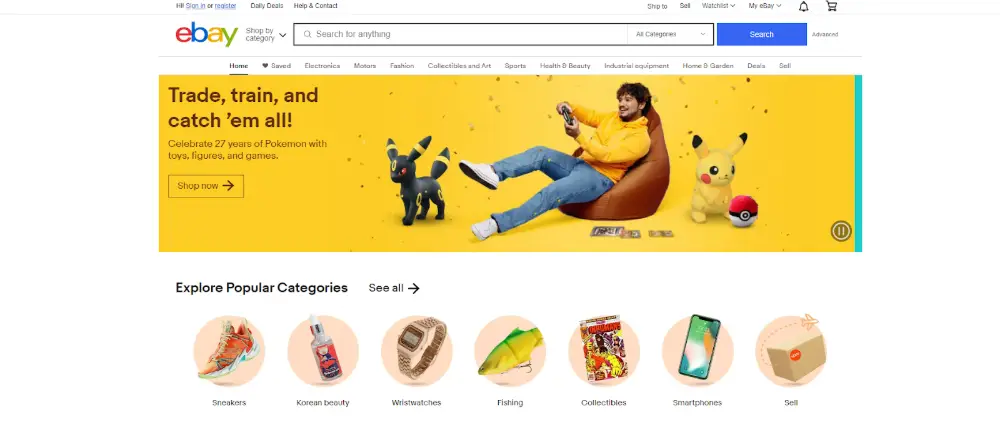 eBay is an eCommerce marketplace, not a dedicated dropshipping marketplace. Yet, many drop shippers use eBay to access the global dropshipping market. Open your online store in a few clicks. eBay offers good payment infrastructure with Paypal. Customers pay through different methods.
Pros:
Existing audience and marketplace. I don't have to spend money to build a brand or attract an audience. A good & optimized listing will be enough for me to generate SALES. 
You don't pay any subscription fee to use seller features. They cut fees on every transaction and item sold. Easy to start with fewer barriers.
Cons:
Low customization features. You can't change the outlook and UI.
5. Big-commerce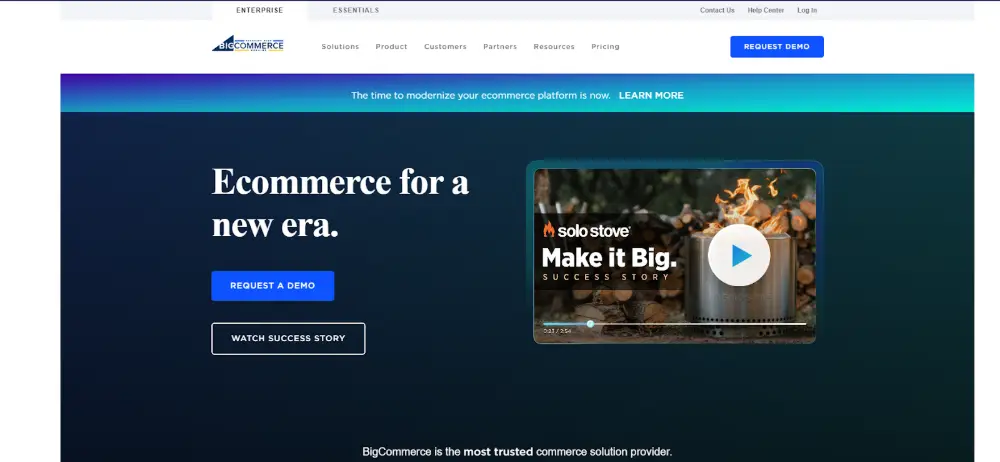 BigCommerce has its servers, and you host your online stores on them. It has a simple user interface for setup. Get free themes to design your eCommerce stores. Customize eCommerce sites as per your needs. It also has robust Seo features.
Pros:
Big commerce is affordable and does not charge any transaction fees. Get premium features at a reasonable price.
Easy to scale your business. Unlimited staff accounts, no transaction fee. It is suitable for both big and small dropshipping stores.
Good customer support through multi-channels (Emails, phone, forums, and SMS). Easy to stay connected and resolve issues.
Cons:
Multi-step process to cancel your subscription. It takes work to exit from their system.
6. Magento

Magento is a software solution and web builder for drop shippers. It has a complex system for development which is challenging for starters. This gives you more security from cyberattacks.
Pros:
Helpful community forums for developers & programmers. Resolve your technical problem in short with coordination.
Mobile-friendly design and system to boost your sales to smartphone users. Good technical and design support for customization. (You need to have some technical background).
It is completely Free to use with No hectic fees like other platforms. Magneto software is also a good resource for order management and record keeping.
Cons:
Development is overwhelming for a starter. You need some technical knowledge to start. Better to hire anyone for development if you don't have any technical capabilities.
How to Select the Best eCommerce Platforms for Dropshipping?
Everyone has different preferences when choosing eCommerce platforms. Here we have discussed a few to guide you.
Starters don't want to pay heavy subscription fees, which is a good approach. Some platforms have high fees, while some have reasonable fees. Yet, some are free to start. Most of the time, free platforms are not the best for scalability. Best to start with low subscription fee platforms. 
I have found many platforms, such as Shopify, with fewer selling fees than competitors. You can try it.
Some B2C marketplaces allow dropshipping, which allows many new sellers. They don't have any subscription fees while charging monthly fees. Amazon and eBay are two famous marketplaces for dropshipping. But they have low-profit margins due to transaction and order fees.
Keep your payment gateway preferences in your mind. Be clear about what payment method you want to use. What do your customers mostly use? Check payment options and what are the best options for you. Payment methods have a transaction fee. They affect your profit margins.
Check their design support and what level of customization they offer. Do designers and developers contribute to the platform? Paid themes are better and have good customization options. Test whether you make an enticing store with those themes or not.
See which platform has a good directory of multiple dropshipping plugins. More plugins do not mean they are good. But check their usability and check their price. Sell products with automation through a dropshipping plugin. Shopify has a good app directory with contributions from developers.
We can Made Drop Shipping from China Easy
Leeline Sourcing is to help Shopify & small businesses sourcing products from China and build your branded business.
FAQs about Best Ecommerce Platform For Dropshipping
What's Next
Dropshipping business is all about finding good suppliers and marketing tools. It's not easy to find good suppliers and fulfillment centers for beginners. It causes loss to most drop shipping businesses.
You need good supplier-hunting skills for profitable products. Only the best dropshipping companies get you cheap dropshipping suppliers.
Leelinesourcing helps you to find credible dropshipping suppliers. Contact us to start your supplier-hunting process Now!
Do you want a successful import business?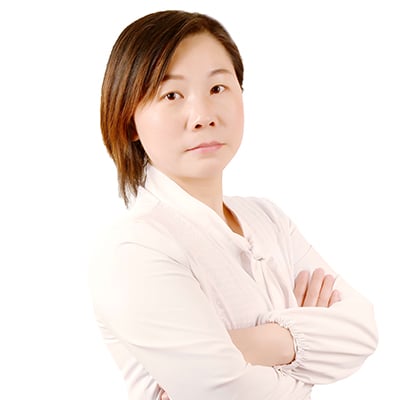 Hey, I'm Sharline, co-founder of LeelineSourcing. We've helped 2000+ customers import from China.
Do you want a better price on product or shipping?
We are sorry that this post was not useful for you!
Let us improve this post!
Tell us how we can improve this post?