Mercari is an online platform that allows buyers to purchase items from many sellers. It is a Japanese store that is popular with over 19 million users. However, many sites like Mercari can also be used as alternatives.
As experienced sourcing experts for over a decade, we have dealt with many issues regarding online platforms. You'll learn about other platforms or selling apps like Mercari that can help you source products.

This article will talk about many sites like Mercari. Let's get started.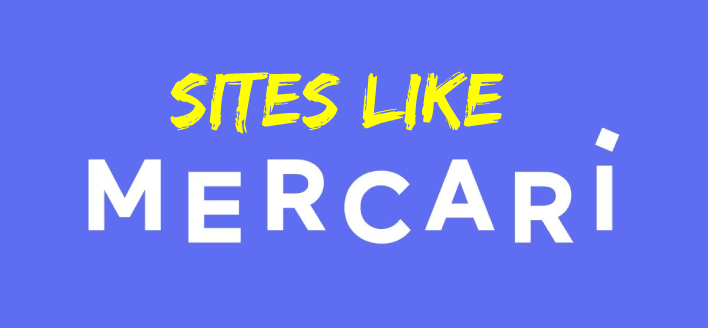 1. Letgo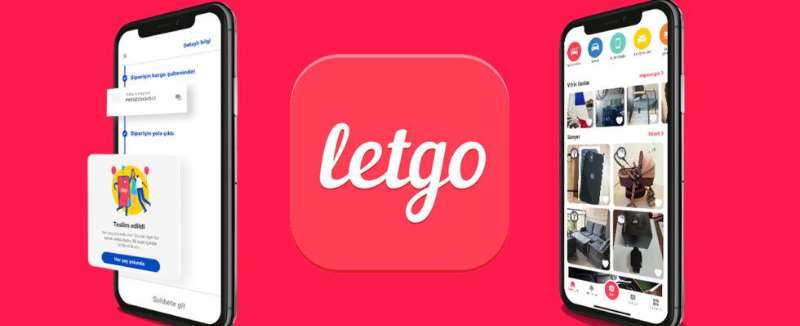 Letgo is a selling platform launched in 2015 to allow users to buy and sell locally. People can sell items, including second-hand ones, at the online marketplace. The items listed for the buyers are usually set with geolocation.
It means that buyers can find items closer to them. This site is famous as many people would shop for things like car parts and electronics for a lower selling price.
The app has reached 75 million downloads and 200 million listings since January 2018. It was featured as one of the Best Apps of 2016 by Google. Sellers need not pay fees to sell stuff on Letgo.
Also, signing up at the website is free, quick, and easy. You can immediately start selling online once you have an online account.
Overall, it is one of the best-selling apps for resellers to market various items without charges. Letgo made selling online easy and is considered one of the most modern Mercari alternatives.
2. OfferUp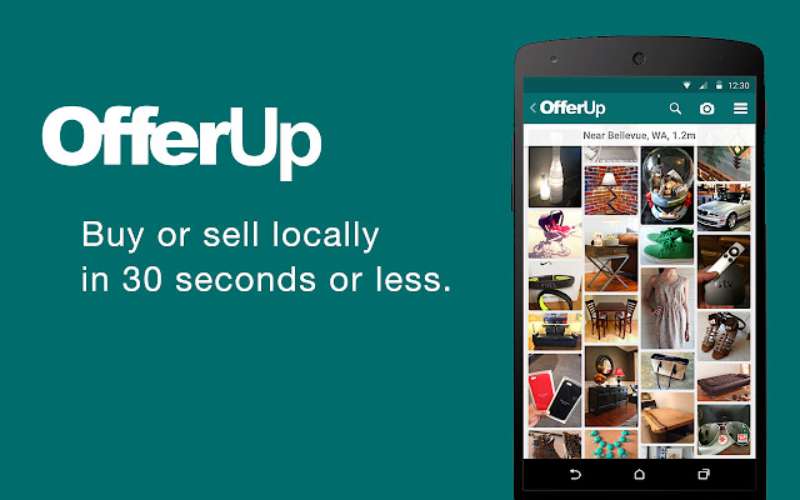 Offerup was created in 2011 as an online marketplace to buy and sell used goods. Buyers can find fashion items, vintage items, and designer items. It has many features that provide users with an excellent online shopping experience.
For instance, users can browse the products based on category, price, and distance. They can purchase products near them or have face-to-face interactions with buyers.
I don't have to browse all the products to find some good ones. I just applied their filters, and it works for me.
Offerup gets up to 19.6 million users browsing their website monthly. It became one of the most popular online marketplaces, especially with user discounts. The user's ratings also made the site safe for buyers and sellers to transact online. It helps eliminate the risk of scammers on the site.
Generally, Offerup is an excellent place for you to search for second-hand items. If you are a seller, it could be useful to sell things online and earn extra cash. Here is an article to give you some advice on sourcing website.
3. Shpock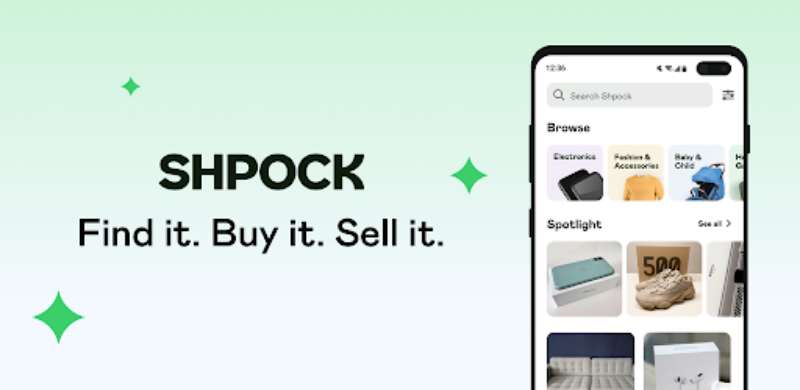 Shpock is a portmanteau meaning "Shop in your pocket" that was established in 2012. It has a reputation as one of the best buy and sells apps. You can find thousands of items featuring women's clothing, Android devices, and other popular categories. Shpock sellers also sell items like electronics, items for babies, and goods for specialized interests.
Shpock is known for its contactless deals. It ensures the safety of buyers by having no contact with the courier and sellers. The platform covers services such as groceries deliveries and online tutorials too.
Shpock has millions of users worldwide as of 2022. Besides, the app was awarded "Best of 2017″ in the 'Sustainability' category. Users can share their listings on a social media platform which helps its popularity.
Basically, the site is suitable for anyone who wants to get rid of items no longer in use. It makes garage sales more straightforward and quicker online.
Looking to find a reliable Chinese supplier?
As the best China sourcing agent, we help you find factories, get competitive prices, follow up production, ensure quality and deliver products to the door.
4. Poshmark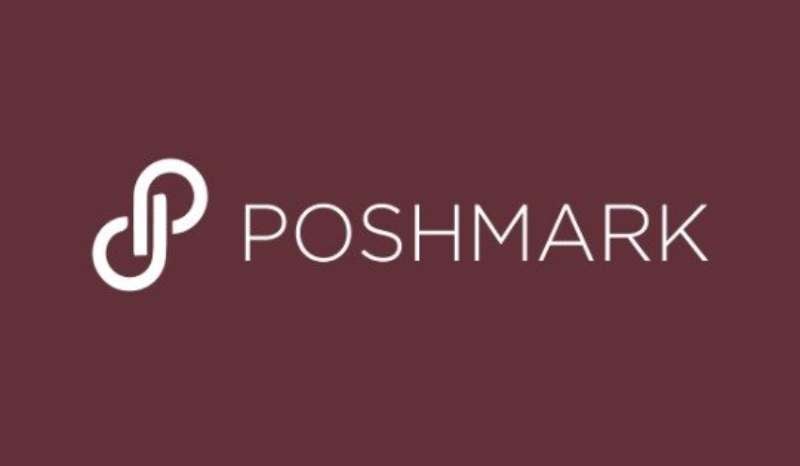 Poshmark is a social eCommerce platform founded in 2011 in the US. Users can buy and sell secondhand items, home goods, and electronics on the website. They are famous as the ultimate platform for fashion for users looking for pre-loved items.
I have visited it many times to find good old furniture and it was the best deal for me. Got so much stuff and a very helpful community.
It is known that Poshmark has sellers that guarantee the quality of the fashion items. The site features not only clothing reselling but also styling services. The community in Poshmark is called seller stylists.
Users can download Poshmark on both Android and IOS platforms. As of 2021, the marketplace has a GMV of 1.8 billion USD. It also has over 80 million users and over 200 million listings.
So, it is easy to see that Poshmark is the fashionista site for secondhand goods. If you want to buy any fashion items that are hard to look at in retail, you can turn to Poshmark.
5. Depop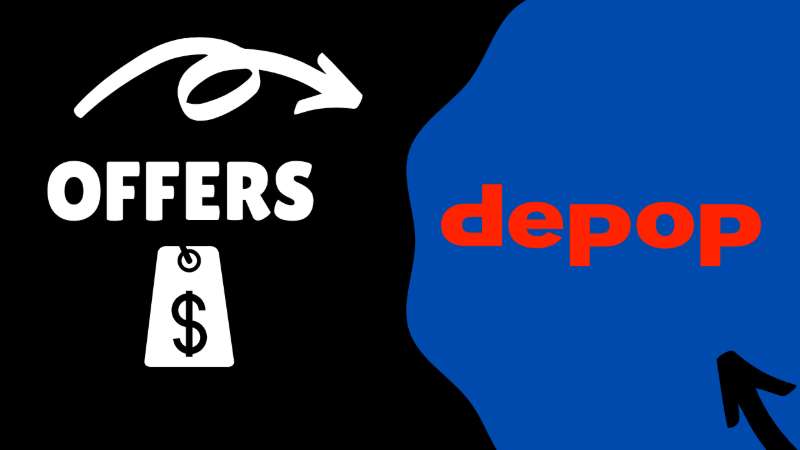 Depop is another online fashion marketplace that was founded in 2011. Most of the items on Depop are used vintage, and repurposed clothing items. It remodeled the site of Instagram with similar features.
I visit it often to check if any good items are listed. It does not disappoint me anytime. Users can post their listing by posting the item's pictures on their website with hashtags. Users can also follow the sellers whose content will appear on the user's feed. Depop's popularity can be seen as celebrities resold their items and donated their proceeds to charity.
As of 2021, the site has over 21 million users. It is one of the most-visited shopping platforms for Gen Z shoppers. You can simply register for an account with email verification to start selling on Depop. Buyers often find it easy to buy and sell on the Depop platform. If you are interested, this article will give you a detailed introduction to How To Start Your Buy And Sell Online Business.
Overall, Depop seems to be a good place to explore designers' outfits and collections. It is a user-friendly business model that caters to every shopper's needs.
6. ThredUP

ThredUp is the world's largest fashion resale platform. The platform was founded in 2009 and is seen as an online thrift store. You can shop for high-quality secondhand clothes with a family-friendly app. The sellers are selling items ranging from sports apparel to maternity clothes.
ThredUp calls its reselling process "Upcycling" and aims to upcycle millions of clothes. Their services are free and less hassle when it comes to transactions.
It has two parts which are classified ads and social media platforms. Both sellers and buyers can register on ThredUp for secure transactions online.
The online marketplace platform was ranked 36th among America's most promising companies in 2015. In 2019, the company managed to rake up 252 million USD in revenue. It was a growth of 35 percent compared to the previous year.
In short, ThredUp is a great place for upstarts and side hustlers. Its discounts and cleanout kit features might just be the tool to get extra cash.
7. Carousell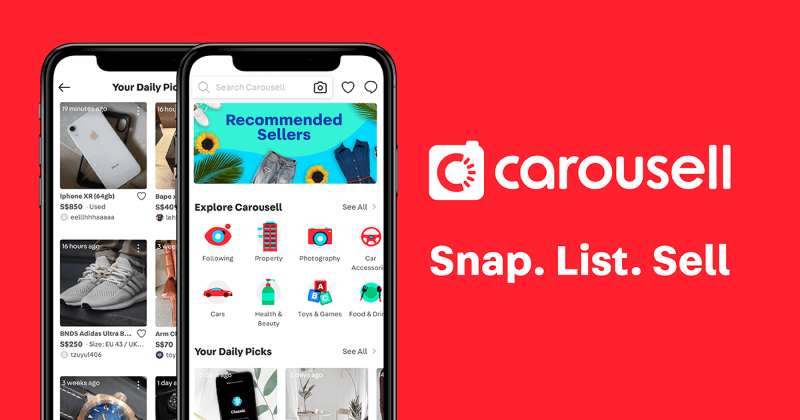 Carousell is a Singaporean web-based consumer-to-consumer for buying and selling secondhand goods. It is headquartered in Singapore, with operations in Malaysia, Indonesia, and the Philippines. You can sell off items like jewelry to scooters in Carousell easily.
I check product prices in the Asian region to fully understand market pricing. It helps me in negotiations and making offers on other platforms.
The site features direct messages where buyers can communicate with the sellers directly. They also have a user-friendly interface that helps in product searching. Another advantage is that it does not charge any listing fee, extra charge, or commission. It makes reselling preloved items cheap!
Carousell has over 57 million listings and 23 million items sold as of 2016. The company expanded to seven countries, including Hong Kong and Australia. With the June 2021 merger, its valuation has been recorded to be 1.1 billion USD.
Overall, Carousell is the one of the best Mercari alternatives. You can download it free on Google Play Store and the Apple App Store. You will be enjoying a fantastic online shopping experience with its features.
8. Vinted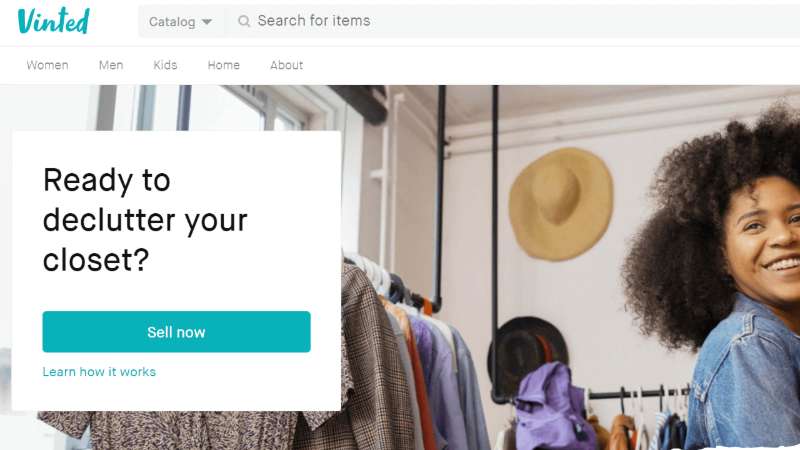 Vinted is a Lithuanian online marketplace based in Lithuania. It mainly operates by exchanging new or secondhand goods such as clothing and accessories. The online site was launched in 2008 and expanded its services to Germany and United States in 2010.
Vinted is famous as they do not take any cuts from the sold items. You can enjoy the profit at its full amount. As buyers, you can search for many luxury items like Louis Vuitton designers. They offer up to 70% discounts and promotions on the website.
In 2019, Vinted raised 128 million EUR at a 1 billion valuation. In 2021, the company had a revenue of 245 million EUR with a 63% increase. It is one of the most promising companies regarding secondhand items reselling platforms.
Generally, the site is easy to use to shop for luxury items. Shoppers can also guarantee their safety in shopping, especially with its security features.
9. Etsy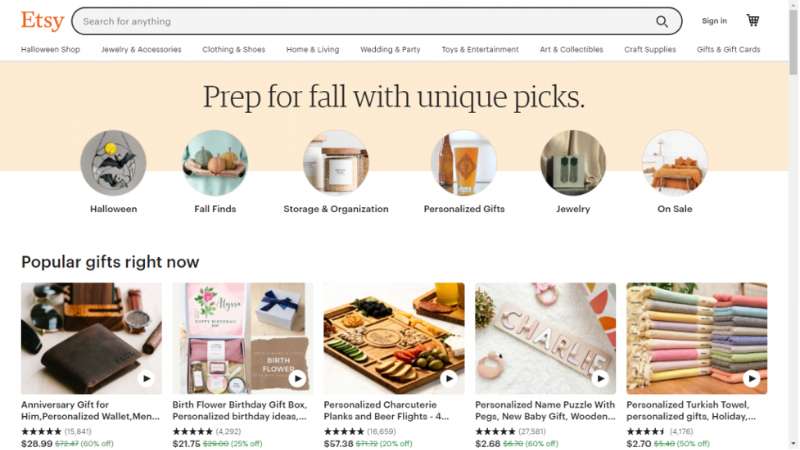 Etsy was founded in 2005 that focused on handmade and vintage items. They have many products, including jewelry, bags, clothing, home decor, and many more. Even handmade or vintage items are 20 years old on the site. If buyers are looking for customized jewelry and handbags, Etsy is the best place to do so.
I found some of the best rings on Etsy with customization. Having engraved text over jewelry makes me feel special.
Buyers can ask Etsy sellers to customize the items to their liking. The site supports independent sellers with complete modesty. The site's sellers mainly side hustlers, budding entrepreneurs, and small businesses.
As of 2021, Etsy had over 120 million items on its online marketplace. It connected 7.5 million sellers with 96.3 million buyers. Their total sales on that teat were 13.5 billion USD with a net income of 493.5 million USD.
Basically, the site is popular when it comes to handcrafted items. Shoppers are welcome to browse their site if they want to search for unique things.
Looking for the Best China Sourcing Agent?
Leeline Sourcing helps you find factories, get competitive prices, follow up production, ensure quality and deliver products to the door.
10. Tradesy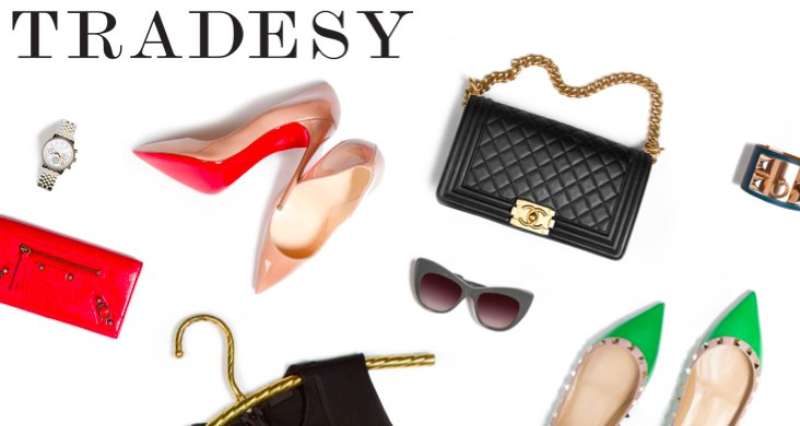 Tradesy was established in 2012 by Tracy DiNunzio for buying and selling secondhand clothes. They have brands from Zara to Louis Vuitton with a completely free shipping kit. Hence, buyers can hunt for designer clothes at a discount. You can also find products like clothing, accessories, shoes, bags, and others.
Tradesy also makes sure that the designer's items are 100% authentic. You can negotiate the prices with the seller on their platform. Besides, they provide fast shipping with competitive prices. They also have many good reviews from various buyers on the website.
Tradesy has 7 million members with an average order value of 550 USD in listings. Its funding has more than 125 million from investors such as Kleiner Perkins and Tim Ferriss.
Overall, the site is easy and simple, especially for buyers who want to get luxury items online. They have a guideline for buyers to ensure they can have the items safe and secure.
11. eBay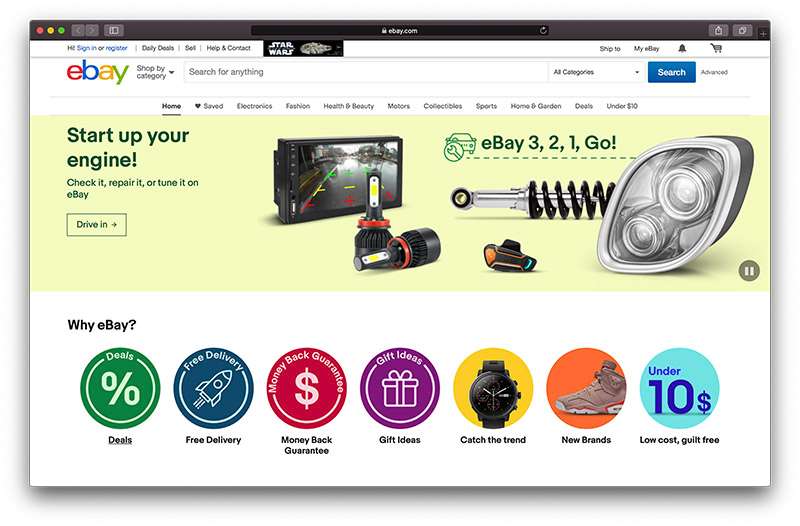 eBay is a multinational company founded in 1995 and based in California. The site is known to buy and sell various goods and services online. It is free for buyers and sellers for the first few listings.
We all have visited eBay in our life. I found some of the best deals on electronics and other products from eBay. Yet their auction listing is very helpful to me.
This popular marketplace has a great range of items. It is a go-to site to sell both brand new and secondhand items. Also, eBay will remove abusive sellers so buyers won't meet them.
Besides, the buyers can have a money-back guarantee if the item is damaged.
As of 2020, eBay has a revenue of 10.42 billion USD, increasing from 2020 by 17.16%. The company is still a major global player in the eCommerce world. They have millions of users even outside of the US.
Generally, eBay is a popular site in America when it comes to resale platforms for shopping. Users can get almost anything they want on the site.
12. Craigslist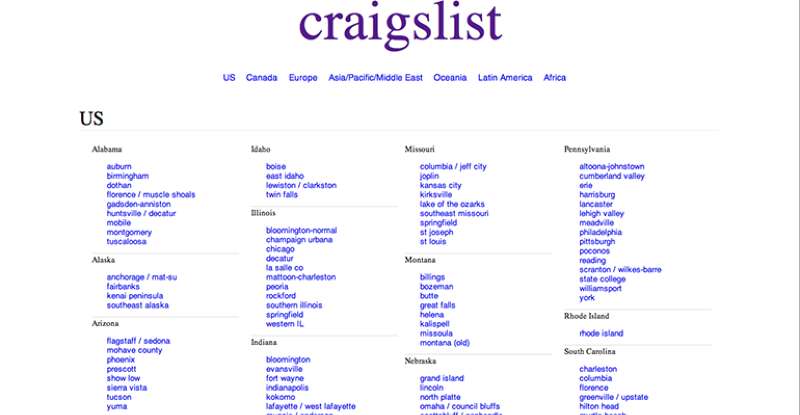 Craigslist was established in 1995, allowing users to post anything online. You can post products, services, or job postings on Craigslist. It is more than a "buy and sell website.
I feel Craigslist is a little old-school vibe but it does the job. It was a good place for me to find second-hand products and services.
Craigslist is known for its simplicity, where you can search for products according to your location. It also has multiple categories with specifications that you can alter according to your needs.
Users can easily find anything that they want on Craigslist. You can also get services like babysitting or searching for a roommate on the site.
Craigslist brought in 1.034 billion USD in 2018. It is the No.1 classified advertising site in the world. It has more than 60 million monthly users and 50 billion page views.
In summary, you can see that Craigslist serves more purpose than other sites. You can get more services other than purchasing and selling items.
FAQs about Sites Like Mercari
1. Is Mercari Better Than Poshmark?
Mercari is better than Poshmark when it comes to the fee structure. Serious sellers can have more profit if they sell on Mercari. Regarding listing, Mercari allows sellers to post more information than Poshmark. Whereas Poshmark only allows eight photos per listing.
2. Which is better, eBay or Mercari?
Mercari does not charge fees if you want to sell on the site. In comparison, eBay charges two kinds of fees: the listing fee and the final value fee. Mercari is cheaper as they only charge a 10 % commission on the item price.
3. Can I Get Scammed When I Use Mercari?
Although Mercari is a safe platform, there will always be possibilities of scam risk. You have to be careful whether you are a buyer or a seller. Be aware of the legitimacy of the platform to avoid getting scammed. You can refer to the reviews for further confirmation.
4. Which One Is Better For Selling – Depop or Mercari?
Depop charges sellers 10% listing fees automatically when you use the PayPal payment method. Meanwhile, Mercari does not charge any seller fees. 
Besides, Depop is a platform mainly for vintage clothes and name-brand clothes. You can sell more variety of goods on Mercari from electronics to furniture.
What's Next
In summary, many selling sites and apps like Mercari for online shopping platforms exist. All the apps have their characteristic that sellers can use to earn extra cash. Buyers can also browse the sites to achieve anything they want. Yet, the sellers and buyers must stay safe on the sites so they won't be scammed.
I hope this article serves you every piece of information that you need. If you have any further questions regarding product sourcing, feel free to contact us!
We are sorry that this post was not useful for you!
Let us improve this post!
Tell us how we can improve this post?