Boots Manufacturers
OUR experts find WINNING products for your business. And YOU save half of your budget through our negotiation tactics. We ensure that your boots are always HIGH-QUALITY with our extensive quality control. With time, YOU SELL MORE while spending less.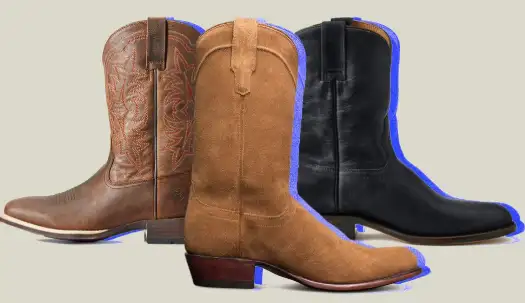 No Risk Free Sourcing No Hidden Fee
You can get Free detailed product quote before order
Wholesale Best Boots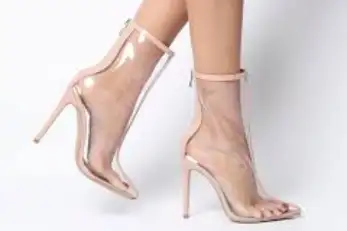 Wholesale PVC Boots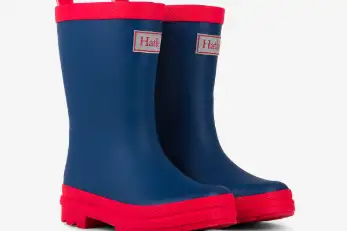 Wholesale Rain Boots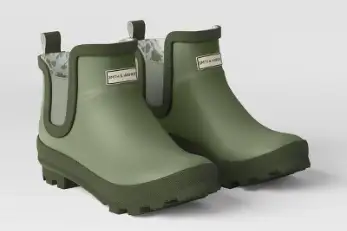 Wholesale Rubber Boots
---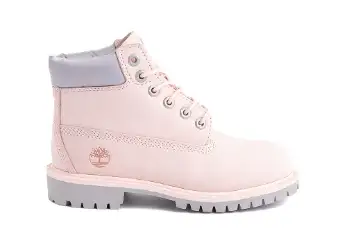 Wholesale Traditional Boots
Wholesale Winter Boots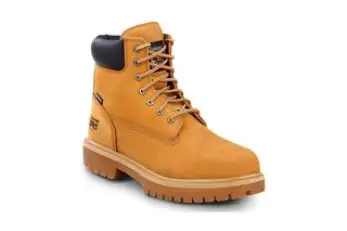 Wholesale Work Boots
---
Our Boots Manufacturing Services Include: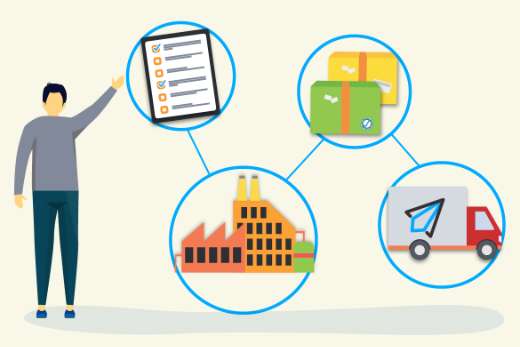 Sourcing Boot Suppliers
YOU receive the best-selling boots thanks to our partnerships with the BEST wholesale manufacturers. Your business gets a HIGHER profit margin. AND your inventory is ALWAYS filled with winning, customer-magnet products.
Boots Quality Control
WE check the quality of the boots twice before sending them for delivery. And ALL faulty boots are replaced with high-quality pairs OF CHARGE. You receive products that SELL and are durable.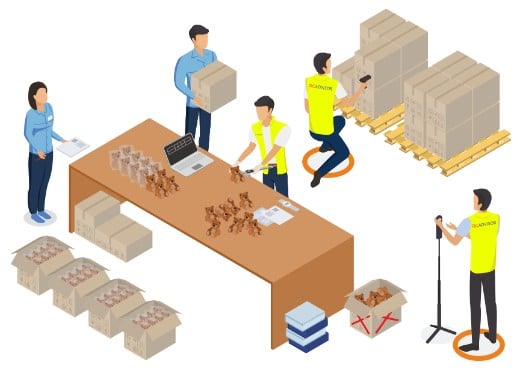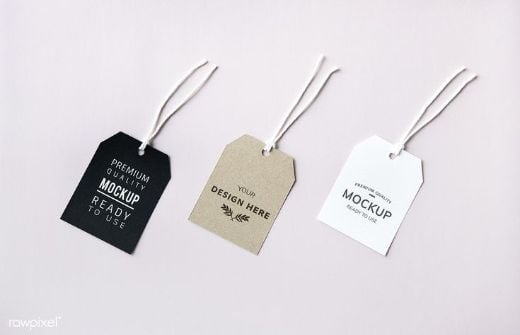 Private Label & White Label Boots
GIVE your business a CATCHY logo that draws customers. And IMPROVE your marketing tactics with the help of our UNMATCHED product photography services. YOU build a strong, trusted, and reputable brand even as a start-up business.
Dropshipping and Fulfillment
ALWAYS receive your boots on time. And you get around-the-clock updates about your deliveries. YOU receive BIG discounts from our 18 partnered couriers. You focus more on your store marketing with us.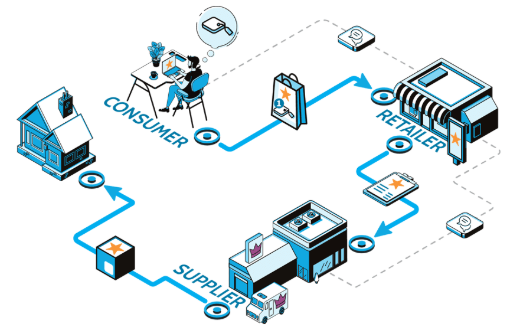 ---
Hear it from fellow Boot Wholesaler
Starting a business was scary at first because there were too many variables to be mindful of. But with the help of Leeline Sourcing, everything fell into place. I highly recommend reaching out to them if you want to improve your business.
– Mattie, Florida
---
Source Your Boots and Make Big Money
We offer the best wholesale price and high quality boots to help you boost your business.
---
Top 10 Boots Manufacturers
Welcome to our ultra-guide for finding the BEST boots manufacturer for your business.
We know finding reputable boot suppliers is a chaotic journey. But YOU won't have a hard time.
Our experts here at LeelineSourcing spent WEEKS comparing and contrasting show manufacturers worldwide. Because we want business owners like YOU to excel and grow.
At long last, we compiled the TOP 10 boots manufacturers globally.
Keep reading to source the BEST products for your store.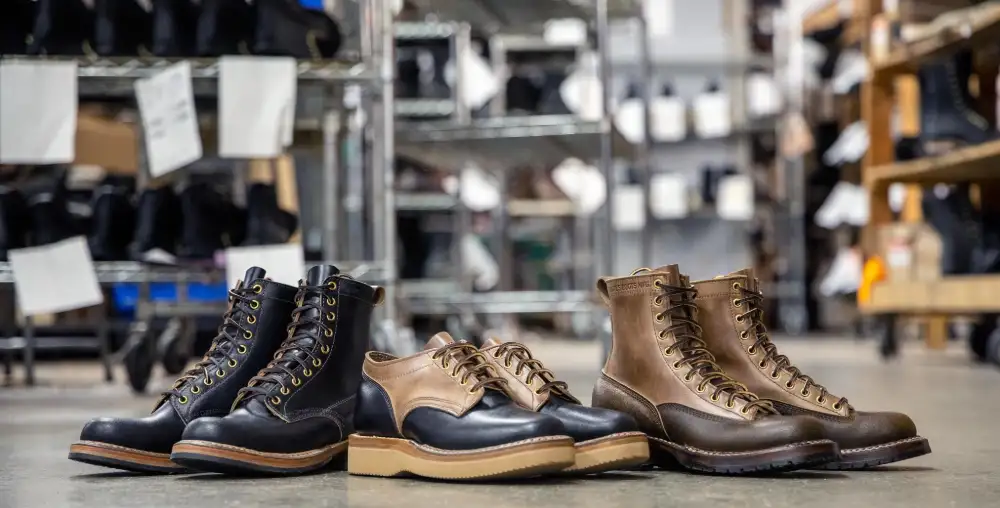 1. VIBERG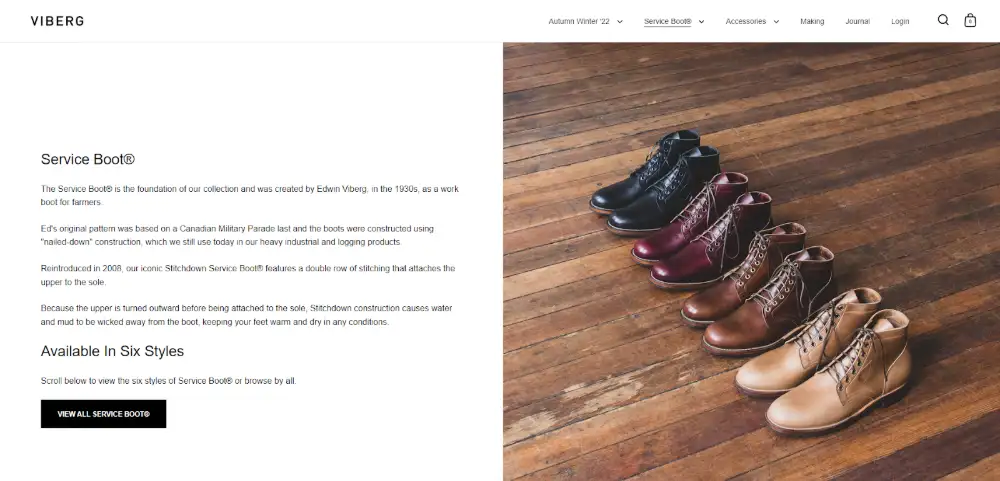 VIBERG is our top-pick boots manufacturer based on our company's popular mechanics.
Our male testers found this to be the BEST store for MEN. However, Viberg doesn't sell shoes for females. So, you must use this supplier with another one if you want to sell to various types of customers.
Make your male buyers HIGHLY SATISFIED with how foot-friendly the soles of Viberg's shoes are. Because this manufacturer only uses NATURAL rubber for its boots' finished upper rim.
JUST ONE CLICK on your screen. And YOU get high-quality footwear with authentic LEATHER upper material and slip-resistant outsole.
Primary Products:
Rain Boot
Work Boots
Rubber Boots
Ankle Deck Boot
2. Dayton Boots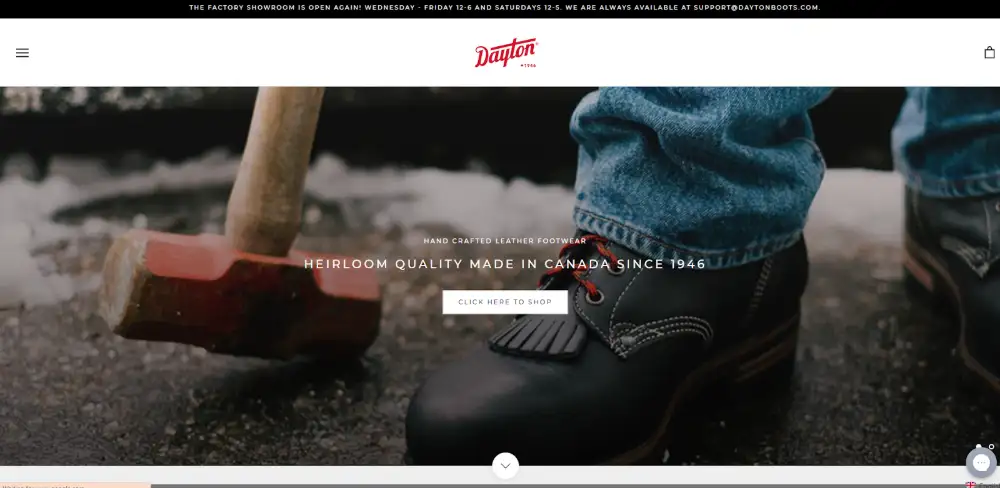 Dayton boots is the HOME for hundreds of high-quality boots for men and women.
This store provides you with WARM yet fashionable footwear.
The brand has been around since 1946. And biggest publications like VOGUE have featured Dayton Boots. That said, YOU guarantee your customers that they'll GET only the BEST shoes possible.
Leather yet soft lining, hard heel, and warm sole.
EVERY boot from Dayton boots has these qualities. As such, YOU shouldn't miss out on this wholesaler if you want to provide your customers the best.
Primary Products:
PVC Boots
Rubber Boots
Steel Toe Boots
Traditional Boots
3. Justin Boots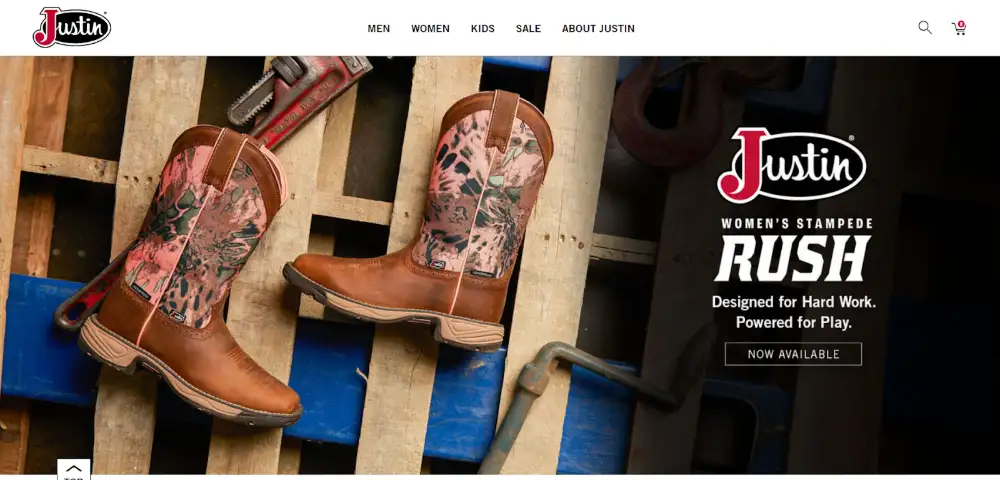 Let me introduce you to the goldmine of cowgirl and cowgirl boots.
At Justin Boots, YOU get slip-resistant apparel for a very low price. And all the footwear here has comfortable foot-friendly soles.
Trust us. Your customers keep coming back for more products.
This store offers everything from casual-style to men's military type of boots. It's your PERFECT wholesaler if you want to sell to VARIOUS customer types.
"How do I buy from Justin Boots?
Easy. Just head to their website, sign up for an account, then Name YOUR price and budget.
After that, choose from different types of:
With this store, YOU always get the specific boots YOU want to sell.
Primary Products:
Only Boots
Rain Boot
Casual Boots
Rubber Boots
4. Eros Wholesale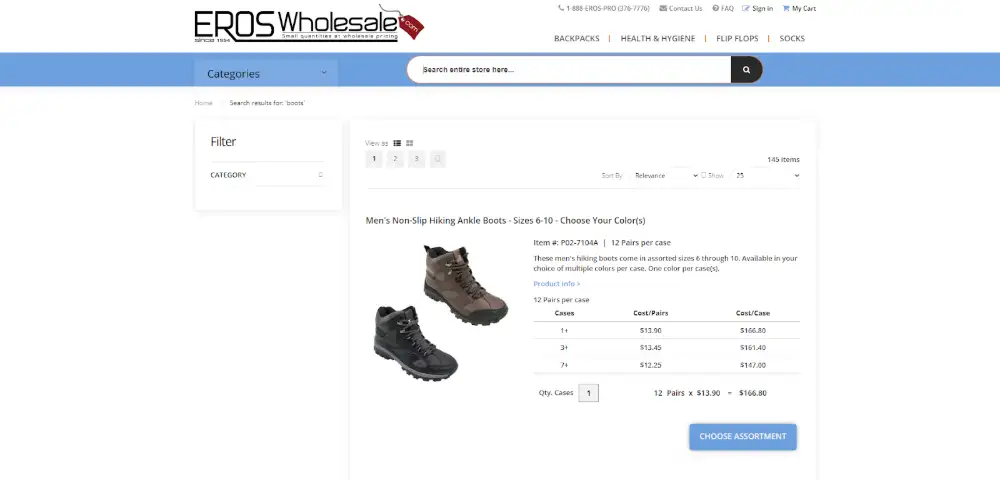 Give your customers the HIGHEST QUALITY winter boots possible without breaking the bank. With Eros Wholesale, YOU source DOZENS of snow, mud, and slip-resistant boots for a price of less than $20 each.
YOU get a higher profit margin. And your customers get the BEST boots with extremely comfortable soles.
It's always a WIN-WIN situation for your business.
However, know that boots at this store are sold in 12 pairs. Hence, you must prepare at least $300 per type of boots you want to resell.
Primary Products:
Duck Boots
Winter Boots
Rubber Boots
Women's Boots
5. Golden Road Fashion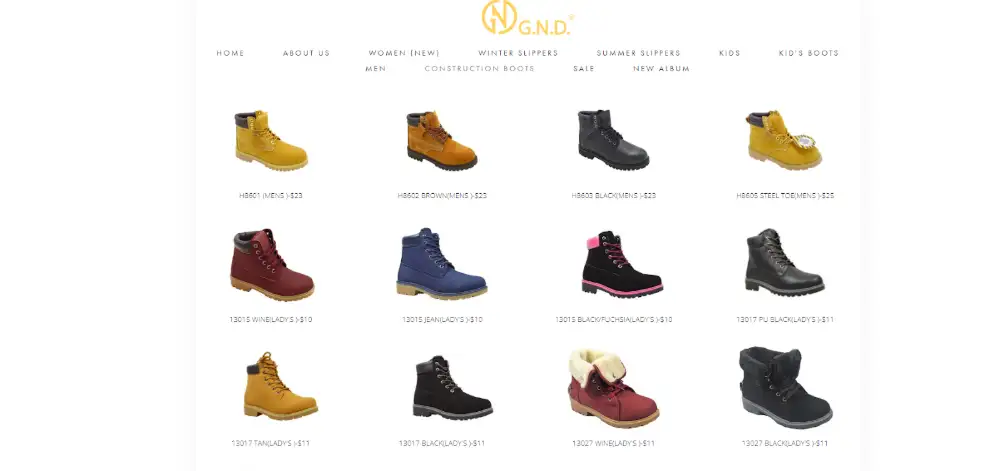 Give way to the INSTAGRAM of boots manufacturers.
HAVE the comfort of scrolling through wholesale boots as if you're just on social media. AND get your footwear products delivered to your door with ONLY ONE tap.
Golden Road Fashion offers EVERYTHING related to footwear. YOU get casual, construction, and even kid's boots with fancy accessories that you resell for OVER twice the price.
Your business gets HIGHER customer satisfaction because they get hard-use boots and fashionable apparel ALL IN ONE.
Primary Products:
Work Boots
PVC Boots
Rain Boots
6. Faire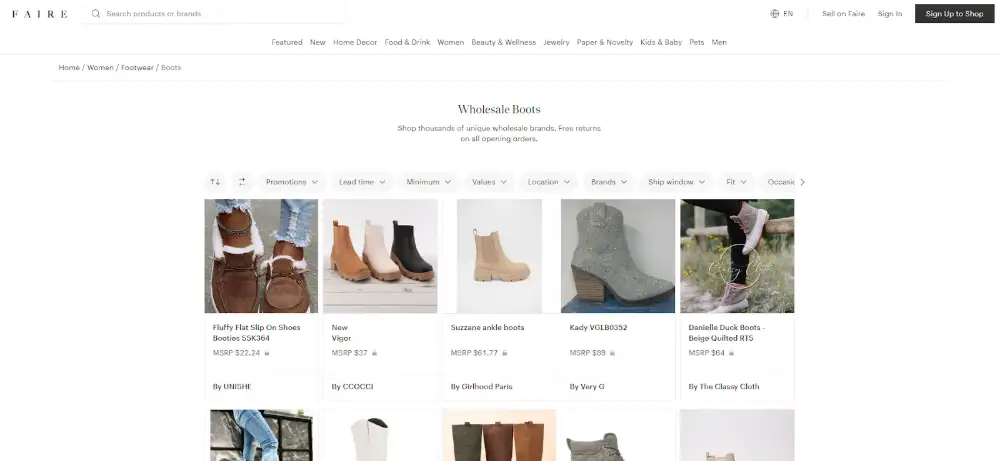 Source from 85,000 brands with just a single manufacturer. AND buy hundreds of boot styles for VERY affordable rates.
Faire is a manufacturing legend for business owners like you. Because you get footwear products with TONS of brand promotions and up to 40% OFF sales.
EVERY boot from Faire is made with comfortable lining. Rest assured that YOUR customers will enjoy walking with its footwear in snow or even against tiny gravel.
BUY from Faire. AND always have enough stock of boots for your business.
Primary Products:
Work Boots
Casual Boots
Rubber Boots
7. Top Guy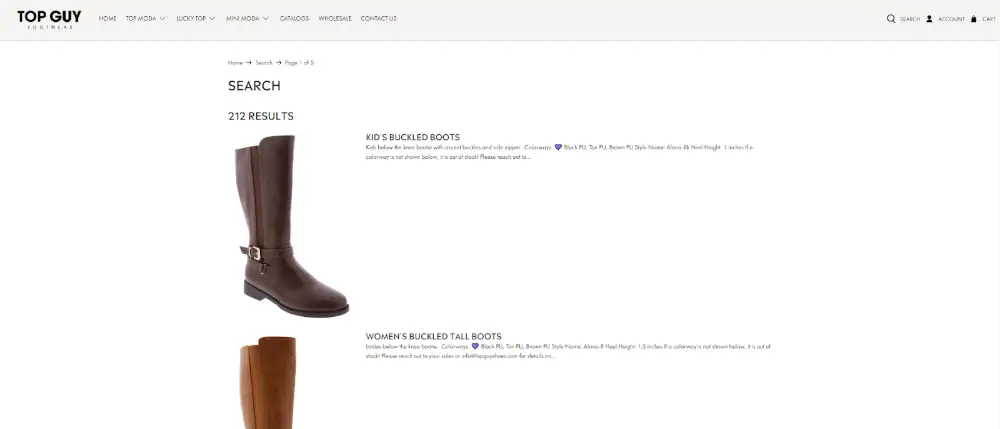 Want to resell luxurious yet AFFORDABLE boots for all types of customers?
Then, let me introduce you to Top Guy.
YOU get highly FASHIONABLE and foot-comfy boots from this manufacturer. And all of them have HIGH-QUALITY, long-durability, and top-tier designs.
TOP GUY always makes footwear that doesn't hurt toes, unlike other manufacturers. This way, YOU HELP your customers comfortably WALK with confidence like a legacy model.
The best part?
NO MOQ IS REQUIRED. This means you buy one or 2 pairs of boots if you want. Start shopping even if you're on a low budget.
Primary Products:
Sneakers
High-end Boots
Fashionable Footwear
8. Global Sources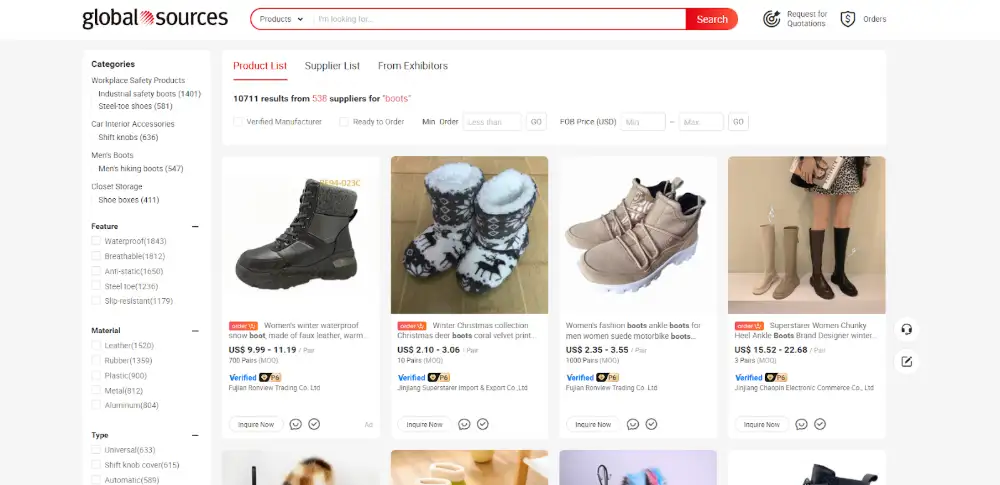 Welcome to the NETFLIX of boots manufacturers. This store lets you be AS SPECIFIC as you need. This way, you only compare the type of boots YOU WANT to sell.
Need rain boots? Or those that customers can wear even after drops stop falling?
You're in luck! GLOBAL SOURCES has all of those under its umbrella.
Choose from thousands of top-tier boots that can PROTECT your customers from the cold, mud, and rain. Never feel BLUE about not knowing where to FIND the best footwear products again.
Primary Products:
Unisex Rain Boots
Rubber Boots
Casual-style Boots
9. Alibaba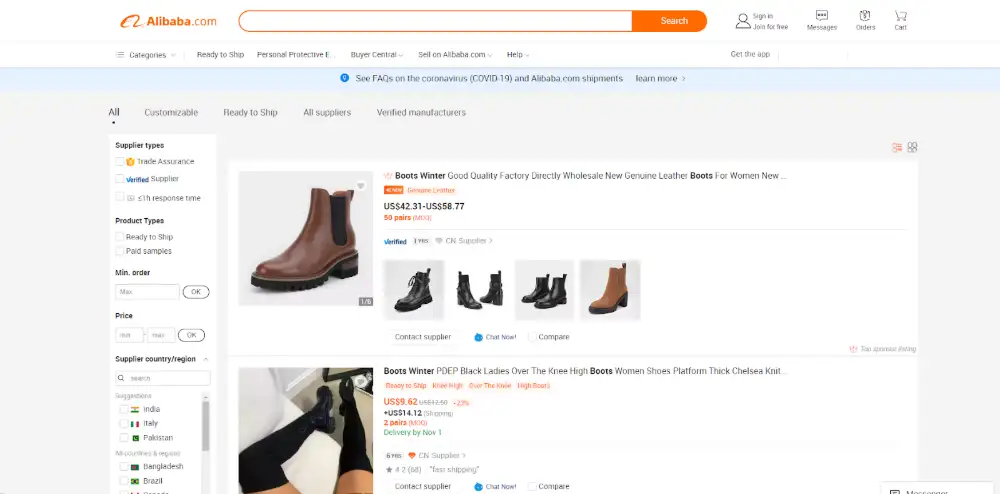 Alibaba is a WHOLE KINGDOM filled with wholesale boots.
It lets YOU buy from THOUSANDS of reliable suppliers and manufacturers. And ALL footwear you buy from this store is high-quality.
YOU get your product shipped in LESS THAN A MONTH. And you order multiple boots from DIFFERENT sellers at once.
Always deliver ON TIME to your customers and increase the customer satisfaction of your business. Alibaba is a must-use boots manufacturer for business owners like YOU.
Primary Products:
Steel Shank
Muck Boots
Slip-resistant Hunting Shoes
10. J5DFashion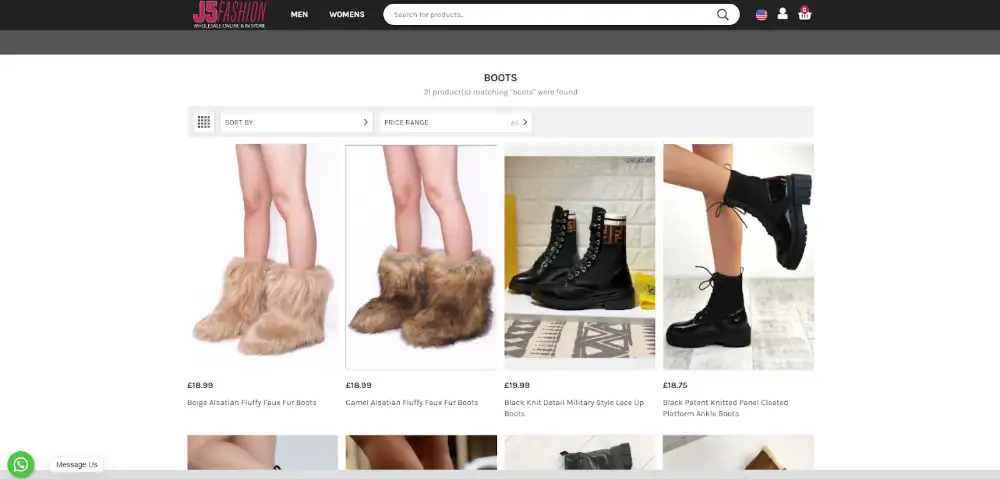 This is the PERFECT manufacturer for you if you aim to resell POPULAR and branded boots.
You think of J5DFashion as an online outlet store. Because it's where you BUY legit and trusted brands for up to 50% OFF.
Get EVERYTHING from ankle boots to high-top boots without breaking the bank. YOU, no doubt, deliver a WIDE variety of footwear products to your CUSTOMERS.
Primary Products:
Branded High-end Boots
Lady Boots
Hunting Shoe
Modern-style Footwear
How do you start boots online business?
Step 1: Find a reliable manufacturer
YOU buy from local manufacturers. But we also recommend buying internationally. Because you SAVE more money, especially if you buy in bulk.
The 10 manufacturers we listed above are trusted and PROVEN international stores. If you want to save time searching for wholesalers, you MUST check them out.
Step 2: Order the boots you want
You must have at least 10 different styles and 50 PAIRS of shoes when selling boots for the first time.
These serve as your customer's introduction to your business. So ensure they're HIGH-QUALITY, presentable, and popular.
Step 3: Prepare your store
Give your business a name. And prepare a UNIQUE logo for your store. IMPRESSING the public is crucial to make your business thrive.
Step 4:Start selling boots
BE ready to ship your boots ANYWHERE in the world if you're selling online. That said, familiarize yourself with the shipping couriers around you.
So, if you want the best support available, chat with one of our agents today! Or you may also watch Youtube tutorials about using various couriers you're interested in.
Looking for the Best China Sourcing Agent?
Leeline Sourcing helps you find factories, get competitive prices, follow up production, ensure quality and deliver products to the door.
FAQs about Boots Manufacturers
Which brand is best for boots?
Dr. Martens is the best brand for boots. It creates highly comfortable footwear products with only 100% leather. And it's also trendy worldwide. Its boots are expensive, but they're all worth the price. 
How much money do you need to open a shoe store?
You need at least $1000 to open a shoe store. That's because you need to pay for the initial cost of your business, which includes the first pairs of shoes you're selling. And the maintenance cost of your store. 
How long would it take to open a shoe store?
It usually takes 6 months to one year to open a store. But if you have professional help from sourcing companies like LeelineSourcing, you can start your boots business in just 3 months. 
How do you price your shoes?
You should have at least a 50% markup on each pair of shoes you sell. For example, if you spend a total of $50, including shipping and packaging, for a pair of boots, you should sell them for $75. 
What's Next
Starting your own shoe line is MUCH EASIER than you think. Let YOUR business strive and GAIN huge profits with the boots manufacturers we listed above.
Contact us anytime you need help growing your footwear business. Click here to talk with our best sourcing agents for FREE.
Do you want a successful import business?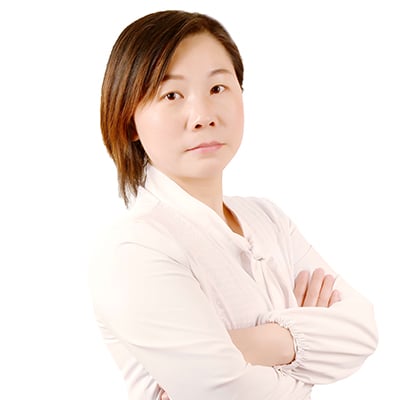 Hey, I'm Sharline, co-founder of LeelineSourcing. We've helped 2000+ customers import from China.
Do you want a better price on product or shipping?
We are sorry that this post was not useful for you!
Let us improve this post!
Tell us how we can improve this post?