Are you a seller on Amazon? To achieve a place among top sellers, you need to develop better quality control, lower price, and, most importantly, trust for the buyer.
So, where do you get all these? By sourcing properly. For example, buy on Alibaba and sell on Amazon. You might wonder, why? It helps you get inventory at extremely low prices with high quality products.
Later, you can sell products on Amazon to get a place among reputable suppliers. Is that something you are already doing? If yes, that's amazing.
Today, we will compose a better strategy to buy and sell inventory under your private label.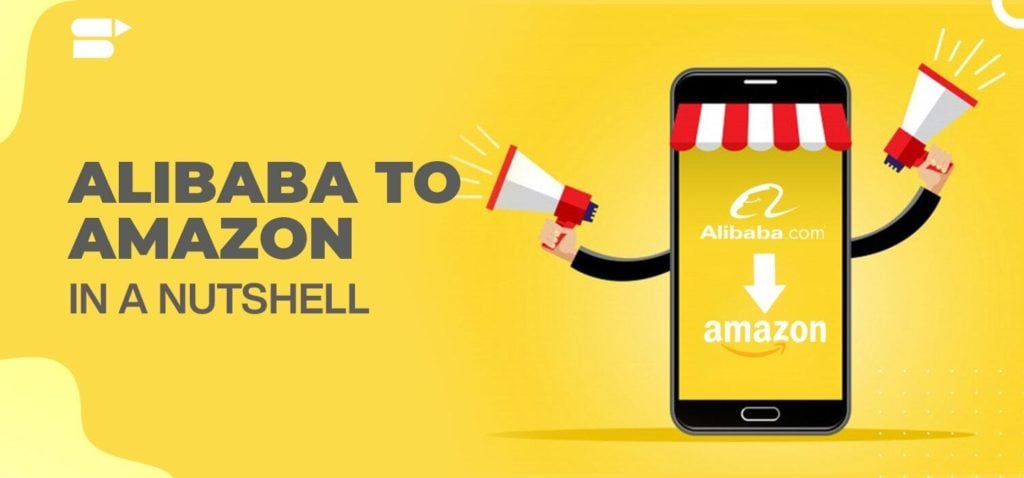 Pros and Cons: Buy on Alibaba and sell on Amazon
Product sourcing From Alibaba to Amazon FBA is one of the building blocks of your Amazon sales. There are multiple aspects to focus on while buying from Alibaba and selling on Amazon store. To highlight those sections, I have added pros and cons.
Pros:
You can grab quality merchandise from Alibaba and selling it on Amazon to gain a place among best sellers on Amazon.
Access to wholesale prices with minimum order quantity from different suppliers on Alibaba.
Many suppliers are available with a money-back guarantee.
Negotiations with most suppliers are straightforward to hold.
Access to particular product samples from the reliable supplier.
Cons:
You might interact with defrauders who will send you low-quality products.
Competition is high, leading to difficult survival on Amazon.
It's possible that other people will buy your original concept. Counterfeiting or infringement of intellectual property rights ( IPI ) may be involved.
What kind of Products is Worth Selling On Amazon?
Retail price between $25 to 50
We found that this price range makes it simple to cover direct costs such as the cost of goods sold, Amazon's fees, and advertising costs.
Any higher than $50, and your conversion rate, the percentage of individuals that see your item and buy drops.
We're after the products that sell throughout the year and not merely during specific seasonal periods.
The Google Trend Report is incorporated with the Chrome Extension to distinguish seasonal sales spikes you could avoid.
The products with negative or positive reviews under 200 are great, but for the top Amazon seller (fewer than 100 is superb!)
Small (fits in a shoebox) and Lightweight
It is much faster and easier to import through Air, so you need something that won't be too costly to import.
You could implement the feedback from your competitor's item reviews and make an improved and superior item.
You don't want to run into quality control or manufacturing process challenges, right? Stay away from electronics, glass, or highly complex products.
Best 7 Tools Help You Start Amazon Business
In different surveys conducted, the new sellers on the Amazon FBA platform say that they found it challenging to select the products for their Amazon FBA business.
Nowadays, there're various distinctive keyword research tools, and here, we've listed the best tools to discover the products for Amazon.
Jungle Scout
The Amazon sellers love Jungle scout as this tool is available for chrome users as a chrome extension to give product ideas.
With this tool, then you get case studies, e-books, and webinars to grow your own brand.
AMZ Scout
Amz Scout is a comprehensive and competitive method for discovering products. The AMZ Scout website has a free FBA Fee Calculator and a free Amazon Sales Estimator.
AMZ Base
By using this tool, Sellers can discover the ASIN numbers and the descriptions of products in no time.
Likewise, the site gives quick access to Alibaba, AliExpress, CamelCamelCamel, eBay, and Google web search tools.
Keepa
Keepa's Product Viewer and Product Tracker could be downloaded for free.
The app is consistently updated to ensure that clients approach the latest products accessible, and Keepa likewise offers access to bestseller lists to make the procedure much quicker.
CamelCamelCamel
The users can download this tool, and they can use it as an application or even in their web browsers; the choice is yours.
There is a handy list of the favorite products among the buyers on the website's main page.
Keyword Inspector
It is a suite of Amazon selling tools. By using this tool, you can do the following:
1. straight keyword search
2. KIPRT
3. Reverse ASIN searches
4. Indexation Tester
5. keyword trends
Google Trends
By using Google trends, you can make sure that your profitable products will sell on the Amazon site.
1. The popularity of Your Product
2. Where Your exact same Product Is Most Popular
3. Previous Similar Trends
4. Times Suitable For Your Product
5. Sneak On Your Competitors
How To Buy From Alibaba Safely And Cheaply?
Alibaba is a safe site where businesses source products in bulk to resell online or in a brick-and-mortar store. But, some buyers complain that they got scammed. To some extent, it is 100% true. You know, why? No matter you are using Alibaba or Amazon, there are some risks involved.
The question is; How to buy products safely and cheaply on Alibaba.
It's not a problem at all. There are multiple steps to buy safely. For example:
Look for Trade assurance suppliers with trade insurance
Discuss prices with the other sellers
Determine the payment methods such as bank transfer
Watch out for counterfeit goods
Risk of miscommunication while contacting manufacturers from around the world due to the language barrier
You can then begin by using the search bar to find the exact product that you are looking to sell. Alibaba will provide you with similar product categories and manufacturers. You should order samples from more than one manufacturer so that you can compare the quality. You should always order samples before committing to a larger order. It may feel frustrating to wait, but it will be worth it if it helps you find the right product and avoid any duds. You should avoid fraud scams when buying on Alibaba and importing from China
To get a detailed guide, check—How To Buy From Alibaba: Ultimate Guide
How To Arrange Your Alibaba to Amazon FBA shipping?
I believe you are an Amazon FBA seller. Am I right? Since Amazon FBA requires you to transport inventory to the Amazon FBA warehouse. So, how will you do that? It seems problematic, right? If it is true, no problem. There are multiple shipping methods to check out:
Express Shipping
Air Freight
Ocean Freight
Depending on your delivery time and shipping costs, choose any of them to ship directly to Amazon warehouse. Beginner sellers can usually go through a supplier to arrange to ship since the first shipment will likely be small enough for air shipping vs. sea shipment. Or you can find a freight forwarder who will help arrange sea shipments, customs clearance, packaging, and more. For a detailed guide, check— Amazon FBA Shipping: The Complete Guide 2022
How To Start Selling On Amazon Successfully?

Are you starting your journey as an Amazon seller? Great! Keep an eye on the best seller position on Amazon. Remember, there is no need for a business license for your buy and sell online business. Here is a good strategy how you can achieve that.
1. Conduct product research
Product research is the first and crucial step. To hunt down the products, you can try multiple product research tools such as AMZ scout and Helium 10.
2. List the inventory
If you have found the correct item and want to create custom products for your brand, nothing is better than that. Open Amazon seller central account. Have a proper plan and list the items. Do SEO, add high-quality images, and put videos of your private label product with your own custom logo in product listings if possible. You can have several brand names, depending how many brands you want to launch.
3. Keep an eye on the price
Clients focus on the average price. If your product price is higher than others, you might not be able to sell more items than your competitors. So, what is a plan of action in that case? Nothing special. Check the price of products from other Amazon sellers and list competitive prices. To work out your profit margin, you will need to subtract your costs from your sale price.
4. Do proper marketing
Marketing engages people and lets them know why they should prefer your item. It is the step where you need to make more fan following and implement more struggle. Even you have to try Amazon sponsored products ads to get the results.
5. Boom!
Have you done all? If yes, nothing else is essential. All the above steps will take you to the heights of success in no time.
If you hard to negotiate with suppliers and pay on alibaba.com safely?
LeelineSourcing is ready to help you buy products from Alibaba low cost and efficiently.
FAQs About How to Buy On Alibaba And Sell On Amazon
Is selling products on Amazon free?
No. Selling on Amazon is not free. You have to choose Amazon FBA for the fixed monthly fees of $39.99. Amazon controls order fulfillment for you.
For Amazon FBM, you need to pay $0.99 per item sale. In this case, order fulfillment counts on you.
Is buying products on Alibaba safe?
There is no difficulty when you find Alibaba supplier.
Your money is safe and secure as long as you use Alibaba's payment system. Like other eCommerce sites, some scammers are there on Alibaba. You need to contact supplier and ensure it is authentic and will send you the original item.
For this purpose, you can check the product reviews and find trade assurance program verified suppliers. This program reduces risks by providing a refund guarantee if a few Alibaba suppliers do not comply with the terms of the contract, including inconsistencies in product quality and quantity, as well as delays in delivery. Trade assurance will provide you with safety.
How to defeat the competitors on Amazon?
No doubt, there is high competition on Amazon, but you can survive and defeat your opponent. So, how? Apply the following techniques:
1. Keep the affordable price of the products
2. Offer discounts to the premium buyers
3. Sell a quality product that is worth the price
How to rank the products on Amazon?
Since there are thousands of products on Amazon, it is hard for sellers to rank on the top pages. If the same problem persists for you, no worries at all. Follow the tips:
1. Conduct proper products research by using tools
2. Find lucrative keywords to rank in search results
3. Add videos to your products
4. Describe your products in detail
Is it legal to resell products from Alibaba?
Your business comes up as reselling products from China, often under your own private label brand. However, you must ensure that the products are not copyright and trademark infringing. You also need to ensure that the products you want to resell are not subjected to counterfeiting or IP infringement.
What's Next
Overall, sellers aim to find the best way to gain good profit margins. But, still, some gaps remain unfilled in between the sourcing products. That's what it takes us to buy from Alibaba and resell products on Amazon.
When purchasing products from Alibaba gold supplier, always be on the safe side. If you are a new business or don't know how can you do that. Simply get in touch with Leeline Sourcing to find suppliers and sell Alibaba products on Amazon right away!
We are sorry that this post was not useful for you!
Let us improve this post!
Tell us how we can improve this post?