Chinese wholesale market is a great place to reduce costs and lead to steep discounts. China wholesalers can be found in many parts of the country.
If you want to start a fabric business, you can get a wide variety of high-grade materials from the China Fabric Markets.
Chinese wholesale markets have literally hundreds of complexes, each dedicated to a particular range of products.
This article will provide you with a list of the top 10 wholesale fabric markets where you can buy fabric at wholesale price.
Development of the China Fabric Market
Leading government officials and experts estimate the Chinese wholesale fabric industry will exceed its economic growth target in the coming years.
Although COVID-19 variants pose a threat to the wholesale fabric industry, inflation remains under control. The Chinese wholesale markets are showing steady growth.
Top 10 Textile & Wholesale Fabric Market in China
1. China Fabrics & Accessories Center
Guangzhou has the largest fabric market and accessories center in China and probably the largest globally. You can find high-quality fabric and accessories here.
Main Products
Fabrics of all kinds can be found here, such as knitted, woven fabric, modal, cotton, spandex, and polyester fabric. Further, clothing accessories such as buttons, zippers, sequins, and tapes can be purchased.
Address: Jinfang Rd, Hai Zhu Qu, Guangzhou, China.
2. Guangzhou Zhongda Fabric Market
Zhongda fabric market is known for having incredible prices on high-quality fabrics. A wide range of china fabrics and accessories can be bought there.
Main Products
The Zhongda fabric market offers multiple china fabrics so that you can pick from various choices. These fabrics include silk, satin, cotton, linen, polyester, spandex, and lycra.
Address: NO. 233, Ruikang Rd, Haizhu District, Guangzhou, Guangdong
3. South Bund Fabric Market
The Fabric Market in Shanghai is one of the biggest tailor-made markets in the world.
On the South Bund Fabric Market, you can find a fabric shop that makes suits, cheongsams, and other custom-made garments.
Main Products
There are many small stalls where you can find all kinds of cloth on this market. There are a variety of fabrics here, including satin, silks, and cashmere.
Address: 399 Lujiabang Lu, Huangpu, Shanghai, China
4. Shaoxing Keqiao textile fabric market
The Shaoxing Fabric Market is among the busiest textile manufacturing and trading centers.
Keqiao's international light textile markets have become an important source of fabrics for customers at home and abroad.
Main Products
There is a vast array of fibers, yarns, fabrics, apparel, and men's garments to behold. Chinese wholesale suppliers of fabrics offer the best designs, patterns, and shades in the market.
Address: Keqiao District, Shaoxing, Zhejiang, China.
5. Shiliupu Fabric Mall
A Shiliupu Fabric Mall has been developed on the Xindaxiang Silk Cloth Store site.
Main Products
About 100 independent stalls selling fabrics, haberdashery, and tailoring materials are here. There are also lots of custom-made items available here.
Address: 168 Dongmen Rd, Huangpu, Shanghai, China
6. Dongguan Humen Fabric & Accessory Markets
Humen Town has a strong fashion industry with many clothing manufacturers.
Main Products
Humen offers a wide variety of fabrics used in clothing and fashion accessories. These fabrics can even be used for tents, blankets, and bags.
Address: Renmin North Road, Humen Town, Dongguan City.
7. Jiaxing China Southern Textile City
The woolen and textile industry is booming in Jiaxing. Currently, Jiaxing China Southern Textile City farm sales of chiffon fabric are steadily increasing.
Main Products
The Jiaxing China market offers creped Chine, chiffon elastic, and embossed chiffon fabrics. Furthermore, the market also provides poly-fiber chiffon fabrics that are FDY Chiffon and semi-extinction polyester.
Address: Jiaxing City, Zhejiang Province, China
8. Shanghai Light Textile Market
Light Textile Market in Shanghai is among the most active markets worldwide. In this market, over 29,000 companies are handling over 40,000 product types.
Main Products
The product range includes knitwear, shirting fabrics, suiting fabrics, and customized fabrics.
Address: Jiading District, Shanghai, China.
9. Shishi Clothing City
Shishi is a famous city for its fabric & casual wear. Shishi has already ranked among the top producers of casual wear fabrics throughout China.
More than 1,000 companies operate within Shishi cloth's nine central districts and more than 6000 storefronts.
Main Products
Fabric is a major industry in Shishi, serving the entire country. Here you can choose from cotton fabrics, knitted fabrics, and polyester fabrics.
Address: Quanzhou, Fujian Province, China.
10. Jiangsu Changshu Jingu Cloth Market
Currently, Changshu is Jiangsu's biggest export base for apparel and clothing. Jiangsu is also a major textile and apparel manufacturing region.
You can choose from various suppliers as there are five separate multi-floored clothing malls.
Main Products
This market offers a wide variety of fabrics. In Changshu, you can also discover fabric trading markets, shoe centers, cloth markets, hardware markets, and commodity markets.
Address: Changshu, Jiangsu, China
Looking for the Best Chinese Fabric Suppliers?
We help you find the Best Products Made in China with high quality at an attractive cost.
Top 10 China Fabric Wholesale Suppliers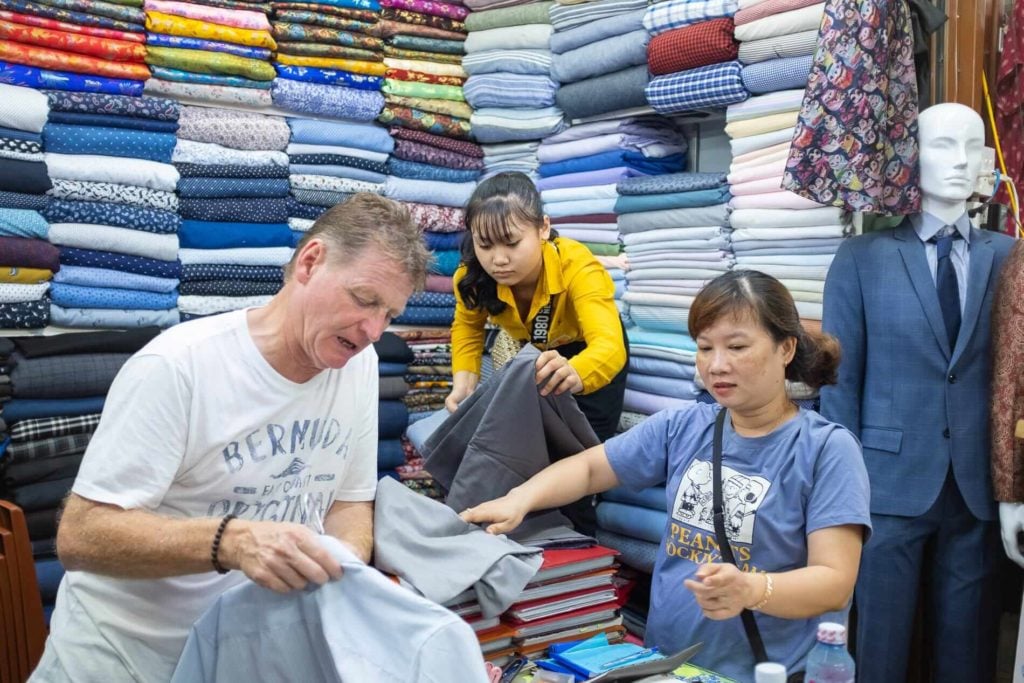 1. Jiangsu Sunshine Co Ltd
Jiangsu Sunshine Co Ltd is one of China's top textile manufacturers. Among the company's major activities are production and distribution.

Main Products

The company's main products are woven wool & wool blend yarns, worsted woven fabrics, and tailored suits and shirts.

Address: 8 Taoxin Middle Rd, Jiangyin, Wuxi, Jiangsu, China,
2. Hengli Group
Chinese textile and clothing manufacturer Jiangsu Hengli Group is the largest in the country. 

With over 40,000 weaving machines, it is the world's largest weaving producer. It produces 4 billion meters of fabric every year.

 Main Products 

The company's main products include yarn-dyed fabrics, indigo denim, and stretch fabrics made with dyed yarns.

Address: 1 Hengli Road, Wujiang, Suzhou City, Jiangsu Province, China
3. Lu Thai Textile Co. Ltd.
Lu Thai Textile Co. Ltd. specializes in quality fabrics and has its headquarters in China.

Main Products

The company's main products include producing and distributing yarn-dyed fabrics and dyeing fabrics used in shirts and garments. 

Address: No. 81, Songling East Road, Zichuan District, Zibo, Shandong, P.R.China
4. Weiqiao Text
The Weiqiao Textile Company Limited is a manufacturer and distributor of textiles. Weiqiao is in a good position on the market thanks to its huge economies of scale.

Main Products

Organic Cotton yarn, gray fabric, and denim are the company's principal products.

Address: No. 1 Weifang Road, Zouping economic development zone, Shandong China
5. Shandong Jining Ruyi Woolen Textile Co Ltd
Jining, China, is the company's headquarters, and it was founded on December 28, 1993. Shandong Ruyi Woolen Garment Group Co. Ltd. manufactures and sells woolen textiles.

Main Products

The company specializes in manufacturing and selling worsted woolen fabrics and garments.

Address: Ruyi Ind. Park Yanzhou City, Shandong, China
6. Shijiazhuang Changshan Beiming Technology
Founded in 1998, Shijiazhuang Changshan Beiming Technology specializes in knitting yarns, weaving yarns, and fabrics. Various types of garments can be ordered as ODMs and OEMs.

Main products

The products offered are cotton fabrics, printed fabrics, dyed fabrics, and woven garments. The company also produces yarns and fabrics made from natural and recyclable materials. 

Address: No. 161 Heping East Road, Shijiazhuang, Hebei, China.
7. Huafu Top Dyed Melange Yarn Co., Ltd
Huafu Fashion Co., Ltd. is China's first A-share firm operating within the color spun industry. Since 1993, the company has operated five manufacturing plants in China and currently employs 24,726 people.

Main Products

China-based Huafu Fashion Co Ltd supplies and manufactures melange yarns. In addition to raw-white yarns, it offers dyed yarns, semi-worsted yarns, and open-end spinning yarns.

 Address: No.5022, 4F, Tower B, United Plaza Binhe Avenue Futian District, SHENZHEN
8. Shandong Demian Incorporated Company
With over 20 years of experience in the textile business, Shandong Demian is a reputable manufacturer. Based in Dezhou, China, the company has a large factory area. 

Main Products

Providing you with all your textiles needs such as carded knitting yarns, natural colored cotton, combed knitting yarns, weaving fabrics, etc.

 Address: NO.18, Western Road, Shunhe, Dechen District, Dezhou City, Shandong Provinc
9. Huafang Textile Co Ltd
China's Huafang Co., Ltd. is the nation's leading backbone enterprise. It is renowned for producing textile products to satisfy domestic and overseas demands.

Main Products

Knitted fabric, nonwoven fabric, dyed woven fabric, gray fabric, and dyed yarn fabric are some of the products offered by the company. 

Additionally, the company produces custom yarn, elastic cotton, woolen polyester fabrics, and raw materials.

Address: No. 9 Industry Road, Chengnan Industrial Park, Wuhe County, Anhui, China
10. China Oriental Silk Market Co. Ltd
China Oriental Silk Market Co. Ltd. is the largest textile manufacturer in China. 

It covers a total of more than four square kilometers. The company is the largest exporter of fibers in China.

Main Products

There is a wide range of raw materials and finished products such as textile, real silk, chemical fiber, cotton, and decorative fabrics. 

Address: Shengze Town, Wujiang District, Suzhou City, the southernmost part of Jiangsu Province.
FAQs
When sourcing fabric in China, what questions should you ask?
The first step is to obtain a sample fabric from the supplier. Afterward, you should ask for a quotation to compare prices with other fabric suppliers (multiple quotes).
Next, discuss the MOQ(Small quantity) that a supplier will sell at a certain price. You can also find out if fabrics are in stock.
If your fabrics aren't in stock, ask for a lead timer so that they can be shipped out promptly.
How long does it take China to deliver woven fabric garments? 
The average delivery time for woven garments from China and India is 50-60 days and 60-70 days.
The average delivery time for Bangladeshi exporters is 90-120 days.
Nevertheless, the Chinese suppliers have now begun delivering woven fabrics within 30-40 days.
Which is China's best fabric wholesale market in terms of quality?
For quality, Zhongda Fabric Market and nearby markets are the best.
Among all the wholesale markets in Guangzhou, the Zhongda market is one of the largest, busiest, and most chaotic.
Various fabrics material is available, including silk, cotton, colored fabric, men's clothes fabric, satin, synthetics, wedding dress fabric, denim, linings, flockings, and much more.
Zhongda's fabric supplier is also very professional and can handle your entire order supply chain.
What is the best way to verify the best fabric supplier for your business?
The key to buying from suppliers safely is making them trust you and developing trust with them. Suppliers can be judged on a couple of factors.
First, check their business platform credit history and how long they've been in business. 
In addition, you can check whether they have any certifications and what their clients think of the products and services they offer.
Make sure you conduct due diligence before making any deals.
How can I start a fabric business?
To start a fabric business, you need to find fabric suppliers and wholesale markets. You can purchase fabric from well-known fabric factories in your region.
You should familiarize yourself with the product details and the normal price of the fabric before purchasing.
You can contact multiple fabric suppliers to purchase the best product as a buyer.
Final Thoughts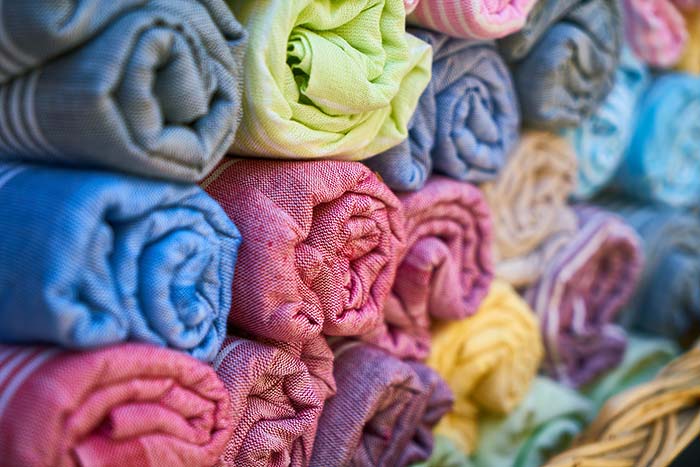 It is extremely difficult to locate fabric wholesalers of high quality in China. Although China has a lot of wholesale fabric markets, the quality is not guaranteed.
Moreover, there are a lot of traders who don't make their products. Because they are middlemen, they charge a high price for fabrics.
If you want to avoid this., you should work with a sourcing firm.
For over two decades, Leeline has been a trustworthy sourcing company in China. Furthermore, Leeline charges meager shipping, so you should inquire about their sourcing services.
We are sorry that this post was not useful for you!
Let us improve this post!
Tell us how we can improve this post?