Canada Clothing Manufacturers
With our services, you will get wholesale clothing that will be fashionable according to customer requirements. Moreover, you will get all your products at a 40% lower cost than the global market. You can get loyal customers by selling products at cheap rates while still generating huge revenue.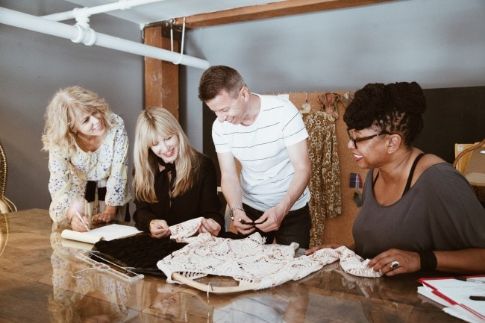 No Risk Free Sourcing No Hidden Fee
You can get Free detailed product quote before order
Wholesale Best Clothing Products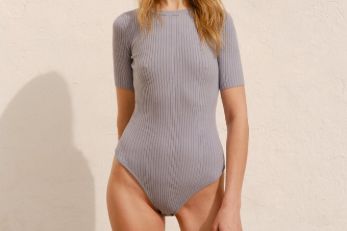 Wholesale Product Name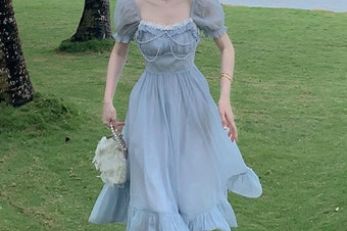 Wholesale Dress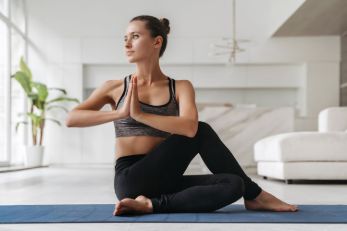 Wholesale Product Name
---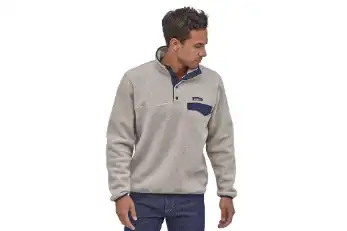 Wholesale Fleece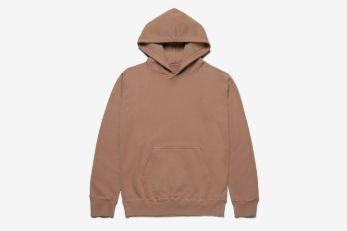 Wholesale Hoodie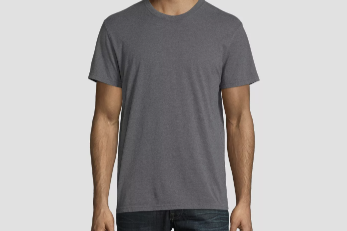 Wholesale T-shirts
---
Our Clothing Manufacturing Services Include: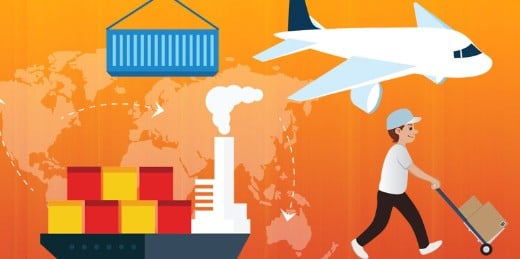 Sourcing Clothing Suppliers
Through our exceptional services, you will be able to unlock the perfect sourcing solution to get top-notch production. Our sourcing will provide you with quick responses, free quotes, and mass production in a short period.
Clothing Quality Control
To assess the quality of your production, we will perform a factory audit before manufacturing. Afterward, all your products will be inspected, tested, and repackaged after removing all tags.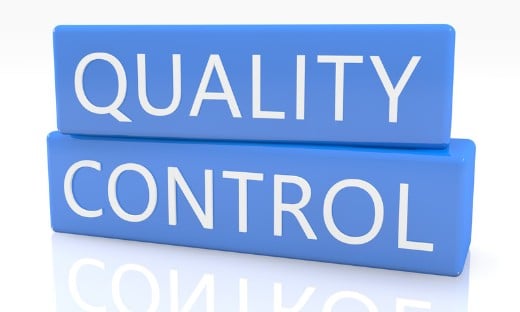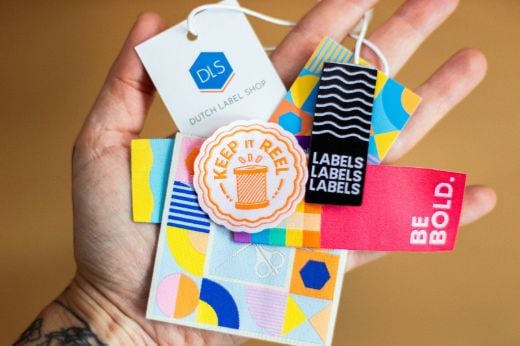 Private Label & White Label Clothing
You will get fully tailored services and high customization in a budget-friendly deal. With this cost-effective package, you will also receive high-quality professional photography and videography.
Dropshipping and Fulfillment
With leelineSourcing, you get all-in-one mega dropshipping services on a small budget. You will get profitable services in your comfort zone, from product sourcing to inventory storage, quality checking, and shipping worldwide.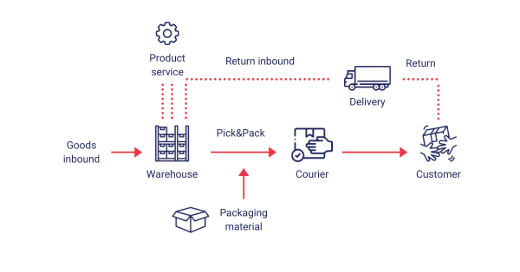 ---
Hear it from fellow Clothing Wholesaler
I get private label services from Leelinesourcing, whose branding strategies are insanely unique. Their eye-catching photography has boosted my sales in no time. They are highly recommended.
– Sarah, India
---
Source Your Canada Clothing and Make Big Money
We offer the best wholesale price and high quality clothing to help you boost your business.
---
Top 10 Clothing Manufacturers In Canada
Canada has one of the best economies, boasting one of the largest numbers of clothing manufacturers globally. As a result, the Canadian fashion industry is wide with lots of quality garment manufacturing companies.
Clothing manufacturers in Canada allow you to get the best value for every penny you spend. With our sourcing experience, we have compiled a list of the best vendors based on criteria such as a premium catalog, fast shipping, and excellent prices. As a result, you will find the best manufacturing clothing in Canada with tested track records. Furthermore, you can save more business costs by patronizing our verified clothing manufacturers.
Read on to know more about the best clothing brand in Canada.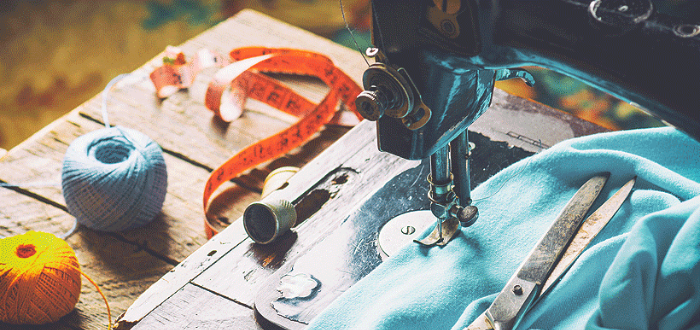 1. Lefty Production Co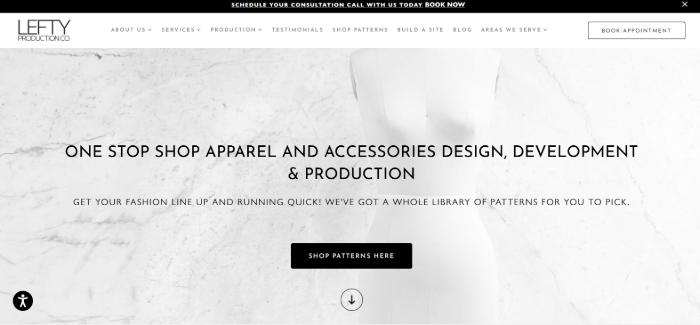 Left production Co is your one-stop-shop for apparel, accessories design, and production. They are into bulk production, which is excellent if you plan on stocking up your retail store. They guide new and upcoming clothing accessory lines through design, sketching, fabric, and trim sourcing. In addition, they have several years of experience in fashion manufacturing.
The company has worked with fashion designers and brands of different capacities. For example, they have worked with rosetta grey, Christian Sirano, and Mathew Williamson.
Primary Products:
Men's Wear
Women's Wear
Children's wear
Swimwear and Bikini
Athletic wear
Lingerie
Custom and Bridal
Home textiles
Leather and handbag
Phone:
Hours Of Operation:
2. In House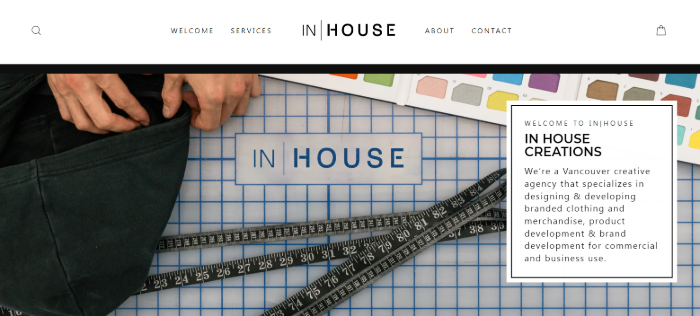 The story of in-house is unique. In-house started in a living studio room with one sewing machine, one table, and three designers. Today, in-house has become a known brand amongst Canadian designers. The company was started to bridge the gap between small businesses and large supply chains, which are usually only accessible to established organizations.
In-House currently works with a wide range of designers across Canada and continues to elevate the standard of the Canadian apparel industry. So, if you are based in Canada and wish to start up your clothing line, you have a home at In-house productions.
Primary Products:
Phone:
Email Address:
Location:
167 B 1st Street E North Vancouver
3. Color Alchemist Canada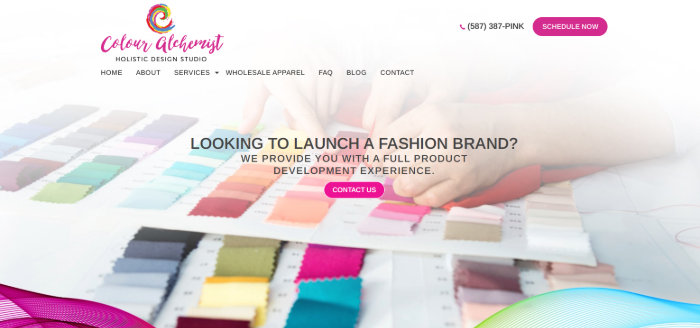 You might ask, "what makes color Alchemist unique"? The answer is in their customized apparel grading and pattern making. They put a lot of priority on the fit of their garment. Every design is approached using a creative strategy. Their goal is to ensure that your apparel idea is turned into a sellable idea. The company ensures that its views align with your brand and serve your target customers just as intended.
They practice the art of transformation by taking your design concept and turning them into actual clothes that fit. Their customer care is top-notch, and you only get what you envisioned. However, the company also focuses on creating clothing that makes a difference. While other brands focus on aesthetics and function, color Alchemist goes over and beyond.
Primary Products:
Phone:
Email Address:
Hours Of Operation:
Location:
3208 8 Ave NE #504, Calgary, AB T2A 7V8, Canada
4. Dad's Printing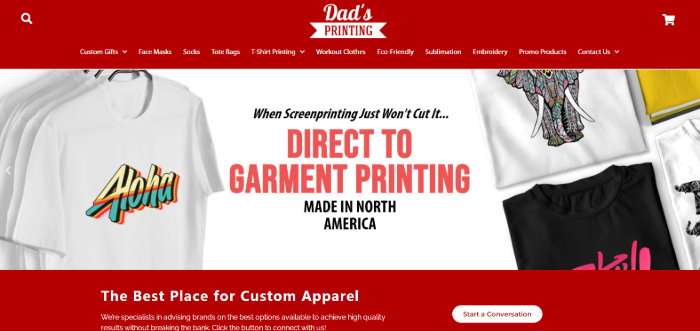 Dad's Printing is a specialist in advising brands on the best options available for them to achieve high-quality results at a reasonable cost. Even though Dad's Printing ships garments worldwide, they still do their production in Canada.
Dad's printing uses eco-friendly inks in its equipment, utilizes a solid waste system, and offers a catalog of eco-friendly garments and promotional products. In addition, the company works with clients of all sizes, which means that your small business will not be disregarded when you approach the company.
Dad's Printing is based in Vancouver with a specialty in screen printing and dye sublimation printing. They have several years of experience in their pocket, assisting businesses and creativity to make their fashion business dreams come true.
Primary Products:
Custom Gifts
Face Mask
Socks
Tote Bags
T-shirt Printing
Workout Clothes
Phone:
Email Address:
Hours Of Operation:
Location:
Back Alley, 319 W Hastings St Basement B1, Vancouver, British Columbia V6B 1H6, Canada
5. Empire Clothing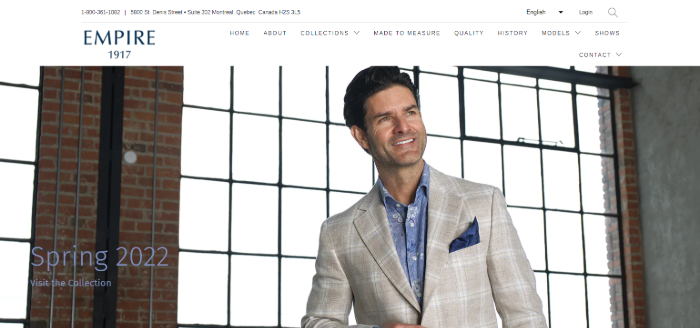 Empire clothing is a family business that started over a hundred years ago and has continued to evolve its design to meet modern trends. Their clothes are designed in a factory in Montreal, Canada. The company's closeness to its production arm allows them to provide clients with top-notch and quality service. It also provides them a lot of flexibility in manufacturing, allowing them to react to different tastes in the market. This way, they can meet a wide range of market needs. Their garments are made with some of the best fabrics from the best mills in Scotland, England, and Italy. The materials are carefully selected to create products that allow the customers to stand out.
Primary Products:
Phone:
Hours Of Operation:
Location:
5800 St. Denis Street, Suite 302, Montreal, Quebec Canada H2S 3L5.
6. Peros Garment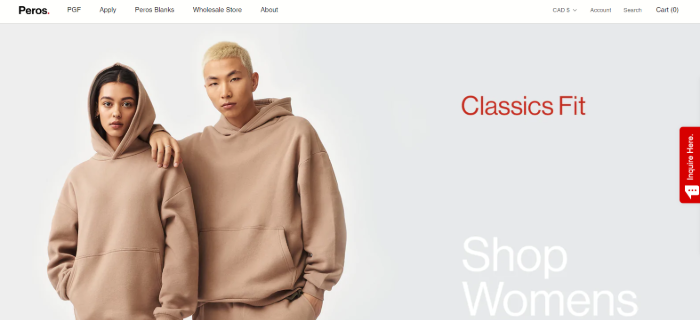 Peros Garment has since 2001 produced high-quality knit products both for international and local brands. They have successfully established themselves as the leading production facility in Canada over the years. The demand for their products to be sold as blanks grew annually, which resulted in them launching a premium blank brand. So, if you are a business owner that values aesthetics and low prices, Peros Garment should be your one-stop-shop.
Primary Products:
Men
Women
Baby Clothing
Kids
Workout Clothes
Custom Made Apparels
Phone:
Hours Of Operation:
Monday- Friday 9 am–5:30 pm
Location:
21 Pullman Ct, Scarborough, ON M1X 1E4, Canada
7. Jerico Clothing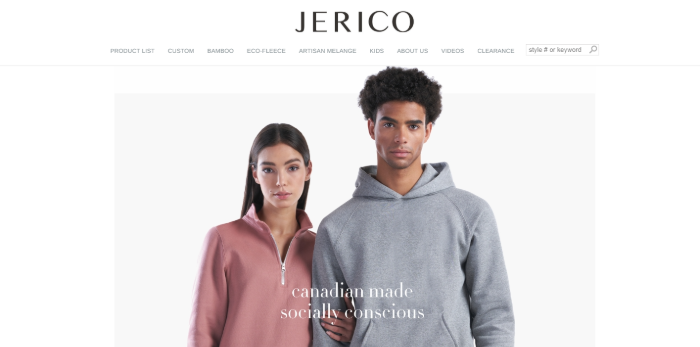 Jerico clothing pride itself on making socially conscious clothes. They have deliberately chosen to remain a domestic manufacturer to support the local economy. They ensure a safe working environment and make quality garments that stand the test of time.
The company was formed in 1987 by two brothers and two sisters. It was founded as a family business and has since grown in leaps and bounds. Even though it hasn't been easy for the company to keep producing in Canada due to high competition, it has maintained fair labor and quality products. Jerico clothing is proud to continue to offer original Canadian apparel at the lowest prices.
Primary Products:
T-shirts and Henleys
Hooded Sweatshirt
Artisan Melange
Bamboo Tank Tops
Bamboo Tri-bend
Face Masks
Sweatpants
Golf Shirts
Three-end Bamboo Fleece
Phone:
Email Address:
Hours Of Operation:
Location:
120 Commander Blvd, Toronto, ON, M1S 3H7
8. Canadian Custom Apparel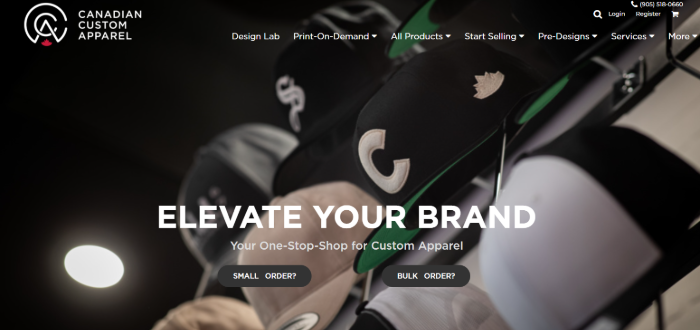 You can't talk about the leading apparel companies in Canada without mentioning Canadian Custom Apparel. They make their design and also supply and manufacture small business clothing with a Canadian custom apparel brand name. They also offer customers the ability to sell their custom products online by using their web services.
After using their website will take full control of products and shipment, and you don't have to lift a finger. If you want a company that cares as much as you do for your clothes, then Canadian custom apparel is your best bet. They treat every large and small customer with respect and dignity.
Primary Products:
Men
Women
Baby Clothing
Workout Clothes
Kids Clothes
Phone:
Hours Of Operation:
Location:
Canadian Custom Apparel Inc. 140 Snow Blvd, Unit 3, Concord, Ontario L4K 4C1
9. WS & Company Ltd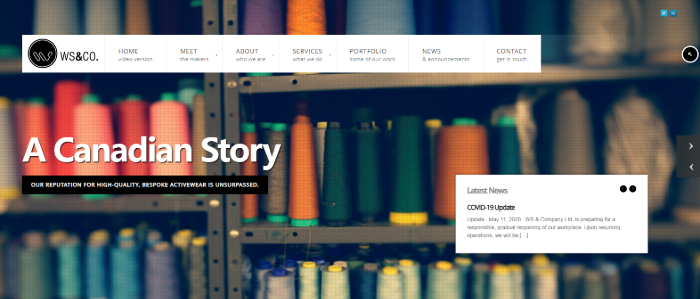 WS & Company Ltd is a love story that is made in Canadian fashion industry. The company grew from the thread of hard work, perseverance, expertise, and dedication. There is a lot of competition in the Canadian clothing manufacturing industry. However, WS & Company has made its mark amongst the rest with its competitive pricing and customer care services.
The company is a proud Canadian boutique-style manufacturer. They have a reputation for bespoke activewear and quick turnaround apparel. Looking for a manufacturer with a rich history of excellence rooted in Canadian culture, look no further than WS & Company Ltd.
Primary Products:
Men
Women
Baby Clothing
Workout Clothes
Kids Clothes
Phone:
Hours Of Operation:
Location:
138 Nugget Ave, Scarborough, ON M1S 3A7, Canada
10. Uptick Apparel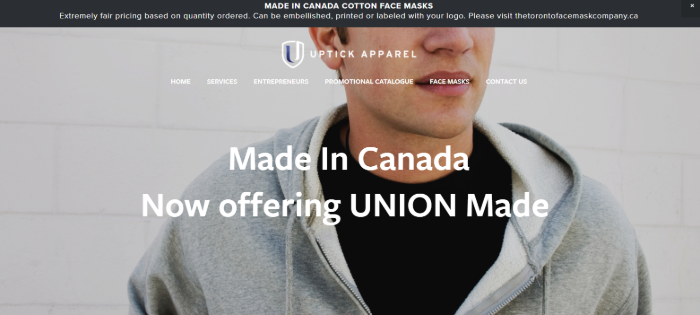 Uptick Apparel is another Canadian fashion industry leader dedicated to producing quality finished products. They offer custom design services, unique decoration styles, and private labeling. They help you create whatever look you desire to see in your clients. They have their factory production facilities, which allows them to provide their customers with faster turnaround times and flexibility.
Uptick Apparel is the only manufacturer you will ever need if you want to build your fashion brand. They also have extremely fair pricing based on the quantity you order. In addition, you can have your order embellished, printed, and labeled with your logo.
Primary Products:
Men
Women
Girls
Baby Clothing
Workout Clothes
Kids Clothes
Custom Made Apparels
Phone:
Hours Of Operation:
Monday – Friday 9 am–6 pm
Location:
3480 McNicoll Ave #11b, Scarborough, ON M1V 5A7, Canada
How do you find a clothing manufacturer in Canada?
You can use the internet to source clothing manufacturers closest to you. When searching, ensure that your location is turned on to get results from the manufacturers within your area. Alternatively, you could also ask other similar businesses about how they get their manufacturers. 
Here is a short guide to finding an apparel manufacturing company in Canada:
Research: Check out the best clothing manufacturers in Canada. You can refer to our list for a comprehensive review of manufacturers.
Choose your primary product: You should decide on your target demography here. For instance, you could sell men, women, baby clothing, or all. This will also inform your choice of a clothing manufacturer.
Create a business plan: You will identify your target audience and set up your financial plan from the business plan.
Create a sales and marketing plan: A sales and marketing plan will help you decide on your marketing strategy and help you meet your sales target.
Place your order: Since all is set and you have decided on the right clothing manufacturing company, you can start placing your order.
FAQs about Clothing Manufacturers in Canada
Where is it cheapest to manufacture clothing? 
Bangladesh offers the cheapest wages out of all other garment manufacturing countries globally. The minimum wage for cloth industry workers in Bangladesh is sixty-five US dollars. 
Which country makes the best quality clothes? 
The answer isn't straightforward as every country can choose to make quality clothes. However, countries such as India, Vietnam, Italy, Turkey, and the United States of America are known for making good clothes.
Does Canada have a textile industry? 
Yes. Canada has a textile industry, and it is one of the biggest employment opportunities in Canada. The textile employs about 60,000 people in Canada. 
Which clothing brand is best in Canada?
Several brands are doing well in Canada. Some of them are; Canada goose, Muttonhead, Smythe, and more. 
Conclusion
Canada is a country that attracts lots of foreigners and businesses due to its vast clothing wholesale and retail stores. So, you will have lots of options when choosing the best clothing brands and Canadian apparel manufacturing companies in Canada.
These clothing manufacturing companies will guarantee you quality and excellent value for money. You can purchase unique fabric and fashionable pieces of clothing from our recommended Canadian clothing manufacturers. We suggest you check their website to view their catalog of fashionable clothes before placing an order.
If you need to know more about starting a wholesale clothing business, contact us today!
Do you want a successful import business?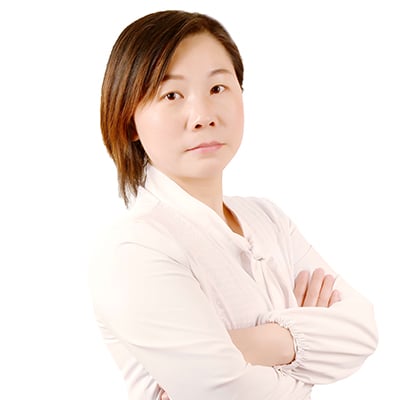 Hey, I'm Sharline, co-founder of LeelineSourcing. We've helped 2000+ customers import from China.
Do you want a better price on product or shipping?
We are sorry that this post was not useful for you!
Let us improve this post!
Tell us how we can improve this post?