With millions of product images available online, it's hard to stand out as a small business owner. But with creative photography, it's possible.
With our decade-long sourcing experience, we see product images regularly. So we know precisely how product photography can be crafted creatively to be unique. Creative product photography makes people look at product photos longer. And more prolonged exposure to an audience can entice customers into buying your products, increasing your revenue.
Continue reading to know how to be a creative photographer!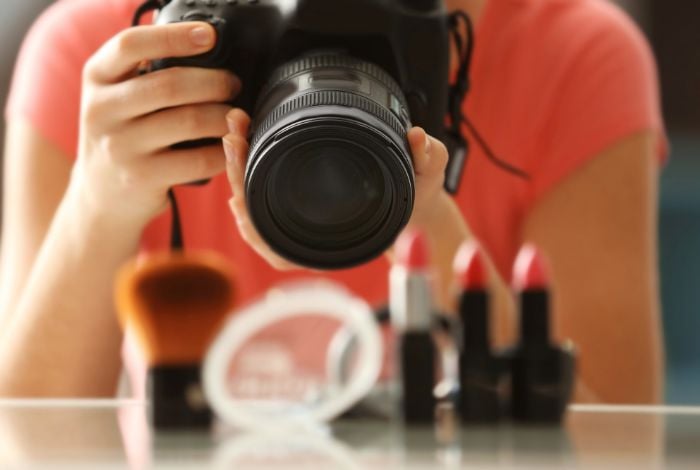 What is creative product photography?
Creative photography is the technique of getting creative to create an eye-catching, immersive experience using your image. A photographer who needs a unique interpretation of certain products will usually opt for this photography genre.
Creative photography is an efficient way to grab a customer's attention. It uses innovative ideas to create stunning photos that still show the product's core offering.
12 creative product photography ideas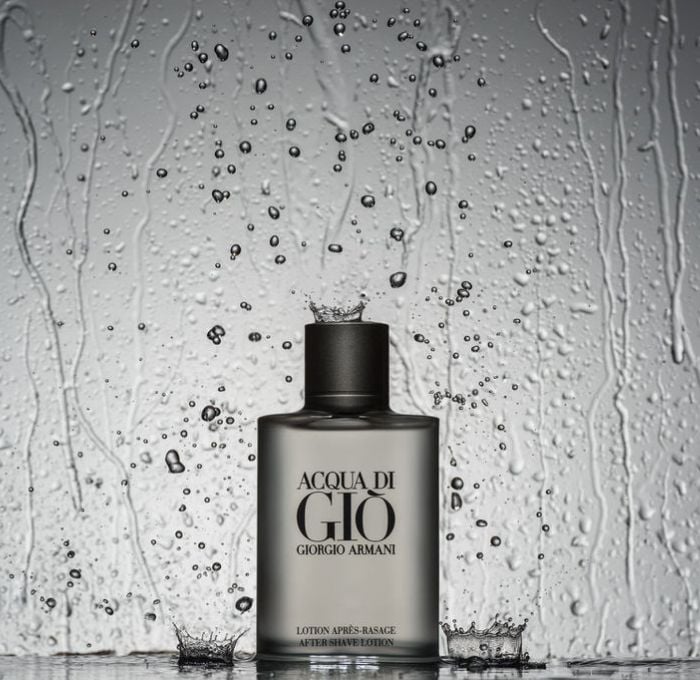 Get Macro
Product photographers often use macro shots s to shoot product images. Macro is especially helpful when working with smaller brand items like jewelry. Shooting macro is essentially just the idea of capturing close-up images. But macro shots work perfectly well in highlighting details using the proper focus.
Make them Float
Floating products create amazing photos but are pretty simple to craft. Hold your product up in the air using thin threads or a fishing line to create such photos. Potential customers will be more likely to stare at your advertised product photos longer, which results in a higher turnover rate.
Use Reflections
This trendy creative shot uses a reflective surface as the product's props. The reflected surface adds more substance to the otherwise plain stand-alone product.
Implement colorful backgrounds
Colored backgrounds boost the visual appeal of a photo.
Smoke will add a mysterious element to your image. If you're aiming for moody product photos for whiskey, adding smoke is a great idea. This will let you take images that reflect the audience you're targeting. Smoke can represent maturity along with a dark palette.
Use a model
When shooting products like beauty products, using a model will let you convey your photos' purpose easier. The presence of a model will add more character to your pictures. And it also gives your brand more personality.
Add smoke
Smoke will add a mysterious element to your image. If you're aiming for moody product photos for whiskey, adding smoke is a great idea. This will let you take images that reflect the audience you're targeting. Smoke can represent maturity along with a dark palette.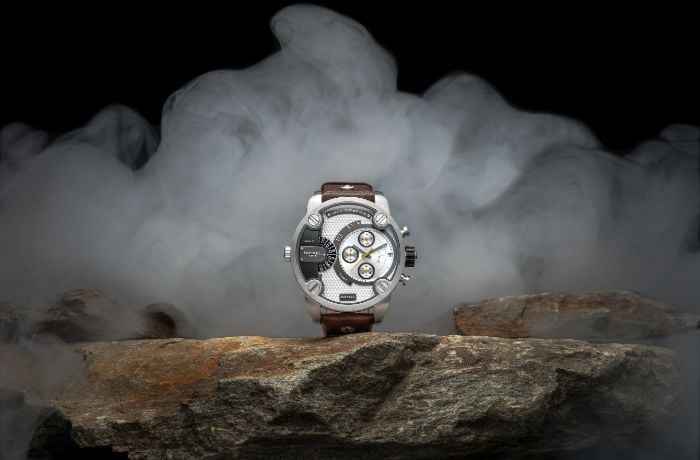 Experiment with shadows
Shadows are generally unwanted in product photography, but bending the rules now and then will create uniqueness to your image. To control your shadows, you need to manage your lighting correctly. So play around with your props and lights and see how your shadows can enhance your photo.
Use textured backgrounds
A professional photographer might choose a textured background. This occurs when he wants to add some unique factor to the picture but doesn't want to take away too much attention from the product. Add textured backgrounds for some creative, subtle designs.
Use a color palette
A color palette will ensure that all the colors in your picture blend well together. This also helps in choosing what colored background is suitable for your product with a specific color.
Repurpose boxes
Boxes can be used as your product's stage or holder. Add some ribbons and highlights, and you'll get an aesthetic prop for free.
Freeze the motion
A fast shutter speed can capture images in a way that looks like time just froze. Experiment with your shutter speed, and once you master shooting at a fast shutter speed, you can craft great product photos.
Flat lay photography
Flat lay photography is simple yet effective. It's often used in shoe photography, but you can use it in any genre of product photography. In doing flat lay, lay props that accompany your main subject.
Looking for the Best China Sourcing Agent?
Leeline Sourcing helps you find factories, get competitive prices, follow up production, ensure quality and deliver products to the door.
How to take creative product photos?
Step 1: Consider the background
In taking creative product photos, the first thing you need to consider is your background. Do you want a white backdrop, a colored one, or a textured backdrop?
In considering your background keep your product's purpose in mind. Different products call for a different background strategy.
If you want to take furniture product photography, you'd like a custom set with a background similar to the intended environment of your furniture. On the other hand, a white backdrop will be enough to create fantastic images in taking shoe photography.
Come up with ideas on making the background highlight your product. Remember that your background should only support your main subject and not overwhelm the whole picture.
Step 2: Choose your light
There are two types of lighting. Artificial light and natural light. For creative product photography, it's best to stick to artificial lighting, at least initially.
Artificial light is easy to control. And control is exceptionally crucial in creative photography. Having more control means you can achieve your ideas more efficiently, and it will also let you save time.
Although products like lightboxes provide ample light, they don't let you change up your lights as you need. So, it's best to invest in portable artificial lights.
Ensure that the light you get from your light sources is soft and never harsh. Harsh lights can wash out the details of your image. And you do not want this to happen.
Step 3: Try unusual Angles
After setting up your lights, it's time to experiment with different angles. Many photographers choose their angles by trial and error. So don't feel like you need to know how to shoot your product right away.
Grab your tripod and try pointing your camera from different perspectives. Avoid shooting from eye level as this can create typical, boring shots. Get creative and show your personality through your photos.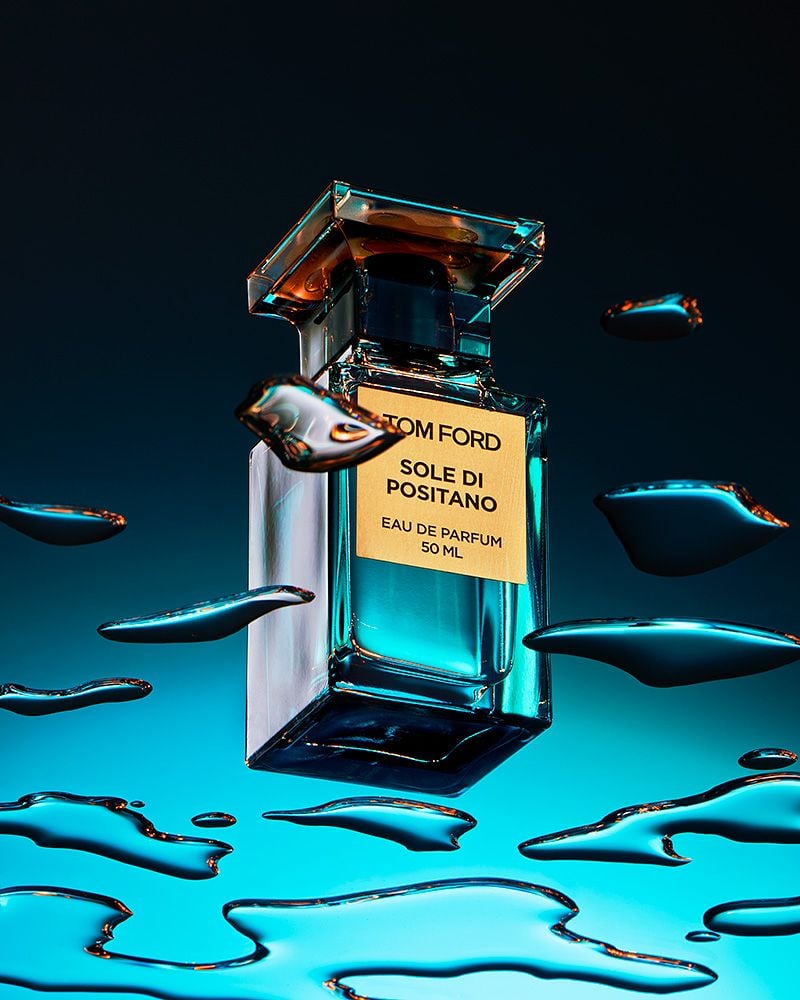 Step 4: Take the photos
Once you decide on the angles and the various props you need, it's time to take your shot. Shooting your images will be easy as long as you follow the steps required before this process. Shoot several times and try out different camera settings. Compare and contrast after to choose the most eye-catching image.
Step 5: Post-processing
Post-production will massively improve the professionalism of your product photo. Photo manipulation will add so much value to your photos. Learn the basics and work your way to creating more complex photography edits to cultivate more of your creative ideas.
Adobe Photoshop is the most popular photo editing software up to date. Try their free trial and see if it's the proper photo-editing software.
If it's not, don't worry. There are plenty of other choices in post-production, and some are even free.
Example of creative product photography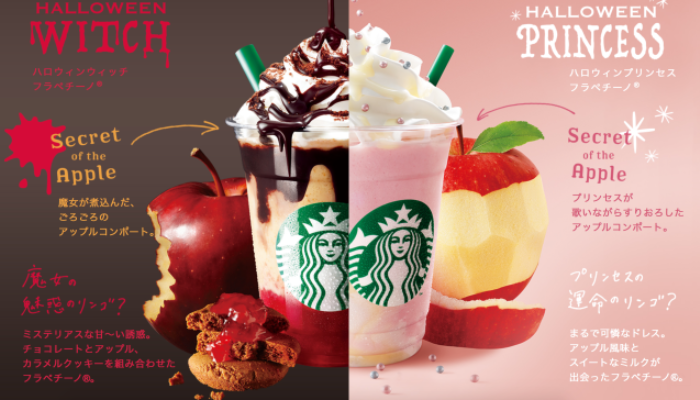 Starbucks wants to sell a new Halloween drink for its seasonal menu. Instead of just shooting their drink using a plain white background, Starbucks can choose a dark background to make it spooky.
They might add some carved pumpkins as props or background details. And they can also add some smoke to add a bit of mystery to the shot.
Combining different photography elements is key to creating an effective shot.
So in this example, Starbucks' photographer would need to adjust the lights, control the shadows, and add exciting designs and backgrounds to create successful Halloween-themed drink photography.
Looking for the Best Chinese Products?
Leelinesourcing helps you find the Best Products Made in China with high quality at an attractive cost.
FAQs about creative product photography
How do I make a picture unique?
To make a picture unique, implement some of the ideas we mentioned in this article. Add concepts that would fit your product image. You can change your background color or even make your products float. 
What do I need for creative product photography?
The number one thing you need for creative product photography is an innovative idea. The rest will follow. As long as you follow the tips we mentioned, you'll have a successful product image. 
What app do you use for creative product pictures?
You can use apps like Canva or VSCO to enhance your creative product images. However, it's best to use computer software for complex editing instead of mobile apps.
What's Next
Creative product photography is a fun and engaging learning experience. Although it takes a bit of time to master, you will appreciate every step. If you want to challenge yourself as a product photographer, this is your photography genre. Not only will you grow as a photographer, but you'll also earn and profit more as a product seller.
We'll introduce you to suppliers who can create innovative products for your creative photography product images. Contact us to get a free quote.
We are sorry that this post was not useful for you!
Let us improve this post!
Tell us how we can improve this post?