Best Fragile Item Shipping Service From China
Wish to ship fragile items SAFELY? You got us.
We are an international shipping expert with more than 10 years of experience. Don't risk damaging your goods during fragile item shipping. Trust our expert shipping service for all your delicate shipping needs.
Contact us today to get SAFER shipping and HAPPIER customers!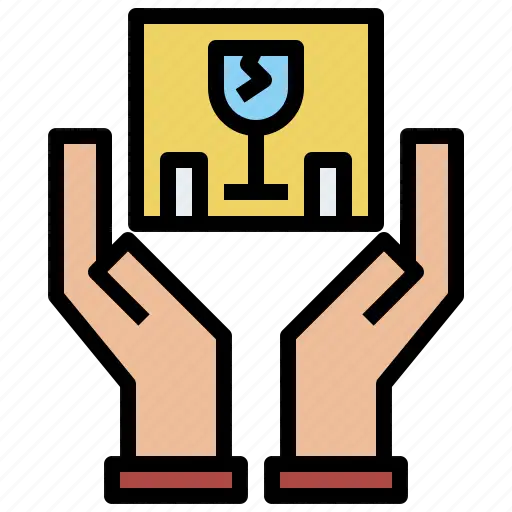 100%
Satisfaction Guaranteed
---
Trusted By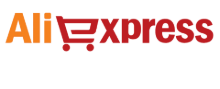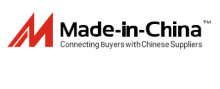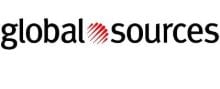 We Offer Fragile Item Shipping Service

Packaging & Handling
We use only the BEST materials and techniques to pack and handle your fragile item shipping. From bubble wraps to foam peanuts, your shipped items enjoy EXTRA protection. Our experienced team knows how to properly transport your delicate valuables with CARE.
You gain a BETTER reputation with properly handled shipments!

Inspection
Our team of trained professionals will CAREFULLY inspect your fragile items before shipping. We ensure they are adequately packaged and secured for shipment. You trust us to catch any potential issues before they become problematic.
As a result, you SAVE a lot of costs by preventing shipping spoilt items to your customers!

Delivery
We work with TOP shipping carriers in fragile item shipping. Our team ensures your goods arrive at their destination safely and on time. Besides, our optional insurance protects your items in case of unforeseen mishaps.
Get peace of mind while we handle the hassles for you!
Our Reliable Logistics Partners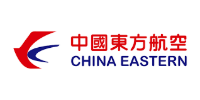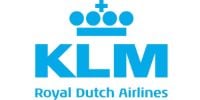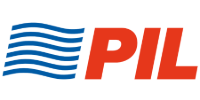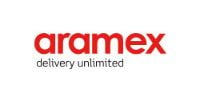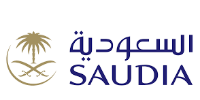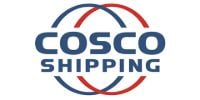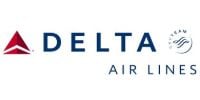 We Make Fragile Item Shipping Easy and Safe!
Manage your stock, track your deliveries and reduce shipping costs in one place.
What Makes Us Different?

Specialized Packaging Options
We understand how frustrating dealing with damaged or broken fragile items can be. Our shipping service ensures your valuable goods arrive SAFELY and in touch.
Our specialized packaging options also protect your fragile items properly during transit.

Tracking and Insurance
We also offer tracking and insurance options during fragile item shipping. You can track your package at all times and have additional PROTECTION covered.
NO more worrying about your precious cargo getting damaged along the way!

Professional Handling Experts
And perhaps the best part? Our experienced sailors know how to handle even the most delicate items. So you can rest assured that your package is in good hands from start to finish.
our satisfied Clients
---
2000+ Clients Trust LeelineSourcing
I sourced all kinds of stuff for my company for about 1 year with Leelin. They have really good service, their team is polite and trustworthy. I definitely recommend you to work with them.
Levi
I worked with Leelin for 2-3 years to build my brand. They check each item and does my customs clearance get into Amazon warehouse. I love their service, it saves me a lot of time. If you are also developing your business in China, they will help you do it smoothly.
Belinda
Working with Leelin is really positive, they are honest and reliable. I recommend their services to anyone who has a business that needs to ship products from china or needs to inspect items.
Julie
---
Fragile Item Shipping: How to Safely Transport Your Valuables
Imagine if your customers receive damaged goods upon they unpack their packages.
NO! I paid for a BROKEN item?!
Fragile item shipping is crucial if your eCommerce business is selling breakable items. The inevitable bumps or accidental drops may happen regardless of the freight forward carriers.
With decades of shipping experience, we guide you on shipping your fragile products. You get PROFESSIONAL services for your fragile item shipping to REDUCE LOSSES. Let's take a depth-in look at the following:
What are fragile items?
Why do you need to carefully handle fragile items?
What are the best ways to package fragile items?
How to Ship Fragile Items: A Step-by-Step Guide
Grab your coffee, and let's get started.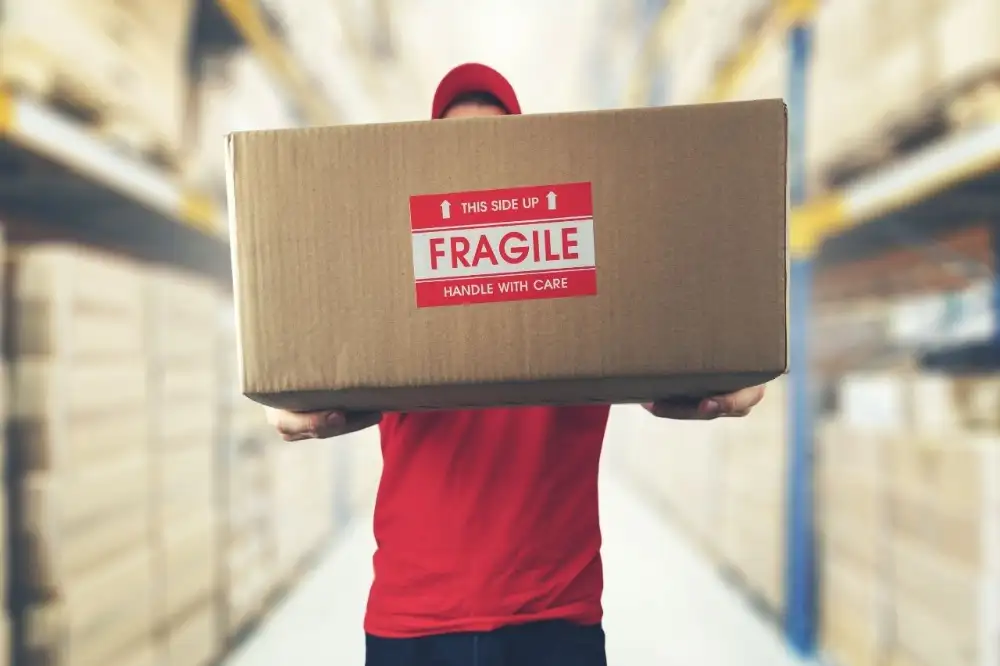 What are fragile items?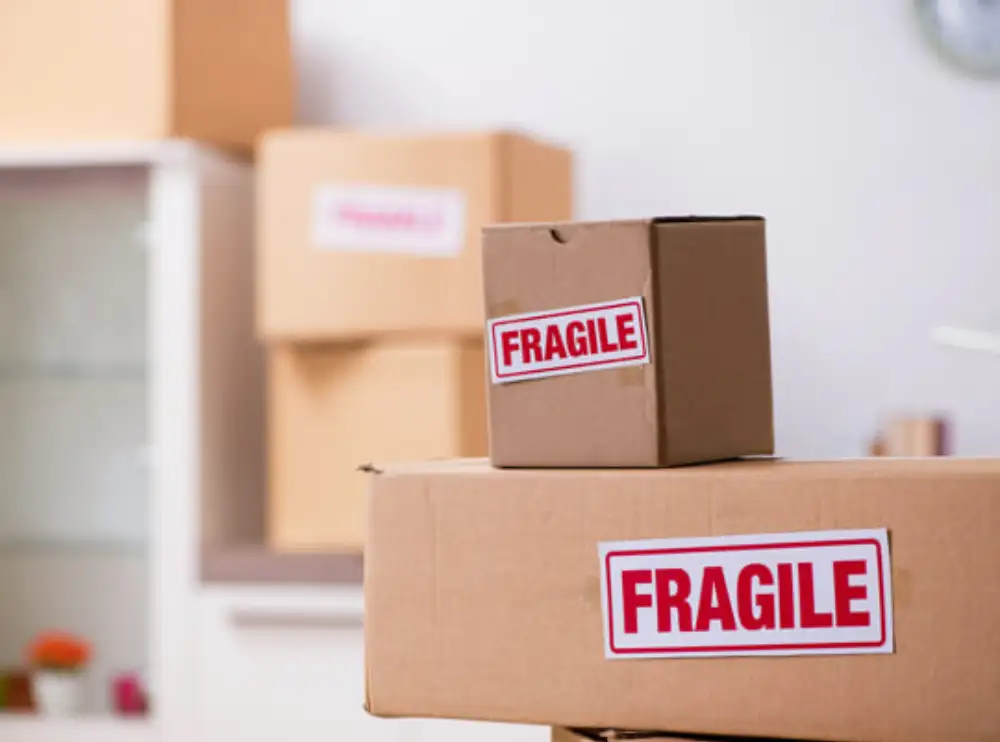 "Cautious!" "FRAGILE!"
Have you come across shipping packages labeled above?
If you unbox the package, you know what fragile items are included. Fragile items are breakable items that are easily damaged, broken, or destroyed.
What are the categories of fragile items? Well, they include:
Glassware
Ceramics
Electronic devices
Antiques
Artwork
Musical instruments
And other delicate items.
Because of their delicate NATURE, shipping fragile items requires special handling and packaging. With it, they can reach their destination in GOOD condition.
Therefore, these items need extra love and care to ensure they are not broken or damaged.
A Fast , Easy and Cheap Way to Ship from China
Do not hesitate to contact Leeline Sourcing at any time regarding your shipments from China.
Why do you need to carefully handle fragile items?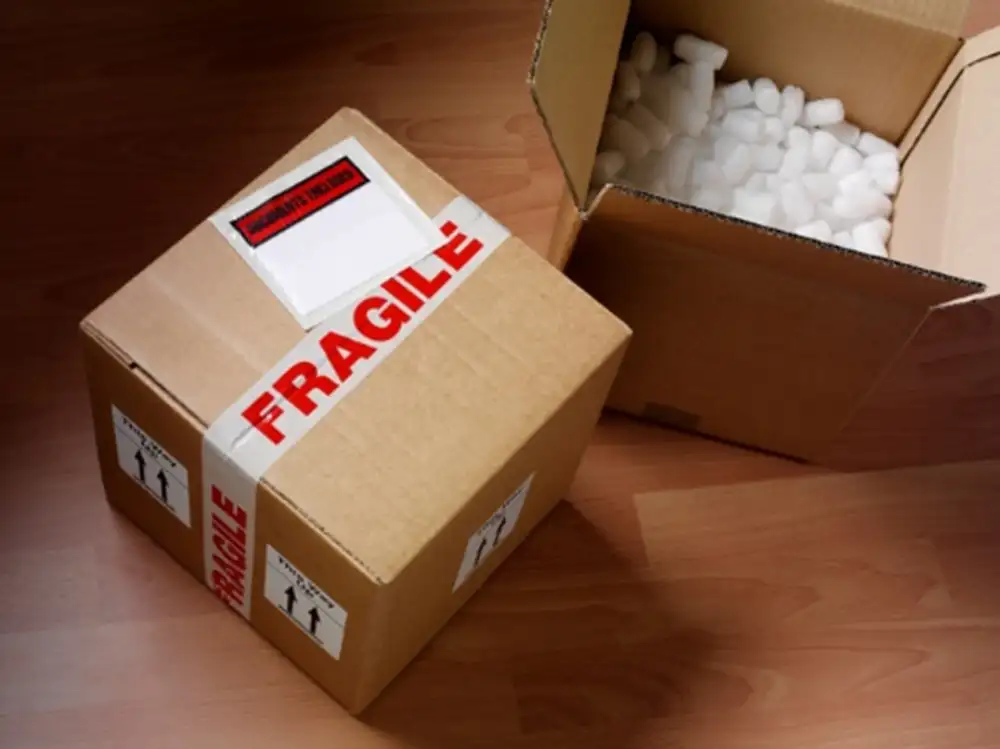 Fragile items need to be handled with care. Why are they so SPECIAL?
Let's take a deep look.
They are prone to breaking.
Fragile items can break, crack, or get damaged EASILY. They are usually delicate and made of less strong or durable materials. For instance, glass, ceramic, or porcelain.
Besides, fragile products are susceptible to damage from:
– minor impacts
– vibrations
– temperature changes.
Mishandling fragile items during packing, handling, and transportation can lead to several problems. For example, scratches, cracks, dents, and even complete destruction.
Hmm… seems more complex than taking care of a baby. Whoops.
You have to bear the loss.
Mishandling fragile items can result in financial loss. It is especially if the thing is VALUABLE or RARE, like musical instruments or plants. If the item has sentimental value, it may also cause emotional distress.
Moreover, some breakable products may not be replaceable. It makes their protection even more critical.
What are the best ways to package fragile items?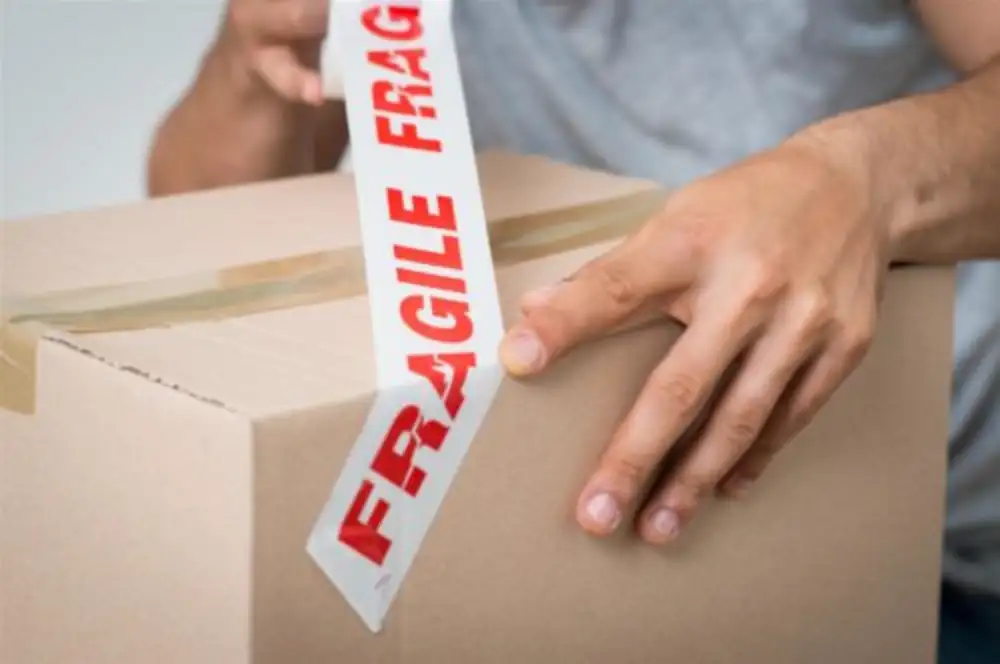 Proper packaging is essential to protect fragile items during shipping. Here are some of the best ways to package before shipping fragile items:
Use cushioning materials.
Cushioning materials like bubble wrap or packing peanuts absorb shock and prevent damage. Use ENOUGH cushioning to fill empty spaces inside the box to prevent the item from moving around.
Wrap the item.
Wrap it in bubble wrap or foam to protect it from scratches, dents, or breaks. Make sure to wrap it TIGHTLY, so it does not move around inside the box.
Choose the correct box.
Use a STURDY box that is appropriate in size for the item you are shipping. The package should be bigger than the item so that you can add cushioning around it.
Label the box.
Label the shipping box with a "FRAGILE" sticker, so the carrier knows how to handle it. You can also include handling instructions such as "this side up" or "do not stack" to prevent damage.
Use tape.
Use high-quality packing tape to SEAL the box securely. Reinforce the corners and edges of the box with extra tape.
Double box.
For additional protection, consider double-boxing the item. Put the wrapped item inside a smaller box and then place that box inside a larger one with extra cushioning.
How to ship fragile items: step-by-step guide?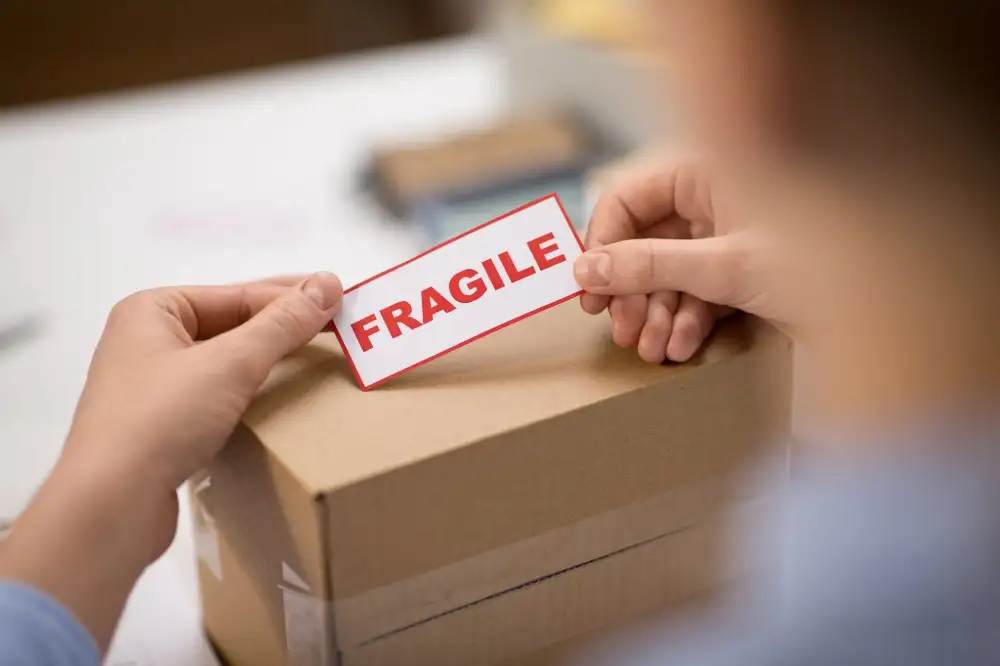 Proper preparation and precautions with shipping experts are crucial. You ensure your valuables arrive at your customers in one piece. Here's a step-by-step guide on how to prepare fragile items for shipping:
Choose the exemplary courier service that specializes in shipping fragile items.
Use proper packaging materials. Fill empty spaces with cushioning material like foam peanut or crumpled newspaper. Using the right box of the correct size will also restrict product movement in transit.
Label the package as "fragile" and include handling instructions. Clearly label your box to alert handlers to take it with care. You may also want "This Side Up" or "Handle with Care" labels.
Choose the appropriate shipping method, such as overnight or expedited shipping.
Insure the package for its full value to protect against damage or loss. Reinforce the corners and seams with extra tape. It prevents the box from opening during transit.
Track the package to ensure it arrives on time and in good condition.
With these steps, you are CONFIDENT that your fragile pieces will arrive safely. Happy shipping!
Best couriers for shipping fragile items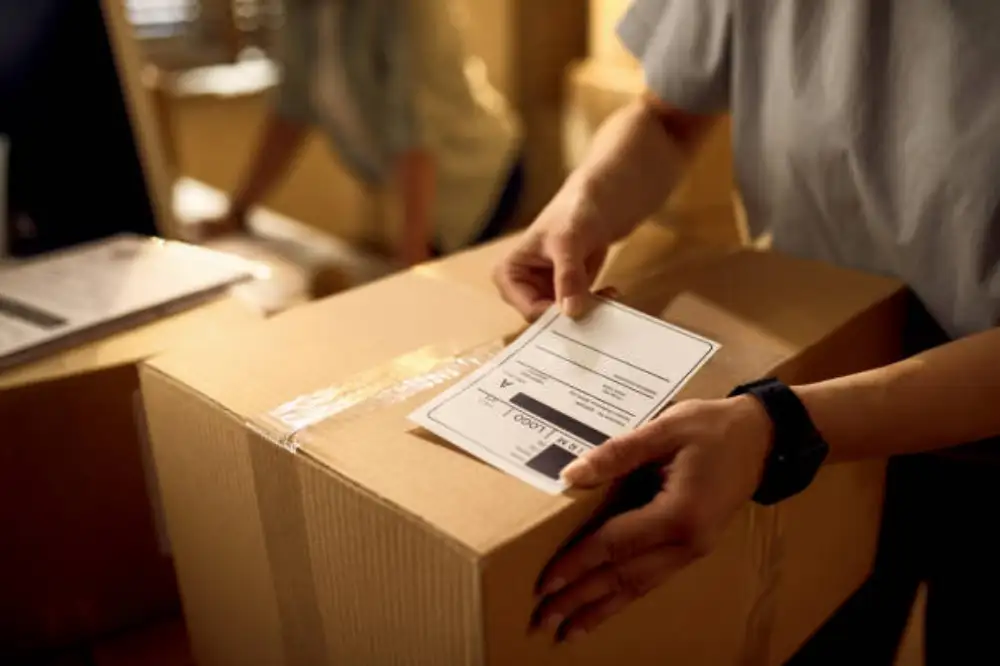 When shipping a fragile package, you must ensure your precious cargo arrives in one piece. So, which couriers are the best for the job? Let me hoist the sails and guide you through the stormy seas of shipping options.
FedEx
They offer various packaging options, including custom-designed or the right-sized box. Plus, their tracking system is top-notch. Thus, you can KEEP AN EYE on your package every step of the way.
UPS Store
They also have various packaging options for extra protection. For example, foam inserts and double-walled boxes. Moreover, they offer insurance options to cover any damages in transit.
USPS
They may have fewer packaging options. But, they offer fragile stickers alert handlers to be extra careful with your boxes. Plus, their Priority Mail service comes with automatic insurance. The coverage is up to $100, which is great for peace of mind.
So there you have it!
Looking for the Best China Sourcing Agent?
Leeline Sourcing helps you find factories, get competitive prices, follow up production, ensure quality and deliver products to the door.
Tips for shipping fragile items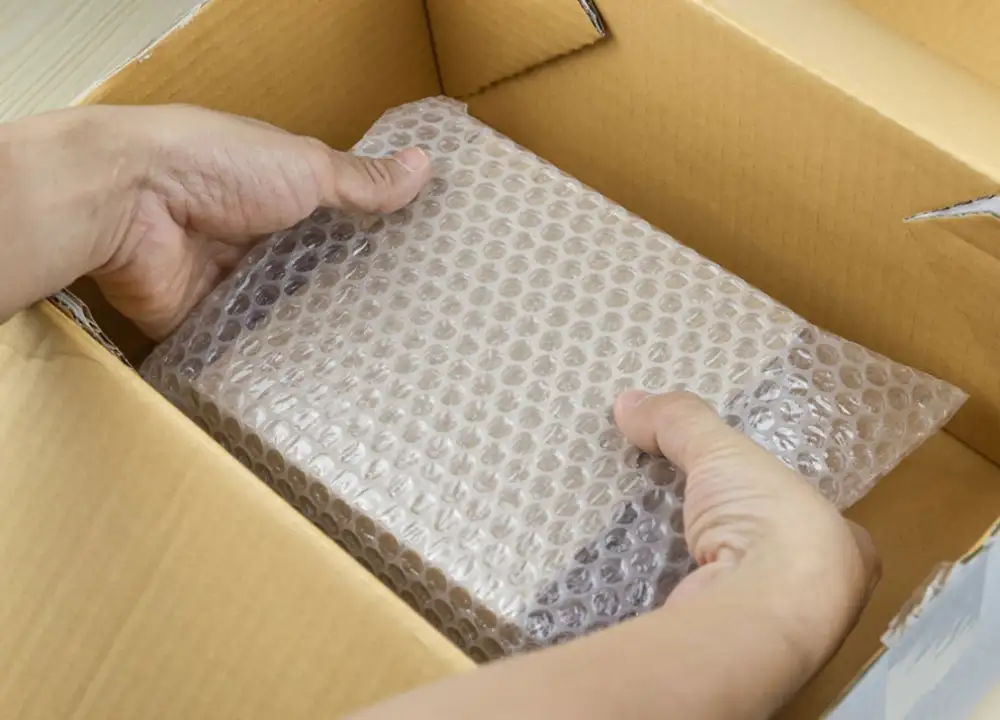 We've got you covered with expert tips. You can confidently ship your delicate valuables with the tips below!
Use The Right Packaging Materials
First and foremost, make sure you have suitable packaging materials. This includes STURDY boxes, bubble wrap, crumpled paper, and packing tape. You can even consider double boxing or outer packaging for more protection.
Use Layers of Cushioning
When packing your item, make sure to use multiple layers of cushioning. Wrap it in bubble wrap, surround it with packing peanuts, and make sure there's no WIGGLE room inside the box. You don't want your item bouncing around like a beach ball in a hurricane!
Label Your Fragile Products
Next, mark your fragile product as FRAGILE. It will alert handlers to give special handling with your item shipped. You can even write "Fragile – Handle with Care" in big, bold letters on multiple sides of the box.
Choose Specialized Fragile Item Carrier
Finally, choose a courier that SPECIALIZES in shipping fragile items. Make sure to select major carriers with tracking and insurance. You can MONITOR your package and have peace of mind knowing it's covered in any mishaps.
With these tips, you ship breakable products like a PRO. Bon voyage!
FAQs about Fragile Item Shipping
1. How much does it cost to ship fragile items?
Obviously, shipping fragile items will need extra cost as they need special handling. The cost of shipping fragile items varies on factors. They include the size and weight of the item, the destination, and the shipping carrier. 
Additional insurance will also affect the overall cost of your shipping process.
2. Is FedEx or UPS better for fragile items?
Both FedEx and UPS have a special service for shipping fragile items. It's best to compare the specific services and pricing options of both carriers. You'll be able to determine which one is better for your particular shipment. 
Consider additional insurance to protect your item in case of damage during transit.
3. What is the best packing material for fragile items?
Bubble wrap and packing paper are both great options for packing fragile items. It's important to wrap your item securely and fill any empty space in the box. 
You can use cushioning materials like foam peanuts or air pillows. These materials help prevent product movement from excessive shaking.
4. How can you ship fragile items cheaply?
Unfortunately, there is no guaranteed way for a cheap and safe delivery of fragile items. But you can save money by using cost-effective packaging materials. Additionally, consider using a slower shipping method instead of expedited options. 
Keep in mind that the LONGER the transit time, the more POSSIBLE the package to be mishandled.
What's Next
In short, to ship fragile pieces, ensure your items are properly packaged. It allows a safe shipment to their final destination. Handling fragile items carefully prevents scratches, dents, or any other damage.
MORE happy customers, MORE sales!
Ready to ship your fragile products? LeelineSourcing has ten years of experience in shipping fragile goods. Contact us today to get your personalized shipping solutions from our experts!
Do you want a successful import business?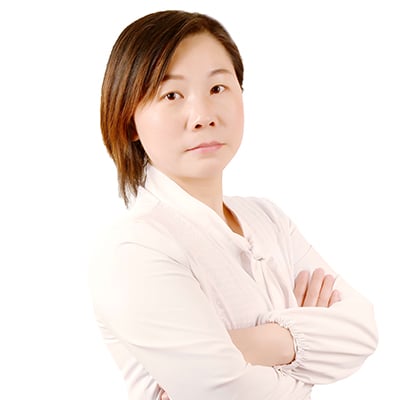 Hey, I'm Sharline, co-founder of LeelineSourcing. We've helped 2000+ customers import from China.
Do you want a better price on product or shipping?
We are sorry that this post was not useful for you!
Let us improve this post!
Tell us how we can improve this post?