It's hard to convince strangers to buy furniture they only see on a screen. But, if you're doing your furniture photography right, it might be way easier to sell your furniture online than you think.
With our ten years of wholesale sourcing experience, we have transacted hundreds of wholesale furniture orders for our clients before. Doing product photography for furniture improved our past clients' brand reputation, sales, and customer loyalty. We'll make sure that you can do it too.
We'll guide you through how to take better images for your online store and give you a few tips. So, don't stop reading yet.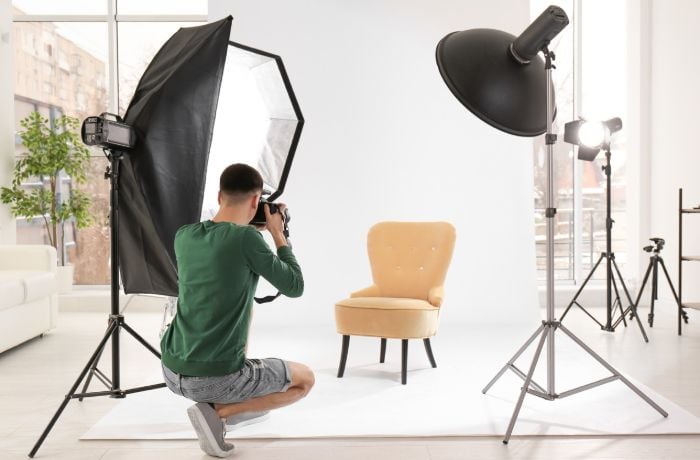 Why is furniture photography important?
Furniture photography is important as it grabs your online store viewer's attention and can generate your business more sales. The perfect furniture shot will lead people to want to buy from your store more. So, it would be best to put effort into your furniture photography, may it be for new or secondhand furniture you're selling.
How to shoot furniture photography?
Step 1:Prepare your furniture.
The easiest way to have high-quality furniture pictures is to have a high-quality furniture piece. Before starting your shoot, ensure that your furniture pieces are clean, well-polished, and camera ready. Pay attention to the small details of the entire product. Remove all the tags and remove any unwanted objects that distract the customer. The beauty of your furniture needs to show in your photos, so make sure that your product looks as good as possible.
Step 2: Pick the correct location.
When taking furniture photos, pick a location similar to the natural environment of your product. For example, if you're selling a bed, try to shoot your furniture photography in a bedroom environment.
Have enough space within the frame, and do not over-style your background. In picking the right location, also pay attention to the lighting conditions of the area. It's best to find a spot with natural lighting. But, if you can't have access to such a location, you can always opt to use artificial light.
Step 3: Set up your backdrop and lighting.
Backdrops and the right light source are crucial in making your furniture stand out. If you're undecided, a plain white background is one of the most efficient backdrops to choose. There are plenty of material options to use for a seamless white backdrop. You can use white fabric, a broad white paper scroll, and even white vinyl if you're aiming for longevity.
You can use the same backdrop repeatedly for your e-commerce store so that you won't spend too much money.
For the light, ensure that you have enough fill light and if you're going to choose natural light, avoid having direct sunlight on your furniture. Or else you'll get harsh shadows.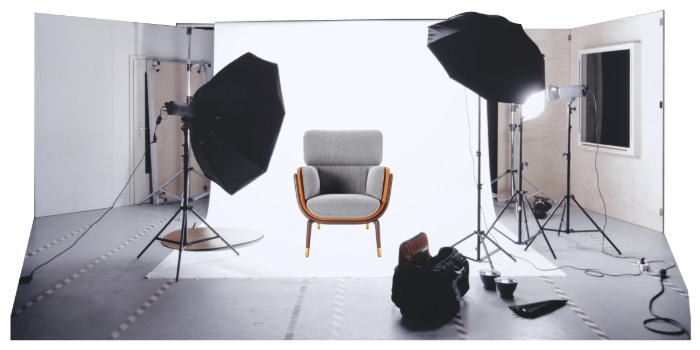 Step 4: Choose the perfect lens.
Lens choosing is crucial in your furniture photography. Unlike other product photography, the sizes in furniture photography vary widely. So, choose a versatile lens that you can use for various item sizes. It would be best to avoid wide-angle lenses as they can distort your image.
You don't need expensive cameras to get professional-looking furniture product images. Having the right lens will be enough to give you high-quality images with minimal distortion.
Step 5: Choose your angle.
Pick an angle that showcases your furniture's front, side, and back. Shooting furniture straight on won't show them the dimensions of your product and will confuse customers. Your product photos need to represent how your products appear in real-life visually. Experiment using different angles and choose one.
Step 6: Shoot at multiple angles.
Multiple shots will let you show more details that can make your furniture unique. The best way to show details like fabric patterns or wood grain is through shooting from different angles. When shooting several photos from various sides, it's recommended to use a tripod. Set your tripod straight and keep your camera stationary. Doing this will reduce camera shake and make your shots as clear as possible.
Shooting from different angles will show your target market an accurate presentation of the product you're selling
Step 7: Move on to post-processing.
Post-production or photo editing will massively improve your product photos. Although photo editing sounds intimidating, it doesn't have to be complicated. Once you practice a couple of times, you can repeat the same way and process your other shots. It's possible to edit multiple photos at once you master the craft. So, take your time learning post-processing.
Looking for the Best China Sourcing Agent?
Leeline Sourcing helps you find factories, get competitive prices, follow up production, ensure quality and deliver products to the door.
5 Furniture photography tips to improve your furniture shooting
We compiled five furniture photography tips that you can implement in your next furniture shoot.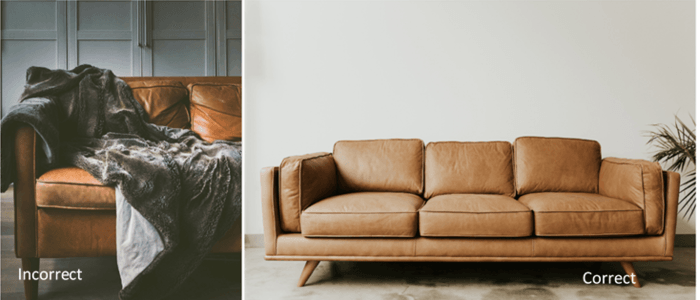 Use a Small Aperture
Taking your photos with a small aperture will make your images more detailed. If you don't know how to balance your manual settings yet, use the Aperture priority and move the aperture dial to make the f stop at least 8. The higher the f stop is, the smaller the aperture and your photos will retain more details.
Show Everything
In furniture product photography, you need to show everything you can. Shoot the product from all sides, and let your product express its quality by offering its unique details.
Enhance the Color of Your Photos
To enhance the color of your photos, make sure that you have the proper white balance in your product shots. Use the auto white balance in your camera settings to save time editing your color in post-production later. You can also edit the saturation and contrast of your images in post-production to make the colors pop out. Exploring some of the latest AI tools can give you a broader range of options for your post-production edits.
Use a White Background
If you're unsure what backdrop to use, a white background will be your best pick. White backdrops are easy and cheap to set up, yet they can provide your images with immense value.
Study Photography Composition
Unlike other product photography, it's sometimes better to shoot furniture with other surrounding furniture or objects. In this case, to get the best image quality possible, take time to learn how to compose your images correctly. Using the rule of thirds in taking your photos will be a good starting point.
FAQs about Furniture Photography
What lighting is best for taking pictures?
Natural, soft lighting is the best for taking furniture pictures. But if you find using it hard, artificial lighting will also work well as long as you can control it. 
Which camera is best for product photography?
DSLR cameras are best for product photography. But if you don't have one, you can still create unique images using your phone camera. Just follow the tips and steps written in this article, and you'll be successful.  
How can I photograph my furniture with an iPhone?
To photograph furniture using an iPhone, make sure you're using the highest quality possible. And have enough soft lighting in your shooting area. 
What's Next
Pay great attention to your furniture product photography to increase your revenue. People want the best when it comes to furniture for their homes. So, let them know that you can provide that using images. Ensure that your shooting area is large enough to fit your various products and has enough lighting when you shoot.
We know several reputable furniture suppliers in China that may suit your business. Contact us to get a free quote.
We are sorry that this post was not useful for you!
Let us improve this post!
Tell us how we can improve this post?