Being an e-commerce startup has been quite popular in the world with the advanced IT technology. You create your own website and build your shop online, and receive orders from customers.
It seems that everything goes smoothly as your expectation. Then you manage your orders and deliver your products or items to customers' destinations. You find things seem on the wrong track.
You get complaints and returns. You are overwhelmed by this terrible stuff.
Why? The big part is your order fulfillment.
Generally speaking, order fulfillment is the process of product storage, product packaging, product delivery, until your items are handed over to your customers. It plays an important role in your business as a task, a responsibility.
It is a logistical process to deliver the ordered items of customers to the customer side. It seems easy, but it's time-consuming.
Actually, many new e-commerce startups are engaged in order fulfillment, and find it very hard to pay attention to other important processes such as marketing, shop maintenance. They have no time and energy to plan other parts of its business.
This article will help you to get clear of all of this, and you will put it into your daily practice to streamline your business. It is just for you.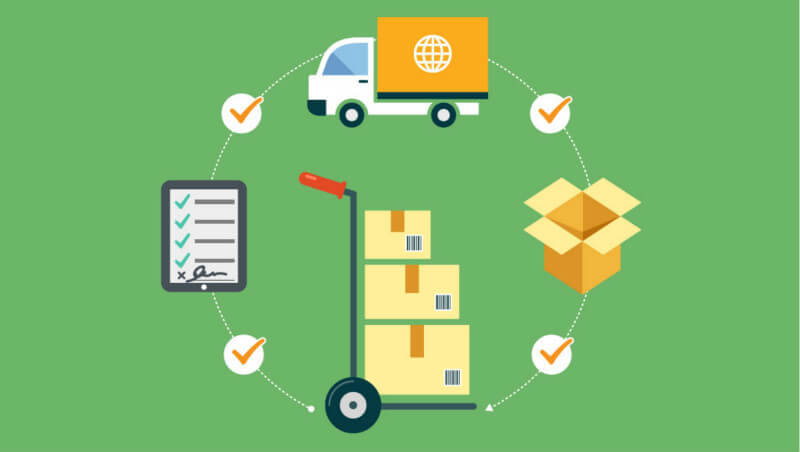 What are the basic elements of an order fulfillment?
Regarding the order fulfillment, it can be divided into several steps –inventory management, labeling, packaging shipping and delivery. There are several key elements to complete an order. We will dwell on the basic elements for the task, and analyze it to implement them into our business.
An Inventory
You need an inventory to receive, store and organize your sourced items or manufactured items. At this room, you have to receive all finished products, process their info, organize them in different categories via boxes, shelves, bags or other stuff that help you distinguish them in detail, and prepare them ready for picking. In such a room, you are able to identify different items easily.
Packing Area
For packing area, it is a place for you to organize your packing materials such as cardboard boxes, mailers, tape, wrap. Once the customer places an order, you will be in the packing area to make relevant test or check on the possibly picked items for a simple shipment inspection.
Shipping Boxes or Mailers
The rule of thumb in shipping is every inch counts. Always use the smallest, lightest box, flat mailer, or envelope you can to safely ship a product.
Packing Materials
Packing materials are the material that we used to protect the products from damage risks and fill the void of the shipping box. Commonly, plain newsprint, kraft paper, bubble wrap, air pillows, foam sheets, and peanuts are used to pack items. When you fill the boxes, you have to seal it. Strong packing tapes and dispensers are needed to complete sealing.
Packing Slips and/or Invoices
You are allowed to use a printed invoice or a packing slip to check the orders and packing items for accuracy. These two files about the detail of the order should be included into an invoice for a receipt. And the packing slip is better for present's orders as no price info on the list.
Shipping Labels
Before shipping, you have to print your labels for the packed boxes. Most carrier websites and related software are available for you to do this. If you want to complete your own order task, Stamps.com is recommended to calculate, buy, and print USPS-approved postage, all from your own computer.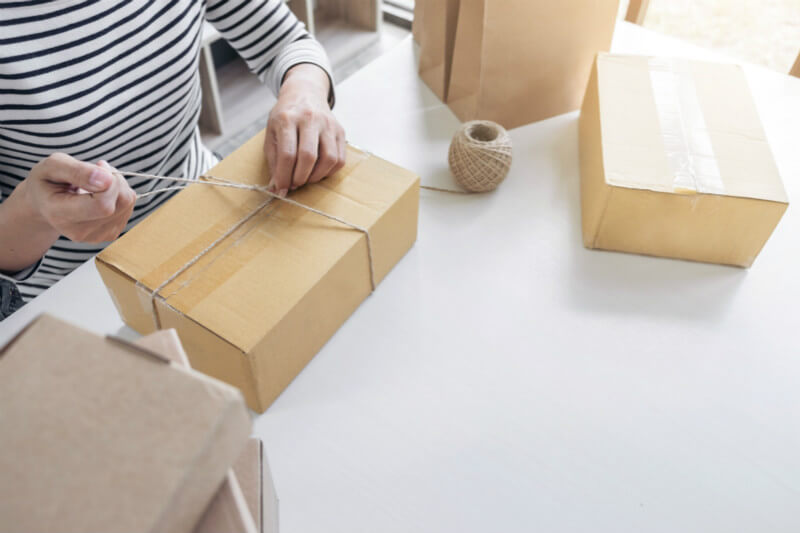 How to deal with order fulfillment for cross-border e-commerce sellers?
Self-fulfillment
Self-fulfillment means e-commerce sellers have to pack and distribute their items as their own business. It will cost a lot for a new business startup to cover the last-meter cross-border delivery. It is quite normal to do everything by itself to save cost and keep growing in this way at the inception of the business.
Given a small business with a limited variety of product, their targeted customer group is also small. It will be available to make it all by itself if all its customers are located around its shop, but if the customers are located outside of the seller's reach, it will be completely difficult to fulfill the order by delivery itself. Regarding the international orders, sell-fulfillment mainly means they can pack the items themselves and prepare for the international shipment. International carriers like UPS, FedEx, DHL will conduct the door-to-door delivery for them.
Self-fulfillment empowers sellers to deliver their brand strategy to customers by their special packages. With the method, it will help expand its reach and cut down possible distribution cost. But it's not the best option for all business. If your business grows quickly and your order comes in burst for seasonal spikes or a very attractive post, self-fulfillment will be quite difficult to complete efficiently. When it happens, you have to consider a solution- get enough people and room to pack the items. It requires staff and room to cover your business for the peak season and it's easy for you to find people and fill the warehouse with items. It's good to enjoy the growth. What if the slack season? It will absolutely difficult to cut down its size and empty your warehouse.
Outsource Order Fulfillment
If possible, you can utilize order fulfillment center, or competent third-party logistics (3PL) corporations to store your items, pack them, and ship them on behalf of you. If you choose this one, you have to partner with such entities to monetize your items in a short period.
Third-party logistics providers, known for their efficient inventory management, packing, and transportation, will help e-commerce sellers to achieve a rapid business growth. With their help, you can focus on your marketing, advertising, etc.
There are many well-known companies are involved in the e-commerce fulfillment services including Amazon Fulfillment Center ( Amazon FBA), FedEx Fulfillment Center, FLOSHIP, etc. They have their own warehouse center in different areas, and manage orders according to customers' location, deliver items within days, even hours. With efficient supply chains, these companies will help you to manage your order efficiently.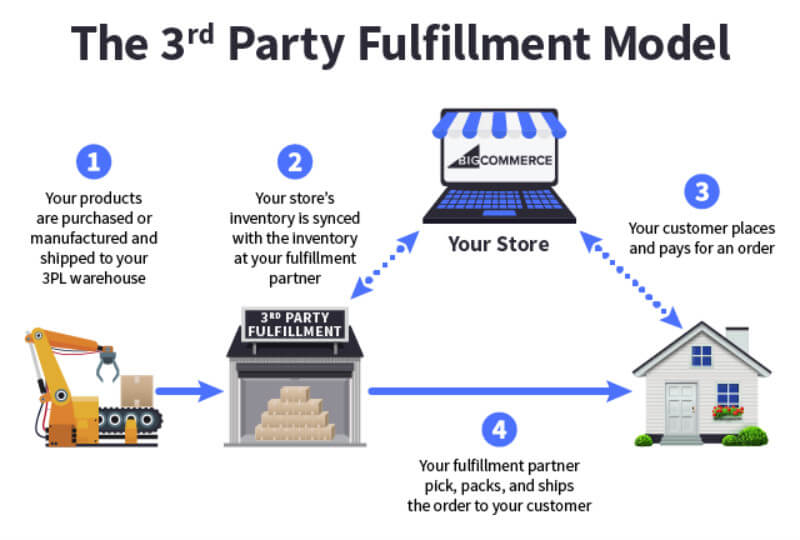 Drop Shipping
It is product supplier who ships orders directly to your customer side when order and bill the item. It is a new order fulfillment method for e-business. When a customer places an order, the drop shipper will send the items to the customer and complete the order directly. The location of the drop shipper is regarded as your warehouse. You don't have to worry about your warehouse management, your stock. Your order has no minimum quantity limit.
With its unique features, drop shipping allows e-commerce sellers:
Stock the items without inventory costs.
Fulfill large orders
Sell non-stocked items
Market without MOQ
Many self-fulfillment sellers may extend their service by drop shipping large-volume orders directly from suppliers, while others may take drop shipping as the only way to complete their orders.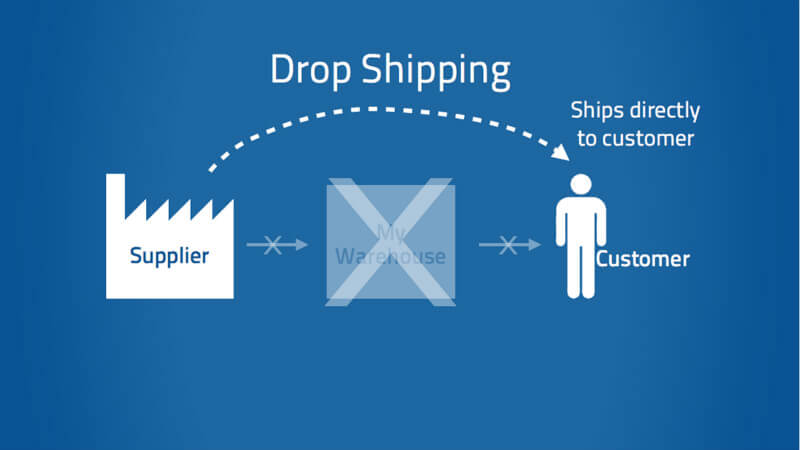 Hybrid Order Fulfillment
It combines several or all the above options to grow your business. Many e-commerce sellers may find the mixing of several order fulfillment solutions and making it a hybrid operation in practice will be the best way to grow their business. It will make all available resources to maximize their value and save cost. It is such a flexible way to help sellers to distribute their items across all self-fulfillment, dropshipping, and outsourced order fulfillment partners.
How to ship your items according to customers' address?
Be it self-fulfillment, third-party logistics, and drop shipping, there is still something basic you'd like to know about shipping. There are many carriers in place in the world, like UPS, DHL, EMS, etc. Before your shipping inspection, you have to know what affects your shipping cost with an aim to minimize your cost.
Box Weight and Size
When it comes to the shipping rates, box weight and size play a significant role. Currently, all freight forwarders in the market will have own different rates based on the box weight and size. If you ship in several box sizes at a set weight, it will be easy to manage your shipping rates. But if your shipped box and weight varies per order, you are allowed to compare carriers, and make sure you can get the most competitive rate on each parcel.
Address Type-Commercial or Residence
Some carriers may differentiate their rates between commercial or residence address. They may even charge a higher rate or add a surcharge to packages that require to be shipped to the residential address.
Delivery Zones
Deliver zones refers to the transportation distance between customers' addresses and your location. You are the defining Zone one, with the increase of distances, the Zone numbers, shipping cost and shipping time will increase together.
Shipping Method
Regarding cross-border shipping, airplanes and maritime transportation are the major choices for most e-commerce players. Normally, the faster the delivery, the higher the shipping rate. You can choose your carrier according to your customers' needs.
Shipping Volume
It means the average number of packages you ship per week. Major international freight forwarders may have special offers for you based on your shipping volumes, service methods, your package weight and sizes.
Delivery Insurance
Making sure that there is an insurance plan in place for the safe delivery of your goods is paramount. Perhaps if the stock that you want to move is not very valuable, it won't be such a big deal. Yet if your stock is of high value, taking out insurance is very important. Most carrier companies have their own insurance portfolios in place. Be sure to check them out properly in order to know which each carrier offers for insurance on transporting your goods.
Weekend Delivery
Delivering your products on a weekend to your customers is very important. As most people are at home at that time and it is a preferred delivery time. Be sure to check what the surcharges will be linked to this service.
Given the different rates from different carriers, it is a must for you to compare their rates for your orders to minimize your shipping costs. Ordoro, ShipStation, and ShippingEasy are available for you to analyze the cheapest shipping rate for your shipping portfolio.
When you are considering a carrier, you have to do some homework about your own business, keep your shipping volume, size and weight, in your mind and choose the right one for you.

A highly efficient and accurate order fulfillment is the key to the success of an e-commerce empire. As the major way to deliver your own practice of your business strategy, it plays an incredible role in your supply chain management. There are many ways to fulfill your orders, and deliver your products or services to your customers.
Generally, a hybrid of the order fulfillment solutions is the best choice for most e-commerce modes. It will help you to boost your business with limited cost control, and expand your reach.
A successful order delivery should be one of the most vital parts when he/she is running a business and staying in the area. Order processing, client needs, and time management are all required for a business runner. With an aim to deliver items to customers successfully, insightful people with specific business technical knowledge are the best to control your business service quality as order fulfillment is not as simple and easy as people expect. Complex as it is, order fulfillment differs itself in different businesses, especially for the cross-border business.
Getting here, you must be quite clear about the order fulfillment, especially for the e-commerce. We hope this post will help you to make your own special order fulfillment strategy to streamline your business in the worldwide. With a highly efficient order fulfillment, we hope everyone can realize their business dream. If you run into any questions about this topic, please leave us your comment.
We are sorry that this post was not useful for you!
Let us improve this post!
Tell us how we can improve this post?