Huaqiangbei electronics market is a world-famous wholesale market for electronic components. The business all over the world travel to Shenzhen, China, to visit this market yearly.
Huaqiangbei market is based in the Futian district of Shenzhen, which has become a place of attraction for Shenzhen city. Most of the markets are at Huaqiang North Road.
This market cluster contains over 12 electronic markets selling electronic products. In fact, people hailed it as "Silicon Valley of Hardware" or "China's Silicon Valley."
In this post, we'll share everything about buying electronic products from Huaqiangbei. Let's get rolling!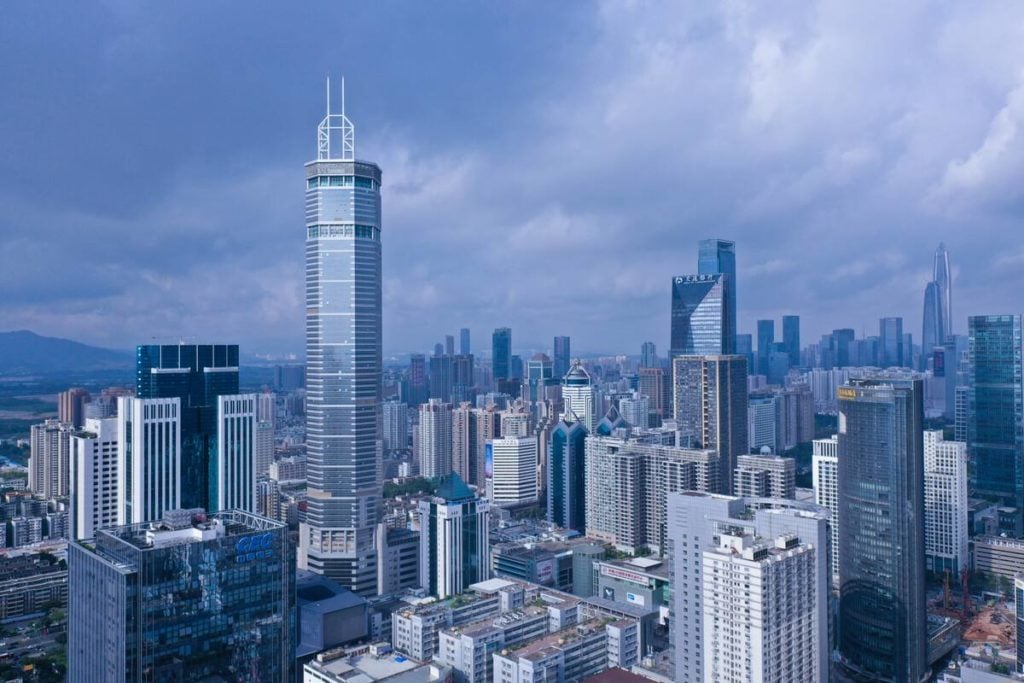 Advantages of Huaqiangbei Electronics Market
Huaqiangbei electronics market in Shenzhen is a paradise for electronics products lover. Make sure you spare some time for this market when visiting Shenzhen in China.
1. Diversified Choices
You'll find a vast range of suppliers selling electronic products here. For example, drone stores and mobile phone stores. There are even second-hand electronic products sold at low costs.
It is an excellent market with profitable and trendy goods to expand your business.
2. Cost-efficient Goods
The goods here are at a low price for bulk buy. With many suppliers available here, you can make good comparisons to get the best price. Also, suppliers offer various payment and transportation methods.
3. Easy Payments and Shipments
Besides, these suppliers have experience in dealing with businesses all over the world. They have various easy options for payments and shipments.
For instance, you can choose TT, LC, Paypal, or Alipay for payment. Shipment options are available by air, ship, rail, or couriers like DHL.
4. Policy Advantages
Huaqiangbei in Shenzhen is also located immediately next to Hong Kong. It is strategic for cross-border eCommerce. Also, the economic policies by the China government encourage export-oriented business.
As a result, you get cost advantages on shipments due to its strategic locations. The policy advantages also further simplified the trade inspections and taxation. You can expect lesser trade delays and reduced import costs.
Hot selling electronic components in Huaqiangbei Electronics market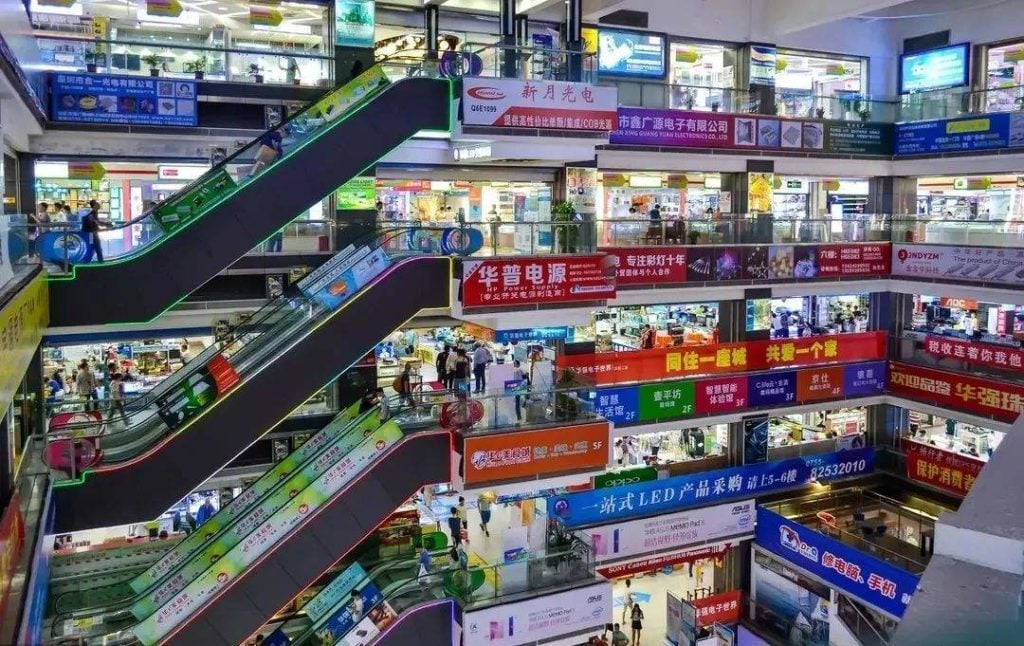 Huaqiangbei electronics market is a center of electronic products, or "3C products". The 3C means computer, communication, and consumer electronics. Let's take a look at the products available in this market.
Communication Products and Accessories
Communication products are common in this market. There are many new and second-hand cellphone. These phones are in close proximity to branded phones.
You can also find other accessories. For instance, phone cases, iRing, USB Fan, USB Light, MicroSD Card. Chargers, adaptors, circuit boards, chips, etc.
Besides, buyers will find many computer products here. Tablet PCs, laptops, CPUs, computer parts, you name it.
Consumer Electronic Products
Many suppliers in the Huaqiangbei electronics market also sell consumer electronics products. These goods include surveillance cameras, drones, smartwatches, wireless controllers, and others.
This market is also an excellent place to source LED products. For example, LED strips, LED lightbulbs, and LED signs.
Some businessmen come to Huaqiangbei electronic market to buy spare parts for repair. For example, spare parts for mobile phones, computers, and other electronic goods.
It is also an excellent place to source tools for phone repairs. For example, the iPhone repairs stencils, tweezers, and solders.
Best 10 huaqiangbei electronics markets
We'll share more about the best 10 markets in Huaqiangbei below. So, next time you want to buy electronics products in bulk, you know where to visit.
1. Huaqiang Electronic World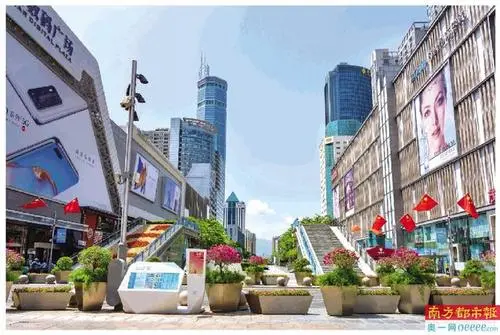 Also called HQ-Mart, it is the second-largest electronics market in Shenzhen. You can visit HQ Mart at Huaqiang North Road.
You'll find electronic components and second-hand electronic products at HQ Mart. For instance, LED lights and used computer peripherals.
2. SEG Electronics Market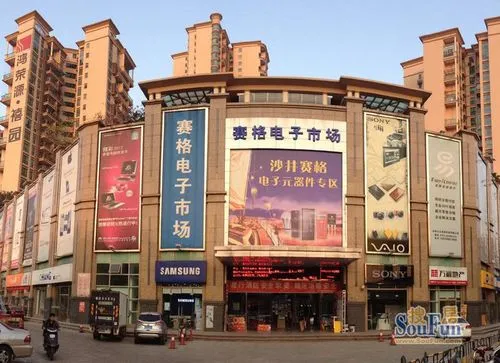 It is in SEG Plaza from the first floor to the tenth floor. SEG Plaza is a 355-meter skyscraper at Huaqiang North Road, Futian District.
There are many electronics products here. For instance, the electronic components, tablet PC, laptops, mobile phones, etc.
3. SEG Communication Market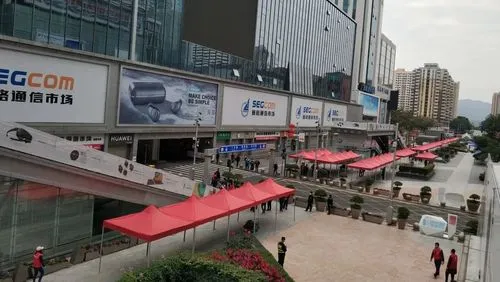 SEG Communication Market is close to SEG Plaza on Huaqiang North Road. This market has three buildings that sell communication products.
You can find modems, networking cables, routers, and mobile phone accessories here.
4. Yuanwang Digital Market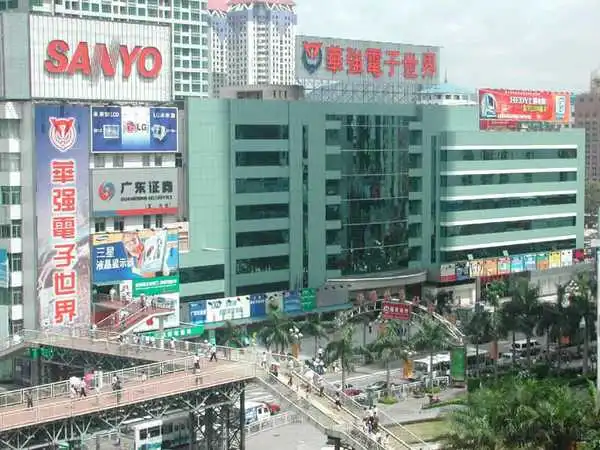 YuanWang Digital Mall is at Huaqiang North Road, Futian District in Shenzhen. It is the largest electronic trading center in Huaqiangbei for mobile phones.
There are communication products like brand mobile phones and their accessories. digital audio-visual products like cameras. and computer products at Yuanwang digital mall.
You can also buy security products like monitoring equipment at Yuanwang Digital Mall.
5. Mingtong Digital Mall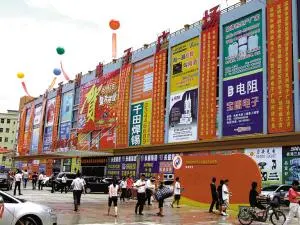 This mall is the largest electronics market in Southeast Asia for communication products. It is at Huafa North Road, Shenzhen, China.
There is a vast range of mobile phones except for parallel mobile phones. You can also find electronic products from this mall on online platforms.
6. Shenzhen International Electronic City
Locating at Huaqiang North Road, this market has varieties of electronic products. The first floor sells mobile phones, building security, and communication equipment.
You can find other consumer electronics like TV boxes and CCTV cameras on the second floor.
7. Pacific Security Professional Market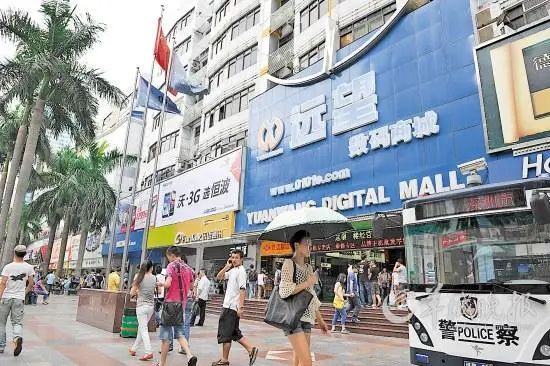 This market located at ZhenZhong road sells security communication products. For instance, monitoring equipment, access control, and building intelligence.
You'll find many security electronic items, whether for household or commercial buildings.
8. Pangyuan Communication Accessories City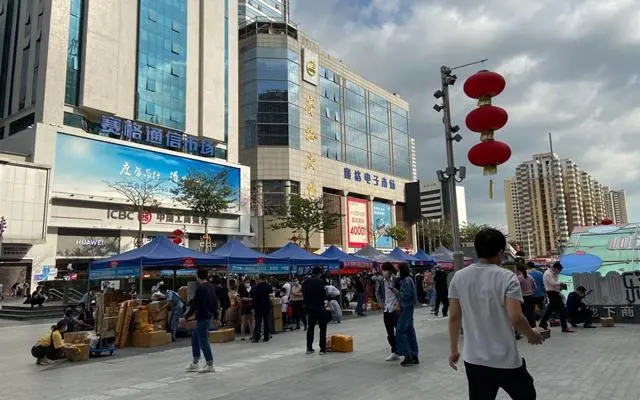 You can visit this market at Shennan Middle Road in Huaqiangbei, China. It is the only and largest China one-stop accessories store for mobile phones.
The products sold here are mobile phones, LCDs, CPUs, and other spare parts.
9. Electronic Science and Technology Mansion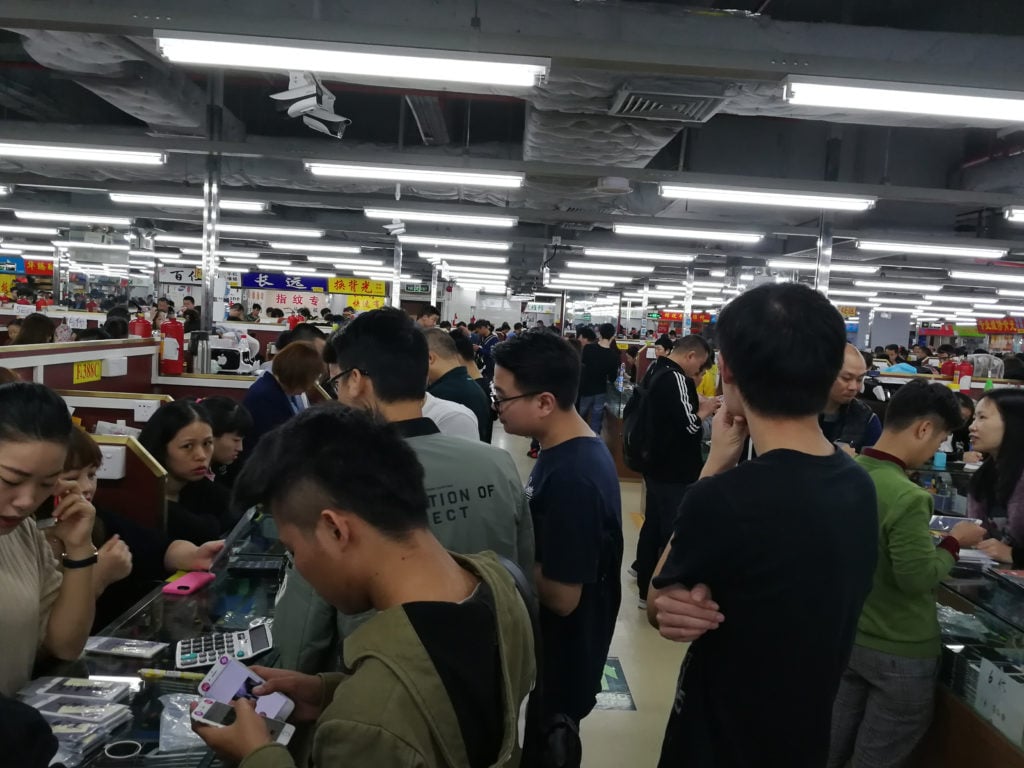 This market is at Middle Shennan Road, Huaqiangbei, Futian District, China. You'll find a large variety of consumer electronics here.
For instance, USBs, memory cards, hands-free, and others. It is ideal whether for a small shop or large wholesale business.
10. Sangda Electronic Market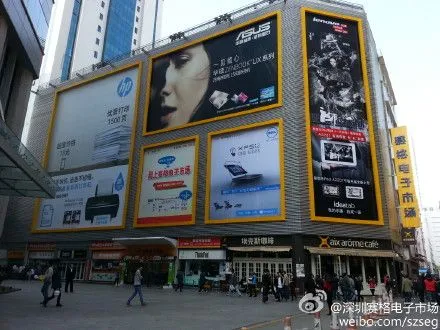 Sangda Electronic Market is famous for android tablets and accessories for mobile phones. This market also sells consumer electronics like computer parts and netbooks.
You can visit this market at Huafa North Road, Shenzhen, China.
Other electronics markets are Wanshang Computer City, Maoye Department Store, Feiyang Times Mansion. Make sure you attend the right market for your sourcing purpose.
Looking for the Best Electronics Products?
Leelinesourcing helps you find the Best Products in Huaqiangbei with high quality at an attractive cost.
5 tips for wholesale goods from huaqiangbei electronics market
While shopping from the Huaqiangbei electronics market, not all the suppliers are trustable. Also, there are chances that you might get scammed for the quality of products.
Hence, you need to take care of the following tips and tricks. These tips will help you make your shopping experience smooth and more beneficial.
1. Compare various vendors of the same product
Many vendors flooded these markets. Hundreds of vendors of the same products are available in these markets. Hence, it would be better to compare more vendors of similar products in this market.
You can compare these vendors against prices and product quality.
2. Be ready to pay with WeChat
For small-scale purchases, suppliers prefer WeChat payment over cash. You will find the QR codes all across these shops. Hence, it is better that you have your account topped up.
You can do that before paying a visit to these markets. This will be the best way to buy in these markets.
3. know the basics of Chinese
Chinese or Mandarin is the most spoken language for this market. Hence, it is better to know a bit of Chinese to personalize with the suppliers. You will need a translator if you don't speak Chinese.
These basic words will present a courteous communication with these suppliers.
4. Negotiate with the shopkeeper
The markets are filled with suppliers. There are no fixed or standardized prices in these markets. Hence, it is vital to negotiate the costs in a respectful manner.
You can easily negotiate up to 20% of the prices in these Chinese markets. This will add to your profitability.
You can negotiate after comparing different vendors.
5. Be aware this is a street market
You must be careful in the China market to prevent being ripped off. Chinese products might be at the best price but beware of fake goods.
Check for the availability of other languages when buying a mobile phone so you can use it. Also, beware of pickpocketing to avoid losing your belongings.
FAQs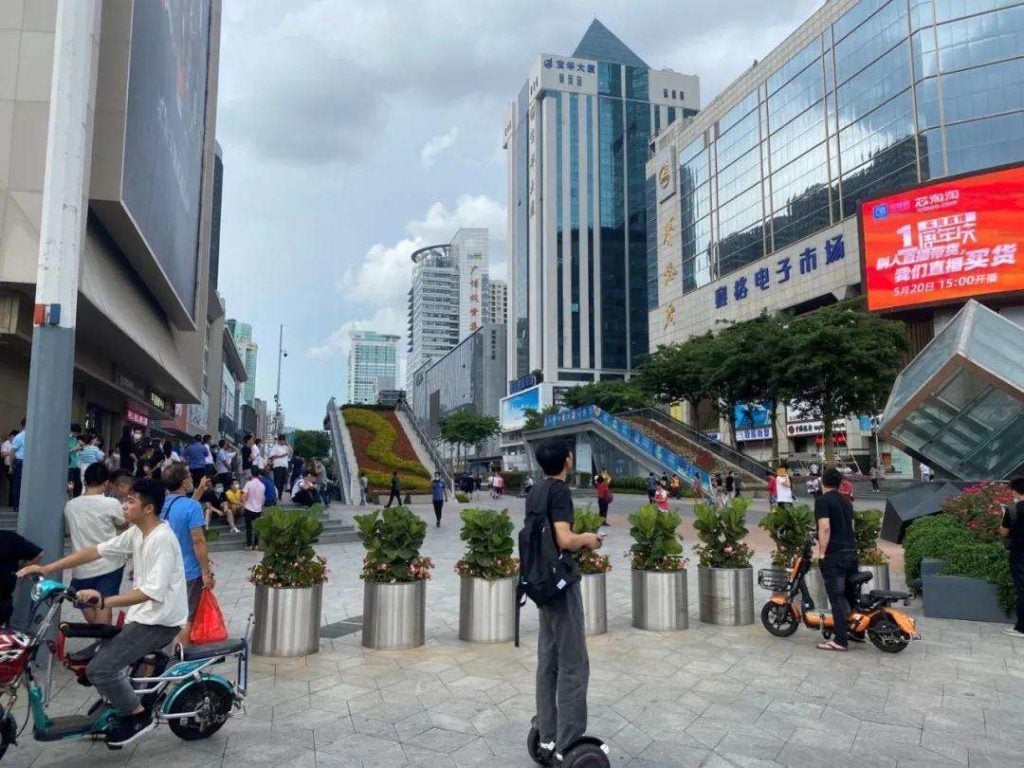 How can I go to Huaqiangbei from Shenzhen?
Huaqiangbei is only 4.3km away from the downtown area of Shenzhen, which takes less than 10 minutes. 
The available travel methods are metro line, bus, taxi, or walking. We recommend you get a map of the metro line for easier transportation. 
What are the operating hours of the Huaqiangbei electronics market?
The standard operating hours are from 9am to 6pm. Some malls operate late until 10.30pm, and even on weekends. 
We recommend you to visit the store 20 to 30minutes after they open. You should also leave early to get taxis back to your accommodation place.
Most markets will not open on holidays, especially during the Chinese New Year.
How can I prevent scams when sourcing electronics products from Huaqiangbei?
Inevitably, there could be fraud cases in the huge Huaqiangbei market. You should verify the suppliers by requesting the business license. Other references like bank or website reviews can also help check their credibility. 
You can also request product samples or ask for payment and transportation availability. Legit sellers will accept flexible offers without hesitation.
What documents do I need to import electronics from the Huaqiangbei electronics market?
There are certain compulsory documents to import electronics from Huaqiangbei, China. These legal documents are the import license, an import declaration. commercial invoice, packing list, and bill of lading. 
You will also need to present some certificates. For instance, the certificate of inspection, insurance, country of origin, and delivery verification. 
Can I hire sourcing agents to import electronics products from Huaqiangbei?
Of course! It is an ideal option if you cannot travel to the Huaqiangbei electronics market. 
Sourcing agents can help handle all purchase procedures. It includes price negotiation, quality inspection, transportation, and customs clearance. 
You can save your time, travel costs, and hassles with them. 
Final thoughts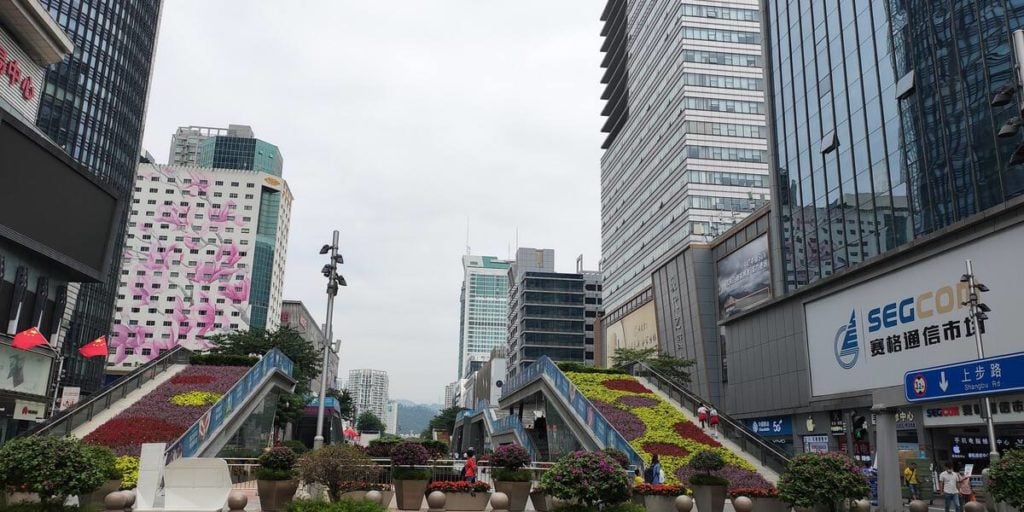 Huaqiangbei electronics market is a super-hub in Shenzhen. It has all sorts of gadgets and technology. Some even call it geek's heaven, being the global largest electronics market.
This is an excellent market to import cost-efficient electronic goods from China. You should plan enough time to explore this exciting market.
I hope this article is useful in sharing the best products and markets you can find in Huaqiangbei. Make good use of the tips so you can have fruitful sourcing.
Or, you can also hire reliable sourcing agents like Leeline Sourcing to assist you.
We are sorry that this post was not useful for you!
Let us improve this post!
Tell us how we can improve this post?