Korean Clothes Wholesalers
LeelineSourcing is a top-tier sourcing and shipping services company that delivers excellent quality and service. Purchasing wholesale clothes in Korea through LeelineSourcing can help reduce costs, save time, and improve efficiency. You can also be sure to find Korean-style clothes at a competitive price.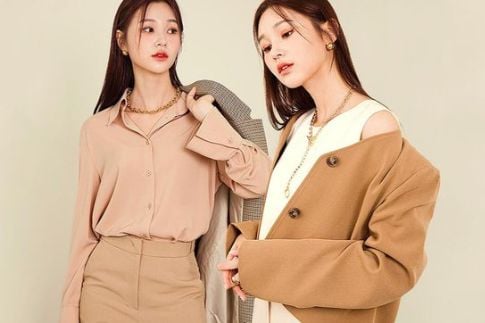 No Risk Free Sourcing No Hidden Fee
You can get Free detailed product quote before order
Wholesale Best Clothing Products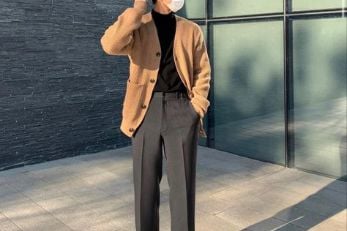 Wholesale Men Garment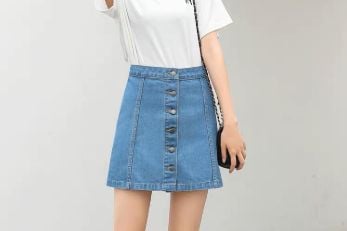 Wholesale Skirts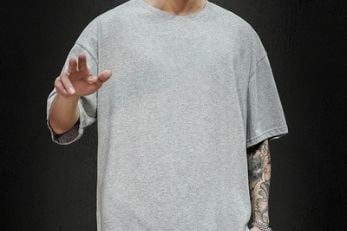 Wholesale T-shirt
---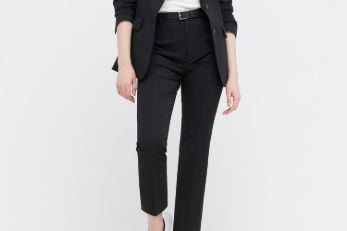 Wholesale Pants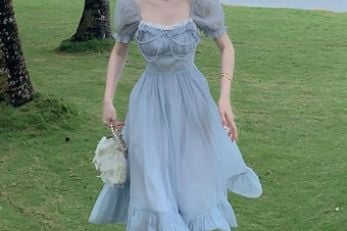 Wholesale Dress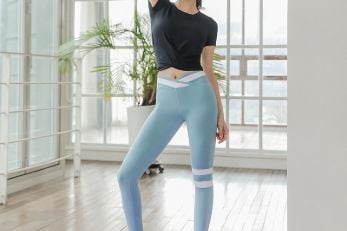 Wholesale Sportswear
---
Our Clothing Manufacturing Services Include: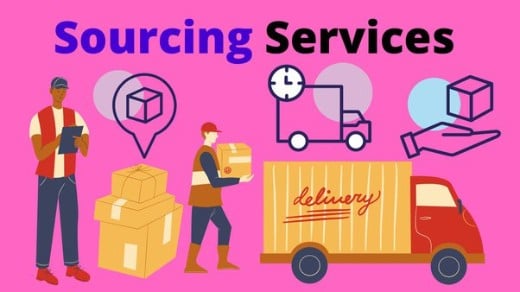 Sourcing Clothing Suppliers
Finding exemplary wholesale service for your online business can be a challenge, Fortunately, LeelineSourcing's sourcing service will help you with the hassle of finding the right apparel in China. You will no longer worry about low-quality and over-priced products by sourcing with them. By sourcing with us, you will get fashionable apparel at discounted factory prices.
Clothing Quality Control
Bulk purchasing saves money, but you have to avoid getting substandard products. LeelineSourcing will help you get apparel products at a low cost through their premium level control services. Through our help, you will get bulk items at nice prices and save on the shipping cost.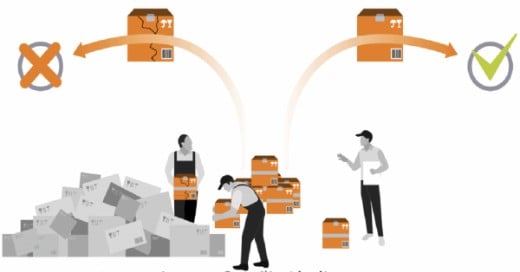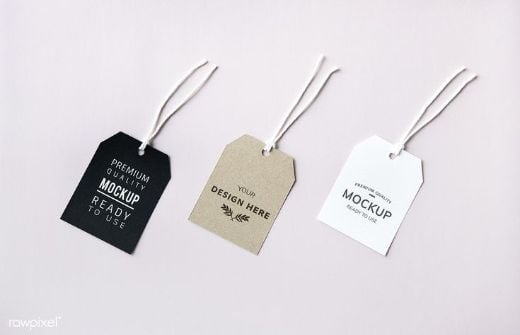 Private Label & White Label Clothing
Your fashion store needs a partner that can help create a unique brand identity. Private and white label products can help take your Korean clothing wholesale business to the next level. But that can only happen by partnering with the perfect suppliers in China. LeelineSourcing will hook you up with the right supplier in China.
Dropshipping and Fulfillment
You can't run a successful online clothing line without the right shipping service. LeelineSourcing will connect you with the perfect dropshipping and fulfillment service in China for your outfit business. Consequently, you will be able to run your ecommerce business without meeting order demands or managing a warehouse. You will also reduce the risk of carrying inventory.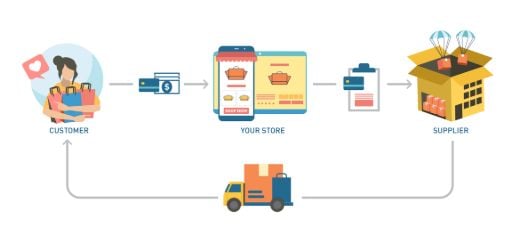 ---
Source Your Products and Make Big Money
We offer the best wholesale price and high quality products to help you boost your business.
---
Top 10 Korean Clothes Wholesalers
Choosing the right Korean clothes wholesalers is crucial for your brand's success. But with so many wholesale clothes in Korea, it can be challenging to find a reliable supplier.
But worry no more. We leverage our market knowledge to link outfit retailers with suitable wholesale clothing suppliers in Korea.
We work with wholesalers offering high-quality clothing at competitive prices. So it is easy to find the perfect outfit without breaking the bank. We list these wholesale clothing suppliers who will be there for you.
Are you looking for an affordable and reliable Korean wholesale clothing supplier? Try out any of these top garments websites in Korea.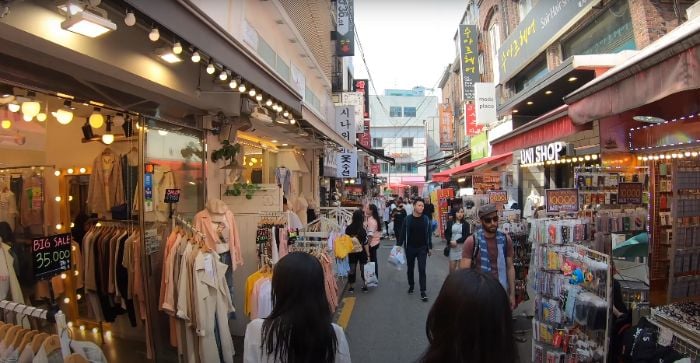 1. KKAMI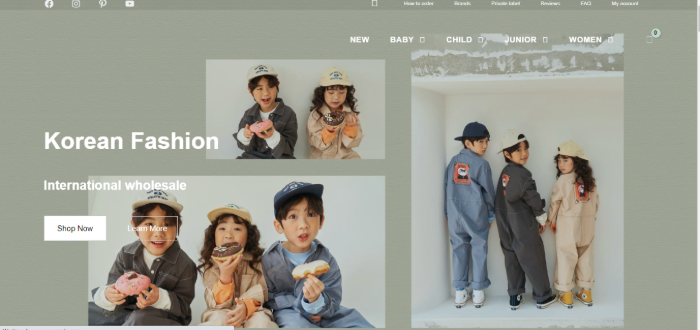 Kkami is an online wholesale market for various Korean fashion styles. Their quality control department works with selective Korean brands to maintain the highest standards. Their dozens of brands from Korea reach retailers worldwide. Kkami wholesalers source products from world's renowned brands. So they only sell their products to retailers and not individual shoppers. The wholesaler is synonymous with unique and original designs from China. Their trendy styles are available across the world at affordable prices. So if you're looking for the latest Korean style, Kkami will ship it to you. Their selection of bestselling brands for kids and adults has something for everyone. Their flexible payment and shipping options, including Paypal and Western Union, are available across the world.
Primary Products:
Korean Children's Fashion Brands
Hats
Clothes
Accessories
Shoes
Phone:
Email Address:
Hours of Operation:
Weekdays – 9 AM to 8 PM KST
Location:
Leaders Plaza 402ho, Jeongja-dong 219-3, Bundang-gu, Seongnam-si, Gyeongi-do, 13604 SOUTH KOREA
2. FC Plaza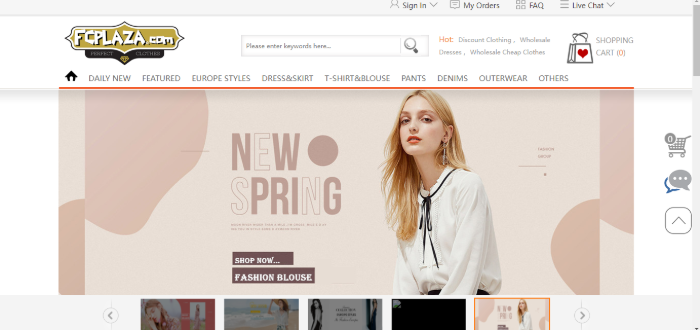 Welcome to FC Plaza, the best Korean fashion clothing wholesale service for the latest Japanese and Korean style outfit. They have everything you need to keep your business or boutique stocked with the latest trends. Whether you're looking for apparel, footwear, or bags, FC Plaza will ship them to your doorstep. Browse their selection today and take advantage of their low prices on the latest trends. Their shipping price is unbeatable, and you may not find a better deal anywhere else. You can get the latest fashions at a fraction of the cost by shopping with FC Plaza.
Primary Products:
Dresses
Skirts
Pants & Jumpsuit
Outwear
T-shirt & Blouse
Europe Two Pieces
Phone:
Email Address:
Hours of Operation:
Monday to Saturday 8 AM – 5 PM
Location:
22 Majang-ro, Sindang-dong, Jung-gu, Seoul, South Korea
3. ADER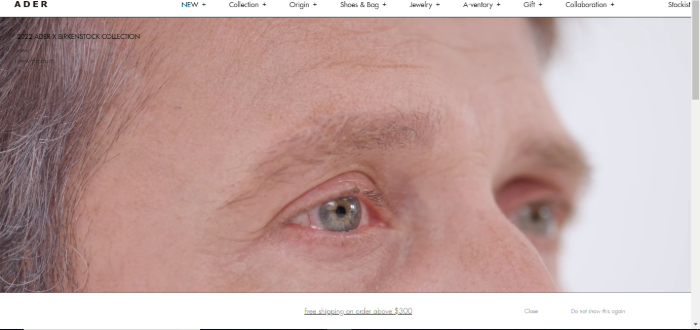 Founded in 2014, ADER is a fashion wholesale store designed to express cultural communication. ADER's philosophy focuses on expressing things missed in everyday life. The Korean clothing wholesale service re-edits outfit designs to suggest a new cultural experience. Their main focus is designing communication between all areas. ADER is among the leading Korean wholesale service. The outfit wholesale store strives to offer the latest fashion at the best price. Excellent customer service and durable apparel make ADER a reliable clothing supplier. ADER's collection features a full range of casual and formal styles to suit all tastes. ADER also offers a great selection of sizes to ensure everyone finds their perfect fit. With ADER, your fashion store will always be ahead of the curve in the Korean fashion industry.
Primary Products:
Phone:
Hours of Operation:
Mon – Fri 10:00AM – 5:00PM
Location:
3F 53, Yeonmujang-gil, Seongdong-gu, Seoul, Korea
4. Low Classic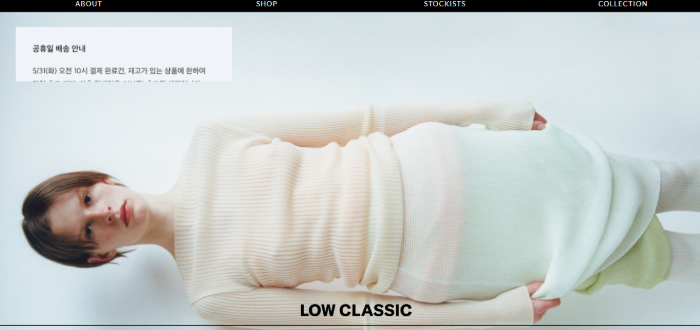 Low Classic is the trendiest, new business taking the fashion world by storm. Low Classic expresses sophistication and class with a dash of charm and wit. The fashion store bases its primary philosophy on the coexistence of these two elements. It uses young, creative fashion to express feminine beauty with simplicity. Low Classic is positioning itself as the leading Korean garments designer. It utilizes innovative detail, classic silhouettes, and chic fabrics in every piece. The supplier develops new original designs each season for ready-to-wear needs. Low Classic's collections are perfect for women looking to rock in stylish dresses.
Primary Products:
Volume Sleeve Dresses
19FW Sleeveless Wrap Dresses
Phone:
Email Address:
Hours of Operation:
Monday to Friday 10 AM – 6 PM
Location:
2F 8, Dongho-Ro 15 Gil, Jung-Gu, Seoul, Korea
5. APM Express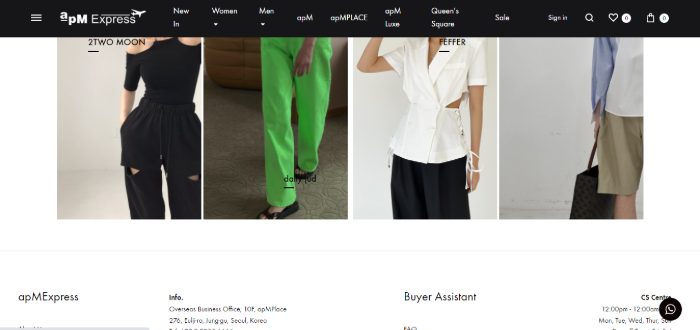 APM Express is a great wholesale supplier of high-quality women's Korean fashion. You can find everything you need for your business at an affordable price. They offer a wide range of products, so you can always find the right style. APM accepts different payment methods, including mobile banking and credit card. It usually takes around 1 to 3 days for APM Express to deliver an order within Korea. Shoppers outside the country can expect their orders to arrive within 1-7 days. APM Express has a comprehensive collection of Korean clothing items to choose from. So your customers can find an item that expresses their style.
Primary Products:
Paper Moon
Black Fuchsia
Daily Jud
Phone:
Email Address:
Hours of Operation:
Monday to Friday 12 AM – 9 PM
Sunday 12 AM – 9 PM
Location:
South Korea, 10F Jung-gu, apmPlace KR
6. Wholesale7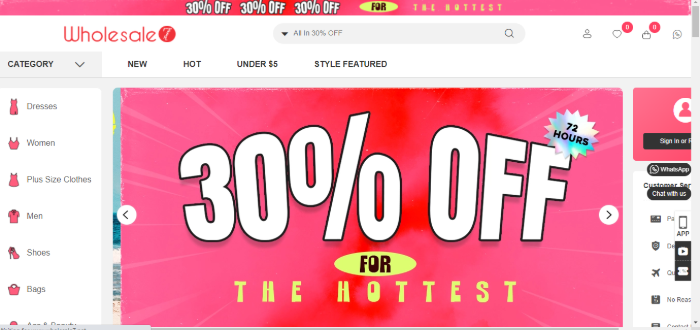 Are you looking for a China-based wholesale supplier selling Korean products at a reasonable price? Wholesale7 is the perfect choice for you. Their shoes, jewelry, outfit, home decor items, and 3C products are perfect for you. Their slim profit margins will leave you plenty of room to make a healthy profit. Wholesale7 also offers SEO-optimized product descriptions to help retailers rank their websites higher. Your fashion online store will not only rank higher but generate more sales and traffic.
Primary Products:
Dresses
Women Clothes
Men Garments
Bags
Shoes
Plus Size Outfit
Phone:
Email Address:
Hours of Operation:
Monday to Friday 8 AM – 5 PM
7. Cald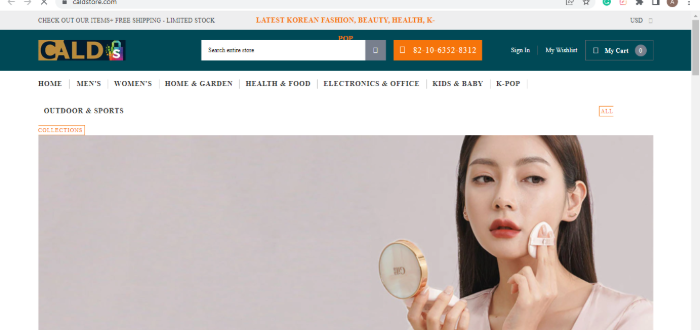 Cald strives to make perfect outfits for everybody. The Korean supplier offers the latest fashion styles and trends. Take advantage of Cald's quick shipping from wherever you are. Cald always listens to customers and makes their satisfaction their top priority. Since 2013, Cald has remained focused on offering better service and exceptional value. Its processing plant is based in Seoul but serves consumers worldwide. Its target market includes Asia, Canada, Europe, the US, and Australia. Cald specializes in bags, collectibles, shoes, and other accessories. Their Korean fashion clothing stores are available at wholesale prices.
Primary Products:
Women's Attire
Men's Garments
Kids and Baby Outfit
Outdoor and Sportswear
Phone:
Email Address:
Hours of Operation:
Monday to Friday 9:30 AM – 6:30 PM
Location:
287, 225 Singil-ro, Yeongdeungpo-gu, Seoul, South Korea
8. Kooding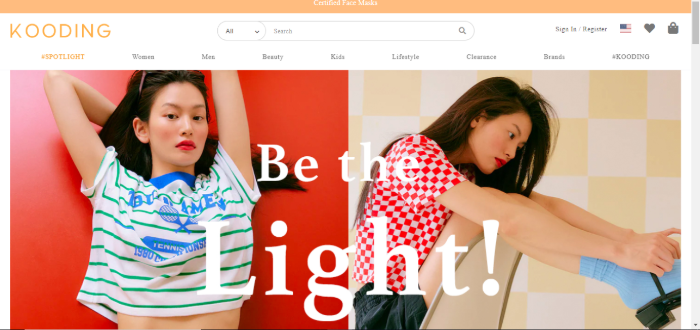 Kooding is an online fashion business offering the latest in Korean-style fashion clothing. Korean fashion retailers can find stylish outfits unavailable elsewhere at Kooding. Shopping with Kooding means your clothing business will always be ahead of the fashion clothing curve.
Better yet, the quality of their garments is unbeatable. Kooding only uses soft and breathable materials. So you are always guaranteed to get garments that will last. Plus, their email support is excellent and ready to offer any help you need. And if you're worried about shipping times, don't be! Kooding will have your items delivered a few days upon placing an order. Their delivery services are currently available in over 100 countries.
Primary Products:
Men's Korean Fashion
Women's Korean Fashion
Women's Korean Dresses
Phone:
Email Address:
Hours of Operation:
Monday to Friday 9 AM – 5 PM
Location:
1501 E Orangethorpe Ave, STE 130, Fullerton, CA 92831
9. Sthsweet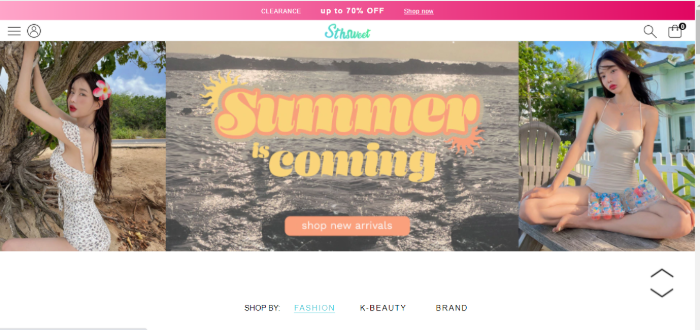 Sthsweet is a PPB Studio subsidiary dedicated to making Korean outfits available worldwide. Their shipping services are so far available in around 78 countries. Sthsweet works hard to see the love for Korean garments expand worldwide.
Their brands include Icecream12, DaliHotel, Mossbean, Cherrykoko, and CHUU. Sthsweet keeps adding new products to keep its clients ahead of the fashion clothing curve. So if you're looking for the latest Korean fashion clothing style, check it out on Sthsweet's website.
Primary Products:
Outfit and Sets
Dresses
Bestsellers
K-beauty
Face Masks
Phone:
Email Address:
Hours of Operation:
Monday to Friday 9 AM – 6 PM
10. Chuu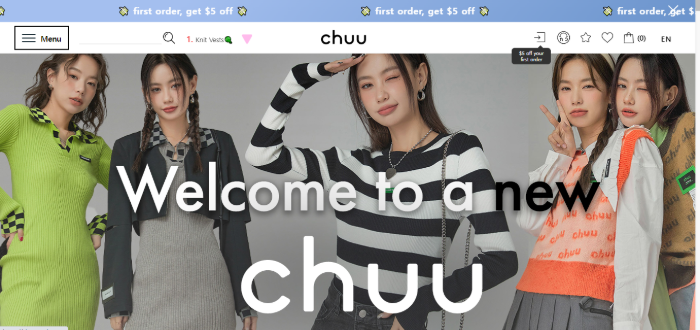 Looking for some stylish and affordable garments? Check out Chuu. Chuu is a great platform for buying wholesale clothing in South Korea. It offers Korean fashion clothing at a wholesale price. Their collection includes dresses and jackets to blouses and coats. Everyone is sure to find a wide variety of trendy styles that meet their needs. Their customer service is excellent, and their clothing is top-notch. Chuu has customers from over 40 countries and counting.
Chuu has everything you need to stay ahead of the fashion curve. Their styles range from Korean-inspired fashions to fashionable Japanese styles. And because Chuu is an online clothing store, you can get a better price on the hottest trends.
Primary Products:
Denim Jeans
Knit Sweater
Knit Top
Cardigan Top
Sleeve Top
Skirts
Phone:
Email Address:
Hours of Operation:
Monday to Friday 9 AM – 5 PM
Location:
Chuu En, 3F, 55 Solmae-ro 50-gil, Gangbuk-gu, Seoul, Korea 01158
How to find reliable suppliers for Korean fashion clothing?
Finding suppliers for clothing in Korea can be tricky if you don't know where to look. But with a little effort, you should be able to find the perfect supplier for your needs. Here are a few ways that you can find fashion clothing wholesale services in Korea.
The first way to find a Korean wholesale clothing supplier in Korea is to search online. Many websites list wholesale suppliers worldwide, including in Korea. You can contact these suppliers directly and ask if they have the bestselling brand you want.
Attend Fashion Fairs and Trade Shows
Another way to find a clothing wholesale service in Korea is to attend trade shows or fashion fairs. These events are often held in major cities such as Seoul or Busan. You will be able to meet with many different Korean wholesale clothing suppliers and manufacturers. This is a great way to get an idea of what kind of outfit is available. You will also get a chance to negotiate a better price.
Finally, you can try to contact clothing wholesalers in Korea through word of mouth. If you know someone who lives in Korea, they may be able to give you the name of a few suitable suppliers.
FAQs about Korean Clothes Wholesalers
Is it hard to make a clothing label?
Making a clothing line is no easy feat. You will need to design and manufacture outfit and build a brand identity. And with the competitive nature of the fashion industry, it can be hard to stand out from the crowd. However, creating a solid branding strategy can improve your success chances.
What is the most popular online shopping site in Korea?
Naver is Korea's most popular online shopping site. It is a clothing store for various products, including cosmetics, fashion, and home goods. Businesses on Naver often offer significant discounts on their products. Naver is the perfect option for busy shoppers looking for quick delivery. 
Which Korean clothing brand is best?
Korea is a fashion powerhouse. J. Estina is the most renowned Korean fashion clothing label. Its designs are elegant and timeless, yet with a modern edge. J. Estina has also been featured in famous fashion magazines. 
What's Next
There are so many incredible garments wholesalers in Korea. But it is crucial to choose a reputable supplier who fits your business. The wholesale clothing suppliers discussed above are the perfect match for Korean fashion outfits. Their high-quality products and timely shipping services will guarantee your success.
Still unsure where to source the latest Korean garments and accessories? Contact us today for help in finding a Korean garments wholesaler for your Korean fashion garments business.
Do you want a successful import business?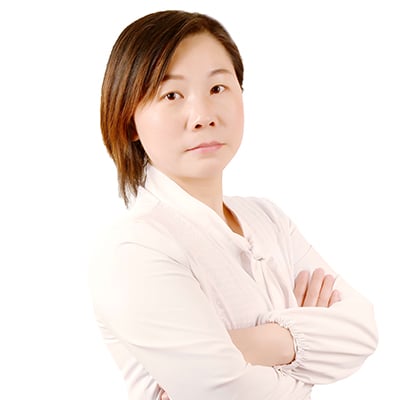 Hey, I'm Sharline, co-founder of LeelineSourcing. We've helped 2000+ customers import from China.
Do you want a better price on product or shipping?
We are sorry that this post was not useful for you!
Let us improve this post!
Tell us how we can improve this post?