Do I really need one product dropshipping store?
Most beginners have this question while starting dropshipping. Don't skip it if you have the same question!
Our experts have compiled this article after hours of research. It includes real-life examples of the single-product store. You clearly understand building an online store dedicated to one product. Easier to focus on a single product's marketing and make it profitable.
Keep reading and first learn about the One Product online store.

What Is A One-Product Shopify Store?
Some sellers don't want to dropship many products; there could be many reasons. So instead of adding a huge catalog, you only add one product. Sometimes, you add variations that should relate to the primary product. Now This is one product Shopify store.
The main reason for One product store's success stories is the focus. You have to handle a single item's marketing and supply chain.
Benefits of One Product Shopify Store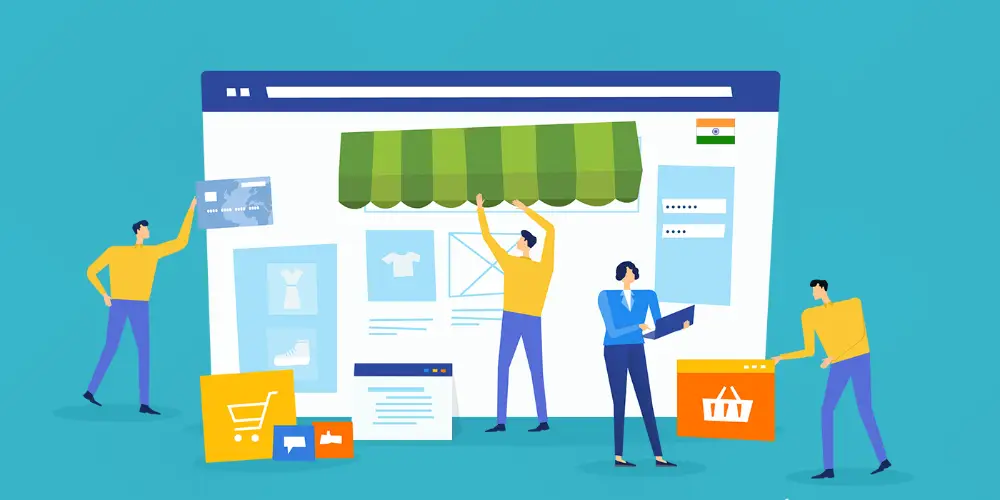 The Single-product Shopify stores have many benefits, and I have experienced a few. Here are those benefits:
Handling dozens of products means more hassle. It drains your energy, leaving you tired. Instead of focusing on many products, why should you not invest energy in a single item?
As a result, you focus more on a single item. It will be less hassle to handle a single product's supply chain. Fewer web pages to design and limited interaction with customers. You focus more on its sourcing and optimizing your process & products.
Imagine you have 10 different products and now have to work on marketing. It requires you to target 10 sets of people with different interests. I know you imagine all the workload and expensive marketing costs. But you solve this with a single product.
You have to spend less money on digital advertising as a business owner. Your marketing campaigns focus on a specific niche. This resulted in a high conversion rate for my own online store. In short, your attention will not get distracted and costs.
5 Examples of Successful One-Product Shopify Stores
1. Neos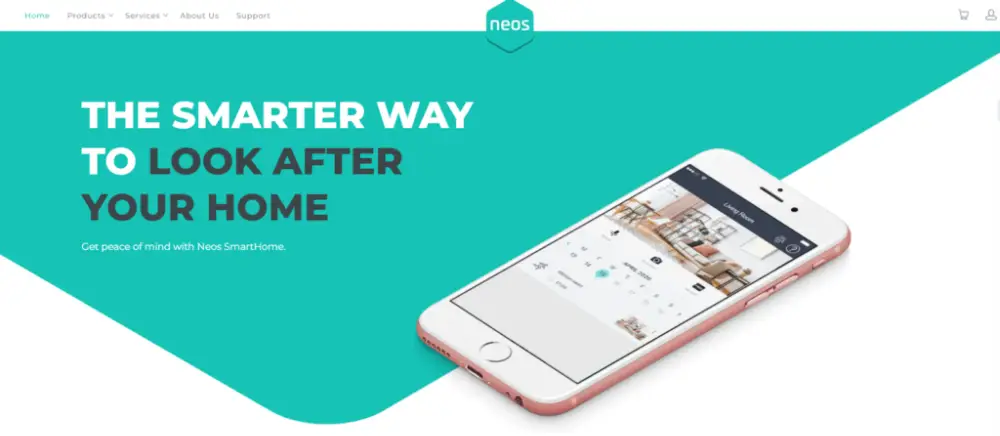 They sell Home smartness solutions for protection and safety. Their main product is SmartCAM which comes in different packs. But Products remain the same, so I included this one product store list. A perfect example is if you deal in multiple aspects of the same product.
Notable Features:
They have 5 product bundles, including accessories or motion sensors. You get more safety with their single and twin packs.
Products are on the Homepage, so customers don't have to go to other pages. Each section of the Homepage shows its different features and takeaways.
Very interactive theme with limited policy pages. Customers also access their social media for social proof.
2. IDRAW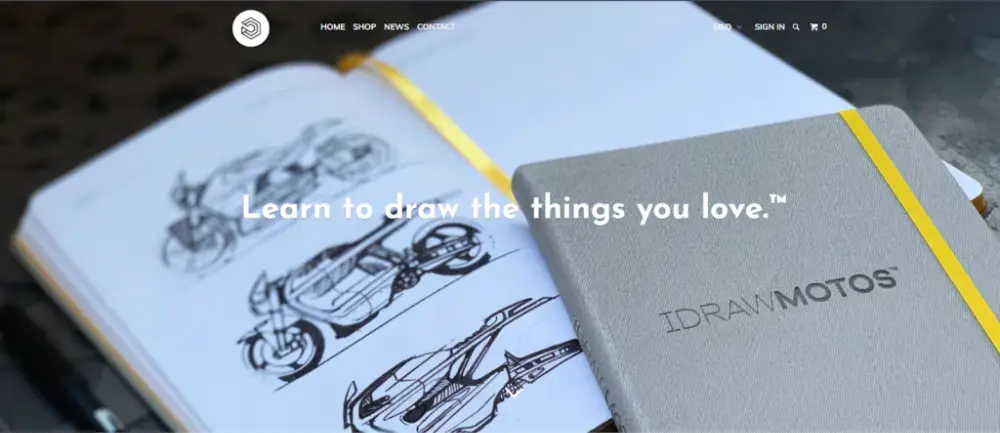 IDRWA has a special product that caters to the creative audience and people who like to sketch. It gives me ideas about the interesting one-product stores. If you have the same creative product with a dedicated audience, then use their strategy. The product is the same drawing book in many designs. But they listed them separately, 
Notable Features:
They have a very narrow audience which is easy to target. And have branded items, so you add a little customization to make them branded.
The interesting thing about homepages is they got all the benefits with a Checkout link. Customers go to checkout after reading all the features. It shortens the funnel time and increases conversion chances.
3. Ratio Coffee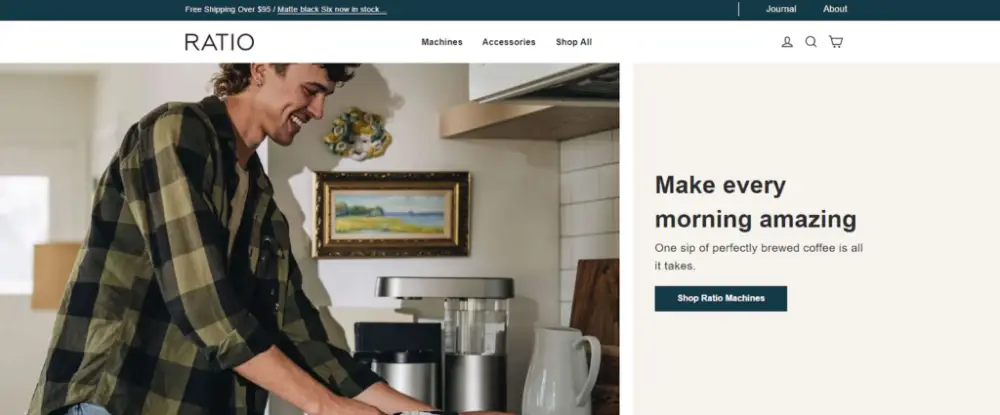 You get coffee machines in Ratio Coffee, including some related products. They expanded their store around the same product, which is coffee machines.
It is the perfect one-product Shopify store example with an expansion strategy. They deal with the same micro-niche, which revolves around one product & related items.
Notable Features:
The homepage includes all product details & descriptions, and stunning High-end lifestyle images. You get story-focused product pages to attract customers.
They have pages for accessories, including my favorite item, one cup Coffee press. You follow the same layout in your General store or other eCommerce business.
4. Bullies and Co.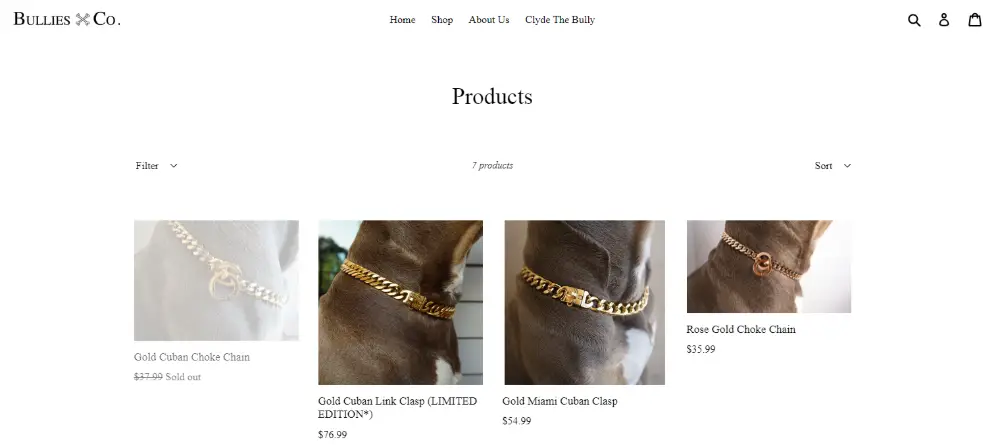 They deal in Pet collars or Chains. It is a pure single-product store with different variations. This sort of eCommerce business requires all the details on the product. The main reason is their sizing issues; remember it while dropshipping fashion apparel.
Notable Features:
On their homepage, they have integrated their Instagram. It helps customers to see social proof and play a role in sales conversion.
A single product with no extra accessories means easy marketing. You have to start optimized marketing budget campaigns. It is the biggest benefit I experienced in creating a one-product store.
5. Death Wish Coffee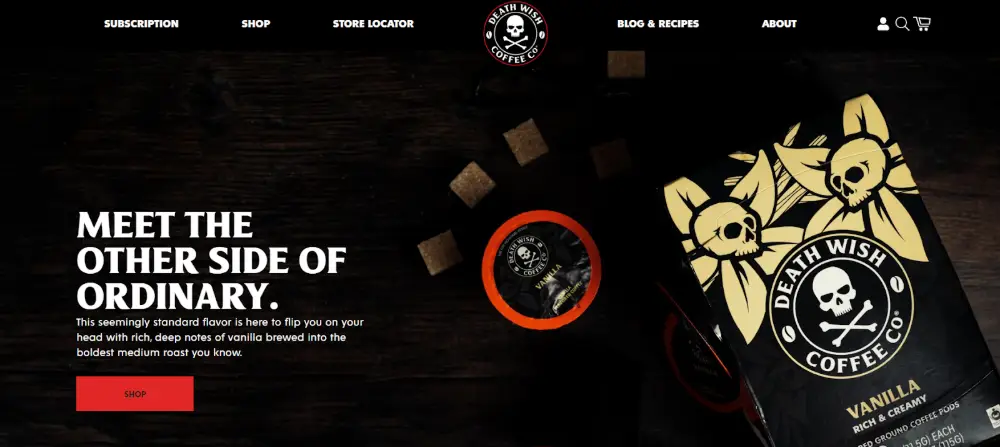 I know you may wonder, Why Coffee Again? Hold On!
There are many key factors behind this eCommerce store. Their primary product is Coffee with different specifications. Heaven for a Coffee lover like me! Don't drink too much you may experience poor sleep quality.
Notable Features:
You get Coffee related merch, which I think is printed on-demand products to sell online. They also have gift bundles. So they have a very targeted niche, so it is easy to target potential customers.
Customers find a unique purchasing process and connection. You use Marketing content too for the target customer. It helps to build brand awareness.
How to Build A One-Product Shopify Store?
There are several steps involved in building a single-product Shopify store. Ok, I followed some steps to build a few one-product stores.
Step 1: Product hunting
This is the most important point in one product store. In general or niche-specific stores, you hunt multiple products. It gives you backup options if your primary product does not perform well. Conversely, in one product store, you need a single winning product.
What do I hunt for winning products?
Facebook ads have proved to be a gold mine for me. I spy on competitors and then add their products to my sheet.
OK, now come up to the next step.
Step 2: Store Creation
Go to Shopify and start your basic plan. You may not need the expert plans because basic was enough for me. So build your store theme around your product. I use a free theme with some plugins.
This has been my strategy, so you won't have to use free software tools. You use paid themes if you want. They have more customization features.
Build your store? Then find AliExpress or a third-party supplier. Link it to your store for automation. Import photo reviews because they have been helpful in my store.
Step 3: Marketing Testing
Test products with FB marketing one by one. You should use stunning and informative ad copies. It helps your product to distinguish it from competitors. If your product does not perform well, then test the second one. Keep optimizing your campaigns too.
In my experience, you get a winning product after a few failed attempts. It's a continuous process, including nonstop product testing.
We can Made Drop Shipping from China Easy
Leeline Sourcing is to help Shopify & small businesses sourcing products from China and build your branded business.
FAQs about One Product Dropshipping Store
Can you drop ship just one product?
Of course, you dropship a single item on Shopify. It is much smoother to manage the supply chain and fulfillment. The only thing that will be difficult for you is finding one single winning product. These stores are short-term because of their nature. 
What is the easiest thing to sell dropshipping?
Nothing is easiest to sell because I won't give you false hopes and promises. It all depends on your marketing and product. Focus on your audience and sell those items that are not easily available in other stores. You make huge profits with unique winning products. 
Can you run two stores off one Shopify?
Yes, and Shopify has no restriction on managing many stores simultaneously. You launch a second store on the same email. You get the login option of both stores while signing into them. Also, access different store dashboards for both stores. 
Are one product Shopify stores profitable?
Yes, they are profitable, and it depends on your marketing strategies. A Successful one-product store has active advertising. You drive all the traffic and audience to a single product from different sales channels. 
What's Next
Fulfillment is a vital part of both one-product and multi-product stores. If you are not good at the supply chain, it means more customer issues and time wastage. As a result, you have to end your store. Yet it could be profitable with good supply chain management and fulfillment.
Where to get fast and reliable fulfillment through supply chain management?
Leelinesourcing has a wide warehouse network for fulfillment and storage. You get multi-carrier shipping to adjust your costs. Contact us to finalize your fulfillment strategy NOW!
Do you want a successful import business?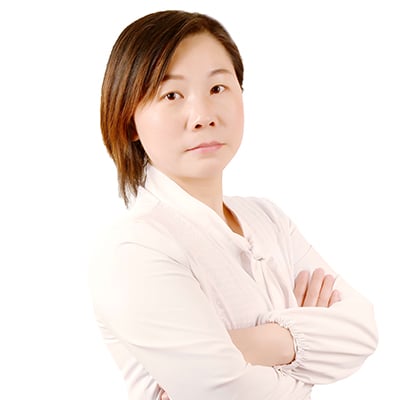 Hey, I'm Sharline, co-founder of LeelineSourcing. We've helped 2000+ customers import from China.
Do you want a better price on product or shipping?
We are sorry that this post was not useful for you!
Let us improve this post!
Tell us how we can improve this post?