Trading with China has become a global necessity, and vendors worldwide are constantly engaged in it. If you are engaged in trading with Chinese suppliers for large amount trade orders, the best payment method for you that ensures the safest returns is hands down the Letter of Credit.
Being in this business for over a decade, we have tried countless methods to successfully and securely trade with Chinese suppliers, and Letter of Credit has turned out to be the safest, efficient, and the most fool-proof way to trade with suppliers overseas.
Keep reading to get an expert's point of view. Here you will find everything that you should know about this secure method to send money to China.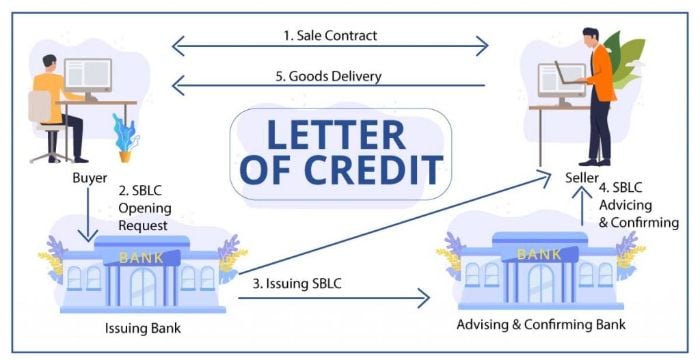 What is a Letter of Credit?
A letter of credit is a legal contract between a buyer and a seller. Besides, if the purchaser fails to pay, a bank promises to compensate the seller. The buyer receives a letter of credit from the issuing bank as a guarantee of reimbursement.
The issuing bank demands payment from the importer's bank before transferring the products. The issuing bank may need the importer to give a performance bond or a cash deposit to cover the enormous credit amount.
A letter of credit is the safest payment method that most Chinese suppliers accept.
When to use a letter of credit?
Exporting may provide organizations with a wide range of trading possibilities. But it can also present some challenges, particularly in financing. One of these concerns is the mutual distrust between the customer and seller.
Buyers may be unwilling to pay for products in advance due to the risk of goods not being delivered. At the same time, sellers may be hesitant to provide the goods due to the risk of not being paid. We experienced this every time, but we always ensure that both parties have mutual trust to proceed with the transaction. And aside from that, one suggestion I have in this situation is to use an LC, which is the most common solution.
What are the features of LC?
1. Transfer and Assignment
The recipient may assign or transfer the LC to a third person, who will be responsible for paying it when due. In addition, it is possible to transfer it several times without losing any validity. I have tried this, and I attest that it works effectively. 
2. Revocability
In some cases, a letter of credit can be changed or not changed. It is possible to cancel or change your letter of credit at any time and for any reason. An irrevocable letter can't be changed unless all the people who signed it agree.
In some cases, a letter of credit can be changed or not changed. It is possible to cancel or change your letter of credit at any time and for any reason. An irrevocable letter can't be changed unless all the people who signed it agree.
3. Negotiability
In most cases, a letter of credit can be arranged. Any other than the beneficiary specified must be paid by the issuing bank and the beneficiary themselves. Like money, negotiating devices can easily be exchanged from one party to another.
A specific guarantee of payment on demand or within a particular period is required for a letter of credit to be negotiable. The selected bank becomes a holder in due course.
Considering any claims made against the letter of credit at its face value, the holder accepts the letter of credit in good faith. A timely-paying account holder is considered favorably under the Uniform Commercial Code.
4. Drafts of the Sight and Time
In a letter of credit, a payment obligation might be triggered by one of two things: sight or timing. You must pay a sight draught when you give the note for payment, and you must pay a time draught once the time has expired. To ensure the authenticity of the letter of credit before releasing the funds.
Want to send money to China Suppliers safely?
Leelinesourcing has a rich experience, who can help you send money to suppliers in an easy, safe way
How does a Letter of credits work with a bank account?
It's vital to know how a letter of credit works with a bank account since it begins with a transactional need between two parties. One side asks for and receives a letter of credit from the other.
Step-1:Financial institutions issue a letter of credit. The applicant must engage with a lender to get a letter of credit. Once the application is ready, the buyer sends a copy of the sale contract. And any other paperwork required by the granting bank before waiting for approval.
Step-2: To get a letter of credit, customers must work with a bank's specialized office, such as its trade department or commercial division.
Step-3: Assuming the letter of credit is accepted, the applicant will have to pay an additional fee.
Step-4: A LC from a financial institution indicates that it is prepared to guarantee the transaction's value. Assurance that the buyer will get the total amount of the transaction helps develop trust in the transaction. The letter of credit may or may not be transferable, depending on the banks or financial institutions that issued it.
Step-5: When a business gets a letter of credit, the financial institution will back up the transaction amount. This increases the buyer's trust in the deal by telling them that they will get the total amount of the agreement. It may be transferable depending on the bank or financial institution where the letter of credit was acquired.
Why do you have disputes?
LC can confuse people who don't know what they are. If they don't understand the rules, they could mess up the whole order.
For example, some suppliers may think that the purchaser has no cash to pay for the order. And thus want the buyer to pay for the whole order in advance. Or some may think that the buyer is trying to cheat them by requesting a high down payment. Or a large amount of pay as the bank's fixed fee as full payment. And let me tell you that this situation is quite normal, especially for huge orders. So both parties should have a mutual understanding and clear communication is established.
How do avoid disputes in the payment terms of LC?
✶ When negotiating a sales contract, you consider topics like which bank pays or charges? Product availability, origin, and sale date Consider and agree on these points before signing a sales contract. If the purchaser gets an LC from the bank, check the payment terms like product specifications, delivery, etc.
✶ To avoid issues, you should calculate the cost of LC before making a transaction. After you begin working with your clients, no modifications will be made to your contract. A Letter of Credit payments cannot be refunded. If paying via L/C, figure out extra funds as quickly as feasible.
✶ This may also avoid client complaints. Before issuing a drafting LC, the opening bank must be accessible for inspection. You can amend any terms or conditions that do not meet the contract before the LC is issued and legally enforceable. Changes to an LC's are significantly easier to make at the draft stage.
✶ Check your Letter of Credit before sending anything. You have no idea whether or not you'll get reimbursed for your expenses until then. The only way for me to avoid a possible dispute is not to transfer any merchandise unless a valid Letter of Credit is presented.
Note: If you have questions, contact your bank. You may acquire all the necessary documents for the letter of credit.
Looking for the Best China Sourcing Agent?
Leeline Sourcing helps you find factories, get competitive prices, follow up production, ensure quality and deliver products to the door.
FAQs about Paying Chinese suppliers with Letter of Credit:
1. How To Get a Letter of Credit?
To get a letter of credit, you must get an LC application form and complete the information asked. The terms of an LC are in advance between the exporter and the importer, and the terms are on a pro forma invoice.
It serves as a guide for an exporter to prepare an invoice. And the importer to verify the accuracy of the invoice.
2 . What is the average time to acquire a letter of credit (LC)?
The issuing bank giving the loan determines how long it takes to get a bank credit letter. The procedure takes roughly 10-15 working days in most circumstances, but it may take a few days longer if the bank authorizes the loan.
3. What types of risks are linked while using letters of credit?
• Receiving subpar goods
• Payments are made late or not at all.
• Poor exchange rates for goods
• Non-delivery of ordered products and services
• Because of the adaptability of Bank Credit Letters, fraud is changing.
• The risks of shifting foreign exchange rates
4. What are the bank's costs for letters of credit?
Letters of credit charges or interest rates vary depending on the company's kind, size, volume, nature, the purchaser's relationship with the bank, financial soundness, or categories of commodities, among other criteria.
5. What Kinds Of Documents Do You Need For A Letter Of Credit?
• Exchange of bills
• Invoice for Commercial Use
• B/L Packing List, Bill of Lading
• Preferences in a Generalized System (GSP)
• Certificate from a shipping business
• Beneficiary certificate, fax, and email, among other things
• Certificate of phytosanitary and fumigation
6. When should an importer issue the LC?
The importer can only issue the LC after getting a letter of credit from his bank, and giving a guarantee is not a letter of credit.
And the guarantee is only valid if the issuing bank is also the paying bank, And the acquiring bank is the bank that will pay the exporter.
When the exporter shows them the documents, they need to get the money back.
What's Next?
Letter of Credit provides you with a golden opportunity to securely trade with Chinese suppliers. You can easily trade from your office or home, no matter which part of the world you reside in. Connect with the suppliers and make a mutual trust relationship. With a Letter of Credit, you and the supplier are both at ease about the security of payment, cash flow, and successful trading without fraud.
Are you looking for an authentic third party to formalize and secure your trade with Chinese suppliers? You can connect with us to get the best bargains.
We are sorry that this post was not useful for you!
Let us improve this post!
Tell us how we can improve this post?