Private Lable Backpack
Find FANTASTIC private-label products with the help of Leelinesourcing. You depend on us to HANDLE all of your sourcing needs.
Services span from creating and overseeing the manufacturing to providing finished items. Streamline your processes and take it easy in the commercial world.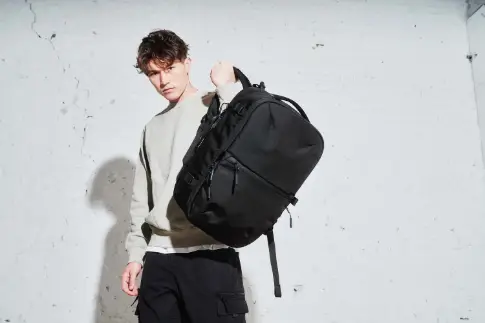 No Risk Free Sourcing No Hidden Fee
You can get Free detailed product quote before order
Wholesale Best Private Label Backpack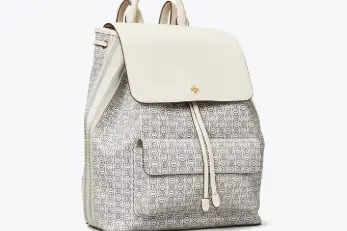 Wholesale Canvas Backpack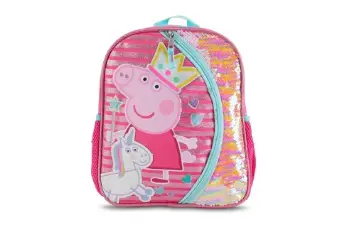 Wholesale Kids' Backpack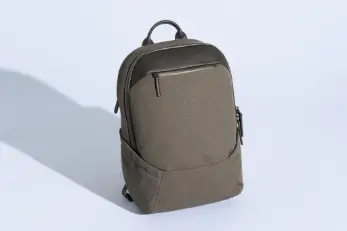 Wholesale Laptop Backpack
---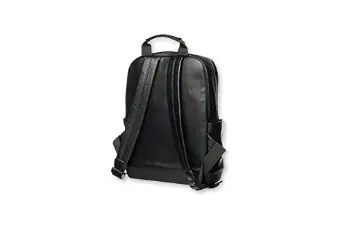 Wholesale Leather Backpack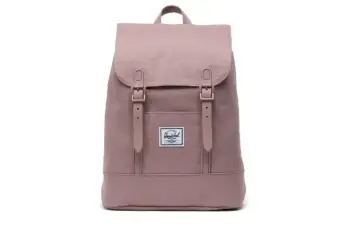 Wholesale Retreat Backpack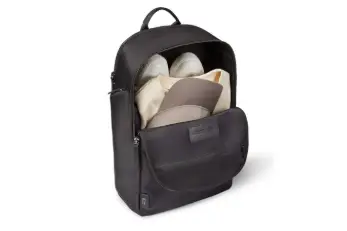 Wholesale Travel Backpack
---
Our Private Label Services Include: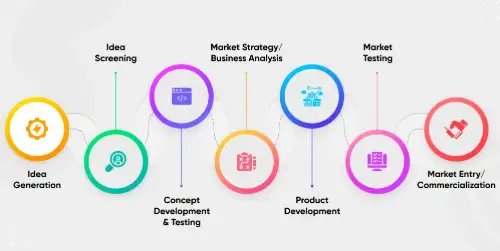 Product Development
We bring your ideas into actual products. Propel your productivity and creativity to new HEIGHTS.
On top of that, we provide PRIVATE-LABEL services so that you SELL under your own name.
Confirming Samples
We send a sample FROM the manufacturer before placing an order. Confirm your order if the sample fulfills all of your requirements.
We also ensure all items are as high-quality as the sample. You receive the most value for your buck.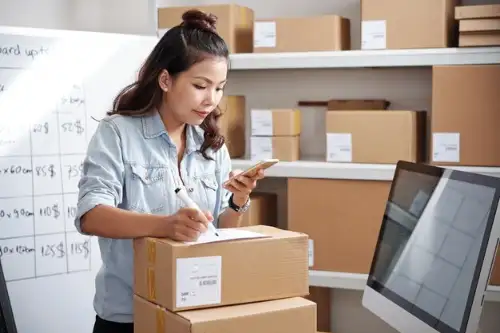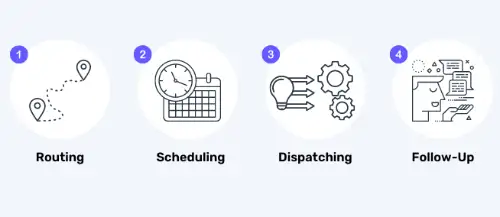 Following Up Production
At every step of manufacturing, our professionals conduct thorough quality checks. Our team of experts keeps a close eye on production from beginning to end.
You are certain that you won't get a phony product.
Quality Inspection
We ensure the reliability of the goods. Before buying, ENSURE measurements, color, shape, embellishments, and quality. We have stringent standard quality control measures in place.
Conduct REGULAR, comprehensive inspections of our production processes. 100% assurance of top-notch quality.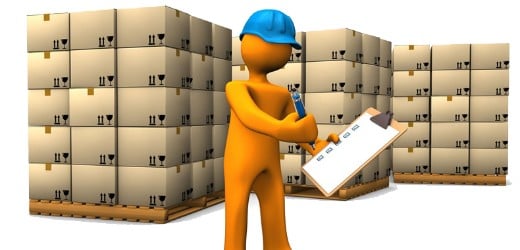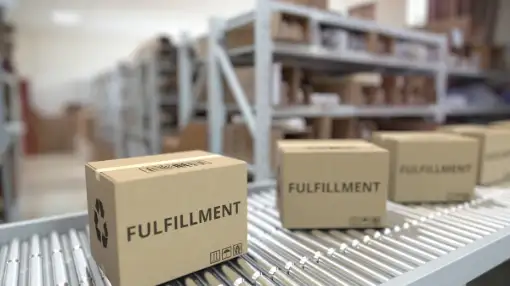 Fulfillment and Shipping
We've got stock and delivery covered TO save you time and energy. Keep stock and make sure orders are sent out to customers on schedule.
Whether you want bespoke or stock packaging, you have it with your brand on it. There are 18 delivery choices available to you.
Why Choose Us?
Offer Great Value
We value your money. Give the most COMPETITIVE pricing for sourcing, dropshipping, and all other services. We know where to locate the greatest items at lesser pricing.
Efficient and Organized
Get the most EFFICIENT services without wasting your time. In Leelinesourcing, you find everything well-organized and well-equipped. We categorize our tasks and give our best to serve you. Expand your business with world-class services.
Skilled Team
Our customer service is open 24/7 for you. In addition, to make the process easier for you, we provide a detailed free quote. We ASSIST you throughout the journey.
Excellent Products
Ensure the product's quality and packaging With our professional team. Our quality control team checks every product detail from sourcing to packaging. Only the best products reach out to you. Deliver your clients the best products with our services.
Hear it from fellow Private Label Backpack Wholesaler
Leelinesourcing is a great company to work with. They provided me with the resources and support to complete my project on time and within budget. They are always available to answer my questions and provide guidance. I recommend Leelinesourcing to anyone looking for a reliable sourcing partner.
– Diana, Ohio
---
Source Your Private Label Backpacks and Make Big Money
We offer the best wholesale price and high quality private label backpacks to help you boost your business.
---
Top 5 Private Lable Backpack Companies
List of 5 best Private Lable Backpack suppliers released JUST NOW!
Countless potential suppliers to choose from on the INTERNET. But we know how important it is to keep your hard-earned cash safe.
The professionals at Leelinesourcing spent many hours researching RELIABLE backpack manufacturers. Create a shortlist of the top 5 companies that can provide you the finest private label products. So that you grow your business with confidence.
Let's get to know more about them and what they offer.
1. LengthBag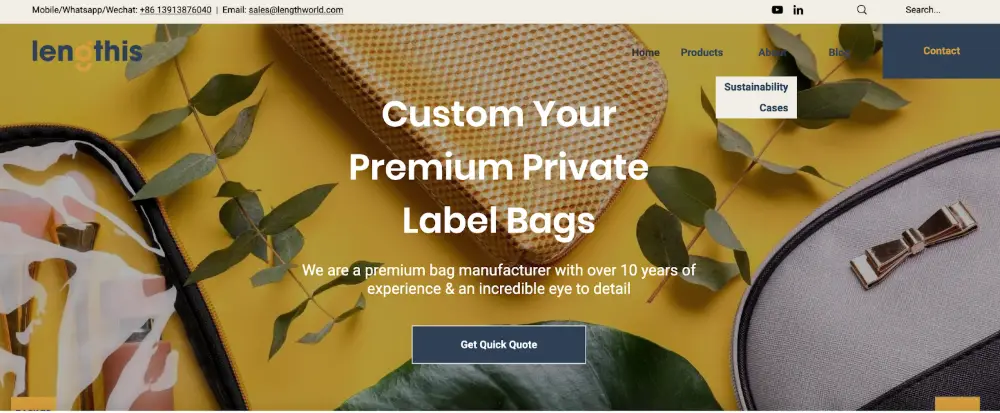 Lengthbag was founded in 2005, and they manufacture PREMIUM luggage and backpacks. All types of bags use high-quality materials, and the designs are also unique.
The products are eco-friendly and come at competitive prices. You find insulated backpacks, kids' backpacks, casual backpacks, and many more styles. Design your backpacks to meet your customer's demand with LengthBag.
Pros:
It takes a short time to prepare the sample. You check and make order without wasting time.
They offer competitive prices. It helps you escalate your profit margin.
Only use sustainable and recycled materials to make the backpacks. Your brand value will rise when you sell eco-friendly goods.
They have a strong supply chain management team. You find all the logistic solutions.
Cons:
They don't provide dropshipping services. So, you have to buy inventory and stock them.
2. OSGOODWAY

Quanzhou OSGOODWAY is a Chinese manufacturer that produces high-quality backpacks. Their hydration backpacks are unique and come in different styles.
This company has over fourteen years of experience. Provides 24/7 customer service. They allow you to order in small amounts as well. So, you gradually grow your business, keeping in mind customer response.
The production goes under strict observation. Besides, you also get all the facilities of their huge inventory.
Pros:
Produces high-quality backpacks. Attract more customers to buy from you.
The products are sGs certified. So you make your brand with certified products.
They add unique designs very often. You promote your brand by showing them.
They allow you to order in small amounts. Reducing the risk of inventory issues.
Cons:
The website is only reachable to some. You should use a third party to order from them.
3. Private Label NYC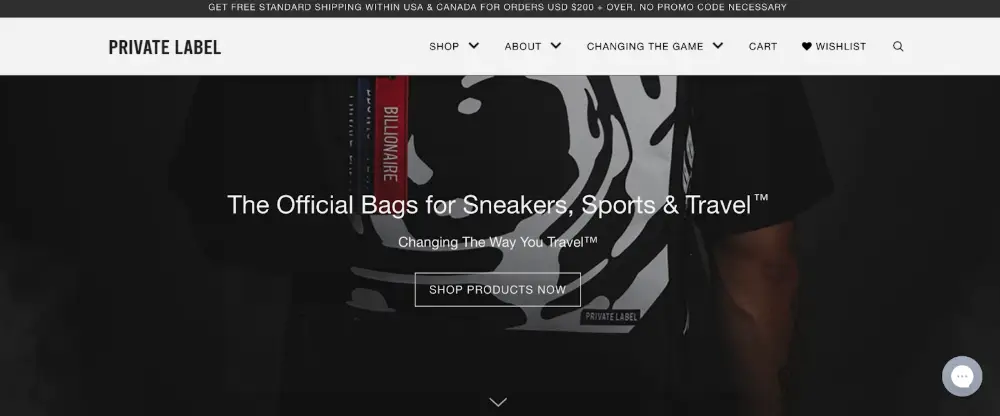 Private label NYC is a manufacturer of sports and travel backpacks. They have attractive and efficient designs in their collection.
The bags are water-resistant and easy to clean. All the backpacks are safe to carry on board.
You order from their collection or create a new design as well. Besides, they offer discounts from time to time. All the bags are durable and will retain their pristine condition for years and years.
Pros:
They manufacture high-end backpacks, which are sturdy and efficient for any business.
The designs are unique and sporty. So you please the customers who need sports backpacks.
All the backpacks are water-resistant and easy to clean. It is a good advantage to convince customers.
Cons:
These bags are not cheap. Likewise, you should up your asking price.
4. Alibaba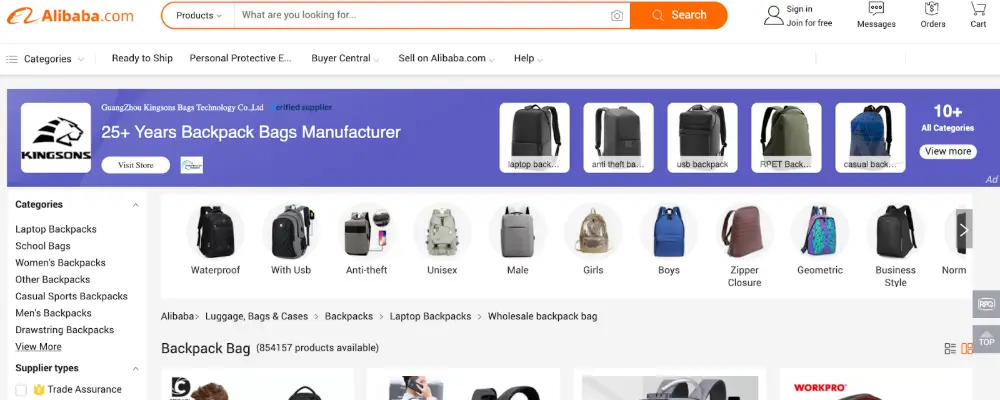 Alibaba, the leading B2B platform, has some elite suppliers to YOU order backpacks. These suppliers have reliable production lines and offer better brand insulation.
This platform is extremely competitive. The suppliers try to develop a quality backpack private label. Here, you get a huge variety and can compare the prices. You also get a kids' bag, school bag, luggage, etc.
Besides, they offer amazing small order quantities to get set up. You find products with low MOQ. Offer backpack tags with your logo to start your private-label backpack business. Create your account to get the best deals. You also change the currency.
Pros:
Regularly, vendors provide discounts. So, you pick your ideal deal from hundreds of elite suppliers.
Most companies try to release their product on this platform. Therefore, having so many choices give you an edge over the competition.
This competitive platform provides affordable prices for bulk orders. It reduces your cost.
Cons:
Finding a good deal might take some time if you are new.
5. Cut and Stitch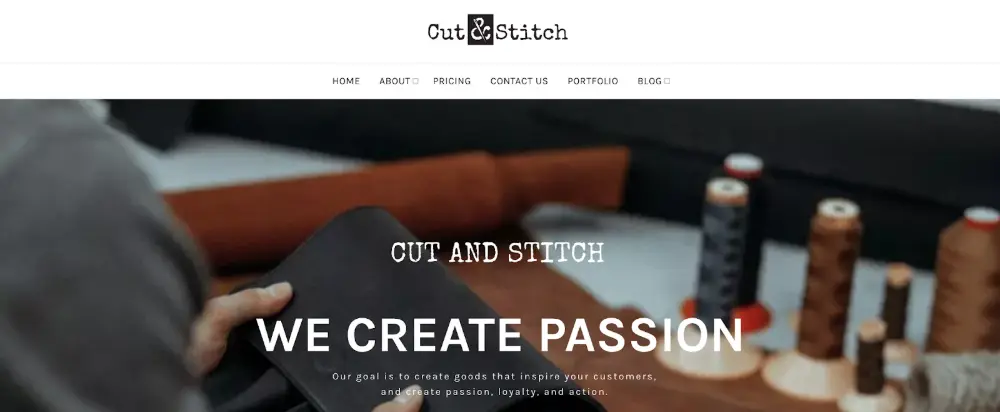 Cut& stitch is a NY-based manufacturer that produces leather backpacks. You call them for any inquiry, which is free of cost. They will charge you from $200 to $250 per hour if you need further assistance.
They have a professional designer team who will help you make your designs. The company also provides logistic solutions to your problems. Their USA and other international factories are fully integrated.
Pros:
They offer supply chain management services. Help you in product planning and supply management.
They source the best materials and develop the design as per your requirement. Getting what you want is a breeze.
Those who are new to this business get good suggestions from them. They help you in building your brand.
Cons:
They charge a lot for consultancy.
How to find private-label backpack manufacturers?
Follow these instructions to locate companies that make private-label backpacks:
#Step1. Research on the market
The first thing that you need to do is to research the market. It will be a good idea to search the internet. You will get an idea about the best manufacturer in the market.
#Step2. Choose the backpack manufacturer
Different features will make a backpack manufacturer reputed. You can get the features from the company's website. For example, you can check the company's size, payment, and packaging method. Details may vary based on the bag.
You can also check the reviews of the company. If the reviews are negative, then you can avoid that company.
#Step3. Communicate with the manufacturer
Find out their office address and other essential details about the manufacturer. You need to ask them about the products that they sell. Ask them about the return policy, the shipping method, and the delivery time. You can skip that company if they don't provide all this information.
#Step4. Request to send you a sample product
It is a great way to get the best price and quality brands. Once you receive the sample, you will be able to get the real feeling of the product. Check the size, color, packaging, etc.
#Step5. Make the order
Finally, it is time to make the order. Make sure that the company provides you with the order tracking number.
Looking for the Best China Sourcing Agent?
Leeline Sourcing helps you find factories, get competitive prices, follow up production, ensure quality and deliver products to the door.
FAQs about Private Label Backpack
What is the difference between private label and OEM?
The term "original equipment manufacturer" (OEM) refers to a business. They create parts or systems for another firm's final product. Private-label goods are made by the OEM and sold under the retailer's brand name.
Does Amazon do private labels?
Initially, Amazon forayed into the private-label market in 2009 with its AmazonBasics line. It started with everyday necessities like low-priced batteries. Data from DataWeave indicates that it currently stocks at least 118 private-label products.
Which country is the cheapest to manufacture?
Cheapest countries to manufacture-
• India
• China
• Vietnam
• Thailand
• Philippines
• Bangladesh 
How much should a startup spend on branding?
It depends on your business. You should put at least 10-20% of your budget on branding for a startup. In the beginning, you only SPEND a small amount of money on your business. 
You should build YOUR brand with this amount of money. Later you will be able to expand by hiring more people. You also spend more money on advertising.
What's Next
Private-label retail is a GROWING industry. It has seen tremendous growth and success in recent years. Find vendors who have been doing business for years. Look for a supplier with a track record in the industry to get the best private-label backpack.
So far, you've got the list of the 5 best backpack suppliers. Now you must choose the best fit for your business.
Still can't find reliable private-label backpack suppliers?
Get in touch with us. The experts at Leelinesourcing are here to help!!
Do you want a successful import business?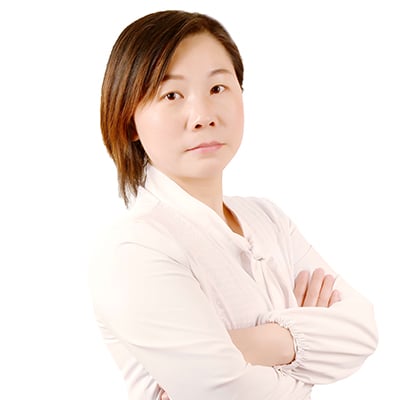 Hey, I'm Sharline, co-founder of LeelineSourcing. We've helped 2000+ customers import from China.
Do you want a better price on product or shipping?
We are sorry that this post was not useful for you!
Let us improve this post!
Tell us how we can improve this post?