Do you know what product photography is and why it is important for your business? Your product image is the first impression to your clients in the digital world.
So, it is important to know about product photography. You need all details that can make your products valuable to your customers. We have dealt with many clients based on our ten years of experience and expertise in this field. You will know about its importance for your product's marketing.
We will discuss product photography and product photography pricing. This information will enhance your practical knowledge of product photography. Let's go!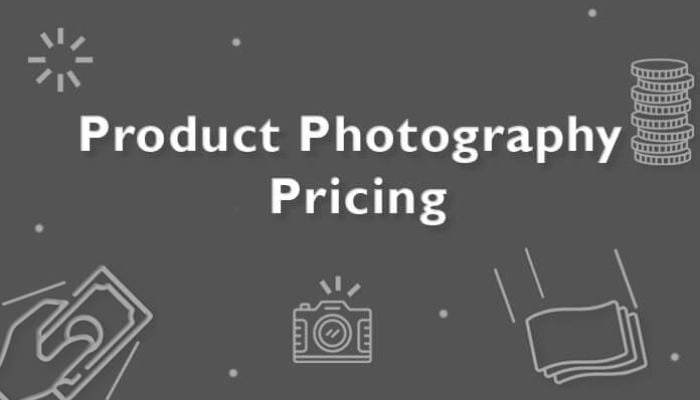 What is product photography?
Product photography is a photography practice to take photos of your products. Product photography is not specific to only one or a group of specific products. Instead, the product photography is the way to attract your customers. It means that the visual representation of your product is essential. It is important for eCommerce businesses.
Your product photography should be the exact as is the product. It is one of the top reasons for the return policy by the customers. You use proper techniques and tools to make an exact image of your product. That's how product photography works.
4 Types of product photography pricing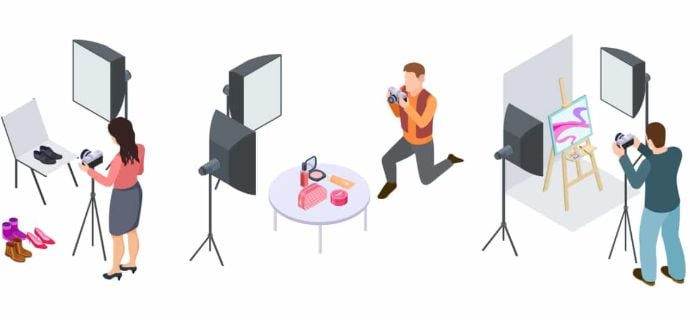 1. E-commerce Product Photography Pricing
You can determine E-commerce product photography pricing by looking at its pricing plan. E-commerce products are common products these days. And so is the need for e-commerce photos to grab the audience's attraction. It means that the pricing policy of E-commerce usually adopts the "by the photo" method. Some suggestions about E-commerce product photography are as under:
Make use of white background, which ranges from $20-$50.
Make use of skilled studios.
Make sure to capture professional 2-3 photos.
Yet, different companies look for different requirements in images. For example, layout, etc., about product photos. So, you must choose studios and meet the requirements.
2. Custom Product Photography Pricing
Custom product photography always remains the first choice of many customers. It is the only way photographers can create uniqueness in the product photo. This type of photography has a different pricing plan given as under:
You have to set a day rate, considering the production costs.
A lot of preparation with planning is essential for good product photographs.
The selection of shooting spots is also essential, and it can take a lot of time.
Keeping and analyzing all this in mind, you can keep your budget around $500 for 10 hours of work per day and vice versa.
3. Amazon Product Photography Pricing
Amazon products are part of every big eCommerce business. This high-quality product photography also matters a lot to engage the customers. It means that your photography needs to be professional. For this, certain pricing models are present in the pricing of amazon product photography.
Amazon Initial image price listing starts from £185.00
Standard price listing starts from £495.00
Premium price listing starts from £950.00
The different options of images and infographics have specific importance. They have a place in these amazon product photography listings. So, you need to select the pricing plan.
4. Lifestyle Product Photography Pricing
Lifestyle product photography includes all the photos and shots of products we use. Different infographics are also used in this type of product photography. In this type of product photography, many more items are present. For this type of photography, different photography prices are as below:
Standard lifestyle product photography starts from £45
Complex product photography starts from £95
Other pricing like location sets start from £375
So, these are the different choices about lifestyle photography pricing. You can select according to your budget and need.
Independent Photographers vs Studios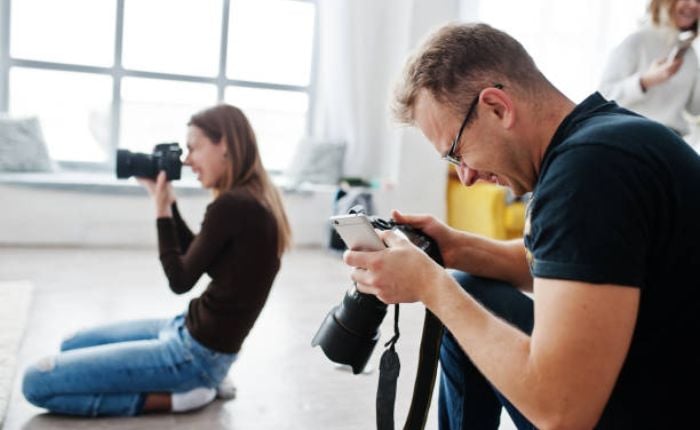 You can prefer an independent photographer that you can find in your local area. You can find him for his product photography services. A full-time photography services provider studio is also a great option. Every service provider has its benefits and disadvantages.
Independent Photographers Pros:
You can find Independent or local photographers and can get their photography service in your local area or city.
You can discuss product photography rates with them for your product images.
They can take more time to shoot and edit the product image and photography.
As they are present in your local area, you will not face the problem of products shipping to faraway areas.
Independent Photographers Cons:
It isn't easy to find and hire experienced and skillful independent photographers. The photographer who has enough expertise in professional product photography.
The inexperienced local photographer can damage the image quality. He causes imperfection in product photography.
They may not manage your heavy products due to a lack of professional studio equipment.
They can't ensure the high-quality images of your product.
Studios Pros:
Full-service studios can manage large-scale projects and shipments.
They are more professional and skillful than independent photographers.
They can manage and handle every project's size, shape, and weight.
They are able and can provide 360 product images in due time.
Their main aim is product photography so they can do their work.
Studios Cons:
They are more expensive than local independent photography studios.
If they are not in your vicinity, the shipping cost of your products will be higher.
Looking for the Best China Sourcing Agent?
Leeline Sourcing helps you find factories, get competitive prices, follow up production, ensure quality and deliver products to the door.
How is the product's final photo priced?
The success of your product in the market depends upon its professional photography. In product photography pricing, many factors have an impact on it. Now, we are going to discuss the pricing method of the product.
1. The price of your product photo depends upon the creative product photographer.
Every photography method has different rates and charges for commercial product photography. Usually, local independent full-service photography studios are less expensive than others. The chances of getting quality product images are less in local photography. Their quality is less compared to full-service e-commerce photography studios.
2. The charges for professional photography can vary from one method to another.
Usually, professional product photographers and full-time studios are expensive. Their charges for product images are much higher than local independent studios.
3. The product photography pricing may depend upon the time and duration.
It also depends upon the size and weight of the product. The time invested in creative photos will determine the charges that the owner will pay. The large-size product photography project is costly for professional photographers.
4. Some professionals may charge an hourly or per-day basis according to the nature of the project.
So, we can say that many reasons define ecommerce photography studios' prices. The product owners and photographers can decide the prices according to their understanding. They can also decide the rates of product photos by choosing one method or another.
Cost of product photography pricing

Now, we will discuss some specific methods in detail. These methods determine the cost of product photography. These methods are:
1. Product-based Pricing
The product-based pricing system is a reliable and authentic system for product photography. Most professional photographers and clients choose this method in their dealings. They choose it due to its transparency and authenticity. Product photographers charge according to the number of products in this pricing system. The more the products will pay more the charges. How many products are and the size of those products? It usually determines photography charges. Pricing per product is the common method of dealing in product photography.
2. By the Image Pricing (Most common)
The image pricing system is another most common product photography method. In this system, the studios or independent photographers provide services per image rate. How many photos will the photographer take? It will determine the total charges for photography.
Professional product photographers and studios usually like this paying structure and method. In this structure, they enjoy each photo and earn more profit. You can find the per image price by knowing the required number of images.
3. Extra Charges
There are also further aspects that impact photography pricing. In this way, you should also look at the product construction and layout. Size, weight, and required preparations are also important.
The photography pricing can vary and fluctuate. It can vary according to the incorporation of group images or lifestyle images.
There are many variables and different aspects for extra charges. The extra charges also depend upon the photo style and your product type. So, you need to keep in mind every expected aspect of the product photography cost. These aspects can impact your deal and pricing with the photographer's reputation.
Looking for the Best Chinese Products?
Leelinesourcing helps you find the Best Products Made in China with high quality at an attractive cost.
FAQs about Product Photography Pricing
How do product photography service providers charge?
It depends upon the pricing method and structure. The photographers, on an hourly basis, usually charge $150 per hour. By product method, they charge $20 per product. And by per image method, they usually charge $6 per product image.
How can I save money on product photography costs?
You can save money by choosing a suitable pricing method. You also need to make effective dealing with the photographer.
What factors affect product custom photography pricing?
There are many factors that affect product photography pricing. They are image quality, size, weight and styling of the product, and pricing method.
How many pictures should you expect from a 1-hour shoot?
In a one-hour shoot, we can expect 20 to 30 pictures that a professional photographer can take.
What is a fair price to charge for photography?
Professionals should charge $6-$7 per product image or $20 per product. It also depends upon the method of pricing and type of product.
What's Next
You should choose Independent photographers or studios according to your requirements. If shipping costs are so high, you can choose independent photographers. If studios are available, you should prefer them to independent photographers.
Do you have any questions related to product photography? You can visit our service page to find a proper solution to that problem.
We are sorry that this post was not useful for you!
Let us improve this post!
Tell us how we can improve this post?