Shopify is a popular eCommerce platform where millions of users interact daily. If you want to make your online store stand out on this competitive platform, you should optimize your Shopify product photography.
We have assisted thousands of clients over the past ten years. And the most-efficient way that brought success to our partners on Shopify is improving their brand's product photography.
Don't miss out, and keep reading if you want to boost your sales on Shopify by improving your product shots.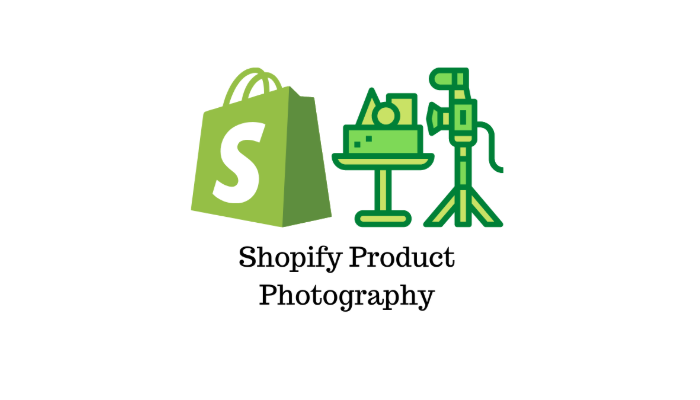 What is Shopify product photography?
Shopify product photography is the act of taking a product photo for a Shopify online store. Sellers use product photos to help boost the sales of their small businesses. High-quality Shopify product images are an excellent way to increase your Search Engine Optimization on the platform and gain new potential buyers. So, it's crucial to use attractive photos in your Shopify store or your existing website.
Use user-friendly and product-centered photos so they can stand out among the thousands of similar pictures online.
Why is good Shopify product photography important?
It directly affects your sales.
High-quality images can send conversion rates of your target audience skyrocketing. So, optimize images to highlight the important details of your product. It's been proven that internet consumers only have eight seconds of attention span. And the fastest way to grab their attention and make them want to buy from your online store is to have professional images.
It builds your brand reputation.
Apart from your store name, your featured photo and product photos online are the first things consumers look at. Using high-resolution and close-up shots in your product photos will build your credibility as a brand.
Never make the mistake of utilizing stock images for your Shopify photos. Stock photos are easy to search up. And when consumers realize that all your pictures are stock photos, they might think that you're goods are fake or knock-offs.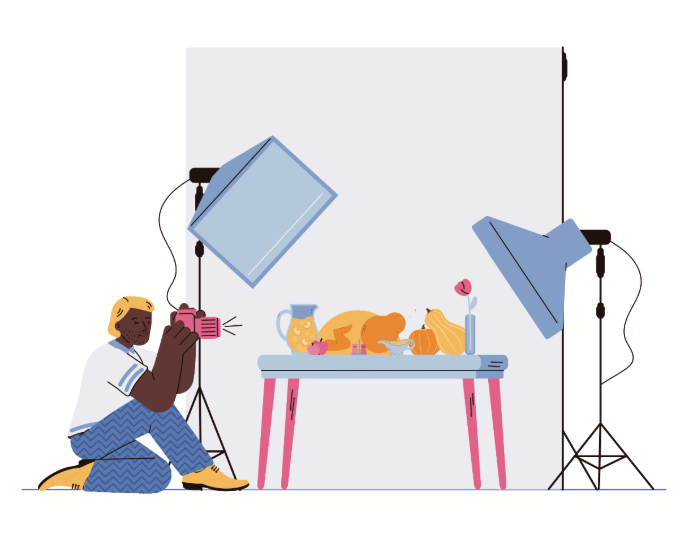 Equipment required for Shopify product photography
Here is the list of equipment you'll need to make it look like a professional photographer took your product photos.
Camera: The camera is the most vital equipment in photography. Use the best camera you have access to, and make sure you know how to play with its camera settings.
Shooting Table: This table is your shooting area. Having a shooting table makes you ready to create a beautiful picture anytime.
Light Sources: You can use different lights for taking your pictures. You can use natural lights, direct sunlight, or go for artificial lights, which are easier to control.
Tripod: It's better to use a tripod than to rely on your arms. A tripod lets you shoot steadily, even from different angles, making it easier to shoot various focal points.
Pure white background: It's always better to use a white background in your images. A white backdrop is only a slight adjustment in your equipment, but it can make your pictures look like you took them in a professional studio.
Looking for the Best China Sourcing Agent?
Leeline Sourcing helps you find factories, get competitive prices, follow up production, ensure quality and deliver products to the door.
How to improve your Shopify product photography?
Use the proper file size.
It's always best to use high-resolution images, but make sure that your file size is right for your online store. Shopify recommends sellers use square product photos below 20MB. They also recommend using 2048 x 2048 pixels as this is the perfect pixel quantity to have neat and quality product photos that are still quick to load up.
Choose the proper equipment.
DSLR will always remain on top of the line when it comes to cameras. You get to use interchangeable lenses. Plus, you can also control the ISO, aperture, and shutter speed, vastly enhancing your product photos.
But, if you don't have one, it doesn't mean that you can't have quality shots. A smartphone camera can also offer a beautiful product tour to your customers when used correctly. Just ensure that you're using the highest quality possible and always shoot in manual mode for more control.
Light it Up.
Whether you're using natural light or an artificial one, ensure that your shooting table is getting enough light. An excellent continuous light can make even the cheapest cameras create fantastic images.
Using artificial lights is easy and straightforward. But, for natural lighting, there's a bit of a learning curve. As with all skills, though, you can always learn and master them.
Note: For natural light, place your shooting table outside or near a window. Turn off other lights to control how your light source interacts with your product. And make sure that your product is well-lit to get the best image possible.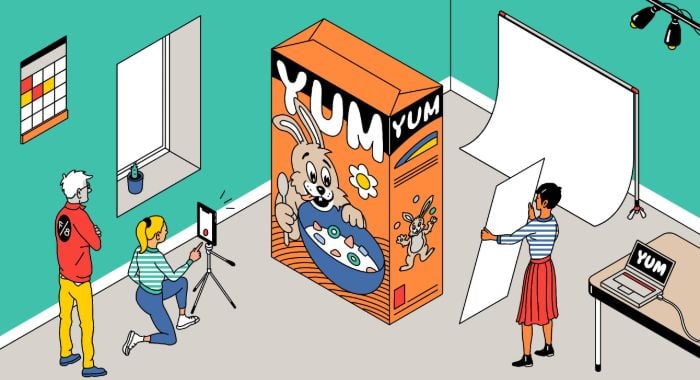 Highlight your product.
Product photography aims to sell your product and not necessarily to create a breathtaking image. So, draw all attention to the details of what you're selling and not your background.
White background photography is the most-efficient way to create simple yet effective product images for your Shopify store. White backgrounds make your products stand out, increasing your branding reputation. If you're on a budget, you can use white posterboards in your local art store to use as a backdrop.
Invest time to edit.
Post-production is what sets professionals apart from most amateurs. Photo editing can turn even the most horrible shots decent and decent shots spectacular. You don't need to invest in paid post-production software to edit your product. There are plenty of free options online, like PIXLR, which will allow you to enhance your photos.
But if you want to take your product photography a step further, it never hurts to start a free trial on professional editing software. Try software like adobe lightroom or adobe photoshop if you want more control over your photos. You can unsubscribe anytime you want, so test their 7-day free trial on your next set of shots and see how it goes.
Hire a professional.
The easiest way to improve your Shopify product photography is to hire a professional from a photo studio. A professional service will do everything we listed above for you, and all you have to do is wait for all your images to come out.
Working with professionals will save you time and energy. And depending on where you live, country or region, it might not even cost you as much as you think. If you find it hard to find the right equipment and optimize photos for sales, you can always consider this option.
6 Tips on product photography for Shopify stores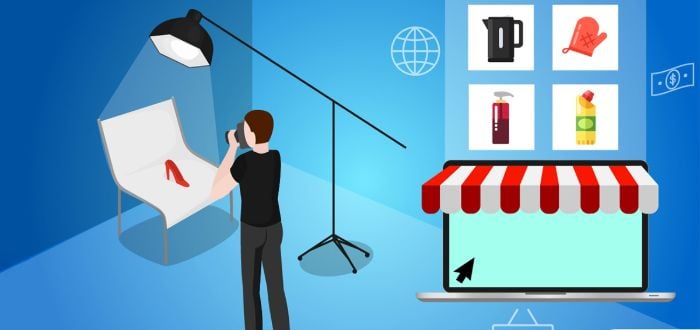 Plan It Out
Proper planning can make significant improvements to your shooting routines. Think about how you're going to set your products up before you open up your camera so you won't spend too much time changing and revising things during your session.
Use Manual Mode
ISO, aperture, and shutter speed can all make or break an image depending on how you use them. There are thousands of tutorials online on how to shoot in manual mode. So, make sure to allocate time for learning how to use your settings to have more creative control over your images.
Have a Designated Location
Having a designated place will allow you to shoot your products anytime. You won't need to set up from scratch every time you want to take pictures of your products.
Use a Backdrop
Using a backdrop is the easiest way to make your audience focus on your product. Without any distracting background, people can immediately see the details you're trying to point out.
Use Different Angles
Never settle on one angle. Shopify lets sellers list multiple images for each product listing, so have at least five photos for each product you're selling. Customers want to see what the entire product looks like, so make sure to provide them with that information.
Modify Your Setup
Once you continue doing product photography, you will learn to improve your shots. Don't be afraid to change things up a bit now and then to try new strategies and enhance the images of your products.
Looking for the Best Chinese Products?
Leelinesourcing helps you find the Best Products Made in China with high quality at an attractive cost.
FAQs about Shopify product photography
What are the best image sizes for Shopify stores?
According to Shopify, the best image sizes are those with 2048 x 2048 pixels and with less than 20MB of storage.
How do I optimize Shopify image formats?
To optimize image formats, make sure you name your images correctly and use the correct file types. Don't use images with too high of a resolution, or those with poor internet connection won't be able to load up your photos. 
Can I sell photos on Shopify?
Yes, you can sell photos on Shopify. Shopify is a good platform for photographers who want to earn extra income by selling their shots. 
What's Next
In this day and age, customers prefer looking at images rather than reading product descriptions. Photos are exact representations of the products. And they also only take a second to look at. Use this to your advantage as an online business entrepreneur. Customers have a short attention span. But, even a second will suffice for a high-quality product picture to grab the attention of your potential customers.
If your Shopify store is almost ready, but you still need suppliers to provide quality products, let us help. We'll help you get high-quality bulk goods for competitive prices. Contact us and tell us your sourcing request!
We are sorry that this post was not useful for you!
Let us improve this post!
Tell us how we can improve this post?