The Importance Of Business Contract And What to Watch Out for
A Personal Case Study of business contract
I once had a bad experience with a friend of several years the moment we entered into a business deal together. I learned the hard way that money has a way of changing the dynamics of friendship or business relationship. The money involved was a lot and all agreements were entirely verbal – there was absolutely nothing written down. We trusted each other. I mean, after so many years of doing almost everything together, trust was not an issue. Besides, who wants to get bogged down with boring legal jargons and commissions?
So the day finally came when all was done and it was time to share profits. Earlier, we had a gentleman's agreement that I will take 70% of profits while he will take 30% to which he was very grateful, considering the resource and effort distribution. Now, he denied ever having such agreements and proposed that what was fair to both parties was equal distribution – what some call 50-50 stakes.
All efforts to make him respect or honor our initial verbal agreements failed because along the line, he got greedy and he also knew there were loopholes he could explore to fulfill his greed.
To cut a long story short, I lost a large chunk of my profit share in the business and also lost a dear friend – all because we didn't put in place a business contract in the first place capable of protecting each other's business interest.
So why should you have a formal contract in place before you invest your time and resources in a venture or business endeavor? Your guess is as good as mine!
What is a Formal Business Contract?
A formal contract is made legally enforceable by following a prescribed format, As long as a contract is not in writing, it remains an informal contract and therefore not enforceable except parties involved agree to honor it to the end.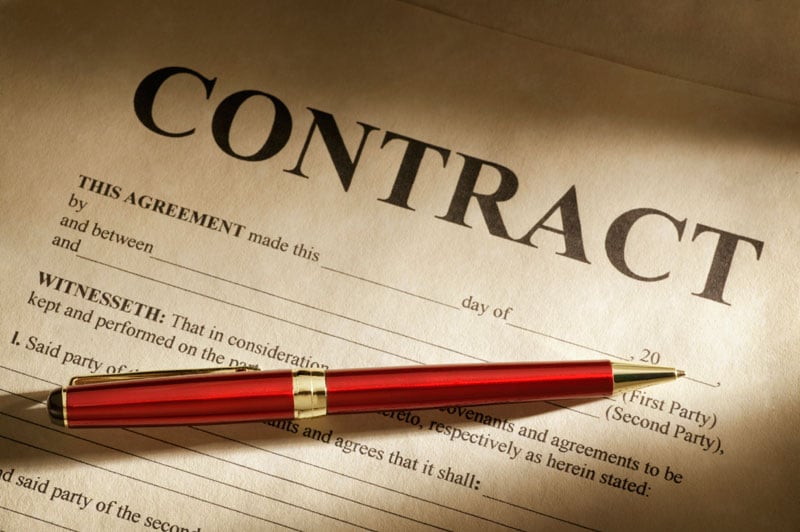 Table of Contents Brief
hide
Why Do We Need to Sign a Business Contract?
Agreed, taking time out to write and sign a complicated contract can seem like a lot of unpleasant work for us, but isn't the work worth it when what we are trying to do is protect our business interests? I bet it is.
Below are 7 great reasons why your business should have a legal framework in place:
1. A business contract helps you be on the side of the law
We oftentimes find the law complex and confusing, but a contract help make the law more accessible and allow you to navigate it correctly. A contract drafted by an expert will ensure that you always stay on the right side of the law which is a great side to be indeed.
2. A business contract helps you get paid
Have you seen or heard of anyone who goes into a business for its sake and not for profit? Getting paid for work done is a great way to conclude a business but this may fail to happen if you don't have a solid contract in place. A contract for instance can communicate to clients when they should expect an invoice and when they need to pay their bills. If something goes wrong, you have a legally enforceable contract to rely on.
3. A business contract help minimize disputes or problems
Like the case study in the beginning of this article, a contract won't completely stop disputes or problems, but it will surely reduce them to the barest minimum. When your partners know what's at stake if they don't keep their own end of the bargain, they will usually cooperate.
4. A business contract limits liability
A legal framework helps you to manage your business and limit liability. In the event of loss of money or valuable assets, it helps protect you from unnecessary harassments and undue pressure from clients or partners.
5. A business contract provide coverage of your business
A contract will help your clients or partners understand the scope of the business and how it works. For clients, it will provide an understanding of your operational and sales processes so they can know the limits of what to expect.
6. A business contract helps you provide good customer service
If there is an issue arise, both of you can refer to the contract to give you all the information you need, then try to resolve it. It will clearly explain what a client wants to know, such as returns, refund and repair policies, warranties, intellectual property, and complaints procedure, the client will feel they are getting a good service and not being cheated.
7. A business contract help build trust and ensure peace of mind
By putting a legal framework at beginning, let your partners and clients know that you care about them, as well as your business. A contract gives you peace of mind because you know all transactions are protected.
What should go into a business contract?
When you are signing a business contract with another party, there are few requirements before it can be considered a valid legal contract. The following are key requirements for a contract:
1. Specifics
Your business contract must be as specific as possible to clear any air of doubt. For a contract to be valid, certain key details or elements must be present. The more specific it is – the less issues you will encounter and the easier it will be to interpret it in the event of a dispute.
Make sure you highlight exactly what the business entails. For instance, if you are buying machinery from a partner or contact, the full description of the equipment is very important to avoid any confusion about the specific machinery being purchased or delivered. The contract should also be very clear about the names of the parties involved and their specific role in the transaction as well as state the nature of the agreement.
2. Consideration
A consideration is that product or item you are providing in exchange for payment. For instance, if you are purchasing an industrial washing machine, you pay an agreed sum of money in exchange for the washing machine. Under consideration, all relevant factors should be included. Of course information such as terms of payment (whether you are paying in full or part now and the balance after delivery), and time considerations (when to expect the order) are very important and should be stated clearly under considerations.
3. Terms And Conditions
Under Terms and Conditions, you must state the general and specific provisions, requirements, arrangements, specifications, rules and operating metrics or standards that form an essential part of a business contract. Terms and Conditions defer from contract to contract but at least, it should address or make provisions for unforeseen circumstances like orders that get damaged or lost in transit, refunds, late deliveries, contract cancellations due to breach, etc.
4. Capacity
Parties entering into a contract must have what it takes to follow through with the business deal. For instance, they must be of age to do business legally, be in the right state of mind and definitely not be under duress or the influence of alcohol when they sign the contract. Doing otherwise will make the contract ineffective, null and void.
5. Legal
All contracts should involve business that is legal in the country or countries involved in the transaction. If a particular business is legal in one country and illegal in other, this would not be considered or enforceable by law as a legal contract. Agreements to launder money or ship contraband goods for instance are considered illegal business activities and so you cannot enter into a legal, binding contract for such.
6. Signatures and Date
Of course the business contract must be signed by the authorized parties involved and duly dated else, whatever is written in the contract is simply not binding on anyone. Signing a contract appropriately on the other hand confirms that the parties involved in the business has read, understood and agreed to the terms of the contract
What you need to pay attention to when signing a business contact?
Never be in a hurry to sign a contract. Be mindful of the following checklists before 'putting pen to paper.'
Negotiate the terms
Identify the parties
Complete all blanks
Know your rights and responsibilities
Make confidentiality provisions
Determine risk allocation
Include clauses for termination
Discuss dispute resolution options
Ensure only authorized party signs
What type of terms is usually used in a business contract?
Some common terms used in a shipping contract includes the following:
EXW or Ex Works in shipping terms means that a buyer incurs the risk associated with bringing goods to their final destination. In this case, seller is absolved or protected from any risk that comes as a result of delivering goods to buyer once goods have left seller's domain.
FOB or Free on Board is a shipping term that specifies that the cost of delivering goods to the nearest port is included but after that, the buyer bears all costs, risks and responsibilities for getting the goods to their country and specific address. Other related terms like FOB shipping point means the seller bears responsibility for goods up to the shipping point while FOB destination means the seller bears responsibility for goods till the buyer gets the good in his home country.
C&F or Cost and Freight is a shipping term that means the seller pays for  all expenses up to a named or specified port while the buyer is responsible for procuring marine insurance to protect the goods against risk or loss while in transit.
CIF or Cost, Insurance and Freight means seller will pay the costs and freight to bring the goods to the specified port of destination. After that, the buyer takes full responsibility for goods.
B/L or Bill of Lading is a record of traded goods that have been accepted on-board a cargo ship. It acts as a receipt for cargo and also serves as a contract that establishes a binding agreement between the seller (shipper) and the cargo company.
AWB or Airway bill is a receipt issued by an international airline as evidence for goods and contract of carriage. This document contains detailed information about the shipment and also enables it to be tracked while in transit. Usually, the bill has multiple copies so parties involved in the shipment can have reference copies.
ETA (Estimated Time of Arrival) and ETD (Estimated Time of Delivery) are the specific time and date that a ship is expected to arrive at the destination port and the time and date you are expected to receive your goods.
FCL or Full Container Load in shipping terms refer to a full container load (either 20" or 40") belonging to one buyer.
LCL or Less Container Load  refers to cargo owned by different consignee or buyers grouped together into one container.
POD or Port of Destination in shipping means the final point where cargo is discharged.
POL or Port of Loading on the other hand means the location where cargo was loaded into ship before transit to final destination.
RMB or Renminbi or CNY is the official money or currency used by the People's Republic of China. Its basic unit is the Yuan.
PI stands for Proforma Invoice, which is an abridged invoice sent by seller to buyer of a shipment or delivery of goods in advance. They are usually used as preliminary invoices with a quotation, or for customs purposes in importation. It's different from the regular, everyday invoice since it is not in itself a demand for payment.
MOQ stands for Minimum Order Quantity,  refers to the minimum amount that can be ordered from a supplier. For instance, assuming a supplier states an MOQ of 5,000 units, this means the buyer must be able to purchase a minimum of 5,000 units to be able to transact with that supplier.
Leeline sourcing company is involved in different sourcing business that will help your company's grow, and make your international business better.
No matter how big or small your orders are, we will help you source quality and affordable products, and we will ship them directly to you.
• Product Sourcing: With over 10 years experience in this field, our team will keep your mind at peace, and you will be sure that the products are supplied through a responsible supply chain.
• Amazon FBA sourcing service: We offer you Amazon seller services, from product procurement, to brand labeling, quality inspection, packaging services, product photographing and also shipping of products to FBA warehouses. Just tell us what you need, and we will help ship your products to your warehouse at lightning speed.
• Business and sourcing ideas:  If you walk into our office, we will share business and sourcing ideas with you, even if you are importing yourself, our ideas will help you avoid mistakes that will be costly to your business. Our advice will surely help your business turn out better.
We are sorry that this post was not useful for you!
Let us improve this post!
Tell us how we can improve this post?