TikTok— we all use this platform. Isn't it?
Over 1 billion monthly active users and millions of TikTok CREATORS. Aren't these astonishing TikTok statistics?
Look. It is not an ENTERTAINMENT channel only. Instead, the business aspect has a LARGE INFLUENCE.
A report from STATISTA indicates:
TikTok Ads revenue was 4.87 dollars per TikTok user in 2019.
By 2024, it is expected to reach $112.94.
More than a 20X increase.
Our experts at LEELINE SOURCING have helped sellers drive their business sales. Smooth marketing strategy. Proven Ads revenues. And HIGH customer reach boosts your business.
Do you want to know detailed TikTok statistics?
Get here.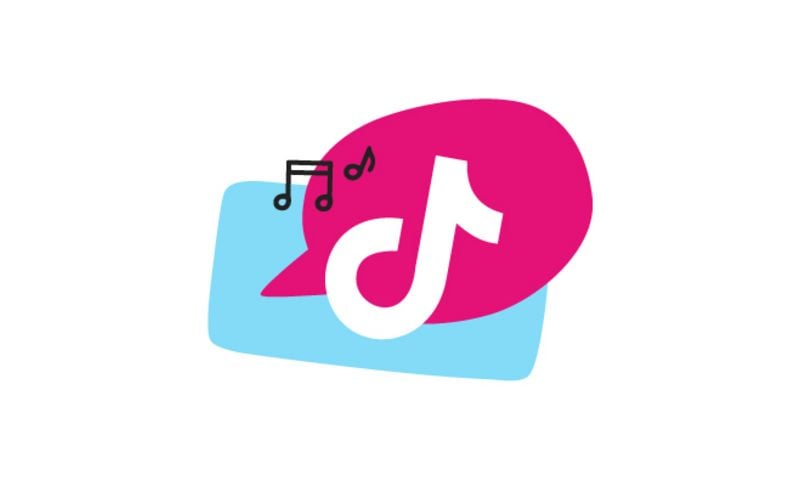 Table of Contents Brief
hide
What is TikTok?
TikTok is a SOCIAL MEDIA app where users can share their VIDEOS.
Posting short CLIPS and reaching a HIGH USER base is something a creator expects. This platform was launched in 2017 by a BEIJING TECH company ByteDance.
After acquiring Musical.ly, it became a GLOBAL app for sharing videos.
As per statistics from Statista, it has over 2.3 billion downloads with more users.
How popular is TikTok?
TikTok has gained immense popularity over the YEARS.
Till 2016, we only knew about FACEBOOK or WhatsApp. But now we know TikTok as a GIANT social media app with over 1 billion monthly active users.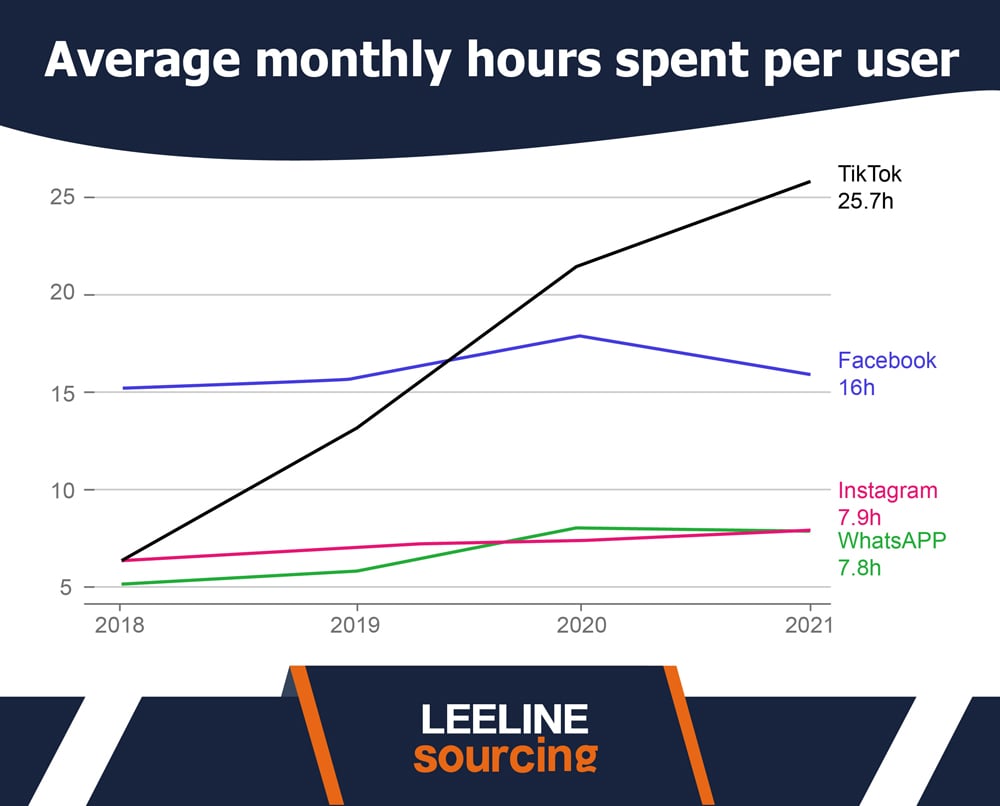 Here are some of the IMPORTANT statistics related to TikTok's popularity.
25.7 hours is the TIME an average user spends each month. It leads the CHART by the second of Facebook, 16 hours per user. (A report from NetWorkec)
TikTok app has 2.3 billion downloads. (A report from Sensor Tower)
A user opens almost eight times per day.
The impact of TikTok
TikTok is the MOST DOWNLOADED APP worldwide. And the number of influencers has exceeded the range.
No age group specification. Every USER uses it after installation. Some TikTokers, such as Addison Rae and Charli D'Amelio, have made their fortune.
Forbes has shown the TOP 7 TIKTOKERS making over $1 million per month.
Quality Posts can bring up more TikTok users. Let's find out more about the IMPACT of TikTok among internet users.
As of 2022, the most FOLLOWED Tiktok accounts include Khabane Lame and Charli D'amelio. Khabane Lame is the most followed TikTok user, with 154.8 million followers. (As of the WIKIPEDIA)
The HIGHEST number of likes goes to Charli D'Amelo, with Khabane Lame second on the list.
There are many highest-earning stars on TikTok. Charli D'Amelio makes over $17 million per annum. Dixie D'Amelio makes $10 million per annum. Similarly, many others are earning over $1 million.
Top 12 TikTok Statistics
Don't you want to MISS THE MOST IMPORTANT TIKTOK STATISTICS?
No problem. Here is the list of TikTok statistics highlighting numerous aspects of TikTok.
Have a LOOK!
TikTok users statistics
Maybe you have HEARD "The US has the most Monthly active users on TikTok."
And it is 100% TRUE. If we dive more into the TikTok users by region, we can verify it.
| | | |
| --- | --- | --- |
| RANK | COUNTRY | AUDIENCE |
| 1 | United States | 136.42 Million |
| 2 | Indonesia | 99.07 Million |
| 3 | Brazil | 73.58 Million |
| 4 | Russia | 51.3 Million |
| 5 | Mexico | 50.52 Million |
| 6 | Vietnam | 45.82 Million |
| 7 | Philippines | 40.36 Million |
| 8 | Thailand | 38.38 Million |
| 9 | Turkey | 28.68 Million |
| 10 | Pakistan | 24.05 Million |
Here is more information about the ACTIVE USERS by Region.
TikTok has access to 155 COUNTRIES and 75 languages around the Globe. (Source: Oberlo)
TikTok would have been Number 1 in terms of activities. Unfortunately, it got BANNED. (Source: Influencer Marketing Hub)
22% of US tiktokers belong to the Millennials and Gen Z users. (Source: DataProt)
The Penetration of TikTok is most in Saudi Arabia. 9 out of 10 use this social media in their 18s.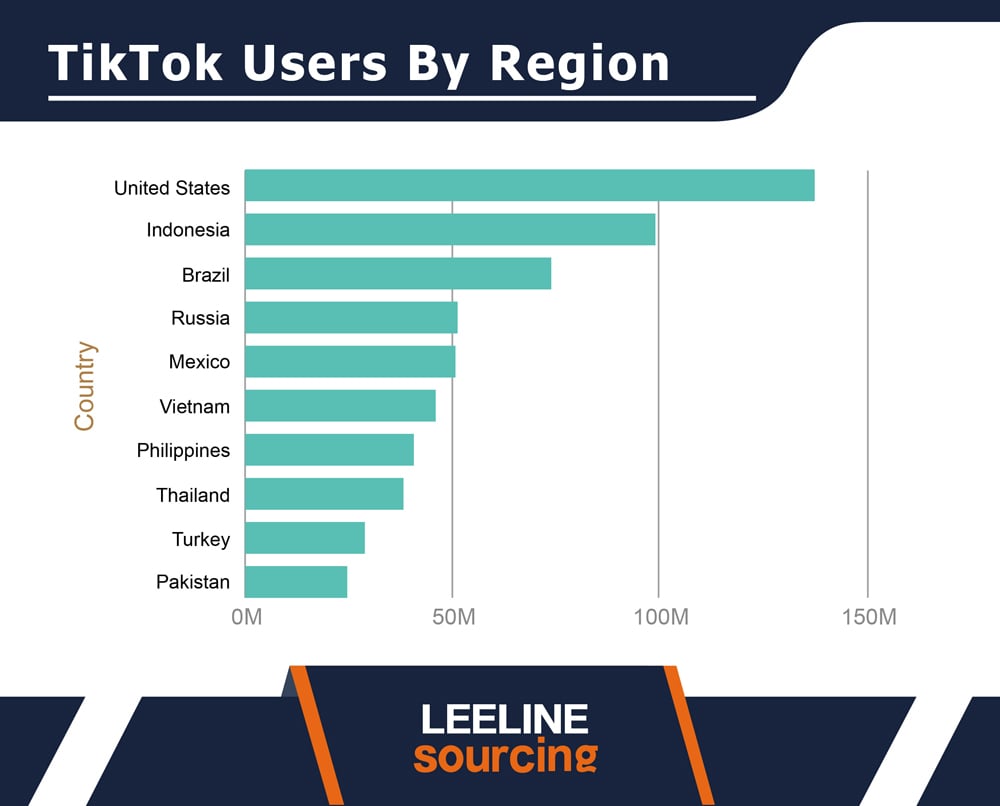 TikTok usage statistics
TikTok is one of the MOST DOWNLOADED APPS. No debate about being a top social media platform.
It has another sister app in China, Douyin. The Douyin users have exceeded 300 million active users.
By 2025, it will be the BIGGEST social media platform.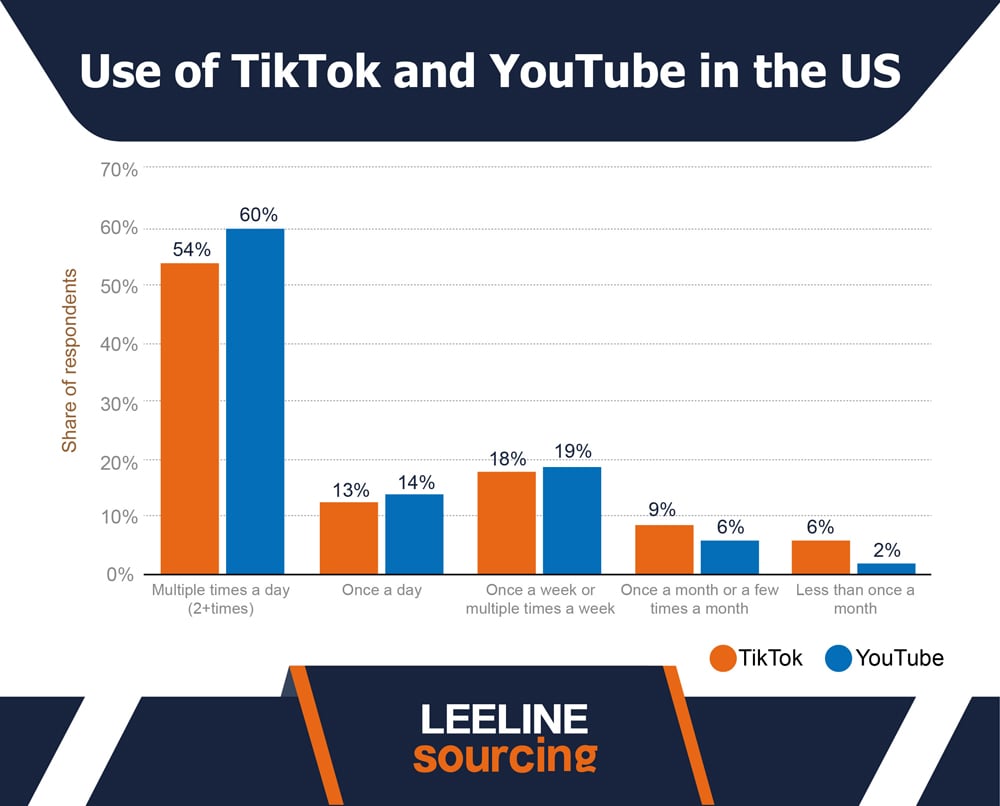 Here are some statistics to verify TikTok usage.
The number of monthly ACTIVE USERS globally is around 834 million in 2023. It will exceed 1 billion active users by 2026. (Source: Statista)
Douyin is a STANDALONE app of TikTok's parent company ByteDANCE. It operates only in China and has over 300 million active monthly users. ( Source: Verge)
Over 50% reach of TikTok is in the US.
The net Startup Valuation of TikTok is above 443.48 billion dollars. It gives intense competition to other Social Media Apps like Facebook. ( A report from Statista)
TikTok demographics statistics:Gender and age
Is TikTok getting more popular day by day?
Yes. Especially Generation Z is constantly using this social media platform. All owe the advanced technology and perfect resource of ENTERTAINMENT.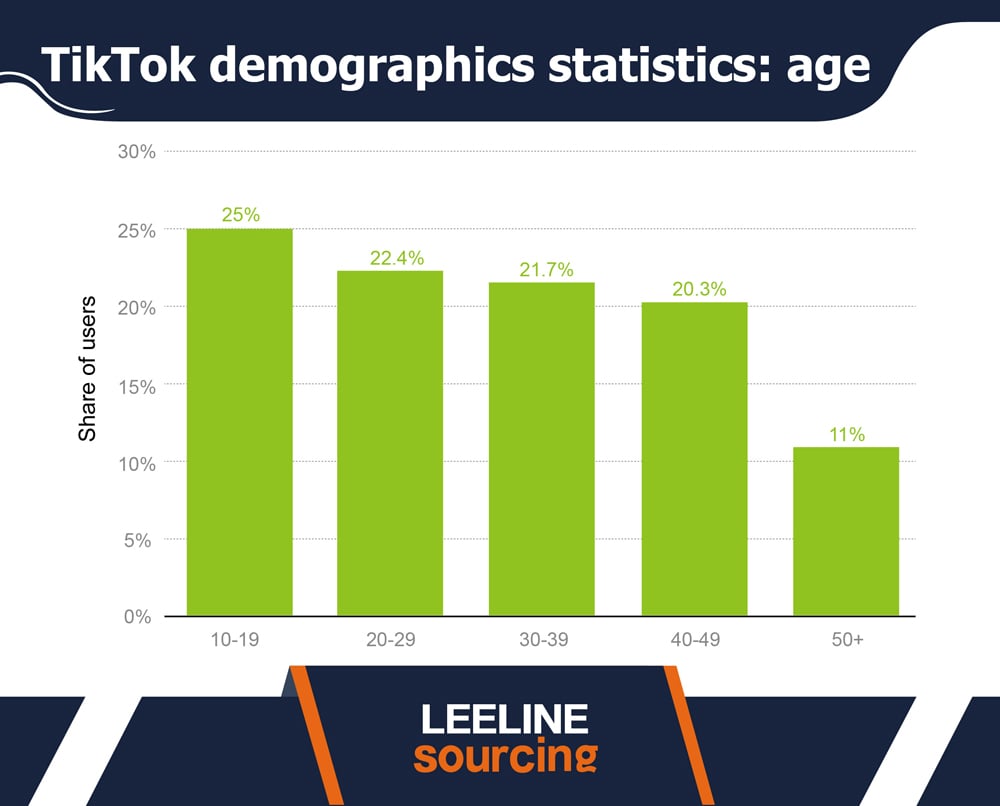 The constant use of TikTok has led to various promotional activities. Let's find out the REAL-TIME statistics related to TikTok.
The HIGHEST TikTok users by age are 25-34 years. They concluded 25.2% of the TOTAL number of users. 18-24 years of age TikTok users comprise 23.9%. The generation of 65 years or more leads to 1.8% of TikTok users. ( A report from Statista)
In the US, the biggest contribution is by the age group 18-19 years. (A report from Statista)
The number of female users is more on TikTok than male users. The contribution by the females is 58.8% while the male is 41.2%.(A report from Statista)
21% of US users say that they open TikTok daily.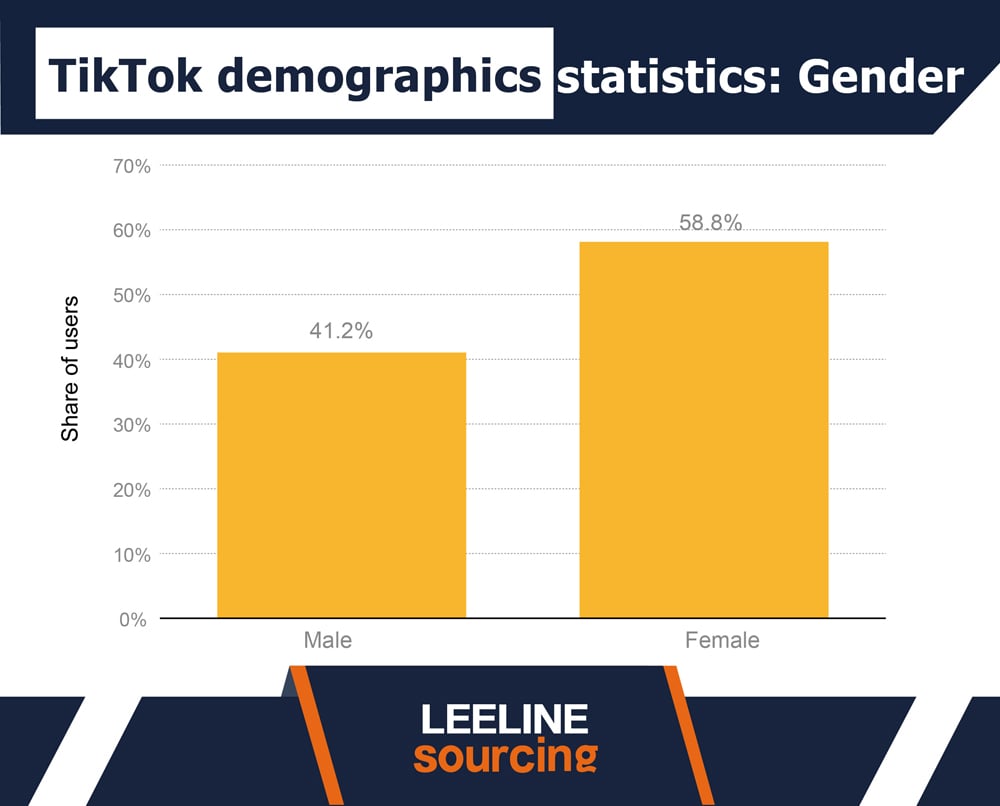 TikTok download statistics
The start of TikTok was as a ROCKSTAR. Within eight months of launch, it exceeded 1 billion downloads. Millions of monthly active users use this social media app. It has numerous TikTok content categories.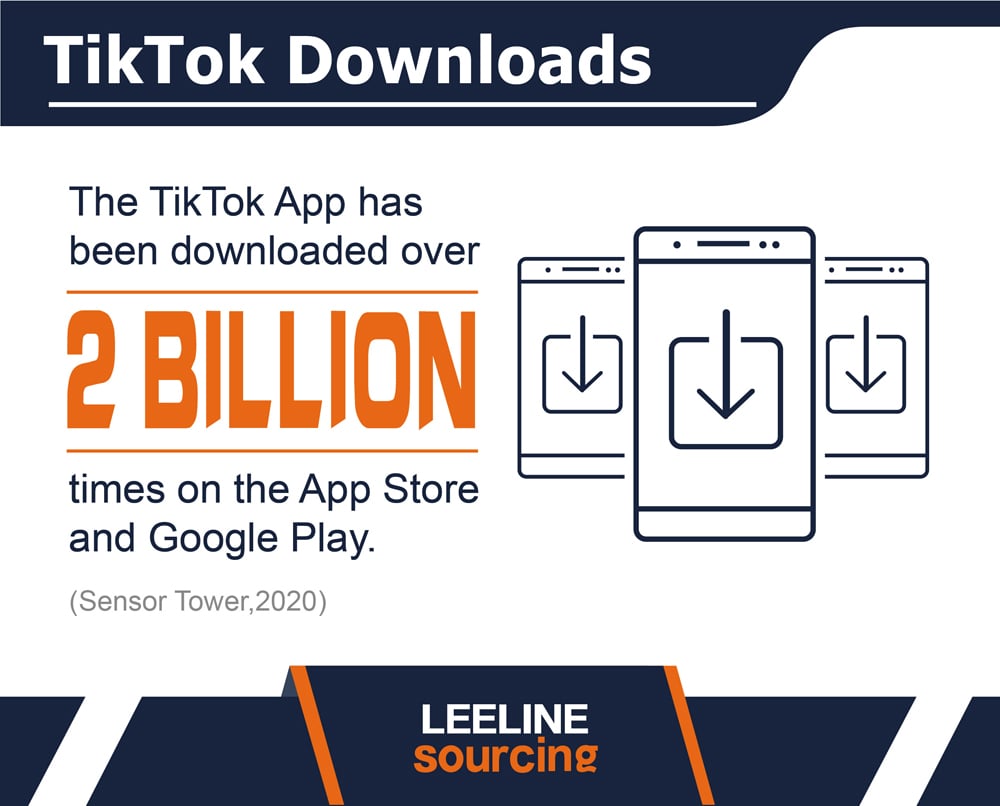 Over the years, it will be the MOST popular app. It might even replace Facebook messenger in terms of users and downloads.
TikTok downloads have exceeded 2 billion on the Play Store. It has put it in the top 10 downloaded apps on the Google PlayStore.(Source: Sensor Tower)
In Q2 of 2022, there were 60 million downloads of TikTok on the IoS Store. It was the most downloaded app at that time. The android version of TikTok saw around 125 million downloads. (Source: Sensor Tower)
The highest number of DOWNLOADS was in Q2 2020. In 2020, approximately 301 million users downloaded the TikTok App. ( Report from Statista)
India is the COUNTRY where TikTok got the most downloads. Over 600 million users downloaded this app before the ban.
TikTok growth statistics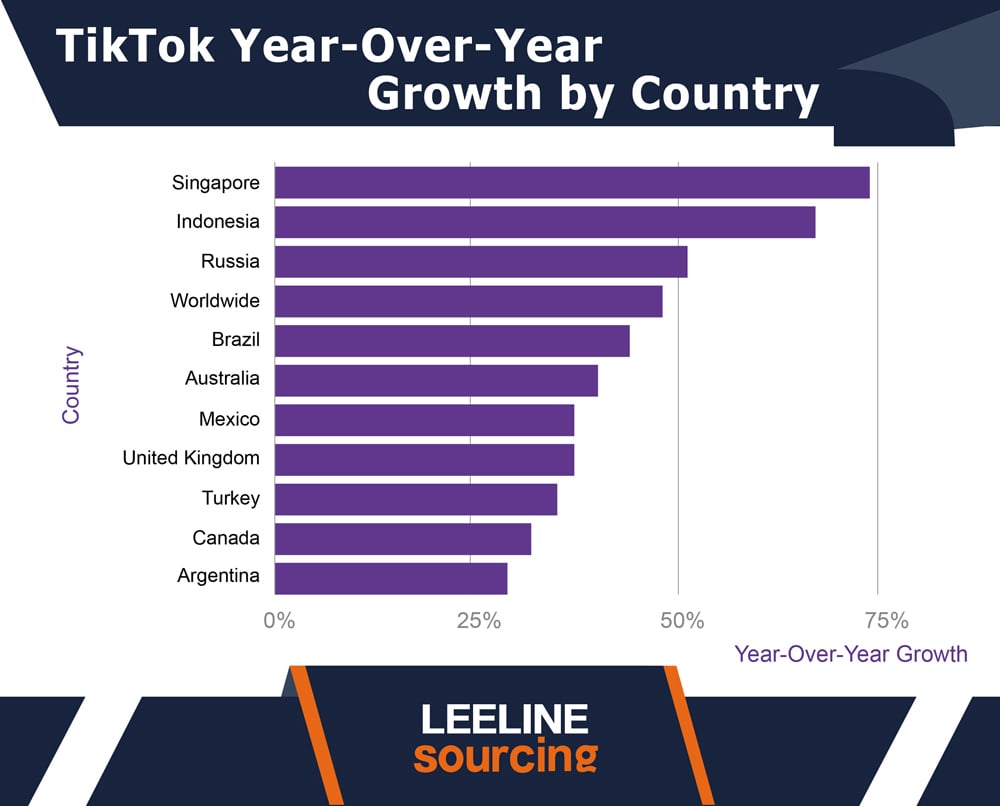 TikTok has a GOT a rising graph. Exponential Progress over the years has taken its popularity to the NEXT LEVEL.
In the beginning, this valuable startup launched working in CHINA. Global experience increased when the parent company ByteDance exposed it to foreign countries.
Nowadays, it has two versions. A Chinese version with 300 million TikTok users in CHINA. And a Global version with billion users.
Here are some TOP TikTok statistics giving the growth of its active users.
Singapore has noticed a growth of 74% over the years. It has been the TOP country with the highest growth.
Indonesia is second on the LIST, with 67% growth over the year. Russia is on the THIRD NUMBER with an increase of 51% in its users.
The highest penetration of TikTok is in Saudi Arabia, with 87.9%. UAE is second with 81.3% penetration.
| | | |
| --- | --- | --- |
| RANK | COUNTRY | AUDIENCE GROWTH |
| 1 | Singapore | 74% |
| 2 | Indonesia | 67% |
| 3 | Russia | 51% |
| 4 | Brazil | 44% |
| 5 | Australia | 40% |
| 6 | Mexico | 37% |
| 7 | United Kingdom | 37% |
| 8 | Turkey | 35% |
| 9 | Canada | 32% |
| 10 | Argentina | 29% |
TikTok video Statistics
Do you know the MOST POWERFUL aspect of social media platforms?
It is their way to engage PEOPLE. For example, Twitter has the TRENDS that make it a POPULAR social media site.
When we mention TikTok, TikTok videos are the CRUCIAL factor. Influencers create a TikTok video to get more followers. Sometimes, TikTok live is Another crucial thing in that case.
On Tiktok, you get HASHTAGS to find the videos. Let's talk about the MOST POPULAR hashtags on TikTok video content.
Entertainment is the MOST POPULAR category on TikTok. Its hashtag has over 545 billion views.
Dance Hashtag is the second most popular. It has 181 billion views.
Pranks have views of around 79 billion.
The fitness and Sports category has 57 billion views.
The same goes for the OTHER popular categories on TikTok. The outdoor type is on our list. It has 2 billion views.
All these reports are from Statista.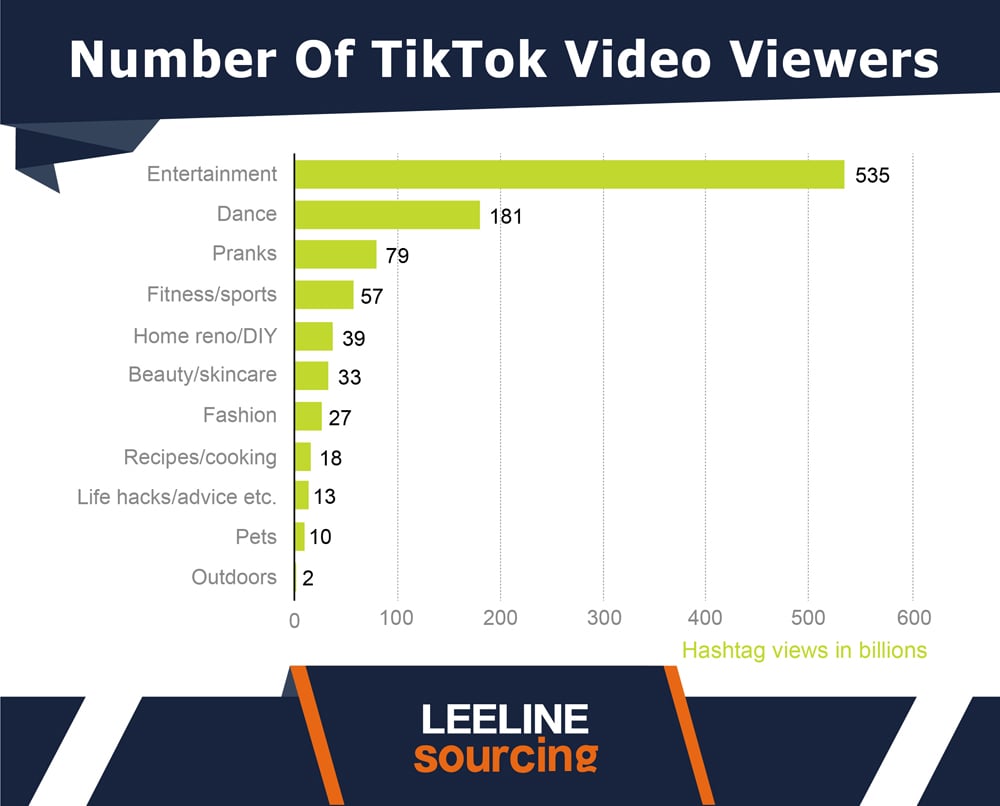 TikTok engagement statistics
TikTok is an engaging social media site. Is that EVEN TRUE?
It raises many questions about whether and how it is one of the TOP social media sites. Video views are in BILLIONS. And most importantly, it OFFERS more engagement than Facebook Messenger or Youtube.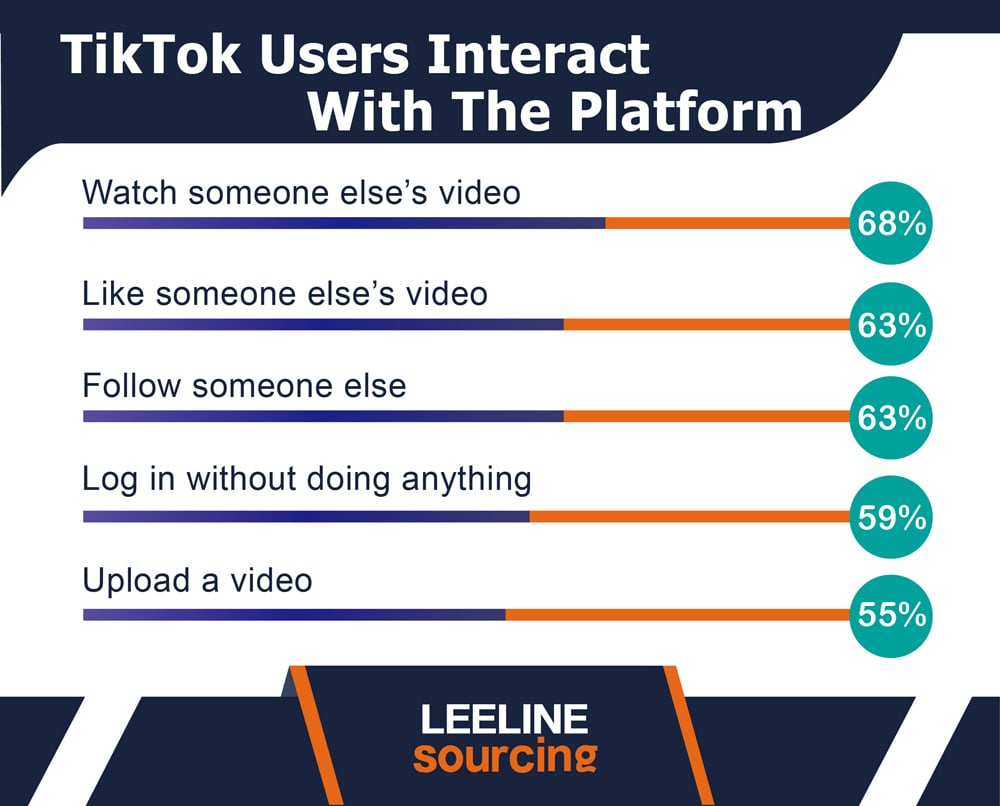 Let's find out what TikTok's users say.
The engagement rate of the micro-influencers on TikTok is 17.96%. It is very high compared to the 3.86% engagement rate on Instagram and 1.63% on YouTube. (Upflence Report)
Mega Influencers have an engagement rate of 4.96% on TikTok. It is more than Instagram and Youtube. (Shopify)
68% of TikTok users love to watch someone else's video. 63% like the video.
59% of users login in the TikTok without doing anything.
55% of TikTok users upload a video.
90% of TikTok users claim sound to be an INTEGRAL part of watching a video.
TikTok advertising and marketing statistics
TikTok has been under the RADAR of more prominent brands. Do you know why?
A large audience and easy-to-use BRAND ads allow HIGH engagement among users. These features make TikTok a HOT SITE for startups.
Therefore, more prominent brands let INFLUENCERS use their products.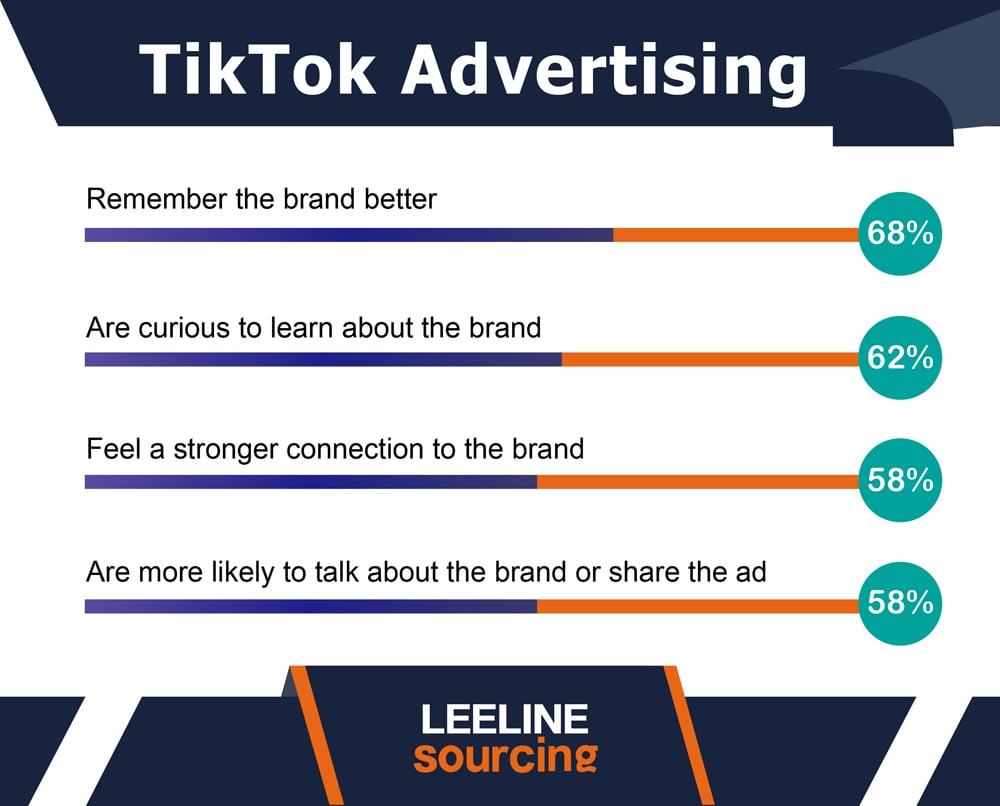 Here are some statistics that will highlight it more.
68% of users keep multiple brands under their favorite list.
62% of users try to LEARN more about their favorite brands.
58% have a STRONGER connection to the brands.
58% usually share the Ad or Brand they see online on TikTok.
61% of users love sharing brands that participate in different activities. Stating the TRENDS is one of those significant activities consumers love the MOST.
21% of users get close to the brand. It is true about brands comment on their posts.
66% of users enjoy the SPONSORED ads on TikTok.
68% of users purchase products from brands after viewing an Ad.
TikTok business statistics
It is a COMMON MYTH. We consider social platforms only SOCIAL.
That is not a BIG DEAL NOW. Multiple brands have promoted their PRODUCTS. Even TikTok has enabled drop shipping businesses to sell PRODUCTS online.
Whatever business you do, TikTok is a GOOD-TO-GO platform. Here is what people say about it.
55% of users have scrolled the brands seen on TikTok. After that, there is a maximum probability of purchasing the products.
50% of users buy the PRODUCTS shown in the LIVE VIDEOS on TikTok. It has given boosts to businesses.
One out of 3 users considers TikTok as their platform to find BRANDS.
Micro-influencers charge between $151 to $793 per post from the brands.
The top 3 brands on TikTok are TikTok, Netflix, and NBA.
TikTok buyers in the US are 23.7 million. It has noticed an increase of 72.3%.
Consumers have spent more than 2.5 billion dollars globally.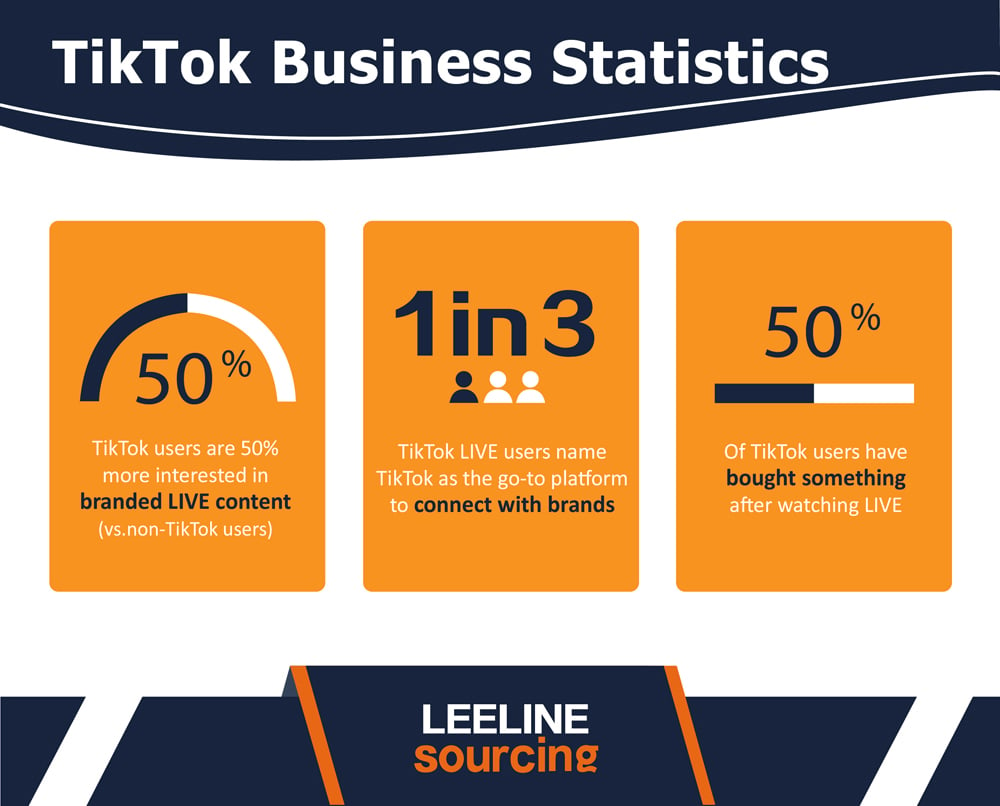 TikTok trends statistics
TikTok is a Trendsetter. A simple KPOP song clip can be added to the video shorts.
The AMAZING FACT is the increase in the engagement of a VIDEO. TikTok shorts make days for the users. A single hashtag generates billions of views.
So, you want to know, is that real?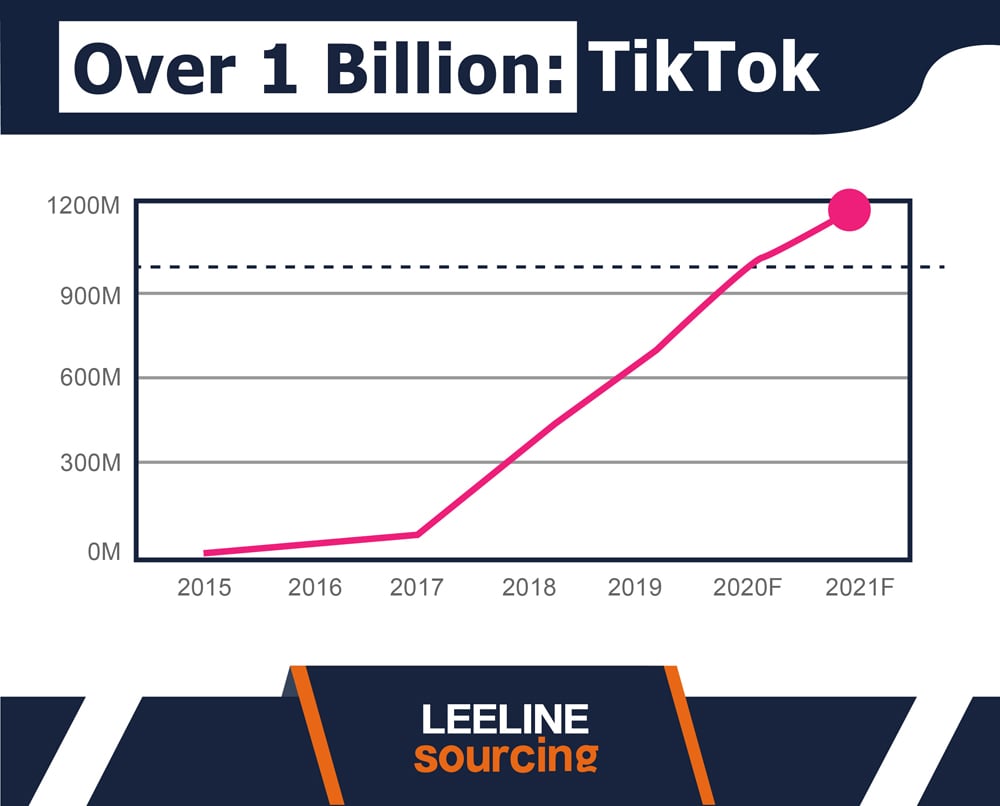 Here are some statistics regarding TikTok trends.
Dance trend got over 200 BILLION VIEWS and became famous. A trend starts, and influencers follow it to ENTERTAIN their followers.
Jimmy Fellon promoted a TREND #Tumbleweed. It gained over 38 million views and became one of the TOP TRENDS.
TikTok Global MAU base has exceeded 1 billion on Android and Apple phones.
Foryou is the MOST popular trend seen over 1.89 trillion times by now.
TikTok influencers have a KEY ROLE in starting a new trend. Then the followers follow their ideals and take part in the TRENDS. A chain leads to the START of a movement by millions of internet users.
The average number of viewed videos on TikTok
TikTok is one of the Top social media platforms. The following factors make it so:
High engagement rate
Largest TikTok Audience compared to Instagram or Facebook.
The average Time Spent on TikTok is Quite High.
It has led to INCREASED popularity. Moreover, a high number constitutes Younger TikTok Users who love to watch videos.
It has given an EDGE to TikTok regarding its use.
TikTok users watch over 1 million videos every day on TikTok. It is due to their short span and High Engagement rates among the users. (A report from the MarketingHUB)
A Mega Influencer with 1 million followers grabs an AVERAGE VIEWS of 329,382 on the videos. It varies to the LIFETIME VIEWS AND GIVEN statistics.
A Micro Influencer with followers of 100K has average video views of 38,517. (A Report from the Statista)
The average time users spend on TikTok every day
The average time spent per day on TikTok indicates engagement. It is another FACTOR to show the popularity of the platform.
If we keep a WEATHER look at social media sites, TikTok is king. It has a HIGH average session per user. Most users spend more than an HOUR on TikTok.
It makes TikTok a clear-cut winner of social media sites. Instagram has the Most engagement after TikTok.
Here are some statistics to prove what we talked about before.
TikTok users spend an average time of 75 minutes per day. In the US, users spend 87 minutes per day On TikTok, compared to Global time. (Data from Qustodio)
6% of TikTok users spend 10 hours weekly on TikTok. 11% spend less than 10 hours but more than 5 hours. 33% of users have claimed to spend one hour or more weekly. (A report from Statista)
90% of users have claimed to access the TikTok app daily.
The average session time of TikTok is 10.85 minutes among the users.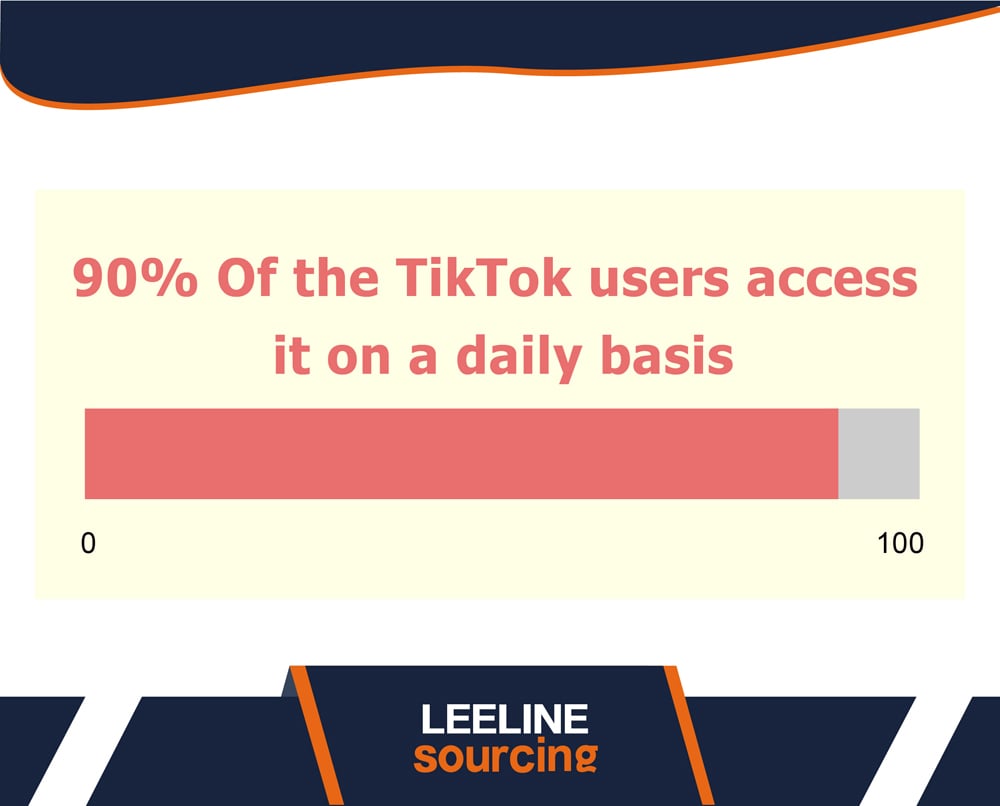 What's Next
TikTok can be a HOT SOURCE for your business. You can find your TARGET AUDIENCE.
Start the advertising campaigns. The results will be BETTER than the Google Ads of Facebook.
Do you want to get the RESULTS for your DIGITAL MARKETING?
Call our experts right now! Get a FREE QUOTE. And enjoy more perks for your business.
We are sorry that this post was not useful for you!
Let us improve this post!
Tell us how we can improve this post?