If you're in the business-to-business (B2B) world, then you know that generating leads and closing deals can be challenging.
But don't worry, we've got your back. We've collected the opinions of 10 experts to help you succeed in the B2B.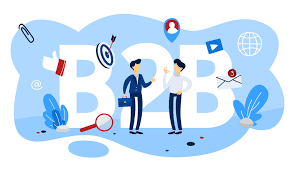 B2B Business Expert Advice in 2022
The primary focus of a B2B company should be on customer-first sales strategies to stay at the top of the market in 2022. Nowadays, businesses are implementing customer-first sales tactics, where the customer, not the salesperson, forms the basis of the procedure. A unique brand voice is also more important than ever for B2B companies and businesses.
Md. Mizanur Rahaman | Digital Marketing Executive at Riseup Labs
Keep it professional: This may seem like a no-brainer, but first impressions are essential in business. Make sure your website, social media accounts, and marketing materials are all up to date and looking sharp.
Eric Lara | for HighPayingAffiliatePrograms.com
arketing is invaluable for B2B businesses for five main reasons:
Better exposure to the right audience
Branding and reputation
Establishing business connections
Educating prospective customers for sales and conversions
Data and insights for designing a more suitable sales strategy
Essentially, B2B marketing is critical for building a robust foundation, especially for new businesses looking for connections. It is like a bridge between customers and brands, reaching out to deliver information about products and services and collecting opinions in return. With a structured strategy down the funnel, the results generated in return will definitely be visible in the numbers.
Henson Tsai | Founder of SleekFlow
Marketing for any product is extremely important to generate leads, especially when your product is a B2B type. This is where B2B inbound marketing comes in, it helps build & maintain meaningful relationships with clients, and fosters trust. Also, it is highly cost-effective and generates meaningful leads over time.
Akshat Kulshrestha | Digital Communication Strategist at DataToBiz
First of all, B2B marketers need trusted data and insights to address customer needs. The problem is that in many organisations this data is siloed with teams having only partial views of the customer. This is why B2B marketers need intelligent customer relationship management (CRM) software.. They must also understand different organisation hierarchies and buyer groups to drive effective campaigns. Today B2B depends on segmentation. Geography, industry, or company size doesn't cut it anymore. B2B buyers are more receptive to personalized offers and messages with more relevance.
Kovtun Kristina | Marketing manager at Better Proposals
Content marketing will remain king for B2B going forward into 2022. With the rise of platforms like TikTok and rising animosity towards blatant advertising, I believe that creating high-quality content (short-format videos, especially!) will remain the perfect way to engage with your current and potential customers.
Bohdan Kryvenko | for Pics.io
An effective B2B marketing strategy can greatly impact company revenue. It plays a major role in generating the number of leads and the quality of leads for your company, it helps sales to further qualify from MQLs to SQLs and even close sales opportunities with better rates. All this is because the B2B buyer journey became more complex and longer due to the amount of online information. That's why B2B marketing now helps from the beginning to the end of the B2B buyer journey by providing customers with the relevant information they need to move in the buyer journey.
Eduard Dziak | Founder & CMO of B2BDigitalMarketers
Businesses must produce mobile-friendly content to rank better in search engines as more consumers use smartphones and tablets instead of desktop computers. Simple mobile marketing methods include refining your website's layout so that it automatically adjusts for smaller displays or developing a separate app that can be downloaded on mobile devices and contains information about your business. Use a responsive design for your website or app in 2022 so that users of all device types can simply access the material you provide. A further method for accelerating material loading on smartphones and tablets is AMP (accelerated mobile pages). Starting now is crucial since mobile-first marketing will be the most significant trend for organisations in 2022.
Sam Willis | Founder/Writer of Rain Catcher
In 2022, the main focus of marketing strategies is on brand building through the use of social media technology, digital media, and analytics capabilities. Social media platforms such as LinkedIn continue to be used for attracting potential customers, while other tools like Facebook Messenger allow businesses to directly communicate with consumers. Email marketing also still plays an important role within the marketing mix for many brands.
Customers are increasingly using data from their mobile devices to analyze products and services, and make online purchases with little or no human intervention. It is also more common for customers to demand instant customer service than just expect it. So the popularity of real-time live chat applications and self-service options will continue to rise.
Companies looking to grow their business online need to be able to attract new customers with a strong marketing strategy. With focus on creating evergreen content can help them improve customer engagement, increase leads, and drive traffic to their site. Content is distributed via multiple channels including social media, email campaigns, and even physical objects such as brochures, direct mail pieces, and gift cards.
Oliver Stasinszky | Marketing Outreach Team Lead at LiveAgent 
Know your audience: It's essential to understand who you're marketing to and what they're looking for. What are their pain points? What are their wants and needs? Researching your target market will help you craft messaging that resonates.
Hannah Wrigley | AutoDS Partnerships manager
Be clear and concise: Nobody has time to read long-winded copy in the fast-paced business world. So you must keep your message clear and to the point and ensure it's easy to skim.
Peggy Linn | for theakgamer.com
Get creative: With so much competition, making your brand stand out is essential. Think outside the box with your marketing campaigns; don't be afraid to be different.
Judy Hough | CEO & Marketing Director of Aimvein
stay up-to-date: The business world is constantly changing, so it's essential to keep up with the latest trends. Ensure you're reading relevant blogs and trade publications and attending industry events. This will help you finally stay ahead of the curve and one step ahead of your competition.
Marian Brown | Editor of earthtechy.com
Conclusion
Do you want to succeed in the B2B economy? It's essential to stand out from the competition. This can be achieved by having a definite and concise message, being creative with your marketing campaigns, and staying up-to-date with industry trends. By following these tips, you'll be well on your way to success.
We are sorry that this post was not useful for you!
Let us improve this post!
Tell us how we can improve this post?