Commercial photography is one of the most sought-after forms of photography. Online shopping is still growing. So small businesses are paying attention to this more than ever.
We've been in the sourcing industry for more than a decade. And by communicating with our clients regularly, we know how product photography can improve a business. Invest in commercial photography and you'll be able to see massive increase in your revenue and brand reputation.
Read this article! You'll know how to use commercial photography for the specific needs of your business.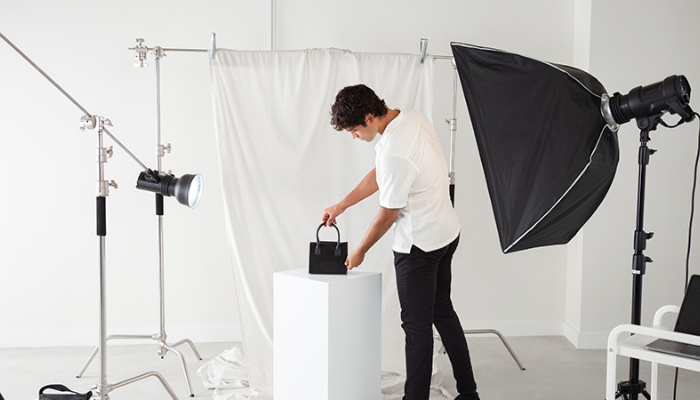 What is commercial photography?
Commercial photography is a photography genre where photographers shoot images for commercial clients. A commercial photograph aims to entice potential customers into buying. This can be used for products or services online offered by a business.
In short, commercial photos help sell things.
Commercial photographers incorporate the client's vision through portfolio images and advertising shots. And through these sharp images, clients can attract more customers. And they can also improve their portfolio websites.
Types of commercial photography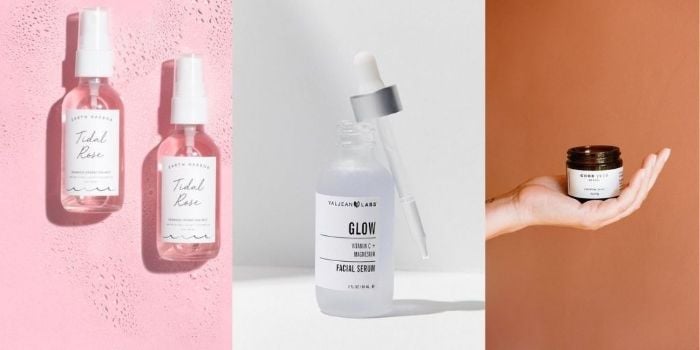 The commercial photography industry is broad. Here are some examples of commercial photography jobs.
For this, photographers create images dedicated to showing fashion-related items for sale. You can often see this photography style offered in ads by apparel brands like Chanel.
These are for promotional photos included on websites to drive sales. This type of photography focuses on the product itself, which is shown without any distracting backgrounds.
A food photographer takes tasty-looking food images. They usually work with food stylists on the same project to create irresistible food photographs.
In this, the photographer integrates the product intended for sale into the subject's lifestyle. This type of photography captures people in real-life events in an artistic manner.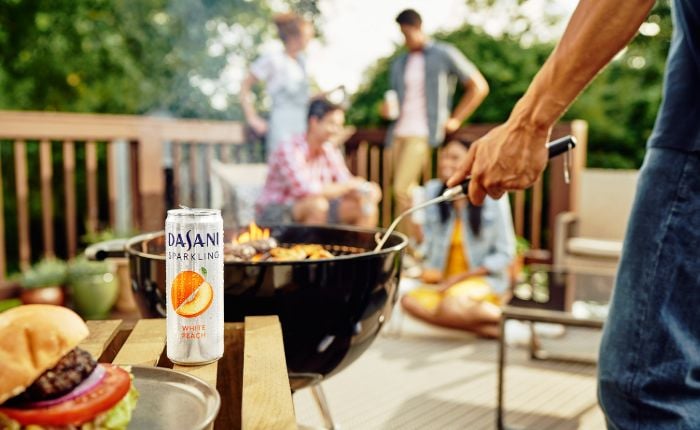 Real Estate photographers aim to make properties appear appealing and worthy of buying. This type of photography can sometimes include interior photography as well.
Professional headshot photographers take images of a person's face from the shoulders. This photography style is often used for identification cards and passports.
This type of photography captures photos that are intended for promotional purposes. The goal of this type of photography is to persuade people to buy.
A portrait photographer captures a person's personality in a single image. The lighting, backdrops, and color palette all try to showcase the uniqueness of the subject.
Architectural photography
Architectural photographers take images of buildings and structures intended for sale. You can also use architectural photos for an Architect's portfolio.
What does a professional commercial photographer do?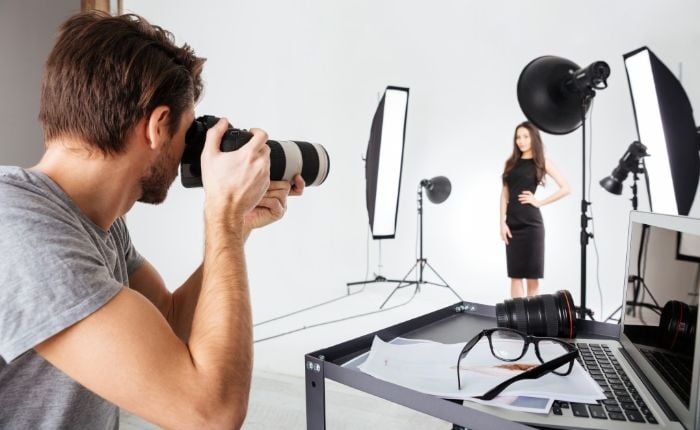 Commercial photographers are experts in creating stunning imagery. Their shots are used for online adverts, magazine pages, and print media.
Photographers are responsible for marketing a brand. So, photographers need to understand how the commercial world works. And they also need to know how to entice the target market of their clients using the right image.
The goal of a commercial photographer is not to create a beautiful picture. It is to create images that can sell. So, it's their responsibility to make attention-grabbing photos of buying-worthy products.
A commercial photographer also needs good retouching skills to fit the industry average.
How to find the right commercial photographer?
The best way to find a commercial photographer is to look at their online portfolios. Find a photographer with a strong portfolio. And if their distinct style fits your vision, contact them. Remember to have transparent communication with your photographer at all times. Doing this will ensure that you are always on the right page, and you'll be both satisfied.
Looking for the Best China Sourcing Agent?
Leeline Sourcing helps you find factories, get competitive prices, follow up production, ensure quality and deliver products to the door.
How to shoot commercial photography?
You don't need to hire others to create your commercial photography portfolio. Follow these six steps. And, you'll have high-quality images worthy of your marketing strategy.
Step 1: Create a plan 
In taking images for commercial purposes, you need to realize what you want to show first. Visualize the concept you wish for before starting your shoot.
For example, someone selling properties would need to capture images of houses. But a jewelry store would need to capture close-up photos of their accessories.
Different products need different shooting styles. So have a clear idea of what you want first before you start shooting.
Step 2: Prepare Your Home Studio Equipment
For your studio equipment, it's important to note that any equipment will work as long as you know what you're doing. A professional-level camera will be better than a phone camera. But you can still create images that sell with the latter.
Here is the list of items you need for your home studio.
Camera Gear: A professional camera like a DSLR camera would be ideal but not necessary. If you don't have a digital camera on hand, optimize your phone camera by increasing its quality settings.
Designated Area: It's essential to have an area that you can get free access to any time you want. This area doesn't have to be a room, and it can be a table in the corner.
Lighting Set-Up: Lighting will either make or break your image. So make sure your lighting can provide enough soft light for your designated area.
Tripod: A tripod will let you capture photos without any camera shake. Use a tripod, and you'll have stable photos no matter which angle you use.
White Background: A white background is cheap and efficient. They also make your products pop out. You won't have problems removing a white background from your product image. So, a white backdrop is always a safe option.
Step 3: Try Different Angles
Most people point their cameras and shoot. So professional photographers shoot from unusual angles to create interesting images. Don't be afraid of trying different shots when shooting your pictures. Angles create more excellent drama in pictures, so be creative about it.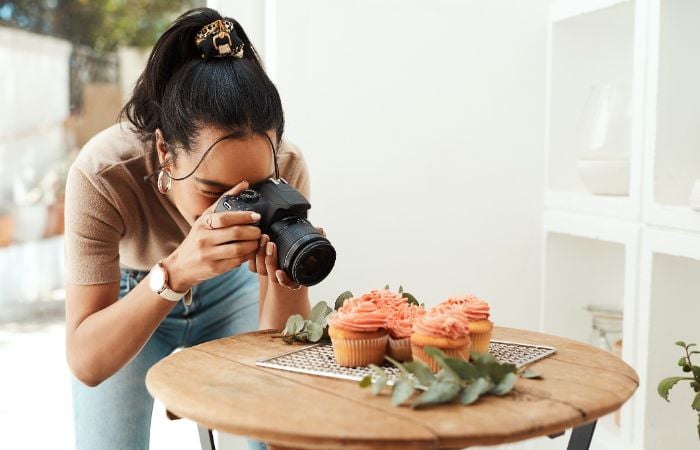 Step 4: Choose The Right lighting
Soft lighting is the best light you can have in commercial photography. For beginners, we recommend using artificial lighting. It's easier to control than natural lighting.
Watch tutorials and examples online. They can help you to understand better how to optimize the lighting equipment you have.
Step 5: Start Shooting
The best thing about being your in-house photographer is that you can shoot on your own time. When shooting your first images, practice your shots, and never rush your pictures. Experiment with different angles and try different image compositions. Try to stay away from shooting photos straight on as much as you can.
When adjusting your product placement and composition, make sure to also adjust your lighting.
Step 6: Post-processing
After shooting your products or services, it's time to enhance your images. You can use editing software like Photoshop to edit photos. But if you're on a budget, you can also use free online editing websites like Canva or Pixlr.
Good editing skills will help you find great success in your images.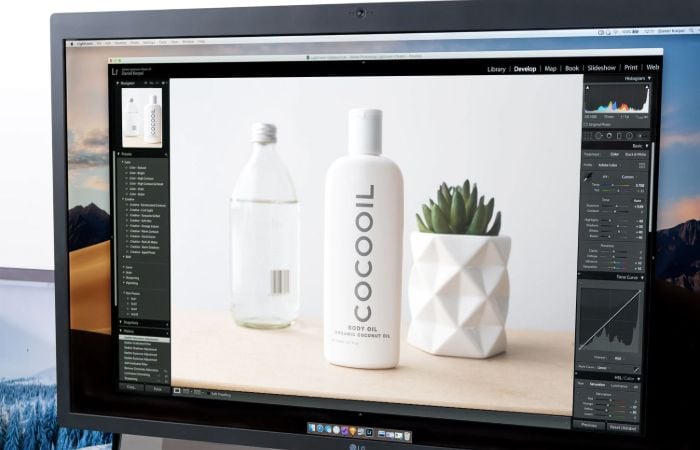 Examples of commercial photography
Let's say Samsung wants to release a new phone this year. They want to entice customers into buying their product. So they decide to hire a photographer to capture the product packaging of their phone.
The photographer provides the necessary images to Samsung. Then, the company can use these images for its promotional advertisements. Having an optimized image of the phone will make customers more likely to buy the product. This increases its sales and broadens its audience reach.
Looking for the Best Chinese Products?
Leelinesourcing helps you find the Best Products Made in China with high quality at an attractive cost.
FAQs about Commercial Photography
How should I price my commercial photography?
Your pricing will depend on your photography skills. Take into consideration your location and the photography services you offer. If you're in a major city working with a photo assistant, work with high-paying clients to have better pay. 
What is the commercial use of a photo? 
Commercial use of a photo is using images to earn money and gain sales. When you take your images, you have full permission to use them freely. But when working with a photography business, ask about the commercial agreement of the image. 
What is the difference between editorial and commercial photography?
Businesses use commercial photography for advertising and selling a product or service. But, editorial photography is for images included in magazines or newspapers. These images are for information, not for marketing purposes. 
What's Next
Invest in commercial photography if you want your business to grow. Big corporations invest millions to have excellent eye-grabbing images for their products. But you can also create stunning images in the comfort of your own home for less than a hundred dollars.
Do you still need some wholesale suppliers for your store? Get a free quote from LeeLineSourcing today, and we can help you.
We are sorry that this post was not useful for you!
Let us improve this post!
Tell us how we can improve this post?