Do you want to start an eCommerce business at Etsy? Etsy dropshipping is straightforward for most dropshippers. You need to purchase items from a third-party supplier and sell them on Etsy.
Our ten years of experience have enabled us to source quality inventory from the top suppliers. A dropshipping supplier on Etsy can sell products at higher prices with low-profit margins. To get high-profit margins, you need to conduct meticulous research.
In this article, we will elaborate on Etsy's policies and dropshipping business.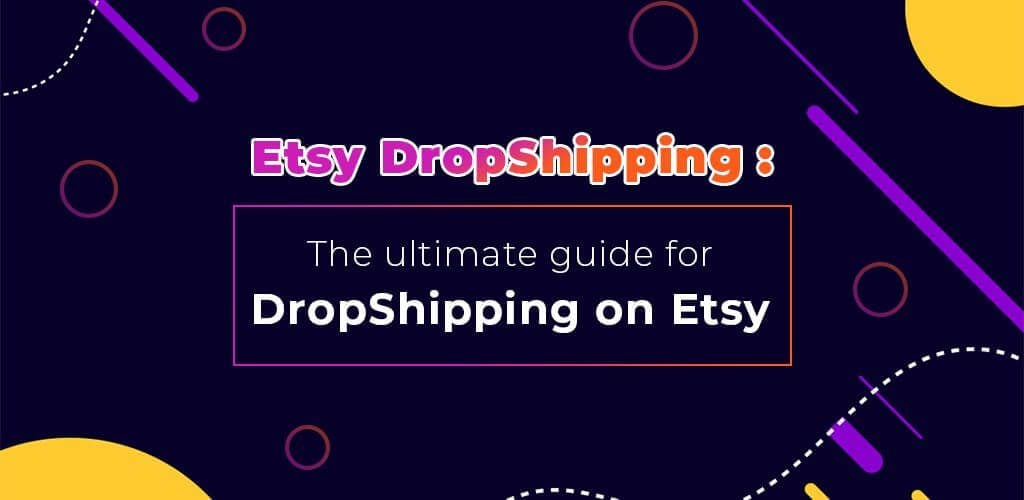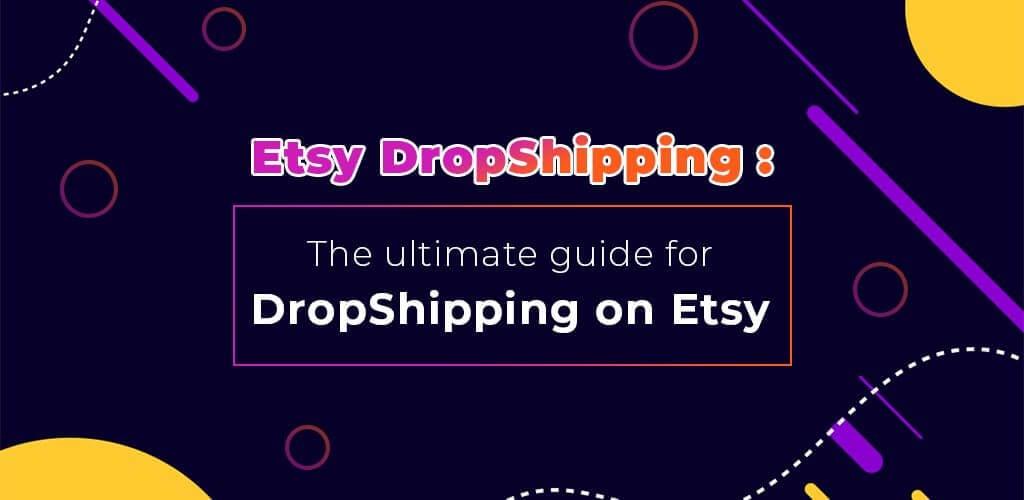 What is Etsy?
Etsy is an online marketplace. It allows people to sell and buy craft supplies, vintage items, Etsy print, and unique products. And these Etsy products are challenging to find somewhere else. Everything on Etsy is made and sold by the people just like you.
There are numerous benefits of using this platform. Etsy gives you a chance to sell and buy handmade products or vintage goods from different world regions.
Etsy Users look for handmade goods to create or complement their own unique home décor styles. And others may want to support the small-scale artists.
What is Dropshipping?
Dropshipping is a fulfillment method that does not require the business to keep its own products in stock. Instead, the store sells the products and passes on the sales orders to the third-party supplier.
 Does Etsy allow Dropshipping in 2022?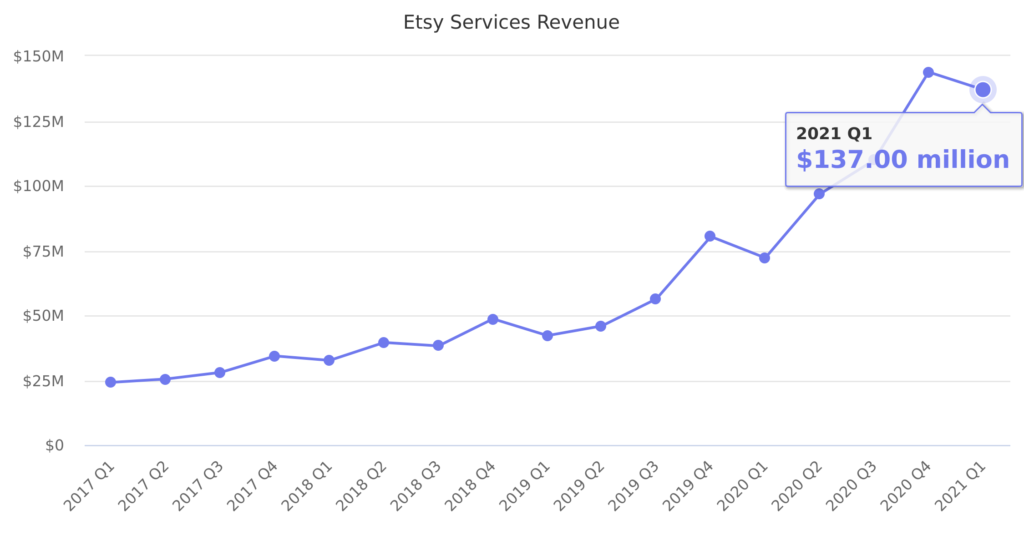 Yes, Etsy allows dropshipping. You need to create a seller's Etsy store, and then you can start to sell the products as per Etsy dropshipping rules. It can be a good option if you are interested in clothes, handmade items, craft supplies, or antique pieces.
In dropshipping, you need to make the decisions wisely. For instance, you should select the best and most reliable supplier. And above all, you should choose the products which are high in demand, as they will offer you a huge profit margin.
The following are the features of the Etsy dropshipping:
97% of Etsy sellers run their stores from Home
In 2021, Etsy's annual income reached 493 million dollars.
In 2021, 7.5 million sellers sold their inventory.
More than 86% of the registrants are women
The Etsy stores are working in more than 83 countries of the world
Pros and Cons of Etsy Dropshipping
The Popularity of dropshipping over the years has led almost every trader to consider this new business model at least once in their life, especially with Etsy.
The pros and cons of Etsy drop shipping are given below.
Pros
Dropshipping is a popular platform for every business person. Amazon dropshipping, eBay dropshipping, Shopify dropshipping, and many more. Then why are people interested in the Etsy drops shipping?
Being an online drop shipping destination, Etsy provides many substantial advantages. A few of them are provided below.
The company is quite famous around the globe. It is an online marketplace that provides convenient and reliable payment methods, strict yet a good usage reputation policy, and a supportive environment. And all of these make Etsy a favorite plat of both buyers and sellers for Etsy Dropshipping.
In contrast to AliExpress, eBay, and Amazon, Etsy offers me a unique range of products. The platform is designed to sell handmade designer products, vintage items, crafting tools, and old items. I can sell more items with the ANTIQUE INVENTORY and diverse niches. Profits are fair.
So, it can be said that Etsy provides you with a unique range of products that no one can compete with. Therefore, Etsy dropshipping is a great option to consider if you want to start a dropshipping business.
It is not only a marketplace that brings the sellers and buyers together. The company aims to support local craftsmanship and empower creative business people.
The company tries its best to support and help artists all over the globe. So they can get financial benefits.
Cons
The platform seems to be perfect for entrepreneurs. The company offers you a close and safe community that enables risk-free transactions.
Here you can find thousands of highly competitive products.
There are only limited ways to list the Etsy products in your own store. So, you need to make sure that the machine you are using is not illegal. Otherwise, you may face legal actions from the Etsy management authority.
One of the significant Etsy problems is profit sharing. Getting Etsy's seller products on your online store will require an agreement between you and the original seller for the profit margin.
You will have to give a particular part of your profit to the seller, which will reduce your overall earnings. Therefore, it may discourage you from starting a business on this platform.
Currently, the company is working through the regulations and sanctions of the United States. If you are in a country that needs to get permission from the US for dropshipping, you may face problems making deals with the supplier and conducting the entire dropshipping business.
Etsy Dropshipping Policy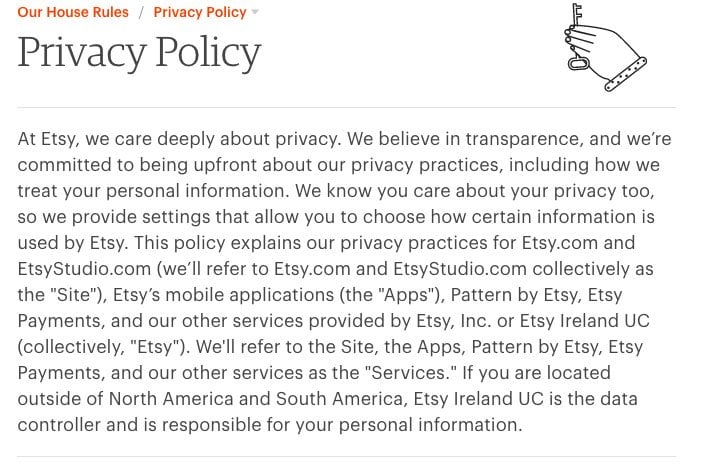 Etsy is a unique marketplace where sellers and buyers come to sell or buy dropship products that cannot be found somewhere else.
Everything listed at this platform sale must be handmade, vintage, or craft supplies.
1. Ban On Reselling
It is another reason not to use the Etsy platform for opening the dropshipping store. You cannot resell the items which are not produced or designed by the exact seller, and this type of trade is strictly prohibited on the Etsy platform.
Etsy blocked my TWO ACCOUNTS. It is very strict about this aspect. You should not do DROPSHIPPING. Selling on the online store is a good idea.
2. Product Requirements
A wide range of items is allowed for sale on Etsy. But all of these items should be handmade, vintage, or craft supply. Therefore, you cannot sell the clothes and other accessories ready for the retail sale here.
These policies make it impossible to use Etsy as a destination for creating the dropshipping store selling directly the AliExpress items through it.
Looking for the Best Dropshipping Products?
Leelinesourcing helps you find the Best Products Made in China with high quality at an attractive cost.
3. Geographic Restrictions
As I am from the US, I can sell. It helps me make a profit. But if you are from.the BANNED countries, you can't sell. It is a BIG con in the Etsy Policy.
According to the Etsy policies, the platform is operated according to the economic sanctions and trade restrictions of the United States.
If you are running a business from the sanctioned location, you will not be able to use the Etsy account for reselling your items. Furthermore, Etsy does not allow buying or selling products coming from the sanctioned territories.
4. Double Control
The Etsy drop shipping policy also states that on-site payment processors like PayPal may monitor the purchasers.
And if they do not meet the sanctions complaints criteria, the transaction can be blocked. This type of third-party action may not be controlled or regulated by Etsy.
Although it is GOOD for transactions but not as great because I do not want the transactions to be MONITORED at all. Moreover complaints are a BIG PROBLEM here.
5. Transparency
Your Etsy shop location must be visible on the Etsy store page. And you will have to mention the manufacturing partners of your Etsy shop in your profile.
Therefore, hiding the location or selling the products you do not physically produce will be possible at the store.
The primary purpose of these strict instructions or rules is to create transparency in Etsy drop shipping.
6. Wholesale Program Termination
Once, it was possible to register for the Etsy wholesale program as an independent retail location. And you can purchase the ready-to-use goods at the wholesale price.
Theoretically, this program was used as a loophole for Etsy drop shipping. But after the 31st of July 2018, the wholesale business is not allowed at the site.
7. Fee Policy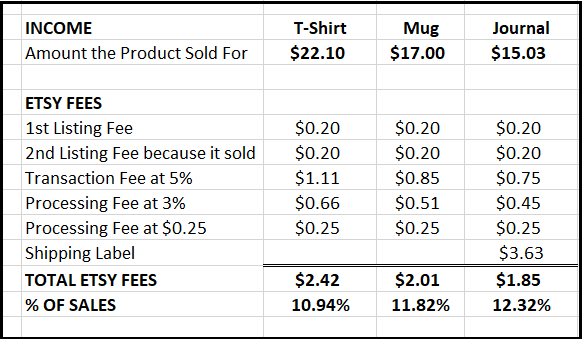 If you are trying to sell the Etsy listed products through other websites, it will be taken as a fee avoidance action, not allowed on this platform. Therefore, an Etsy buyer is not permitted for any independent dropshipping store.
The Etsy store forces the sellers to pay various types of charges, for instance, listing fee, transaction fee, and many more. These charges include the product price, gift-wrapping cost, and Etsy shipping cost.
How do dropshipping from Etsy to eBay?
To start dropshipping from Etsy to eBay, you must know the fundamental knowledge of the product listing process, outsource production system, manufacturing partner, and seller handmade policies.
However, here are some steps that help drop ship.
Step 1: Visit Etsy's marketplace and find small business stockists or suppliers.

Step 2: Contact the different suppliers, negotiate the price, and choose the best one.

Step 3: Import the products from the suppliers listing to your product listing. Check the listing's expiration date also.

Step 4: Receive orders from your customers on eBay and ship products directly from suppliers.
Selling things on eBay or Etsy requires the quality of products, whether these are handmade goods or branded clothes.
Dropshipping from the Aliexpress to ETSY generates higher income. In the first, I made more than 30% profit. The product margins are HIGH because of popularity of the website.
How do Dropshipping Products from AliExpress to Etsy?
AliExpress is a well-known marketplace for online business. Many people uesd to ask: Is Aliexpress safely? The company allows dropshipping. You can use the platform of AliExpress for both company's business and business-to-consumer drop shipping.
If you are interested in dropshipping the products from AliExpress to Etsy, it is a good option. It will give you a considerable profit margin. But you need to consider one thing that through Etsy, you can sell those products which you make.
Looking for importing from Aliexpress?
Leeline Sourcing helps buyers source the right product at the best cost.
How to Dropship Products From Etsy to Shopify?
If you are going to dropship Etsy products, it is relatively simple. Pay attention to the little details, as you will not want your buyer forwarded to the Etsy seller.
Importify is an app that allows you to include the bestselling products as dropshipping Etsy products in your store on Shopify.
I have used the IMPORTIFY as my good-to-go app and it has been a great HELP for me. It finds and gets me the TOP ITEMS in the market and sells them.
You will need to take permission from the sellers to do so. You will need to follow the steps while dropshipping from Etsy to Shopify.
Visit the Etsy.com
You will need the Chrome extension for the Shopify for this purpose
Find the product sold on the Etsy and enter the URL of the product page
Click the add button on the left side of your brewer, and it will enable you to add the products to your store
Change the description of the products, price, and other information before you click the "Add Product" button
And that's it, and you have successfully added the products from the Etsy to your Shopify store
How to Find the Best Etsy Dropshipping Suppliers?
In the business of dropshipping, the supplier is a crucial factor. The dropshippers entirely depend on the supplier for the supply of products. The supplier can make you a success story, and it is the one who may waste all of your money.
1. Use Google
Google is the best way to find the list of most trusted dropshipping companies. But while searching with Google, you may have to search through multiple results pages.
You will have to modify your research carefully, not only using the dropshipper and wholesalers but with most of the relevant terms.
2. Go To A Trade Show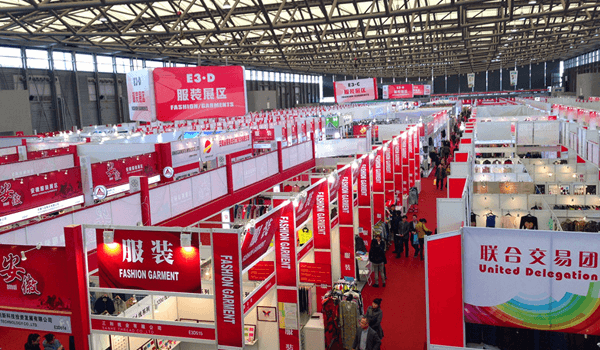 Nothing can be better than the trade shows to find the best supplier for Etsy dropshipping business.  The trade shows give you the best chance to meet the suppliers and see the quality of the products.
I have been to the CHINA TRADE SHOW twice. Bigger brands and COMPANIES offer the best products. Exposure to the new and creative inventory gets the best items.
You can get the people of all process stages, including the manufacturer and supplier. And indeed it will be a great way to get the supplier.
3. Visit Dropshipping Related Websites And Databases
I use the dropshipping resources to get the IDEA of the market and trusted suppliers. It explores the TOP SUPPLIERS and the best items for dropshipping. For a new business, it is of great help.
It is the easiest and most comprehensive way of finding the dropshipping supplier, especially when searching for an economical one.
You can quickly get a list of the most trusted and reliable suppliers. Then you will have to select one of them which suits your business the most.
SAFE + EASY Dropshipping from China
We do the hard work in China, so you don't have to: Product sourcing, quality control, shipping, and more.
FAQs about Etsy Dropshipping
The following are the most commonly asked queries related to Etsy drop shipping and Etsy shipping. The best possible answers are also given to them.
What Cannot Be Sold On Etsy?
Etsy offers a policy, which is part of Etsy's terms of use. The following are the products restricted or prohibited for the Etsy dropshipping:
1. Alcohol, tobacco, drugs, drugs paraphernalia, and medical drugs
2. Hate items that promote, support, or glorify the hatred
3. Animal products and human rights
4. Dangerous things like hazardous materials, recalled items, and weapons
5. Illegal items, items promoting the illicit activity, and highly regulated items
6. Internationally regulated items
7. Violent items which support, encourage, and glorify the violence
What Is The Most Sold Etsy Item?
The following are the top-selling products in 2022 through Etsy drop shipping.
1. Craft supplies categories
2. Jewelry
3. Handmade products
4. Wedding accessories
5. Clothing
6. Digital products
7. Accessories
8. Home and living
9. Paper and party supplies
10. Art and collectibles
11. Vintage products
12. Etsy print items
Suggested reading: Best 30 items on Dhgate
Does Etsy Sell Fake Stuff?
Etsy's marketplace caters to authentic products, but all of them are not original. Because the site sells handcrafted goods, there is a chance of fake Etsy products. And it is one of the significant Etsy problems in Etsy products.
How Much Does It Cost To Ship On Etsy?
The Etsy shipping charges a 5% transaction fee on the shipping cost. For instance, you will mass sell a product for $30 and cost an additional $5 for the Etsy drop shipping.
Suggested reading: Dhgate Shipping Time
What Should I Do If I Get Scammed On Etsy?
Whenever you feel that something wrong has happened, you should use the Etsy case system to resolve the disputes.
If you cannot come to a resolution with the seller, leave all the issues for Etsy; they will try to resolve the whole problem on your behalf.
What's Next
Do you have your own brand in your local area? Some people don't have storage houses. Therefore, they choose the dropshipping business and skyrocket their sales with effective marketing campaigns. All this is possible due to quality products and services in the given category.
So, do you want to source quality items? Hit a message to LeeLine Sourcing and get the quote for your products. We offer the best services to our customers for their product sourcing.
We are sorry that this post was not useful for you!
Let us improve this post!
Tell us how we can improve this post?