Are you a startup, business, or retailer willing to enhance your customer's experience? You must pay attention to your order fulfillment process.
Order fulfillment, also known as order processing or fulfillment only, involves:
Receiving, packaging, and shipping orders from the clients.
As a vetted sourcing company that has spent over ten years in the industry, we have dealt with many businesses. They all had their customer wishes fulfilled. How? They did so by optimizing their order fulfillment process and order fulfillment strategy. Hence, we have gathered a great deal of knowledge for you to guide on this.
Up for creating a better experience for your potential customers? Read on!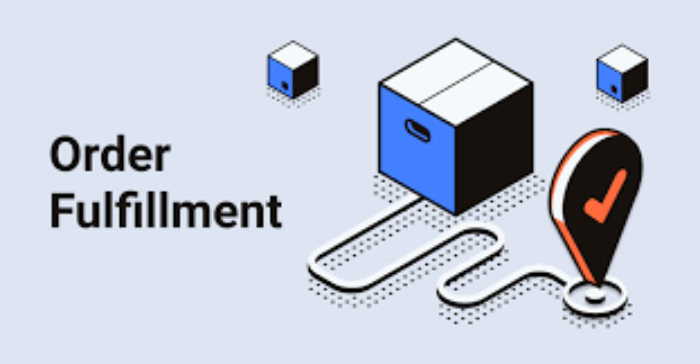 Meaning of Order Fulfillment or Order Processing
Order fulfillment ensures the timely delivery of the product/service. Order fulfillment occurs when a customer places an order with a company. And, it lasts until it is delivered. It is not only about delivering products. It is also about ensuring that shoppers are happy with their purchases.
Most businesses have their version of the order fulfillment process. Some best practices and standard procedures can help streamline your process. Also, they win customer satisfaction for you.
Types of Order Fulfillment Process
Order fulfillment is the process of ensuring your products reach your customers. When you're fulfilling orders, you can use one of three different methods:
In-house Order Fulfillment Process / Self Fulfillment Orders
This means that you take care of all your order fulfillment in-house. From packaging to shipping! It's a good option if you want to control your operations. And, if you don't mind spending money on equipment and employees. It's a good option if you have the resources to handle it. You might consider using in-house fulfillment to save money on shipping costs.
The other situation is…
Suppose you want to ensure that customers have access to information about their orders. That, too, at all times.
Pros:
Offers hands-on experience
Offers you the freedom to control
Cost-effective
Cons:
Hard to scale
Requires ample time
Third-Party Order Fulfillment
Third-party order processing means outsourcing the order fulfillment needs of your business to a company specializing in it. For example, you might use Amazon FBA or Shopify Plus to outsource order fulfillment. It's common for small businesses that have overgrown. But, they don't have room for large warehouses and staff!
So, your company doesn't have enough resources to handle in-house fulfillment? If so, outsource fulfillment. Third-party fulfillment can be a good option for you.
Third-party companies cover all aspects of the process. From packing and shipping items to handling customer service! And then pass that responsibility on to you once an order has been shipped. They also price their fulfillment services differently. If you use third party fulfillment, make sure that your contracts allow flexibility.
Pros:
You may avail discounted shipping rates.
Spares you time
Supports rapid deliveries
Cons:
MOQs are mandatory.
Complex Onboarding Process
We can Made Drop Shipping from China Easy
Leeline Sourcing is to help Shopify & small businesses sourcing products from China and build your branded business.
Dropshipping
Dropshipping is when a business doesn't handle any inventory itself. Instead, it buys wholesale products from manufacturers and then sells them to customers. That, too, without ever touching the products themselves. Dropshipping is popular with online retailers. Because it allows them to scale their businesses without inventory!
Also, if done right, it's an excellent option for small businesses. They help to test out new products without worrying about inventory management.
Pros:
Free from any storage or upfront fee
Saves time
Cons:
Less profitable
Less control
Hybrid Fulfillment
Hybrid fulfillment means using a combined method of fulfillment services.
You might store some products in-house. At the same time, you may consider outsourcing some others through third parties or dropshipping.
Pros:
Flexibility
Hybrid- Approach
Cons:
Not applicable to all business types
Order Fulfillment Process: How the Fulfillment Process Works?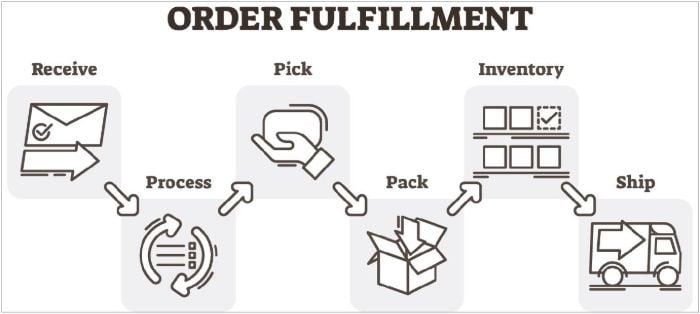 The entire order fulfillment process can be divided into six main steps.
1) Receiving inventory from the supplier
2) Inventory management
3) Warehousing
4) Picking and processing
5) Packing
6) Shipping
Receive Inventory from the Supplier
Once you have an order, it's time to get your inventory. This is where your inventory management and warehousing come into play. You'll need to know:
What kind of inventory do you need to keep on hand?
How much of it have you stored in each location?
And, when does it expire?
Then, when your supplier sends over their new shipment, you'll be ready to process it right away. Or, at least as soon as possible!
Inventory Management & Warehouse Management
The first step in the fulfillment process is receiving inventory from the supplier. This involves two things.
1) Communicating with your suppliers;
2) Ensuring that they have everything you need on time.
You'll also want to check that their inventory is properly organized and easy for you to access (you don't want any stock shortages!). Finally, you'll need to audit the goods received. It confirms that everything matches what was ordered. Many fulfillment companies have different warehouses strategically located at various locations.
You'd also want to keep track of the products that are in transit.
For example:
If a supplier sends an order from China to Korea and then from Korea to Canada and uses USPS priority mail service, there will be several different tracking numbers for each leg of the journey. You'll need this information to keep tabs on where each product is at any given moment!
Picking & Processing
This step takes place after your warehouse staff has received all inventory. They'll use pick-and-pack software to scan each item as it's selected for packing. This helps ensure that there are no mistakes when it comes time to package orders! Packing machines will automatically apply labels to boxes. And they'll be packed into containers before being shipped out.
Packing
When you have an order, you need to make sure that it is packed properly so that it does not get harmed during transit. Your packing method should also be compatible with the delivery method.
For example:
If you are selling digital products, it's not necessary to pack them in a box. But, if you are shipping physical products, you will need to use boxes or other packaging material.
Shipping
The shipping process of your products is also essential.
After picking and packing your products, you need to ship them out to customers as soon as possible. So that they receive their online order on time! You can hire a third party logistics provider company or do it yourself, depending on:
How much volume of orders do you receive each day?
How many employees do you have working for you at any given moment in time?
Have you decided on doing it yourself? Then, make sure you package all items adequately before sending them out. So, there's no damage during transit or delivery. Because it can cause problems later. Don't forget to attach shipping labels to every parcel. Third-party logistics mostly buy these labels from shipping carrier(s). They also choose packing materials for your fulfillment service. So that the products that your customers order reach safely in their hands.
When you rely on a third party logistics company for order fulfillment operations, your customers get their orders at reduced shipping costs.
You may also guide them with your particular requirements by writing them on a packing slip.
After-Sales Management
Companies ensure that you get the best after-sales care from the day you place an order on our website. You can contact them if you have any issues with your order. Or if you want to return your product for any reason whatsoever. (Including not liking the product or wanting something else).
SAFE + EASY Importing from China
We do the hard work in China, so you don't have to: Product sourcing, quality control, shipping, and more.
Benefits of Order Fulfillment to Ecommerce Business
We know that you're busy. We've got this handy list of the top benefits of order fulfillment to eCommerce so that you can get back to what's important: growing your business.
You save time by outsourcing your order fulfillment needs.
You'll have peace of mind knowing that your orders are handled on time. And, they'll arrive where they need to go on time every time.
With the proper order fulfillment partner, you can ensure that they will package your products properly. And, there'd be less chance of damage during transit. This means they're more likely to arrive at their destination looking brand new!
The right partner will also have experience handling returns and exchanges. If an item arrives damaged or not as described, they'll know what to do to achieve customer satisfaction. This enhances your business operations. Also, it ensures that all transactions run smoothly from start to finish.
Your partners will also provide you with valuable data. Such as the number of orders each day and how quickly those orders leave the fulfillment center or warehouse.
Choosing the Right Order Fulfillment
When it comes to ordering fulfillment, there are many things you need to consider before making a decision.
You should first think about making sure that your receiving processes are optimized. So that your inventory replenishes when needed and shipped out promptly. Without causing delays for customers waiting for their orders! Seems like a no-brainer?
But, if you don't have a streamlined process for receiving and processing incoming orders, you could be losing money and customers by the minute. Ensure that your inventory management system is set up so that items are never out of stock or lost in transit.
The other thing you must be mindful of is the type of product or service that you sell. If your business sells items that need special handlings, such as food or electronics, then it's best if the company shipping those items does so on its own and not through an order fulfillment company. Have a plan B ready if something turns out to be wrong with your fulfillment center, warehouse, or shipping facility. You may need to hire more workers who can help with packing and shipping during busy periods.
Thirdly, keep an adequate amount of inventory in stock to keep up with the demands of your audience.
Your customers expect quick delivery times. If they don't get their items within 72 hours, they'll move to another vendor who can ship faster.
Challenges of Order Fulfillment Explained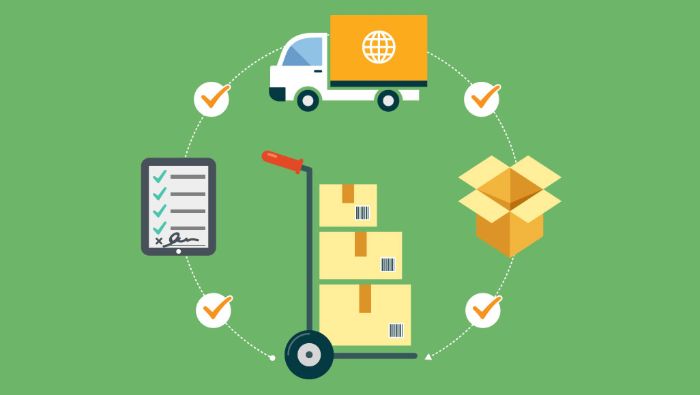 When you're running a company, it's easy to overlook the details of your supply chain execution. But if you don't have a solid grasp on how each part of your supply chain works together, you can wind up with some severe fulfillment challenges.
Inventory Control
Inventory control is essential for managing costs and ensuring that your customers get their products quickly and efficiently. When levels of an inventory system are too high, you'll spend unnecessarily on storage space and inventory costs. When they're too low, customers might not be able to find what they want in stock when they want it.
Demand Planning
Demand planning is also crucial for managing costs and ensuring customer expectations. But, this involves predicting how much demand there will be over a given period so that manufacturers can produce enough products to meet those needs. That, too, without going over budget on production costs or having unsold goods sitting around in warehouses. Demand planning helps companies ensure they're not over-or under-producing based on their sales data from previous years.
Logistics Planning
Logistics planning involves ensuring that your products are available when needed. Whether that means getting them from the supplier or into customers' hands once they've been purchased online (or in-person)! This often involves ensuring that your suppliers have enough space to store their inventory on hand before it gets shipped off for delivery, which can be tricky if there isn't enough room available!
Supply Chain Management:
Supply chain management involves figuring out what parts go into making each product so that you know where everything came from originally (and who supplied them with those parts).
Improving Order Fulfillment
Looking to improve your order fulfillment? You can act upon a few things to help yourself out.
Have An Appropriate Order Fulfillment Model:
First, make sure you have an appropriate order fulfillment model for your business. Most businesses use a warehouse or distribution center to store inventory and ship it out to customers. But your store is likely your warehouse if you're in retail. If so, think about different ways you can enhance end-to-end chain visibility. So that everyone involved in the process knows what's going on.
Use Micro Warehousing:
You should also consider using micro warehousing if you sell heavy or fragile products. This is especially true for food items like meat and produce. It's not worth the risk of shipping them across the country with other items in one box!
Have Good Communication with Your Warehouse Staff and Fulfillment Team
Another great way to have efficient order fulfillment is by ensuring good communication with your warehouse staff and fulfillment team. Ensure your fulfillment team knows what's expected of them. And how they should interact with customers when they call in their orders.
End-to-End Chain Visibility
With end-to-end chain visibility, you can easily see where all of your inventory is. You'll know exactly where it's being stored and how long it takes to get from point A to point B so that everything runs smoothly. The downside is that this method still has costs, even though it provides better visibility than other models.
A Fast , Easy and Cheap Way to Ship from China
Do not hesitate to contact Leeline Sourcing at any time regarding your shipments from China.
Order Fulfillment FAQs
1. What are the options for order fulfillment?
Businesses, retailers, or startups have four fulfillment options:
1.In-house
2.Outsourcing Fulfillment
3.Drop shipping
4.Hybrid
2. What is the order fulfillment rate?
Here's a simple formula to determine the order fulfillment rate:
Number of Orders Processed ÷ Total Numbers of Orders Received = Order Fulfillment Rate.
3. What is the most important thing in order fulfillment process?
The most important thing in the order fulfillment process is inventory management.
Conclusion
So, that's all about order fulfillment. Hope we have clarified all your questions about the complete process of fulfillment service. Wondering, what next? It's pretty simple. Decide on an appropriate order fulfillment model and order fulfillment strategy for your business and see it blooming. Lastly, keep track of your order fulfillment processes with the help of any order management system. And, we are sure that you'll soon achieve the level of customer satisfaction you aim for.
Want to learn more about order fulfillment? Or have any questions or concerns? See our services page for more details.
We are sorry that this post was not useful for you!
Let us improve this post!
Tell us how we can improve this post?