What is makeup product photography, and what role does it play in making your products sell?
The power of visual content is irrefutable in the online marketplace. An image attracts the viewer's attention before the caption or text for the image.
This means that you need to ensure that your makeup product photos are aesthetically pleasing to the eye. Through our cooperation with makeup product companies, we have gained extensive experience and the necessary insights needed to understand all aspects of product photography. We can help you keep potential customers landed on your websites for a significant time. This way there will be more chances for them to get influenced, reach a decisive point and execute a purchase.
Have a look at some of the best guidelines.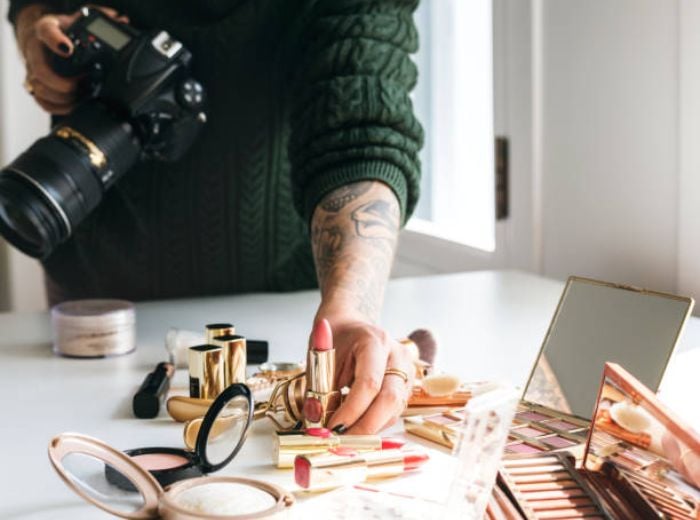 Why makeup product photography is important?
Nowadays, shopping for makeup or other cosmetic products has become very simple.
Just enter the keyword on a search engine and get instant results. Hundreds of skincare products and their images will flash on your screens. You will browse through them by looking at the images first and reading their descriptions later.
The image is the only point of contact between the potential buyer and the makeup product. The description part will only matter if the image has grabbed the viewer's attention.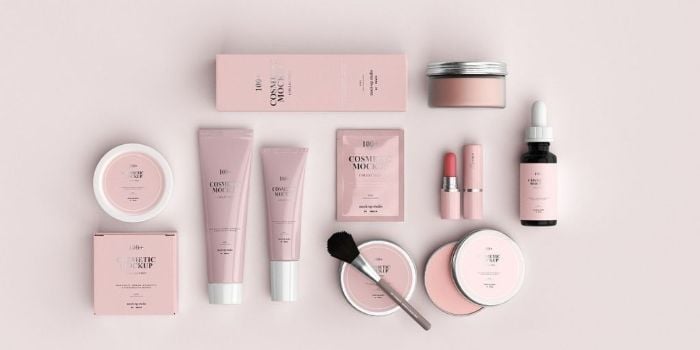 One high-quality image of your product helps:
Enhance Click through Rates
Improve Website Traffic
Increase On-Page Time
Boost Conversions
Reduce Returns
Decrease Cart Abandonment
It is thus apparent that high-quality makeup product photography can get great returns.
How to take compelling makeup product photography?
Here are some quick beauty product photography tips that will help you to create an impact on your beauty products:
Step1: Plan the Shooting
Always plan. Going into a process haywire without planning can get you nowhere.
Plan your shoot concerning the time, location, makeup product, and other basic requirements.
Step 2: Understand the Brand Peculiarities
Understanding the client's brand and its unique selling proposition is very important. It is necessary to make your image fruitful. You need to highlight the exact brand peculiarities.
Only then you can get positive outcomes from your makeup product photography.
Follow the theme and vision of your client.
The key is to reflect your client's brand image as much as possible.
Step 3: Consider the background
The background is very critical for makeup photography.
White or neutral backgrounds are no longer necessary for good product pictures.
Now, you can experiment with different color palettes. You can make your product stand out with vibrance and boldness.
Pastel shades are a great choice. They complement different colors without stealing the focal point.
Step 4: Choose your light
Light is the magic ingredient when it comes to cosmetic product photography. You can use natural light as the highlighter to better represent your product.
Setting up the shoot near a window or door at a prime time of daylight can make wonders. If the light is insufficient always opt for reflectors. You can also use a flash diffuser to create the right balance.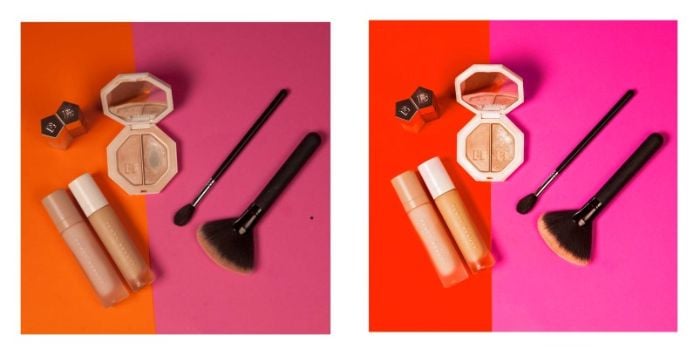 Step 5: Leverage the angles
Highlighting unusual angles is vital. It enables viewers to see the makeup product like they have not seen ever before. The point is to make a difference by choosing a unique angle for the shot.
There are no strict rules for this purpose. You can find a great preview by moving around with your camera. You need to explore new angles from various directions.
Step 6: Clean your swatch surface
As a norm, makeup swatches are most often created on the forearm. The skin on this part of your body has the closest tone to match your face.
You can also select artificial or industrial surfaces for the job, but the key is to ensure that the surface is clean. Dirt or dust of any kind can impact the color of the swatch.
When using the forearm of models, make sure they wash the part and exfoliate for a glowing appearance.
Step 7: Take the photos
Now is the time to take the photos. Click as many shots as you can under different lighting and directions.
Step 8: Post-processing
The last step of makeup product photography is post-processing. With so many apps and software available in the market, you can transform your images into different pieces of art.
But the need is to create the right balance of colors, light, and contrast. Make small editing changes where necessary.
Looking for the Best China Sourcing Agent?
Leeline Sourcing helps you find factories, get competitive prices, follow up production, ensure quality and deliver products to the door.
5 Tips for makeup product photography
Have a look at some useful tips and makeup photography ideas for taking photos:
1. Elevate the Makeup Product
This simple technique lets you take a picture from a lower point than the product placement. It enables you to make the product look more elevated, glamorous, and bold.
The key is to keep your camera slightly lower than the product position.
2. Save Money on Lighting
Using natural lighting sources at the right time of day and in the right location is important. It can help you save valuable dollars required for studio lighting.
Professional studio equipment can be very costly. You can save the costs of lighting by using natural sources.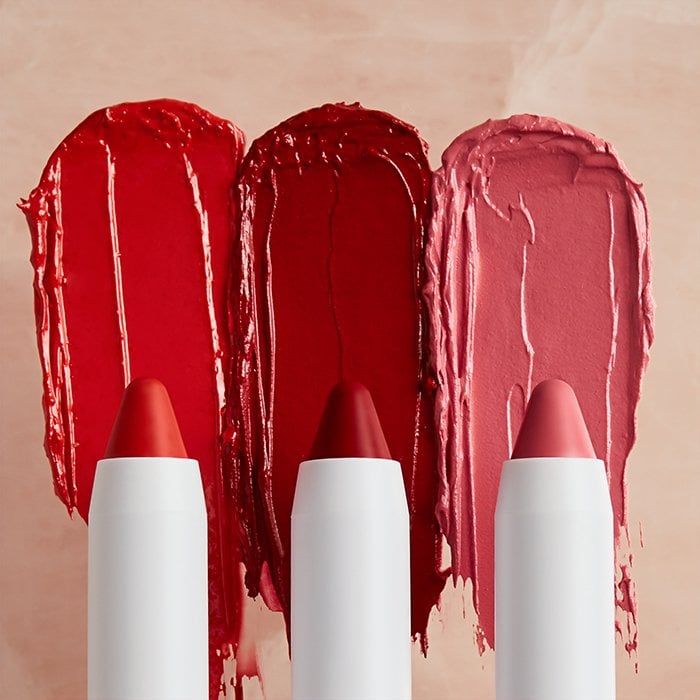 3. Diversify Your Outcomes with Aperture Changes
On a more technical side, product photographers can change apertures and f-stop at different locations.
Large apertures are best suited for images with more than one product. It helps blur the background and focus on the prime target.
You can play with different aperture sizes to ensure you create impactful pictures for your makeup products.
4. Create Interesting Compositions by Adding Props
Makeup and beauty are often linked with subtleness and elegance. By placing objects of similar qualities, you can make your background more lively and exciting. Add simple props like flowers, glittering items, plants, jewelry pieces, and other color-coded props.
5. Use Colorful Backgrounds
Instead of opting for white background, experiment with colored backgrounds to make a bold impact.
Select eye-catching and bright colors that complement your makeup product in the best way.
Example of makeup product photography

Maybelline is one of the most renowned global cosmetic brands of today.
The brand has a solid online presence. It uses various digital media and social networking platforms. The aim is to keep its audience spellbound with fantastic images.
The company posts 4-5 high-quality and unique product images daily. They also rely on attention-grabbing videos for their users.
Simplicity and single shots without props are characteristic of their makeup product photographs.
The backgrounds are usually neutral, like black or white, but they play with lights to make their products unique.
Looking for the Best Chinese Products?
Leelinesourcing helps you find the Best Products Made in China with high quality at an attractive cost.
FAQs about Makeup Product Photography
What is a makeup swatch?
A makeup swatch is the application of a small quantity of the makeup product on a surface to create a sample outlook. You can do it on your forearm to get the best results.
What is the going rate for product photography?
With so much advancement in smartphones and the phone camera quality, you can use one for the job.
The key is to keep in mind the tips and guidelines given above to ensure that you create meaningful and high-quality images of your products.
What app do you use for makeup pictures?
What's Next
The right light, background, composition, and angle are important. They allow the viewer to discover your product through visual attraction. If you can grab this attention, you are likely to convert the viewer into a buyer.
With our helpful suggestions, you can make your cosmetic products come into the limelight of the potential client's attention.
If you want to scale up your product line, you can contact us with your requirements. Leeline Sourcing is your one-stop destination for all types of product procurement, including cosmetics and makeup products.
We are sorry that this post was not useful for you!
Let us improve this post!
Tell us how we can improve this post?