Many people are always confused about the terms warehouse and distribution center. Though they have equal importance in supply chain management, they serve different purposes.
As product sourcing experts, we deal with distribution centers' problems. You can enhance your entire fulfillment process with our help.
In this article, you will learn about how distribution centers work. We'll also share about their services and benefits for you. Let's get started.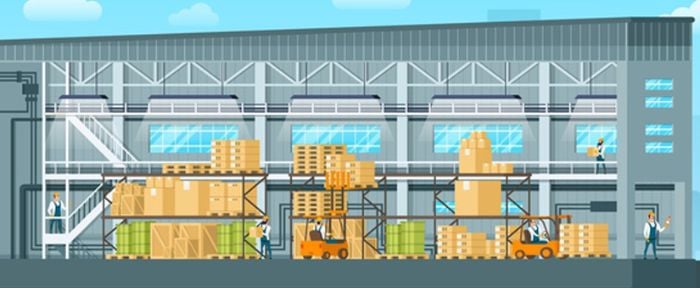 What Is a Distribution Center?
It is also called a fulfillment center, a package handling center, or a cross-dock facility. To complete the fulfillment process, you can store and ship your products from here.
Suppliers can also sort their products in a distribution center. Then, they are ready to ship them to the individual end consumers.
Many distribution centers use inventory handling equipment in the distribution process. For instance, forklifts, pallet jacks, shipping containers, and others. They also often have a receiving dock, a storage space, and a shipping area.
What Services Does the Distribution Center Provide?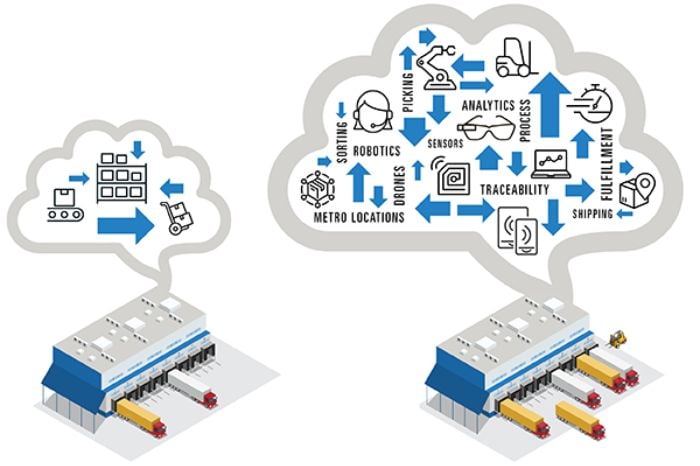 In general, a distribution center provides a variety of services. Let's take a look:
1.Inventory Management
It allows easier inventory management for suppliers. The centers will receive the products in bulk with the information from the supplier. Then, these centers will be storing inventory in good condition based on needs. The centers are also equipped with software to manage inventory use.
2.Picking and Packing Processes
The distribution centers will then handle the entire process during order fulfillment. It can store inventory, as well as pick and pack them for the shipping process. They will ensure to deliver the products in good condition to the customers.
3.Inventory Replenishment
If the sales of a product are good, there is bound to be a low number in stock. These centers also offer replenishment of inventory for continuous order fulfillment. They use software to manage and store products. So, the centers will know when to restock which products to keep up with the orders.
4.Shipping Workflows
Distribution centers partnered up with logistics professionals for fulfillment. Their high-tech systems allow retail customers receive their orders timely. The integration also helps these centers to ship faster at a low cost.
5.In-House Management
These centers divide the area to suit the eCommerce fulfillment processes. They also use the latest technology for the data on storage and shipping. Usually, they will link with the eCommerce platform. These platforms provide detailed information about the customer's logistics.
6.Return Management
Distribution centers also offer return management for their partners. These centers often partner up with platforms like Happy Returns. So, customers can return dissatisfied products through these logistics platforms.
7.Customer-Centric Processes
These centers also focus on the excellent consumer experience. They offer packaging services to provide customers with a pleasant unboxing experience. These centers also manage logistic tracking and returns for the customers. It provides customers with better online buying experiences.
We can Made Drop Shipping from China Easy
Leeline Sourcing is to help Shopify & small businesses sourcing products from China and build your branded business.
What Are the Benefits of Distribution Centers for Business Companies?
Distribution centers serve great benefits for companies. Let's see what they are.
1.Reduce Cost
The packaging and shipping cost a lot of money. A business can save money by adapting the services from these centers. It is because they provide quality assurance during the entire process.
You'll be able to reduce costs on temporary storage and stockout issues. You can also worry less about delayed or incomplete orders that will cost you more.
2.Maximize Efficiency
Distribution centers have the experience to handle efficient distribution processes. Businesses can leave it up to them to handle the process. You can save more time handling other important tasks like marketing strategies.
Some businesses might not own the equipment needed. You can engage these centers for a smooth process during fulfillment.
3.Diversion of Focus
Distribution centers help businesses to focus on other aspects. For instance, the marketing and advertising strategies.
You will save the hassles of packing and shipping for your customers. It is beneficial that you can spare more time to do things that can jack up sales.
Pros and Cons of the Distribution Center
The distribution center has its pros and cons as below: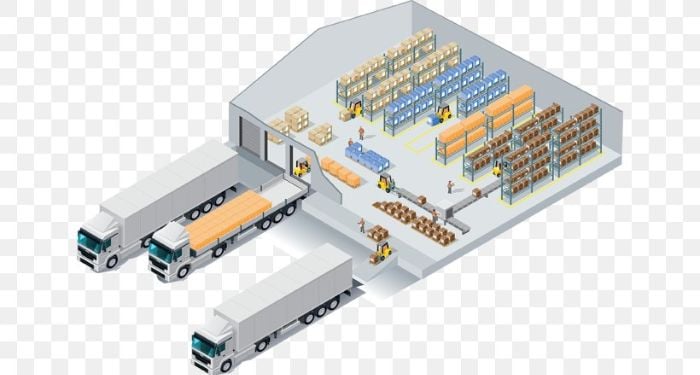 Pros
1.Delivers Large Quantities
The center sorts out the products from a single location. So, they can ship the products in bulk.
2.Huge Building Space
The distribution centers offer many services. Hence, their warehouse spaces are huge for the distribution process.
3.Integrated Technology
Distribution centers integrate with eCommerce platforms. They first collect the data from the supplier. These centers will then process the information flow online.
4.Low Cost
Generally, distribution centers are cheaper than fulfillment facilities. They handle the distribution process at a low cost compared to fulfillment centers.
Cons
1.Customer Interaction
Distribution centers are customer-centric. But, they do not have direct-to-consumer interactions. It may cause some problems with some extra customer requirements.
2.Fewer Services
Distribution centers may be well-rounded in general. But, it still has fewer services than fulfillment centers.
3.Does Not Ship Goods Direct to Consumers
Distribution centers sort the products according to region. Hence, they do not deliver the products themselves. They will rely on delivery companies to do that.
4.Shipping Timelines
The distribution process increases the shipping timelines, which consumes time. In contrast, the fulfillment centers process and ship the item faster.
Difference between the Warehouse and Distribution Center
Some companies use a traditional warehouse in their eCommerce business. A warehouse is a huge facility that stores the inventory of a supplier.
In general, warehousing stores products until the sellers sell them. The traditional warehouses store inventory on shelves according to a system built.
These spaces are usually rented by businesses or outsourced by third-party logistics. The warehouse also adapted warehouse management in managing the process.
It does sound like a distribution center. Both of them use a system in managing inventory levels. But, there are still differences between a warehouse and a distribution center. You can refer to the differences in the table below.
| | | |
| --- | --- | --- |
| Difference | Warehouses | Distribution Center |
| Storage | Warehouses only store the inventory until the shipping process starts. | A distribution center stores and processes the inventory. The services include product mixing, pick and packing, shipment, etc. |
| Flow Velocity | Warehouses stores the inventory from a long-term storage perspective. | The inventory in the distribution center does not stay long. It has a faster flow velocity than warehouses. |
| Focus | A warehouse focuses on storing the inventory only. They don't have extra functions and do not serve external customers. | The focus of the distribution center is diverse on many levels. For instance, the inventory, the distribution process, the customer, and others. |
| Operations | The operations in warehouse management are unitary and less intricate. | The operations of a distribution center are more intricate than a warehouse. It handles order processing, transportation management, and much more.  |
| Cost | The cost of a warehouse is lower. The warehouses are in charge of storage. Hence, the costs are warehouse workers' wages and warehouse maintenance. | The cost of a distribution center is higher as they offer much more services than warehouses. Wages, equipment, and storage costs are part of the high cost. |
A Fast , Easy and Cheap Way to Ship from China
Do not hesitate to contact Leeline Sourcing at any time regarding your shipments from China.
FAQs
1.Are a warehouse and a distribution center the same?
The warehouse and distribution center are not the same. Even though they share the same function in storing products, their operations vary. The workflow of a distribution center is fast and high rated. Meanwhile, a warehouse is much more stagnant.
2.What is a distribution center example?
An example of a distribution center is a warehouse that handles short-lived products. They will load the shipments in the morning and operate the distribution process. Usually, they will complete the order processing on the same day.
3.Does a distribution center store goods for a long time?
No, it doesn't store goods for a long time. They process the goods and distribute them to the customers' addresses. Hence, the goods won't stay long in the center. These items often enter and leave pretty fast.
4.What to consider when choosing a distribution center?
You have to consider aspects such as their cost and time-consumed. Proper planning allows you a lower cost yet faster distribution process. The distribution center you choose should be able to fulfill your needs.
5.How to choose a distribution center location?
You can choose a distribution center with a strategic location. For example, you can choose centers located in major cities near target markets. Since they are more accessible, these centers can reach your customer timely.
What's Next
In short, there are many services that a distribution center can provide. They do have their advantages and disadvantages. But, they still play an important role in eCommerce businesses.
I hope you learn from this article about how distribution centers work. Do not hesitate to contact us for your international logistics customized solution.
We are sorry that this post was not useful for you!
Let us improve this post!
Tell us how we can improve this post?