Stock management is the core of every e-commerce business if you keep an in-house stock inventory. So you need enough knowledge of the minimum stock level.
We have served thousands of businesses so far and have over ten years of experience, so we know the sneak peeks. You can understand those same parameters to incorporate them into your business.
This article includes everything you need to know to manage your minimum inventory level efficiently. Let's explore.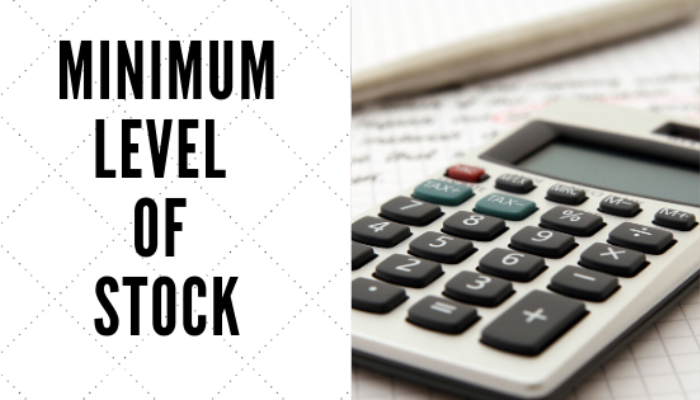 What Is Minimum Stock Level?
A minimum stock level is a figure that denotes the level below which actual material items should not be permitted to fall.
This level's fixation serves as a safety precaution, and you can also call that safety stock level. As a result, the minimum stock level is often called "safety stock level" or "buffer stock."
If the maximum quantity falls below the minimum quantity level, there is a risk of stopping production due to maximum consumption. Furthermore, management must prioritize the acquisition of fresh supplies regarding reorder quantity.
Importance of Minimum Level of Inventory
Across the e-commerce supply chain, the maximum level of stocks is a clear sign of efficiency and profitability. You can enhance your cash flow and optimize storage capacity, and it will allow you to fulfill clients' least or maximum demand, ensuring that you don't bulk up or down.
Better awareness of your average stock level can help you plan your supply chain by determining the best time to reorder more goods.
Benefits of Minimum Stock Level
Stock management relies heavily on major types of minimum-level stock, and companies must assess their precautionary level regularly. Some of its benefits are:
It allows the company to maintain the smallest quantity of raw material inventories possible in a given period.
It enables the company to maintain inventory and holding costs with maximum lead time.
It assists the company in avoiding any order cancellations that may occur due to market stock shortages. It saved my clients multiple times during shortage seasons. 
It assists the entity in keeping obligations least to suppliers.
It helps the organization maintain a healthy liquidity ratio and enjoy the maximum lead time.
It also frees up funds that would otherwise be spent on inventory, allowing the company to invest in other areas and improve its liquidity.
How to Figure Out Minimum Stock Levels?
Step1:Determine Production Times
How much time do you need to complete a normal and a large order? Calculate how much average lead time you'll need to accept significant types of specific demands.
Consider how long it takes to receive supplies from your vendors and how long it takes to produce one widget. You'll have to know how much stock you need to fulfill the rush reordering level. I keep a 5% to 10% margin in case of high demand. It was a saving turn for me!
Determine whether extra personnel requires a significant reordering level and how quickly production can be ramped up. It is also easier to get a maximum reorder period and stay out of danger levels.
Step2:Calculate Order-Fulfillment Times
More than how long it takes you to create your widgets plays a role in maintaining your optimal inventory minimum level.
To create your product, you also have to look for order processing, average or maximum rate, standard reorder period, production requirements, warehouse preparation, emergency purchases, shipping, delivery, and time.
Step3: Estimate Customer's Maximum Demand/ Maximum reorder period
Determine when your busiest periods are. They could show up at inconvenient periods of the year. Keep track of when your smaller orders often occur.
Speaking with your clients is essential for forecasting customer demand, and they will cooperate with you on future purchase order estimates. This data is helpful for minimum stock level management. After completing the analysis, I also try to check the market trend of my product.
Step4: Create Formulas
You can construct a minimum stock level formula for estimating minimum lead time. It will be easier for you to deal with your customers and fulfill their orders.
For example, you might calculate that it takes 13 days from the moment you get an order for 1,000 widgets to deliver to the consumer. If you don't maintain enough inventory for orders beyond a specific amount, add the time it takes to buy and receive supplies for larger orders. You can manage your reorder level this way.
Step5: Make Use of Partial Inventory Pieces
If one item of your widget is very costly, you may want to put it on last and finish the widgets as near to the shipping time as possible. You can't accomplish this if the piece needs to be added at the start of the production process. If it's something you can attach at any time, you can wait to get these expensive items and avoid using your cash or interest on them until you need them. In my warehouses, I also allocate extra spaces for storage. 
Looking to find a reliable Chinese supplier?
As the best China sourcing agent, we help you find factories, get competitive prices, follow up production, ensure quality and deliver products to the door.
Key points to Set Minimum Stock
1. Nature of Material: The minimum stock level is maintained if many production centers require the materials. If the resources are unique and come from a single source, there is no need to set a minimum stock level. You should keep this in mind if you deal in high-end products like me. 
2. Average Lead Time: The average lead time is the time it takes for an order to be fulfilled from the moment it is placed to delivery. If the maximum lead time is shorter, the minimum inventory level is lower, and the reorder level remains constant.
3. Average Rate of Consumption of Materials: You can calculate the average rate or average stock level by calculating the maximum level of the stock consumption rate. You can also calculate the maximum consumption levels of stock and normal consumption rates. This usually reflects in my customer's behaviors. I checked if any event was coming that raised the consumption. 
How to set up a minimum stock rule?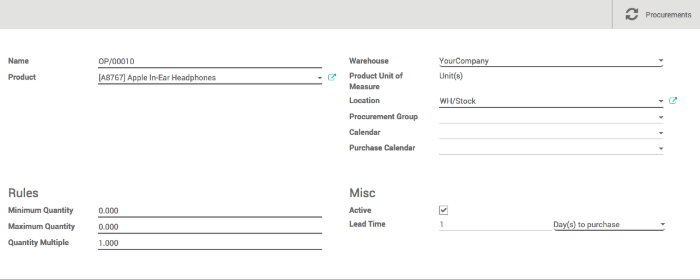 Set aside a minimum stock level to avoid selling more than your maximum stock level, which you can't even deliver. That's useful when inventory counts are incorrect or your eCom store is linked to inventory software. You may see if your floor model has sold out online.
Customers will not purchase products that bring the stock level below the average or danger level when a minimum level is added. It will be tinted red to alert back-office users when it reaches the minimum stock level. My store manager changes the setting that does not show signs of low stock levels. 
Setting the minimum and maximum quantity for new products as the default.
The minimum level for new goods is set to zero by default. To alter it, follow these steps:
Click Settings after logging into your eCom Back Office.
In the Store Settings column, click Workflow.
In the INVENTORY section, enter a value in the field labeled Minimum level quantity for new items.
Click Save.
Add a minimum quantity to a product variant.
To do it manually:
Click Products in your eCom Back Office after logging in.
By clicking the product title, you can access the product's settings.
By clicking on the variant title in the INVENTORY & VARIANTS section, you can open the settings for that variant.
Add a number to the field labeled Minimum quantity in the INVENTORY section of the page.
Click Save.
Minimum Stock Level Example
The following minimum stock level formula can be used to calculate the minimum level of inventory:
Let's pretend we have the following data:
Normal consumption = 600 units per week ( In my experience, You should keep a little bit margin of an unexpected rise in consumption. ) 
Usual delivery time = 7 weeks.
Reorder level = 4,800 units
Calculate minimum stock level.
Solution 1
Use a formula to calculate the minimum level of inventory:
Minimum Stock Level = 4,800 – (600 x 7)
= 600 units
Looking for the Best China Sourcing Agent?
Leeline Sourcing helps you find factories, get competitive prices, follow up production, ensure quality and deliver products to the door.
FAQs about Minimum Stock Level
1. What is the formula for reorder level?
Multiply the day average demand by the average lead time in days for an inventory item to determine the reordering level. For example, a product has a normal consumption of 150 units for its black widget, and the average lead time for acquiring additional units is seven days. As a result, the reordering level is 150 units multiplied by seven days or 1050 units.
2. What are stock levels?
Stock level refers to the amount of inventory needed to maintain efficient and effective inventory control. It can also prevent you from reaching the danger level or day minimum level. Inventory control is required to keep goods inventories as low as feasible while also making them reorder levels.
3. Is A Safety Stock Necessary For All Companies?
In most circumstances, safety stockpiles are required for businesses. Usually, ones with slow-moving goods. However, it may not be necessary for fast-moving situations.
4. What is the difference between safety stock and minimum stock?
The minimum consumption is the lowest amount of each product that the warehouse must keep on hand to respond to minimum demand. Safety stock (also known as buffer stock) should be held on hand to avoid stockouts in the case of a sudden increase in demand.
What's Next
You have understood the importance of maintaining the minimum consumption stock level. Also, understanding the minimum level of inventory and its major types is essential for your e-commerce store and personal finance. To ensure that you never go through inventory-related issues in your business, you also need to know yours reorder level and maximum demand (i.e., annual demand).
Setting a minimum stock level rule can reduce your work stress, and doing so will also manage your maximum stock level.
If you want a solution to similar problems in your e-commerce stock management, feel free to visit our service page, where you will find your solution.
We are sorry that this post was not useful for you!
Let us improve this post!
Tell us how we can improve this post?