An RFI is the first step in the procurement process to ensure a fair and high-quality business transaction with other businesses. So, companies submit a Request for Information to potential suppliers when they need a reliable partner.
But what exactly is a Request for Information, and why is it important?
As an experienced sourcing expert, we have sent hundreds of RFIs in our decade-long career. Thus, we know precisely how to write RFIs that guarantee responses from vendors.
This article will explain why and how you should prepare an RFI document for your projects. Continue reading!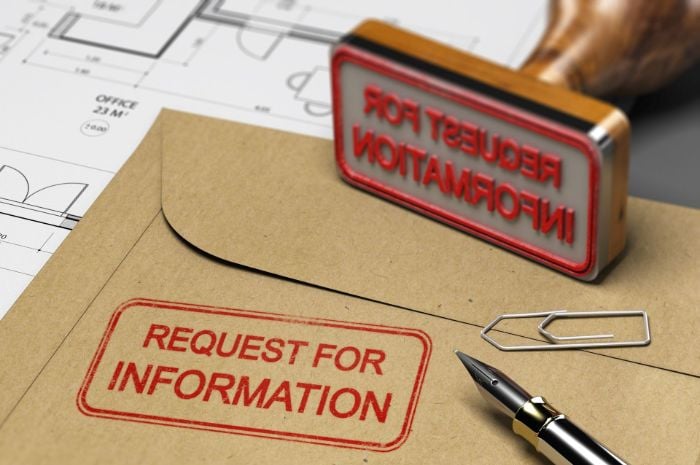 What is a request for information?
Request for information is also known as RFI. A company uses this document to request detailed written information from potential suppliers. An RFI is the first part of all procurement processes. It's primarily used to solicit information to decide what to do next for a specific project.
Getting relevant information from different potential providers allows a business to compare RFIs. Having more suppliers for comparison makes it easier to know which supplier is best suited for the project.
Why do professionals use requests for information?
Professionals use RFI to ask details and ask specific questions to a company about the products and services that they provide. It's often used in market research, and it's the first part of every procurement process.
Some information professionals ask for in an RFI are:
Experiences of the supplier for similar projects
Questions about the service offered by the supplying company
A timeline for when they can provide services to the project
The supplier's project management process
Professionals often use a regular RFI template. An RFI template is useful for recurring procurement projects. It makes it easier for procurement teams to find vendor profiles suitable for similar projects in the future. I keep my RFI template in google docs and just copy and paste it to send to every supplier. Just make a little change to fit the situation. 
How does an RFI work?

Here are the four steps of the RFI process:
Step 1: A buyer develops an RFI.
RFI is a written document that provides a standardized process of finding specific information. Here, the buyer asks suppliers concise questions or details in a clear format. An RFI allows the vendor to understand the buyer's needs easily.
Step 2: A vendor responds to the RFI.
Buyers usually allocate a deadline for vendors to answer the RFI. Buyers compare the gathered responses of RFI to each other. This step helps businesses decide which supplier and services best fit the project.
Step 3: The buyer reviews the vendor's responses.
After the deadline, the business reviews the RFI response sent by each vendor. The buyer looks for general information about each company and potential conflicts that may arise from working with them. This part is all about researching the background information of the vendors. I check this information from publicly available databases, like License numbers and registration data from Govt sites. 
Reviewing vendor responses helps the buyer decide which RFI response gets to proceed to the next step.
Step 4: The next step in the procurement process: RFP process
After choosing one vendor from the appropriate suppliers, the buyer moves on to RFP, the Request for Proposal.
Benefits of using request for information
A request for information can provide different benefits for a company.
When working with recurring procurement projects, buyers can always return to the potential vendors they have found by using RFI templates. Other benefits of using RFI are:
RFI shows suppliers that there is competition in your business.
Collecting RFI responses make suppliers realize that there's competition for your business. Crafting an RFI makes your project appear more desirable. It also gives suppliers the urgency to be responsive to be chosen for the proposal. It also increases the trust between supplier and buyer. As the buyer is asking for RFI, they are serious about conducting business, not just a random person asking for quotes. 
You get a detailed overview of each supplier.
RFIs allows buyers to communicate directly with suppliers. Compared to their information available for public display on the internet, vendors' responses to your RFI document will be much more credible. This ensures that you will get the service that the vendors themselves promised that they could provide.
Looking for the Best China Sourcing Agent?
Leeline Sourcing helps you find factories, get competitive prices, follow up production, ensure quality and deliver products to the door.
How to write a request for information(RFI)?
There are many project RFI templates available online. But, we'll provide you with a simple yet effective Request for Information template to start the procurement process for your project. Here are what you should include in your RFI:
1. Overview
You should provide the context of your business in the RFI document. Writing in such a way will encourage vendors to aim to be your potential partner actively. It will also let them know whether they can provide available solutions to your current needs or not.
Remember, in business, companies build relationships to generate profit. Vendors need to realize that your proposal in the next step can benefit them just like it can benefit you. Provide your credentials to each potential vendor and increase your chances of getting responses.
2. Qualifications
In this part of the Request for Information form, provide vendors with the specific details of the services you're looking for. Provide clear communication about the products, services, and delivery methods you want to achieve. The response in this part will become the main factor in your decision-making. So, pay great attention to this part of the information template document.
If you do this part well, you'll have a detailed comparison of every response you receive.
3. Requested information
In this part of the request for information template, collect information about the supplier's credibility, capability, quality control, etc. Ask specific questions. The answers to these questions will further help you make your informed decisions as a buyer. Some people ask about their Business license number to double-check their records from Public databases. It also gives you their registration date, which means the older they are, the more trustworthy they will be. 
4. Response expectations
Write down your response expectations in your RFI template as well. Give suppliers ample time to respond, but don't forget to set a deadline. If you're going to use an evaluation criteria, state it in this part, so the suppliers will know what you're looking for.
You may also add a confidentiality clause here as part of the included attachments.
7 Tips for submitting a Request for Information

Thoroughly study your project
The first step in submitting an RFI is to understand your project first. Know every detail of your project and fill in gaps in your information. You won't be able to properly state your needs to suppliers if you don't know what they are.
Also, having a solid description of your project will guarantee vendors that working with you will be worth it.
2. Formulate crucial questions
Ask questions relevant to your project in your RFI document. Here are some pointers to keep in mind when formulating questions:
Before you ask your question, provide context about what part of the project the question is related to. Don't add bluff lines and unnecessary words in your template. Be precise and careful while using words.
Provide supporting documents.
If you need images to make your questions clearer, don't hesitate to include the attached documents in your RFI.
3. Follow the proper format
Some suppliers provide their Request for Information template that they expect potential clients to use. Before sending a generic RFI, ensure that the companies don't have their expected format first. Or else, your RFI could be ignored by strict suppliers.
4. Review your RFI document
Critically review the whole RFI template and ensure that you include everything you want to know. Ask necessary questions but likewise, make sure you don't ask questions that you can answer yourself. Check the structure, grammar, and clarity of your document.
Doing this will present you as a dependable and professional business.
5. Send your query
After making sure that your document includes and asks for all information necessary, send your RFI. Some suppliers set specific intervals for ongoing queries that they want you to use when sending your query. So, make sure that you respect their requested interval. Don't send a query every time you have a question. Compile questions into one query and send them at their appropriate timing.
6. Manage ongoing RFI queries
Have a plan for managing your RFI queries. Some suppliers will reply immediately, and some won't reply at all. Vendors could also ask follow-up questions. Make sure that you have a plan for all possible scenarios so that the RFI process of your project will go smoothly.
7. Respond to queries on time and with detail
When suppliers send back queries trying to clarify something, don't take too long to respond. If you do, suppliers could perceive your lateness as being unprofessional. Remember to always write in specifics and with great detail. Vagueness can result in miscommunication which can be detrimental to a project.
Looking to find a reliable Chinese supplier?
As the best China sourcing agent, we help you find factories, get competitive prices, follow up production, ensure quality and deliver products to the door.
RFI Example
Let's say Nike needs ODM designs from suppliers in China. So, they decided to send an RFI to various Chinese suppliers that they know.
Here is the information they need to include in their RFI.
Business Overview: In this example, Nike mentions that they need new shoe designs for their Year-End collection.
Qualifications: Nike states their exact needs from the suppliers. Let's say they need ten new shoe designs. They include this in the RFI document so the suppliers know what the company's expected service from them is.
Questions: In this example, the NIKE can ask suppliers questions like:
Do you currently have private label designs for shoes available?
How long is your lead time to the United States?
How many pairs of shoes can you produce in a day?
Expectations: In this example, Nike can attach the criteria for the shoe designs that they need. Or, they can also attach criteria for the supplier that they're searching for.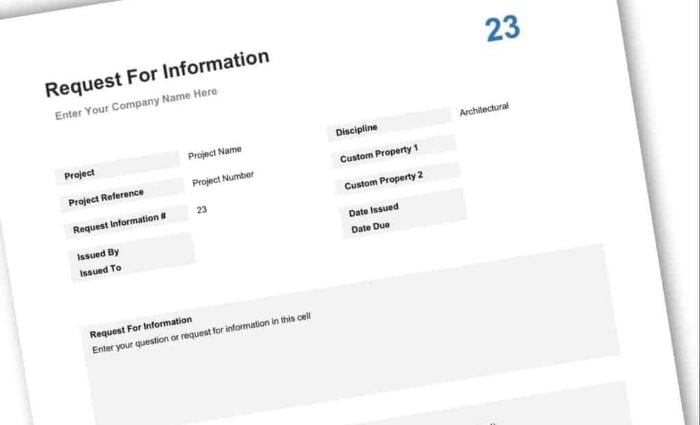 FAQs about a request for information
Who Should Use the RFI Template?
Every business that wants a fair transaction with a supplier should use an RFI template. There are more templates on the internet than you can count, so choose one that suits you. 
What information to include in an RFI?
An RFI includes the overview of your business, the services you're looking for, and your questions for each supplier. These three are the most important information you should never forget in your RFI documents.
When to Use an RFI Template?
Use Request for Information templates when sending any RFI document to suppliers. Whether for a one-time procurement project or a recurring procurement project, you'll never go wrong in using an RFI template. 
Do all vendors respond to RFI?
Not all vendors will reply to an RFI. It is important to write detailed RFIs to increase the chances of suppliers responding to you. 
What's Next
You need to carefully plan and craft your RFI document to have your best chance of finding reliable suppliers. As with every step in any business project, an RFI shouldn't be rushed. Ensure that your RFI is detailed, straight to the point, and concise. Don't be vague so that suppliers will be encouraged to pursue working with you.
If you're having trouble finding potential suppliers to send RFIs to, we can help. Leelinesourcing is in contact with hundreds of wholesale suppliers, so contact us, and we'll assist you.
We are sorry that this post was not useful for you!
Let us improve this post!
Tell us how we can improve this post?