Welcome to our Salehoo review for 2022!
Are you debating on whether or not to use Salehoo? Tired of reading mixed online reviews from biased sources? Then you are at the right place.
For the past decade, our team here at Leeline Sourcing has worked with multiple suppliers in different platforms and regions. Based on our experience, we'll give you an expert review to help you make the right decisions.
This article discusses Salehoo and how you can use it to make money. We'll also shed light on how you can use it to find expert wholesalers and dropshipping suppliers.
So, is it worth the hype? Let's find out together!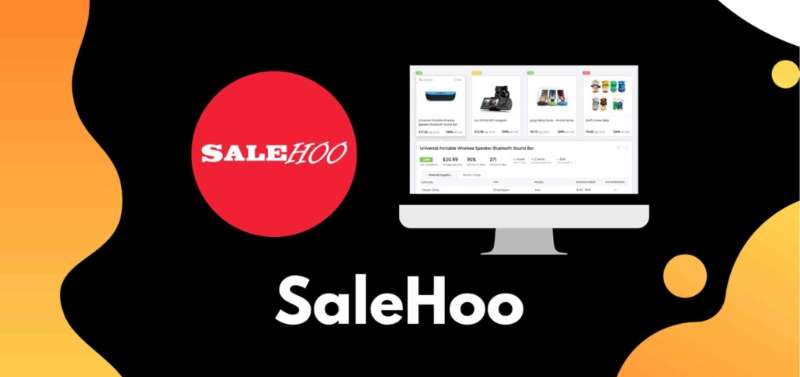 Quick overview-What is Salehoo?
Salehoo was established in 2005 in Christchurch, Newzealand. Today, it's a leading drop shipping and wholesale directory in the digital marketplace.
Salehoo group limited has over 8000 verified manufacturers, wholesalers, liquidators, and drop shippers. The company's primary goal is to help online sellers run successful businesses. They have over 1.6 million products on their own website, ready for sale to over 100,000 registered members.
Salehoo isn't any other directory company. Instead, they take on all the heavy tasks. Includes finding suitable suppliers and products on behalf of their members. Customers only log into the platform to find a supplier who meets their requirements. Then reach out to them with a quote.
Salehoo saves them time, money, and energy for beginners in dropshipping.
How to use Salehoo?
The Salehoo team gives members insight into finding trustworthy suppliers. They can also educate members on products with high selling potential. Once you get the right product, you can set up a call to discuss the supply chain process with the supplier. All the supplier details are available on the Salehoo website. For example, their contact information, shipping rates & dates, and minimum order numbers.
I ask them for a sample. Then test samples on certain standards and parameters before starting sourcing.
Let's say you are looking for the best "security cameras." Log into the Salehoo platform and type Security Cameras on Salehoo's directory. Then, you'll get a list of reliable suppliers offering security cameras.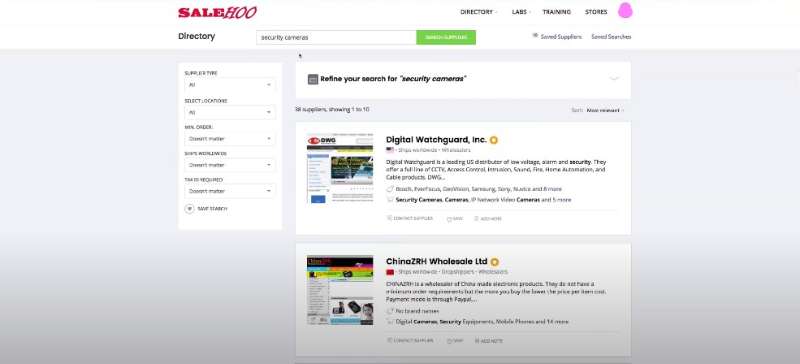 You can use the advanced filter option to narrow the results to your preference. For example, let's say you want security camera suppliers operating in North America. Salehoo will avail results according to your desires.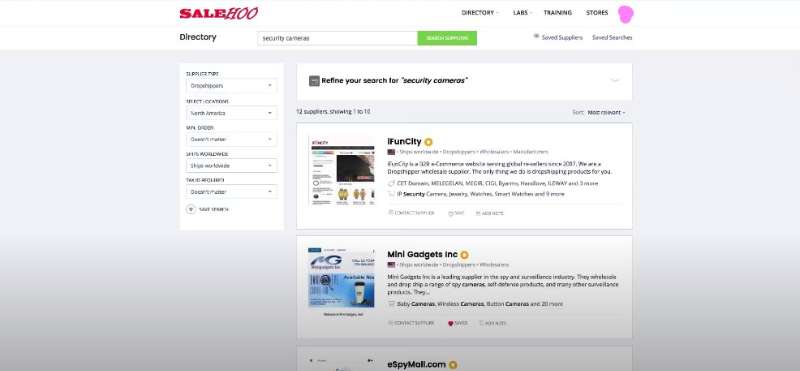 I use their filters to find out ideal suppliers in my local region. It helps me to keep my shipping costs low.
Let's say "iFuncity" meets all your requirements and you wish to contact them. The results show the number of years the business has been on Salehoo. You can also see their contact information.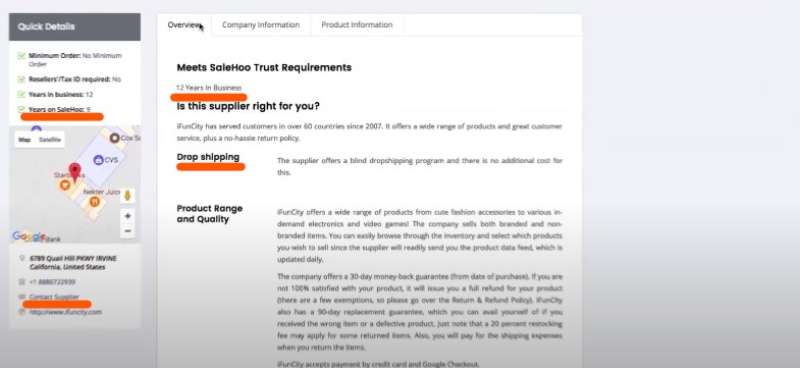 Click their contact information and send them a message. Once the supplier replies, you will get an email notification from Salehoo.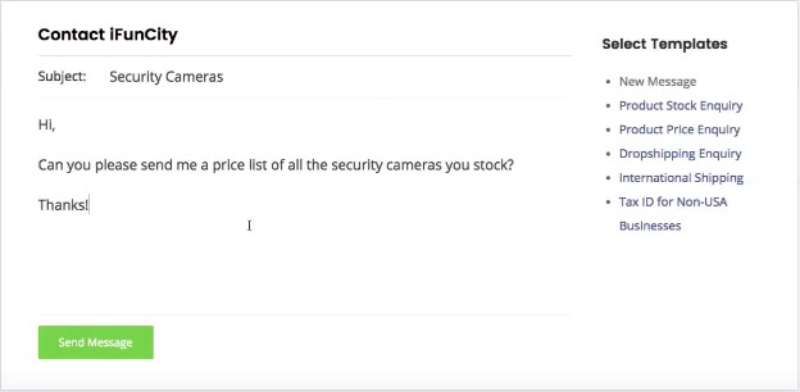 Looking for the Best China Sourcing Agent?
Leeline Sourcing helps you find factories, get competitive prices, follow up production, ensure quality and deliver products to the door.
Is SaleHoo worth the money?
Looking for a legitimate platform with wholesalers, manufacturers, and drop shippers? Then Salehoo is definitely worth your money. Here's why.
Team of experts– If you are unsure about which goods you want to sell, then Salehoo's team is always ready to help. They give you reliable insights into potential products for your online store. Finding credible wholesale suppliers can be a difficult task. But the professionals at Salehoo will do all the work for you – for $67. You can sign up for the SaleHoo Membership, which has even more benefits. 
60-day money-back guarantee– For whatever reason you don't like their services, Salehoo will refund you. You'll only send them an email at [email protected] with your receipt number.
Saves time– Finding the right eCommerce or dropshipping product requires lengthy market research. The entire process can take weeks. Furthermore, there's no guarantee that the product you find may sell. But using Salehoo's directory, you can see the products' selling potential. Thus, if you pay an eCommerce expert $50/hour to source the best products, imagine how much you'll save.
Is Salehoo legit and safe?
Although some users rule out Salehoo as a scam, three reasons beg to differ. For instance;
Salehoo has a Business Bureau BBB Rating of "A."
Salehoo offers a 60-day money-back guarantee.
The company has been operating for over a decade and has helped more than 130,000 members.
There are also thousands of positive Salehoo reviews from their large customer base. Here are some of what their customers have to say about them;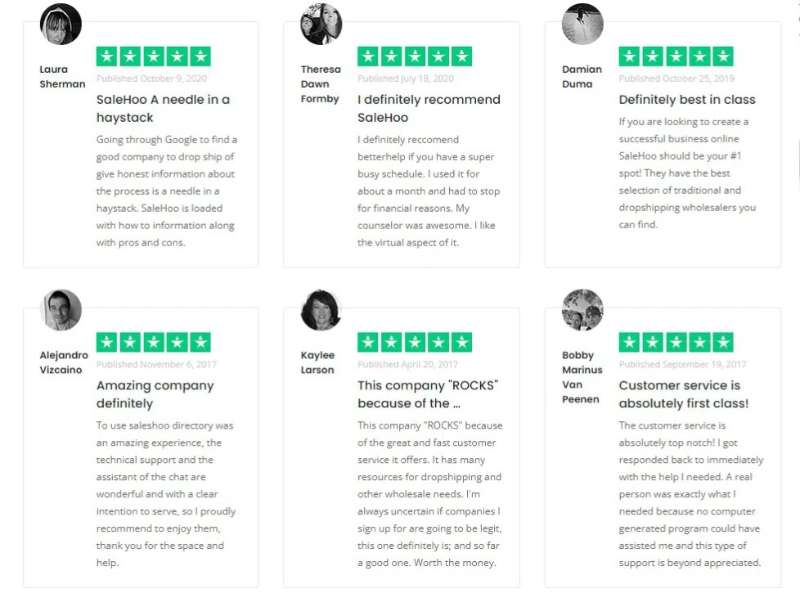 From all these 5-star Salehoo reviews, we can tell that they are a legit business.
I don't find any objectionable thing in the Saleehoo business model. Yet you may get some scam suppliers their refund option help you.
Salehoo review-Pricing plan
The Salehoo pricing is quite affordable. The Salehoo directory has two pricing options. That is the one-year access at $67 and the lifetime access at $127.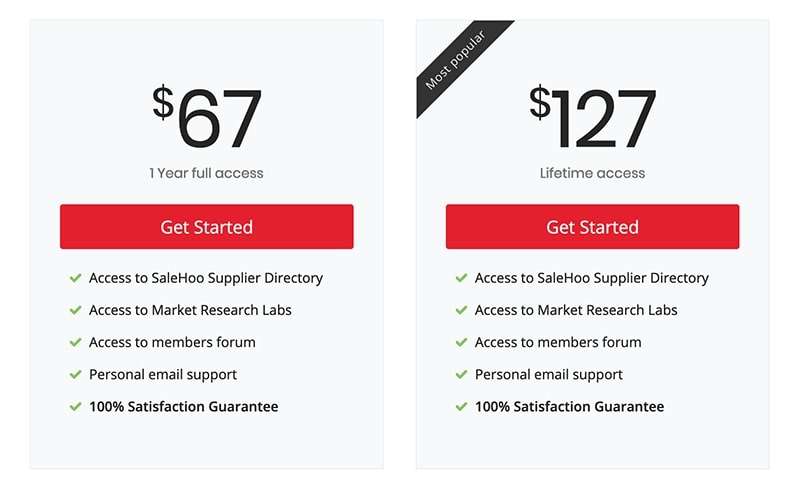 The Salehoo drop ship package is ideal if you want to find hot products for your drop shipping business. Here, Salehoo offers a basic plan at $27/month. Additionally, you can sign up for the premium plan at $97/month.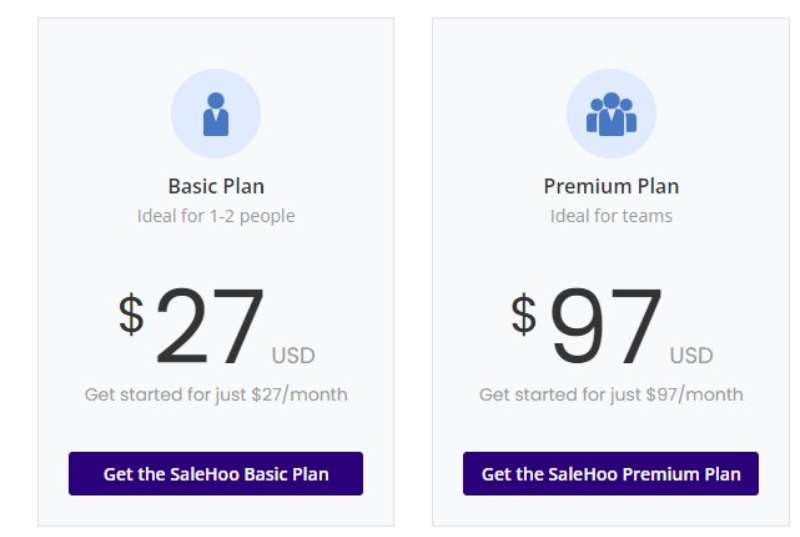 I prefer buying their lifetime access because it is cheap. LATER On, I buy their basic dropshipping plan.
Salehoo offers education packages at $47 for each course. Courses include Dropship on Shopify, and Amazon product launch, among many others.
Salehoo review-Main features

Salehoo gives its members access to over 1000 pre-vetted dropship suppliers. As an online store owner, Salehoo understands how hard it is for you to find clients. By listing only reliable suppliers, you never have to worry about fraudulent suppliers.
Salehoo lists the drop shippers' information such as;
Customer service reviews
Contact information
Shipping rates, and if they offer free shipping to customers
Quality of goods
Salehoo offers access to a wide range of products from their reliable suppliers. Salehoo drop ship category includes Health & Beauty, Sporting goods, clothes, jewelry, etc.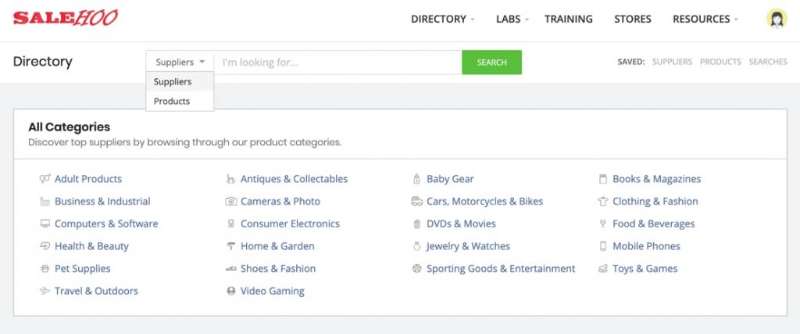 I check their supplier directly often to find reliable suppliers. Then I check their services and reviews before going forward.
Salehoo can also help your drop shipping company to penetrate the foreign market. They do list expert suppliers you can work with in foreign countries. Trying out foreign dropshipping is a great way to tap into foreign markets. You can also get products even if your country doesn't have enough suppliers.
There are more than 8,000 verified wholesale suppliers on the Salehoo platform. All the required information about these suppliers is available on the Salehoo website.
A variety of wholesale suppliers use the platform to sell branded products. These products have very affordable wholesale rates. Doing so allows eCommerce entrepreneurs to receive high-profit margins after reselling them.
Whether you are a retailer or an online business, you should be more precise in sourcing products. This is because the goods are shipped to your location. Use the search filter to tweak results to find wholesalers shipping to your country.
Additionally, this option shows the least order values you can make. As a result, it saves you the time of googling for the same.
Finding low-cost suppliers offering the best products is beneficial to your online business. But that is half the work done. You also have to ensure that the products you source will sell.
The lab also tells you whether your selected products will make you money. Either on Amazon, eBay, or other eCommerce platforms. The market research lab shows the product's competition stats and sales trends.
It helped me in initial market research and finding profitable market trends. You do the same for profitable products.
You'll get real-time data analysis that shows the supply and demand of any given product in the market. Besides, Salehoo's lab gives you easy-to-understand competition ratings of the products. From the findings, you can judge whether shipping the products is a risk you are willing to take.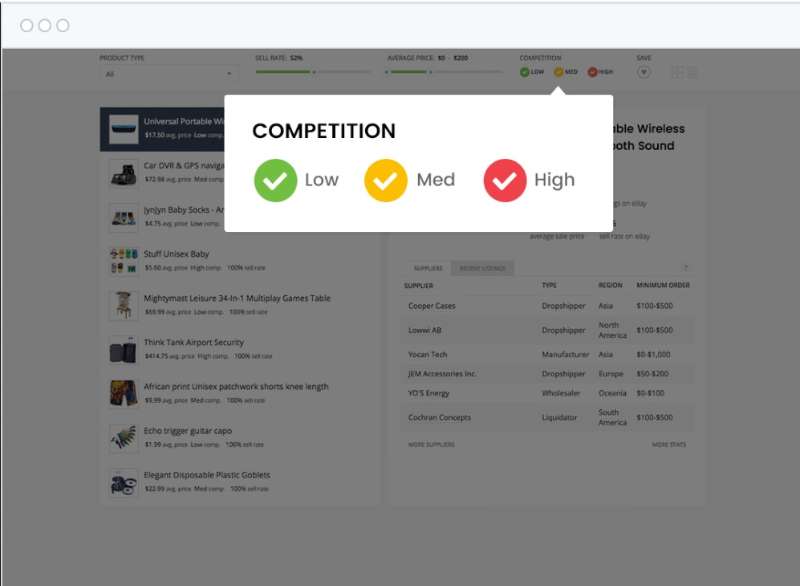 The Salehoo market research lab gives an understanding of the sale averages of a product. For instance, let's say you are searching for trending headphones in the market. Salehoo gives you an average sale price for all headphones on their platform. This price isn't influenced by high-price from big brands. Thus, you can estimate your potential profit margin.
Salehoo's lab gives you a comparison of product ideas. This feature is helpful, especially when unsure about the products you want to sell. For example, you can save exciting products and compare them according to;
Price
Competition
Demand.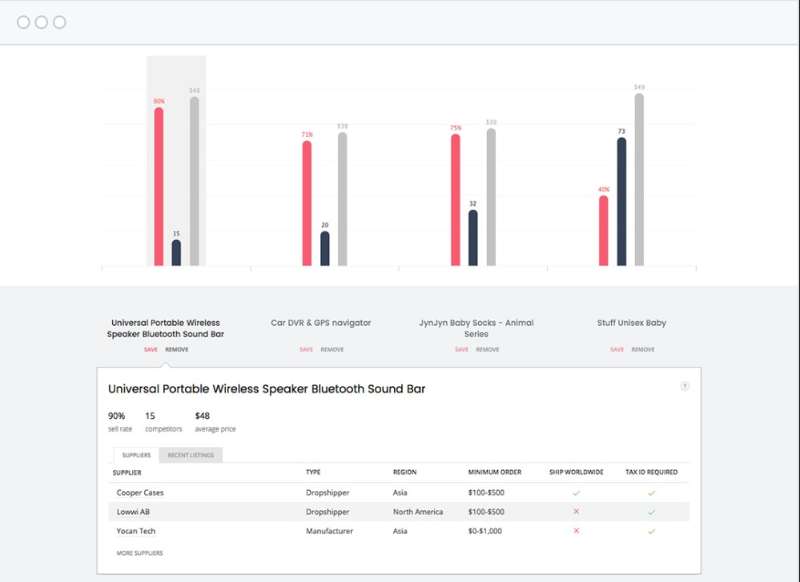 Community
Salehoo has an active forum where vendors share tips on scaling their businesses. If you are new to dropshipping, you can seek advice from experienced drop shippers on the forum. There are also guides and articles posted on the forum.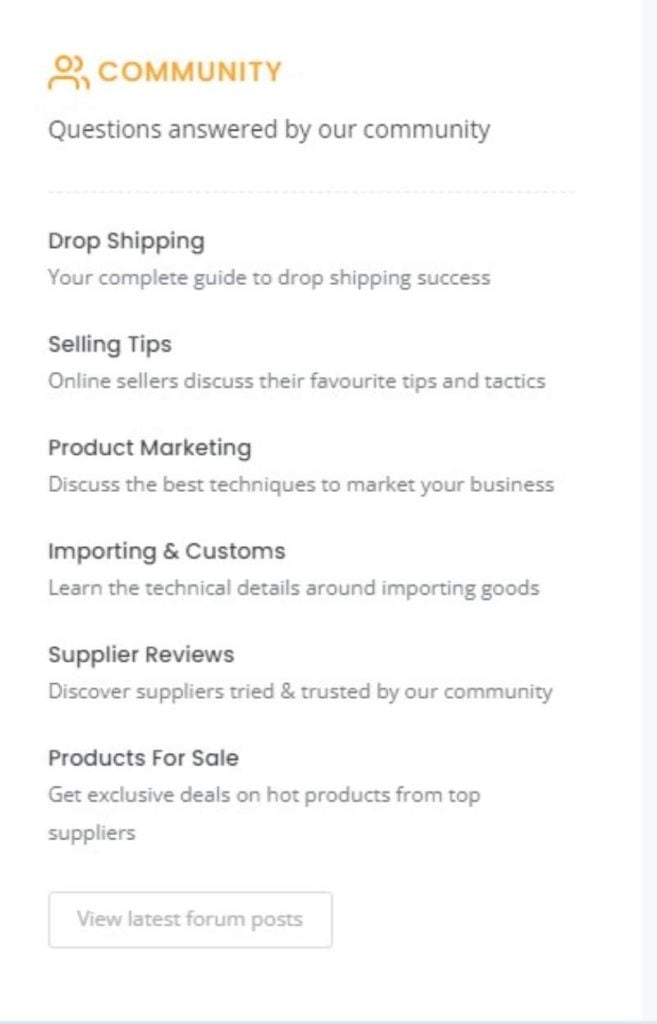 Free guides
You should check out the "free guides" segment if you are beginning in eCommerce. The guides cover topics such as What to sell, Importing & Shipping, among others.
I initially check their Free learning materials and it's a goldmine for beginners. Yet if you find it not enough then you buy courses.
You can also navigate the Salehoo website and read some of the success stories from members. This will help you in creating a blueprint to follow for the success of your drop shipping company.
Salehoo's dashboard has a great UI design and is very easy to comprehend. Every aspect of the UI gives a pleasant user experience.
The dashboard provides all the essential data that an online retailer or store needs. This includes the sellers, product ideas, learning & training. The dashboard also has a section for my suppliers. These are the suppliers you've worked with and intend to work with in the future. Saving all your suppliers reduces the time of having to dig out their details afresh.
The dashboard is where all conversations with your suppliers take place. Salehoo gives a notification once a supplier responds to your inquiries.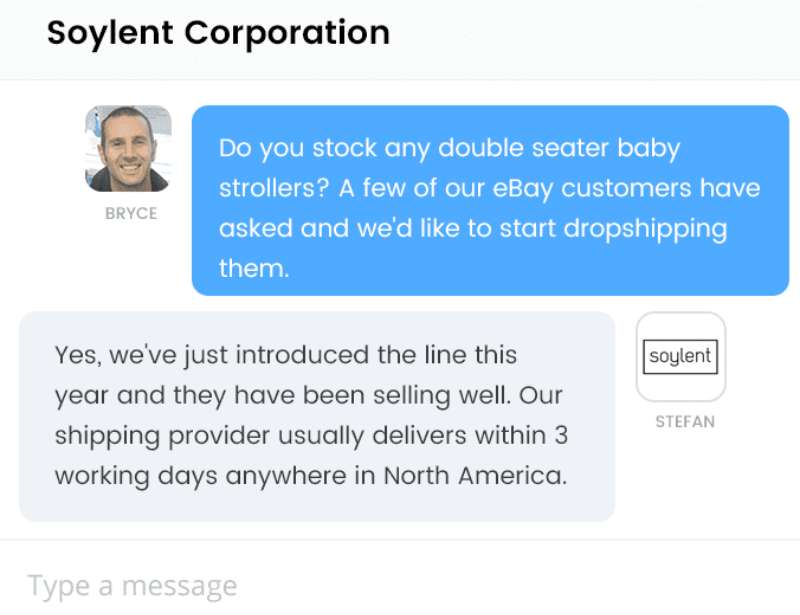 There is also a dashboard forum where you can interact with fellow vendors. The platform is very active, and you can learn a thing or two on how to scale your dropshipping business.
There's also learning & training option on the dashboard. Once you pick a course, you can track your progress through the training icon. Also, you can navigate course modules through the dashboard.
Looking to find a reliable Chinese supplier?
As the best China sourcing agent, we help you find factories, get competitive prices, follow up production, ensure quality and deliver products to the door.
Salehoo review-Customer support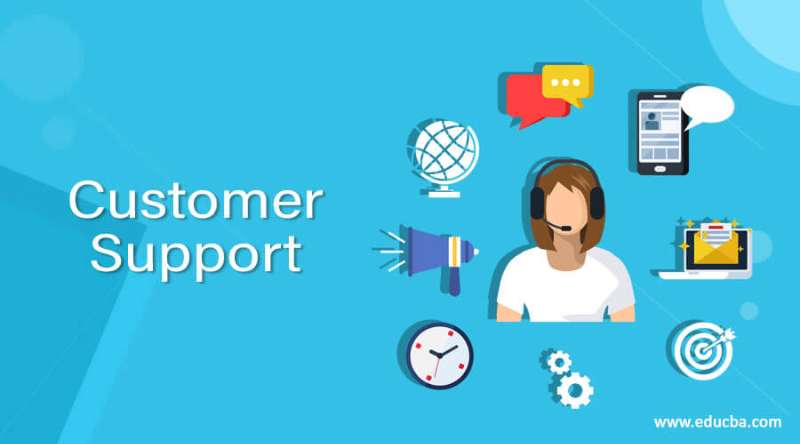 Customer support on Salehoo is quite impressive. They have an excellent customer service team that is ready to offer help to members. Customer service is there for you if you have issues signing up or complaints about a supplier.
Salehoo customer service support is available through live chat. Or, you can reach them via phone or email between 5:30 Pm and 1:30 am EST from Monday to Friday. They are also active on Twitter, Facebook, and Instagram.
Every time I face a problem they were very kind. Also, I find their community very supportive and helpful.
Salehoo provides members with detailed guides on selling products on Amazon and eBay. They've also posted over 60,000 articles on their website. Articles cover trends, sale strategies, and tips on launching & growing an eCommerce business.
One improvement that Salehoo customer support should make is to help members source products that aren't listed. Worldwide brands is proactive in providing the same service.
Who is Salehoo suitable for?
Salehoo is a perfect option for someone who wants to start a dropshipping company. Dropshippers can integrate Salehoo into their Shopify store. They will get real-time insights for scaling their business. From the earnings, they can launch an operational e-commerce business.
Beginners enjoy using the Salehoo platform since they operate on small minimum orders. They also deal with only a handful of drop shippers, thus reducing overhead costs. For eCommerce entrepreneurs spending thousands on products, Salehoo can be an excellent platform. They can use product research tools and a wide range of resources.
Training offered to beginners helps them in becoming eCommerce gurus in a short time.
If you want to join Salehoo and create a successful online store, you are at the right place.
Can you make money by using SaleHoo?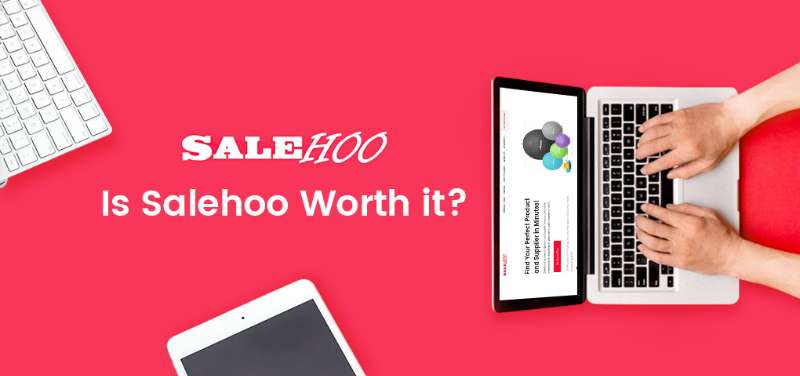 Yes! You can make money with Salehoo in several ways. In fact, I have made more money by using their suppliers in North America. It is better to say that I saved money on shipping costs with their suppliers.
First, you can use the Salehoo directory to find and buy products for your eCommerce business. All you have to do is search for the product you want to sell. Use the advanced filter option to tweak results to match your preferences. You can either decide to work with drop shippers or wholesalers. After finding the right supplier, contact them through Salehoo's platform. You'll get an email notification once they reply to your message. From there, you can discuss how you will get the products to your store.
The second way to make money from Salehoo is through the dropshipping platform. You can integrate Salehoo into your Shopify store. Find trending products from AliExpress. Then import them to your store and start selling.
Salehoo offers affiliate marketing programs that allow you to make some extra cash. Also, you can sign up for the affiliate program and earn up to $500/year on every sale.
Pros and Cons of Salehoo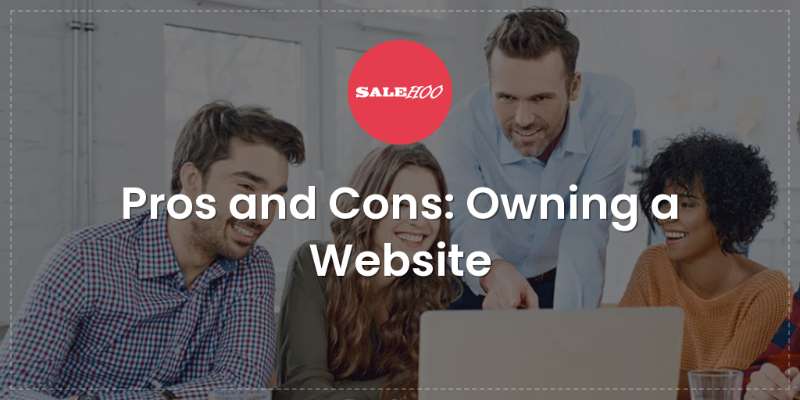 Pros
60-day money-back guarantee– You have a guarantee that you will get back your money if you don't like the services Salehoo offer.
Training: Starting your own online business isn't an easy task. You are likely to fall victim to the hands of scam drop shippers and unreliable suppliers. Salehoo guides are beneficial as they show you how to avoid scams.
Excellent customer service- It's tough to find a negative Salehoo review. Their customer service team is always prompt in addressing customer issues.
Market research lab- Salehoo's research tools offer members reliable insights. That's from competition analysis, consumer patterns, and seasonal goods. All these ensure that you make the right decision for your drop shipping business.
Cons
Limited products offered– Salehoo only offers 1.6 million products in their directory. This is low compared to 16 million products listed by worldwide brands.
Salehoo Marketplace Fees- You buy goods from drop shippers and sell them to customers. Doing so reduces your profit margins since third-party sales fees apply.
SaleHoo Competitors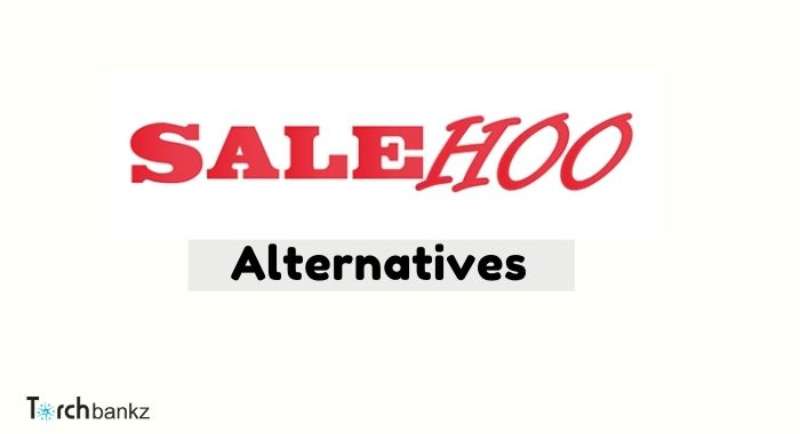 1. Worldwide Brands
Worldwide Brands is an excellent Salehoo alternative. It's a great online directory with many products and legitimate suppliers. It's a great platform to find products if you intend to sell on Amazon, eBay, or your own eCommerce store. I found a good variety of products in their directory & they also have good prices.
Pros
Timely customer support- Worldwide brand's customer support team is professional and fast in responding to customer complaints or inquiries.
Cons
High Pricing– Worldwide Brands' pricing is high compared to other online directories. Pricing starts at $299, which may not be suitable for new eCommerce owners.
Low–profit margins – Worldwide brand members have a very slim profit margin. This affects entrepreneurs relying on the commission due to high third-party marketplace fees.
2. AliDropship
AliDropship is an alternative to Salehoo's dropship feature. It's an excellent platform for individuals looking forward to launching drop shipping companies. You can use Alidropship to build your eCommerce website, buy a ready-made dropshipping business, and host your website.
Pros
Money-back guarantee– You are sure to get back your money if their services don't match your preferences. I recommend going with a good refund feature in Dropshipping. Sometimes your package gets lost in big volumes then it is very helpful.
Access free support– AliDropship offers you free support you might need as you grow your dropshipping business.
Cons
Limited themes– There are minimum themes to choose from in the AliDropship catalog. Also, you don't have the flexibility to tweak designs since all settings are locked.
3. Spocket
Spocket is also an online directory company that allows you to find the best product to sell. They have a wide range of dropship suppliers to choose from.
Pros
Zero upfront costs– There are no hidden charges from using Spocket. You sign up for free and look for a reliable dropshipping supplier. Spocket will not ask for any registration fees or credit card details.
Best deals for products– Spocket offers crazy discounts on their products. For instance, you can get up to 40% discounts on all your purchases.
Cons
You are not able to view your supplier's inventory
Limited dropshipping features– Spocket does not offer drop shipping features such as package customization and tax rate assessment.
4. eSources
eSources is a great place to find the best suppliers for your e-commerce business. Like Salehoo, eSources suppliers are also vetted. eSources boasts over 100,000 verified wholesalers and distributors. That's a supplier's goldmine for me. I really like their supplier verification process for safety.
Pros
100% verified sources– eSources guarantees all its members a safe trading experience. They check all products for quality assurance. Suppliers also go through a tight verification process.
Cons
Outdated UI– The eSources interface is old-fashioned and hard to navigate. This contributes to a bad user experience.
Salehoo review-Final words
If you want to start a dropshipping business, then Salehoo is a great platform. Salehoo has proven to be the best at what they do, showed by thousands of 5-star reviews. Salehoo helps you to maximize profits by availing of all necessary product research tools you might need.
Can SaleHoo work with Shopify? Yes! Salehoo has an app for that. The Salehoo Dropship allows you to dropship products from Aliexpress straight to your Shopify store.
Lastly, Salehoo pricing is quite affordable, especially if you are on a budget. Therefore, I recommend the lifetime package at $127. It gives you access to the Salehoo supplier directory for the rest of your existence.
FAQs about Salehoo Review
1. Where are SaleHoo suppliers from?
Salehoo has a worldwide range of reliable wholesale suppliers and dropshippers. Whether from North America, Asia, Europe, or Africa, you won't lack suppliers for your eCommerce business.
2. Does SaleHoo use AliExpress?
Yes. If you are a drop shipper, Salehoo gives you access to research tools that will help you find products on AliExpress. You can ship the products to your store. 
3. Is Salehoo better than Oberlo?
From user reviews, we can conclude that Salehoo is greater than Orbelo. However, they both offer similar services. The only significant difference is that Orberlo offers a dropshipping tool. On the contrary, Salehoo offers a dropshipping tool and a sales directory. 
4. How do I dropship from SaleHoo?
First, you'll have to connect your Shopify store to Salehoo via a button on Salehoo's dashboard. Next, select a product you wish to sell and add it to your Shopify store. 
What's Next
Salehoo is a great platform for dropshippers who want to build their business. If you are struggling with finding the right products that will sell, then Salehoo is a great option. Also, Salehoo assesses all its suppliers before listing them on the platform. Thus, you guarantee absolute value for your money.
Do you want to start a dropshipping company? Or launch a career in Amazon FBA? You can hit us up for professional advice on navigating the competitive marketplace.
We are sorry that this post was not useful for you!
Let us improve this post!
Tell us how we can improve this post?