So, you are planning to launch that product under your name. What can be the best method to get that product manufactured?
See, many new startups and large companies face the issue when trying to launch a new product. Unfortunately, many products don't see the light because of the high manufacturing costs. That does not mean that companies don't try to develop those products. They do get into action by adopting a cost-effective method. Contract manufacturing is the name of that method.
A decade of experience has made it possible for us to work with some of the best contract manufacturers. We know exactly what these contract manufacturers are and how to find them in China.
Don't get confused with this outsource manufacturing method. This guide is here to help you and will guide you through the process of what is contract manufacturing.
What Is Contract Manufacturing?
Contract manufacturing is when a company signs a deal with a manufacturing agency. That agency produces the products for that company for a certain period. The manufacturing company handles all manufacturing steps. The contract manufacturer will have to create a single part of the whole product. The hiring company owns the manufactured products. They can either sell them or use those products in their production line.
When You Should Use Contract Manufacturing
Contract manufacturers are is perfect for an organization if it matches these categories.
Finite resources
Contract manufacturing services are perfect for organizations with a limited budget and time. These companies focus on the other parts of the business. Many of my clients are able to improve their business operations without exceeding their budget. They don't produce the full product from scratch because the manufacturing firm does that.
Limited workforce
Most companies do not have a workforce that can kickstart the manufacturing process. That is where the contract manufacturers come in. He/she will take responsibility for producing the products with the help of the labor force. As a result, the owners can focus on the marketing side of the item.
Varying demand
Companies cannot judge the sales of a product. Sometimes it will be higher and sometimes below average. That makes it hard to produce the right amount of items. Contract manufacturing companies are experts in this domain. And that can help you meet the demand.
How to Choose the Right Contract Manufacturer?
Choosing suitable contract manufacturers plays a vital role in the outsourcing business. That is because it defines the foundation of your business. So, look through specific elements when selecting. Then, you will be able to see whether the contract manufacturer is suitable for your company or not. Here are a few aspects that a hiring firm needs to consider when selecting.
The first thing that you need to consider is ISO certification. ISO certification is a third-party certification. It certifies that a company is following the rules of production/manufacturing. If you discover you're transacting with a manufacturer without ISO certification, run immediately. Trust me. You're just putting your company at risk if you say yes.
Proper Facility management
Take a look at the facility management of the contract manufacturing firm. It should have a clean production facility. Plus, it should be handling the production processes efficiently.
Quality control/assurance is an essential part of the contract manufacturing company. When going through the selection process, consider QA/QC point and see how well the company is doing it.
Looking to find a reliable Chinese supplier?
As the best China sourcing agent, we help you find factories, get competitive prices, follow up production, ensure quality and deliver products to the door.
How Does Contract Manufacturing Work?
A contract manufacturing company is the one that different organizations hire. With these, the organizations can focus on cost savings. At the same time, contract manufacturing firms can keep the manufacturing process up and running. Sometimes companies work with a single contract manufacturing firm. And sometimes, more than one contract manufacturing business occasionally works side by side to create the product.
So, the question is, how does the contract manufacturing industry work? Most of the time, contract manufacturing works by following this business model.
Step 1: Design Phase
There are two things related to the design phase. Either the hiring company sends the design to contract manufacturers. Or the manufacturing firm designs the product from scratch and tries to meet your demands. The firm consists of engineers, researchers, and a sales/marketing team. They work side by side to define your product's scope, usage, and related details.
Step 2: Production Phase
In the production process of a manufacturing facility, A team of technical experts manufactures the product according to the design. The teams cut, form, and assemble the product according to the design specifications.
Step 3: QA/QC checking phase
A good contract manufacturing company has many quality checking certifications. You will get the idea about that in the hiring process. These companies will check the quality control according to ISO/CE standards. Thankfully, all of our suppliers are 100% dedicated when it comes to meeting these standards. Ensuring that we only provide the best quality products to your doorstep.
Step 4: Packaging and delivering phase
The last step of contract manufacturing is packing and labeling. For instance, private label manufacturing requires FKNSU codes, GS1 codes, and handling labels. Then, the firm will arrange those labels and will pack the products. After that, they will deliver the products to the final destination.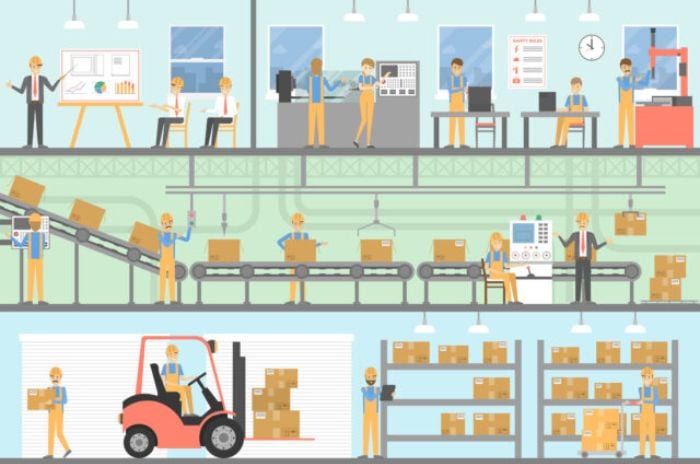 Types of Contract Manufacturing
Different manufacturing companies offer contract manufacturing services according to your product only. And, you can only hire the best-suited ones after extensive research and mining. Here are the different types of contract manufacturing.
1. Complete assembly
In the first type, the firm creates a finished product. For instance, there are companies in China that make electric bikes. They make the bike frame and install the chassis. Then they attach electric motors and assemble the battery pack. In the end, you get an assembled bike and all the related parts.
2. Producing chunks of the final product
There are contract manufacturing companies that make sub-parts of the final product. Companies hire different production companies who will make different parts. And after production, the original equipment manufacturer assembles these parts in-house. For example, many automobile companies have hired manufacturers who make different car parts. After getting the parts from each supplier, the company assembles them into a car.
3. Leasing equipment/facility
Suppose you cannot afford to create a new facility for that product. You can go with leasing the facility or equipment of the contract manufacturer. Here, you will handle the production all by yourself.
4. Leasing the labor force
Another type of contract manufacturing is when the company cannot afford labor. That is where Labor force contract manufacturing comes in. These firms provide technicians, engineers, and designers to get the process done. Leasing the labor force is usually done when the contract is project-based.
Advantages and Disadvantages of Contract Manufacturing
With contract manufacturing, businesses can expect a lot of growth. They can focus on the company's core capabilities without worrying about manufacturing. Well, that is not the only advantage of contract manufacture. Here are some more benefits of this model.
Advantages
1. Cost savings
Production of an item requires research costs, labor fees, and other important expenses that you cannot overlook. Many of my clients who have just started their first company cannot afford to put that much capital into a new business. So, that is where contract manufacturing comes into play and saves you the product costs.
2. Improved quality checking
Since the firm is handling the product process, they are bound to check the quality of the product. Hence, that leads to extra quality control checking.
3. Production on demand
Another advantage of contract manufacturing is that these firms can meet the demand. Contract manufacturers are pros of handling the demand. They can produce the product according to the market need.
We all know that there are two sides to a coin. The same is the case with contract manufacturing. Here are some of the downsides to this business model.
Disadvantages
1. Increased leading times
Sometimes, the firm can cause you a problem of delayed production. That can affect your business if you are an Amazon FBA business.
2. Cultural Norms
Sometimes, suppliers will not understand your product due to language barriers. That leads to a product that you were not expecting.
Risks of Contract Manufacturing
Yes, this model has its benefits and downsides, but we have to look at the risks. Your manufacturer handles production, and you are giving him direct control of your business. If your manufacturer backs off, you cannot do anything about that. This scenario is an absolute nightmare for business owners like us. This is why it's important not to choose a manufacturer that you cannot trust.
Why?
The best way to save your intellectual property is to get into a solid contract. That will prevent the manufacturer from leaving you and selling your product design to other companies. The costs and time related to this process will be worth it in the longer run.
Looking for the Best China Sourcing Agent?
Leeline Sourcing helps you find factories, get competitive prices, follow up production, ensure quality and deliver products to the door.
Examples of contract manufacturing
Many companies are adopting manufacturing contracts because it provides a lot of benefits. For instance, Foxconn is one of the technology companies that makes electronic boards. The company deals with companies such as Apple, Microsoft, and Dell. It provides them with solutions related to the electronics industry. These companies don't have to invest in technology because Foxconn is making electronics.
CATL China is another company that provides contract manufacturing services. The company works in the energy storage solutions industry. It is currently making battery packs for Tesla and other big giants.
FAQs about Contract Manufacturing
1. What to Look for in a Contract Manufacturer?
• Their production facility
• Efficiency of production 
• Quality control standards and related certifications 
• Experience of the firm in the industry 
2. Is Your Contract Manufacturing Agreement Built to Last?
If your contract manufacturing agreements are long-lasting, they will answer these questions.
• Protection of assets 
• A discussion about any pricing
• Who will be the main point of contact between the two companies  
• Will the quality remains consistent through the production tenure 
3. What are the key elements of a manufacturing contract?
Key elements vary between types of contract manufacturing or product to product. But, here are some of the basic things that you need to consider:
• Relative NDA's and licenses
• Quality standard reports
• Supply chain processes
• Sale orders and insurance certificates
• Shipping terms 
What's Next
Contract manufacturing is the best method for getting your product manufactured. It saves you from additional costs, making it perfect for new startups. Getting a reliable contract manufacturer can become a daunting task because it requires a lot of research.
You can always go for a sourcing agency like Leeline Sourcing for contract manufacturers. Leeline Sourcing has years of experience in the Chinese industry, so contact us if you are looking to source products from China.
We are sorry that this post was not useful for you!
Let us improve this post!
Tell us how we can improve this post?