The growth of e-commerce is slowing. There could be a number of factors at play in this drop. One of the reasons for this is the unfamiliarity with the market and its trends. So, if you want to run a successful e-commerce business in 2022, what should your strategy be? In simple terms, Understanding the market and trends is all it takes.
The e-commerce market is dynamic. It is important to come up with a new plan to deal with the change. For the year 2022, we undertook a comprehensive study into the best practices for growing e-commerce businesses. Here are a few suggestions in this article to help you keep your business running smoothly.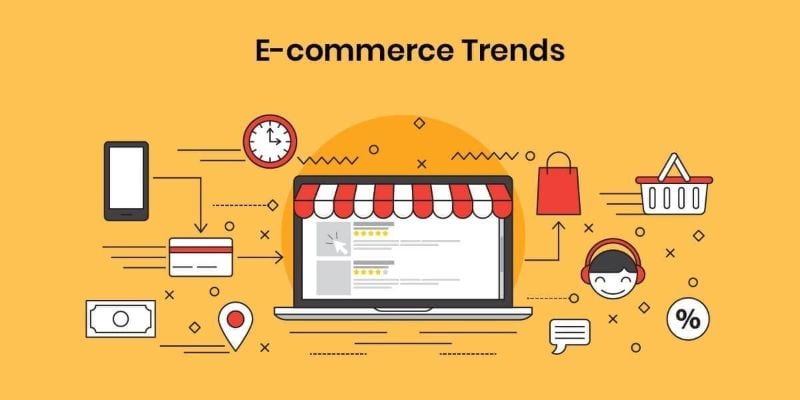 Here are 20 expert advice for running a successful e-commerce business in 2022
Ecommerce has come of age. 2022 is simply going to consolidate this position and it will continue to grow in all sectors. In order to make sure that eCommerce sites can take advantage of this growth, however, there are a number of critical success factors that you need to have in place. These are my top 3:
Mobile, mobile, mobile. Your site needs to be not just mobile-friendly but mobile super-friendly. About 60% (significantly more in some sectors such as fashion or luxury), of your traffic, is going to come from mobile and if your site is not designed for mobile you will miss a lot of opportunities. The rule should be "design for mobile-first", then make the desktop experience sync.
Make the checkout easy. Digital checkout processes need to be made as simple as possible so that brands can improve conversion rates next year. It doesn't matter whether a customer is browsing your website instead of your brick-and-mortar store; you can still provide them with a personalized level of service.
Use Social Commerce. Increasingly, social commerce is being used in retail. This allows retailers to use social media as a selling platform. By integrating the shopping interface into a social media page, a user can purchase the product advertised through the page more easily. By using Facebook and Instagram for social commerce, a customer can purchase an item with fewer steps. In addition to impacting the entire buyer journey, Facebook Shops and Instagram Shopping can help better convert visitors and users.
Nick Loggie | for adlibweb.com
Using machine learning technology to produce SEO-optimized text for advertising, emails, landing sites, social media posts, product listings, blog entries, and more is one of the hottest eCommerce trends in 2022. The ability to complement existing employees with AI-enabled technologies will allow retailers to significantly expand their capabilities without needing to raise expenditures in line with manpower. This might make it easier for more retailers to obtain a route to profitability and growth in an increasingly competitive market.
Hori Tran | for secomapp.com
Live shopping, which uses video live streaming and social media platforms, should be part of every e-commerce retailer's marketing strategy. This strategy exploded in Asia — because it works! It is a great opportunity to not only engage your customers but also educate them about your products helping reduce returns. Connect to the viewer by making your live shopping events fun and entertaining whether you choose to use influencers or your sales associates.
Isabel Isidro | Founder of PowerHomeBiz.com
Ecommerce 2022 is a great opportunity for prepared sellers to improve their performance.
Strategy
1 Provide personalized customization services on products
2 Use innovative ways to promote on social media
3 Introduce the company's advantageous products through live broadcast
Tony | for tonysourcing.com
The key to success in e-commerce is customer experience. E-commerce companies that focus on customer centricity report a 90% increase in revenue within a year. Therefore, you should personalise your customers' shopping experience. Using predictive analytics tools, you can provide personalised content and product recommendations to each customer based on their past purchase behaviour.
Sandra Hinshelwood | for businesspartnermagazine.com
Technology is evolving and so are the individuals who are using these technologies. The year 2022 will be a game-changer for the e-commerce industry. AI, Metaverse, AR, Voice Search Commands, Live streaming, and Chatbots are some of the trends anticipated to monopolize the entire e-commerce industry in the year 2022.
Manju Rai | for digiperform.com
To take advantage of the ecommerce boom, make sure your processes are scalable. Your order volume can explode overnight if you have a product go viral on social media or if a strategic partnership results in increased traffic to your website. And if you're still handling back office workflows (like accounting, inventory management, and shipping) manually, you'll be outpaced immediately. Leverage technology to assist with busywork so you can take your business from startup to enterprise—without overhauling your processes at every stage of growth.
Taylor Knauf | for webgility.com
Keep working on your digital storefronts. Treat your social media content as the windows to your store — what will compel passers-by to take a closer look.
Denise Langenegger | for instasize.com
Market Research. Ensure there's a market for your product. Ensure that your quality and price is competitive.
Branding. Make sure your branding and website are on point. Branding design and color scheme must be well thought out to ensure it stands out, but also speaks to your target market.
Website. Your e-commerce website must also be on point both from a visual perspective, to user experience, and functionality.
Marketing. Once you have done your market research, made sure your branding and website are absolutely on par with or above competitors', you are ready to hustle. This highly depends on your product and your target demographic, but you have social media, SEO, email marketing, advertising, influencer marketing, as well as old school marketing like passing flyers around placing stickers everywhere.
Nic Stana | for grandwaymarketing.com
Visual Commerce
Visual commerce is the next generation of E-commerce marketing. Augmented reality can be smartly used to deliver a charming and immersive shopping experience. From 360-degree images and product videos to visual shopping ads and repurposing user-generated videos, the possibilities are endless and I can't wait to see how this trend will reshape the E-commerce landscape.
Gaurav Sharma | CEO & Founder of Attrock.com
For an online business to be successful, there are 5 things you must do
1. The first is doing enough market research. Make sure you understand who your ideal customer is including their demographics and psychographics. Without enough market research, you are just hoping for the best. But with enough market research, you are making data driven decisions.
2. The second thing is niching enough to differentiate yourself from your competitors. e.g. creating an online store or blog in the dog niche is too competitive. Instead you could niche further into a specific dog breed like Bernese Mountain Dogs.
3. The third thing is choosing the right eCommerce platform. If you tech are not savvy, you could choose Shopify for its ease of use. If you are tech savvy, and want more control over your website, you could choose WooCommerce instead.
4. The fourth thing is building trust with your target audience. Simply asking people to buy your products or services is a poor marketing strategy. Instead try providing value first. Try to help your ideal customer with a free ebook, guide, report, checklist, cheatsheet, etc. e.g. 10 point checklist for keeping your Bernese Mountain Dog happy and healthy.
5. The fifth and final thing is to invest in paid ads. Run ads on a platform that your target audience actually uses. e.g. Facebook, Tik Tok, Youtube, etc.
Max Jacobs | for maxjacobs.com.au
In 2022 many brands and e-commerce businesses go global in order to increase their sales. When a business reaches its growth limits in the domestic environment it is natural to seek other markets. So, take this opportunity and expand. A recent E-Commerce Consumer Report revealed that 76% of online shoppers have made purchases on an e-commerce store outside their own countries. You can start by translating your shop in other languages or add your products in an e-commerce platform in another country.
Silvia Kabaivanova | for bgfashion.net
The e-commerce world has changed a lot over the last couple of years, especially during the pandemic. A lot of shops moved online or accelerated their digitalization making the competition to be higher than ever. Also, the return of advertising is smaller so eCommerce owners should be really dedicated and creative in keeping or improving their profits.
Exceeding customer expectations, having a flexible return policy, and offering multiple payment methods (like Buy Now, Pay Later) for your customers are mandatory in 2022.
But, today, I would like to tell you about using, intelligently, the data that you have to provide your customers with personalized experiences and transform them into your biggest fans.
Here are several ideas where you can use the data you collect about your customers to improve their experience with your shop and ultimately make your eCommerce becoming their first destination to purchase online:
Segment your customer base by location, gender, and favorite product categories and send personalized email newsletters, discount coupons and use different marketing strategies for different audiences;
Improve your CLV by sending personalized email newsletters with products similar or correlated with the ones they purchased already;
Uncover potential trends and products people look to purchase by analyzing what the shoppers are searching on your website;
Have the right optimal price that your customers are willing to pay. Analyze purchasing data so you can understand how the price affects purchasing amongst different customer segments;
Prioritize the products a customer may want to purchase based on their previous purchases and products they've checked;
Forecast demand by evaluating data from previous years, and plan inventory accordingly.
Create tailored content (blog posts, social media posts, videos) for different audiences.
I hope these ideas make you realize the potential of the data you have about your customers and you will use it to improve the experience of your customers.
Daniel Stanica | Founder of Digital Media Intelligence
Make sure your website is mobile-friendly. If your website isn't mobile-friendly, they'll likely leave without buying anything. Create pop-ups for your websites by using exit-intent technology. When someone is about to leave your website, show them a popup with an offer (e.g., 10% off their purchase) to try and get them to stay. Offer free shipping. One of the biggest deterrents for online shoppers is having to pay for shipping. Offering free shipping can help you attract more customers and increase sales.
Anjelika | for popupmaker.com
It is really difficult to understand or catch the trend, especially in e-marketing. I think the most important thing is to keep on the things you feel interested in and you are familiar with. Do the best and you may win.
Shane Steven | for imglarger.com
Of course I need to have the idea first. I try not to reinvent the wheel, those big ideas are near impossible.
Instead, I look at a big growing market and see what's missing. It's usually a secondary product that makes the core product use easier or better.
That's my process for looking for trends. Then I create a Shopify store to sell the new product.
John Murphy | Founder of eBike Generation
One of the most important trends in eCommerce in 2022 is the increasing use of artificial intelligence (AI). By using AI, you can convert more customers into loyal customers. This means that you'll be able to save time and money by automating repetitive tasks. Additionally, you can use AI to personalize your customer experience. For example, you could use AI to recommend products that are likely to be of interest to them. Additionally, use a professional platform to ask them for product reviews and shopping experience feedback, this information can help you increase sales, and improve your products and services.
Adrian Crismaru | for wiremo.co
Many e-commerce companies have set their sights on their target market and are taking proactive steps to tap into the huge potential that the industry has, relying on web hosting services that enhance the visitor experience.
Although many things can lead to the success of an e-commerce business; However, making sure your company's technical gears are in place and aligned with your strategy is an important step to check.
The foundation of e-commerce lies in web hosting services. The right hosting solution for your business can require a lot of research, but it is a must to ensure the success of your business in 2022.
Dr. Haitham | for ultahost.com
According to recent surveys, global retail eCommerce sales will hit a record high by 2024. According to predictions, the worldwide e-commerce market would increase at a CAGR of 11.34 percent from 2020 to 2024, reaching US$6.07 trillion. This predicts a future of consistent growth with no indication of a downward trend.
Adapting to E-Commerce trends is essential if you want to make the most money and have loyal clients. This year, we're all returning to the fundamentals of business. Customer satisfaction has always come first. Additionally, factors like sustainability and an authentic user experience are crucial. E-commerce platforms and other sectors should search for ways to adapt to change and use technology into their operations to expand their consumer bases.
Saanvi Sen | for ThemeSelection
eCommerce will go through noticeable changes in 2022. Third party cookies will become a thing of the past. Osano explains what's happening to third party cookies. AI and ML will help marketers to make the most out of their ad strategies. Pay a lot of attention to Responsiveness.
Christopher Oldman | for Find Digital Agency
In 2022 everyone does e-commerce and that's why the cost of ads has been increased significant while the competition has been very tough. To make the most of the e-commerce trend you need four 4 elements:
1) make sure that user will be nurtured and retargeted properly after the first time that you will bring him/her on the website. By a statistical 90% users will not buy at first visit. You need to make sure they will see your ad again and again
2) make sure that your product's photos are awesome, well placed and giving value to the users to select. Product's photos play the biggest role in getting the sale at first sight.
3) make sure that besides products you also delver value. If you are in fashion business for example you will have articles about fashion trends, trendy colours etc.
4) make sure that your ads will stand-out from the rest and will offer easy option on payment such as instagram checkout, Apple Pay etc.
Theo Moulos | Group CEO GrowthRocks
Social media will continue to be important in raising brand awareness and making direct sales in ecommerce. More than 50% of 16-24 year olds use social media to research brands (source: Hootsuite). Use Facebook's collection ads to push specific products and lead customers to checkout. Or sell directly to consumers using Facebook, Instagram and Pinterest's native ecommerce solutions.
Claire Brotherton | for abrightclearweb.com
Virtual real estate purchases and the establishment of virtual stores in Metaverse is a game-changer. There is little doubt that voice-activated search assistants such as Alexa and Siri are here to stay, having quickly entered the daily lives of many users. In contrast, AR and AI aid customers in making better-informed purchasing decisions.
Rahul Kumar | for theakgamer.com
Social commerce explodes — During the pandemic shopping became more virtual with social media platforms as an increasingly popular shopping outlet. Shops on Instagram/Facebook Shops lead the way especially with younger audiences, TikTok has product links too.
Optimize for multiple mediums — Searching by text, voice and image must all be addressed going forward. For example voice search adds usability/functionality to your site making it accessible to all users including those with limitations/disabilities. It's not about complying with the ADA/responsible web design/CSR goals but it is also good for the bottom line by reaching a broader audience.
Page speeds improving — If your site doesn't load quickly (typically 3 seconds or less), your shoppers will go somewhere else and the opportunity will be lost. Common site speed solutions can include image optimization/compression, browser caching improvement, server response time improvement, and JavaScript minifying.
More video content — The world is becoming more visual when it comes to consuming content which has made visual-driven platforms like YouTube/Instagram/TikTok gain popularity. With the rise of a generation that would much rather watch/look at something vs sit/read, there is going to be a growing trend of more visual content including pictures/videos (long and short form)/memes/diagrams/infographics. As more people shifted online during the pandemic, live streams were increasingly used to host public events/meetings on platforms like Twitch.
Attention spans are shrinking — In a mobile first/mobile only world, you have less time to grab people/attention spans are shorter so rich content drives engagement/traction/growth. Fewer people access the web on big screens so everyone is tailoring their site/message/content accordingly. Google is now considering the mobile-first design as a ranking factor for websites to improve performance. AR/VR are expected to become more mainstream as cell networks become stronger/faster so will be used more to grab/keep people engaged.
Omnichannel creates a seamless experience for customers regardless of channel or device. Consumers now engage with a company in a brick and mortar store, online or mobile app, by catalog, or via social media. Every piece of the consumer's experience should be consistent and complementary. People use multiple devices during a single transaction process. Make sure that you are able to listen and respond to these interactions. E-commerce retailers should preserve items in a shopping cart across devices so if you add an item to your mobile shopping cart, it should stillbe in your shopping cart when you access the site on your desktop too for example. If you recently bought a pair of pants they can recommend a great shirt or sweater to go with it.
Paige Arnof-Fenn | Founder & CEO of Mavens & Moguls
When using e-commerce as a business, it's essential to make sure that you're taking the necessary precautions to protect your customers' information. Make sure that you have a secure checkout process, and that you're using a reputable payment processor. You should also keep your website up-to-date with the latest security measures. Security is something you should never overlook because you'll be handling a lot of sensitive information.
In addition to taking these precautions, you should use a reliable eCommerce platform to help you run your business smoothly. Shopify is a great option for businesses of all sizes, and it offers a wide range of features that can help you run your business effectively. With Shopify, you can easily create a professional online store, and take advantage of powerful tools to manage your inventory, customers, and orders.
And to also make the most out of your eCommerce business, it's important to prioritize the customer experience as well. Optimize your website as much as possible to ensure your customers a smooth and easy shopping experience. Also, make sure to provide quality customer service. This means being available to answer questions, provide order status updates, and help with any issues that may arise. By providing a great customer experience, you'll be able to build a loyal customer base that will keep coming back to your store.
In this digital age, eCommerce is a powerful tool that can help you reach a larger audience and sell more products. With the right platform and strategies in place, you can take your business to new heights.
Darren Litt | Co-Founder of hiya
Having a mobile user-friendly website
Most users are more into using their mobile phones while searching for products or shopping online as they have easily accessed online payment applications. It has been observed that 60% of website traffic comes from mobile, so your website should be user-friendly for all users.
Easy checkout means
The digital checkout process should be simple so as not to make customers inconvenient and insecure while doing transactions. It improves the brand conversion rate and the user experience on your website.
Right marketing strategies
Picking your business's right effective marketing strategy helps it grow and expand at the earliest. To get the best, one business needs to conduct market research and branding knowledge and what their target market wants to learn and know more about to help you find the crack of your brand positioning.
Eric Jones | CEO of Couture Candy
The eCommerce industry is expected to see a huge change in 2022. This is due to a change in consumer behavior, as more and more people are turning to online shopping for their needs. This trend is being driven by a number of factors, including the increasing number of people who are comfortable shopping online, the convenience of online shopping, and the wide range of products that are available online. In addition, the rise of mobile commerce is also playing a role in the growth of eCommerce, as more people are using their smartphones to shop for items. As a result of these trends, it is expected that the eCommerce industry will continue to grow at a rapid pace in the coming years.
Robert Leonard | CEO & Marketing Director of Aimvein
Start accepting cryptocurrency. With more consumers paying with digital coins, more merchants are implementing the infrastructure to accommodate it. A good example of this can be seen with Wix.com . Last year, the company partnered with BitPay — allowing merchants on the platform to accept 12 different digital coins. The way the needle is moving, I think we'll begin to see more e-commerce platforms and merchants embracing crypto payments.
Dr. Michael Green | for Winona
Trust is becoming more and more important in marketing activities. Customers are more likely to choose brands they can trust. Therefore, I see a large role in the development of personalized communication in order to achieve better results. The key is to improve the message based on the individual needs of the client. Here, you need more than the knowledge of algorithms or remarketing techniques. The pandemic has accelerated the trend where consumers want to spend money on brands that not only share their values but also brands they trust.
The upcoming years may turn out to be the end of sales funnels. By focusing only on the one-time customer, we will lose. The future is to maintain customer satisfaction and motivation. Direct relationships with them will be even more important as the online landscape will become even more "cluttered" with brands trying to reach digital consumers.
The website will still be the center of the strategy – the hub of engaging content that keeps visitors coming back for more. Outbound marketing tactics, placed discreetly in the background of an online strategy to build brand awareness and drive traffic can work wonders, but focusing on the quality of leads, not their quantity, should be the key to building your strategy. Tools for analyzing website traffic, performance, and visitor behavior, which will allow you to optimize content for conversions, will also be important.
In the current reality, there are probably no ready-made recipes for success. Rapid testing of new solutions and tools, better mobile app analytics metrics measurement of the effectiveness of operations, increasing online presence, and retaining regular customers will allow you to maintain a competitive advantage and adapt to changes.When it comes to gaining a competitive advantage quickly and effectively businesses should rely on proven technologies that are easy to implement, reduce time to market, and ensure flexibility.
Agata Kędzierska | Senior Marketing Manager of White Label Coders
There are a few key things to keep in mind for the development trend of ecommerce in 2022:
1. The rise of mobile commerce. More and more people are using their smartphones and other mobile devices to shop online. This trend is only going to continue, so businesses need to make sure their websites and apps are optimised for mobile.
2. The continued growth of social media commerce. Social media platforms like Facebook, Instagram, and Snapchat are becoming increasingly popular ways to discover and purchase products. Businesses need to make sure they have a strong presence on social media and are taking advantage of features like shoppable posts.
3. The rise of voice search. With the popularity of voice-activated assistants like Amazon Alexa and Google Home, voice search is becoming an important way for people to find products and information online. Businesses need to optimise their websites and content for voice search.
4. The continued growth of artificial intelligence. AI is being used more and more to personalise the online shopping experience and help businesses make recommendations to customers. This trend is only going to continue, so businesses need to make sure they are using AI to their advantage.
5. The need for speed. With the rise of mobile commerce and the continued growth of social media commerce, customers expect to be able to purchase products and services quickly and easily. This means that businesses need to have fast, responsive websites and apps.
Vlad Orlov | for respona.com
If your business can sell online, start investing time and money into HOW you can sell online. There are a number of approaches and finding the right fit for your business is worth discussing with an experienced digital consultant. There is no one-size-fits-all approach for ecommerce, so we encourage businesses to schedule a call and have a discussion to see how online payments, traditional ecommerce or platform-based selling can help your business expand.
Ryan Turner | for 3PRIME Web Solutions
Online shopping via mobile devices, smartphones or tablets has already gained momentum, and this trend will only strengthen in the coming years. The time when the webshop was designed primarily for the desktop is over. I must admit that it is challenging for both us and our clients, but it is certainly the direction we are going in 2022 as well.
Personalization is also not a new trend, but if you want to stand out from the crowd of competitors and create a loyal customer without a personalized offer, you can't do it in 2022. Pay special attention to a small sign of attention that opens up numerous new opportunities – a thank you letter. By sending a personalized thank you letter, you not only show respect and gratitude to customers, but you can also offer them related products, discounts, and inform them about recent promotions.
With an ever-increasing range of payment methods, it is vitally important for online stores to provide a wide range of payment methods, as customer satisfaction depends on it. Bank cards, ApplePay, GooglePay, PayPal and various other options are welcome.
Another trend is virtual reality.. Another technology that is increasingly used in online shopping is the so-called chatbot applications, both on the websites of individual products and on social networks.
Andrew Taylor | director of Net Lawman
Social media is too hot to pass up on right now. Creating a business page is free and easy and can be hugely effective for your business. All it takes to start out is a few loyal customers that know you and love your business to establish your social media presence.. Those customers like, share and comment on your posts and word inevitably gets around, boosting brand awareness. In 2022, all e-commerce brands should take advantage of the alternative universe that is social media.
Eric Elggren | Co-Founder of Andar
Due to the ease of the internet, there is drastic growth in the eCommerce industry. With people now opting to make online purchases, brands' websites and eStores are now considered brand representatives. And often, customers determine the quality & credibility of the brand by looking at the website and store. So, a good piece of advice would be to add social walls to websites. The social walls on website not only improve the overall look and feel of websites but also helps in building credibility and brand-customer relationship and, at the same time, boost the user-generated content reated to the brand.
Amanpreet Singh | for tagembed.com
As mobile and social shopping is slowly but steadily overtaking eCommerce, it is crucial to make your online store mobile friendly and easy to navigate. If you want to stay competitive, improving your mobile user experience should become one of your priorities in 2022 and beyond. Think outside the box and incorporate some innovative strategies such as virtual fitting rooms (if you are a fashion retailer), AI-driven personalized product recommendations, connecting your storefront with social media accounts, and introducing fast payment methods.
Eva Fydrych | Founder & Art Director of Fashion Studio Magazine
The rising trend of e-commerce can be leveraged best if businesses are flexible, innovative, and consumer-friendly. In a marketplace where the average consumer is spoilt for choice, retaining customers is key. This can be achieved by introducing a variety of e-commerce options: integrating popularly used third-party apps like Shopify or WooCommerce, adding regional payment gateways for customers around the world, and most importantly, ensuring the safety of the consumer data. For example, an eLearning business can support best-in-class global payment gateways like Stripe or PayPal directly from within their LMS using Single Sign-On. Meaning users can pay simply and quickly without having to worry about being redirected to less trustworthy sites.
by Edly LMS
For me, live selling is one of the trends I think will have an impact on the digital e-commerce industry in 2022. Live selling plays a significant part in the development of e-commerce and is swiftly consuming social media. With live sales, sellers can connect with customers, promote products in real-time, turn customer comments into sales, and issue bills on the go. Because things will be displayed in real time and all consumer questions will be addressed before purchasing, this will prevent negative customer feedbacks.
Rojie Tadros | CEO and Founder of Payday Deals
If you're able to grow your product line, it is essential to look at the demand for your product and determine whether it's worth it.
It's possible to do this with different methods like Keyword research, validation of geographic locations, social media trends, etc. Another innovative strategy to test your market? You can pre-sell products to try how many customers make purchases.
If you're trying to decide which of the three products to be released to offer, make pages for each of them, making sure you utilize high-quality images of the product and compelling content for each.
After that, mark them with the words "out of stock" and determine which one gets the most attention from back-in-stock notifications. The one that gets the most attention is the one to market.
In the world of footwear and clothing, it is typical for particular sizes or colours are not in stock for a short period.
Michal Morris | Digital Marketing Executive at SeeBiz
Give a product of value away for free (or extremely cheap) and send 2 of the same product. One for the recipient and one for them to give to a friend that will also enjoy the product.
Here's how that worked for us:
Having come from a marketing background, we are always testing new ideas.
We send out our coffee subscriptions every two weeks. The coffee is specialty and high quality, all sourced from independent coffee roasters.
In the specialty coffee world there exists a tasting aid called a flavour wheel so when professionals taste coffee they can refer to the flavour wheel to best describe the delicate notes of specialty coffee.
So we created our own flavour wheel and send out an A2 print of the flavour wheel for free (plus P&P) to customers that click through ads or find us organically.
The poster is now on the walls of many coffee shops and in many coffee lover's kitchens alongside our branding and website on the bottom.
However, although that in itself is a nice marketing tip that isn't the golden nugget.
When we send out our flavour wheels we add an extra poster inside the tube and write a note on our branded postcards to say here's a poster for you and one for a 'coffee friend'.
We have found that the customer finds great pleasure in giving away the extra poster to the person that they feel loves coffee the most in their life and in turn we now have our poster and marketing on their kitchen wall or cafe.
We have found that we are now receiving many more customers via word of mouth than we did prior to this.
Tom Saxon | cofounder of Batch Coffee
Years ago, savvy brands realized that when they sent external traffic to their Amazon product listings, their keyword rankings improved and their cost of on Amazon advertising declined. Lo and behold, at the end of 2020 when Amazon updated to the a10 algorithm, it became out in the open that driving external traffic was in fact part of their algorithm. Now the same is true, the trends seem to suggest that the more Amazon Influencer Storefronts and Amazon Livestreams you get included on, the higher your keyword rankings are and the lower your Amazon advertising spend will be.
Tanner Rankin | CEO at The Source Approach
Sustainability as a huge driver for online shoppers will continue to increase in influence. According to our data, a majority of shoppers support brands that are trying to reduce their environmental impact, with almost 6 out of 10 purchasing from a brand in the last 6 months because of their sustainability initiatives. Almost 75% of shoppers want their favorite brands to invest more in sustainability, saying they'd purchase from them more if they did so. Merchants need to be thinking about their environmental impact as a way to build stronger brand loyalty with their shoppers, given their increasing preference to support brands that already have a strong sustainability initiative.
Andrew Chan | Cofounder of ecommerce post-purchase platform AfterShip
Many consumers now use voice search when they're shopping. As an eCommerce brand it's important to focus on keywords and content when optimizing your website. You want customers to easily be able to find your product. For instance, if your product contains prebiotics, make sure you include that keyword on your website.
A potential customer may say "prebiotic soda" when they use voice search on their phone. You don't want them to skip your company and purchase from a competitor because your brand didn't pop up for that specific keyword. Make sure your website is optimized for every type of search.
Melanie Edwards | Product Manager for OLIPOP
Our ecommerce strategy focuses on utilizing both SEO and social media to drive traffic to our website and increase sales.For SEO, we make sure that our product pages are optimized with relevant keywords and that we have a strong backlink profile. We also regularly publish informative blog content to attract more organic traffic.On the social media front, we have a strong presence on platforms like LinkedIn and Quora, where we post regular updates and interact with our followers. We also run targeted ads on these platforms to reach a wider audience. In addition, we use email marketing, and we strategically apply Pinterest SEO to ensure our product pins appear prominently in customer searches. This integration of SEO with social media has proven effective in attracting and retaining customers.
Michael Samuel | Founder & VP, HR- CEO of MichaelHR
Selling products directly on social media is one of the biggest eCommerce trends right now. It's a great strategy, as it lets online sellers reduce friction in the customer journey, while providing the perfect opportunity to boost impulse buys from social media users.
As Facebook and Instagram have dropped their live shopping features, there will be more brands selling through social media ads and tagging products in their Stories and Reels. TikTok shopping also offers great opportunities. This is an eCommerce social media marketing trend any online retailer should look out for.
Mariana Veloz |Outreach specialist – co-marketing activities at Wishpond
Share your eCommerce strategies
As a professional SEO service provider, we here at Stan Ventures recommend our e-commerce clients focus on buyer intent and middle-of-the-funnel keywords more because it can help to increase conversions and drive sales. Here's how:
Buyer intent: By targeting keywords that reflect the specific needs and desires of your target audience, you can more effectively attract and engage potential customers. For example, someone searching for "best men's running shoes for flat feet" is likely further along in the purchasing process and more likely to make a purchase compared to someone simply searching for "running shoes.."
Middle of the funnel keywords: Middle of the funnel keywords, also known as "consideration" keywords, refer to terms that indicate the user is considering making a purchase. These keywords can be more specific and targeted than top-of-the-funnel keywords, which are generally more broad and informational in nature. By targeting middle-of-the-funnel of the funnel keywords, you can attract users who are more likely to convert into paying customers.
Overall, focusing on buyer intent and middle-of-the-funnel keywords can help e-commerce websites to attract and convert more qualified leads, ultimately leading to increased sales.
Dileep Thekeethil | Sr. Associate Director of Stan Ventures
My view on e-commerce trends is that the industry is moving towards a more mobile and global focus. Consumers are becoming more comfortable with making purchases online and through their mobile devices, and businesses are starting to cater to this trend by making their sites and apps more mobile-friendly.
In addition, I think we'll see more cross-border e-commerce as businesses try to reach new markets and consumers become more comfortable with buying from overseas retailers.
Brian Hong | CEO and owner of Infintech Designs
We run an e-commerce business ourselves and in our experience, we find that it is important to focus on the customers and on providing them with the best customer experience. We are always looking for feedback from our customers and we value their opinions. This helps us to improve our customer care services. We also believe that it is important to identify the target market and come up with strategies to reach out to them. We use social media as a platform to reach out to our target market.
Chad Brinkle | owner of Highcountryoffroad
There are a number of strategies that can be used to market an ecommerce business. One of the most effective is search engine optimization (SEO). This involves optimizing your website for the keywords that people are likely to use when searching for products or services like yours. Other strategies include social media marketing, pay-per-click advertising, and email marketing.
When it comes to ecommerce marketing, it's important to have a plan and to be consistent with your efforts. You need to set aside time each week to work on marketing, and you need to stick to your plan. It can be helpful to hire a marketing consultant to help you develop and implement a marketing strategy.
Brandon Wilkes | the Marketing Manager at The Big Phone Store
One of the most important jobs in the warehouse is picking orders. Maintaining happy customers requires a focus on details like order accuracy and quick order fulfillment. In most businesses, the greatest labor reductions can be achieved in the areas of picking and packing. The warehouse's layout, products, labor efficiency, storage and material handling possibilities, security, flow, and warehousing system functions should all be considered in a space utilization study's proposed solutions.
Paul Somerville | Editor-in-Chief at Electric Scooter Guide
Website Designing
The website layout, in my opinion, is the best eCommerce marketing strategy. When you are selling a product line, you only have the option of a website to create a good first impression on the visitors. This is just like working on the packaging of the products. Eye-catching packaging means more people will be attracted to buying your product, and the same applies to an eCommerce store, but the packaging here is your business website. A website presents your products to the customers. You also need to incorporate CTAs, blogs, and reviews on your website, which act as "salespeople" for your business. Therefore, designing a website in the correct manner is the most effective marketing strategy that an e-commerce business can follow. It not only helps you generate leads but also retains the existing customer base by constantly improving their user experience.
Rhett Stubbendeck | CPCU and CEO of LeverageRx
The impact of the e-commerce supply chain has revolutionized how people shop. It's created a positive impact on business owners and customers as well. It makes things simple for both parties. When creating effective strategies about ecommerce supply chain you want to ensure a solid business plan. Start by defining your product and creating a brand, then research different packaging and manufacturer companies and find the right fit for you. Once you have the back end complete, you can start creating an easy to use website so that customers can find your product and effortlessly order it. The more seamless your website and marketing campaigns are, the more consistently you are able to drive up sales and engagement with people that want your product!
Braden Ross | the CEO and Co-founder of Layla Sleep
Any commerce that happens online via some form of social interaction is social e-commerce. This could be anything from Facebook selling you a product to customer reviews on Amazon, or even user-generated content like blog posts or Instagram photos.
The reason you should care about social e-commerce is that it allows businesses to connect with their customers in a way that was previously not possible. Social media has changed the way we communicate and do business, and e-commerce is simply adapting to that change.
Jon Parrish | CEO at CityGro
Regardless of what people tell you, there is no one path or formula to becoming a successful business entrepreneur. There are thousands of different ways to achieve success, and each person's journey is unique. What works for one person may not work for another, so don't be afraid to experiment and try out new things until you find something that works best for you.
Abdullah Prem | Founder of Bloggersneed
Rise of Mobile
One of the biggest trends that I see continuing into 2022 is the rise of mobile commerce. More and more consumers are using their smartphones to make purchases, and this trend is only going to continue. As a result, it's important for ecommerce site owners to make sure their sites are optimised for mobile. This means having a responsive design, fast loading times, and easy to use navigation. If you can make your ecommerce site mobile-friendly, you'll be in a good position to succeed in the coming years.
Rise of Social
Another big trend that I think we'll see more of in 2022 is the rise of social commerce. We're already seeing platforms like Instagram and Facebook becoming increasingly important for ecommerce businesses. I believe that this trend will continue, and we'll see even more social platforms being used for ecommerce in the future. This is something that all ecommerce site owners should be prepared for.
Rise of Personalisation
Finally, I think we'll see a continued focus on personalisation in 2022. Consumers are becoming more and more demanding, and they expect a personalized experience when they shop online. As a result, ecommerce site owners need to find ways to personalise the shopping experience for their customers. This could involve anything from recommending products based on previous purchases to offering exclusive deals and discounts. If you can find ways to make your ecommerce site more personalized, you'll be in a good position to succeed in the coming years.
Steve Connor | Director of Media Kynect
As we know, consumers don't need to make as many sacrifices as they used to and will search for a brand that checks all their boxes.Omni-channel marketing is vital in today's landscape — brands need to be out there sharing what they are doing in store, how easy it is to shop online, what perks they are offering to in-store and e-commerce customers, how they're supporting charities, and they need to be talking about it in traditional media, digital media, on social…everywhere their customer is spending time.
Dara Busch | CEO of 5WPR
As a CEO of an app/web dev company I keep analyzing the demands of our clients from e-commerce industry and can confirm there are a few trends that keep growing in popularity:M-commerce and shopping via mobile apps, as more clients prefer to buy goods via apps rather than use mobile website version (and apps convert 1..5x times more according to stats!);One-click ordering is also a must nowadays as companies try to shorten the way from the first visit to the actual purchase for their clients; the goal is to simplify the funnel and ease the checkout process!Mobile shopping apps have also started to use AR to improve the shopping experience (for example, furniture stores use AR to showcase how products look the interior).
Michael Chepurnyak | CEO and Founder of Ein-des-ein
What Next?
Even though e-commerce sales are declining, this does not mean the end is near. Instead, it is expected to increase in size. To be a part of this expansion, you'll need a well-thought-out strategy. This article outlined some key areas on which you should concentrate your efforts.
The e-commerce market is not always stable. It evolves over time. Your business strategy should adapt to the changing market. You might be able to run a successful e-commerce business in 2022 if you follow these tips. But don't limit yourself to these ideas. Continue your research to determine which option is best for you.
We are sorry that this post was not useful for you!
Let us improve this post!
Tell us how we can improve this post?