The growth of e-commerce is slowing. There could be a number of factors at play in this drop. One of the reasons for this is the unfamiliarity with the market and its trends. So, if you want to run a successful e-commerce business in 2022, what should your strategy be? In simple terms, Understanding the market and trends is all it takes.
The e-commerce market is dynamic. It is important to come up with a new plan to deal with the change. For the year 2022, we undertook a comprehensive study into the best practices for growing e-commerce businesses. Here are a few suggestions in this article to help you keep your business running smoothly.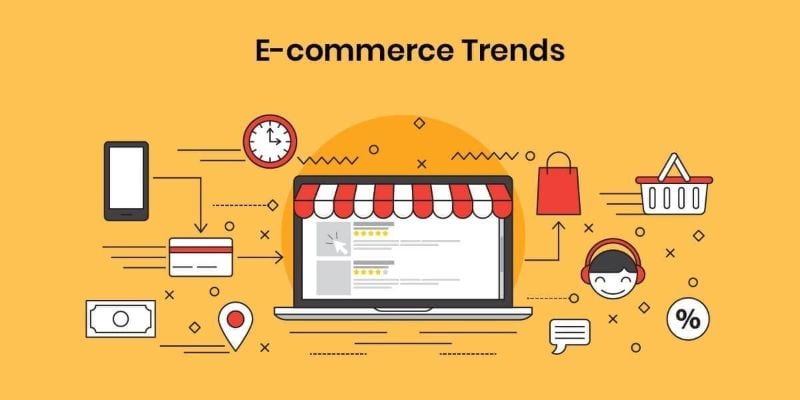 Here are 20 expert advice for running a successful e-commerce business in 2022
Ecommerce has come of age. 2022 is simply going to consolidate this position and it will continue to grow in all sectors. In order to make sure that eCommerce sites can take advantage of this growth, however, there are a number of critical success factors that you need to have in place. These are my top 3:
Mobile, mobile, mobile. Your site needs to be not just mobile-friendly but mobile super-friendly. About 60% (significantly more in some sectors such as fashion or luxury), of your traffic, is going to come from mobile and if your site is not designed for mobile you will miss a lot of opportunities. The rule should be "design for mobile-first", then make the desktop experience sync.
Make the checkout easy. Digital checkout processes need to be made as simple as possible so that brands can improve conversion rates next year. It doesn't matter whether a customer is browsing your website instead of your brick-and-mortar store; you can still provide them with a personalized level of service.
Use Social Commerce. Increasingly, social commerce is being used in retail. This allows retailers to use social media as a selling platform. By integrating the shopping interface into a social media page, a user can purchase the product advertised through the page more easily. By using Facebook and Instagram for social commerce, a customer can purchase an item with fewer steps. In addition to impacting the entire buyer journey, Facebook Shops and Instagram Shopping can help better convert visitors and users.
Nick Loggie | for adlibweb.com
Using machine learning technology to produce SEO-optimized text for advertising, emails, landing sites, social media posts, product listings, blog entries, and more is one of the hottest eCommerce trends in 2022. The ability to complement existing employees with AI-enabled technologies will allow retailers to significantly expand their capabilities without needing to raise expenditures in line with manpower. This might make it easier for more retailers to obtain a route to profitability and growth in an increasingly competitive market.
Hori Tran | for secomapp.com
Live shopping, which uses video live streaming and social media platforms, should be part of every e-commerce retailer's marketing strategy. This strategy exploded in Asia — because it works! It is a great opportunity to not only engage your customers but also educate them about your products helping reduce returns. Connect to the viewer by making your live shopping events fun and entertaining whether you choose to use influencers or your sales associates.
Isabel Isidro | Founder of PowerHomeBiz.com
Ecommerce 2022 is a great opportunity for prepared sellers to improve their performance.
Strategy
1 Provide personalized customization services on products
2 Use innovative ways to promote on social media
3 Introduce the company's advantageous products through live broadcast
Tony | for tonysourcing.com
The key to success in e-commerce is customer experience. E-commerce companies that focus on customer centricity report a 90% increase in revenue within a year. Therefore, you should personalise your customers' shopping experience. Using predictive analytics tools, you can provide personalised content and product recommendations to each customer based on their past purchase behaviour.
Sandra Hinshelwood | for businesspartnermagazine.com
Technology is evolving and so are the individuals who are using these technologies. The year 2022 will be a game-changer for the e-commerce industry. AI, Metaverse, AR, Voice Search Commands, Live streaming, and Chatbots are some of the trends anticipated to monopolize the entire e-commerce industry in the year 2022.
Manju Rai | for digiperform.com
To take advantage of the ecommerce boom, make sure your processes are scalable. Your order volume can explode overnight if you have a product go viral on social media or if a strategic partnership results in increased traffic to your website. And if you're still handling back office workflows (like accounting, inventory management, and shipping) manually, you'll be outpaced immediately. Leverage technology to assist with busywork so you can take your business from startup to enterprise—without overhauling your processes at every stage of growth.
Taylor Knauf | for webgility.com
Keep working on your digital storefronts. Treat your social media content as the windows to your store — what will compel passers-by to take a closer look.
Denise Langenegger | for instasize.com
Market Research. Ensure there's a market for your product. Ensure that your quality and price is competitive.
Branding. Make sure your branding and website are on point. Branding design and color scheme must be well thought out to ensure it stands out, but also speaks to your target market.
Website. Your e-commerce website must also be on point both from a visual perspective, to user experience, and functionality.
Marketing. Once you have done your market research, made sure your branding and website are absolutely on par with or above competitors', you are ready to hustle. This highly depends on your product and your target demographic, but you have social media, SEO, email marketing, advertising, influencer marketing, as well as old school marketing like passing flyers around placing stickers everywhere.
Nic Stana | for grandwaymarketing.com
Visual Commerce
Visual commerce is the next generation of E-commerce marketing. Augmented reality can be smartly used to deliver a charming and immersive shopping experience. From 360-degree images and product videos to visual shopping ads and repurposing user-generated videos, the possibilities are endless and I can't wait to see how this trend will reshape the E-commerce landscape.
Gaurav Sharma | CEO & Founder of Attrock.com
For an online business to be successful, there are 5 things you must do
1. The first is doing enough market research. Make sure you understand who your ideal customer is including their demographics and psychographics. Without enough market research, you are just hoping for the best. But with enough market research, you are making data driven decisions.
2. The second thing is niching enough to differentiate yourself from your competitors. e.g. creating an online store or blog in the dog niche is too competitive. Instead you could niche further into a specific dog breed like Bernese Mountain Dogs.
3. The third thing is choosing the right eCommerce platform. If you tech are not savvy, you could choose Shopify for its ease of use. If you are tech savvy, and want more control over your website, you could choose WooCommerce instead.
4. The fourth thing is building trust with your target audience. Simply asking people to buy your products or services is a poor marketing strategy. Instead try providing value first. Try to help your ideal customer with a free ebook, guide, report, checklist, cheatsheet, etc. e.g. 10 point checklist for keeping your Bernese Mountain Dog happy and healthy.
5. The fifth and final thing is to invest in paid ads. Run ads on a platform that your target audience actually uses. e.g. Facebook, Tik Tok, Youtube, etc.
Max Jacobs | for maxjacobs.com.au
In 2022 many brands and e-commerce businesses go global in order to increase their sales. When a business reaches its growth limits in the domestic environment it is natural to seek other markets. So, take this opportunity and expand. A recent E-Commerce Consumer Report revealed that 76% of online shoppers have made purchases on an e-commerce store outside their own countries. You can start by translating your shop in other languages or add your products in an e-commerce platform in another country.
Silvia Kabaivanova | for bgfashion.net
To make the most of the e-commerce trend in 2022, we advise to make the optimization of your website for mobile use top priority! Mobile optimization increases the chance for your website to get found in organic search and prevents website bounces and abandoning purchases.
Linda Lou | for wixcreate.com
The e-commerce world has changed a lot over the last couple of years, especially during the pandemic. A lot of shops moved online or accelerated their digitalization making the competition to be higher than ever. Also, the return of advertising is smaller so eCommerce owners should be really dedicated and creative in keeping or improving their profits.
Exceeding customer expectations, having a flexible return policy, and offering multiple payment methods (like Buy Now, Pay Later) for your customers are mandatory in 2022.
But, today, I would like to tell you about using, intelligently, the data that you have to provide your customers with personalized experiences and transform them into your biggest fans.
Here are several ideas where you can use the data you collect about your customers to improve their experience with your shop and ultimately make your eCommerce becoming their first destination to purchase online:
Segment your customer base by location, gender, and favorite product categories and send personalized email newsletters, discount coupons and use different marketing strategies for different audiences;
Improve your CLV by sending personalized email newsletters with products similar or correlated with the ones they purchased already;
Uncover potential trends and products people look to purchase by analyzing what the shoppers are searching on your website;
Have the right optimal price that your customers are willing to pay. Analyze purchasing data so you can understand how the price affects purchasing amongst different customer segments;
Prioritize the products a customer may want to purchase based on their previous purchases and products they've checked;
Forecast demand by evaluating data from previous years, and plan inventory accordingly.
Create tailored content (blog posts, social media posts, videos) for different audiences.
I hope these ideas make you realize the potential of the data you have about your customers and you will use it to improve the experience of your customers.
Daniel Stanica | Founder of Digital Media Intelligence
Make sure your website is mobile-friendly. If your website isn't mobile-friendly, they'll likely leave without buying anything. Create pop-ups for your websites by using exit-intent technology. When someone is about to leave your website, show them a popup with an offer (e.g., 10% off their purchase) to try and get them to stay. Offer free shipping. One of the biggest deterrents for online shoppers is having to pay for shipping. Offering free shipping can help you attract more customers and increase sales.
Anjelika | for popupmaker.com
It is really difficult to understand or catch the trend, especially in e-marketing. I think the most important thing is to keep on the things you feel interested in and you are familiar with. Do the best and you may win.
Shane Steven | for imglarger.com
The code to an ever-changing landscape in the e-commerce industry is not as hard to crack.
Below are a few of the biggest trends to be aware of in 2022:
1. Be Market Sensitive
This is a highly competitive and transparent space. All your competitors are watching every single one of your moves in real time. They can adapt to every promotional and marketing stunt that you're pushing, be sure that you're on top of the trend and, most importantly, your competitors' moves.
2. Differentiated Customer Experience
According to a survey by OpenText, 71 percent of Singapore consumers are more likely to buy again from brands that treat them as individuals. To stand out, brands will have to offer differentiated and unique experiences, such as limited-edition merchandise or creating personalised recommendations via their websites.
3. Live-Streaming
Following the success of Douyin, live-streaming e-commerce channels are not to be missed. Hosting live-streaming sessions or carrying out product placement campaigns with influencers will only gain greater popularity in the coming years.
4. Smooth Checkout process
Have you ever abandoned an online payment due to a complicated checkout process? I did.Be sure to provide a simpler and seamless mobile checkout for card and alternate payment methods like e-wallets, bank transfers and buy-now-pay-later services, so to cater to customers' needs.
Shireen Lee | for retailinasia.com
One of the most important trends in eCommerce in 2022 is the increasing use of artificial intelligence (AI). By using AI, you can convert more customers into loyal customers. This means that you'll be able to save time and money by automating repetitive tasks. Additionally, you can use AI to personalize your customer experience. For example, you could use AI to recommend products that are likely to be of interest to them.Additionally, use a professional platform to ask them for product reviews and shopping experience feedback, this information can help you increase sales, and improve your products and services.
Adrian Crismaru | for wiremo.co
Set up a strong social media presence.
1. Be regular and maintain the vibe of your postings on your social media pages. Do not veer away to anything political. You never know who you might offend and how.
2. Be part of communities where people are looking for the products that you are selling. If you are selling herbal tea or organic, recycleable containers or vessels or utensils, look for communities that are vocal about a health lifestyle and climate-conscious about each and every matter. Here, for the sake of your product, you need to be biased with the community members and their views. Don't be aggressive in your promotions during these community interactions. First Serve, then Promote.
3. Stick to one stand and one ideology and take up your promotional activities in that direction only. Either be vocal on health and fitness and eco-friendly or be suave about the luxury and comfort and all the other opulence your product or service is associated with. Apple is the biggest brand on the planet today because they have learned to merge the two conversations in their marketing strategy.
Ujal Nair | for intlbm.com
Many e-commerce companies have set their sights on their target market and are taking proactive steps to tap into the huge potential that the industry has, relying on web hosting services that enhance the visitor experience.
Although many things can lead to the success of an e-commerce business; However, making sure your company's technical gears are in place and aligned with your strategy is an important step to check.
The foundation of e-commerce lies in web hosting services. The right hosting solution for your business can require a lot of research, but it is a must to ensure the success of your business in 2022.
Dr. Haitham | for ultahost.com
Retain and grow customers
Maintaining growth will be one of the most essential factors in 2022. Retaining customers is more important than acquiring new ones. It has the potential to alter business growth. It's a smart option to concentrate on customer retention.
Leatrice Jost | for coredna.com
Best personalization of the buying experience
Consumer habits have changed due to the covid-19 pandemic. A personalized buying experience could boost your business. Creating a Self-Service Environment could help you achieve this. Develop a profile of your customers as well. You should also train employees to deal with customers effectively.
John Hester | for productsup.com
live shopping experience
Live shopping, or "Livestream shopping," is getting popular. It is digitizing home shopping via apps, websites, and social media. You can now promote, sell, review, and recommend products in real-time. Consumers will have an enjoyable shopping experience as a result.
Edward Mitchell | for oberlo.com
Using AR and VR
Technology is evolving. AR and VR are also entering the market. It will make the shopping experience even more immersive. It will enhance the shopping experience. It's worth a shot.
Teresa Pugh | for envato.com
Influencer Marketing
An influencer has thousands or even millions of social media followers. Collaborations with social media influencers can help companies reach a larger audience. Big-name celebrities and influencers can be pricey to hire at times. In this case, you can work with smaller but dedicated influencers.
Terri Whittington | for netsolutions.com
Mobile-friendly Service.
We now do more searches on our phones than we do on our computers. People are now shopping online through their smartphones. So make your e-commerce site mobile-friendly. Page load time should be lightning fast to reduce friction.
Danny | for sproutsocial.com
Create Urgency
The way people shop online is constantly changing. To encourage visitors to become customers, create a sense of urgency or fear of missing out (FOMO). Many people like techniques that make them want to act right away. Limited availability, and time-limited deals, can make people want to buy now. It can also be used with limited-edition goods.
Lonnie Arias | for jeffbullas.com
Benefit from Free Shipping
Free shipping can help sway hesitant customers. Free shipping often leads to increased sales. This strategy may be more effective than a percentage discount. Even if the discount is greater than the shipping costs. Amaze and delight your customers with free shipping, and they'll return.
Tammy D McAnally | for octaneai.com
Offer eCommerce Gift Cards
There have been a lot of pandemic trends that have made people use digital cards more in the last year and a half. Digital gift cards can help people know more about your business. It could also help you make more sales, and build customer loyalty.
Craig Quinn | for webinterpret.com
Try a New Marketing Channel
Young entrepreneurs often make the mistake of trying to copy a marketing strategy that works well for another brand. Setting up shop on TikTok may not be the best strategy for you. But don't be afraid to try new marketing methods.
Brian Vanwingerden | for limespot.com
What Next?
Even though e-commerce sales are declining, this does not mean the end is near. Instead, it is expected to increase in size. To be a part of this expansion, you'll need a well-thought-out strategy. This article outlined some key areas on which you should concentrate your efforts.
The e-commerce market is not always stable. It evolves over time. Your business strategy should adapt to the changing market. You might be able to run a successful e-commerce business in 2022 if you follow these tips. But don't limit yourself to these ideas. Continue your research to determine which option is best for you.
We are sorry that this post was not useful for you!
Let us improve this post!
Tell us how we can improve this post?