In the world of heavy equipment, there are various ways to ship your machinery. Many options are available on the market, and knowing which will work best for your needs can be challenging.
Heavy equipment is a heavy-duty machine designed to take on large construction tasks such as earthwork operations. It includes machinery like forklifts, tractors, cranes, and large industrial equipment.
Because of the characteristics of these types of machinery, shipping them can be daunting. You wouldn't want to make a mistake when sending your heavy equipment to the following job site. So how do you pick the appropriate shipping method for your heavy equipment?
When choosing a means of transport for these items, it is crucial to consider factors such as weight, size, and the shipping destination of your cargo.
Shipping Methods
Shipping large devices like wind turbines can be extremely challenging. However, with proper planning and the correct shipping method, moving such equipment will not be difficult.
Shipping heavy equipment has three main ways: truck, railcar, and ship. And with each method comes its benefits and risks. These transport options offer various service levels, depending on how much payload you need to move at once and where it needs to go.
Container Shipping
Container shipping is better suited for moving large machinery and bulky items around the country or worldwide. Construction companies often use it to transport their machinery from place to place quickly and efficiently without worrying about damage or theft.
Container shipping offers several types of containers. These include the open-top, half-height, open-side, flat-rack, open-end, liquid-built, cargo, standard dry, and refrigerated. Because of their large volume capacity, shipping containers transport goods worldwide.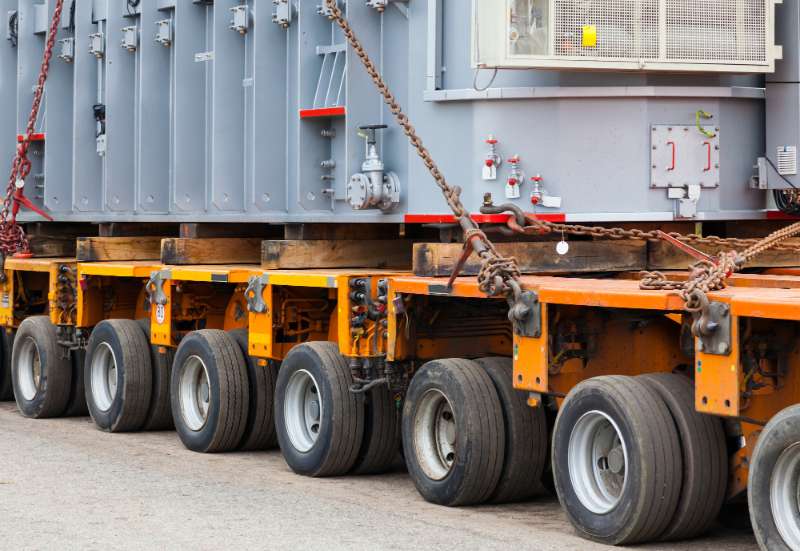 This shipping method offers flexibility, standardization, and a good economy of scale. It also provides better convenience for shipping, truck, and rail companies.
The container shipping method of transport provides easy loading and unloading of cargo. However, there are instances where your heavy equipment may not fit into these containers. In such cases, you may need to disassemble your machinery to fit into the container. And as much as this method offers ease of transport, it can be taxing and laborious, especially if you have to dismantle parts and then put them back together.
The Lift-On/ Lift-Off Method
Also known as LoLo, this method uses cranes or derricks to load or offload containerized cargo on or off the shipping vessel. LoLo ships have cranes on board for this reason. These ships can accommodate large-capacity containers, which provide efficient transportation of cargo. Unfortunately, this method may need a specialized crew to operate the crane, which may entail additional costs.
LoLo shipping also offers greener alternatives. It is because vehicles are not driven on the vessel when loading. Additionally, the cost of heavy equipment shipping with this system has a minimal toll on the environment.
The Roll-on/Roll-Off Method
Commonly known as RoRo, it is the simplest way to ferry heavy equipment. Instead of loading cargo using a crane, the RoRo systems involve driving vehicles onto the ship. The shipment is loaded by placing it onto a piece of handling equipment with wheels and rolled on and off the vessel. At the same time, motorized machines like vehicles, trucks, and tractors drive directly onto the ship.
Usually, the RoRo system uses more than one transport system because the cargo needs to be loaded onto heavy haul trucking or trains to travel to the outbound port. And the same happens from their inbound dock to the final destination. While this method can save you both money and time, you may need plenty of space for the heavy equipment and machinery required to lift and move it.
Flat Rack Method Of Transportation
These are one of the most common ways to transport heavy equipment. Flat racks are available in different sizes and capacities. Single flat racks can hold up to 48,000 pounds, which makes them the ideal choice for transporting large pieces of machinery or other oversized items over long distances. This form of transport is excellent for cargo that sticks out when in transit.
Flat rack containers come in standard sizes of 20ft and 40ft. A non-collapsible flat rack is more common, although it also comes in a collapsible option. These options come with or without walls.
Flatbed trucks also come with cranes or forklifts that can lift and move heavy objects safely and efficiently. And if you want to transport heavy machinery and equipment that needs loading from the top or side, a flat rack transportation container will be an ideal choice.
These trucks are built with reinforced steel to ensure a strong structure. Tarpaulins shield sensitive shipments during transit. They are tied securely to the truck's body, lash rings, clamp locks, and eye pads. If the freight is not sensitive, the container may be left open.
Information The Shipping Company Will Require
You must give the correct shipment details, particularly if transporting heavy equipment internationally. Wrong information may end up costing you much more than expected. To ensure your shipload is safe, you must provide all the information the shipping company will require. These usually include;
Brand and model of the machine. If unsure about this, do proper research and ensure you know your equipment's specs.
If your machinery has had any modification, you must provide a list of the same.
You must know how to measure the dimensions of your load. It means you must provide the exact weight and size of your equipment.
Be sure you know what your transporter's insurance covers. There are instances where you may be required to get supplementary freight insurance.
Take pictures of your machinery. Try to take them from different angles. Photos are visual references that can give the shipping company an impression of how your heavy equipment appears.
Factors That Determine The Cost Of Shipping Heavy Equipment
Shipping a piece of heavy equipment can be costly if transported internationally. Many components affect the cost of transporting heavy equipment. But the most important ones are:
Size and Weight (Density)
The space an item takes up in terms of weight is called freight density. The area where the heavy load sits is as essential to shippers as its weight. It is because the space is not favorable for cost-effective freight transportation.
Freight carriers have 18 standardized freight classes. The equipment's density determines its category. The heavier your item is, the higher its shipping costs will be.
Type Of Packaging
The type of packaging you choose for your product is also a primary concern. Large items such as machinery can be challenging to transport; they may need special packaging such as crating or palletizing.
If you don't have enough space in your truck or trailer for an entire shipment, you can try using smaller packages instead so that it doesn't become too cumbersome. However, it can be expensive to dismantle and then put the machinery back together once it gets to its destination.
Shipment Destination
These are the origin and destination addresses. The more information you have about the destination address, the easier it will be to calculate shipping costs. If possible, get the facility's name, street address, and phone number so that you can track your shipment on an online site where companies can provide details about their services.
Distances are measured from the center zone, which may not significantly reduce the costs if you ship heavy equipment from the zone's boundary. Still, most carriers use this to set a pricing structure. However, the equipment's weight may sometimes impact pricing in different time zones.
Furthermore, items that take longer to arrive in their destination countries may also incur additional expenses in the name of custom fees. They will have to wait in customs before being released or placed on another flight. You can avoid such complexities by hiring a reliable freight company.
The Duration Taken To Deliver The Goods
A lot can affect the timely delivery of goods. Travel limitations and massive online shopping can increase consumer confidence and affect the supply chain process. It can cause a bottleneck effect on busy ports. And if there is a jam at the docks, the delivery cost can increase.
Heavy cargo transportation prices determine the volume of shipment and other underlying costs. Carriers are prone to sell space at an exorbitant price if there's very little space. And the opposite is true. If things are slow, they may offer a more competitive rate. Of course, there are seasonal tides that can affect shipping prices as well.
If you want your shipment's delivery accelerated, then cost efficiency may not be a consideration. Alternate routes for the payload may be less cost-effective and costly, considering fuel and labor costs. As a result, priority shipping can be more expensive.
Insurance
Even the most reliable freight companies offer very little liability coverage. It means the cargo and how its insurance defines it affects the final cost of coverage. Note that this doesn't cover the load's value fully.
The carrier can only compensate for liability coverage if something goes wrong. And that is, if you can prove that the packaging of shipment was done correctly and that it was not damaged at the pick-up point.
Remember that carriers are not liable for damages caused by natural calamities. Therefore, having insurance ensures your shipment is covered against accidents and natural perils. Insurance also pays out faster, unlike freight liability coverage.
Nonetheless, before you partner with a carrier, you should find out their best liability coverage for large equipment. If their payout exceeds the shipment's value, it's best to take another insurance. This is especially important if the equipment is expensive or fragile. And in case your cargo is damaged or lost, you may not have to wait long for the claim to be processed.
The above factors can be combined to create a total shipping cost. And various combinations can lead to different prices depending on the variables that affect them.
Heavy Equipment Shipping Requirements
Acquiring machinery can be expensive. You don't want to add up to that cost because of some things you overlooked or were ignorant about. Besides doing a pre-shipment inspection, you must know what is involved when it comes to shipping your cargo. And what steps should be taken to ensure your cargo is secure. Here is a list of things you need to know before you ship your cargo.
How will the equipment be shipped? Will it be by air, land, sea, or a combination?
Does it need custom bracing and blocking?
How long does the destination point need to prepare before receiving the equipment?
If you are shipping internationally, are there any special permits that will be needed?
If it will need a piece of equipment to load and offload, be sure to know the proper machine for the same.
How is it packed? You must inform your freight service company how the equipment should be packed. Can it be boxed, tarped, or palletized?
Does it need preparation before it's loaded? To prevent and minimize damage, you should know how to prep your machinery for shipping.
In most cases, shipping may entail a truck. In that case, can the container withstand difficult roads?
Will the machinery need any special packaging to protect it from corrosion?
Does the machine have debris or other substances that may cause chafing during transit and need to be removed?
Check the machine's user manual for shipping advice if you're shipping for the first time.
Conclusion
Heavy equipment shipping can be pretty costly in terms of time and money. However, you can reduce some of these costs by ensuring you get your equipment shipped correctly. You must consider many variables to keep the process going and ensure your shipment gets to you in one piece.
There's no doubt that hiring experts who can plan and execute the shipping process is the best thing to do. It will save you time and money, and you can have peace of mind knowing a professional is taking care of you.
We are sorry that this post was not useful for you!
Let us improve this post!
Tell us how we can improve this post?