Etsy is becoming popular as an online marketplace for sellers and customers. However, there might be some features that are not suitable. In these cases, there are many sites like Etsy that you can use as alternatives.

As experienced sourcing experts, we have dealt with many issues regarding product sourcing. You'll be able to source products easily from sites like Etsy. These Etsy alternatives allow you to get any handmade item you desire.
In this article, you will learn useful information about sites like Etsy. Let's begin.
What is Etsy?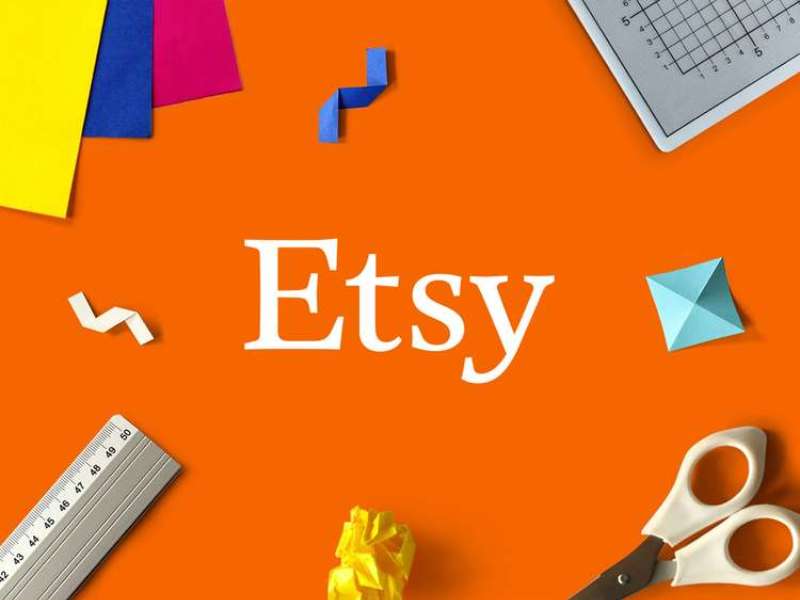 Etsy is an artisan marketplace that offers craft supplies and handcrafted items from independent sellers. The sellers on Etsy also sell gift cards and vintage items. An online business owner can sell craft supplies on the Etsy platforms. Buyers can also get personalized items through Etsy.
There are also several excellent Etsy alternatives online. Unlike Etsy, they each have their pros and features. Let's discover further.
1. Package Free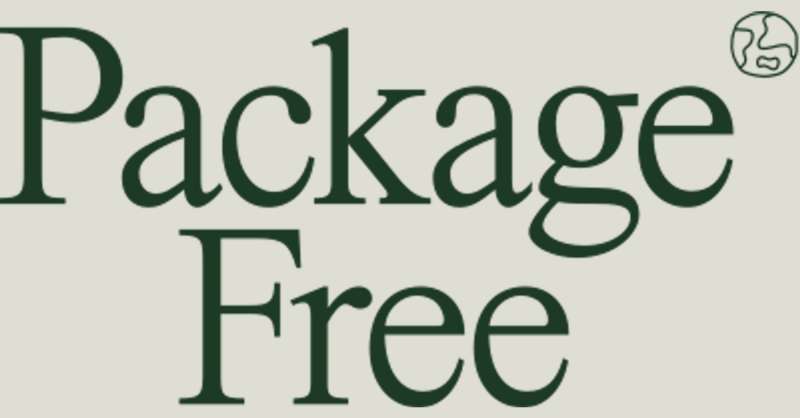 If you are selling sustainable products, the package is your GOOD-TO-Go website. I have sold hundreds of products in a SINGLE month on this site. I can easily make sales.
Package Free Shop is an eCommerce site for all things sustainable. The site encourages the stocking brands to be earth-friendly. It is founded to help reduce waste and let people live more sustainably. 
This site sells plastic-free products to encourage a zero waste and low-impact lifestyle. It also urges reducing carbon emissions by letting customers buy all the items in a single place.
Package Free offers three main categories in their shop. They include home, health&body, and on the go. You can also get Zero Waste Kits for laundry, lunch, and periods here.
Their best-selling products are stainless steel straw, wool cat toys, dish soap bars, and powdered laundry detergent. You can get the items on their online site with many more sustainable products. You can also get a free shipping fee for orders over 35 USD.
Best Feature
The site offers eco-friendly and sustainable products.
All inbound shipments are 100% plastic-free.
International shipping.
2. The Little Market

The Little Market is an online fair trade marketplace founded by Lauren Conrad and Hannah Skvarla. They want customers to purchase beautiful products handmade by artisans around the world. In addition, they have a mission of building sustainable partnerships with artisans worldwide.
The Little Market sources the artisans' products and practices fair trade principles. They especially seek to empower women artisans through their marketplace. You can find a wide range of product categories on this site. They include the kitchen, bath, candles, totes, accessories, kids, gifts, and many more products.
Customers can also order customized products. The artisans can produce the products with any design, logo, or phrase. Simply submit your ideas on their sales platform to get the customized products. Sellers interested in selling on this site can also easily submit their applications.
Best Feature
Sourced products from 75 artisan groups in over 25 countries.
Fast and reliable customer service.
Worldwide delivery.
Looking to find a reliable Chinese supplier?
As the best China sourcing agent, we help you find factories, get competitive prices, follow up production, ensure quality and deliver products to the door.
3. Amazon Handmade

Amazon Handmade is where customers can find handmade goods online. This artisan-online community allows artists and crafters to sell their vintage items globally. It is required that everything on Amazon Handmade must be handmade.
Amazon Handmade does not allow mass-produced products to be on the site. Therefore, everything sold on Amazon Handmade must only be hand-altered or hand-assembled.
The products on Amazon Handmade cover a wide variety of categories. It includes handmade cutting boards, pottery, soap, bath bombs, pillowcases, and more.
The process of starting selling on Etsy is simple. Just fill out the form to demonstrate how you are a handmade seller. After the approval, you can start selling on the site to earn a steady income.
Best Features
No listing fee.
Fulfillment by Amazon.
Insightful analytics and Amazon-sponsored ads.
Selling Fee
Amazon takes a 15% commission as transaction fees.
There is also a monthly membership fee.
4. Folksy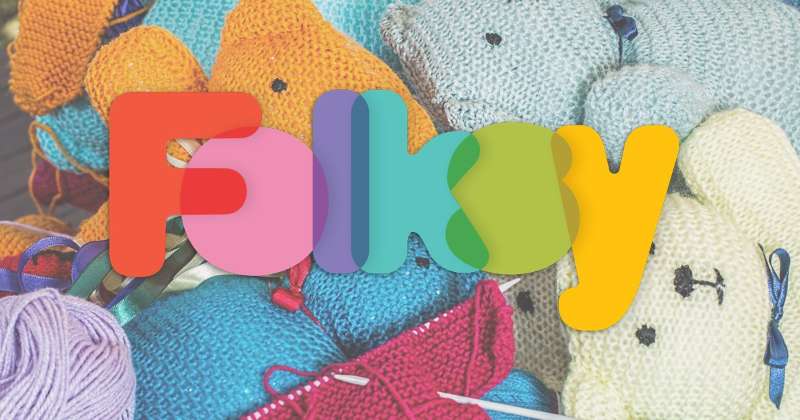 Folksy is one of the best Etsy alternatives. On Folksy, the sellers offer handmade products and original artwork. They are known as the "UK version of Etsy."
Folksy is famous for supporting small businesses. The community is mainly artists and makers specializing in handmade goods. The platform has been used by over 300 thousand users monthly.
You can find many unique products and vintage items on this site. It includes craft supplies, colorful gifts, housewarming cars, and a Scandinavian style of presents. Besides, the site also features best sellers, best-selling shops, and popular and newest items.
It is easy for sellers to start selling online at Folksy. Just choose one of their plans with no hidden listing fees. Folksy prioritize transparency in charging fees. Here you can get more information about How To Find Reliable China Suppliers.
Best Feature
It is free to start selling on Folksy.  That is quite awesome. I regularly sell products and make higher profits. Selling free boosts the profits and helps me invest in the marketing campaigns to grab more customers. Isn't it cool?
Folksy provides massive support for their sellers.
Unlimited listings with free relisting.
Selling Fee
After the first three listings, the listing fees are 0.15 GBP per listing.
The Folksy Plus account costs 5 GBP a month.
Folksy charges a 6% sales commission.
5. Big Cartel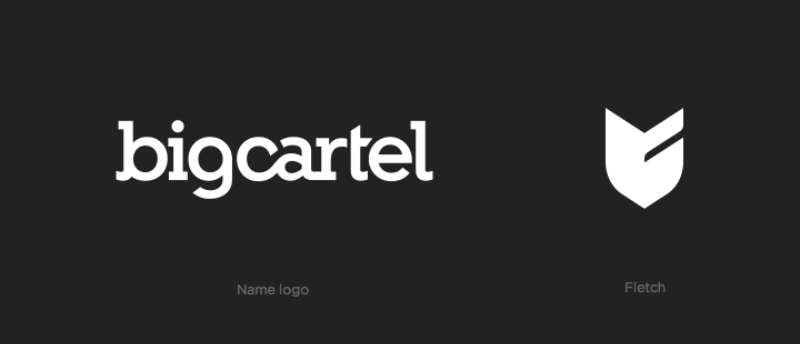 Big Cartel is an e-commerce platform that was founded in 2005. The sites focus on smaller and more artistic stores and merchants. It is made for independent creatives that are affordable for all artisans.
This online store has more than 83 thousand handmade craft sellers. It includes artisans from all over the globe. Big Cartel aims to help artists to sell their work under a creative, unique online store. You can build your free online store that caters to your every need.
Big Cartel is committed to helping you customize the online store with free themes. Since 2005, over a million creators have sold items such as t-shirts, art, clothing, prints, and jewelry! They don't take any cut from your sales or have a bunch of fees.
Best Features
Free customizable themes with your own custom domain.
Google Analytics and theme code editing.
Bulk editing and shipment tracking.
Selling Fees
The site is free for signing up with gold features.
Platinum features cost 9.99 USD per month.
Diamond features cost 19.99 USD per month.
6. Aftcra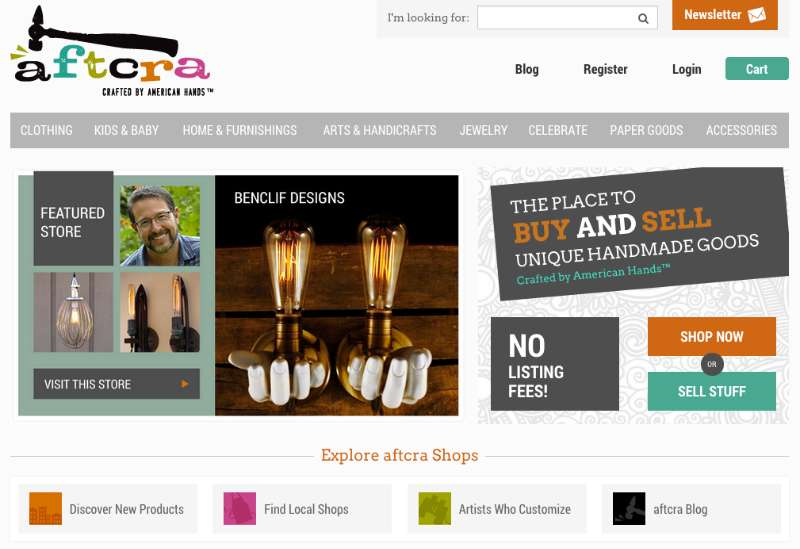 Aftcra is a marketplace to sell online handmade, American-made goods. Unlike Etsy, Aftcra ensures that everything sold on its platform is handmade. It is to support American artists to connect them to people worldwide.
This site is a relatively new company founded in Wisconsin in October 2013. They have a community on the page. It allows the handmade sellers to put the badge they received on their own shop page.
Aftcra offers one-of-a-kind items on its own website. It includes crocheted baby bonnets, purses, drapery ties, and handmade crafts. Getting started on Aftcra is fairly straightforward. Register your business on their site and create your shop. It only takes several minutes. You will learn more about Best 20 USA Sourcing Agents in this article.
Best Features
There is no registration and listing fee. I have created my listings for NO COST. It has saved the overhead costs I need to pay on Amazon or other listing fees. You should consider selling on this site if you are serious about starting your eCommerce journey.
Aftrcra incorporates Google Analytics.
You can link the seller page with your social media sites.
Selling Fees
7% fee will be charged as transaction fees.
A temporary charge of 1 USD from PayPal.

7. iCraft

iCraft is an Etsy shop alternative based in Ontario, Canada. It only allows handmade sellers who handmade their art and crafts. The sellers can also let their buyers know if they accept customizing on the site. They offer the highest quality of handmade products from independent artists and crafters.
On the site, iCraft offers a wide variety of categories. You can find handmade jewelry, accessories, fashion, bath and body, bridal and wedding, and home decor. There are over 100 thousand products under these categories.
It is easy to join their marketplace and set up your shop. After the registration, you can start selling your handmade artisan product on their marketplace.
Best Features
There are no transaction fees.
Access to small business marketing tools, community message boards, and arts and crafts events.
Listing Fee
The 12-month listing plan is for 10 USD per month.
The 6-month-plan is 12 USD per month.
There is a one-time 25 USD registration fee.

Looking for the Best China Sourcing Agent?
Leeline Sourcing helps you find factories, get competitive prices, follow up production, ensure quality and deliver products to the door.
8. Redbubble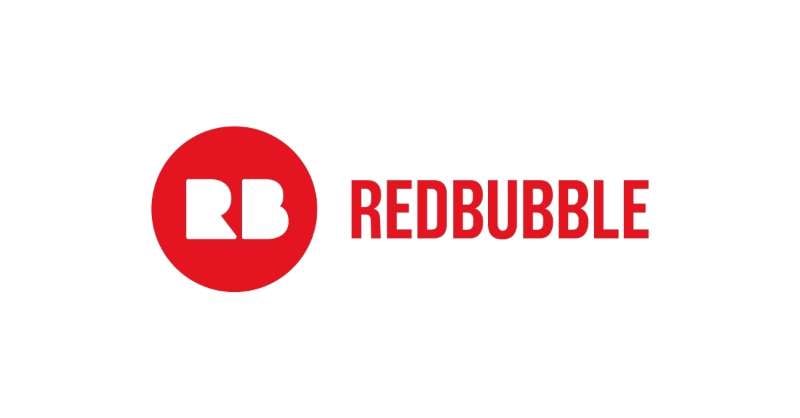 Redbubble was founded in 2006 as an eCommerce platform for print-on-demand goods. Now, it is a user base of 700 thousand people. Their products include clothing, phone cases, tote bags, wall art, accessories, stickers, and stationery.
This site was created for designers, entrepreneurs, and artists. They can sell handmade products and artwork on the platform to earn a profit. They can also open a virtual store on Redbubble and upload their designs.
Redbubble is known to offer services for print-on-demand almost for everything. The sellers on Redbubble can be from hobbyists to pros and fans alike. You can start selling on Redbubble even though you are a beginner. Plus, there is no hidden cost, and it is risk-free.
Best Features
There is no fee to set up an account or to upload designs.
It has the feature of creating fan art with legal application.
You can set the profit margin and retail prices on the base set per product.
Selling Fee
There are no listing fees to start selling on Redbubble.
9. Spreadshirt

Spreadshirt is a leading eCommerce site for print-on-demand and customized products. They have 18 marketplaces in three regions, with the software translated into 12 languages. It supports designers in showcasing their designs to earn money. They can sell their design on the Spreadshirt marketplace.
Customers are welcome to shop for products from the community of creatives. Now, they have more than 9.8 million printed products sold. In addition, you can find about 100 thousand active merchants on the website.
There are more than 200 product categories in their collections. It includes hoodies, sweatshirts, kids' and babies' clothing, gifts, stickers, and accessories.
Spreadshirt has five manufacturing facilities that make high-quality print production. You can get the inkjet and plot printing methods on your products. They also have complete control of the printing process with the different printing processes.
Best Features
Spreadshirt provides creativity and flexibility in customizing products.
It has a Shopify Integration.  That is quite awesome when I need to use Shopify as well. I can make more bucks and increase my inventory range. Brand expansion is a great idea at such a point.
Selling Fee
There are no listing fees or transaction fees to start selling on Spreadshirt.

10. Storenvy

Storenvy is a social marketplace for indie sellers and shoppers. Independent store owners can run the stores on Storenvy. You'll also find a fully customizable and completely free admin panel.
Shoppers can like listings and add items to collections. They can also message the sellers directly. Besides, the seller can customize their own store with advanced features. The shop can also be hosted on a custom domain.
There are many items in their broad number of collections. That includes women's, men's, jewelry, art, and home items. You can find over 60 thousand products on Storenvy as of now. Starting selling on Storenvy will be easy too. Just signup and create your own online store with the tools provided.
Best Features
Email marketing and multi-channel marketing.
Reviews management and data security.
It has return management.
Selling Fee
Hobbyist is allowed up to 1000 listings for free.
The Plus plan is 14.99 USD per month with features such as discount codes.
The Pro plan is 29.99 USD per month with automation tools.
11. Glue Store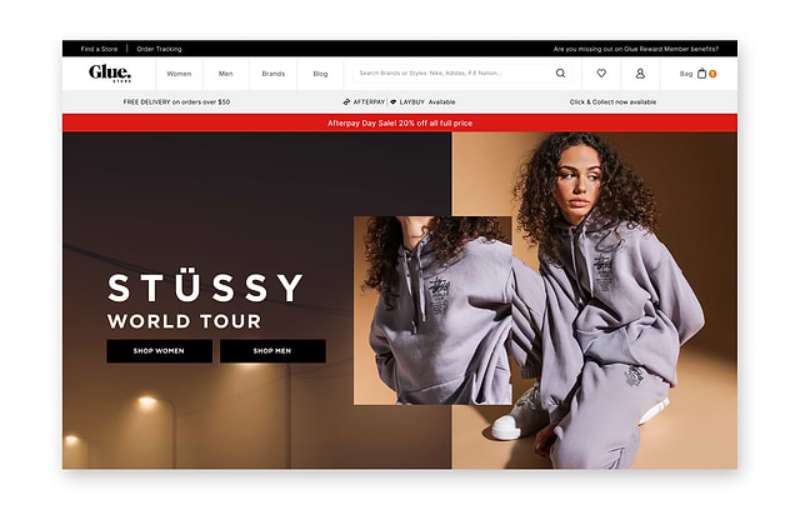 Glue Store was founded in 1999 to bring the best brand and biggest trends to the streets. They are the one-stop shop for major international labels like Stussy, Nike, Adidas, and Tommy Hilfiger. It is the original 'House of Brand' Premium retailer.
Their expert travels worldwide to develop curated capsule collections for men and women. They aim to make their customers look and feel the best with their clothing. Glue Store wants its customers always to find something new when they visit the site. But, they are not fast fashion as they value quality over quantity.
The Glue Store's collection includes gifting, clothing, shoes, accessories, and many more. Glue Store supports Australian designers and the Australian fashion industry. Nevertheless, if they cannot find the style that suits you, they will work with brands to find it.
Best Features
Integrates with Overdose and Shopify Plus for their Omnichannel Strategy.
Global Delivery and free delivery for over 50 USD.
12. SunFrog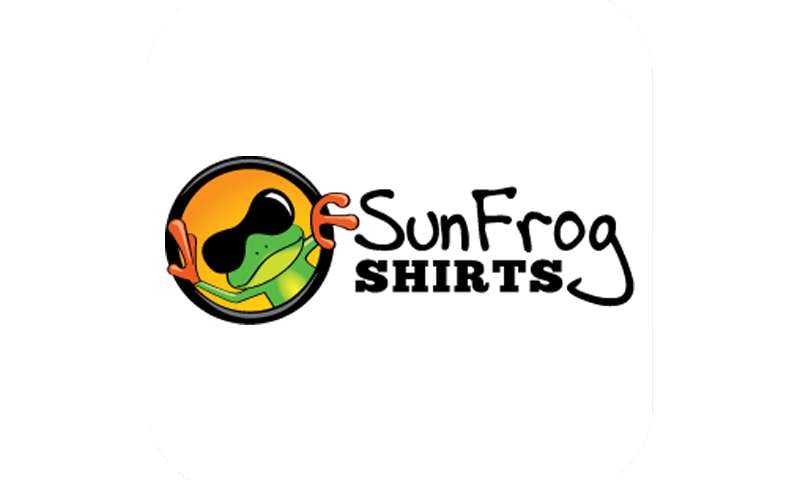 Sunfrog is a leading marketplace for print-on-demand products. It was founded in 2012 by Josh Kent in Gaylord. Customers can find designs and order unique prints with a broad range of products.
This platform has a creative community of shoppers, designers, and artists. It allows creatives to upload and sell their designs online. The software also enables sellers to create a collection of products.
You can find a wide array of custom art designs on SunFrog. The products include t-shirts, hoodies, youth yees, hats, and mugs. These creative designs are suitable for family reunion merchandise, job shirts, birthday items, and others. Sellers can customize them according to their creativity to sell online.
SunFrog offers bulk and wholesale order services. It helps sellers handle order fulfillment, returns, refunds, and shipping. 
It is a ONE-STOP shop for me. I can get all the deals. Sell products with 100% ease. And work smoothly with the customers. From selling to shipping, it handles all for me.
Best Features
An extensive design catalog.
Offers an order tracking service.
Offers embroidery, screen printing, and direct-to-garment printing.
Selling Fees
SunFrog does not charge any signup, subscription, or transaction fees.
Only pay when items are sold.
13. MyDeal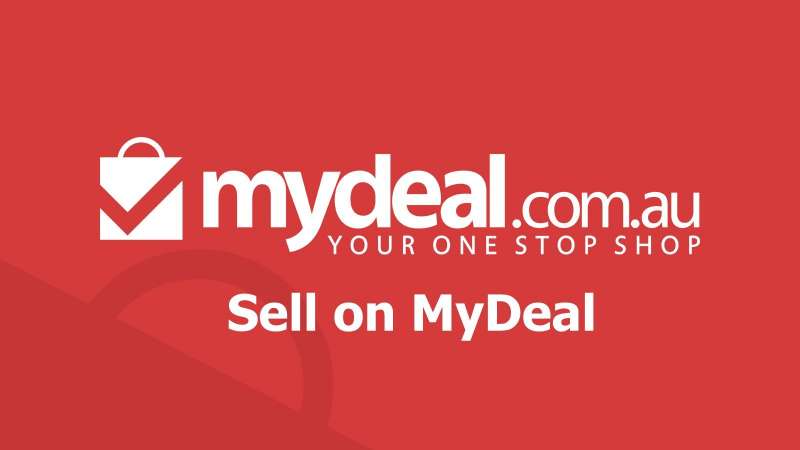 MyDeal is a leading Australian online retail marketplace based in Australia. They have provided customers with quality products from a curated selection since 2011. The retailers are also deemed to be trusted by the shoppers.
MyDeal offers millions of items from thousands of merchants. It is by far the most established platform in Australia. You can find a huge range of products offered on their online marketplace. It includes furniture, home and garden, appliances, electronics, and more. The collection goes up to 1 million products in 3500 different departments.
They go beyond to ensure that their customer receives the best quality products through the ACCC. It will ensure the safeguard of fair trade among sellers and buyers.
Best Features
Offers secure transaction encryption security.  I have used their site to transact. The SSL certificate is going to win my confidence. All the information is 100% safe and secure. That is great for everyone. 
Offers expert advice on marketing, strategy, and utilizing technology on sellers.
Global delivery
Selling Fee
The seller's rate depends on the product category. One seller may have a different rate from other sellers. You have to submit a request to determine how much it will cost.
14. Madeit

Madeit is an Australian-owned online marketplace. It is an operated community for artists, craftspeople, and lovers of Australian handmade. There are many unique handmade crafts and one-of-a-kind gifts.
Sellers can use the platform to sell their creations and craft supplies. They can use Madeit to showcase their amazing, independently created handmade items. However, all the sellers must be based in Australia, and the product must be handmade.
Madeit directs their items from the sellers without other agents. The products range from fashion, art, homewares, accessories, stationery, toys, children, and baby clothing. Hence, there are more than 120 thousand registered users in Madeit. Sellers are welcome to register on their website to make money.
Best Features
Offers gift card credit to promote products on the page.
You can export your listing on social media.
Selling Fees
The professional plan is 40 AUD per month with unlimited products.
The Small Biz plan is 13.76 AUD per month with only 130 products.
The Hobby Plan is 5.33 AUD per month but with only 16 products.
15. IndieMade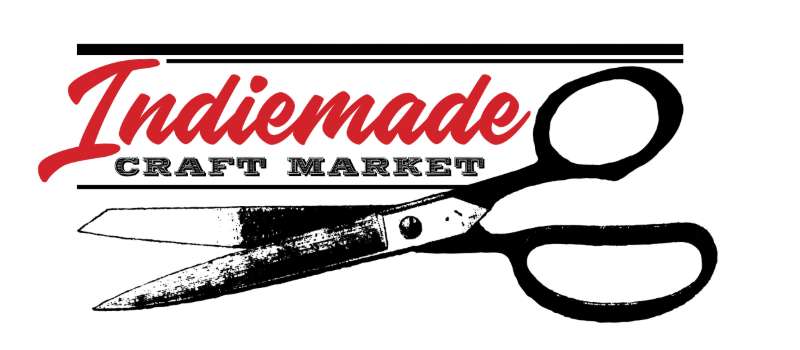 IndieMade is a shopping cart web builder made for artists. They can create their own functioning website that can also connect with Etsy. In one simple platform, IndieMade bundles everything to make a website for your handmade goods.
You can showcase your work or small business simply. You can also choose a theme and customize it with the design elements from their tools.
Sellers will be able to post their listings of handcrafted items with the help of IndieMade. That includes the bulk editing and inventory tracking services. Then, sellers can start earning money through IndieMade.
Best Features
Fully hosted with no fee for hosting or storage space.
Offers MailChimp services to send out shipping discounts and promo codes.
Free professionally designed website templates.
Selling Fee
The Basic plan is 4.95 USD per month for ten listings.
The Standard plan is 12.95 USD per month for 250 listings.
The Pro plan is 14.95 USD per month for 500 listings.
FAQs about Sites Like Etsy
1. What are Etsy fees versus other sellers' platforms?
The Etsy site charges 0.20 USD for each listing. The listing will expire after four months. The transaction fee is 5% of each item sold. The payment processing fee 3% + 0.25 USD for each transaction. 
On eBay, however, there is an insertion fee of 0.35 USD per listing. There is also a final value fee of 12.55% of the item sold.
2. What Is The Best Etsy Alternative?
The most excellent Etsy alternative is Amazon Handmade. The site prioritizes handmade items only. While another website may still allow mass-produced products, Amazon Handmade does not allow it. It allows artisans to showcase their products entirely.
3. How to choose a suitable eBay alternative?
You can choose a suitable eBay alternative by determining your desired product type. It also includes the payment and shipping methods that suit you. If Etsy offers you the product you want, you can use the Etsy platform as an alternative to eBay.
4. Is Madeit marketplace safe to use?
Madeit is one of the safe sites like Etsy shop. It allows you to purchase any items you want online. They have a secured website to ensure you can shop safely on the platform. Your financial information will also be kept hidden, and sellers will not be able to view it.
What's Next
In summary, there are many Etsy alternatives listed that you can use to sell products. Each Etsy alternative has different advantages and disadvantages from other Etsy alternatives. You should utilize them to showcase your art online.
Are you interested in more Etsy alternatives? Leeline Sourcing is the name you can trust. With our years of experience in product sourcing, you can get professional advice from us. Talk to us today to boost your eCommerce business.
We are sorry that this post was not useful for you!
Let us improve this post!
Tell us how we can improve this post?