Whenever someone LAUNCHES A BRAND, the first aim is to reach TARGET AUDIENCE. Think for a moment and tell me how it is possible.
The FASTEST ROUTE is the content marketing strategy. That is why you should know the REAL-TIME B2B marketing statistics.
And According to Statista, in the US, B2B ad spend has been:
Traditional ad spend has been 17.7 BILLION USD.
Digital Ad spend has been 14.3 BILLION USD.
Billions of USD go into marketing. A proper marketing strategy brings up the BEST RESULTS.
Do you want to know more stats?
This article sheds light on B2B marketing statistics. Let's go!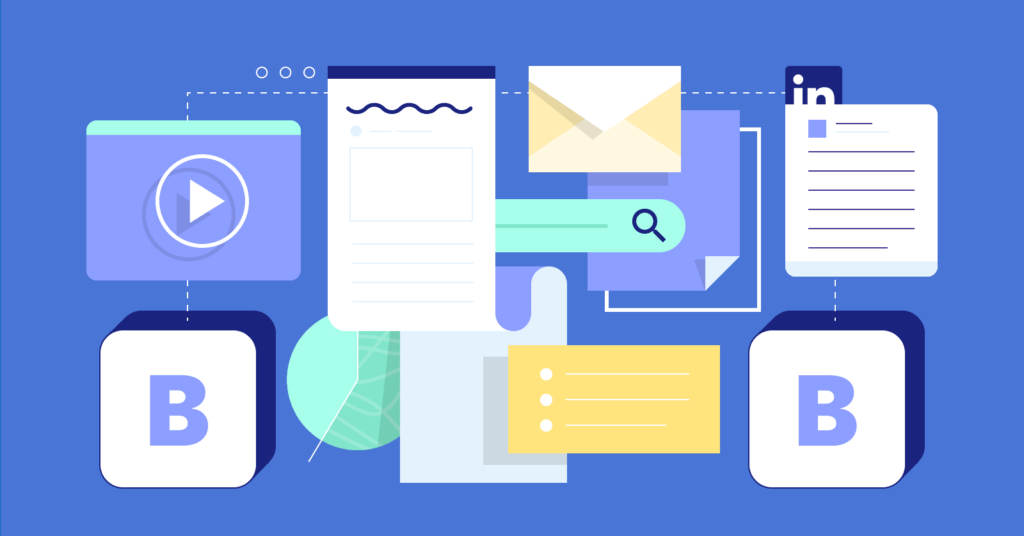 B2B Content Marketing Statistics
B2B content strategy has BORE FRUITS for B2B marketers. Each brand specifies the content marketing budgets.
Reason?
They drive sales by CREATING blog posts on their websites. With high organic traffic, generating LEADS becomes easy for B2B companies.
Here are some stats about the CONTENT STRATEGY.
Most content marketers agree that they publish posts weekly. It includes publishing SEVERAL TIMES A WEEK. Video content, blog posts, or PODCASTS can be the tools here.
It takes around 4 hours for a SINGLE BLOG POST to create. It is 65% more time compared to the BLOGS.
67.4% of marketers create content for the top-of-funnel audience. It includes the VIDEO CONTENT or a BLOG POST published each week or each day.
27.9% of marketers create CONTENT for middle-of-funnel customers. 4.7 marketers design content marketing strategies for the bottom-of-the-funnel audience.
1000+ word blog posts generate a better result. An average GOOGLE NUMBER 1 ranking relies on the quality of content. It is a BLOG POST of 1447 words ranking on the top. But most marketers target longer blog posts ranging from 1500 to 5000 words. An extraordinary length generates results only if the content has QUALITY.
News blogs have a HIGH TRAFFIC compared to educational blogs. They have 2X more traffic due to the latest RELEVANT CONTENT attracting people. 36% of the companies share an EDUCATIONAL blog. Only 12% of the companies publish news or PR-related content.
The highest level of shares is made by the LISTICLE BLOG POSTS. They get around 259 shares.
The second most popular blog types are the WHY BLOGS. They generate around 200 shares.
The third most popular blogs are the What posts. They are lagging behind the second number by 150 shares per post.
VIDEO CONTENT, INFOGRAPHICS, and HOW TO CONTENT have the shortest engagement. Their shares per blog posts are below 100.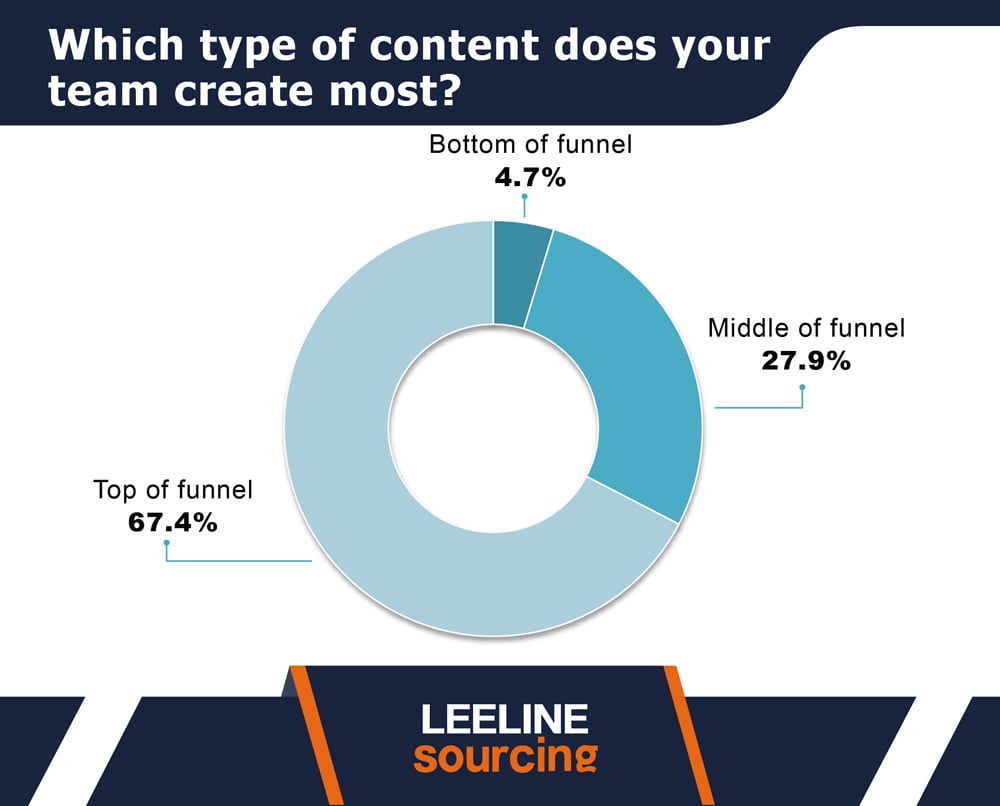 B2B Lead Generation Statistics
B2B companies prefer LEAD GENERATION through the search results. They aim to gain a TOP POSITION in the search results.
For this reason, they might even do SEARCH OPTIMIZATION. A Marketing report plays a KEY ROLE in optimal content marketing performance.
Let's find out how B2B COMPANIES get leads
The website is the primary SOURCE for lead generation. 86% of B2B companies launch their websites and grab their CLIENTS. They might even communicate with their existing customers.
38% of B2B companies use email marketing as their top tool for marketing and leads. It increases their SALES and brings up more conversions with effective content marketing.
SEO plays a crucial role in generating leads. Most B2B companies target SEO for better ranking. 33% of marketers generate leads through this process.
30% of the B2B companies believe in SOCIAL MEDIA content for leads. It has driven OPTIMAL RESULTS for its marketing strategy.
72% of B2B companies measure their MARKETING progress with conversions. (A report published by the Content marketing institute)
50% of the B2B companies create content for more BRAND popularity. In turn, it generates sales for them and gets results.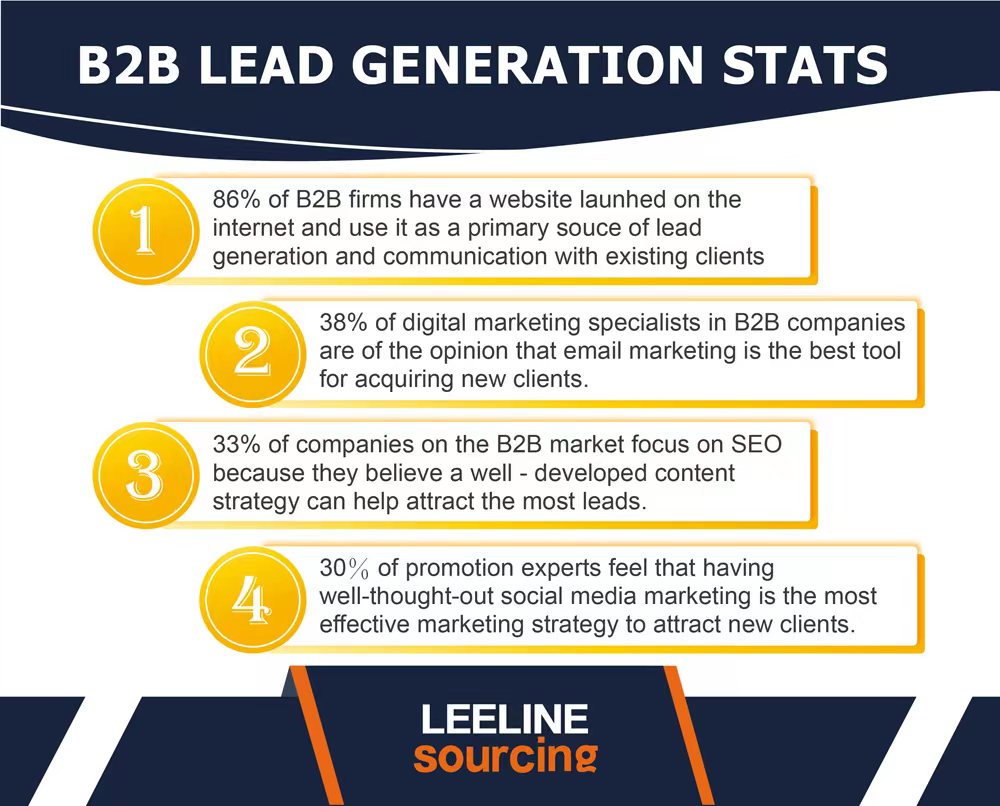 B2B E-commerce Statistics
eCommerce is always the FUNDAMENTAL target. For example, a B2B supplier on Alibaba. If the B2B agents want to sell the apparel:
They will attend the TRADE SHOWS and disclose their products.
Use digital advertising to get more online sales.
They will try to find NEW CUSTOMERS through content marketing and social media.
Do you want the proof? Here are some stats.
In 2015, 28.3% of US business-to-business attended regional trade shows. 13.2% of the MARKETERS attended national trade shows. And 5.3% attended International trade shows.
In 2016, 22% of US B2B businesses attended regional trade shows. 14.3% of the MARKETERS attended national trade shows. And 6.4% attended International trade shows.
In 2017, 23.5% of US B2B businesses attended regional trade shows. 12.1% of the MARKETERS attended national trade shows. And 3.5% attended International trade shows.
In 2018, 22.6% of US B2B businesses attended regional trade shows. 14.3% of the MARKETERS attended national trade shows. And 7.8% attended International trade shows.
In 2019, 28.6% of US B2B businesses attended regional trade shows. 16.9% of the MARKETERS attended national trade shows. And 10% attended International trade shows.
In 2020, 7.8% of US B2B businesses attended regional trade shows. 5.9% of the MARKETERS attended national trade shows.
In 2021, 8.2% of US B2B businesses attended regional trade shows. 5.6% of the MARKETERS attended national trade shows.
In 2022, 21.3% of US B2B businesses attended regional trade shows. 12.2% of the MARKETERS attended national trade shows.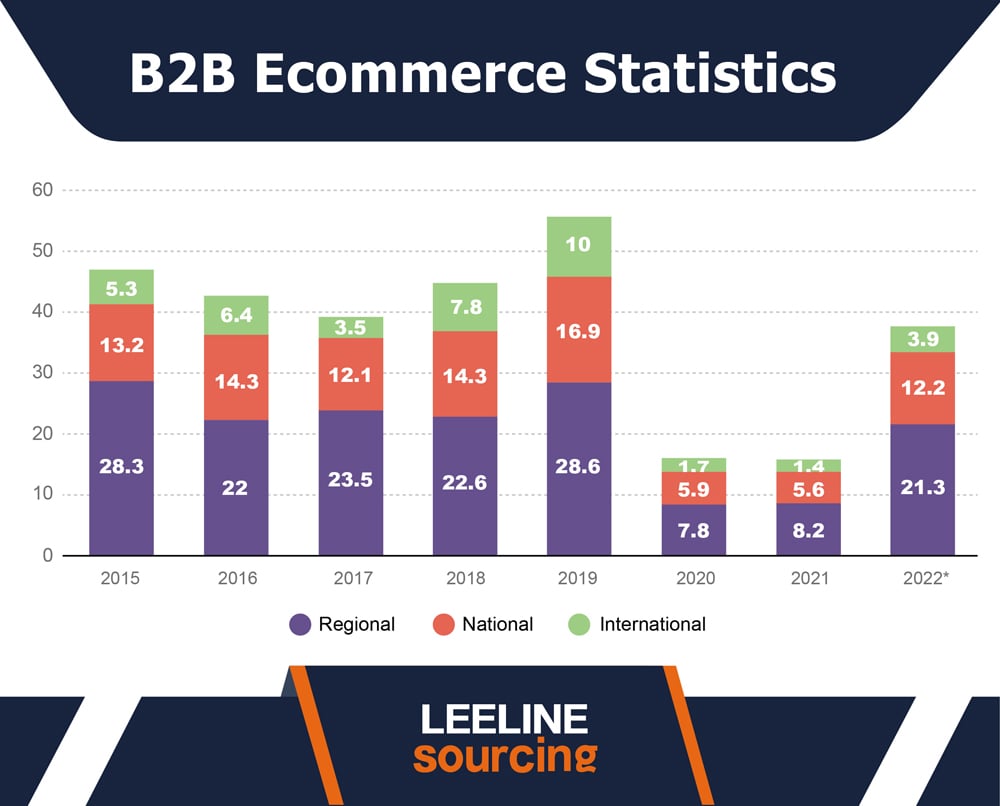 B2B Marketing Budgets Statistics
B2B companies invest BILLIONS OF USD just for marketing. Most companies have SPECIFIED their budgets.
Can you guess the maximum marketing SPEND? Maybe you are thinking about SOCIAL MEDIA.
Is that so?
If yes, you are wrong. Let's check out the MAXIMUM marketing spend.
Website development has achieved the NUMBER 1 rank in the marketing budget. B2B businesses specify 51% of the marketing budget.
Digital marketing is SECOND on the rank with 44%.
Content marketing is Third on the rank with 33%.
Branding is Four on the rank with 27%.
Social media is FIFTH on the rank with 22%.
Marketing and Sales collateral is SIXTH on the rank with 21%.
Marketing automation is SEVENTH on the rank with 21%.
Advertising spending is EIGHTH on the rank with 16%.
Email marketing is NINTH on the rank with 16%.
Trade shows and events are TENTH on the rank with 11%.
Digital advertising is ELEVENTH on the rank with 11%.
Public Relations is Twelfth on the rank with 10%.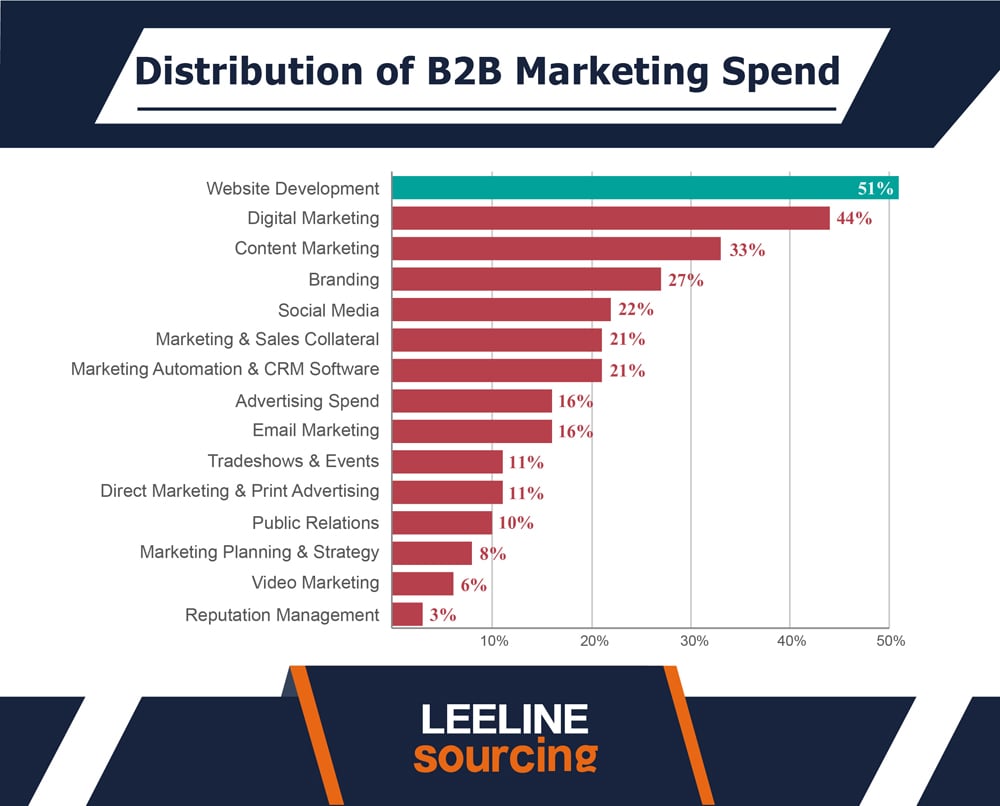 B2B Social Media Statistics
Social media has always BEEN FASCINATING. 4.76 BILLION people use them. Isn't it a small number?
Around 59% of the POPULATION USES social media. Such huge numbers make it easier for businesses to do INFLUENCER marketing.
Creating brand awareness through SOCIAL MEDIA MARKETING is easy. It is possible due to multiple digital marketing tools. Pay $1k to micro-influencers and advertise your products.
Here are more stats about B2B marketing on social media.
LinkedIn is a top CHANNEL for B2B marketers. Around 93% of marketers target it for marketing. LinkedIn ads have been a POPULAR DOMAIN for B2B marketers.
83% of B2B marketers love Twitter. They use it for digital marketing strategies. And find the target audience for marketing leads.
Facebook is famous for its influencer MARKETING. 82% of B2B marketers use FACEBOOK to find B2B buyers.
After Facebook, Youtube makes a place in our B2B marketing list. It has 81% of B2B MARKETERS find potential customers. Youtube offers digital marketing with traditional marketing facilities.
Instagram is FIFTH on the list. It has 40% of the B2B marketers finding B2B buyers. Marketers publish social media posts and create engagement. They might even run paid advertising campaigns to get B2B buyers.
Pinterest is 6th on our LIST. It has got a LOW but decent percentage of B2B marketers. Around 26% of B2B marketers try to find B2B buyers.
Snapchat has got the 7th rank on our LIST. 16% of marketing teams use it to create brand awareness. Social media advertising helps a lot.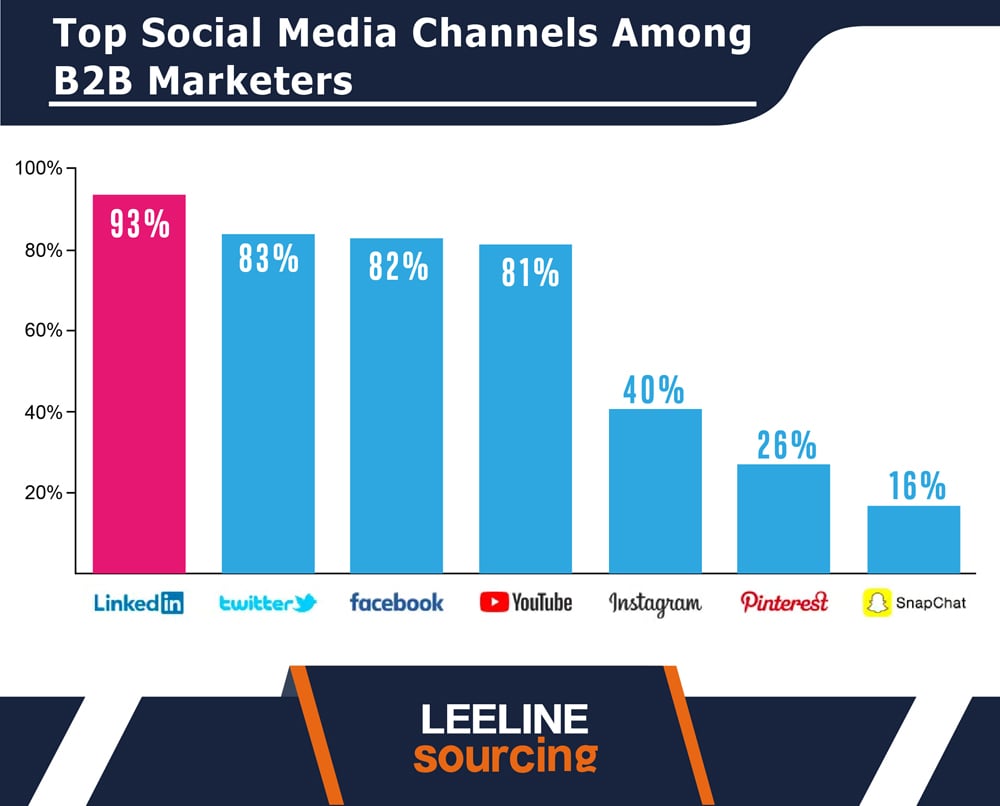 B2B Advertising Statistics
Google ads have BEEN a popular source. Different sales teams have DIFFERENT TARGETS. For example, a new brand expects to increase its BRAND recognition.
Similarly, an old brand considers advertising campaigns for sales. Whatever the PURPOSE is, you should know the ADVERTISING statistics.
Let's know the Ads stats.
The AVERAGE CPC is $3.23 for keywords in the B2B industry. It includes the cost for GOOGLE ADWORDS to other ad channels.
The average CPM for a B2B ad is 0.79 USD per 1000 impressions.
80% of B2B brands use ads for more BRAND recognition.
16% of companies INVEST in advertising.
B2B Video Marketing Statistics
Just open your FACEBOOK. And you'll see hundreds of videos pop up on your screen.
How many will you see? I guess at LEAST 10 videos. The same is TRUE for the B2B marketers. Videos on YOUTUBE and FACEBOOK have been excellent sources for targeting customers.
Video marketing helps B2B marketers achieve marketing goals. Here are more stats about CONTENT MARKETING.
Video marketing helps video marketers draw the attention of their customers. It enables 88% more time spent on a website.
83% of the marketers agree to that fact of leads. Video marketing helps them ATTRACT more leads and generate higher conversions.
Return on INVESTMENT is a fundamental goal for every business. It is only POSSIBLE with higher conversions. 75% of B2B marketers appreciate the marketing for letting them achieve higher ROI.
Creating a video from SCRATCH and bringing a new topic is the BEST THING. And 71% of the B2B marketers do that by making videos from scratch. It helps them get more customers.
72% of the companies agree that VIDEO MARKETING helps them achieve higher results. They get a Higher conversion with the RIGHT marketing campaigns.
53% of companies use YOUTUBE to share their videos.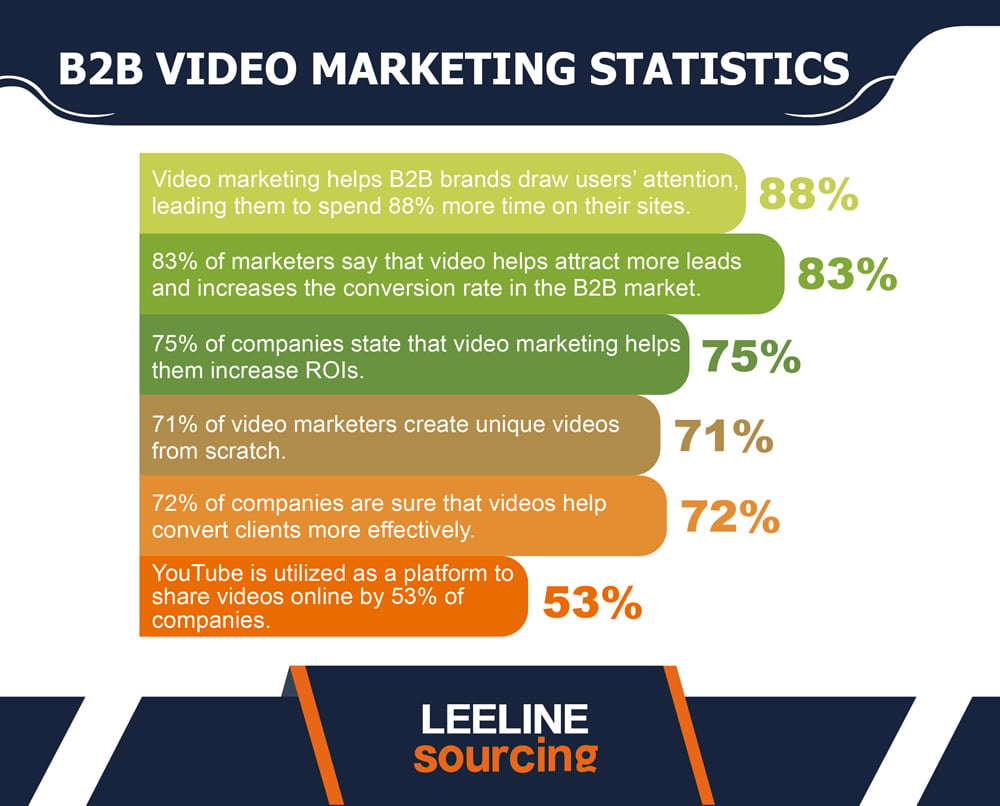 B2B Mobile Statistics
I often use the MOBILE PHONE to purchase something. Even I have an Aliexpress mobile. Around 50% of the TRAFFIC comes from mobile devices.
So, how can a CHIEF MARKETER ignore smartphone users?
Here are more stats about the B2B mobile stats.
80% of the B2B clients are mobile users. Their purchasing decisions are made on SMARTPHONES.
If you have a MOBILE-FRIENDLY website, you'll get more conversions. It is because 74% of users will more likely RETURN to your website.
60% of BUYERS agree about their mobile devices. It says it helped them get the right products and has become a decision-maker for them.
B2B companies ensure 42% of sales by mobile device users.
B2B Blogging and SEO Statistics
Do you have a DOCUMENTED content marketing strategy?
I recommend including search engine optimization and blogging in it.
The reason?
It helps lay out the plans of what B2B buyers like. For example, if buyers want personalized content, B2B marketers provide them.
I have listed some significant stats for business-to-business marketing.
45% of B2B buyers want personalized content.
44% of the B2B buyers expect the ROI calculator. It helps them calculate the cost and their profits. Blogs can include the ROI CALCULATOR.
38% of the B2B buyers want augmented reality.
33% of the B2B buyers want VIDEO CHATS.
22% expect instant messaging with quick replies on sales.
The first SERP result on GOOGLE receives the most traffic. Around 95% of the total traffic moved on the given keyword.
71% of B2B buyers use the SEARCH ENGINES. One of the most used search engines is GOOGLE. Other engines are Duckduckgo, Bing, etc.
For a website, 70% of traffic comes from the NATURAL SEARCH. The other 30% include referrals, or direct website link clicks.
75% of the B2B buyers research the products. With SEO, you can rank higher in the search engine and boost your visibility. Almost all internet users use GOOGLE TO FIND their favorite products.
The most popular type of CONTENT is thought leadership content. 90% of B2B marketers publish blogs for better results. Do SEO to rank higher. And increase brand visibility with effective marketing spend.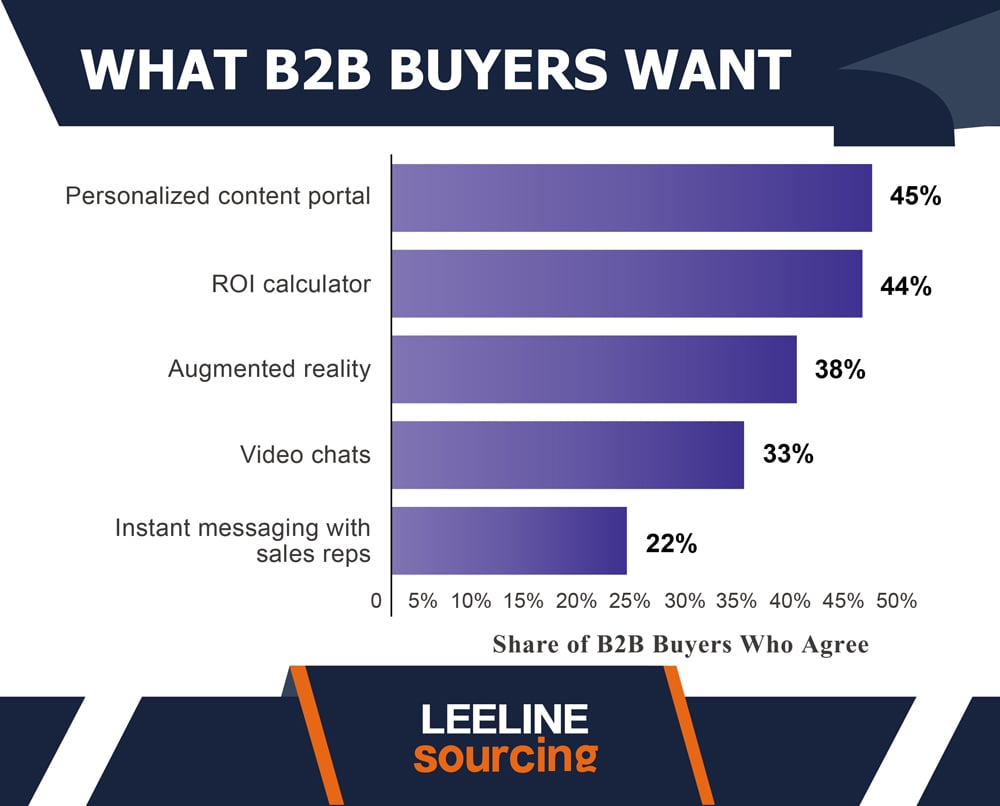 B2B Email Marketing Statistics
Email marketing generates more LEADS and in turn more chances for conversion. The REASON is simple. Every single person opens the EMAIL at least for the first time.
I have done this many times. Therefore, the probability of the CONVERSION increases.
Let's know more about the stats on B2B stats.
81% of MARKETERS favor emails. They say emails are the BEST FORM to drive results and get conversions.
Almost EVERY B2B creates an email campaign after every 25 days.
20% of emails are not OPTIMIZED for smartphones. It increases the HASSLE For the customers.
B2B Marketing Trends Statistics
There are many marketing trends. Some fields are on the TOP for marketing. I have listed statistics related to the RECENT marketing trends.
Account-based marketing is a TOP, with 46% of content marketing and strategy.
Video marketing is second on the LIST, with 41% of content marketing and strategy.
Influencer marketing is third, with 38% of content marketing and strategy.
Artificial Intelligence marketing is at 4th rank. It has 38% of content marketing and strategy.
Retargeting marketing is at 5th rank, with 33% of content marketing and strategy.
Personalization marketing is at 6th rank, with 32% of content marketing and strategy.
Inbound marketing is at 7th rank, with 29% of content marketing and strategy.
The podcast and live streaming are at 8th rank, with 27% of content marketing and strategy.
Chatbots are at 9th rank, with 24% of content marketing and strategy.
Mobile First Strategy is at 10th rank, with 22% of content marketing and strategy.
Programmatic advertising is at 11th rank, with 11% of content marketing and strategy.
Voice optimization is at 12th rank, with 11% of content marketing and strategy.
Digital Marketing is at 12th rank, with 5% of content marketing and strategy.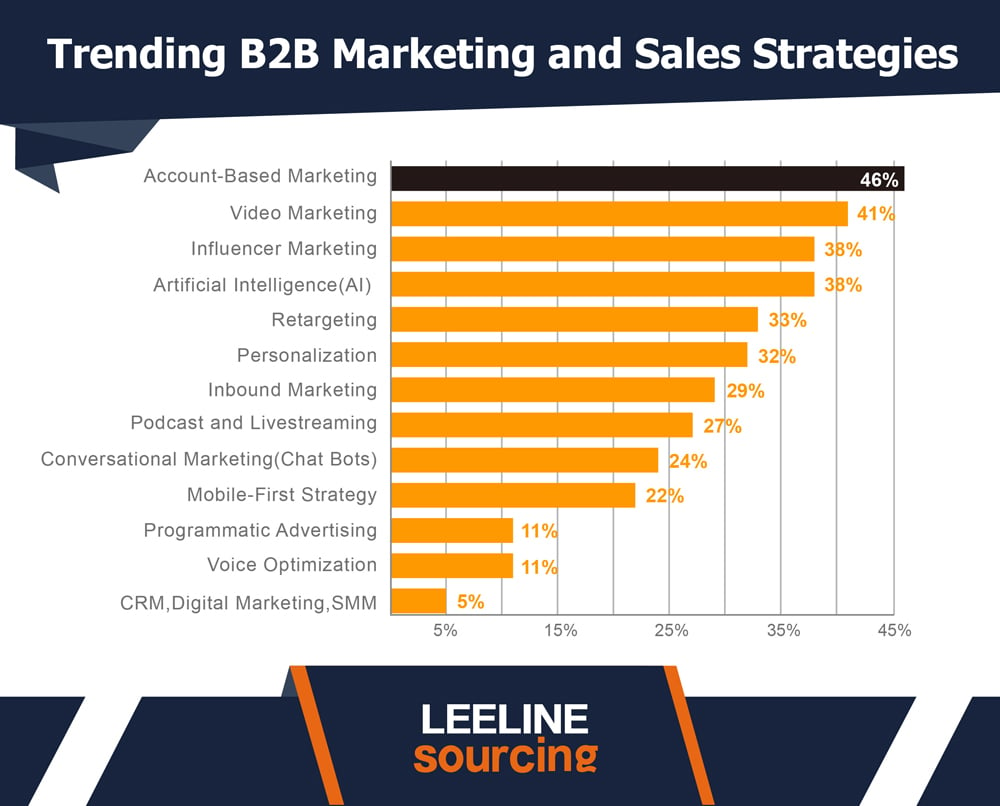 B2B Marketing Analytics Statistics
Marketing charts help in MARKETING ANALYSIS. And do you know what a marketing analysis does?
Marketing analysis is KEY in driving more conversions.
The reason?
You find the MISTAKES. Sort out the BEST blunders. And move ahead with the PERFECT STRATEGY to increase your marketing results.
Let's get REAL-TIME statistics about the marketing teams with practical analytics tools.
Do you set goals? 74% of the MARKETING said YES to the questions. 26% said they SOMETIMES do that.
Are you successful in achieving the MARKETING TARGETS? Only 1% agree that they consistently earn the TARGETS every time. 49% agree that they are successful most of the time. 39% say they are not always and not primarily. Sometimes they are successful. And sometimes, they are not successful. 8% say they RARELY achieve their targets. 3% said NEVER.
72% of the B2B MARKETERS keep their GOALS. They know whom to target. And they have CONTENT MARKETING MATURITY to achieve results.
Most marketers use AUTHENTIC DATA for analysis. Marketing charts and at LEAST 15 data sources they use to get their numbers.
Sales reps and SALES RESULTS are the BEST tools used in marketing technology.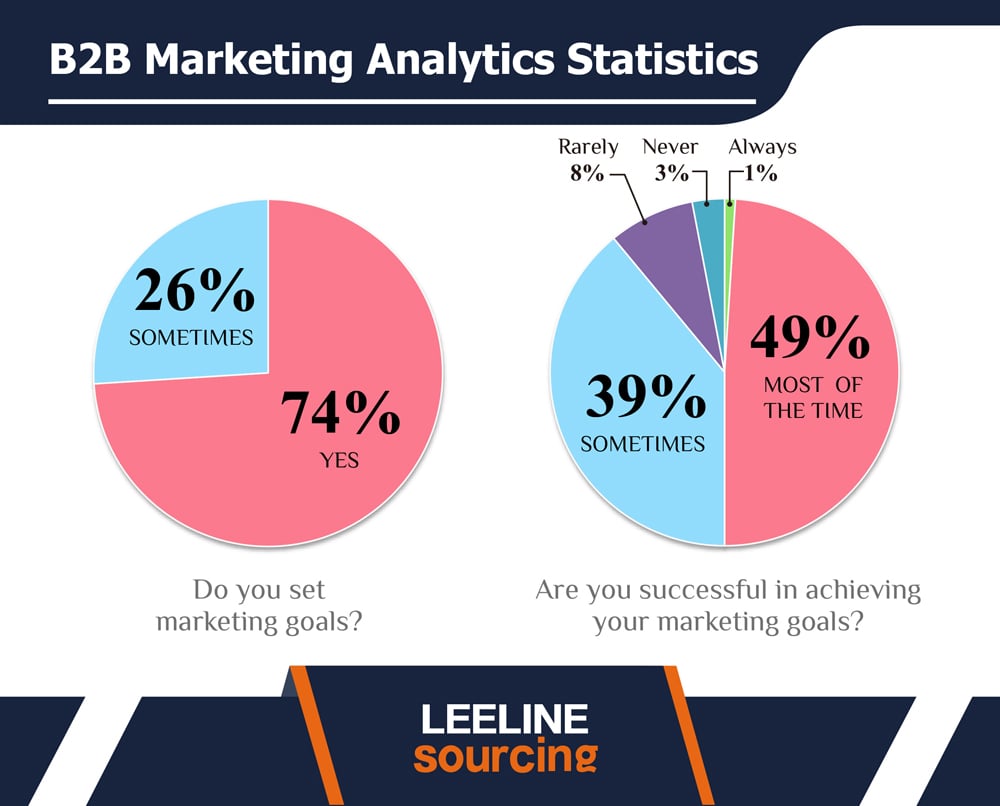 What's Next
The online advertising industry is scaled at 209 BILLION USD GLOBALLY. These stats are going to expand further.
Your content MARKETING EFFORTS are going to be a rockstar for lead generation.
Do you want more stats like that?
Visit our website. We get REAL-TIME stats.
We are sorry that this post was not useful for you!
Let us improve this post!
Tell us how we can improve this post?