You don't have to read hundreds of FAKE reviews to determine is Temu a scam.
I'm an eCommerce enthusiast and an entrepreneur. I've tried HUNDREDS of eCommerce platforms. And I'll lay it out bare why you should shop in Temu. And save hundreds of dollars on quality products.
With this guide, you confidently shop on Temu with NO worries of being scammed.
I'm going to explain why Temu is popular. Why it's a good site to shop for budget-friendly goods. And timeless tips and tricks for shopping on the platform.
Let's go…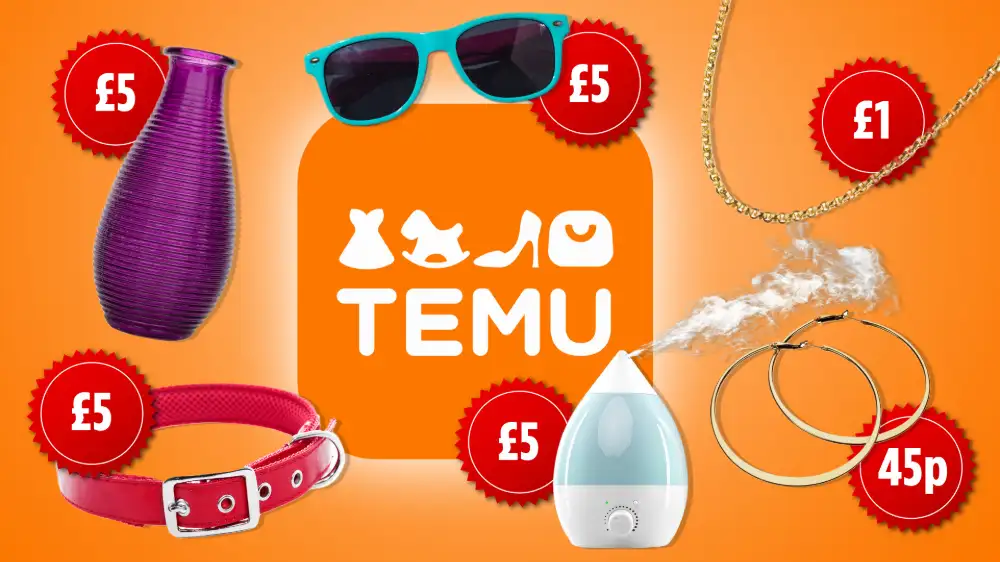 Truth about Temu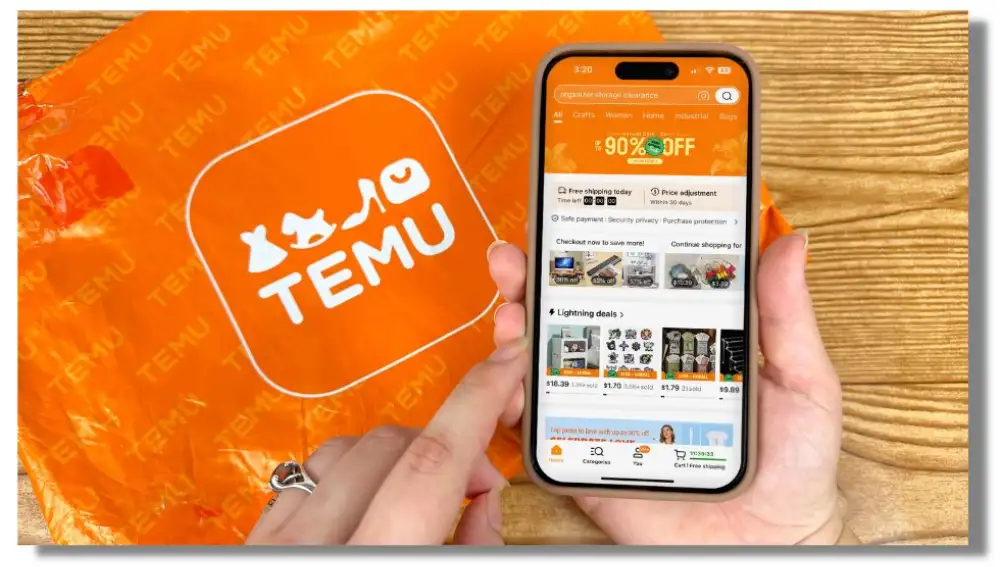 Temu is the world's popular FREE shipping eCommerce platform for price-conscious shoppers.
It offers dirt cheap products ranging from luxury clothing. Stylish home furnishings and wallet-friendly electronics. (just to mention a few).
The Chinese shopping app is the HOTTEST thing on the internet (after Threads, of course). In fact, it has over 50 million downloads in LESS THAN ONE YEAR!
So, when did Temu start?
Mmmmh…
Temu hit the airwaves in September 2022 with its headquarters in Boston. And is now a BEAST in the global eCommerce industry.
Actually, it recorded $192 million in Gross Merchandise Volume (GMV, for short) in its first four months. And it's set to hit its first $1 billion before the end of the year. (HOLY S**T).
FUN FACT. It only took Alibaba 3 years to hit its first $100 million in GMV?
Looking for the Best China Sourcing Agent?
Leeline Sourcing helps you find factories, get competitive prices, follow up production, ensure quality and deliver products to the door.
Why Is Temu Popular?
This is an oversimplification of why Temu is SO POPULAR. And why it's likely to completely DESTROY its competitors AliExpress and Etsy.
Temu is popular because of 4 CORE reasons:
1. Extremely low prices and Free Coupons
To be honest, I was a bit skeptical about buying from Temu.
The prices are just screaming "Red Flags." I mean, how can you possibly buy a 150W POWERFUL GRINDER for just $24.98??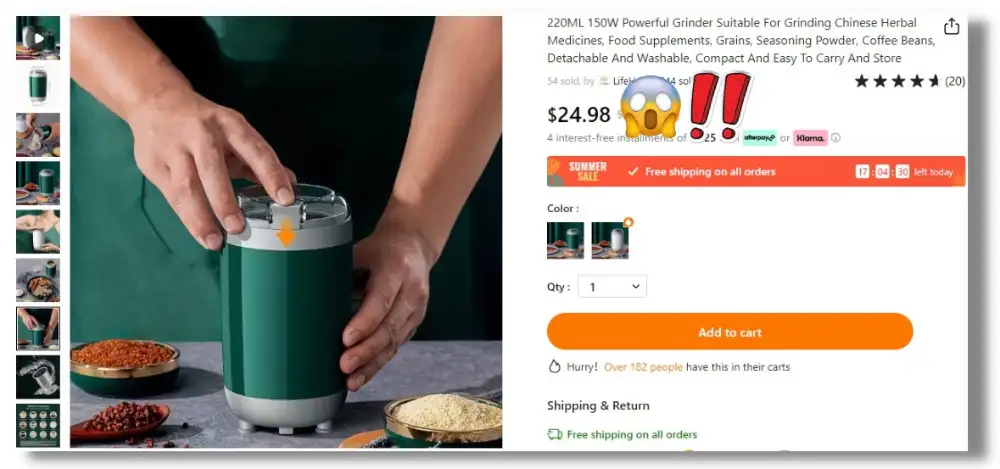 Looking back, I wish I had tried it EARLIER. I would not have spent TWICE as much on products I could have bought in Temu.
Oh, and I'd have saved a ton of fortune on shipping costs.
And the best part?
TEMU FREE COUPON CODES.
Temu coupon deals are CRAZY and will get you free stuff worth over $100 or more.
Here are two ways to get your coupon code:
Just open your Temu app and spin the wheel to get your coupon bundle. (don't worry; the wheel automatically pops up).
Sign up for Temu's newsletter and gain access to exclusive coupon deals. Email-only promotions or new Temu prices.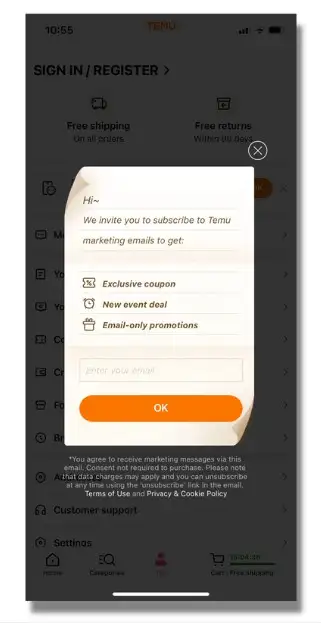 SWEET.
2. New customers can get free products
"C'mon, there's absolutely no way Temu gives out free stuff." – My head after reading Tweets from new Temu buyers.
Here's the thing…
Temu rolled out a loyalty points-like program last year.
Basically, you earn credits. By encouraging others to sign up on Temu using your social media accounts.
The more customers sign up through your referral links. The more your credit points.
You can use these credits to buy items worth $300 for FREE. Pretty cool, right?
Douglas Schmidt (a Computer Science professor) says Temu is using the loss leader strategy. Where they offer attractive incentives or subsidize products to attract customers. And gain market share.
Good job, Temu!
TIP. You can sell these items at half prices on your online business. And bag ALL the profits.
3. Brilliant marketing
Temu spends hundreds of thousands of dollars (if not millions) on marketing.
For starters, it's rare to watch a YouTube video without 2-3 Temu ads popping up. Or enjoy scrolling reels without Zuckerberg slapping a Temu ad on your face.
I spend roughly $4000 on ads every month. And I can only imagine how much Temu's parent company invests in monthly ads.
Also, Temu pays tons of influencers to market their platform on their social media. I'm talking about influential acts such as Jason Derulo (Grammy-winning singer). And Juju Smith-Schuster (NFL player).
In fact, Temu advertised on their Instagram Page that they are hiring new influencers. And each influencer gets $300 or more.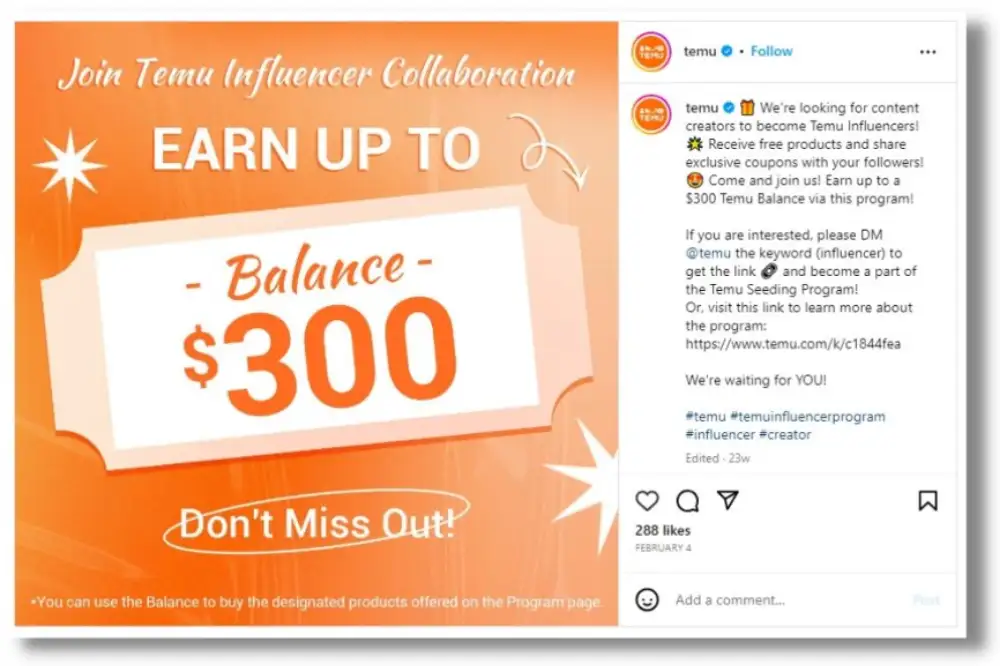 4. Easy sign-up process
Yes, it's not a significant factor. But I think it plays a key role in why Temu is popular.
I've had some I am ready to quit experiences signing up on other e-commerce websites. But Temu ain't one.
You ONLY need your email or phone number. BAM, you are in!
No RIDICULOUS CAPTCHA prompts to prove you are not a robot (Gosh, I hate them!).
Pretty sure that's why it was the most downloaded new app in the world last year.
Is Temu A Scam?
I don't know about you, but I HIGHLY doubt Jason Derulo will jeopardize his entire career. Just to market a platform that is RIPPING people off their money.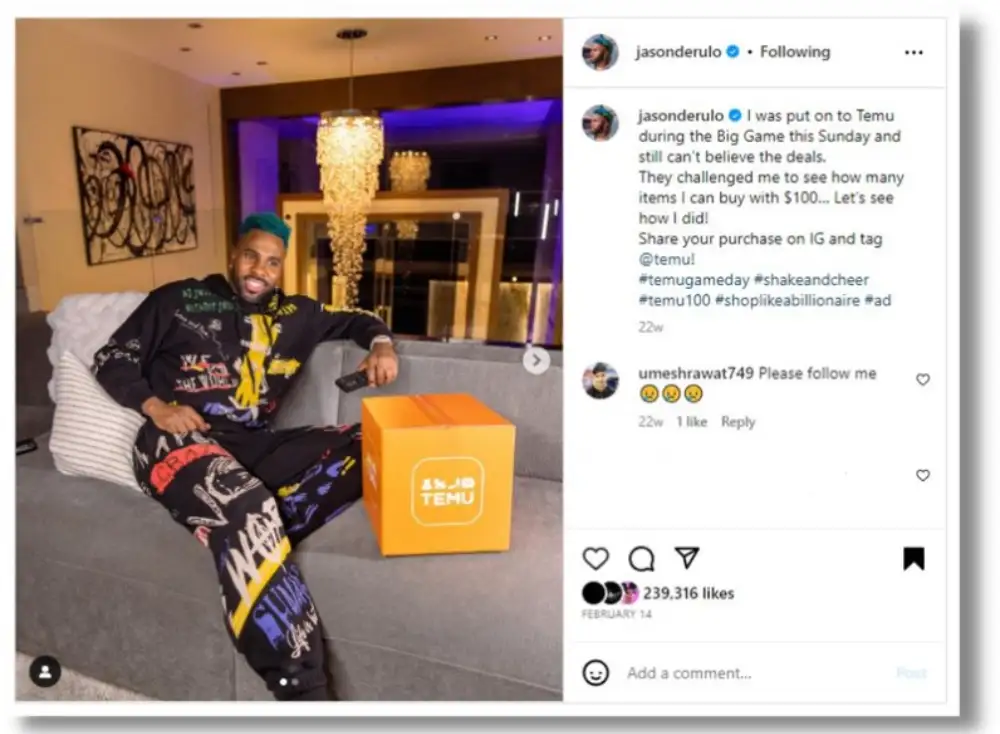 When he works with a company, it has to be legit.
But still, there are a bunch of people calling it a scam (I'M SHOCKED!!). Trolls all over YouTube and Reddit screaming, "DON'T TRY IT." Even people who've NEVER used free app are talking S***.
Get this – Temu is a legit business. Its parent company, PDD Holdings, is a multinational commerce group. And is accredited by Better Business Bureau (BBB).
But does Temu offer really low prices (it's kinda fishy)?
Like I said before. Temu is deliberately lowering its prices to attract millions of buyers. And they are effectively buying market share. So the more people buy from Temu. The cheaper the items for EVERYONE.
Again, Temu connects YOU directly to the seller. By eliminating the overhead costs of using middlemen. That way, you can run a profitable online store by sourcing directly from Temu.
Sorry to sound like I'm overselling it, but I'M NOT.
Yes, the product quality might be flawed (because they are cheap). But you get what you pay for.
Also, Temu offers a 90-day Free Returns Policy. Don't like your product? Fine, return it and get a full refund!
EASY PEASY!
Is It A Good Site To Buy From?
Let's quickly go over Temu reviews on various buyer platforms:
2.41 out of 5 customer rating on Better Business Bureau
3.39 out of 5 on SiteJabber
3.4 out of 5 on Trustpilot
YEAH…NO!
From the numbers, I get why you might shy away from Temu completely.
I've spent days reading endless customer reviews. And here's why customers have to say: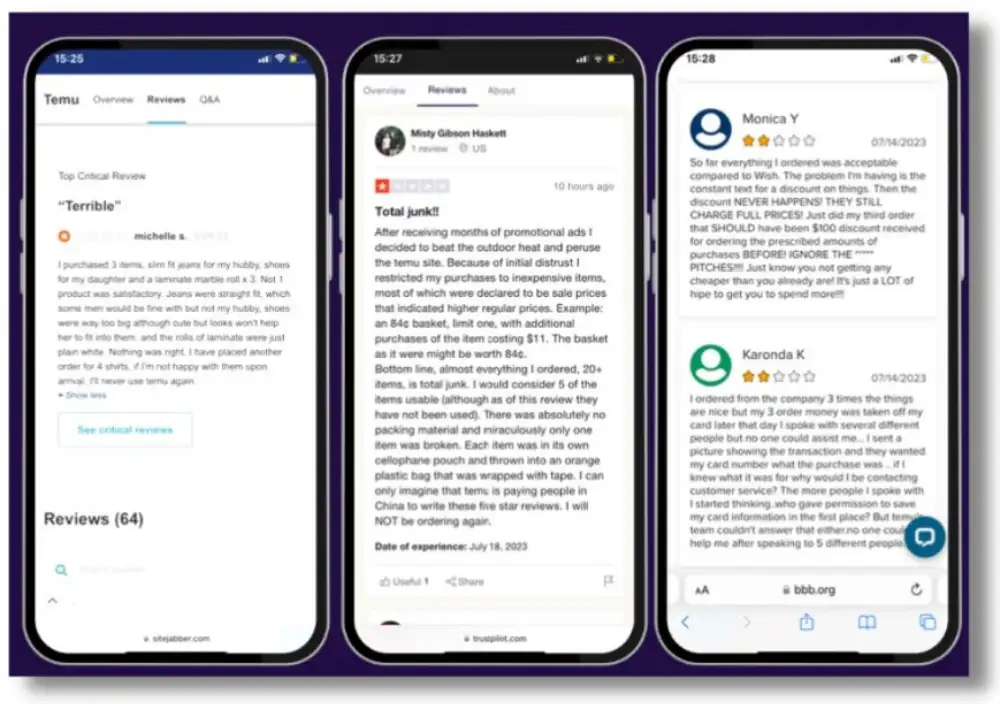 Most of the negative reviews are either due to poor customer service. Poor product quality. False advertising services. And long shipping times.
I believe Temu can do better…
In fact, here are some real shoppers who've bought from Temu website. And LOVE their purchases: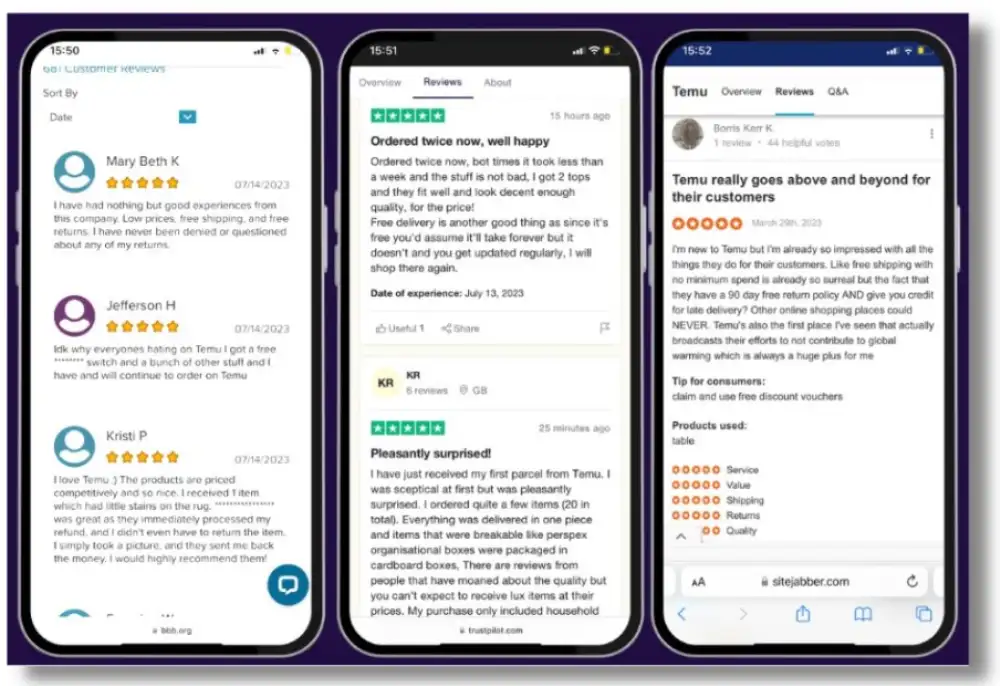 Here are my thoughts…
Temu is absolutely not a scam.
Let me walk you through why I like it:
Easy sign-up. Quite self-explanatory. There are no fishy links. Or credit card information is required.
Free returns within 90 days. I actually got mine within 3 weeks.
Price adjustments within 30 days. You can get back a few coins if the price of your product decreases.
Purchase protection program. Get a full refund if items DO NOT match the original product images. Or a package is stolen/damaged during delivery.
No Way You Can Lose!
A Fast , Easy and Cheap Way to Ship from China
Do not hesitate to contact Leeline Sourcing at any time regarding your shipments from China.
Tricks and Tips for Shopping in Temu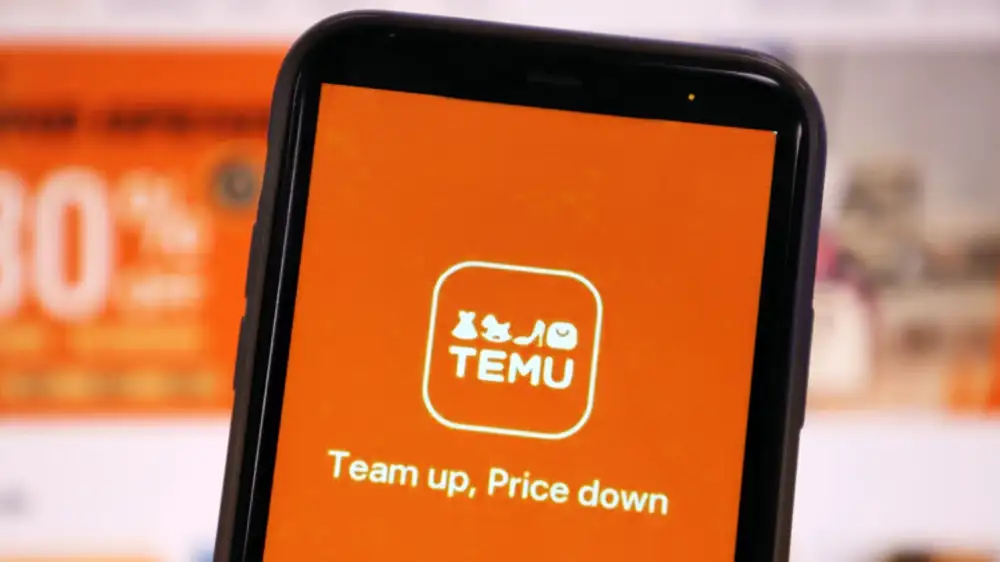 I want you to be VERY careful when shopping in Temu.
That's because there are Fake sellers and scammers looming on the platform. Looking for who to devour.
Use these timeless tips and tricks as your MACHETE of wisdom:
1. Read previous buyer reviews
If you are a fan of Leeline Sourcing articles. Then you know we are BIG on checking previous customer reviews.
Why?
Customers DO NOT LIE!
If I don't like my purchase, then I'm definitely leaving that 1-star review. NO DOUBT.
Reviews help me understand products' quality, size, color, and shipping time. Also, I get insight into the product's performance.
WARNING. Never buy from sellers with zero reviews. Unless you are okay with a 50/50 chance that you'll like your purchase!
2. Check seller ratings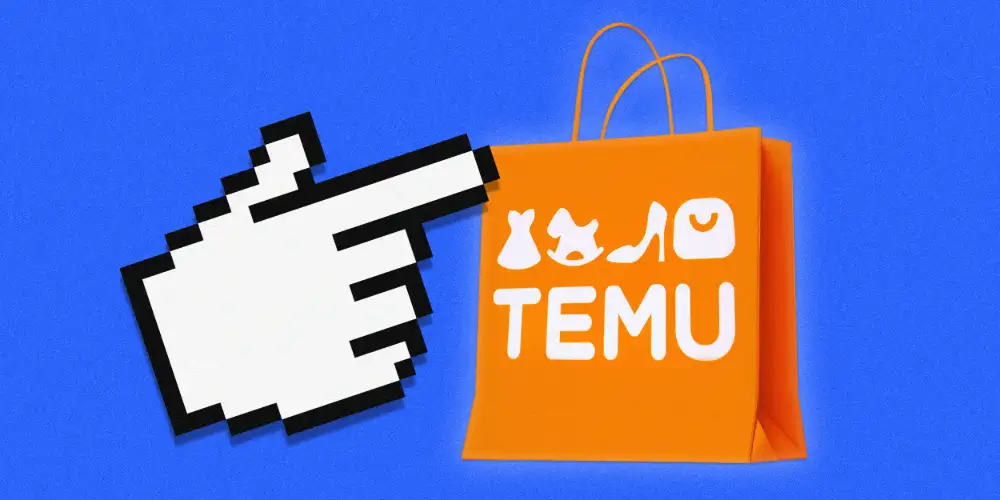 This is also very critical when shopping on Temu.
Here's what I look for when accessing Temu seller ratings:
Positive feedback and high ratings. My ignorance once cost me $500 (Story for another day). I ENSURE the seller has a high number of 5-star ratings. And good reviews from previous buyers.
Response to feedback. If the seller doesn't respond to negative reviews. RUN!
The number of previous transactions. I ONLY buy from sellers with a high number of transactions. That shows the seller is TRUSTED by many customers.
Communication and transparency. The seller should be open to sharing shipping times. And more information about their products.
A reputable seller will save you the hassle of worrying about your delivery. That way, you don't have to send emails to Temu asking about your delivery.
3. Ensure you read product dimensions before you make an order
Here's where most buyers go wrong.
You hop onto Temu. Find a Balenciaga outfit ($37.80). Fall in love with the pictures. Proceed to checkout without even reading the product dimensions.
1 week later…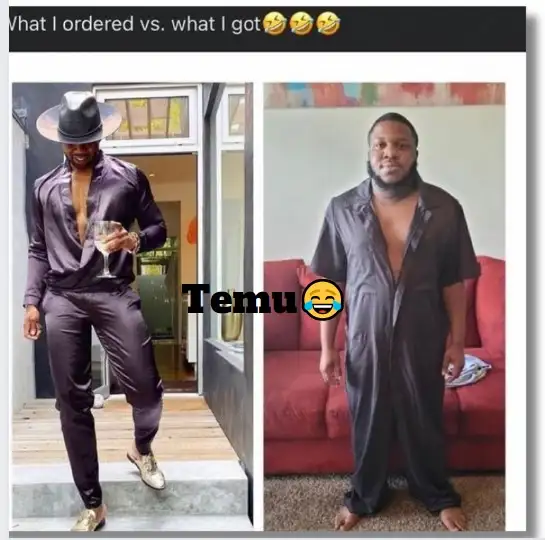 You can avoid such disappointments by checking through the product dimensions. And ensure they fit your preferences.
Also, it helps you avoid return hassles whenever you get a wrong order. Plus, you can avoid additional shipping costs for larger shipments.
Is Temu Spying On You and Stealing Your Data?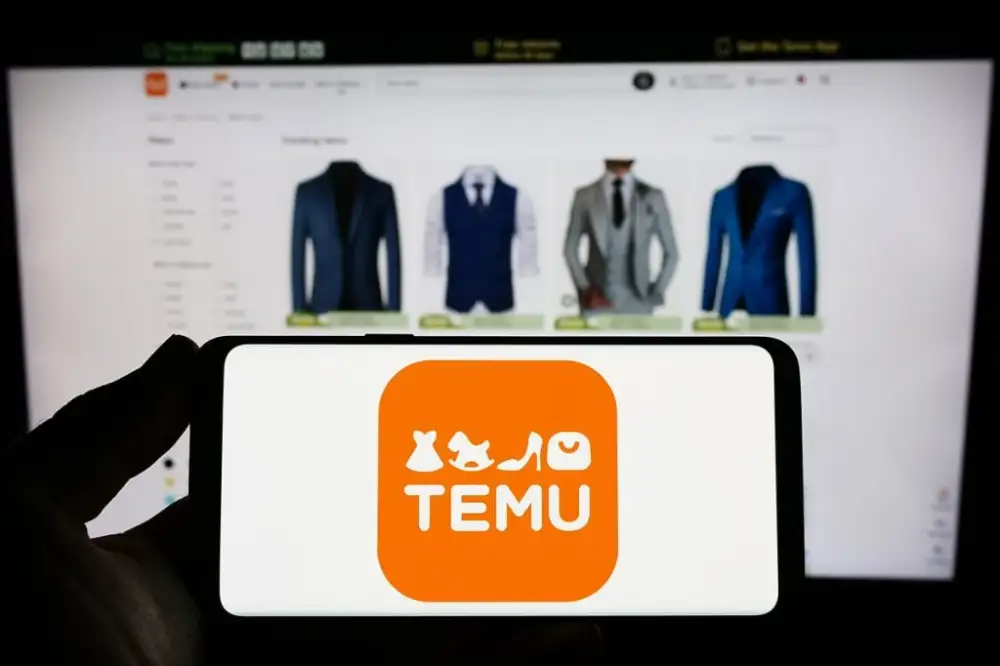 As far as I know, Temu is NOT spying on you or stealing your data.
But Temu's sister company, the Pinduoduo app, has been in the spotlight several times.
And CNN agrees – Pinduoduo was exposed for having malware that exploited vulnerabilities. In the Android operating systems. Which led to its suspension from Google Play Store.
Company insiders say that the data was used to gather customer data. So that they boost sales.
CNN adds that Pinduoduo exploited consumer habits, preferences, and interests. That way, they were able to improve their machine-learning model. And send more personalized push notifications that you simply CANNOT resist!
So is Temu spying on you?
No evidence proves that Temu is spying on you. But their sister company paints them in BAD LIGHT.
Temu collects:
Contact data (e.g., name, email address, phone number)
Demographic information (e.g., city, country of residence)
Transactional data (e.g., information necessary for completing orders)
Profile data (e.g., username, password, redemption codes)
Marketing data (e.g., your preferences for receiving Temu's marketing information)
…or at least, that's what the company claims.
NOTE. Temu collects data during sign-up or completing orders. Or by signing up for their newsletter.
Looking to find a reliable Chinese supplier?
As the best China sourcing agent, we help you find factories, get competitive prices, follow up production, ensure quality and deliver products to the door.
Product and Shipping Review on Temu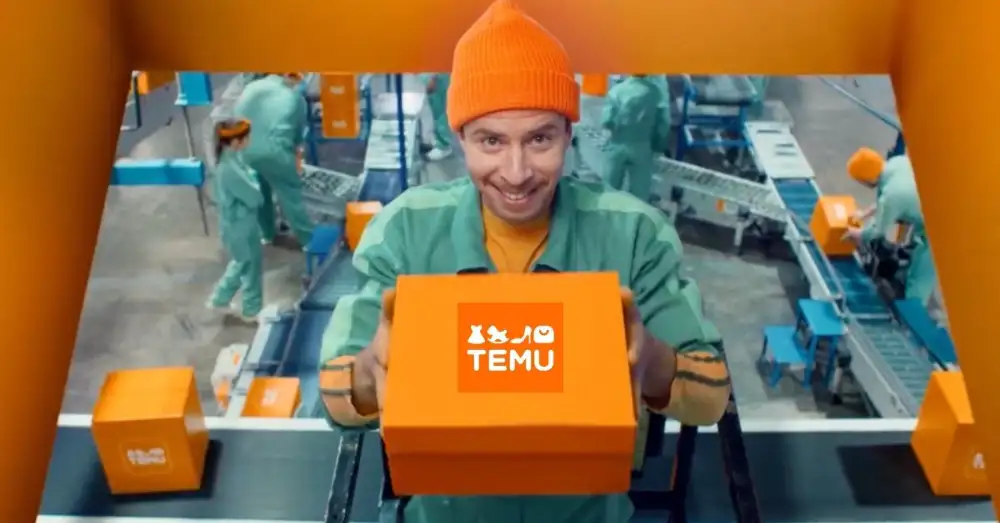 My closing thoughts…
I'll give my verdict about why you should check out Temu. And why it's actually the next big thing in the eCommerce space.
What I like about Temu
1. Faster shipping
I ordered a pair of gym sneakers in January. To my surprise, they arrived in less than 2 weeks (12 days, to be precise).
Everything was wrapped perfectly in one big orange plastic bag. There were NO DAMAGES!
Oh, and I still wear sneakers to this day. So the quality isn't really that bad.
2. Tons of products
Temu is like a HUGE treasure trove overflowing with hidden treasures.
You simply can't stop digging deep into the website to find alluring treasures. At EXTREMELY affordable rates.
I spent 3 hours jumping between tabs. And adding items to my cart.
Remember my gym shoes. I bought them for $27.56. Which is 5X expensive on Amazon.
What I don't like:
1. Smell is TOO strong
My sneakers had a strong chemical smell as I unwrapped the package. And the smell sticks for days.
Customers also complained about the same issue. Citing that they've spent hundreds of dollars on detergents to no avail.
2. Quality is a bit compromised
I wouldn't expect much for a product I spent little to nothing acquiring.
But Temu should level up and make their items sustainable in the long run.
NOTE. There is actually good stuff that lasts long on Temu. Just don't get your hopes TOO HIGH!
So the next time you see that Temu ad pop up – jump on it as soon as possible. There's literally no harm in trying. Plus, there is a 90-day refund policy. You Can't Lose!
FAQs about Is Temu A Scam
1. Can you use Temu (temu.com) for drop shipping?
ABSOLUTELY NOT. 
Temu does not allow dropshipping on its platform. They want to keep their prices as low as possible. And also protect their customers from scams and maintain a good reputation.
2. Where can I get a Temu coupon code?
You can get a Temu coupon code by typing "Temu Coupon codes for your first order" on Google. Or by signing up for Temu's newsletter. 
3. Is TEMU a good online place to buy shoes?
Yes, 100%.
Temu is an excellent place to shop for shoes on a budget. 
4. Is Temu like AliExpress?
Temu is like a CHEAPER version of AliExpress. 
Temu prices are much lower than AliExpress. Also, Temu's shipping times are FASTER than on AliExpress. 
5. How do I export a Temu order?
It's pretty simple!
Just log in to your Temu account. Click on the Order icon. Select the order you want to track to view its details. 
What's Next
We've covered a lot in this short Temu guide. And, as you can see, I've tried to give my honest opinion without sugarcoating ANYTHING.
I'll wrap up by reiterating…
Temu is 100% LEGIT. Don't listen to the naysayers pretending to be fake woke about EVERYTHING.
If you are looking for a CHEAPER alternative or on a tight budget. Temu is the best choice.
Plus, they have a reliable buyer protection policy. So you can always get your full refund if you don't like your purchase.
Are you looking for a RELIABLE Chinese logistics partner? Or do you want to find the next BEST SELLER for your online store? Contact us through our service pages. And our sales professionals will be with you SHORTLY.
Do you want a successful import business?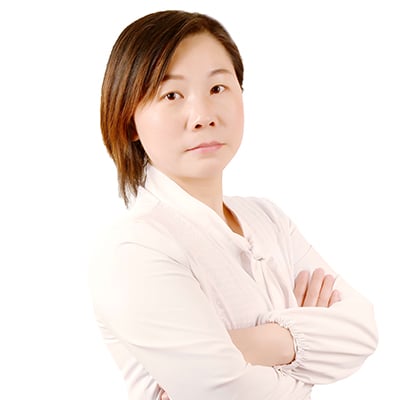 Hey, I'm Sharline, co-founder of LeelineSourcing. We've helped 2000+ customers import from China.
Do you want a better price on product or shipping?
We are sorry that this post was not useful for you!
Let us improve this post!
Tell us how we can improve this post?