Choosing the BEST order fulfillment software is a wild goose chase. Some don't fit your business. And others are TOO EXPENSIVE for your budget.
As an eCommerce expert, let me make this TAD NOTCH process easier. I've tried over 30 dropshipping tools over the decade. Only 33% show true potential to improve your business. Make the shipping process WAY EASIER than expected!
The KING of this list is ShipMonk. This tool lets YOUR customers enjoy 2-day deliveries. Plus, you always know your inventory levels 24/7.
Keep reading. Never keep customers waiting again!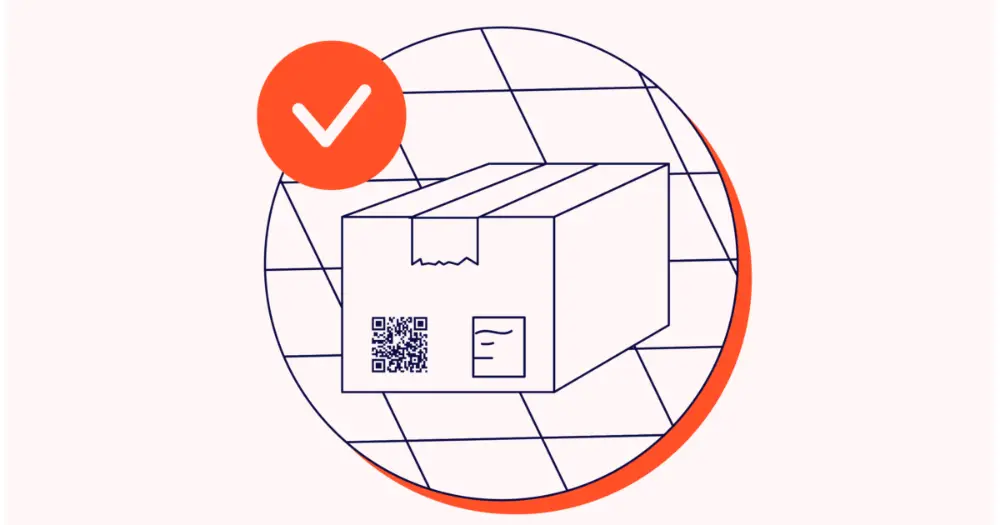 Top 10 Order Fulfillment Software
1. ShipMonk

ShipMonk provides powerful FEATURES to keep your supply chain running smoothly.
You EASILY track inventory and manage inventory levels for your multiple warehouses. Ensuring you won't run out of stock for your customer orders. Getting fast International shipping is always expected with ShipMonk. You enjoy a 2-day delivery for its fulfillment center in the US and Canada.
Offer: From $3 /order.
Possible Con: You must pay a minimum of $250/month.
2. Zoho Inventory

Cloud-based software that features an automatic packing slip. Allowing you to import customer details such as sales order and their locations. You get the BEST SHIPPING capabilities with its 40 carriers to choose from. Plus, its AfterShip integration allows customers to TRACK their orders in real-time.
This order processing software provides a 14-day trial.
Offer: Free & paid options. From $59 – $159.
Possible Con: Some applications are slow and lagging.
3. Fishbowl

This inventory management software has the best management system. Its mobile picking feature lets you FIND products in your fulfillment center. Through your mobile device.
Fishbowl also integrates with powerful small business accounting software, like Quickbook. Helping you keep your finances up-to-date. 
Offer: Pricing upon request.
Possible Con: You might experience not receiving notifications when stocks are low.
4. ShipBob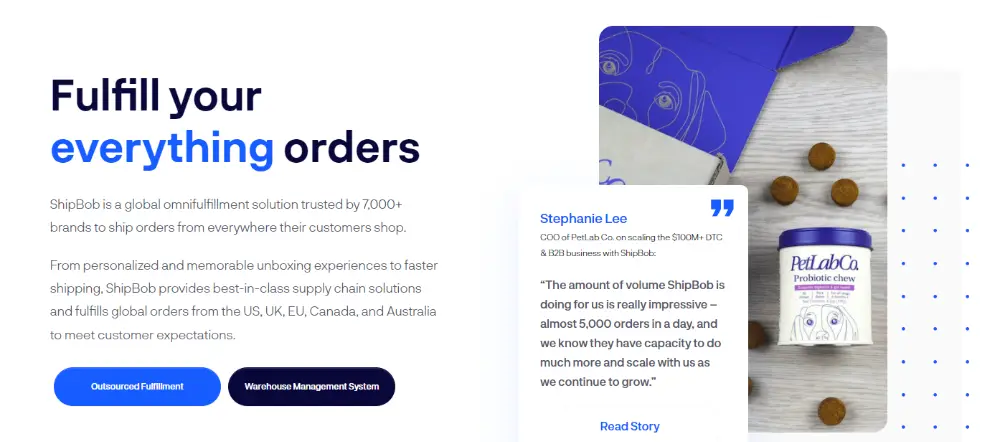 Get custom packaging with this fulfillment management software. You PERSONALIZE your packaging according to your own branding. Customers add notes and design their order boxes. Increasing your customer satisfaction.
This fulfillment company has EXTENSIVE fulfillment centers. Mainly in the US, Canada, the UK, and Australia. Providing a fast order fulfillment solution for you.
Offer: Pricing upon request.
Possible Con: Expensive SAME-DAY delivery services.
5. ShipHero

This tool allows you to outsource your ENTIRE shipping process. ShipHero's average delivery speed is 3.5 days. All thanks to its seven warehouses.
You stay up-to-date with your shipping costs, warehouse management, and fulfillment operations. Plus, it offers a 30-day trial. Allowing you to check if this tool FITS your business needs.
Offer: From $499/month.
Possible Con: Expensive monthly fee.
6. Bolt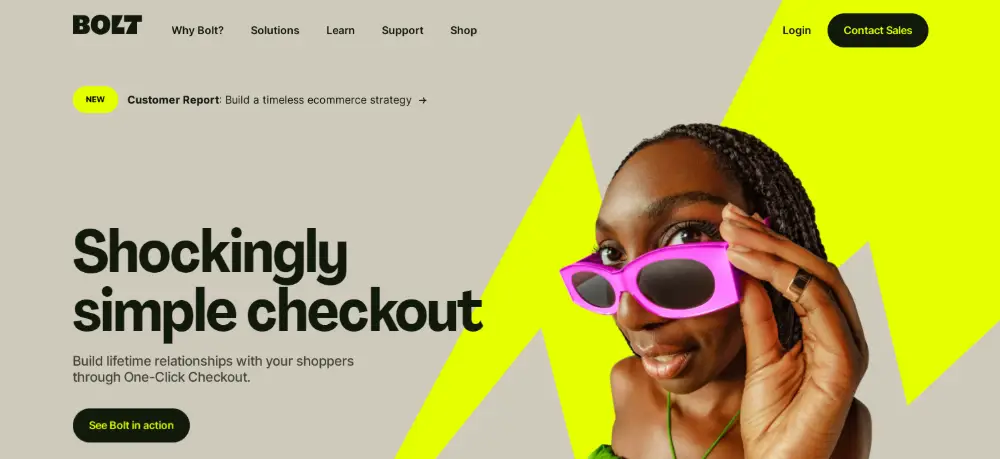 Bolt offers a SOLUTION to the entire process of your fulfillment management. Get a timely update for your online order. Provide time-based billing and forecast inventory levels.
Another cool feature is its return management. Returned items that can't be resold will be OFFERED to individuals who need them.
Offer: Pricing upon request.
Possible Con: Limited customization options.
7. Fulfillment by Amazon

Compatible with small businesses as well as mid-sized businesses. You get instant access to Amazon's leading logistic infrastructures. Leading to a much QUICKER shipping time in the US.
Amazon provides hands-off order fulfillment, from picking, packing, and shipping orders.
Offer: From $39.99/month.
Possible Con: Paying a $39 seller's monthly fee is not doable if you're on a tight budget.
8. NetSuite Commerce
Offers order fulfillment solutions for eCommerce retailers. The highlight feature of this tool is its Mobile Pos. Allowing you to manage your inventory and fulfill orders ANYWHERE you are.
Your customers get access to your product offerings any time of the day. Making this software efficient for retail businesses
Offer: Pricing upon request
Possible Con: Hard to navigate compared to other software.
9. OWD

Get a fast 2-day ground shipping at 99% anywhere in the US. Calculating your shipping and import fees is a NO-BRAINER with this tool. OWD's calculator lets you know exactly how much you're paying.
This tool's integration with 200 eCommerce tools like Shopify, WooCommerce, and Magento. Helps you STREAMLINE your supply chain more efficiently.
Offer: Pricing upon request
Possible Con: Handling your emails, web chats, and customer concerns comes with a cost. For example, 200 calls a week cost you $99.
10. Kibo eCommerce

An order management software BEST SUITED for omnichannel sellers. This tool enables you to ship products directly from your warehouse. Plus, it shows you the customers CLOSEST to your fulfillment centers. Allowing you to fulfill orders MUCH faster.
Kibo Commerce offers in-store pickup, driving more traffic to your physical stores. Additionally, this tool provides a platform for drop shippers.
Offer: Free tool
Possible Con: Not all systems work properly.
Tips For When Evaluating Order Fulfillment Software
As an expert, I know how IMPORTANT it is to maintain a seamless order fulfillment process. However, if you're using the wrong fulfillment software. You might leave your eCommerce business vulnerable to errors and delays.
But don't worry! I've got you covered with these TIPS.
Allows Integrations
This is one of the key features to look for when EVALUATING fulfillment software. Ensure that it integrates WELL with the following:
Multiple platforms
Multiple channels
And other fulfillment tools that you use
Consider it as if it were a puzzle. You want all the puzzle pieces to FIT together. Keeping your business running seamlessly!
User Friendly
No one wants to GET STUCK on complicated order fulfillment software. A user-friendly interface should be one of your priorities in your evaluation.
Look for fulfillment software that provides ease of use. Ensuring you don't fall into a steep learning curve. You save time and AVOID spending hours just to figure out how it works.
Fits Your Budget
Finally, your BUDGET should not be disregarded when evaluating order fulfillment software.
Most of the fulfillment companies that I know are paid. And some of them don't even provide value for your money. It's necessary to look for an order processing software offering transparent pricing. And has NO HIDDEN FEES.
I know that investing in order fulfillment systems is a VALUABLE investment. So make sure you don't overspend. And it FITS your financial constraints.
How To Choose A Fulfillment Software?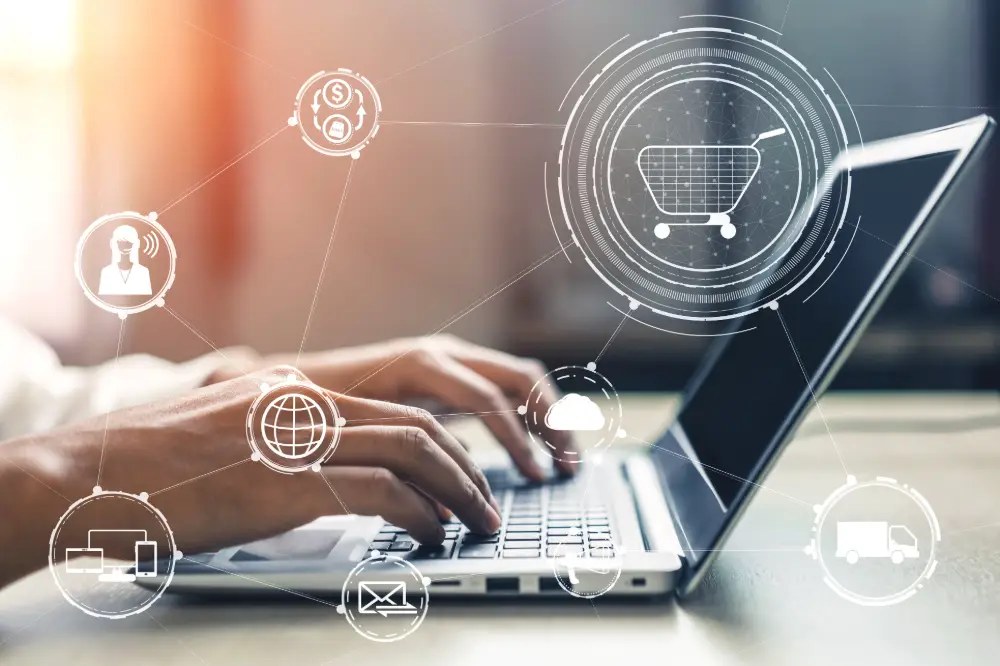 You're probably thinking of using order fulfillment software at this point. Here are the steps I outlined to help you EASE the complex process.
Step #1: Determine your needs.
First, you need to KNOW what you really need for your business. Take note of the features that are CRUCIAL for your business. Those may include:
Inventory management
Warehouse management
Order management
Returns management
Real-time inventory alerts
Business automation
Integrations
Understanding the services you need makes it easier to choose the software that fits you.
Step #2: Search for potential fulfillment software.
Start by utilizing search engines like Google. Search for "best order fulfillment software" or "fulfillment software solutions." It'll show you the top results in minutes.
Have at least THREE software in mind. And make sure they provide the features you listed in step one.
Want a shorter route?
Check out the list of order fulfillment software programs I mentioned above. They're the best fulfillment tool you use today.
Step #3: Check the reviews.
Time to see what others are saying! Make sure not to forget this step.
Look for their reviews and see what OTHER USERS have to say. Specifically, go to their website and do a quick reading. Doing so gives you peace of mind that you're choosing the RIGHT software partner.
Step #4: Choose the fulfillment software that fits your needs.
And that wraps up this guide.
You now choose the order fulfillment software that FITS for you. Some offer free trials and demos. Test it out first before fully committing.
Looking for a product to import from china?
Leeline Sourcing helps buyers source the right product at the best cost.
FAQs about Order Fulfillment Software
What software is used for order management?
Zoho Inventory is the best software used for order management. I've been using this tool for years now. Personally, the Dashboard is one of the COOLEST FEATURES of this tool. It allows you to SEE your order's overall status. Plus, it NOTIFIES you once you're low on stock for a particular product.
What are the different types of fulfillment systems?
There are several types of eCommerce fulfillment systems. Here are the most common types you're probably familiar with. Starting with In-house fulfillment, third-party logistic fulfillment, and dropshipping. EACH of these fulfillment systems uses the software of your choice. To help you manage your order fulfillment process. Providing you with an efficient fulfillment solution.
Does Shopify do order fulfillment?
No, Shopify doesn't offer direct order fulfillment. However, it has a built-in order fulfillment system. ENABLING you to manage and track your orders, returns, and refunds. And if you want hands-off order fulfillment. Shopify integrates with 3PL providers who do all the work for you.
What's Next
EFFICIENT order fulfillment software is the key to SATISFIED CUSTOMERS. Leaving little to no room for shipping delays.
Need a sourcing expert to HELP fulfill your orders alongside dropshipping tools?
Contact Leelinesourcing! We collect, pack, and ship your goods according to YOUR branding. Very affordable rates are waiting for you!
Do you want a successful import business?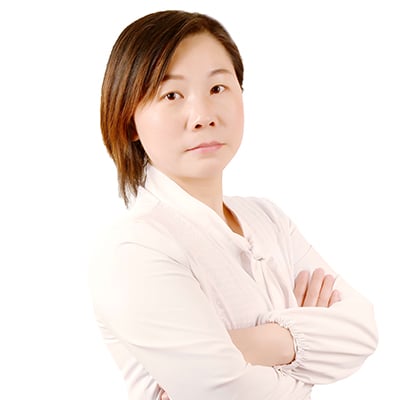 Hey, I'm Sharline, co-founder of LeelineSourcing. We've helped 2000+ customers import from China.
Do you want a better price on product or shipping?
We are sorry that this post was not useful for you!
Let us improve this post!
Tell us how we can improve this post?