Looking for some informative Dropshipping podcasts?
I know how useful it is to listen to valuable podcasts. You receive tips from people's experiences of their Dropshipping business. It helps you to understand their working process like this article.
Our dropshipping experts have shortlisted 7 podcasts, but eCommerce fuel is the #1. It is a thriving community of 7 to 8 figures sellers and a good opportunity to network. You get their insider secrets to boost your online business.
Keep reading about these podcasts to create a successful dropshipping business.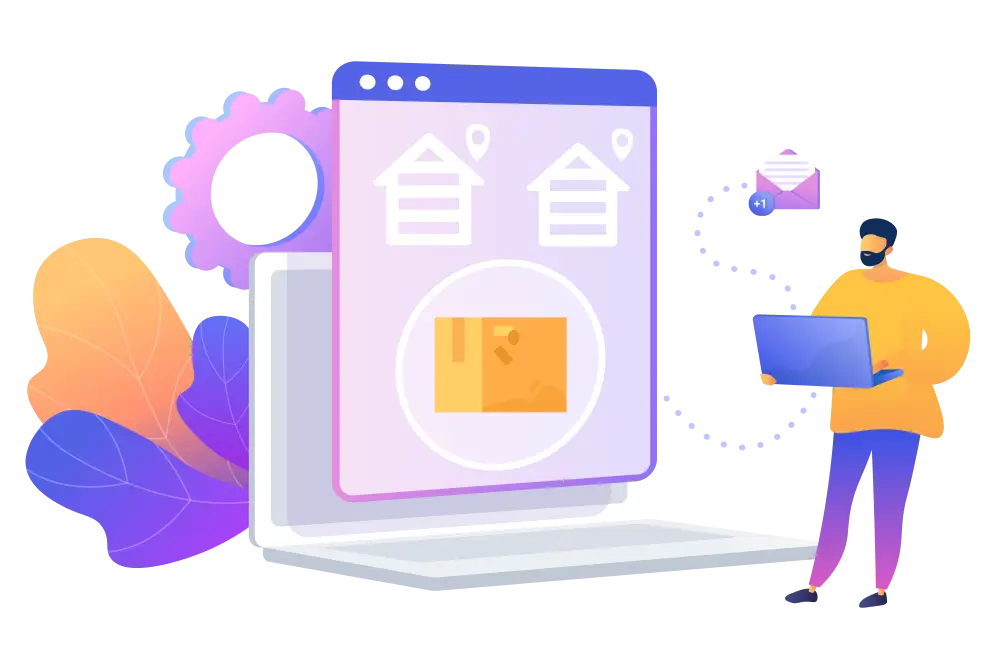 What is a dropshipping podcast?
I'm sure you know about podcasts; if not, here is a simple definition. "It is the Audio file on the internet for streaming & download."
You get information & insights related to Dropshipping business growth from industry experts. Some podcasts have closed communities & some are free to watch on various platforms. You get different qualities through a variety of monetization structures.
In these podcasts, you listen to success stories of other 7 or 8-figure dropshippers. They share their sourcing tactics, marketing strategies, and many more. In my experience, listening is worth a valuable podcast.
Top 7 dropshipping podcasts
1. eCommerce Fuel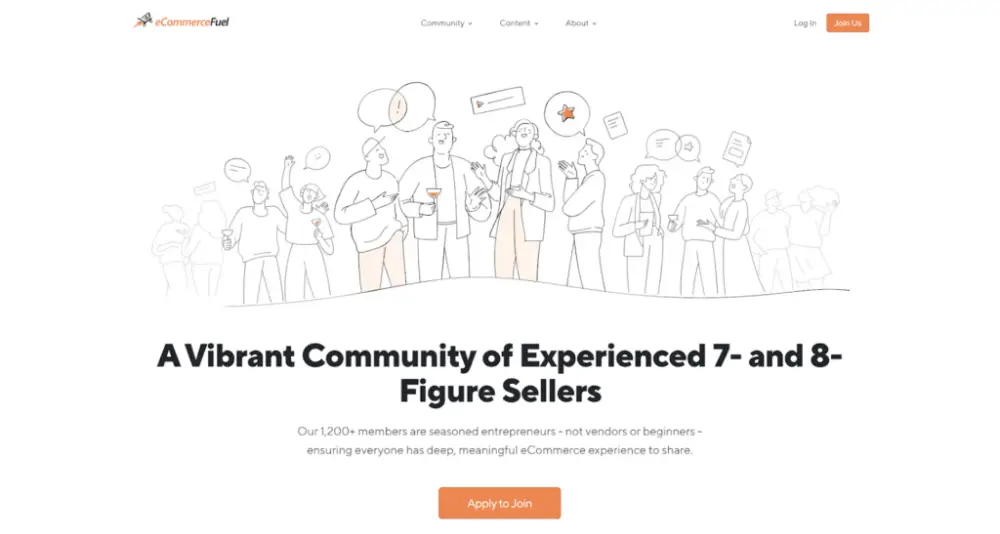 Wanna build a 7 to 8 figures Successful online store?
eCommerce Fuel has a thriving community to serve successful store owners. You receive instant answers to your questions from other eCommerce entrepreneurs. It also helps you to network with aspiring entrepreneurs. Yet it is a Paid forum, but it helps them to maintain the quality of content.
What I liked:
You access their 15,000+ Reviews directory of ERP solutions to agencies. Read your fellow's experiences before choosing any service & solution. These are genuine reviews without any Affiliate links.
Receive discounts on the most popular software solutions through the community. This helps me to save money on Klaviyo, Zendesk, and other solutions.
2. E-Commerce Boost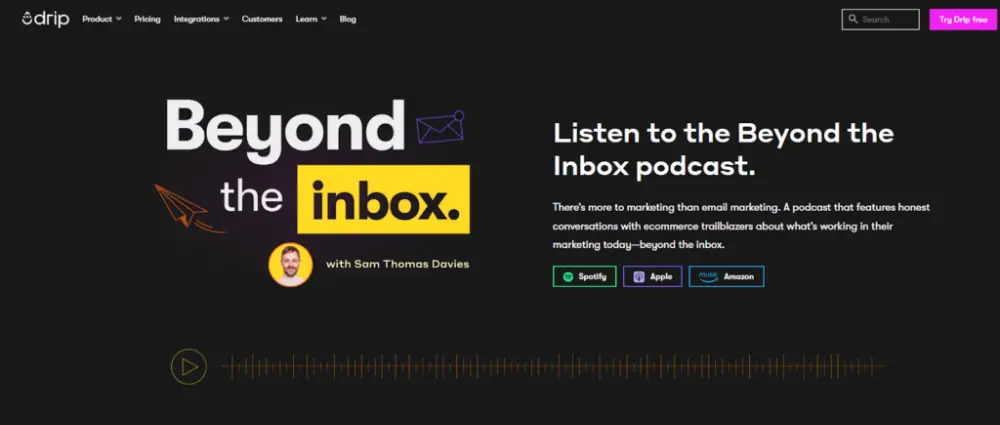 Sam Davies is a Podcast host and undoubtedly an exceptional Conservationist. He has hosted many experts to get their deep dropshipping knowledge through conversation. Receive tips on Digital Marketing, especially email! Every week I listen to their podcast, and it's amazing to listen to these real-life experts.
What I Liked:
If you are interested in Content marketing, Sam Davies is the king of Content & SEO. He has shared tips to attract customers through powerful organic copywriting.
Free podcast, and you won't have to pay a penny, unlike eCommerce Fuel which is expensive. Easily available on all Audio platforms, including Spotify, Apple Podcasts, & Amazon Music.
3. The Dropship Podcast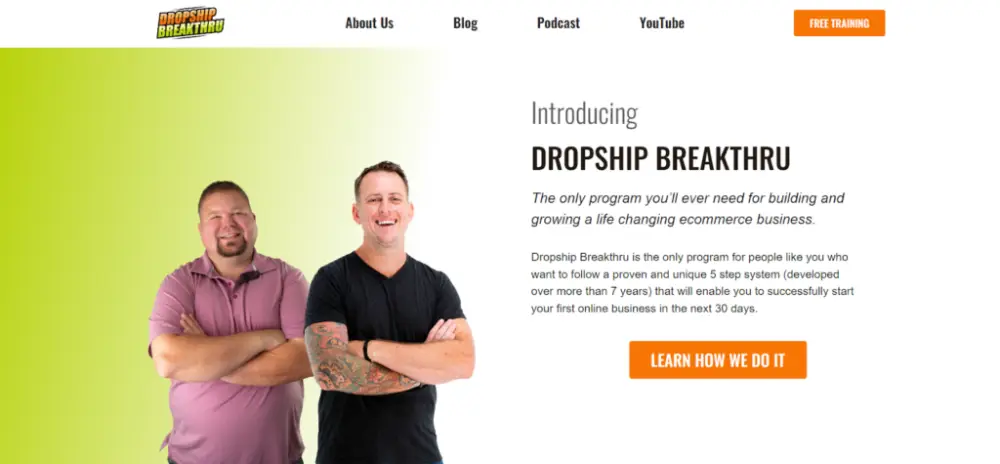 If you are like a newborn in the eCommerce industry, this Podcast is for you! Most beginners have dreams of building a High ticket Dropshipping store. But they lack marketing, SEO, Supply chain, and many other aspects. The Dropship Podcast covers almost all crucial aspects from the beginning, especially Marketing.
What I liked:
Mostly focused on beginners and tech money talks. You receive simple methods to start dropshipping and making money online. Yet they upgrade to advanced levels slowly, easy to catch for newcomers.
Their Paid members have special access to become a part of questions. They try to cover your question in detail with real-life examples. You also see dozens of reviews on their site by listeners.
4. eCommerce Lifestyle Podcast

Anton Kraly is a famous YouTuber with over 110K subscribers on his Youtube channel. You watch their interesting videos on Youtube along with Podcasts. These are short 5 to 10 min videos focusing on different dropshipping topics.
They also offer a Dropshipping course which I tried and didn't have words to describe. It reflects on their name, which includes complete Lifestyle and Dropshipping guidance.
What I liked:
It is available on Apple Podcasts, Stitcher, Overcast, and Youtube. There is no membership fee to listen, and small useful clips are on Youtube.
Great marketing hacks from Google and other organic methods to boost your traffic. He shares new updates by Google & Shopify for Dropshipping.
5. eCommerce Empire Builders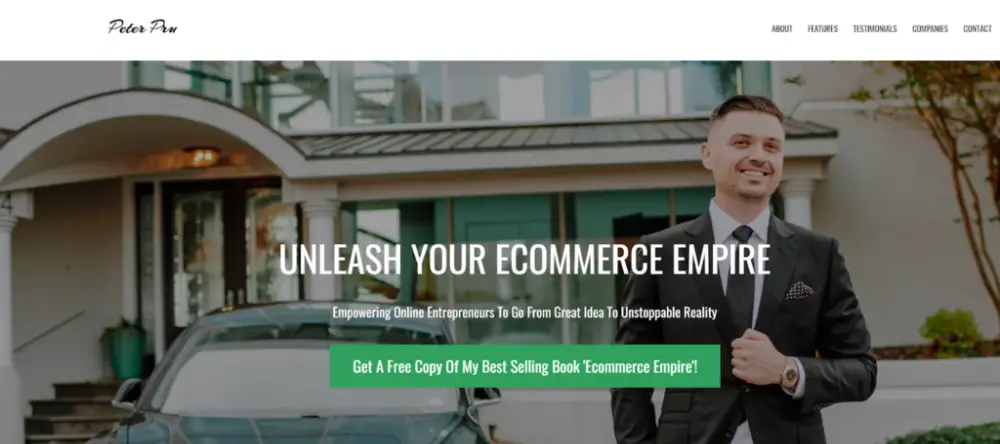 Peter Pru is a successful content creator with 70k subscribers on youtube. He has covered the Powerful AI language model for Dropshipping in his Podcasts. You get their insights to succeed and create profitable dropshipping stores.
What I liked:
Peter Pru got featured in major publications like Forbes, ClickFunnels & Future Sharks. His podcasts & videos provide valuable information on everything from Store creation to marketing. You see his team members in the eCommerce podcast.
You ask various questions related to Dropshipping in Peter's Live sessions. My friend asked questions about Tiktok marketing & the answer was quite satisfactory. And learn about ever-changing market trends after AI or Meta Marketing.
6. Ecomhunt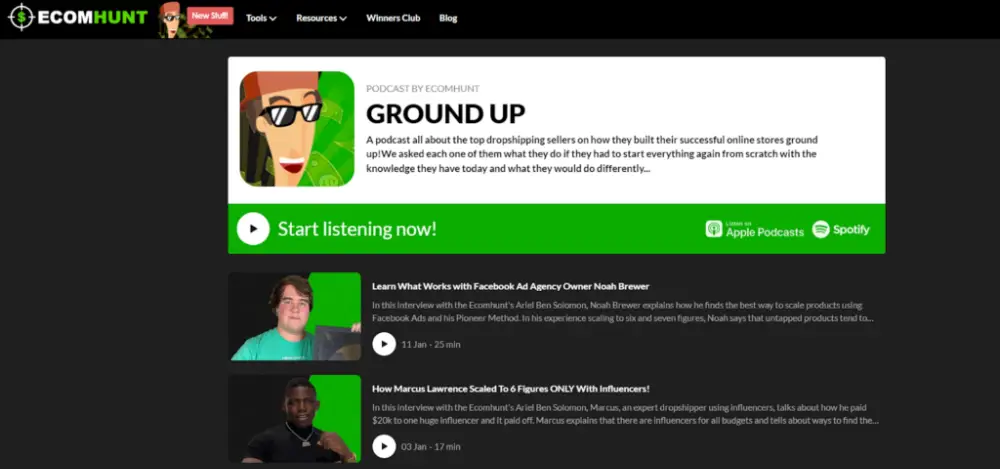 Ecomhunt is an all-one Dropshipping platform, including the Podcast episode. Their Series of podcasts with top Dropshippers is astonishing. These sellers shared their journey from scratch to success. It is motivational and valuable at the same time in the world of Dropshipping. I recommend you listen to the story of Kamal Sattar, the ECOM King.
What I liked:
You get different winning products from their other videos. They review many stores with the hottest products in a competitive world. You get a better idea about your product research.
Marketing tips help you to scale ads on Tiktok, Facebook, and Instagram. After the AI boom, they are introducing more use case scenarios of AI.
7. Dropshipping – Talks from dropshippers to dropshippers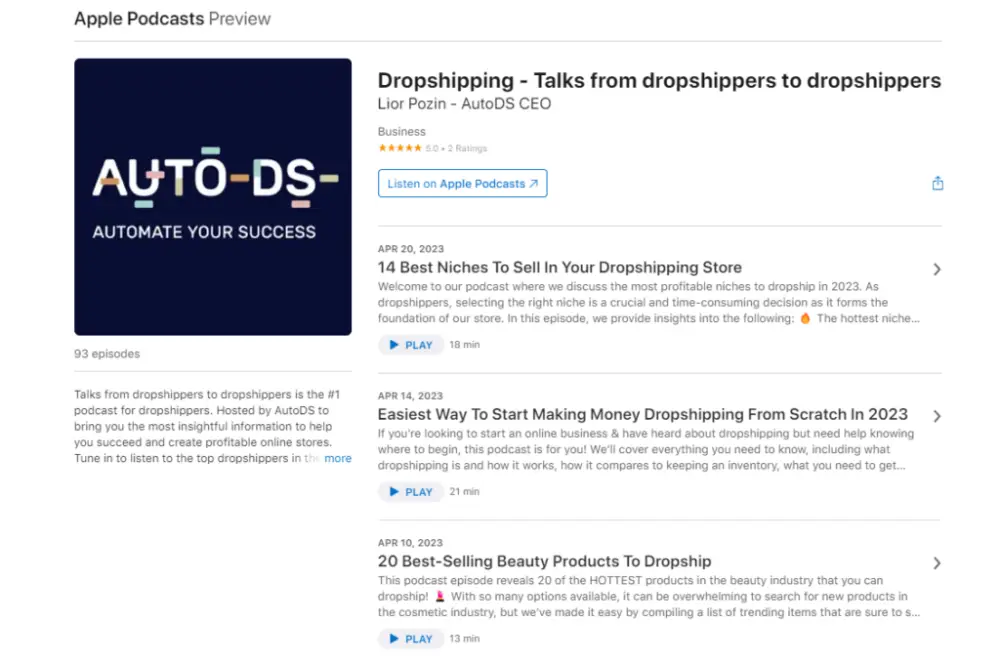 Auto DS is the most popular Automation tool out there for Dropshippers. Lior Pozin, AutoDS CEO, is hosting this podcast. It means you get to learn mostly about Business models and automation. Yet they recently shared some Product trends, which helped me choose my niches. These are very interactive and not boring as the import trending products tutorials.
WHAT I liked:
Most of their content is actionable tips rather than conversations. It gives you a complete roadmap for dropshipping success & building a reliable company.
They focus on PRODUCT research and writing online listings. Use their tips in Optimizing Product titles to quickly generate engaging descriptions. Very helpful for my store's SEO.
How do you get dropshipping podcasts?
There are different ways to find a Dropshipping podcast, depending on you. Before searching for any, first, be clear about your preferences. Do you look for any specific sub-niche like the cosmetic industry? It is because the beauty industry or relevant niches have different standards.
Second, are you looking for a specific part of dropshipping?
It is because I was struggling with SEO-optimized product titles, so I looked into this topic. If you struggle to find the right drop shipping agent, look for supply chain podcasts.
OK, Have a clear mind!
Now look into Podcasts Directories like APPLE or Google podcasts. Simply type Dropshipping other business models you are looking for. They show you relevant podcasts.
Are you an active reader? If yes, then Dropshipping blogs are the perfect way to find podcasts. Interact on forums and online business communities to look for suggestions. My first choice is to check Reddit for genuine reviews.
Youtube is the biggest resource for podcasts with visuals. You get Podcasts with drop shippers' journeys. After all, this is what trends are on Youtube. I hope you get what you are looking for.
We can Made Drop Shipping from China Easy
Leeline Sourcing is to help Shopify & small businesses sourcing products from China and build your branded business.
FAQs about Dropshipping Podcasts
Is dropshipping dying out?
Dropshipping is growing over time but with sophistication and value-focused branding. You must provide branded products & focus on long-term goals rather than short-term profit. Your online stores will be profitable in market-changing trends. 
How much does it cost to distribute a podcast?
It depends on which platform you want to use for Podcast distribution. Youtube is free with no costs but accessible to all except membership plans. Private Podcast hosting ranges from 5$ to 50$ per month with different websites. Private hosting with community forums is a better option if you plan for a membership model. 
What are the odds of a successful podcast?
Consistency & maintaining the same quality is the biggest challenge they face. Focus on your content and valuable information in Podcasts to keep listeners Active. Listeners must be continuously interested in dealing with their short attention spans.
What's Next
In Dropshipping podcasts, you receive tips to manage your own business effectively. One of the best secrets is to have global Dropshipping suppliers for fast shipping. Access the private fulfillment services of your dropshipping supplier. A reliable supply chain means it is easy to create profitable online stores.
Where to find reliable suppliers for your Dropshipping & eCommerce business?
Leelinesourcing has a variety of trusted suppliers in top-selling niches with discounted deals. Contact us to discuss your Custom Packaging to attract online shoppers!
Do you want a successful import business?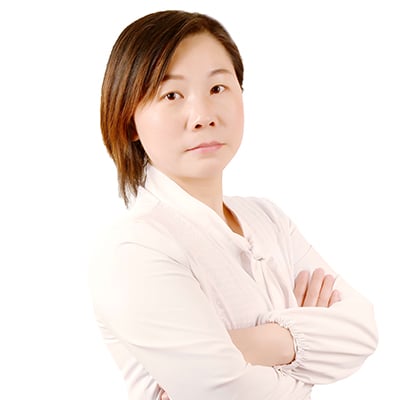 Hey, I'm Sharline, co-founder of LeelineSourcing. We've helped 2000+ customers import from China.
Do you want a better price on product or shipping?
We are sorry that this post was not useful for you!
Let us improve this post!
Tell us how we can improve this post?