Private Label Sunglasses
Start your Private label Sunglasses Collection with Leelinesourcing. Get up to 50% discount with the help of our NEGOTIATION skills. You gain LOYAL Customers with RELIABLE Sunglasses.
We handle Sourcing, Labeling, and Shipping while you GROW your Company.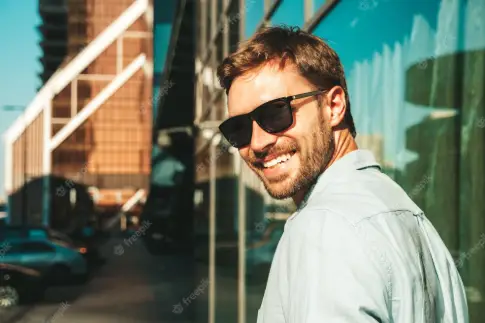 No Risk Free Sourcing No Hidden Fee
You can get Free detailed product quote before order
Wholesale Best Private Label Sunglasses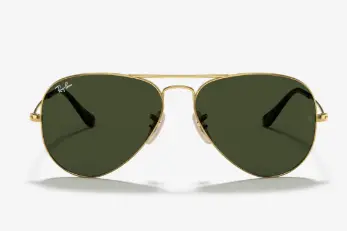 Wholesale Aviator Sunglasses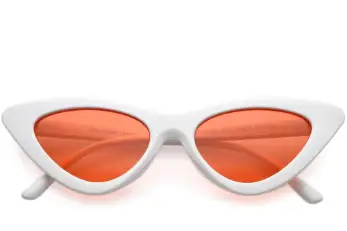 Wholesale Cat-Eye Sunglasses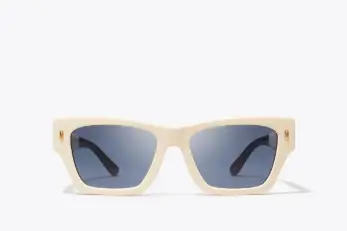 Wholesale Geometric Sunglasses
---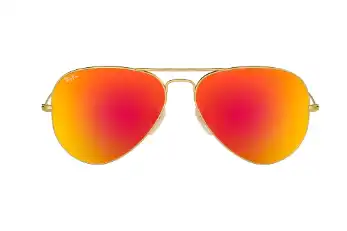 Wholesale Orange Flash Sunglasses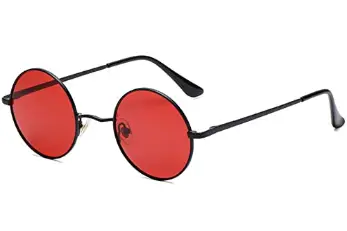 Wholesale Round Sunglasses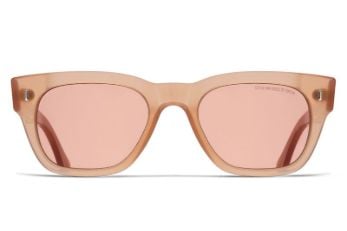 Wholesale Square Sunglasses
---
Our Private Label Services Include: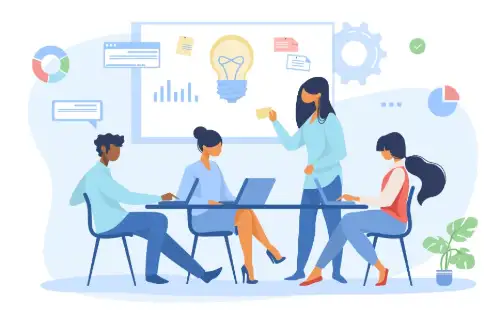 Product Development
Fill your inventory with the BEST-SELLING Sunglasses on the market. Our team finds the BEST Suppliers for YOUR Private Label Eyewear line.
Your products are in safe hands as we handle the Labeling and packaging. And Build BRAND CREDIBILITY for you.
Confirming Samples
We collaborate with factories that supply the samples as YOUR Sourcing agent. You receive the actual goods, images, and videos via express shipment.
YOU get to check the quality and style of sunglasses. It ensures that the Buyer loves the products as well.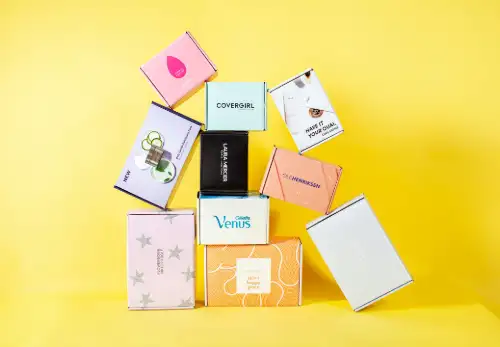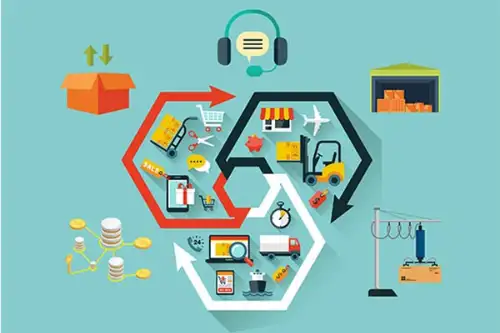 Following Up Production
Our team tours the manufacturing units and offers follow-up on manufacturing times. It guarantees an Outstanding Selection of Sunglasses for YOUR Clients.
Quality sells rapidly, providing you with Fast Results.
Quality Inspection
We Analyze the Quality of Sunglasses from material to finish. So Your Customers only get the highest quality products.
You focus on MULTIPLYING your sales through Effective Marketing Strategies. We cater to Quality demands.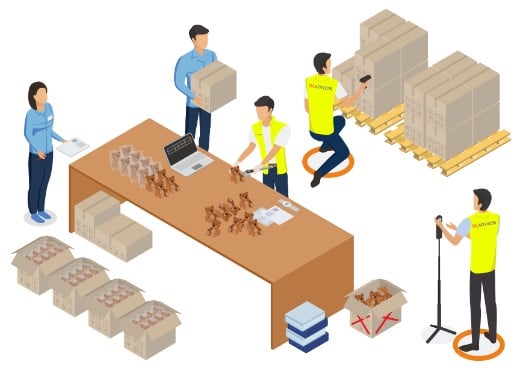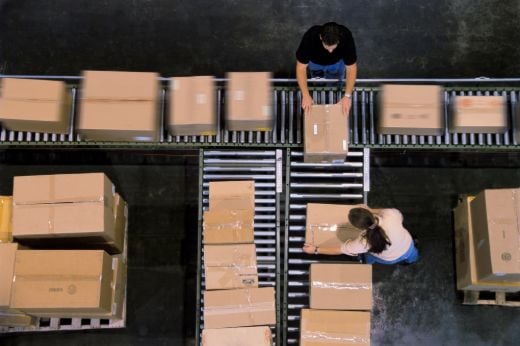 Fulfillment and Shipping
YOU use our fulfillment services to get the orders to your Customers. We offer various shipping options as per your budget and demand.
Get free product labels that will Increase your Brand's Value and Recognition.
Why Choose Us?
Reliable and Dependable
As our esteemed client, we take pride in providing you with the best sunglasses suppliers. You can save your time and energy by confiding in our services. We will never let you down.
Track Record
We have a proven track record of GROWING brands from a standstill. Whether the cost or the quality, we have the experience to solve every problem. Check our website to see how we have helped brands build an ONLINE PRESENCE.
Best for Small-Businesses
Building a small company with the best profits becomes streamlined with our services. Our Shipping and Manufacturing costs are 50% less than others.
Highest Quality Suppliers
YOU get a competitive edge as we provide TOP Suppliers with Trendy Optical Frame Designs. We'll help you get the best quotes from suppliers. And make sure only the best ones get through to YOU.
Hear it from fellow Private Label Sunglasses Wholesaler
Leelinesourcing pulled me back from the edge of giving up my Sunglasses Line. They offered me budget-friendly suppliers with high-profit margins. It allowed me to price my products lower than the market and build a name for myself in the industry. Do try out their services
– Cecile, Ohio
---
Source Your Private Label Sunglasses and Make Big Money
We offer the best wholesale price and high quality private label sunglasses to help you boost your business.
---
Top 6 Private Label Sunglasses Manufacturers
Looking to start a Trendy Private Label Sunglasses Business with High Profits?
We are here for You.
Building a Sunglasses brand in High competition might sound RIDICULOUS. But with our sourcing expert aid, you won't have to worry about that.
Here's a list of 6 Private Label Sunglasses manufacturers with their Pros and Cons. Be wise and choose a Supplier that offers PREMIUM Quality Private Label Products.
Keep Reading!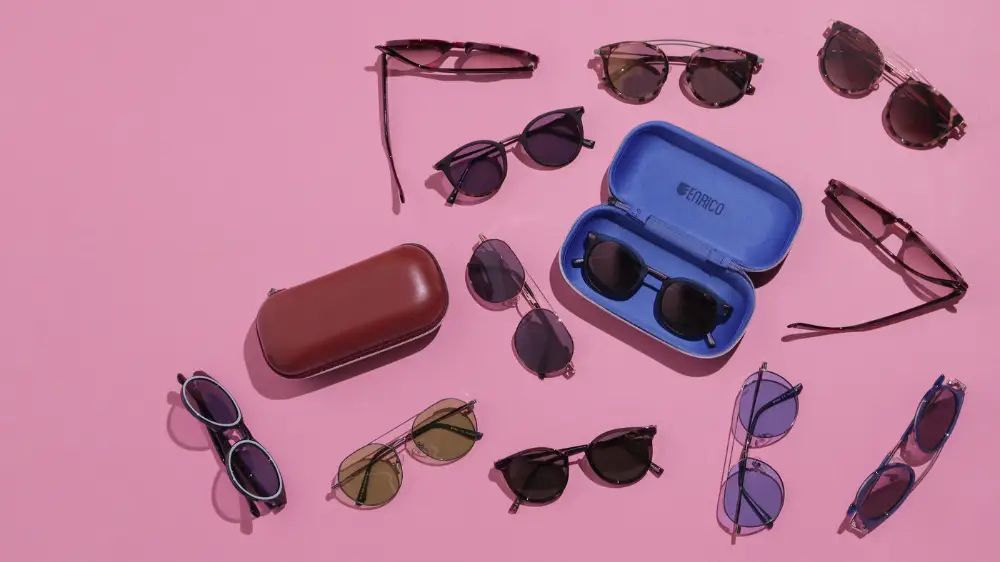 1. Noble Eyewear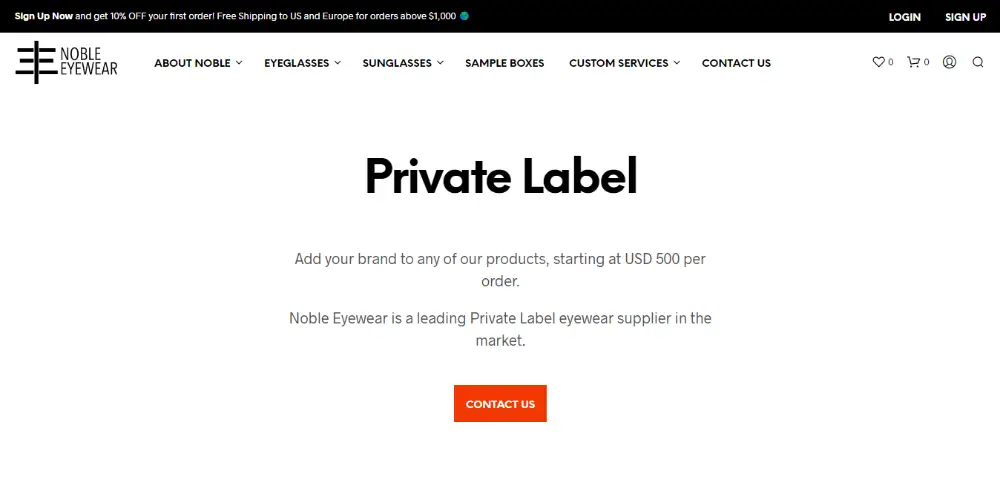 Noble Eyewear is the one of the leading private-label eyewear manufacturers in the sunglasses industry.
They take pride in helping interested individuals develop brands from scratch. I outsourced all my branded accessories from them at very good prices. 
Pros:
They source products from China. Helps you save 30% on final production costs. Thus increasing your profit margins from Optic lenses. And using it to market your brands.
The process is simple as you only Need to fill out a form stating your desired selling model. They take the logo from you and imprint them onto different frame designs. Helping you save a few bucks.
You get started with only 500 USD in your pocket as the minimum shipment value for Sunglasses. Best for small eyewear businesses.
Cons:
They charge a little higher compared to competitors because of their extensive services.
2. IOVES USA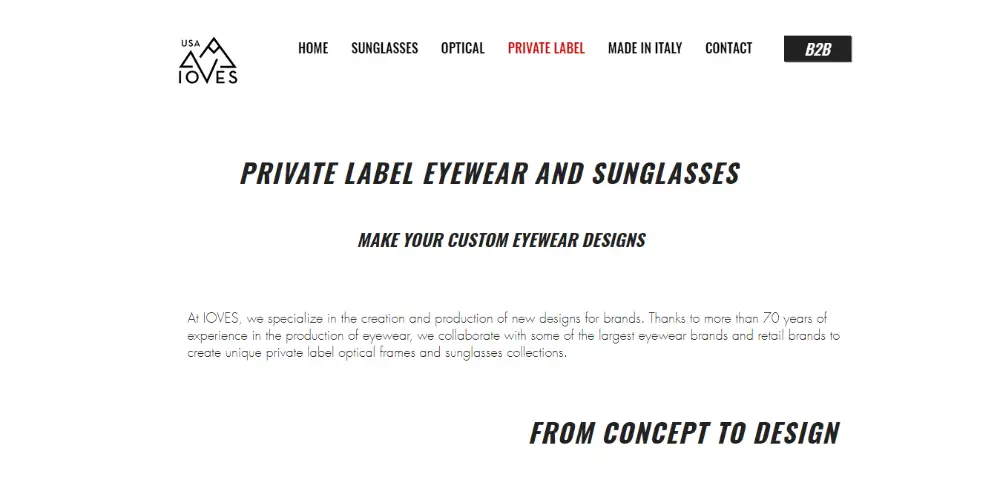 IOVES USA has over 70 years of experience creating World-Class eyewear and sunglasses. They have unique styles of optical frames and sunglasses with trendy designs.
Pros:
IOVES USA helps you make your Concept a reality. Their designers help in creating the latest Optical Frame designs to attract the younger generation.
After the approval of the design, IOVES USA takes 14 business days to create the optical frame. You get it shipped to your warehouse and sell optical frames within a month.
IOVES USA has a capacity of 2000 optic frames per day, creating the complete lens shipment in no time. It saves you time and expenses.
Cons:
There is no pinpointed significant flaw in their services.
3. Got Shades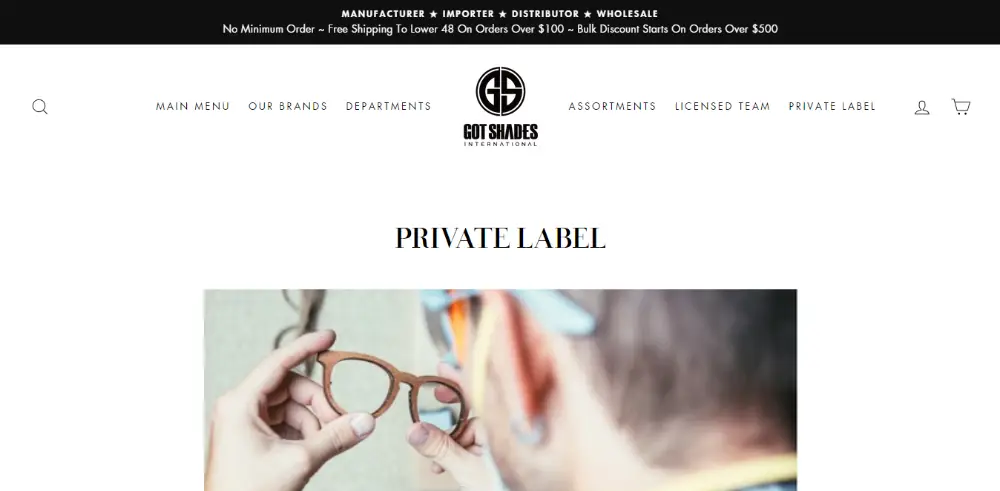 Got Shades offers a variety of trendy products, including sunglasses and eyewear accessories.
They look to empower individuals. And make them independent by helping them build a self-sustaining sunglasses business. My friend had a small business, and they helped him in his business transition. His customers liked the quality and trendy designs. 
Pros:
They offer private label sunglasses services to aspiring businessmen. They also provide fulfillment services directly to clients. Where they deliver the orders to the customer's doorstep by themselves. And save you a lot of money that you invest in growth.
Multiple styles of trendy sunglasses that you can choose from. You increase your revenue by choosing various options that cater to most customers.
Cons:
Should expand their sunglasses fulfillment services to the USA and Canada.
4. EYEKING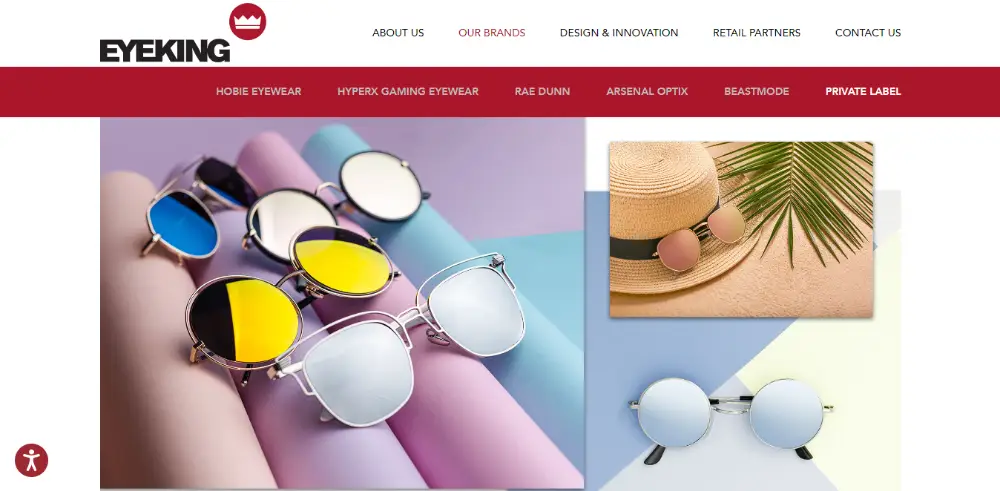 Eyeking is the finest private-label designer and Sunglasses manufacturer. The company offers trendy and innovative Optical frames to its retailers and partners.
One of the great features of this company is the quality of the material they use. It makes their eyewear highly durable.
Pros:
Offer dropshipping services as well. You send the order to your customer from their Company. It helps you save the shipping cost from the manufacturers to your location.
Loads of designs that you choose to build a brand with. Also, their private labeling service for sunglasses is one of the best in the US.
It is a One-Stop-Shop. Offering product design, manufacturing, packaging, labeling, and shipping. Saving you from the hassle of hiring agents.
Cons:
There is no clear information about MOQs and other key details.
5. Blue-Planet Eco Eyewear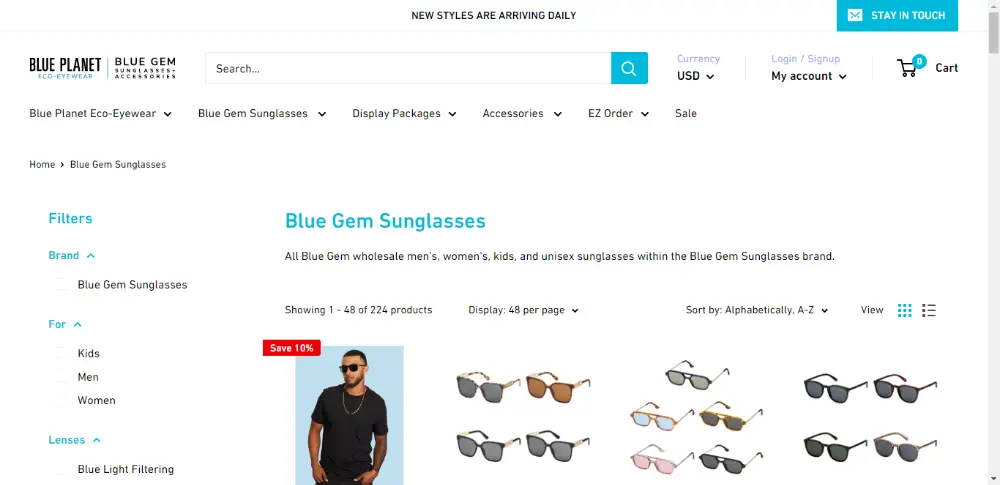 Blue-Planet Eco Eyewear is your best bet if you run a small company. Their low MOQ was the most enticing feature for me. It helped me to test new articles without much investment. 
They offer cost-effective services to businesses so they can grow with minimal investment.
Pros:
Easy to understand the entire private labeling process, so you get on with your company in no time. You only need to fill out their form, and they'll get back to you ASAP.
They have a MOQ of 100 pieces per style. You also get your logo on the lenses at $2.5 per article.
Manufacture glasses based on your ideas. It helps you create the best trendy lenses for your clients. That helps in accumulating more orders and revenue.
Cons:
It is only a wholesale supplier.
6. Allure Eyewear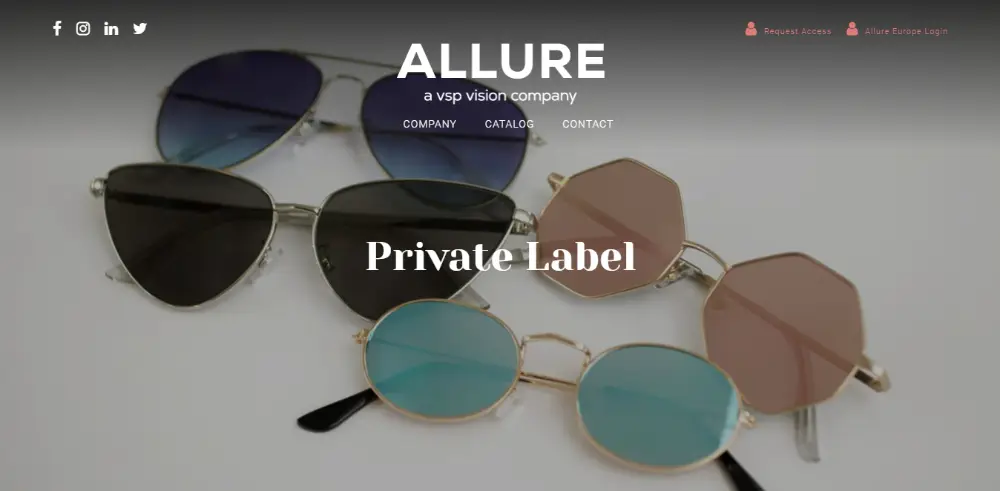 The last one on the list is Allure Eyewear. It is a flexible Sunglasses Manufacturer that molds itself according to clients demands.
You start your Sunglasses collection with Allure. And scale it to heights you haven't considered before.
Pros:
They keep a close eye on the whole process to ensure a seamless experience for You.
Deliver top-quality Sunglasses to give You a competitive advantage. You can also custom-make the sunglasses with our in-house designers.
They are a New York-based company. And are always up-to-date with the latest trends and styles. It helps you offer the styles people love and make tremendous gains.
Cons:
They need to provide packaging and drop shipping services in the USA.
How do you build your Private Label Sunglasses Business?
Selling sunglasses nowadays has been one of the most profitable business. The reason is the new styles and innovations.
Starting a Private Label Sunglasses Line can be a tiring task. But with our easy-to-understand steps, you'll get started in no time.
Step 1: Understanding the Market
The first step to starting any company is understanding the market dynamics. Optical Frames stores have been on the rise because of the latest trends in the industry.
The market isn't saturated as much, or in simple words, you consider it Moderate competition. Understand what benefits sunglasses offer, such as preventing cataracts and much more.
This helps you find out the pain point of readers. And use it as an opportunity to design glasses that solve those problems. My customers prefer custom designs & It helped to boost my business as well. 
Step 2: Create a Business Plan
Now, you need a formal plan. This plan doesn't need to be all professional. Depending on your location, it should contain your budget, spending, and profit forecast.
You hire a consultant as well. He guides you through the complete process, and then you can follow the bits of advice. And start building an empire.
Step 3: Outsourcing the Manufacturing and Packaging
Now that a formal plan is in place, it's time to Outsource Manufacturing, as you might not be able to do it on your own. You'll need Reasonable retailers and manufacturers for manufacturing.
After a few months, You can build your production unit to DECREASE the cost of creating frames. Thus INCREASING profit margins for your Brands.
Step 4: Creating an Online Website
You'll need a Website to list your sunglasses if you want to appear as an authoritative Company. You can use Amazon as your second and Ebay as your third selling partner to expand your reach.
Hire a developer or watch youtube tutorials to create a Responsive E-commerce store. I go with Shopify & Paid themes because it is just drag and drop to build a store. 
Step 5: Develop a Mighty Marketing Plan
The last step in any company is the Marketing Plan. It becomes the base of presenting your products in front of potential buyers. Once people are familiar with your brand name, it's the game of Quality products you'll sell to your clients.
Depending on the response, you change the marketing plan, design, and website. Continuous changes and keeping an eye on the trend help you realize your DREAM BUSINESS.
Looking for the Best China Sourcing Agent?
Leeline Sourcing helps you find factories, get competitive prices, follow up production, ensure quality and deliver products to the door.
FAQs about Private Label Sunglasses
Is private labeling hard?
Private labeling can be an ARDUOUS task if you aren't familiar with the basics. You also find a supplier that handles production, labeling, and Shipping. It'll save you from doing things wrong and bearing a loss you could've avoided. 
How much does private Label sunglasses cost?
Depending on the quality and style of sunglasses, it can cost You around $2 to $8 per piece. And if you go for bulk quantity, the price per piece decreases significantly. You sell them for $10 to $20 a piece in the beginning and increase your prices as it grows. 
Can I resell a product under my own brand?
If you get a Distributor certificate from the brands, you resell any product under your brand. Some products don't need a certificate or approval. But you'll need approval from big brands, including Rayban, etc. 
What's Next
Overall, Sunglasses Private Label Line helps you earn big profits. And that's only possible if you use the best marketing plans with trending designs.
The 6 suppliers mentioned above are market leaders. And help you design the perfect sunglasses.
But. If you're still not confident that you run a successful business. Contact Leelinesourcing without hesitation.
We assist you in becoming one of the best and most profitable sunglasses brands in your country.
Do you want a successful import business?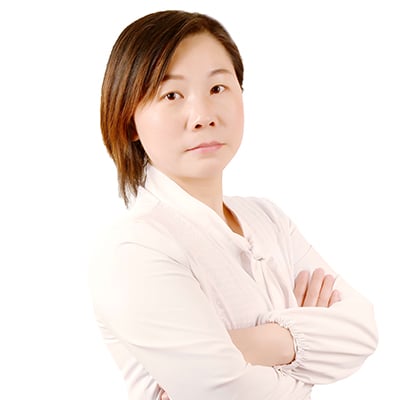 Hey, I'm Sharline, co-founder of LeelineSourcing. We've helped 2000+ customers import from China.
Do you want a better price on product or shipping?
We are sorry that this post was not useful for you!
Let us improve this post!
Tell us how we can improve this post?