Alibaba facilitates buyers with multiple payment methods to order inventory in it. One of the easiest and most effective Alibaba payment methods is Western Union.
The remarkable fact about the Western Union is its availability around the whole globe. Whether you live in the US or European country, you can send your funds through Western Union.
Nowadays, there is another facility to send money online via Western Union app. Don't you have time to visit the Western Union center? No problem. Just use the online app and pay your suppliers within seconds.
Today, we will go through Western Union as a send online method on Alibaba.
Advantages to using western union
Western Union as a payment option is astonishingly effective. Here is a list of benefits why Western Union Alibaba.
It is very Fast and effective. I send and receive money in a short PERIOD without waiting.
No matter where you live, receive your cash instantly.
Reliable as the payment platform on Alibaba
It's like cash payments on the suppliers' end that are more credible.
There can be several other benefits as factors for money transfer.
Western Union Clauses
There are specific rules that Alibaba has implemented for customers using Western Union as a send online method. Being a buyer, you need to abide by those rules.
A simple example is here. You can only use this payment if you register your account with Alibaba. Similarly, there are other Western Union clauses. Here is a quick skim through the details of clauses.
The limit for one transaction is $2500 for a single payment transfer through Western Union.
Since you live in a foreign country, pay USD as a universal payment currency.
Usually, it takes 24 hours to activate the accounts. Wait for that time, and you are good to go for payment assistance.
If somehow, China seller changes the payment amount, check the bank account information before sending the amount.
AliPay Singapore E-Commerce collects the money sent to the seller. So, use its company name, not the sellers' company name, while sending the payment.
Western Union Transaction Fees
Payment through the Western Union is not entirely free. Instead, you need to pay some fee for the given limit of sending funds. For example, if you transfer funds up to $50, the transaction costs are $4.90. Here are the complete details of the costs.
$8 for payment from $50 to $100
$10 for transfer from $100 to $250
$12 for amounts up to $500
$15 for up to $750
$18 for transfer up to $1000
If you send the funds above $1,000, the fee is 1.8% of the total.
How to Use Western Union to pay in Alibaba?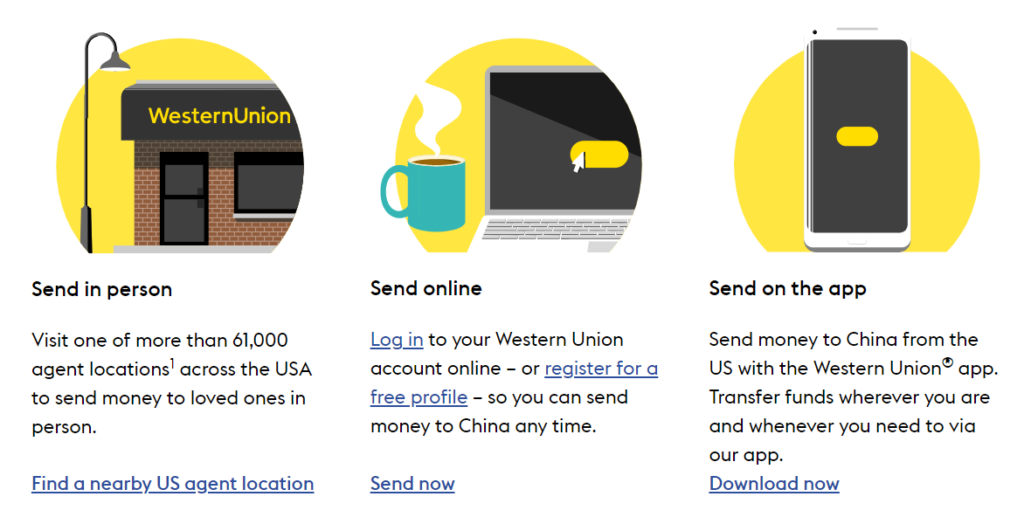 For sending money, Western Union can be the preferable choice. But, how exactly can you use Western Union for money transfers? There are two methods to transfer the money through Western Union.
Method 1:
Here is a simple mechanism to transfer funds by visiting the nearby Western Union Center.
Step 1: Visit the nearby Western Union center
Step 2: Determine the amount to be sent. You can pay it in cash form.
Step 3: Once you pay, the staff will give you the MTCN(money transfer control number)
Just send your MTCN number to your suppliers, and that's all. The suppliers will reach the nearby Western Union branch and obtain the money.
Here are good practices to use the Western Union as payment options.
Before sending the money, I thoroughly read Alibaba's rules. Follow them. And avoid scammers.
The agent will give you the MTCN number to send funds through Western Union. Keep that number safe.
Send the funds by using the company name of Alibaba group instead of China suppliers.
Get the receiving person to show the ID card and MTCN number to receive funds.
Remember, users must pay heed to the address before processing the money. If you lost the MTCN, your money is gone. So, please keep it safe and provide it to your receiver.
Method 2:
The second method to transfer the funds through the Western Union is to use Alipay. Alipay is quite a comfortable way to send money online. Remember, your China supplier must have the account associated with the Alipay mobile wallet.
Here is a step-by-step guide to transferring the funds through Alipay.
Step 1: Download the mobile app from the official website of the Western Union.
Step 2: Select the receivers' country, name, and relevant details essential to send the amount.
Step 3: Choose the Alipay wallet and add the receiver's Alipay ID, registered phone number, and other essential information.
Step 4: Select the purpose and confirm the amount to transfer.
That's how exactly you can transfer and use Alipay.
Want to pay on Alibaba via Western Union?
Leeline Sourcing helps buyers find the safest payment option and deal with all payment problems.
FAQs about Western Union Alibaba
Is it free to transfer money through Western Union?
No. It's not free to transfer money through Western Union to any company, family member, or even Alibaba group.
A regular transaction fee has to be paid to claim the money by the buyer. I have discussed the details transaction fee form above.
Why should I prefer Western Union to other payment options?
I won't say other methods to transfer money are ineffectual, but Western Union is better than them.
For example, it is fast and accepts payments globally. The transferring fees are less compared to other methods—no need to worry about exchange rates.
The remarkable thing is that you can claim it at any nearest Western Union center location.
How long does it take to receive cash through Western Union?
It depends on the ease of transferring funds. If you need to send the money instantly, it is just a matter of hours.
However, it takes almost 24 hours to receive the mailed payments. Whenever you have an MTCN number, you can receive it.
How does money transfer through Western Union work?
The working mechanism is simple. Visit the nearby center, make cash payments, and get the MTCN number.
Give that number to your buyer. After showing the ID card and MTCN number, the person can request the money.
Find a nearby US agent location Send online Log in to your Western Union account online – or register for a free profile – so you can send money to China any time.
Why use Western Union?
Cash payment is supported. Recipients are still able to receive money, even without a bank account. Fast transfer processing time Transactions can be received within one business day.
Just make sure you transfer the funds to e-commerce business bank account held by the same company as you buy the products. You should never transfer funds to a company bank account held by a different entity or an individual.
How do you send money from abroad through Western Union?
There is another facility to send money online through the Western Union app. Don't you have time to visit the Western Union center? No problem. Just use the online app and pay your suppliers within seconds. Today, we will go through Western Union as a send money method on Alibaba.
How do Western Union payments work?
The payee can either go to a Western Union service point or send money online. Western Union then issues a 10-digit Money Transfer Control Number (MTCN), that enables a person, for example in China, to collect the money a few hours later at another Western Union branch.
What to do next
Remember, sending money via Western Union is not a big problem. The real problem happens when you encounter a scammer and show the MTCN number.
They collect the money and don't confirm whether they have received it. So, be careful and check every link before transferring any funds. Never send funds to anyone via Western Union who is not related to you or that you have not personally known for a long time.
If there is still a problem, you can get in touch with Alibaba customer service to let your situation know. Have a good journey ahead!
We are sorry that this post was not useful for you!
Let us improve this post!
Tell us how we can improve this post?