Dropshipping business is getting popular worldwide. But, some may not know what AliExpress dropshipping center is. It is a center for dropshipper to dropship products from the AliExpress account.
Based on our ten years of sourcing experience, we have dealt with many Aliexpress dropshipping center issues. For instance, less helpful features or difficulty in managing the dropshipping center. The dropshipping center can cater to your own dropshipping store easily. You can use several tools in it to enhance your dropshipping business. 
In this article, you will know what AliExpress dropshipping center offers. Let's get to it.

What is Aliexpress dropshipping center?
AliExpress dropship center is a tool created by AliExpress. It could help create a successful dropshipping business via an online store. This tool allows the dropshippers to analyze the products before uploading them. The dropshipping centers also let dropshippers find reliable suppliers explicitly. 
In this free platform, you can search over 100 million AliExpress products. These products are available for dropship in your eCommerce business.
The dashboard features are also helpful in your search. It has been proven convenient by many dropshippers that use this platform.
Two tools of Aliexpress dropshipping center
AliExpress has two tools in the dropshipping center to ease your business process. Let's discover further:
1. Product Search Tool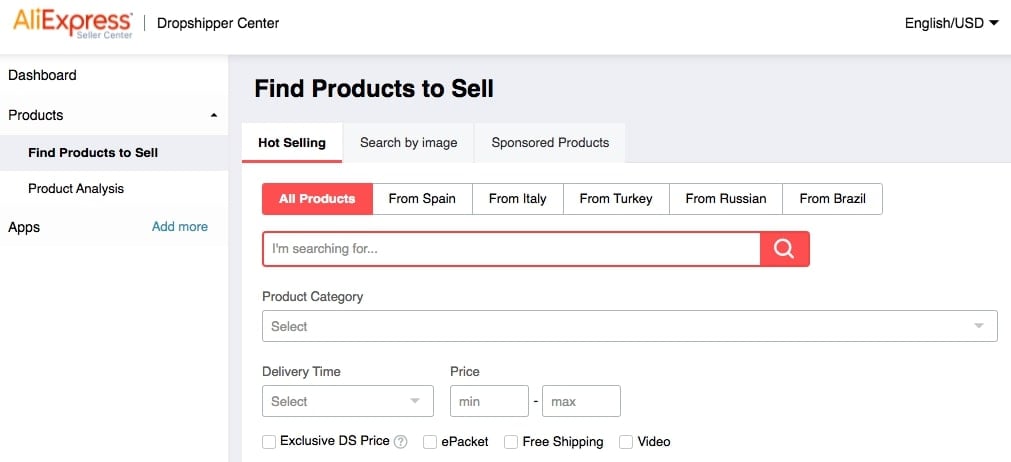 You can use three methods to find the products you desire in this tool. You can search them by these categories:
This feature lets you search for a hot selling product category on the AliExpress platform. It will list down the prices, orders, and ratings of the product in the hot-selling products section.
It is beneficial so that you can reach the items that might bring you profit in dropshipping.
Search Sponsored Products
You can search for sponsored products on Aliexpress too. They are products that AliExpress sellers paid to promote the product on AliExpress.
It shows that the sellers are dedicated to their products. You could gain confidence and trust in choosing these Chinese manufacturers to dropship.
With this feature, you can search for the product you want by submitting an image. AliExpress will scan the image and refer to you similar to exact items.
It makes it easier to find products to sell online without typing keywords into the title. You might even get cheaper pricing in comparison too.
2. Product Analysis Tool
AliExpress product analysis tool is a tool that helps you to analyze the product. You can put them on the dashboard on the product analysis page.
It allows you to view the product's market sales performance and the supplier's reliability. You'll understand the product details better, hence having a safer dropshipping process.
We can Made Drop Shipping from Aliexpress Easy
Leeline Sourcing is to help Shopify & small businesses sourcing products from China and build your branded business.
How to activate the Dropshipping Center on Aliexpress?
You have to take a few steps to activate the dropshipping center on AliExpress.
1. Log in to your AliExpress account with this dropshipper link: ➤➤Entrance

2. Accept the general agreement and data service authorization to process.

3. Then, enter your personal information, such as your name and contact details.

4. You have successfully activated your dropshipping center account if you see the 'Congratulations' heading!
How To Use The AliExpress Dropshipping Center For Your Dropshipping Store?
After having an account, let's put the AliExpress dropshipping center tools into good use. Here are some actions you can do with the AliExpress dropshipping center.
1. Find New Products
As the services in the dropshipping center are free, you can find any products you want! It is ideal for newly started who do not have much capital for dropshipping. It will also help you earn a profit margin in your dropshipping store.
2. Conduct Product Analysis
With the product analysis tool, you can quickly analyze the new products. You will be able to see their sales performance and reviews from their customers. The decision-making is easier with this product analysis tool from the dropshipping center.
3. Find Trusted Suppliers
With the tools it features, you can find dropshipping suppliers that you can trust. They will then supply you with the products in your dropshipping store. The dropshipping center's product analysis tool will guarantee the dropshipping suppliers' reliability.
4. Understand The Trends
In order to sell, you have to understand the trending products. The dropshipping centers allow you to search for trending products faster. You can then easily import products to your dashboard and start dropshipping them.
5. Analyze Your Competitors
With the dashboard and the tools, you will see sellers' pricing. You can then estimate production cost to know how much your competitors profits. You will be able to adjust your prices to compete with them to get more customers.
4 Tips to dropship from Aliexpress dropship center

The Aliexpress service from the AliExpress dropship center is easy to use. Aliexpress dropshipping suppliers can use these tips for their dropshipping business.
1. Choose The Deals Wisely
If you come across an extremely cheap price of an item, do not choose it immediately. It can be a scam in terms of low product quality or bad sellers. Hence, you need to analyze the product properly first before making deals. The product analysis tool is a wonder when it comes to this.
2. Choose the Qualifiers
AliExpress shows the ratings of the products and sellers on the platform. To choose a reliable supplier, you have to look at the product reviews. If many customers praised it, it is safe for you to dropship the item. Vice versa, you have to avoid products with many bad reviews.
3. Attention to Details
You can do this by testing the AliExpress suppliers you are interested in. A trustworthy supplier must be good at collaboration, responsiveness, and communication. If there is any issue, you can refer to them immediately. Hence, you have to pay attention to how the supplier's reaction.
4. Use ePacket Shipping
The ePacket shipping is premium shipping that can use from various shipping methods. It is lower in cost and shorter delivery time comparatively. With this, your customer will be able to receive products in 30 days. 
SAFE + EASY Importing from Aliexpress
We do the hard work in Aliexpress, so you don't have to: Product sourcing, quality control, shipping, and more.
FAQs About AliExpress Dropshipping Center
How do you access the AliExpress dropshipping center?
After creating an AliExpress dropshipping center account, you have to visit your profile. Click on the 'Menu' tab on the profile, and it will show the AliExpress dropshipping option. Click on that, and then you can access  AliExpress dropshipping center.
My AliExpress dropship center is not showing. What to do?
It takes time for your dropshipping center to show on your profile. Meanwhile, you can clear the cache on your device so that it pops up quicker. Consult customer service or open a new account if it still does not appear.
Is dropshipping from AliExpress profitable?
It is an excellent business to profit from if you choose to dropship from AliExpress. The platform has a wide selection of products and multiple suppliers. You can select the one with the most profit margin and earn it when dropshipping.
Is AliExpress dropshipping center free?
Yes. AliExpress dropshipping center offers free services for dropshippers. You can access it anywhere and anytime using devices that can access the platform. It is perfect for a new dropshipper to find new dropshipping suppliers at AliExpress.
What's Next
In short, you can benefit from the AliExpress dropship center. It is equipped with valuable tools for you to run your own dropshipping business smoothly.
I hope you gained knowledge by reading this article about the AliExpress dropshipping center. If you have any issues with dropshipping, feel free to HIT US A CALL.
We are sorry that this post was not useful for you!
Let us improve this post!
Tell us how we can improve this post?