London Clothing Manufacturers
Leeline sourcing will take care of everything to produce high-quality clothing for you, from customs clearance to export-import documents to product inspection and QC. And we'll even take photographs of your clothing collection so you can start selling your clothing collection from London worldwide right away.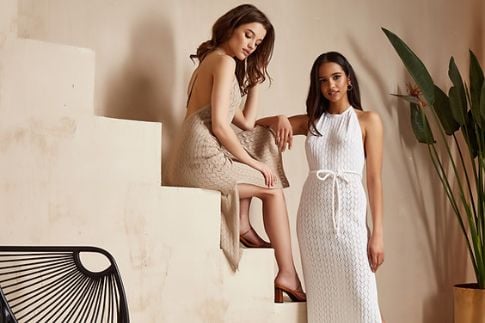 Top 1 Sourcing company in China
With 10 years of experience in china sourcing business
No Risk Free Sourcing No Hidden Fee
You can get Free detailed product quote before order
Trusted by over 2000 Customers
Leeline is your trusted sourcing agent partner in china
Wholesale Best London Clothing
Wholesale Tracksuits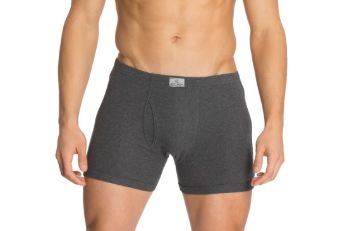 Wholesale Underwear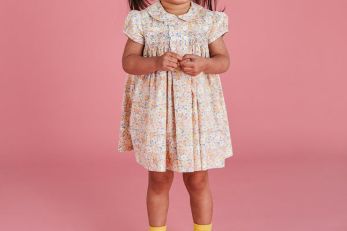 Wholesale Children's Dress
---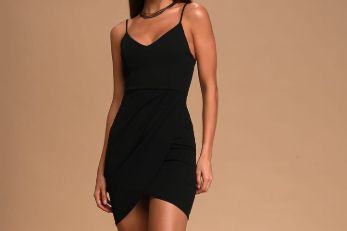 Wholesale Bodycon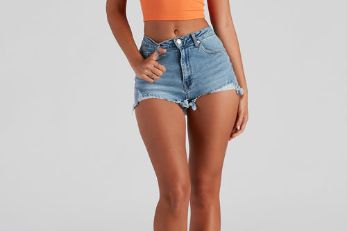 Wholesale Shorts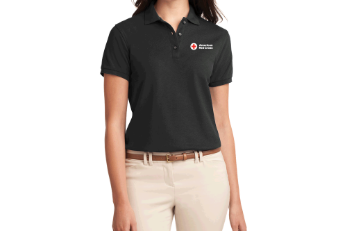 Wholesale Polo Shirts
---
Our London Clothing Manufacturing Services Include: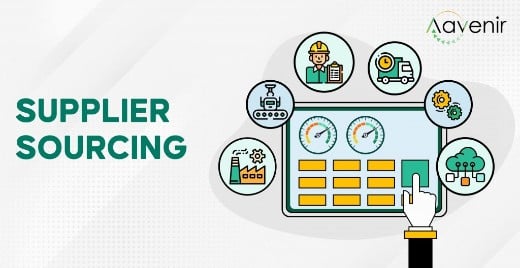 Sourcing Clothing Suppliers
You can find reliable and high-quality clothing manufacturers with Leeline. We intensely monitor your fashion production from fabric selection, pattern cutting, pattern grading, and garment processing to shipment.
Clothing Quality Control
We're experts at quality control and will ensure your clothes are ready to be sold to the end customer. With Leeline, you'll know that your products are being inspected every step of the way, starting on an initial production, inspection during production, and pre-shipment until loading into your container.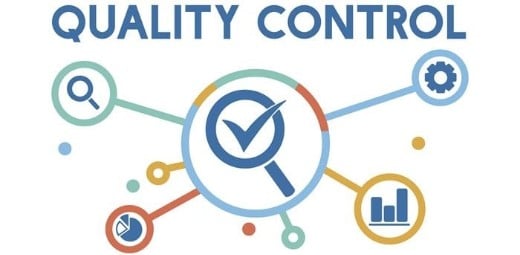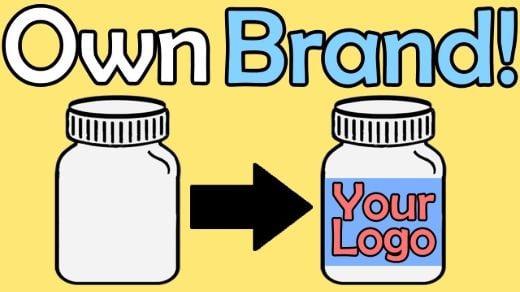 Private Label & White Label Clothing
Leeline has a professional marketing team that can design and create your private fashion label and even builds a fantastic online clothing store for you. Our expert fashion photography will make sure all images on your store look great and get high rankings on Amazon or Google.
Dropshipping and Fulfillment
Leeline offers a dropshipping and fulfillment service that makes it easy for you to get your products to your customers. We keep track of inventory levels and have the latest stock information so you can prioritize products and services. We will make sure your orders are shipped quickly and on time.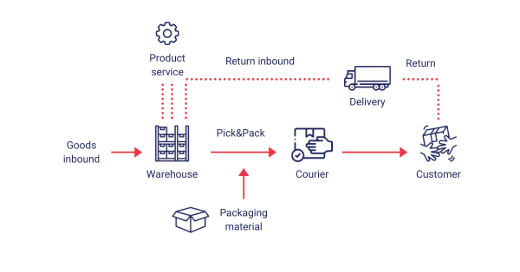 ---
Source Your London Clothing and Make Big Money
We offer the best wholesale price and high quality clothing to help you boost your business.
---
Top 10 Clothing Manufacturers In London
Most people know that London is a major fashion industry capital, but you might not know that there are many great clothing manufacturers in London.
It can be difficult to find the right manufacturing partner for your clothing business with so many apparel manufacturers. Leeline business connects clothing manufacturers with potential customers. So we have compiled this list of 10 clothing manufacturers in London.
If you're looking for reliable suppliers of clothing, apparel accessories, or garment production services, read on to learn more.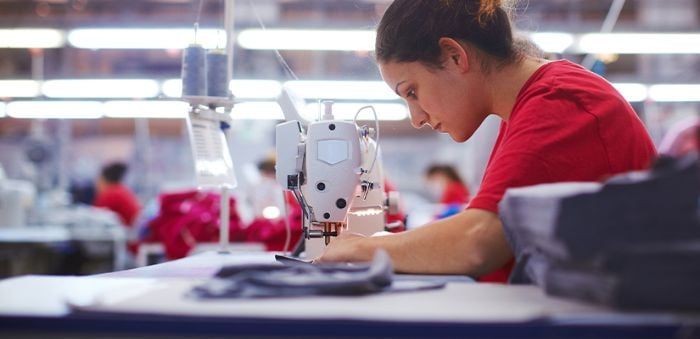 1. Wearwell London Ltd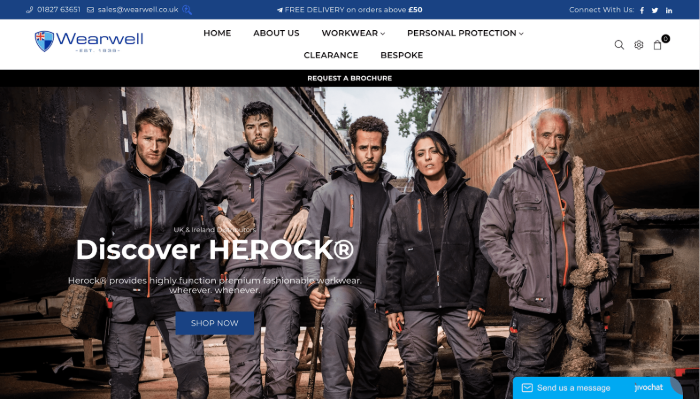 Founded in 1939, Wearwell is one of the longest established workwear manufacturers in Great Britain. Based in Tamworth, their production team serve the whole of the UK and beyond, designing, producing, and supplying premium quality workwear worldwide from their Staffordshire factory and near-shore fast response facilities in North Africa.
Wearwell is one of Britain's longest established workwear garment manufacturers, based in Staffordshire, and has a fast response facility in North Africa. Wearwell has a fast-response facility in Africa.
Primary Products:
Boilersuits
Jackets
Polo
T-shirts
Trousers
Coats
Phone:
Email Address:
Hours of Operation:
Mon-Fri 9:00AM–5:00PM
Sat-Sun Closed
Location:
Gagarin, Tamworth B79 7TR, United Kingdom
2. Plus Samples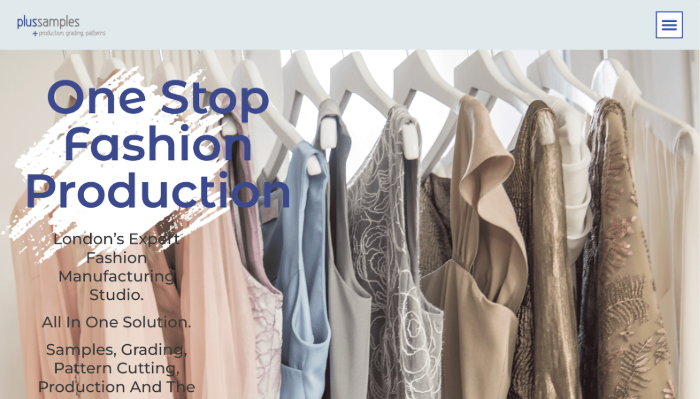 The business was founded in 2003 by Nailya Belkacemi. Plus samples have produced fashion collections showcased on the most prestigious catwalks and worn by prominent celebrities. The cornerstone of their success is their attention to detail and their commitment to quality.
They have taken their own steps toward a more sustainable approach to manufacturing clothes. They have made several improvements to their manufacturing processes and how they support their staff. They are on a mission to actively foster emerging designers' creativity.
They are also a one-stop-shop for all garment pattern cutting, pattern development and fashion label services.
Primary Products:
Phone:
Email Address:
Hours of Operation:
Mon-Fri 9:00AM–6:00PM
Sat-Sun Closed
Location:
Unit B, Summer Court, 1 Maybury Gardens, London NW10 2NB, United Kingdom
3. Hawthorn International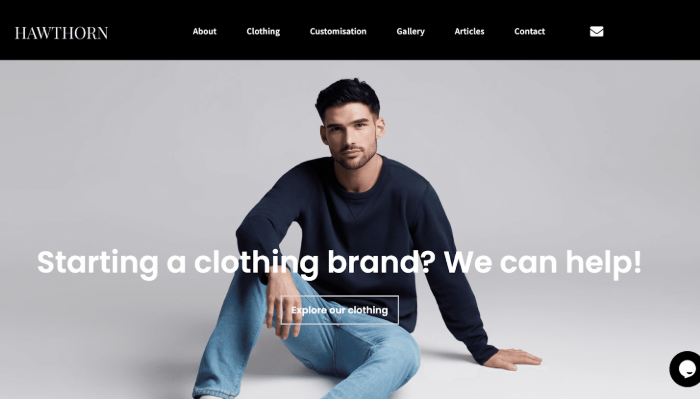 Hawthorn is one of the UK's leading fashion producers, at the forefront of concept design, prototyping, and large-scale production. They manufacture and major suppliers fully custom clothing to startups, SMEs, and established fashion brands.
They are committed to producing clothing that meets the expectations of their customers at competitive prices, often lower than "stock" clothing equivalents. Hawthorn has manufacturing facilities and quality control team across the globe. Their customers benefit from communicating with a UK-based company while having access to the infrastructure and cost-effectiveness of an overseas factory.
Hawthorn's minimum order quantity is 50 pcs per design.
Primary Products:
T-shirts
Hoodies
Jeans
Denim
Tracksuit & Twinsets
Shirts
Phone:
Email Address:
Hours of Operation:
Mon-Fri 8:00AM–6:00PM
Sat-Sun Closed
Location:
International House, 24 Holborn Viaduct, London EC1A 2BN, United Kingdom
4. London Garment Services Ltd.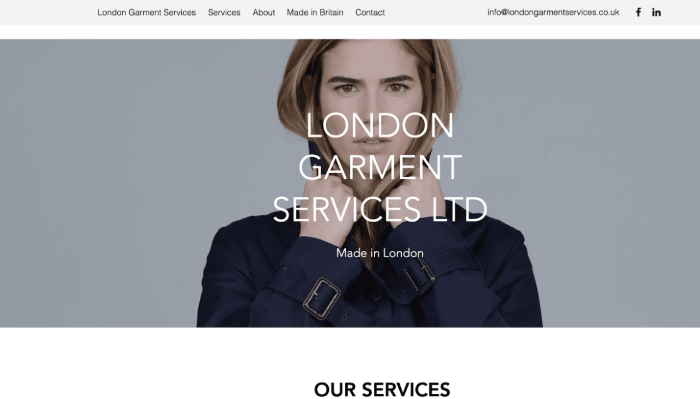 London Garment Services Ltd is a UK garment manufacturer specializing in producing small quantities of high-end women's and men's fashion apparel and accessories. They are proud to work with a broad range of brands, from small independent brands to well-established luxury names.
The key draw of UK production is customization options, speed, and flexibility, allowing you to be first to market with the latest trends. They ensure to always conduct ourselves in an honest, responsible, and ethical way. They can assure speed to market for fashion chains and start-ups alike.
Primary Products:
High End's Women & Men Apparel
Phone:
Email Address:
Hours of Operation:
Mon-Fri 09:00AM-05:00PM
Sat-Sun Closed
Location:
9 Academy Ct, Goldring Way, London Colney, St Albans AL2 1GZ, United Kingdom
5. CY London Fashion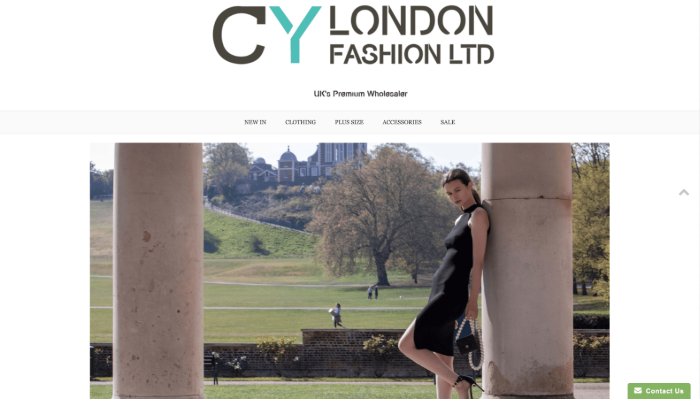 Since 2008, CY London Fashion has opened wholesale showrooms, stores, and online fashion sites in London. They can custom-make or provide exclusive designs under your own brand or your own brand label.
Every designer and staff well control the quality of fabric and finishing. They create fashion pieces that look and feel classic and modern. They hope you enjoy the attention to detail shown in the whole process in each garment and the inspiration that defines their collections.
Primary Products:
Dresses
Legging
Trousers
Cardigans
Jumpers
Coats
Skirts
Suits
Phone:
Email Address:
Hours of Operation:
Mon-Fri 10:00AM–3:00PM
Sunday 10:00AM–3:00PM
Sat Closed
Location:
184 Commercial Rd, London E1 2JY, United Kingdom
6. Crew Clothing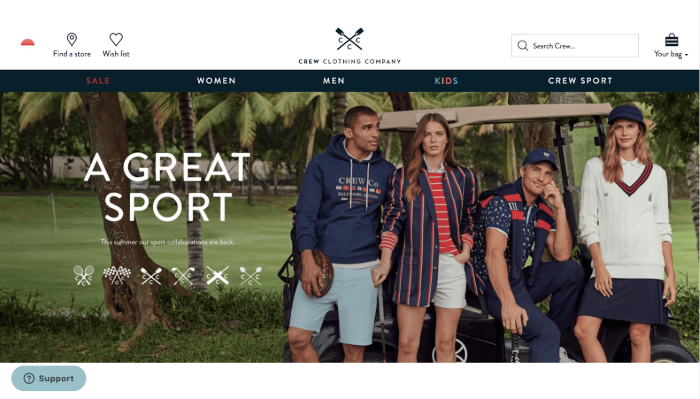 Crew Clothing Company is the British lifestyle brand for classic style with a coastal twist. Salcombe was the perfect inspiration for the professional skier Alastair Parker-Swift's first menswear collection.
Alistair's first collection is the rugby shirt. He took it from Salcombe to Cowes Week to the King's Road 79 stores later, and the rest is history. You can now find stores up and down the country from St. Andrews to St. Ives.
Primary Products:
Dresses
Polo Shirts
Jeans
Jackets
Shirts
Shorts
T-Shirt
Rugby
Blazers
Phone:
Email Address:
Hours of Operation:
Mon-Sat 9:30 AM–5:30 PM
Sun 11 AM–5 PM
Location:
50A George St, Richmond TW9 1HJ, United Kingdom
7. Clothing Manufacturer UK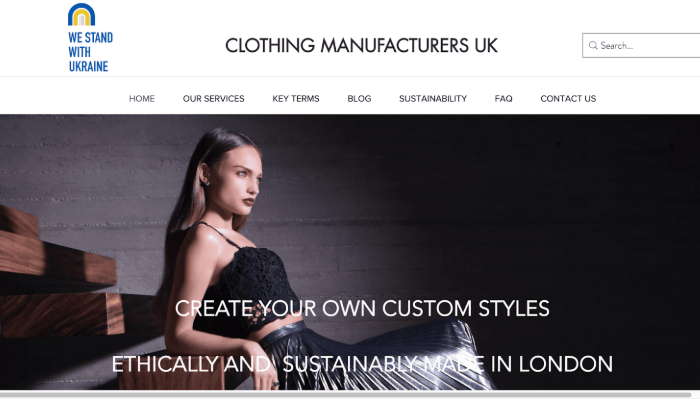 Clothing Manufacturers UK specializes in creating custom garments for their clients. They manufacture all of the garments they make in London. They feel it's essential to bring back clothing manufacturing to the UK, where they can make high-quality clothes at a quick pace.
They provide garment fittings to go through each garment and perfect its fit. Manufacturers use sustainable fabrics that are knitted/woven in the UK. They like to source as much as possible to keep our transporting emissions as low as possible.
Primary Products:
Women's Wear
Men's Wear
Children's Wear
Sports Wear
Swimwear
Lingerie
Baby Wear
Phone:
Email Address:
Hours of Operation:
Location:
Unit 59, Mill Mead Industrial Centre, Mill Mead Rd, London N17 9QU, United Kingdom
8. Fashion Enter
Fashion Capital is the UK's leading portal for the fashion industry. It is the sister company to Fashion Enter Ltd, which launched in 2001.
The FashionCapital site is a one-stop online resource with a dedicated team of journalists, business advisors, and industry experts. This ensures that users receive a unique insight into the fashion and textiles industry world.
The cost to join is £199 plus vat for one year. FashionCapital.The UK is structured to aid emerging and established designers with a cross-section of support from various industry experts.
Primary Products:
Phone:
Email Address:
Hours of Operation:
Tue-Sat 10:00 AM–5:00 PM
Sun-Mon Closed
Location:
13-14, Crusader Industrial Estate, 167 Hermitage Rd, Harringay Warehouse District, London N4 1LZ, UK
9. Apparel Tasker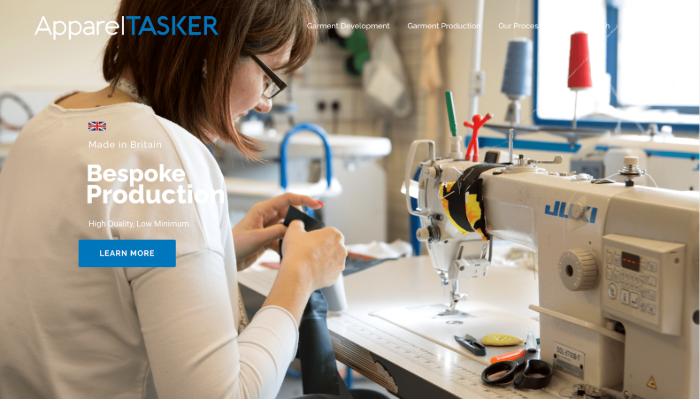 ApparelTASKER has designed a system that connects fashion and technology. Responsible manufacturing is taking responsibility for your own products, the environment, and your customers and employees.
They are more energy-efficient, safer, and of higher quality, reduce their environmental impact and guarantee a quality working environment for their team. They hope that responsibility will not be just in their portfolio but that it becomes an industry standard.
ApparelTasker asks 100 pcs per style for unlimited colors and sizes as their lowest minimum order quantities. And they will ask you to provide the tech packs.
Tech packs provide all the information needed to create custom clothing, including fabric choice and printing techniques.
Primary Products:
Shirts
T-Shirts
Polo Shirts
Dresses
Swimwear
Phone:
Hours of Operation:
Mon-Fri 09:00AM–05:00PM
Sat-Sun Closed
Location:
1 Bowood house, Empson St, London E3 3LT, United Kingdom
10. Fashion Cube London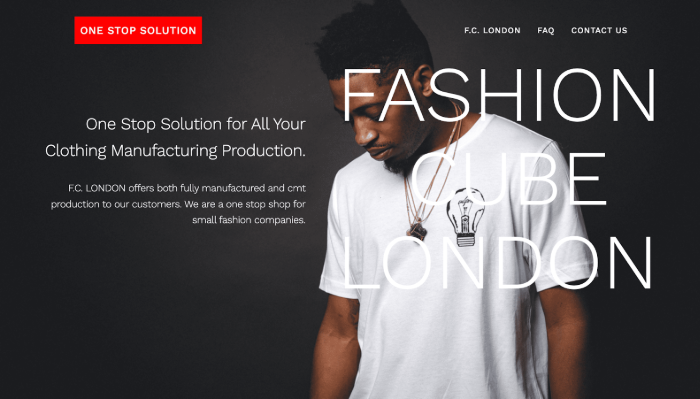 FC LONDON UK offers both fully manufactured and CMT production to their customers. They produce clothing in stages. They can start fresh from A to Z or any stage in between. They can help in pattern development for you based on designs, sketches, or samples. Pattern development is block parts of clothes used to cut out specific pieces of fabric in certain shapes. When sewn together will make a complete garment.
When sewing different colored fabric styles, threads also need to correspond. They use different colored threads for each type of fabric, and machinery needs to be readjusted.
Their minimum order quantity is 100 per style or 400 for the total order with different pattern cutting or style designs.
Primary Products:
Shirts
T-shirts
Polo
Dresses
Phone:
Email Address:
Hours of Operation:
Mon-Fri 9:00 AM–6:30 PM
Sat-Sun Closed
Location:
41 West Rd, London N17 0RE, United Kingdom
How do you find manufacturers for your brand in London?
The fashion industry is huge in London, with plenty of manufacturers. So you need to sort list your options and find the right one for your brand? You should think about the type of clothing you want to produce. Once you've determined you can start searching for manufacturers that produce that type of clothing.
Find the clothing manufacturers' partner by:
Take a look at industry events and trade shows. These are often excellent networking opportunities, and you'll be able to meet clothing manufacturers worldwide.
Search online directories. These can be a great way to find clothing manufacturers that are a good match for your brand.
You can also reach out to clothing brands you admire and ask if they have any recommendations.
When you find a potential clothing manufacturer, it's time to evaluate their quality and price. Request samples of their work, and compare their prices to other manufacturers. You should also consider their minimum order quantities, production lead times, and payment terms.
By taking the time to do your research, you can be sure to find the perfect manufacturer for your clothing brand.
FAQs about Clothing Manufacturers in London
Where can I get the clothes designs made?
You can either go to a tailor or a clothing designer. If you have clothing ideas, it might be best to go to a clothing designer. They will be able to bring your vision to life and create a one-of-a-kind piece for you. 
Can you design clothes with Photoshop?
Yes, you can design clothes with Photoshop! It has many features and tools that you can use to create stunning clothing designs. While Photoshop is not solely a fashion design program, you can use it to make various looks, from casual wear to sportswear. 
How much does the budget cost to start a clothing line?
The cost of starting a clothing line will vary depending on your specific circumstances and goals. Production costs depend on the type of clothes you want to produce and the volume you need to make. The cost of hiring a designer will rely on their experience and the type of clothes you want them to design. So, it is essential to allocate the budget for starting a clothing line.
What's Next
If you are serious about starting a clothing line business, it is essential to do your research and find the right manufacturer. Take a deep analysis comparing prices and quality from the lists of London clothing manufacturing before making a final decision. And remember, always budget for unexpected expenses when starting any new business.
Contact Leeline for help finding the best clothing manufacturers for your clothing business needs.
Do you want a successful import business?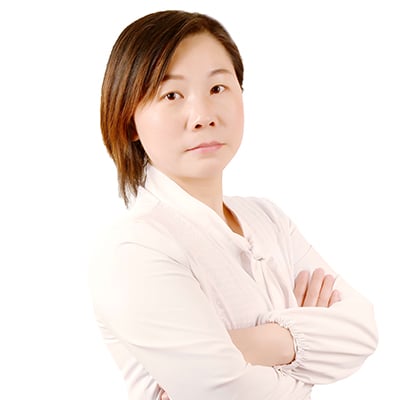 Hey, I'm Sharline, co-founder of LeelineSourcing. We've helped 2000+ customers import from China.
Do you want a better price on product or shipping?
We are sorry that this post was not useful for you!
Let us improve this post!
Tell us how we can improve this post?