Dropshipping Suppliers For Shopify
Leelinesourcing helps you to get cheap dropshipping suppliers with good quality products. You get negotiated and discounted deals with product customization & design.
Access our fulfillment network to serve your international customers easily.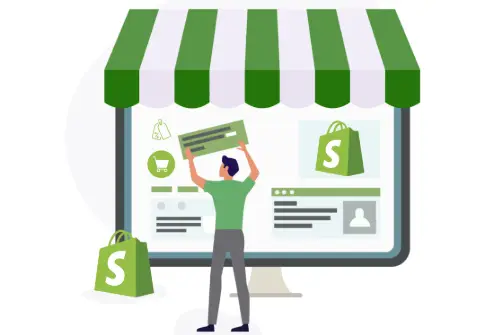 No Risk Free Sourcing No Hidden Fee
You can get Free detailed product quote before order
Wholesale Shopify Products For Dropshipping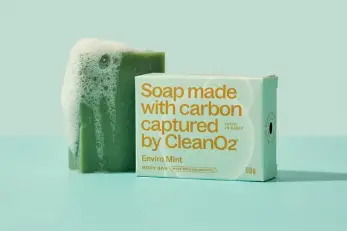 Wholesale Soap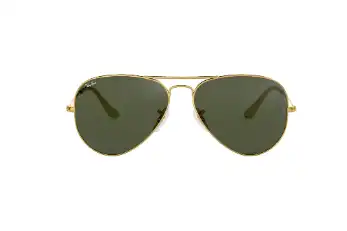 Wholesale Sunglasses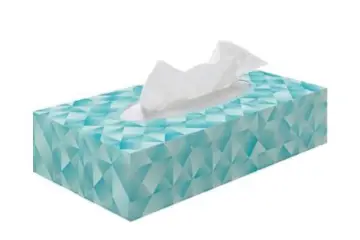 Wholesale Kleenex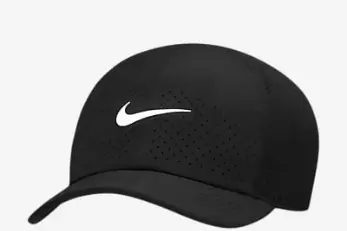 Wholesale Nike Hat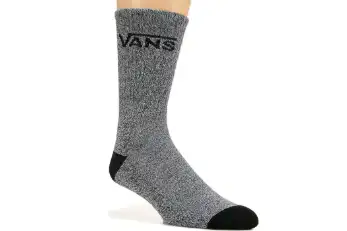 Wholesale Socks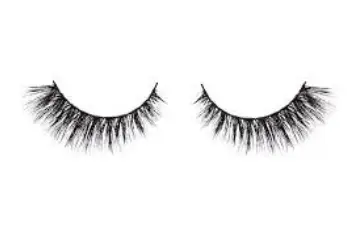 Wholesale
---
Our Shopify Dropshipping Services Include: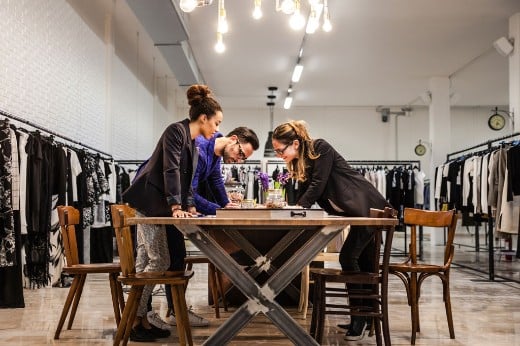 Sourcing Product Suppliers
We have a network of local & international suppliers with Thousands of hot-winning products. You get a Variety of designs & color patterns of products to boost your business.
Direct sourcing from local & international markets.
Product Quality Control
We double-check every product before shipping to ensure quality for customers. And filters out damaged or defective dropshipping products before fulfillment.
Avoid getting bad reviews on your product listing.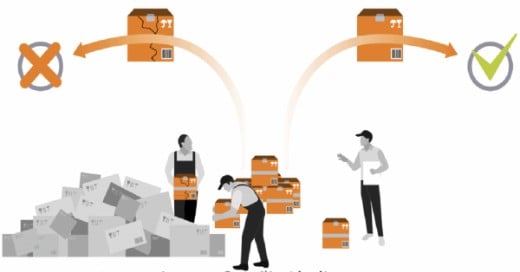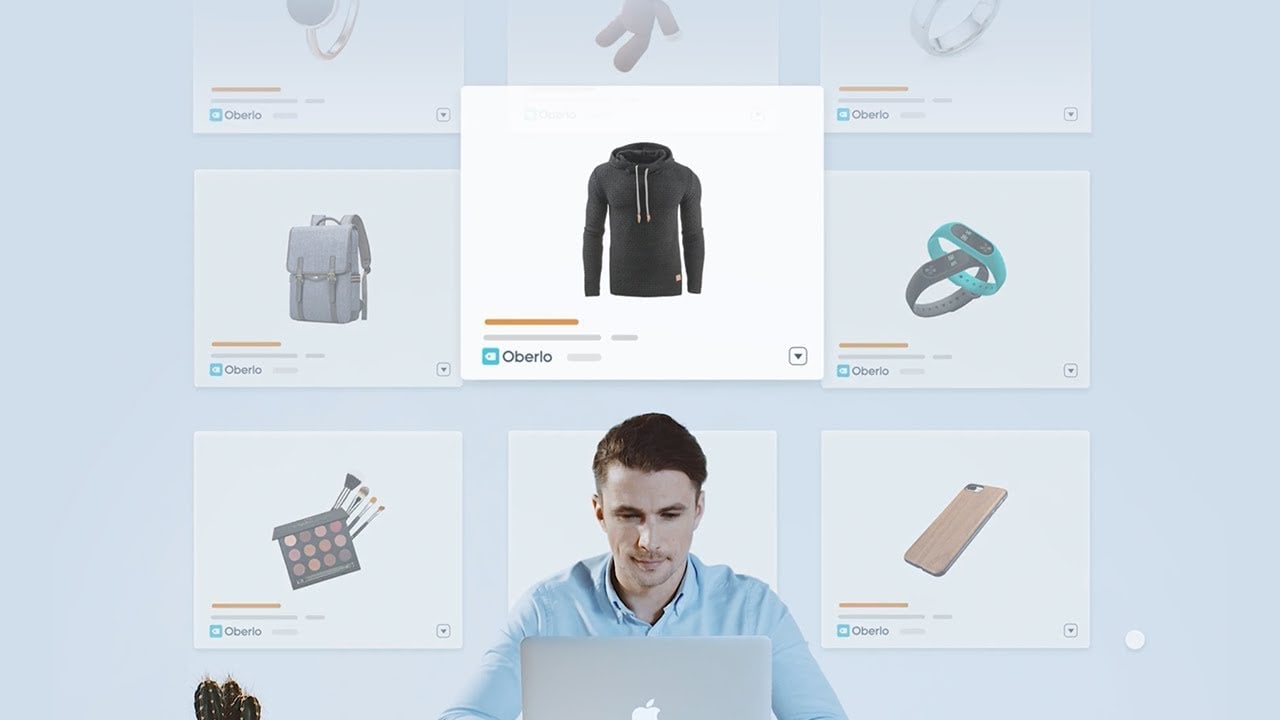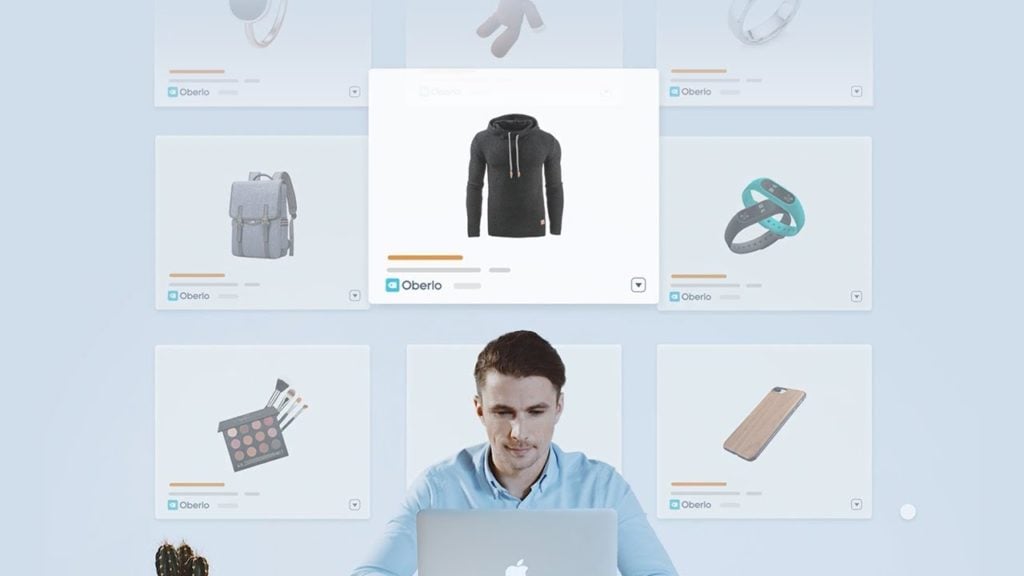 Branded Dropshipping
Build a dropshipping brand on Shopify with our customized branding & lucrative packaging. We help you with Branded lifestyle images of your product with branding.
Get discounted deals with our local agent's negotiation.
Private Label & White Label Products
We handle your entire Sourcing of Private & white-label products. Target more pain points through customization with our design team.
Your customers receive products with custom labels, banners & logos. Strengthen your brand's reputation.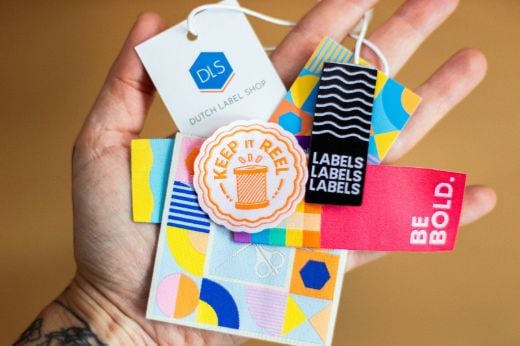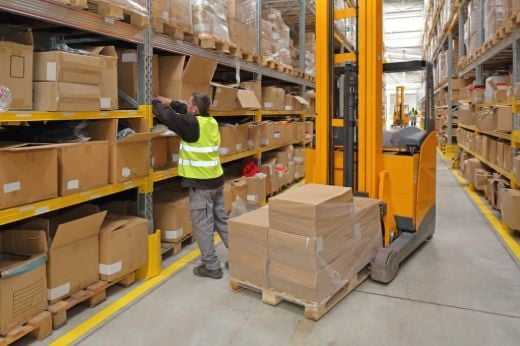 Dropshipping Fulfillment
Vast & Huge fulfillment network with prompt shipping carriers. We have already negotiated deals with shipping carriers for the best rates. You face no delay at customs and shipping with us!
Integrate your system with us and start fulfilling dropshipping orders.
Why Choose Us?
Catalog
We have thousands of best dropshipping suppliers with hot winning products. Access their converting Ads copies & high-end images. EASIER to scale with marketing.
Customization
Stand out from the crowd with product customization. We have a strong product development & design team for customization. Target customers' pain points for uniqueness and special connection.
Local Markets
Our agent's vast network spreads across local Chinese markets. You get better rates and save more than 20% on platform-based suppliers. No communication gap with our bilingual agents.
Hear it from fellow Shopify Dropshipper
My dropshipping sourcing price dropped after working with Leelinesourcng. I have made a significant amount of profit with cheap sourcing. Their team is also very cooperative and helpful. I recommend working with Leelinesourcing for a dropshipping business.
– Ronald, Texas
---
Source Your Products and Start Dropshipping
We offer the best price and dropshipping services to help you improve your dropshipping business. View More Products to Dropship
Top 20 Dropshipping Suppliers For Shopify
Want to get Cheap dropshipping suppliers for Shopify?
The main cost of Dropshipping is sourcing & marketing. Good dropship suppliers save you a lot of sourcing & shipping costs.
Our Shopify dropshipping experts list the top 20 best dropshipping companies. We reviewed many eCommerce platforms to only give you the best suppliers in the industry.
Leelinesourcing is our #1 supplier and other dropshipping services company. They have a track record of being the most reliable & credible service provider in CHINA.
Keep moving & don't skip about their Pros & Cons Comparison.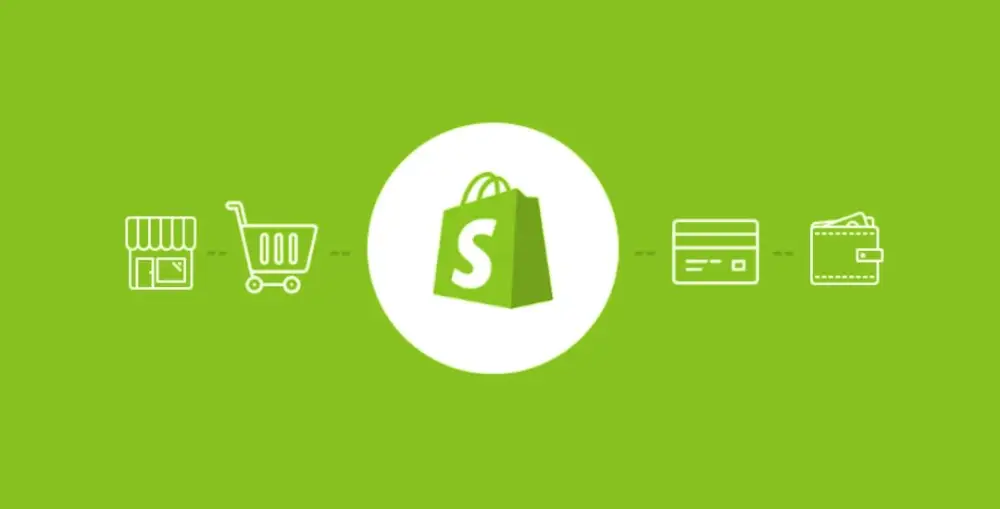 1. Leelinesourcing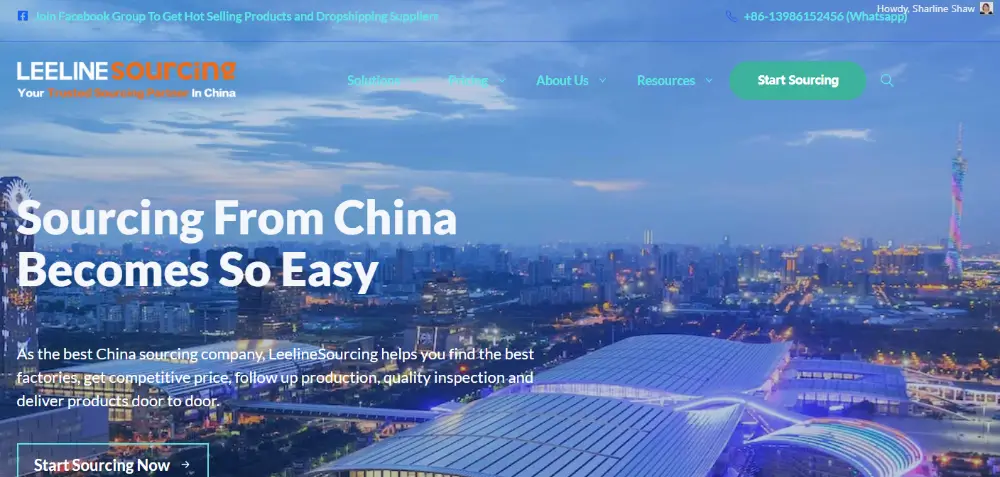 Leelinesourcing is one of the top dropshipping companies for sourcing. Complete one-stop solution for dropshipping on Shopify Store to sell high-quality products. You won't have to pay any monthly or upfront fee because they have commissioned-based pricing. I like commissioned-based sourcing because you only pay after successful sourcing.
Pros:
Worldwide fulfillment centers with extra prep services. You get an inspection, branding, and customized packaging besides fast service. Expand your dropshipping to a global level.
Shipment tracking & inventory automation save time and operational costs. Receive real-time tracking, shipping, and operational updates to make quick & sound decisions.
Cons:
It is not a browsing platform where you browse products. Share your product details or access their catalog after contact.
2. Wholesale2b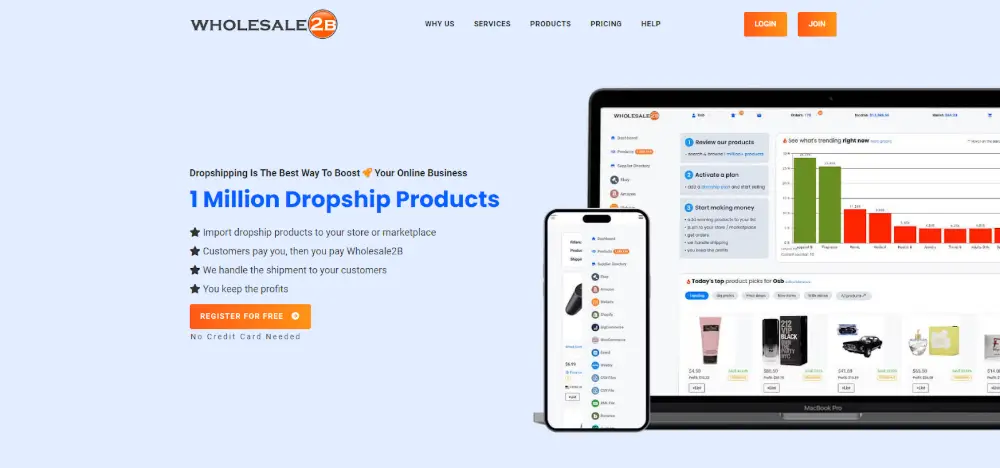 Wholesale2B is an automated dropshipping platform to sell products. I always have a main concern about credibility. But Wholesale2B has a Credible and reputed community and staff. They have been offering services for a long time, so there is no need to worry about it!
Want good system automation & integrations?
Not only Shopify, but it is easier to integrate with other platforms too. You also dropship on Amazon & eBay through Wholesale2B.
Pros:
It is beginner friendly with an attractive User interface. You won't need to have any technical background in system operation.
You Import unlimited products from a single account. No upfront costs need to conduct market research through a free account.
Cons:
High monthly subscription or monthly membership fee for a paid account. Not recommended for low-budget sellers.
3. Spocket

We all face difficulty finding suppliers in US & Europe with fast shipping. They got featured on Shopify, Forbes, and other reputed places. Their monthly membership fee starts from 29$ and goes up to 99$ with different levels. I suggest their membership because it has better perks & support than a free account.
Pros:
Every membership (Free, pro, starters, & Empire) has a different number of winning products. Test their unique winning products with high-resolution Ads creatives.
24/7 email and chat support in case of any issues. Their team is very helpful in addressing technical & ordering issues in a short time.
Easier to Integrate Spocket into Shopify, eBay, Square, Wix, and other eCommerce platforms. Update your tracking number & ID in a few clicks and minimize your workload. You get branded invoicing on your paid accounts.
Cons:
Suppliers are expensive compared to Chinese suppliers.
4. CJ Dropshipping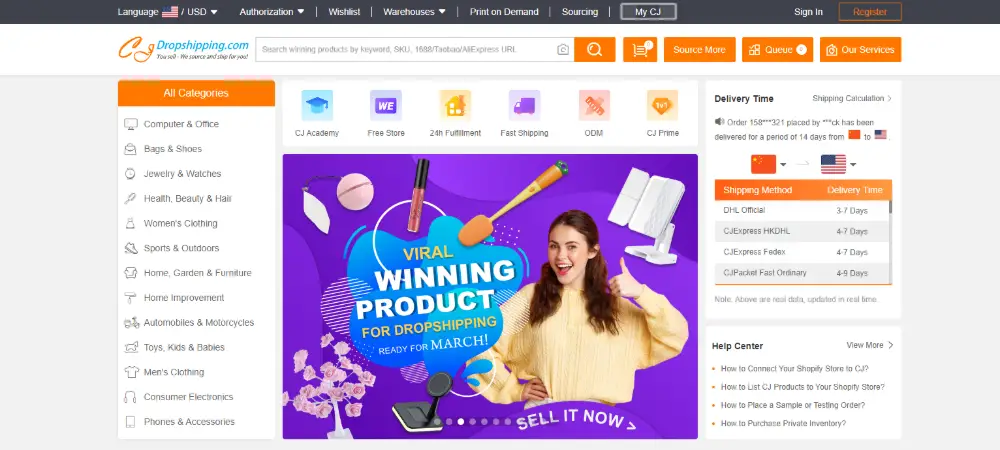 Want to access multiple suppliers on the same platform?
CJ dropshipping is the solution which is a dropshipping & wholesale supplier directory. Access millions of products in different product categories. Consumer electronics, pet supplies, and beauty products are in the same dropshipping directory. I have used it for price and market research multiple times.
Pros:
Efficient supplier integration system with Shopify, woo commerce, and other platforms. Automatic order fulfillment and shipping with a few clicks.
Good shipping times for Aliexpress suppliers. Your customers receive products within a short time and strengthen your relationship.
Cons:
Pricing is not as good as Aliexpress, so exploring is better.
5. AliExpress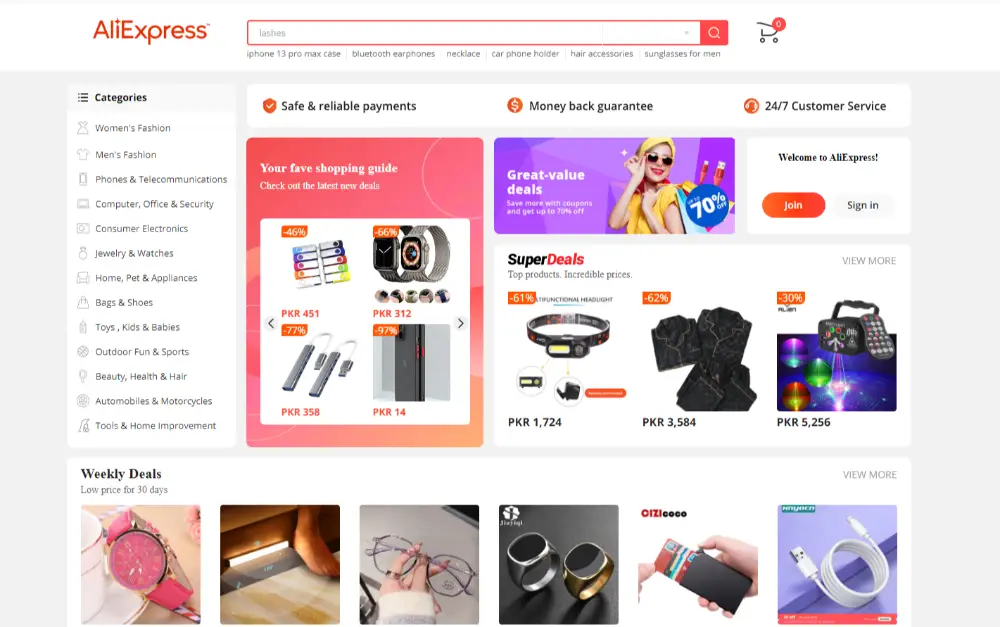 Aliexpress is a Chinese online marketplace with a good retail price range. Shopify has an App named DSers which is good for Aliexpress integration. In the day, Oberlo was famous, and I used it with many online stores. Automate your dropshipping stores in a few clicks.
Pros:
Past reviews & feedback from real consumers on Aliexpress products. You get a better idea about the features and quality of new suppliers.
Easy price comparison and product research tools. Better to find winning products at low rates from Dropshipping Central.
Cons:
Shipping time is slower compared to CJ Dropshipping. Better to have a private agent.
Shopify Suppliers List
| | | |
| --- | --- | --- |
| Name | Services | Location |
| Wholesale Central | Dropshipping and wholesale platform | United States |
| Wholesale Hub | Reliable dropshipping agent | Scottsdale |
| Rose Beading | Chinese dropshipping agent | Zhejiang |
| Honest Green | Dropshipping agent service | colorado |
| Wholesale Survival Kits | US Private dropshipping agent | Idaho |
| Worldwide brands | sourcing and wholesale platform | United States |
| Fulfillment bridge | Supplier sourcing, inventory storage for dropshipping and private labeling | Hongkong |
| Fulfillman | Excellent dropshipping agent | Shenzen |
| Bansar china | dropshipping services provider | Ningbo |
| Formax BPO Beijing Inc | Business Process Outsourcing supplier | Beijing |
| Sunrise Wholesale | Shipping and wholesale services | United States |
| Leapologistics | China shipping and dropshipping services | Shanghai |
| Angelwholesale | Wholesale sourcing supplier | United Kingdom |
| 1on1wholesale | dropshipping and wholesale agent | United Kingdom |
| Shippabo | Dropship China services | Shenzhen |
How To Find Free Dropshipping Suppliers For Shopify?
Finding suppliers is not difficult, but getting the right supplier is difficult. You find suppliers easily with these three methods.
Popular eCommerce platforms
CJ dropshipping & Aliexpress are both popular platforms. They have listed hundreds of thousands of suppliers in different counties.
Do you want high-quality suppliers in a certain region?
Most European or UK sellers face difficulty in finding UK Dropshipping suppliers. But here, you have a country and location filter to choose a wholesale supplier as you want. I have used CJ dropshipping multiple times to find premium suppliers. Yet it is easy to compare pricing and integration.
Search engines
Search engines like GOOGLE are goldmines for business. I google a business's credibility or services whenever I check it. Why not use it to find dropshipping suppliers?
Type your product keyword along with this "Dropshipping supplier." You add certain regions or countries for specification. Then filter out them according to your criteria. Better to check their website and contact them for pricing.
Also, check their credibility by typing the keyword "Scam" along with their name. It shows relevant web pages or online posts.
Personal recommendations
Contact your fellow eCommerce store owners and ask about their suppliers. Also, inquire about their dropshipping process and shipping speed. If you have any dropshipping business today, look for fellow recommendations. They usually have experience with them, so there is no credibility issue.
Looking to place an order with a new Chinese supplier?Are you sure they're reliable?
Secure your supply chain by checking your suppliers' ethical, environmental, social and manufacturing capacities for compliance through Leeline's Supplier Audit Programs.
FAQs about Dropshipping Suppliers For Shopify
Which platform is best for dropshipping?
Cj Dropshipping is the best dropshipping platform with many integration features. Yet they have commission & selling fees that shrink profit margins. Better to have a private dropshipping partner if you want good profit margins. 
Do you need money to start dropshipping?
Yes, you must have the initial capital to start dropshipping. The amount of money depends on how big an online store you want to create. Keep around 1000$ to 3000$ as your initial investment to start. 
What is the cheapest way to dropship?
The Facebook marketplace would be the cheapest way to start dropshipping. You won't need to have a lucrative storefront & apps. List your product & wait for the order, then ship to them. Also, Shopify's basic account is the cheapest way to start. 
Who is the fastest dropshipping supplier?
Private dropship companies are faster than any wholesale and dropshipping platform. On the eCommerce platform, you choose the fast shipping times. Most fast methods have expensive shipping costs. 
What's Next
In Dropshipping sourcing, you face fulfillment problems. Most wholesale suppliers have slow shipping and fulfillment service. Your customers have to wait for a longer period which results in frustration. This is solved through good fulfillment service.
Where to get a reliable & fast fulfillment service?
Contact us. We filter out quality suppliers and help you with fast shipping.
Do you want a successful import business?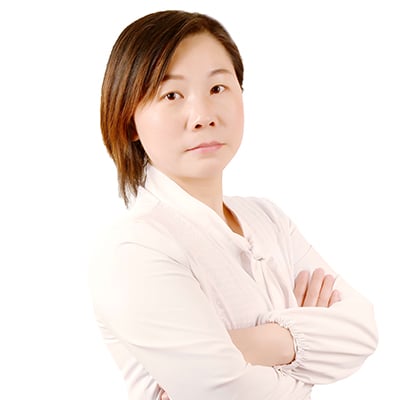 Hey, I'm Sharline, co-founder of LeelineSourcing. We've helped 2000+ customers import from China.
Do you want a better price on product or shipping?
We are sorry that this post was not useful for you!
Let us improve this post!
Tell us how we can improve this post?