TT payment is one the STAPLE of payment methods in China. However, there are several payment methods apart from T/T method, such as western union, debit cards, credit cards, and PayPal.
Unfortunately, many foreign business owners don't know how to use TT payment. Causing CONFUSION and delays.
As an eCommerce expert, I want entrepreneurs like YOU to be familiar with this Alibaba payment. This article lists everything you must know about TT payment. Paying your Chinese suppliers doesn't have to be a complicated MAZE ever!
Keep reading for a much more efficient sourcing experience!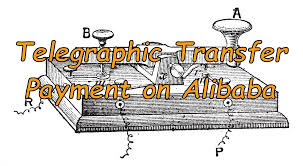 What is TT payment?
T/T stands for Telegraphic Transfer. You can also define it as an international wire money transfer from a buyer's bank to a seller's bank. Many financial institutions suggest using wire transfers as your initial payment option.
Many buyers think the T/T payment method and SWIFT bank transfer are similar. But, they are not the same. A SWIFT wire transfer is the most common payment method in international trade with Asian countries.
International money transfers via T/T take 3-5 days to clear, and the transaction fee costs between 25 and 50 USD per transaction. Note that the transaction fees rely on your agreement with the bank.
Pros and Cons of TT payment
If you use Alibaba trade assurance, you must know the benefits and drawbacks of the payment methods. T/T payment, like all other payment methods, has its pros and cons. However, this method is more like a trade assurance symbol.
Pros of T/T Payment
Here's my favorite part about TT payment. I SEND significant money transfers without trouble. Many trade assurance suppliers ask buyers to send money through this method.
The payment process completes within 3-5 days, which means the recipient (trade assurance suppliers) gets it faster. Thus, it is a fast payment method for sending money.
T/T payment charges less for its services. As a result, it is the most affordable to pay online among different payment methods. Moreover, unlike a credit card, there are no additional fees.
Cons of T/T Payment
A scammer pretends to be a trade assurance supplier. He uses this and other payment methods because it is easy and efficient. Thus, make sure you consider payment security even if you place a trade assurance order.
The trade assurance supplier will not receive the total amount as the bank imposes transaction fees and some additional fees on every transfer.
Delays Due to Non-Business Days
You will experience delays in processing the payment due to holidays, weekends, or different time zones.
How to pay on Alibaba via Wire Transfer?
Wire transfer is my go-to payment method when buying from Alibaba. Let me show you how I safely go through this process.
1) Get Recipients Details

The recipients' name is the beneficiary's name. Ensure you get the details right. If the name is long, do not shorten it. Instead, write the remaining letters in the beneficiary address or message field.
Also, ask your supplier for their correct address. Then, have the suppliers double-check the details before you wire the money.
2) Confirm You Transfer Payment to the Right Supplier
Paying money to foreign suppliers has many risks. Thus, to avoid fraud cases, you must check the bank account recipient's name matches the company's name.
Sometimes, you will find supplier's account doesn't have the same company name that manufactures your products.
Some manufacturers don't have export licenses, so they use export agents to clear their products through customs. It means you'll make payment to the export agents.
3) Add Bank Fees on the Payment

When a supplier quotes a price for you, they will not include the bank transaction fees on it. At times they might not even include fees charged by their respective banks.
Some suppliers refuse to start production until you make all payments, including bank fees. So it will cost you like 30 to 50 USD per transaction when you pay suppliers.
4) Keep Transaction Records of the Initial Payment and Mail it to Supplier.
Send your supplier transaction records in either PDF or screenshots form. Do it as soon as you transfer the money.
Ensure the document includes the following details:
Beneficiary/ Recipient name
Beneficiary/ Recipient address
Bank account details
Payment details
Transaction Date
Paid Payment Amount
Thus, both parties can refer to this document as the "proof of payment" or "payment record."
Main payment terms of TT payment
Here's what I always say to my clients. Understanding all payment terms used in wire transfers is crucial to send money effortlessly.
For example, the most common payment method requested by Alibaba Suppliers is a bank wire transfer. It works this way:
After you negotiate the payments, have the seller create samples until they fit your description.
Send a 30% down payment deposit by T/T before starting the production. Since this initial payment might be a small amount, you can use other options to pay online, like a debit card, credit card, or the payment links.
Your supplier purchases the parts or raw materials and sets the production unit.
You work with a QC agent to examine product quality (this is an optional step but a good idea).
Send the remaining 70% payment by T/T before dispatching the product.
The supplier ships the products and mails you the necessary documents.
There is one more payment term that is quite similar. The only difference is the final step.
Once the supplier ensures the products are ready, send a quality assurance firm to check the quality.
If the product quality is as expected, ship the products out of the warehouse. But, again, it is most suitable for you if you bought products under FOB terms.
Once the goods are ready to dispatch, the supplier obtains the Bill of Lading (B/L) and mails it to you.
If all the details, e.g., product name and quantity, are okay on the bill of lading, you can transfer the remaining payment to the supplier.
The supplier will send you an original B/L upon receiving payment.
The payment terms are common yet effective. Buyers understand the goods are out for shipping before finalizing payment.
The supplier understands the buyer can accept the goods only after sending the original bill of lading. You can negotiate this term only if you insist from the start.
How to handle TT payment disputes?
As sourcing agents, we've handled many TT payment disputes. Luckily, fixing them is a no-brainer. Follow the steps below to safeguard your money.
1. Filing a Dispute or Refund Request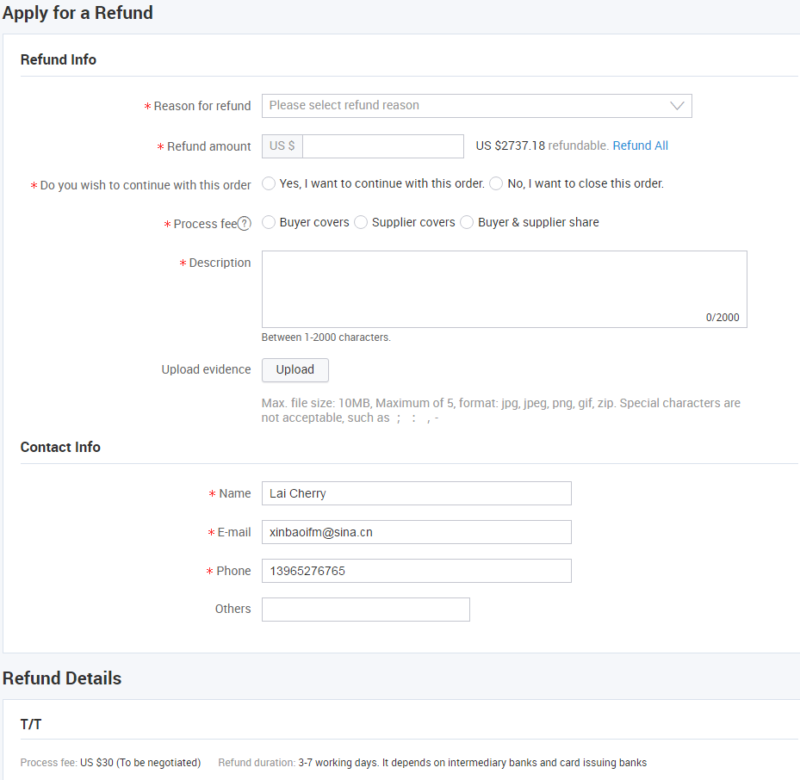 Buyers can only request a refund under the following conditions:
If your supplier fails to ship your products on time, you can file a refund request or dispute.
A buyer can file a dispute if the goods are not good, as shown on the product page. You can inspect product quality and initiate a dispute or refund process.
Attention: Two situations above only apply to the Alibaba Trade assurance payment. That means if you pay for the suppliers through the bank account directly, it's hard for you to get the money back. Because the bank won't cancel the order, you only have to ask the seller for compensation.
So make sure you have the following details before preparing to file a dispute or refund request:
Take or have clear photos of the products highlighting the damaged portion.
You can write an overview of the issue, including the number of damaged items and their cost.
Make sure you specify additional issues found in the products.
Also, save a copy of the product description before placing an order. It will be a product quality reference in case of anything.
Keep receipts of the paid money with you. It will help you start the refund process.
2. Handling Disputes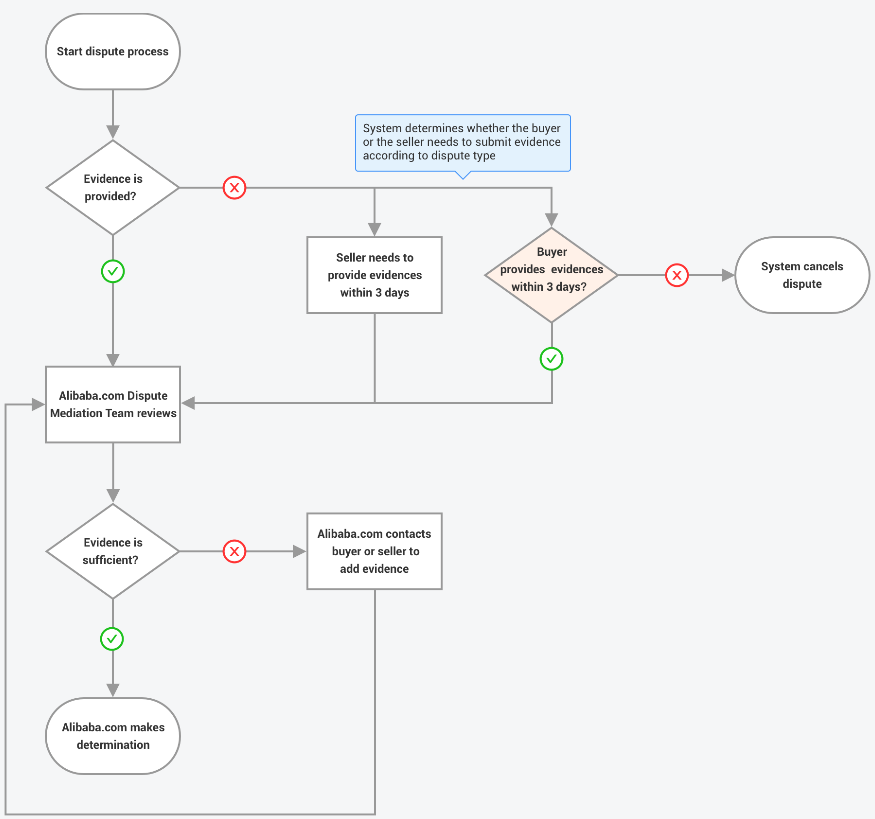 Note that winning payment disputes or refund requests in some cases can be simple and rather "obvious." It is especially when the goods get damaged or delayed.
It will be hard to get a refund when buyers file for a refund and everything is on par with the product quality.
To win a payment dispute and get a refund, you need proof. For example, prove that the products are damaged or do not match the product description. In most cases, buyers get a partial refund.
In the end, if you win the dispute, the money will come back to your original account within 7 working days.
Looking for the safest way to pay on Alibaba?
Leeline Sourcing helps buyers find the safest payment method and deal with all payment problems.
FAQs
1) When Should You Transfer T/T Payment to China from Your Bank Account?
T/T payment is a typical method of payment used by Alibaba suppliers. Most Alibaba suppliers with a Chinese bank account allow Telegraphic Transfer payments.
You should use this method where you want to send a considerable amount.
2) Is T/T Payment to China Fast and Safe?
T/T payment is a safe payment method as it works toward the seller and buyer protection.
However, it provides little security to both the buyer and supplier. Thus, you may need to be cautious when making payments using the T/T payment method.
3) What Are T/T 30 Days in Trade Assurance Order?
The suppliers offer their goods on credit in T/T 30 (Net 30) terms. T/T 30 days need you (the importer) to clear the total amount within 30 days.
This count starts after the completion of the manufacturing process. Note that this timeframe also counts weekends and holidays.
4) Can You Use a Local Currency to Make Telegraphic Transfer Payment to China?
You can make T/T payment to China in either Chinese Yuan or USD. So, it means you have to convert your local currency to either Chinese Yuan or USD before making a payment. 
It helps create uniformity and avoid paying little or more due to wrong currency conversions.
5) Are There Frauds Reported When Making Alibaba TT Payment to China?
Yes, you might encounter some scammers while making T/T payments to China.
To avoid being scammed, always make sure you conduct adequate research on the supplier you are dealing with at the moment. The supplier should be verified.
What to do Next
Alibaba is considered as one of the safest platforms to get suppliers. They have many payment options to send and receive payments, but most suppliers opt for T/T payment.
Now you have everything you need to know about T/T payment. Besides, you now understand how to go about T/T payment. Also, you can avoid getting scammed while paying using the T/T method.
Remember T/T payment needs you to be keen while going about it. Crosscheck everything with your supplier before finalizing payment.
Lastly, make sure you hire a sourcing agent to help you choose between the popular payment methods.
We are sorry that this post was not useful for you!
Let us improve this post!
Tell us how we can improve this post?