Drop shipping on Shopify gets increasingly popular in 2021.
As we know, drop shipping will help you minimize risk, lower cost, and make it easy for you to start your business. A drop shipper will be totally free from manufacturing, supply chains, and order fulfillment.
Shopify will help you build your brand and create the store you want.
As one of the most popular e-commerce platforms, a rising number of business startups have flooded into Shopify to create their business. You will find any app related to your business operation on the Shopify app store.
Do you want to join the group to start drop shipping on Shopify?
How can you start it?
Try to familiarize the basics before you jump into the business.
Let's get started.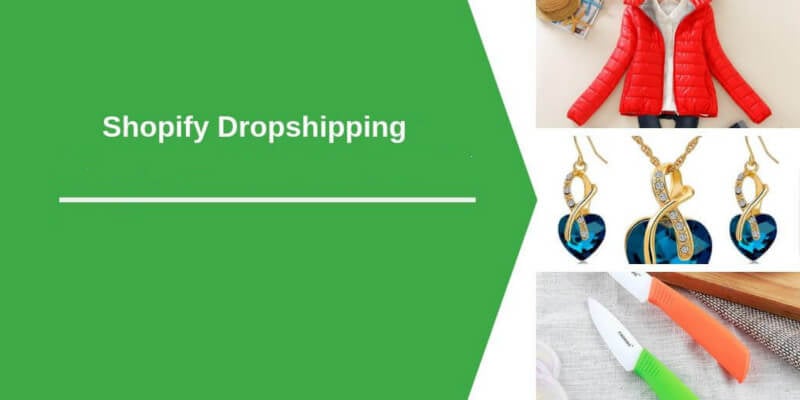 1. Identify your niche
First and foremost, you have to figure out what to sell in your store. You have to decide which category of the products you want to sell. You cannot determine your niche randomly in the hopes of turning over a profit.
Do your market research, and figure out if it is profitable or not. It's better to start with a niche market with a reference to its competition. To identify a profitable niche, follow below tips:
Normally, the target customer will influence your conversions. For instance, your target audiences have decent income; your niche would likely to enjoy a higher profit. They are likely to spend on a product they need.
The niche should have no discernible brands
It's hard for you to penetrate a market will predominant brands. Make sure you have a fighting chance to stand out among competitors who sell the same category products.
Use tools to do market research
As a matter of fact, there are a number of tools available for you to find your niche. Google Keyword Planner will help you to check the keywords related to your niche and gain more online visibility for sales. Google Trend will also help you to figure out the popular trend around the world. Other tools such as SEM Rush and AliExpress are good enough to determine your keywords and find the most popular products.

2. Find a drop shipping supplier
Then you have to find the supplier for your drop shipping on Shopify. The supplier will help you manage the supply chain, and fulfill your customer orders. To ensure a smooth business, you have to check the qualification of the supplier. You can go to the Internet and try to search drop shipping supplier of your products.
Using AliExpress is the easiest way to start drop shipping on Shopify. AliExpress is the primary source as Shopify recommends. You will get loads of ideas when you enter "drop shipping" in the tap.
When you enter your niche, you will get more than one supplier. Go and check the supplier by yourself. Scrolling down and figure out the data you can use to narrow down your suppliers from the page. Getting to know their ratings, responsiveness, and the supplier's reputation, figure out if it fits your business. Communicate with these suppliers, and compare their ratings, and price, narrow down your supplier options. And finally, identify the one best suitable for you.
3. Build a Shopify drop shipping store
To sell on Shopify, you have to create your store on the platform. There is a lot to do for this step. We would like to break it down as below:
Create a name for your drop shipping store
First and foremost, you have to create a name for your Shopify store. A good name will make your store impressive on shoppers' mind. To create a good name, try to be creative and make it simple and memorable. Besides, you can check if the URL – name.com existed or not. This will narrow down your choices.
If you want to start a business on Shopify, you have to register an account on Shopify. Go to the website, choose your plan and click "Get Started". You can register it with your store name or something different as your account. Set up your account and password. And then, follow the instructions to enter more details.
There you will get your store URL with email and you can bookmark the page for easy access.
Select theme for your store
On the store dashboard, you will find "Online Store", click it, and select the store theme.
You can choose your preferred one based on your preference. Many of these themes are free, but there are premium options that you have to pay for them.
Choose the theme, and then customize it for your store. Set up your store header with your logo, collections, determine the sideshow images, text, and footer. Add your logo and update it from your computer. And then check the mobile view to check your store.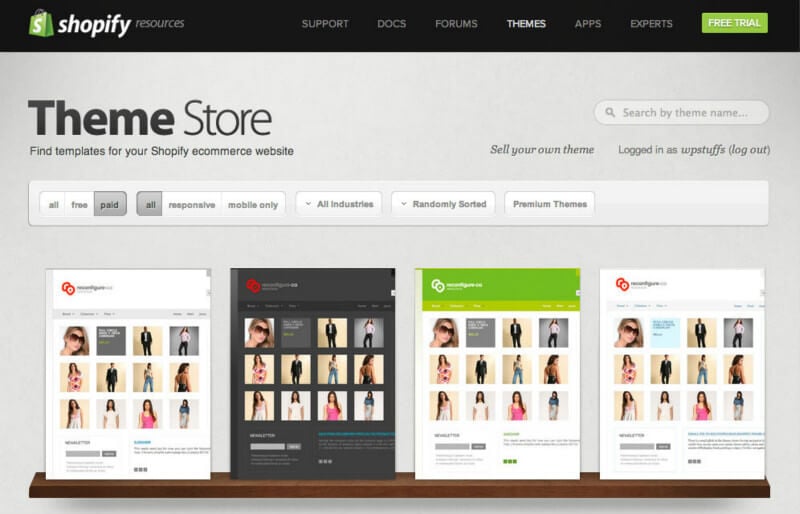 Create a logo for your store
A logo will help customers remember your brand. This is a great way for you to build your brand, and deepen your brand among your target audiences. As a result, you have to create a logo for your store.
Looking around and find some logos in your industry, figure out how you want your logo to look and fit in your store design. Make it easily recognizable. Use Canva, Designwizard , or free logo software, or find a graphic designer to create one for your store.
Design and set up your store
Shopify knows nothing about your store plan, it's up to you to create pages, design your webpage, and set up your store to help customers understand your business. You can add pages based on your business. But there are some basic pages you'd better have to streamline your business. Check below guidelines when you start to start your website design:
About page- This page is mainly to describe your business and tell your customer what your drop shipping business is all about comprehensively. Try to cover as much ground as you can about your business.
Products page – You have to show your goods and collections you sell in your store. Display your strength, and explain why people should buy your products. Make it visually appealing. You can also incorporate customer reviews in this part.
Shipping page – You have to showcase your shipping policy including how long will it take to be shipped out, your shipping method, available carriers, and shipping fees, etc.
Returns –Explain your return policy on this page in detail including the maximum of days before customers can return the product, the cost during the return process, refund policies, and other returning pre-requites, etc.
Contact –This page is designed to open the line between you and your customer for inquiries, questions, and other concerns about your business.

Add products to your store
Now, you have to add products to your drop shipping store. On your initially created product page, click "add product", fill out your product details, and edit your product description. You can refer to the product description given by your supplier, and make it more compelling to attract customers to place orders.
On the sidebar, you get the organization section to edit your product type and vendor to categorize your products and enter keyword tags for the collection of products. This will make it easier to be found in the navigation section.
Then it comes the major part – product images below the product title and description section. Upload the product image given by the supplier, or edit the original image to make the pictures visually appealing, and improve the chances of being sold.
At the price part, you have to enter the most competitive price according to your research on different platforms. Try to strike a balance between your price and profit.
When it comes to shipping, you have to discuss with your supplier in detail about how to proceed with each order to make sure the product can be delivered on time.
Finally, it comes to the "Edit website SEO", enter your meta title, description, and URL. You can insert the keyword related to this page and product to rank higher on search engines.
For the other product, you can follow the above steps to add them to your store. But if you have too many products, you can use apps to help such as Oberlo. you can use the Oberlo-Shopify integration system and add products and collections to your store. It's very easy for you to operate. Install the application first, and then search your item, and get them filtered by your standards.
As an e-commerce site, you have to take your payment gateway into consideration. Figure out the payment methods you can provide the shopper to use for payment. Commonly, PayPal and credit cards are the most popular ways for shoppers to make transactions online. On Shopify, you can use Shopify Payment as your support payment method.
Set up customer support and launch your drop shipping store
Customer support should be an integral part of your business. You have to keep yourself open to your customers who are likely to come across different questions about your products, policies, and other questions about your business. Therefore, you have to set up customer support to deliver your answer and solutions in a fast and convenient method for customers. You can set up different channels to stay with customers. Make phone calls, chat, and social media are all accessible to your customers.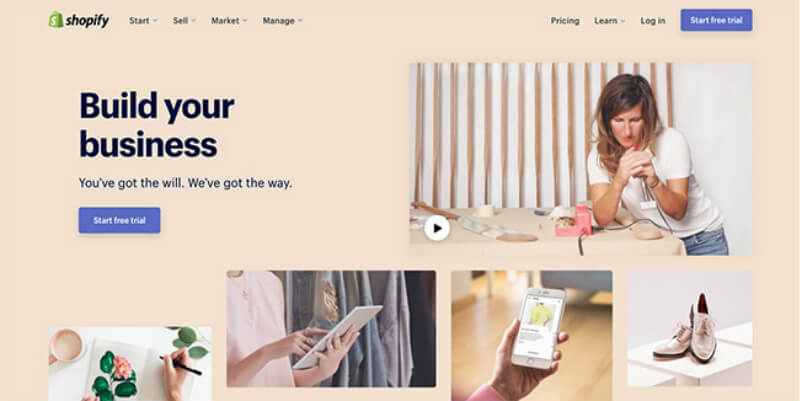 Now, it's time for you to launch your Shopify drop shipping store, and provide access to the public. You have to unlock your page by unchecking the "Enable password page" box and ticking the "Save" button.
4. Start marketing your business
When you open your webpage to the public, it's time for you to market your business, receive customer orders, and work with the supplier to complete the order fulfillment. This should be the routine of your business practice.
As a new business, you are unlikely to gain a huge traffic at the beginning. You'd better start marketing campaigns to attract target customers and drive traffic to your store.
Advertising should be the most effective way to gain huge traffic to your store, and boost conversions. There are a number of channels for you to test your advertising campaign such as Facebook, Google, Instagram, and Twitter, etc. Do some research to figure out which one works best in driving traffic to the Shopify drop shipping stores and decide your marketing channel. If you are excel in Facebook advertising, test out some campaigns. Keep testing, you will find the best marketing campaigns works for your business.
5. Always optimize your business
Keep in mind that you should never stop optimizing your business. This is the same goes for drop shippers on Shopify. You have to always seek for more conversions and profits by optimizing your business.
When it comes to optimizing, there should be a number of things waiting for you to decide what you can do to boost conversions and increase profits. First and foremost, you should take action to optimize your website. You have to optimize your website design, improve customer experience, reduce its loading speed, and optimize navigation bar, etc. Besides, you have to optimize your price especially the shipping price. Reprice your item to stand out among competitors, and figure out ways to reduce shipping cost.
In addition, you have to create great pictures or videos of your product. This is extremely important. Always create visually attractive product images. If you find products images given by suppliers is not as good as enough, you can ask for samples and photograph the products by yourself or some professionals from different angles, in various contexts. If possible, you can also create product videos to showcase your products much more vividly.
What's more, try to automate your business. This is to streamline your supply chain and your store to deal with customer orders. Optimize your marketing campaigns, and always adopt different measures to cope with the competitively dynamic marketplace.
Never stop test, monitor, and optimize your business based on your business performance. This is a great way to keep your business always on the right track.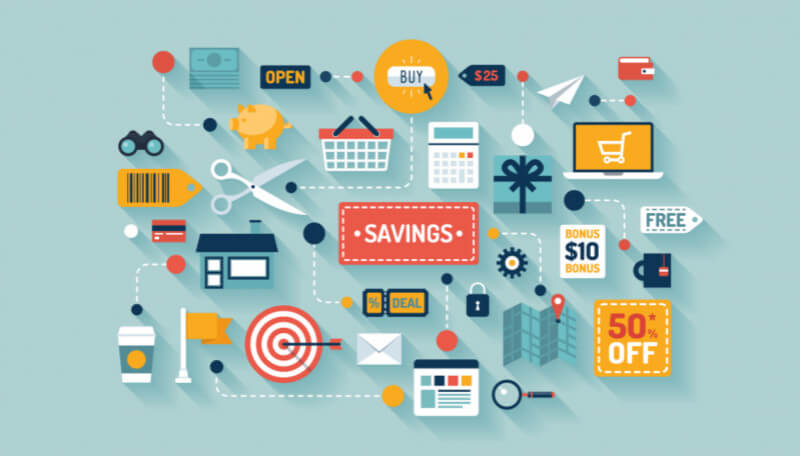 In a nutshell, it's not hard to start a drop shipping business on Shopify. Follow the guideline in this blog, you will figure out how it works to begin drop shipping on Shopify. Now, it's time for you to take action and start your own drop shipping business on the platform. Leave your words in the comment section should you come across any problems when you start out.
We are sorry that this post was not useful for you!
Let us improve this post!
Tell us how we can improve this post?