Dhgate and AliExpress are top online shopping platforms. When choosing between the two e-commerce sites Aliexpress vs Dhgate, you must determine which one is best for you.
Based on our ten years of experience, we have worked with many suppliers on AliExpress and DHgate. Usually, beginners get scammed on the best online retail platforms like AliExpress and DHgate. In that case, you need to try both platforms and check the reliable suppliers on AliExpress and Dhgate.
Today, we will discuss Aliexpress vs Dhgate and compare different aspects comprehensively.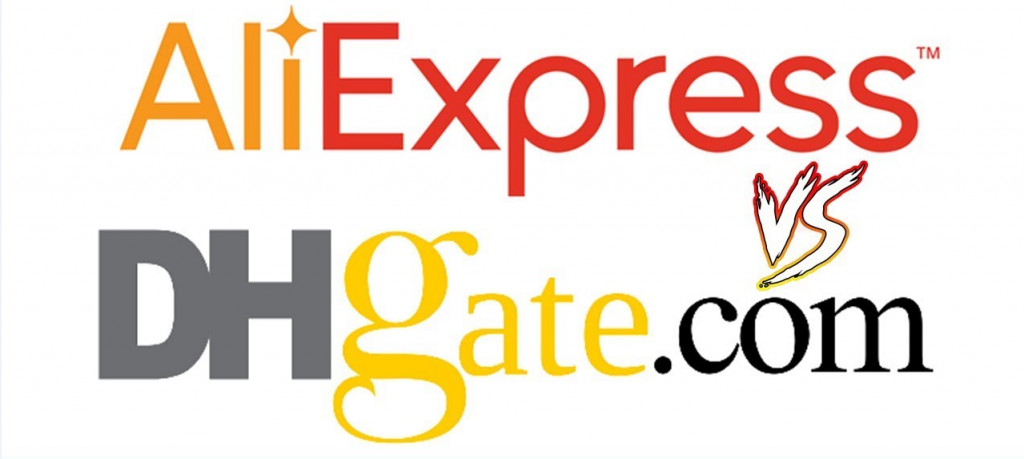 What Are Aliexpress And Dhgate?
Aliexpress
AliExpress is an online marketplace connecting suppliers and buyers at the global level. It facilitates small businesses to sell their product all over the world. It is one of the online retail platforms owned by Alibaba group, and it was launched in 2010. AliExpress started to expand into business-to-consumer and now consumer-to-consumer.
Chinese products often have a terrible reputation for being cheap and poor quality. Well, it is not valid in all cases.
Most of the products available at AliExpress are of high quality and reliable to buy. The cost of Chinese products is low due to cheap labor.
DHGate
DHGate is a Chinese business-to-business and business-to-consumer cross-border online shopping website. It can facilitate the sale of manufactured products from suppliers to small and medium retailers. Dhgate also offers fantastic pricing on high-quality goods and offers wholesale pricing for bulk orders. You can check the dhgate store and buy online products on this secure platform.
Is Dhgate Safe and Legit?
DHGate is a safe and secure online shopping platform for e-commerce businesses. The DHGate platform handles all the transactions by its elf.
So that all the money exchange is dealt with by the company, not directly between the buyer and seller.
Aliexpress vs Dhgate: Side-By-Side Comparison
AliExpress and DHGate are well popular platforms for the e-commerce business. I've tried both platforms more times than I count. Here's a side-by-side comparison of all the important factors on both websites.
1. Dhgate Pricing & Discount Policies Comparison
Aliexpress and DHgate both offer cheap pricing to the customers. You can discuss the prices with different suppliers.
However, from experience, Aliexpress often offers more discounts and lower pricing than Dhgate. Of course, I always had the option to negotiate with suppliers. However, on average, AliExpress tends to have lower prices. DHgates offer more coupons, sales, and promotions instead.
2. Payment Option Comparison
DHGate offers multiple payment options like Visa, MasterCard, American Express, Skrill Bank Transfer, Discover, Diners, Western Union, UnionPay, Maestro card, Wire Transfer and many other international means of payment.
While AliExpress offers you an independent online platform (Alipay), AliExpress offers payment security to buyers and sellers.
AliExpress tries to offer a secure way of money transfer, where the money is not released during the trade process.
3. Shipping Options Comparison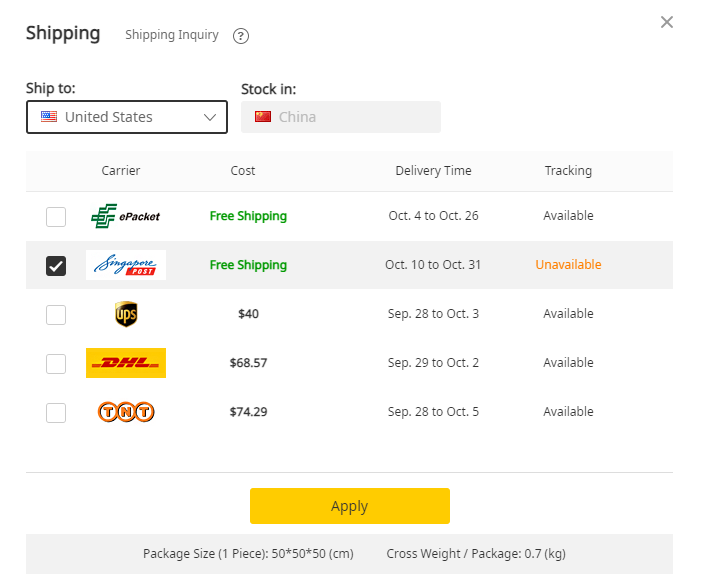 Aliexpress facilitates the users with the following paid shipping options.
When it comes to DHGate, you can observe some more shipping options. But whether it is DH gate or Aliexpress, both involve third-party shipments and paid options. You must consider the shipping cost and shipping time.
HK Post
DHL
EMS
FedEx
Post Link
Singapore Post
TNT
China Post
4. Returns and Exchanges Policies Comparison
DHGate offers free returns and exchanges. You will get a refund or exchange only if you did not receive the parcel on time or failed to get the required product.
It happens primarily because of the suppliers' fault. And in this situation, you will get your payment back.
At AliExpress, you can get partial refunds and exchanges. If the products you received are entirely different from what you ordered, you may get a partial refund and keep the product.
Aliexpress vs Dhgate Dropshipping: Which Is Better?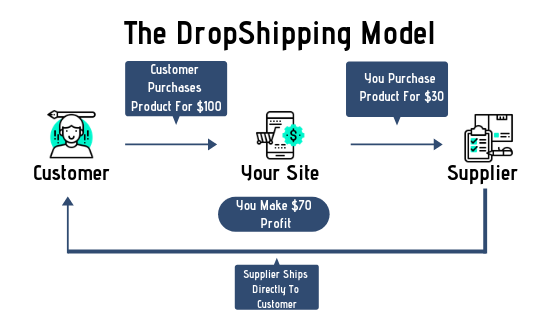 Now, for the ultimate question, which platform is better? I've provided a detailed comparison of DHGate and AliExpress below. All of the details are from my first-hand experience.
AliExpress aims at attracting global buyers with cheap products. It is more popular than the DHGate and has the largest directory of the suppliers in the dropshipping business.
The product integrity is good, but shopping online from AliExpress can be confusing. The information or product description available is not enough.
Therefore you will have to go through the buyers' reviews to get an idea about the same product integrity of the goods.
The return or exchange policy is available at AliExpress. The online trading platform protects the buyer up to a certain extent. If the customer gets a different product than what was advertised, they can request a full refund or return the poor quality item.
AliExpress offers a tracking service through which the buyer can know about the delivery of its fake products. But most of the time, the buyer uses the third-party tracking system to get a more comprehensive log of where the items are.
AliExpress may take it long shipping times to deliver the products compared to other dropshipping stores. And due to this, many trusted and reliable sellers try to search for alternatives.
Besides, high shipping fees can hinder, and sometimes the products are not readily available. It can lead many business owners to search for AliExpress alternatives.
DHGate Dropshipping
DHGate is an online shopping marketplace that connects Chinese businesses to customers from all over the world. Is DHgate Good For Dropshipping? Yes, it is. Most customers prefer the DHGate.
Most dropshipping business owners claim that DHGate tends to play a mediation role and disputes arise. It happens only after the passage of a specific time frame.
Aliexpress has a buyer protection plan in place. The company lets the buyer and seller resolve the issue before stepping in. Just like AliExpress, there is no return or exchange policy.
The delivery time of DHGate is not much different from AliExpress. It takes the same time to deliver the goods. The only thing you need to notice is the price; check, and compare all the available options before deciding.
A buyer protection plan is also available here. Here you can find an escrow system where the supplier can receive the payment through different Dhgate payment options just after the buyer gets the order. These buyer protection plans help the global audience get a full or partial refund.
The shipping times depend on where you live, as some places have faster shipping than others.
In terms of customer support, DHGate beats AliExpress. Some of the most prominent facilities of Samsung include a messaging service that is available for 24 hours.
You can also get the US number that handles the customers from all over the globe. You can discuss all of your issues and tell them about complaints.
The account manager handles the issues from top-level members, and the messaging center handles the dispute resolutions.
We can Made Drop Shipping from China Easy
Leeline Sourcing is to help Shopify & small businesses sourcing products from China and build your branded business.
How to dropship from Aliexpress And Dhgate
Dropshipping is considered to be the best way to make money and save money. I've witnessed tons of clients have massive growth during the last few years. All thanks to dropshipping.
You can also start the dropshipping if you don't earn a vast amount. However, it is challenging to state which marketplace is better as both of them have positive reviews. The following are the tip you need to consider before beginning the dropshipping business.
1. Plan Ahead
Plan well before you start the dropshipping business. There are various factors you need to consider before beginning the drop shipping business, and the selection of niche is one of them.
You know there are countless products that you can get from the online store.
2. Watch For Scammers
The drop shipper is just like a middleman; as you book an order, the drop shipper will transfer it to the supplier. And then, the most suitable supplier ships the products to the buyer directly.
In dropshipping, the supplier provides you the goods with private labeling; that can be an issue as it is illegal, and scams increase this way.
Well, in this era, it is not difficult at all to contact suppliers. You can get the contact details of both AliExpress and DHGate suppliers and ask them any questions related to dropshipping.
You will start a new e-commerce business, and there can be many questions in your mind. Here, a few of them have been given their best possible answers.
The production time is a worth considering factor when it comes to dropshipping. You can ask the supplier about t the production time before starting the dropshipping business. It is a crucial factor in determining the success of your business.
One of the vital factors of dropshipping that one can ignore is the Minimum order quantity. When you buy from AliExpress, the minimum order quantity is not a big issue.
Here you can get even a single piece of minimum order quantity, but you will have to pay high for one part.
The DHGate reviews show that delivery services are not quite just like AliExpress. The delayed deliveries can make the consumers angry.
If you choose air freight, it will not take much time and is available worldwide, but you may have to pay more.
While drop shipping, you may encounter many issues, and customer issues are one. Many factors can affect the customers severely, like products quality or delivery time.
While sometimes, the buyer may get a completely different product, so in these circumstances, the customer demands a refund or exchange.
AliExpress and DHGate try to offer various other payment methods like Western Union. Both of these companies strive to provide than most suitable for suitable means of money transfer.
When it comes to payment, AliExpress, the supplier, will not get the money until the consumer receives the products.
In dropshipping, the quality can be a significant issue. As the drop shipper did not handle the inventory, he was unaware of the quality of the products.
Therefore, the consumer may get the low quality of goods. So, in this situation, you need to visit the factory to ensure the quality of the products.
3. Request Samples
It is an excellent option to ask for the sample, and it will help you ensure the product quality. Most companies can offer you a free selection, while a few may charge for the samples.
Whenever you buy in bulk, ensure the quality in case it is counterfeit items and that sample is a good option.
4. Negotiate
Try to negotiate with suppliers in a business-like manner, as it will benefit you and the supplier. You can tell them about the real benefits of dropshipping and how it can also help their business. And try to negotiate all the other factors rather than the higher price.
5. Pay Through A Method That Offers buyer Protection
The companies offer many safest ways to transfer money, especially when you buy from AliExpress. Here, you can pay through Alipay, the most reliable way to transfer money.
Only safe and secure payment can assure you of the business's success, so try to select the most reliable way to transfer money.
Top 6 Online Sites Like Aliexpress And Dhgate
Both AliExpress and DHGate are the most significant suppliers used by the drop shippers. If you are a dropshipper and then you should find the AliExpress alternatives.
Here are the top six alternatives to AliExpress and DHGate. I source products with as much as a 100% profit margin from these websites.
1. Alibaba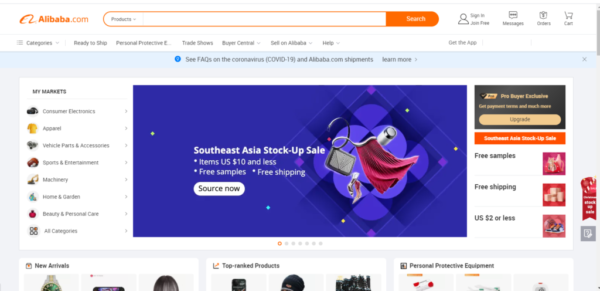 The company was established in 1999 by Jack Ma with 17 other cofounders. It is a business to business marketplace to connect Chinese manufacturers with international buyers.
The business model of Alibaba is quite different compared to other companies like eBay or Amazon. The company provides a platform for Chinese suppliers, where they can display their goods and can attract consumers all over the world. You'll gain more margin profit from importing best selling products on Alibaba.
2. Chinabrands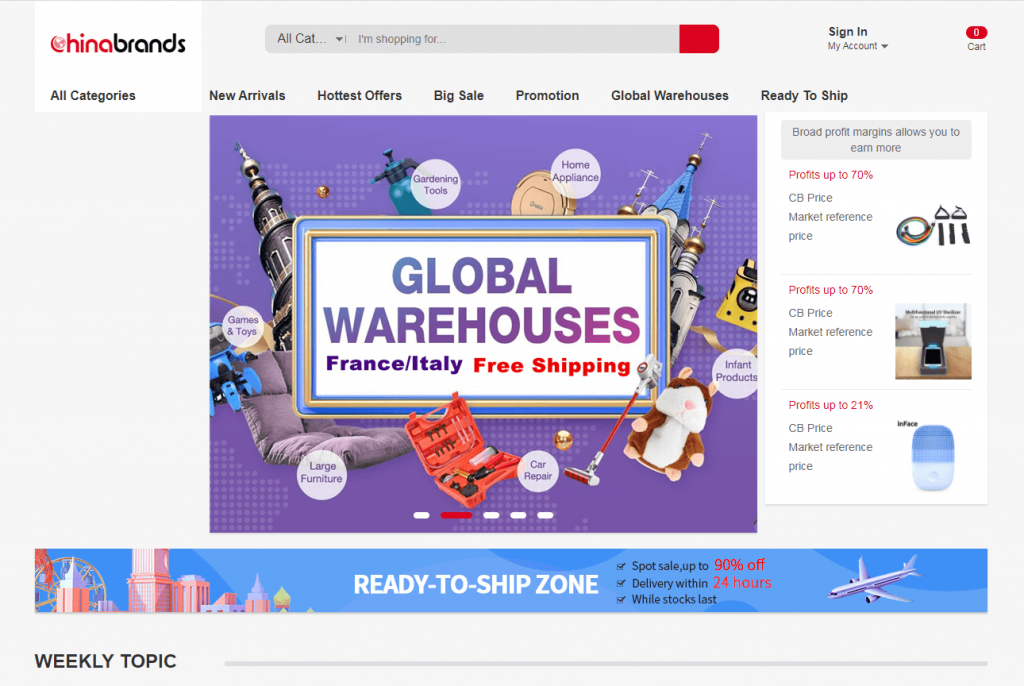 Chinabrands is a Chinese e-commerce company that shares warehouses. The company offers products from Chinese manufacturers to small or medium retailers from all over the world. It's great for bulk purchases.
Here, dropshipping API integration is available, which helps the drop shippers to upload the products via API.
The best products you can get here include the following
Mobile phones and computers
Consumer electronics
Fashion apparel and accessories
Toys and hobbies
3. Made-in-China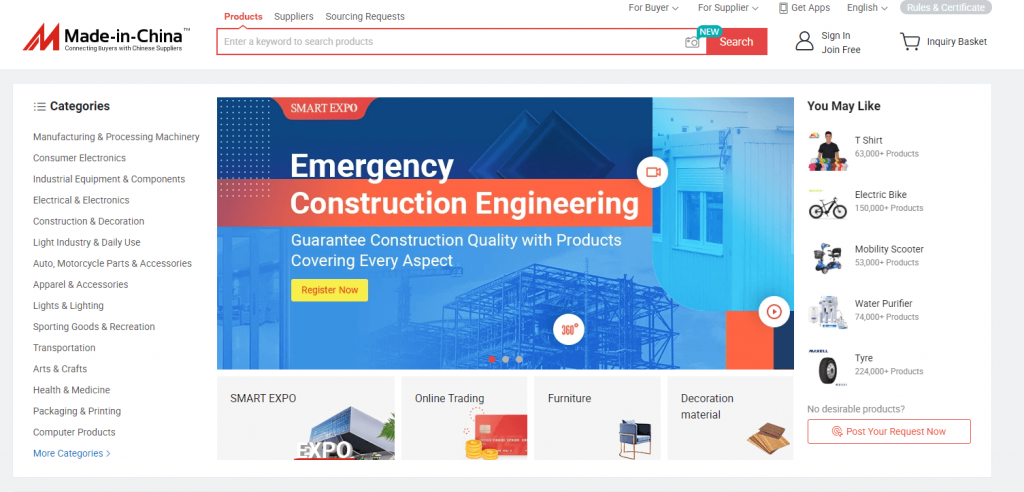 Made-in-China was founded in 1998, and Focus Technology Co., Ltd operates it. The company facilitates global trade among worldwide buyers and Chinese suppliers.
Made-in-China has a consumer rating of 1.29 stars. The company ranks at the 12th position among the sourcing sites. My only issue with this company is its customer service. Their customer support was very lacking. Replies take almost a week.
4. LightInTheBox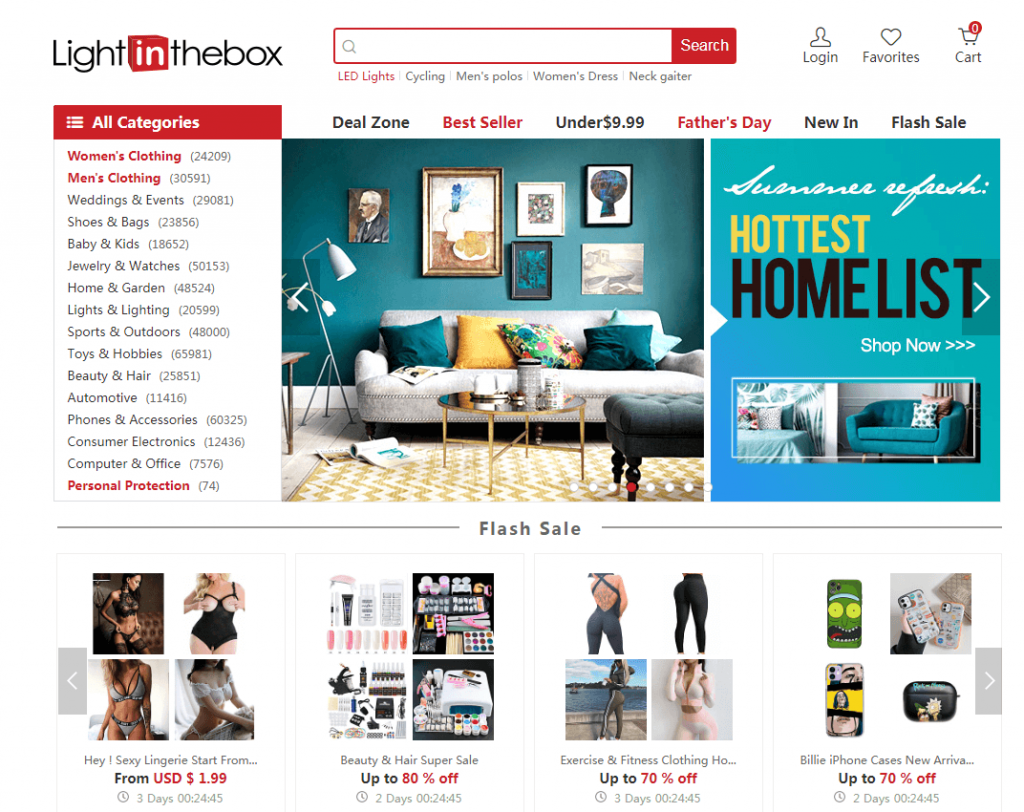 Light in the box is a global online retail company that delivers products directly to consumers worldwide. The company offers the customers to get a wide variety of goods at low prices, which they can buy very quickly from the site in other countries.
Here you can get the same products from various categories, including small accessories, apparel, gadgets, and home and garden.
5. Banggood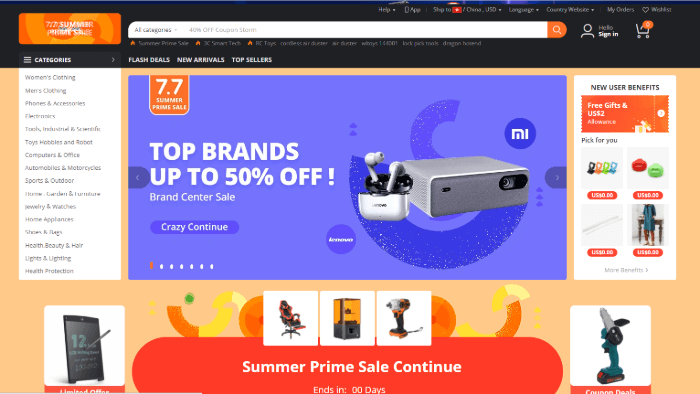 Banggood is a Chinese e-commerce website that offers retail goods. It provides more than 200,000 products from many categories, including mobile phones, remote control toys, cheap electronics, beauty, fashion, jewelry, etc.
All the products they sell are selected after a careful inspection. The website is updated regularly to offer the latest and trending products to the consumers.
6. DealExtreme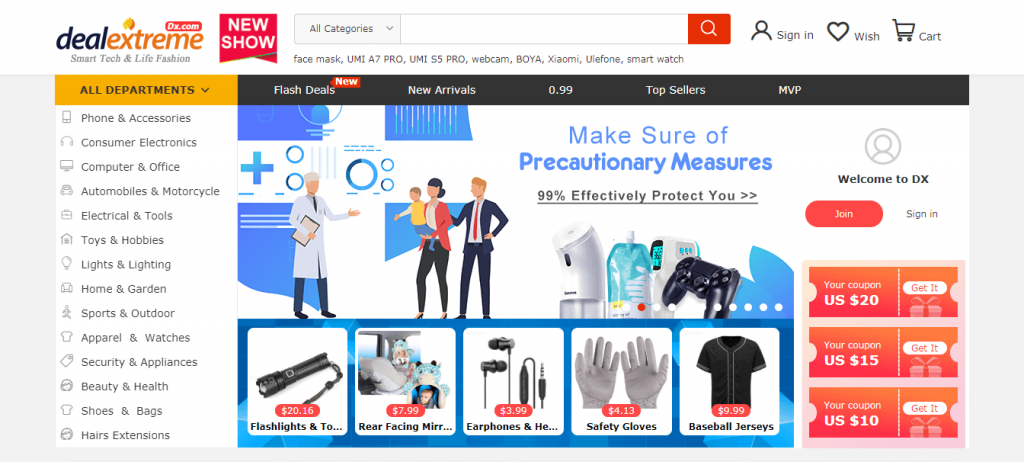 DealExtreme is the best DHGate or AliExpress alternative. I have never run out of product options with this company. It offers more than 300,000 products. The price of goods is meager and affordable which makes it perfect for dropshipping and sourcing wholesale items! Besides it, the site also provides immediate refunds and replacements.
The company offers free shipping costs with an international shipping method for worldwide buyers. And it is a safe and reliable place to get your required products. It may take 20 to 30 days to deliver the products, and at maximum, it may take up to 3 months.
If you hard to negotiate with suppliers and pay on Aliexpress safely?
LeelineSourcing is ready to help you buy from Aliexpress at low cost and efficiency.
FAQs about Aliexpress vs Dhgate
When you start your dropshipping business, many queries may arise. A few of them with suitable answers have been given here.
Why Is Aliexpress So Cheap?
Whenever you buy from AliExpress, you will feel that it is very cheap. There can be many reasons, like you are online buying in bulk, or you are getting the products directly from the supplier.
And above all, the labor in China is relatively cheap, and raw materials are available in their hometown, which ultimately decreases the cost of Chinese products.
Does Aliexpress Have Warehouses In The US?
It is a marketplace where various brands advertise their products and then send them to the consumers. They do not have any warehouse as Amazon has.
Does Dhgate Sell Fake Stuff?
Well, DHGate and many there suppliers provide counterfeit products with private labeling.
It means you are not getting the outcome from a genuine manufacturer. You have to be careful not to re-sell branded or replica products. It is illegal to sell the goods with your label even when you are not the manufacturer.
What's Next
When it comes to AliExpress vs DHGate, both the two sites do not have any major differences as they sell products internationally.
Both online shopping platforms have the most prominent suppliers and sellers. We can thrive in foreign trade. So, both AliExpress and DHGate are equally beneficial for your dropshipping business or bulk purchases.
When choosing any one of them, makes sure you have done plenty of research, as it is the only way going to assure you of the success of your business.
Do you want to source quality products? Great! LeeLine Sourcing is there to assist you in finding quality products as per ten years of experience. Hit us a message right away!
We are sorry that this post was not useful for you!
Let us improve this post!
Tell us how we can improve this post?