Amazon analytics tools are a great way to enhance your business's proficiency.
Choosing the right tool will help boost your sales and profit margins in the right direction.
Working on different e-commerce platforms isn't easy.
However, what's even more difficult is to have the right kind of analytics tool that would provide assessment information.
For those working with Amazon, having the right kind of Amazon analytics tools is important.
This would allow knowing whether their proceedings are heading in the right position or not.
This guide will illuminate regarding Amazon analytics tool. It will also illustrate the best analytics tools for sellers.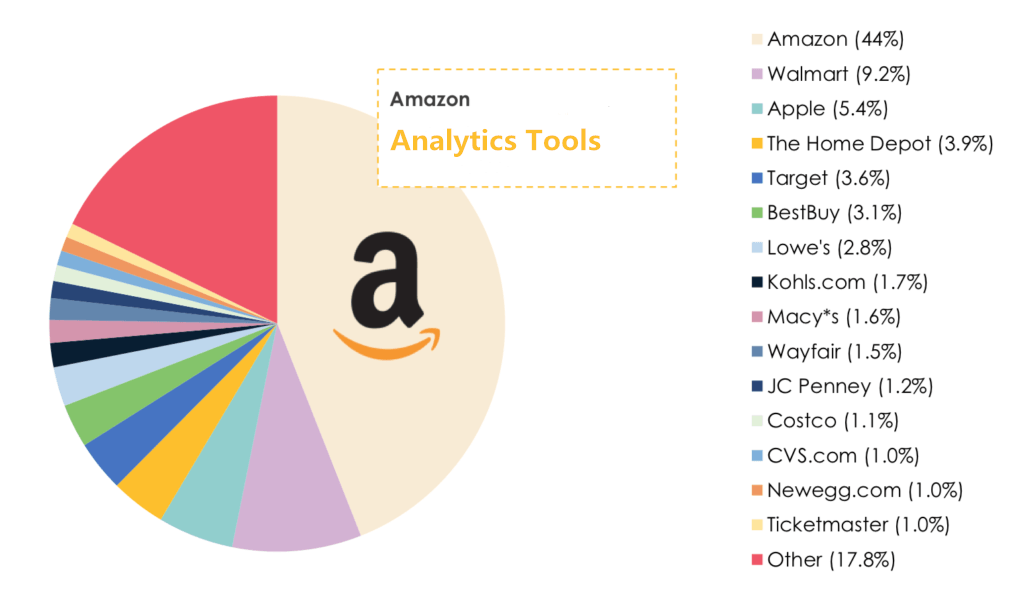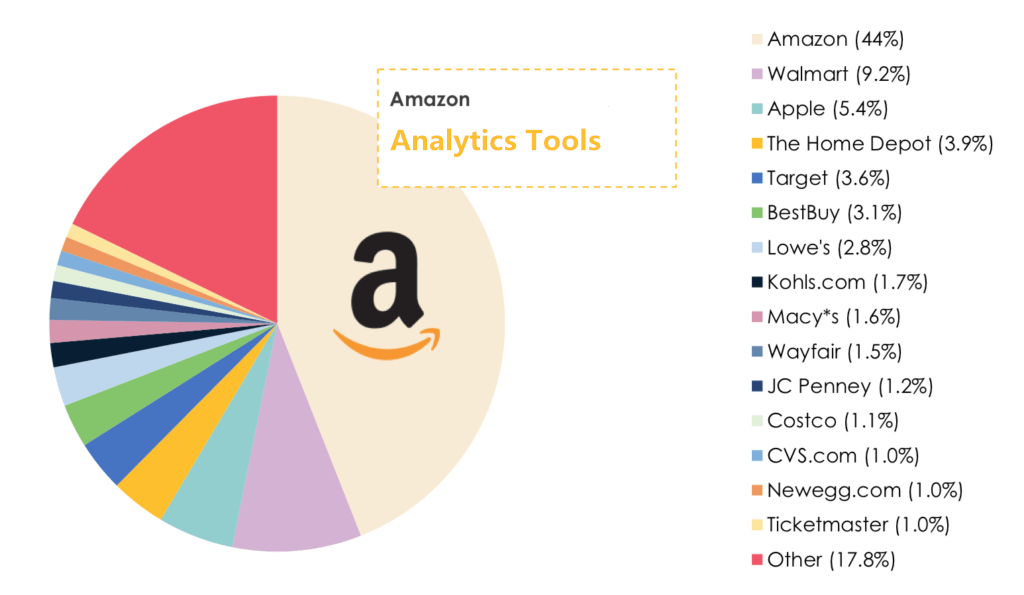 What Is The Amazon Seller Analytics Tool?
Profiting sellers on Amazon take advantage of the right kind of analytics tool. There is so much data to be assessed that you need help from an analytics tool.
The e-commerce data allows assimilating proceedings, making it easier to survive and progress in the market.
That is why using an Amazon analytics tool will allow you to know what this data means. From managing your Amazon seller ana dashboard to generating reports and visuals, the analytics tool offers a wide range of perks.
You can use this to understand sales as well. You can also use this to know how Amazon advertising works. From sponsoring certain products to reporting, you get insights on everything.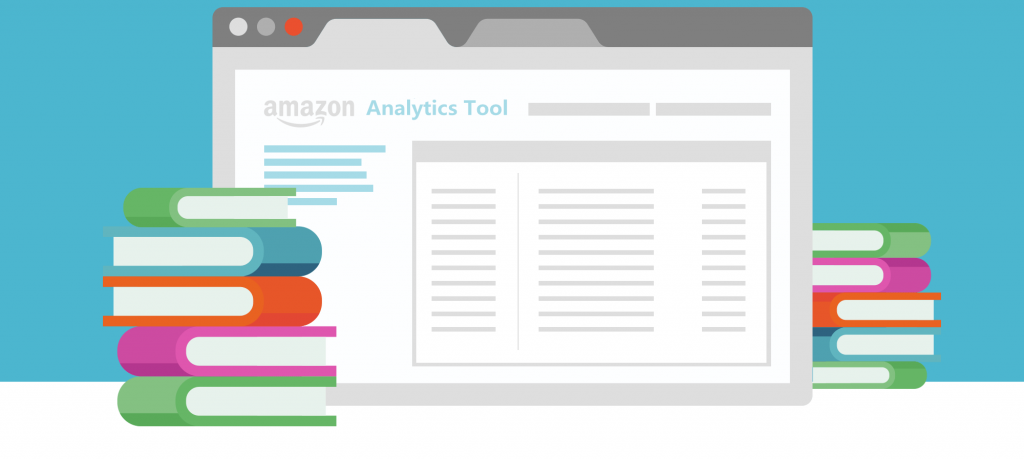 Even if you've got the right kind of tool, you need to know how to use it. The Amazon data analytics tool is only profitable when you know what elements you need to assess.
The tool will only work when you input the right functions for analysis. Here's what you need to know about Amazon brand analytics:
Amazon Search Terms Report
As evident from the name, these are the reports that show what customers are searching on Amazon.
This report is important because it allows you to know what kind of products are being focused on by the masses. It helps in navigating towards the right kind of products that you can focus on in your store.
Demographics Report
Demographics play an important role in deciding the core customers for your store. Using the Amazon demographics report show how customers are divided into certain demographics.
These include age, income, gender, education, etc. All these factors are accounted for when searching for the right products to list in your store.
Item Comparison Report
The item comparison report illustrates the top items that are searched by the customers. This also shows the frequency of the goods that are searched.
In addition, it illustrates the brands that consumers look for. Considering this, one can navigate the type of products that are most searched. Knowing which products have the most views, one can pic these for their store.
Alternate Purchase Report
Within the items comparison report, one gets insights on alternate purchase reports. These are the items that the consumers bought irrespective of what the vendor was offering. It's similar to the Google Play application store.
When looking for a certain application, we can see different apps that are referred to us. These applications if installed are known as an alternative choice. Similarly, people purchasing alternate products on Amazon can illustrate the products you should offer apart from the main products.
Market Basket Report
The market basket report shows the condition of the market. How many users is the site getting per day or monthly?
Which products are currently hot in the market. The market basket report allows you to assess your selling move based on the condition of the market. You can add discounts or create a sale based on market analytics.
Which Features Can You Find In Amazon Analytics Tools?
Before using the Amazon analytics tools, you need to understand what you're getting into. Here are some features that can help improve your store's performance:
Track Your Profit In Real Time
Keeping track of your profit is necessary. You need to know how much profit you are generating from your sales.
Instead of keeping a manual entry, you can use the Amazon analytics tools. The tools will offer insights on per sale profit. It will also illustrate the profit ratio for the total sales completed.
Check You PPC Revenue
This is important because you want to know whether or not your PPC campaigns are successful. Instead of checking these by yourself, the analytics tool gives accurate insights.
From per day clicks to the ratio of clicks compared with other PPC ads, the tool will provide definite insights.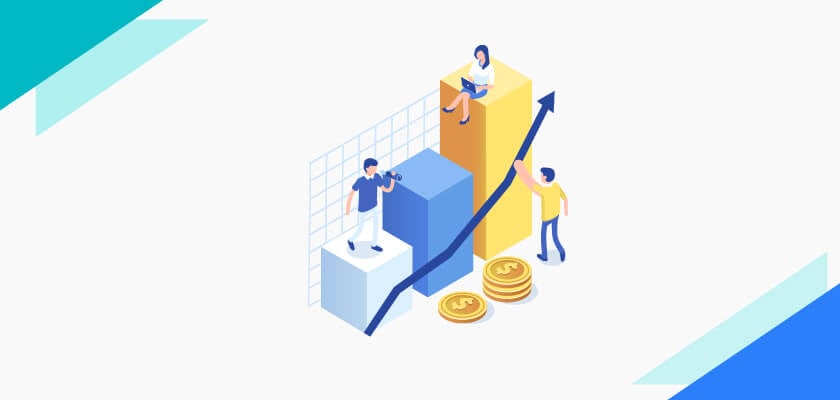 Check Your Amazon Organic Revenue
Having organic reviews for your brand is important. Organic reviews show that your brand is communicating well with the customers.
Google also uses organic reviews to rank brands according to search results. Thus having known the ratio of organic reviews will help you know how well the brand is communicating with the market.
Evaluate Costs:
Cost evaluation is an important element for every business. You can only generate profits if you're aware of the expenses for your brand.
That is why using an analytics tool is important. It offers a wide range of cost evaluations, including:
VAT
The value added tax or VAT is the amount of tax that is placed on the product based on its value. From production to final product, the VAT changes respectively.
Considering this, you should know the value of VAT for the products you're selling. The analytics tool assesses this value.
It then gives a clear insight into the total costs. The consumers are going to pay for the product only.
However, you'll need to pay for the entire production. Using the analytics tool will give a complete analysis of VAT.
FBA Fees
Working with Amazon using FBA can be easy. However, you need to manage the costs of FBA as well.
You certainly don't want to ruin your profits without estimating FBA. That is why using the analytics tool, you can get an idea of how to manage FBA costs.
Suggested reading:Best Amazon Freight Forwarder For Shipping To Amazon FBA
Amazon Fees
Apart from the FBA fee, you also need to manage your Amazon fee. Creating your account on Amazon and working with the platform doesn't come free.
That is why knowing the monthly or yearly payments will benefit you in estimating your profits.
PPC Costs
Before you can generate revenues from your PPC campaigns, you need to estimate the costs.
PPC campaigns don't come cheap, and you need to estimate the costs. Thankfully, the Amazon analytics tool allows you to estimate these costs as well.
Suggested reading:Amazon Marketing Strategy: The Ultimate Overview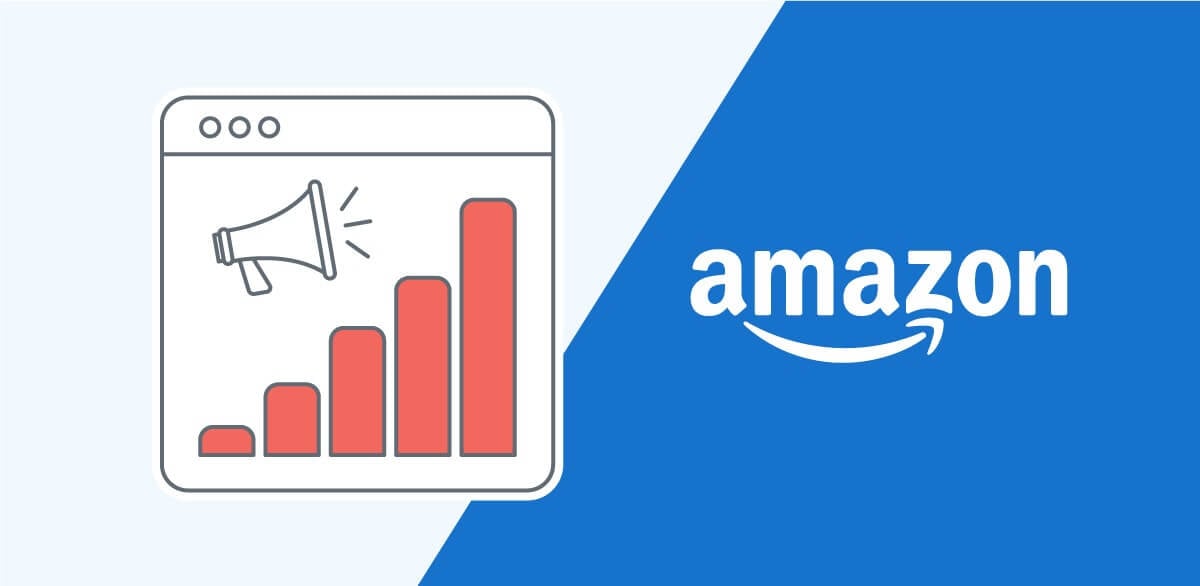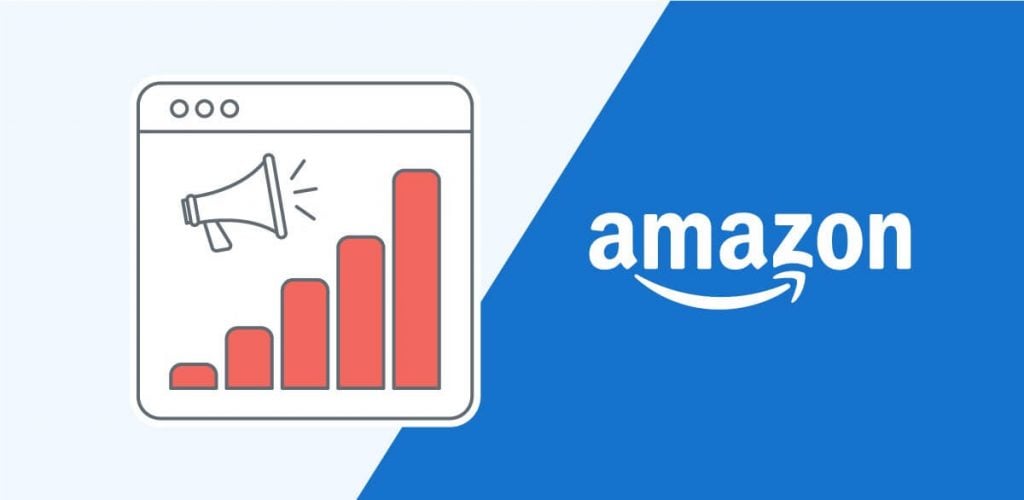 Promo Values
As highlighted earlier, you can use the market basket report to know when to create promo offers. However, you need to know the costs of your promo values so that you can reap better profit margins.
The analytics tools allow you to access this information. It gives accurate insights on the possible costs that can arise so that you can make changes accordingly.
Shipping Costs
This is also important especially when you're giving free shipping. You need to estimate the shipping costs so that a single sale can offer profits even with free shipping.
The analytics tool will estimate shipping costs for the products to be sent and the ones to be received. In addition, it will also help to know the total costs for a single product, from production to delivery.
Cost of Goods
As highlighted earlier, you need to estimate the costs of the goods so that your sales can generate effective profits.
From the preparation of the goods to the overall shipment, the costs have to be regulated. This allows you to estimate the profit you'll get per each product.
Margins
Another important thing that the analytics tools help with is the assessment of margins. For you, the profit margin is the most important to know.
From sales to orders and revenue, the analytics tools give the best insights on current and estimated margins. The tools also help to predict the margins based on the strategy you want to implement.
Track Your Keyword Rankings And Keyword Sales
Amazon uses keywords to display the right vendors for their customers. Your keyword ranking should be competitive so that your brand can be positioned higher.
Therefore, using the analytics tool you can know how well your keyword is ranked. It will also show the number of keyword sales you've generated and can generate.
Suggested reading:Amazon Keyword Research: The Complete Guide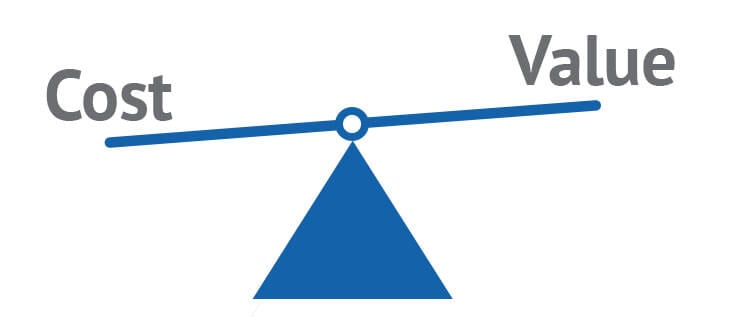 Top 15 Amazon Seller Analytics Tools
Now that you know why it is important to use analytics tools, let's take a look at the tools that you can use:
Featuring bulk, private and live listings, the AccelerList is one of the main tools you can use. It offers merchant and FBA price displays with its Keepa Chart. This chart provides information about how sellers on Amazon should price.
In addition, it also gives real time market insights alongside health analytics. It is best for those looking to uplift their business fast.
You can also set your ROI and get instant business reports. The software updates you with accurate results and reports.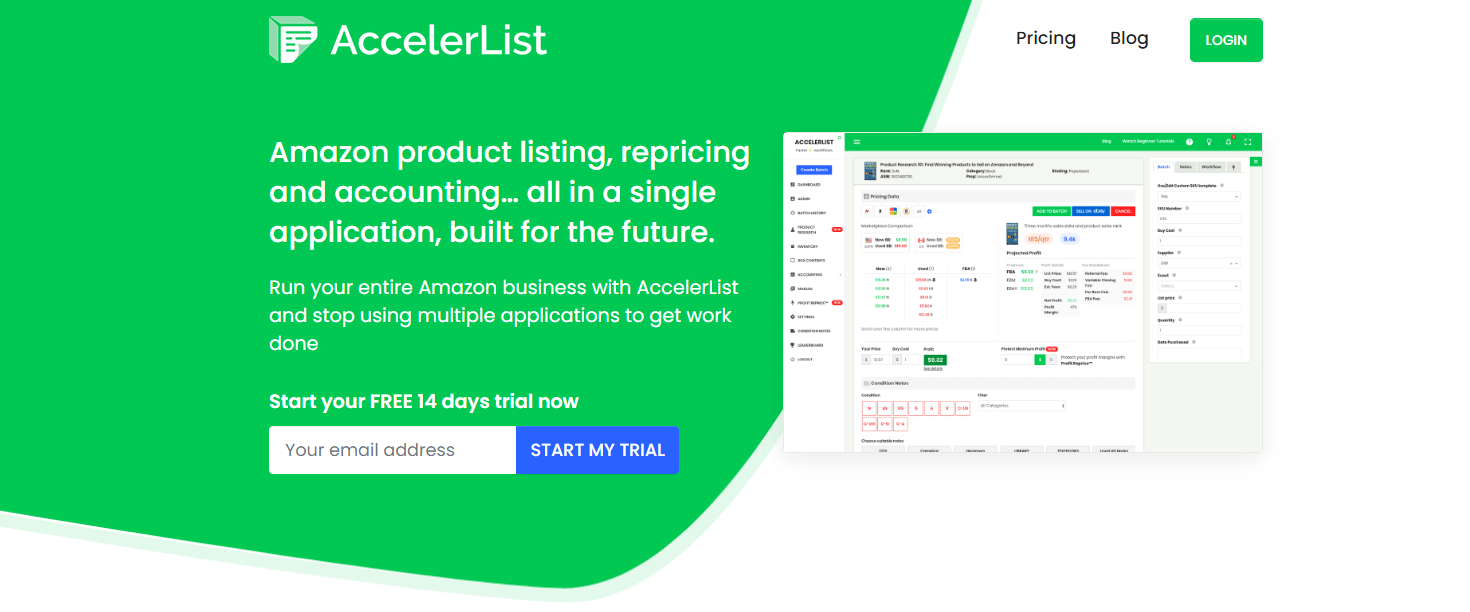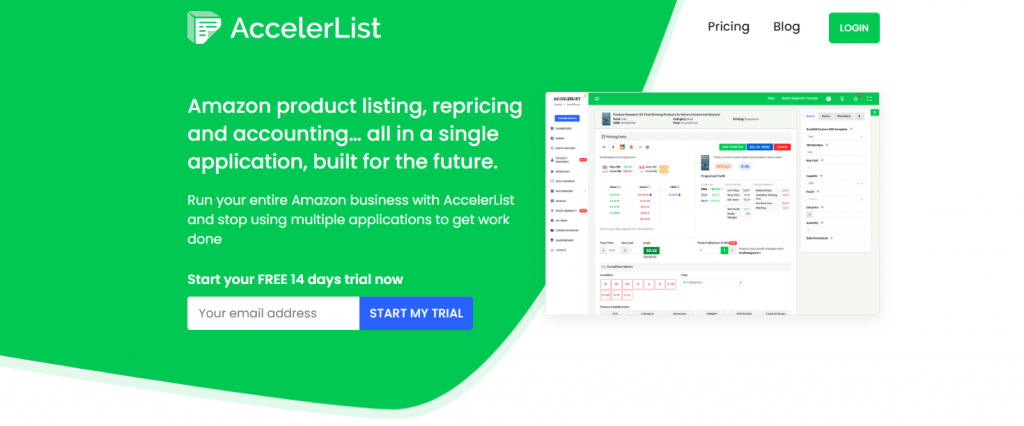 2.AMZ Tracker
From product keyword ranking to assessing competitors' listings, the AMZ Tracker gives viable insights.
You are also notified of negative reviews. It also comes with a Super URL that connects social media users with your brand. You can easily reach the FBA first page using this tool.
It gives better conversion by focusing on important keywords. It also notifies you when someone tries to hijack your listing.
3.Forecastly
Forecastly comes with predictive and forecasting tools. This allows for predicting possible focused products. It gives the exact number of goods needed for replenishing your stock.
It also reconciles inbound shipment and allows you to manage stock. Most importantly, it keeps your money flowing consistently with high sales velocity.
The predictive analysis saves hours on management and gives you real time health information about your business.
4.HelloProfit
Doubling the CRM with 6 tools, HelloProfit comes with a comprehensive dashboard, integrating all your data. From sales to management, you get everything sorted in one place.
Moreover, it also comes to support performance elevation for PPC. The analysis is made easy using clear and concise reports generated with it.
It also aggregates the stats using grouping. HelloProfit monitors your rank determining the marketing efforts needed.
If you need more reviews, then ManageByStats is the right choice for you. It comes with a comprehensive suite, segregating profits, graphs, transactions, etc. in one place.
It allows to see your Amazon traffic and give metrics on conversion rates. The analytics are on spot, allowing you to make sound decisions.
The tool is focused on customers. Which is why it ensures that your brand communicates with the customers in the best way.
From seller feedback to mails and transparent insights, you get a competitive insight on financials and sales.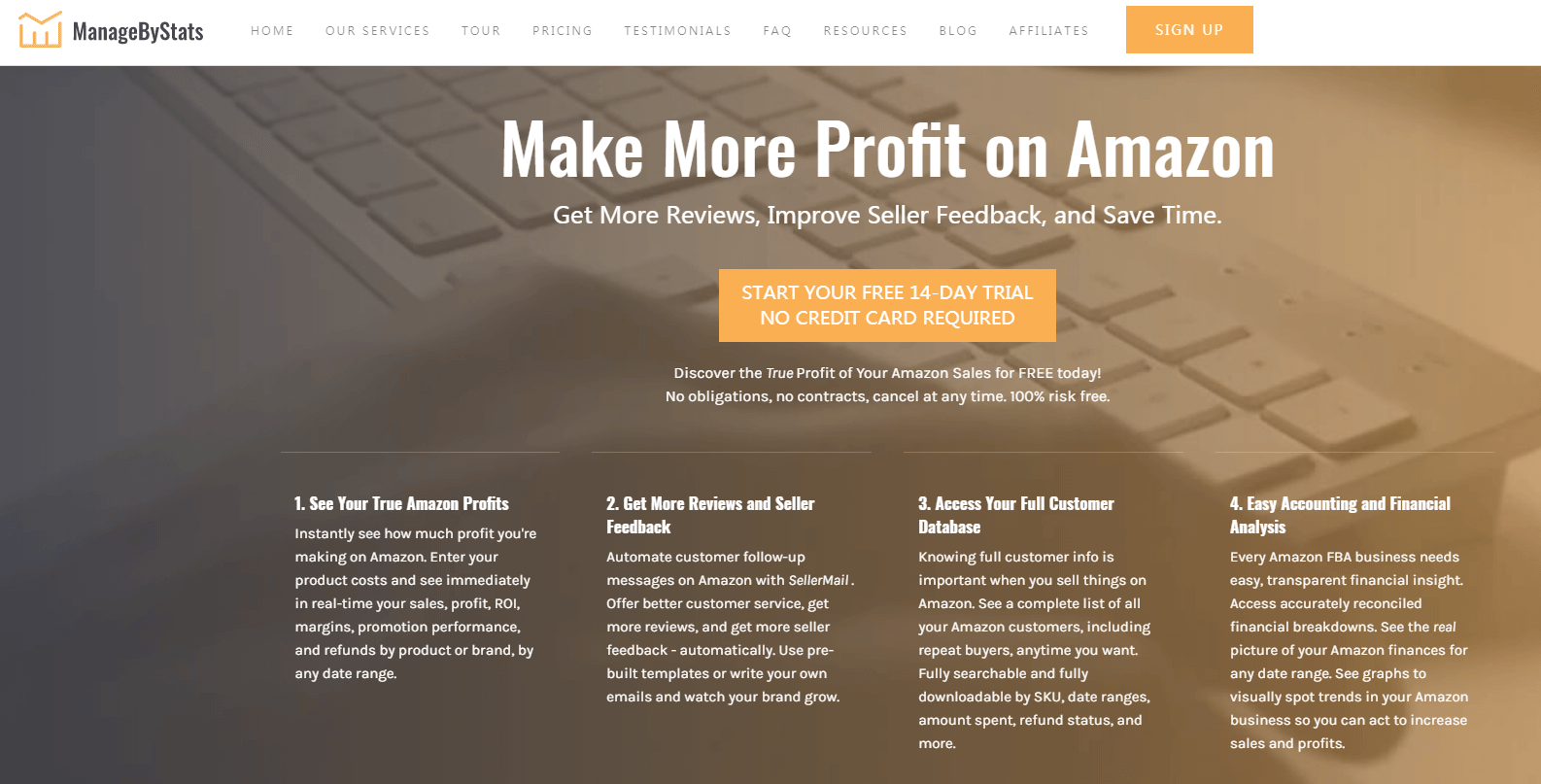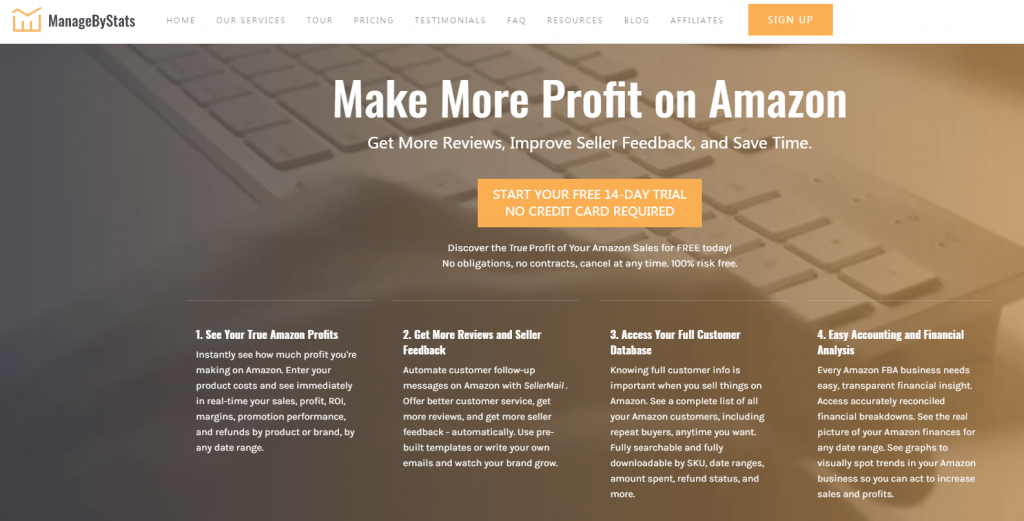 6.Informed.co
If you're looking for a repricing and analytics tool, then Informed.co is the best choice. From increasing your sales to strategically pricing your goods, it provides all.
The Buy Box tool comes with advanced algorithms, allowing you to orient your proceedings towards FBA goals.
It gives insights whenever your competitors change their product's price. Moreover, it also offers an in-depth insight into sales, giving informed business decision making.
7.Sellics
If you need to set up your profile, then Sellics is the right choice for you. It has an inbuilt Product Detector and Niche Analyzer tool.
These tools allow to understand your desired niche and give insights on the products to choose from. It also allows to track your performance while discovering top sellers to know how they're proceedings.
From PPC to keyword tracking and inventory management, you can get a lot of things done with this tool.
8.Viral Launch
When you need market intelligence, Viral Launch is the software you use. Not only it helps understand sales but allows you to increase margins effectively.
It is also regarded as the best tool to launch your products. It offers brand exposure while creating multiple channel traffic for your business.
9.SellerBoard
From analyzing your PPC campaigns to ads and keywords, SellerBoard organizes your dashboard efficiently.
You can also track cash flow and manage expenses easily. The profit and loss view provides relevant parameters as well.
As for the live dashboard, you can manage amazon fee, PPC spends and many more costs easily. The SellerBoard allows optimizing your profits, giving the best insights automatically.
Trendle Analytics comes with centralized features. It monitors your listings, keywords, marketing campaigns, product scores, etc. effectively.
You can also automate the process and track over 140 analytics for knowing your profit margins. It is specially made for those that are worried about business profits and costs.
That is why it shows profitability to drive business decisions. It also offers stock management and gives the best assessment on the product costs needed for precise margin estimation.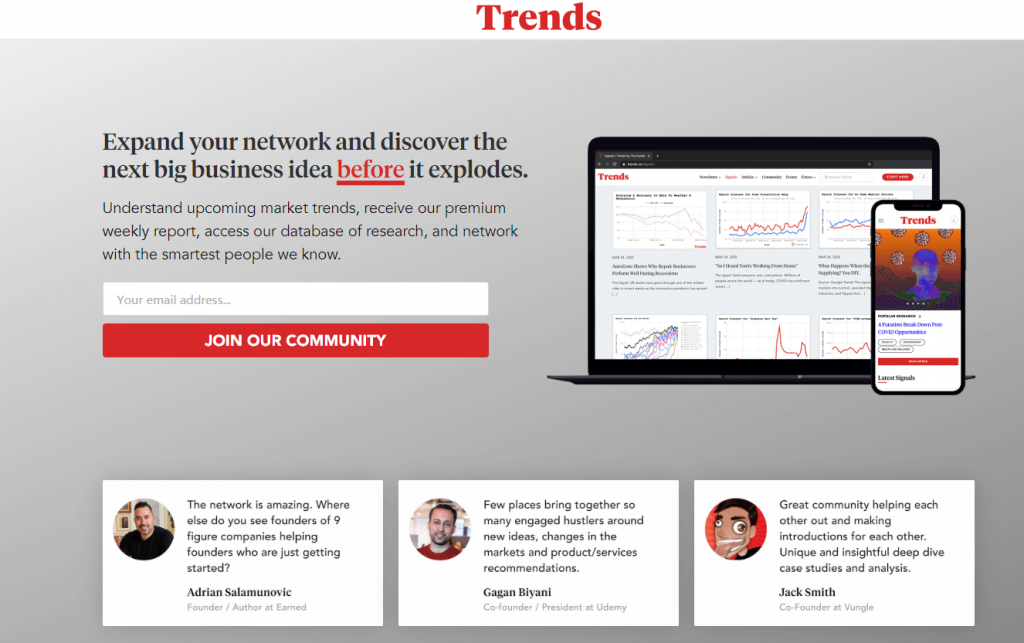 11.GorillaROI
From streamlining your work and automating the entire process, GorillaROI enables fast proceedings. It manages your listings and analyzes the keywords.
After the assessment, it offers insights on the right kind of metrics that you should apply for generating more sales.
It also automates the process, enabling you to get real time reports for your margins, profit, and growth opportunities.
12.Shopkeeper
This is a dashboard app that keeps an eye on your profits. It allows you to see how sales are working across Amazon.
It makes a central hub for your business while offering more than 72 types of cost calculations for your business.
You can also view and manage your seller profile with real time analytics and profit tracking.
13.SellerApp
The SellerApp comes with the combo of features, including operations, marketing, and sales. From profits to sales and negative flags, you get everything under one roof.
It also allows to mine high traffic keywords, giving optimized proceedings. Not to mention the tracking of profit and sales.
The support comes all the time, and you can extract the exact analytics you want to be known for your business.
14.Fetcher
Fetcher is an accounting system that allows you to uplift your sales on Amazon. It allows to sell more products as well as centralizing the entire dashboard.
You get informed with real time and accurate metrics. From PPC fees to promos' management, your business campaigns are well informed in every way.
From monitoring your Amazon seller profile to streamlining your business, Bindwise does it all. It comes with the best evaluation methods that allow to critically analyze the business.
Furthermore, it allows to customize your business according to the best way of engaging with the selling platform.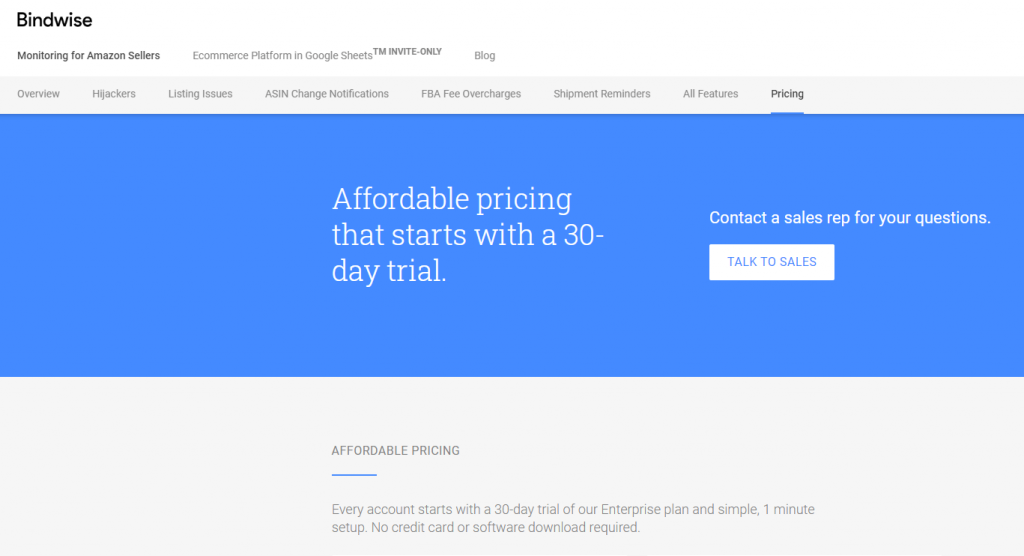 How To Choose The Most Suitable Amazon Analytics Tools For My Online Store?
Now that you know what tools you can use, it's time to know how to pick the right one. Here are some features that you should consider before choosing one:
Features
The most important is the features of the tool. The Amazon seller analytics software should have the necessary features for your needs.
It should bring accurate results so that your business can progress. The reporting should be accurate and it should have competitive features. This can include pricing insights, keyword management, inventory management, etc.
Pricing
You need to make sure that the tool you're picking is right for your budget.
After assessing the features, you should check the price to make sure it doesn't disturb your budget. Remember, you need to have some investment to progress as well.
Customer Reviews
Even if you find the right tool, you need to check how well it is functioning. Checking its customer reviews will illuminate the right choice for you.
Sellers that have previously used this tool would have left their reviews. It will also illuminate any issues with it that you can consider before making the final choice.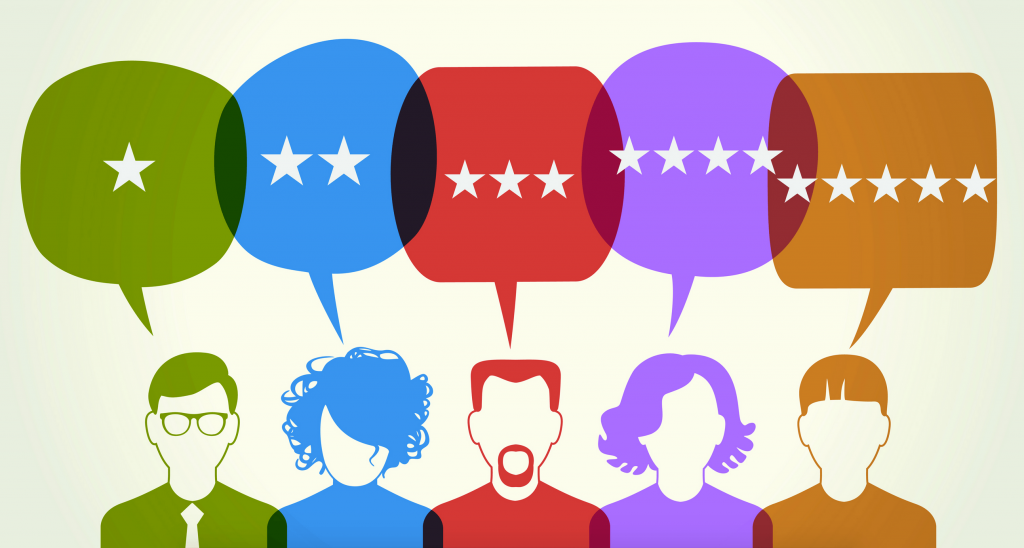 How LeelineSourcing Recommend You The Most Suitable Amazon analytics Tools and Help You Import the Most Popular Products from China
LeelineSourcing is a sourcing firm that allows you to source the best tool for Amazon product analysis. It has years of experience in the domain and serves over 2000 clients worldwide.
From assessing your business to assessing the features of the tool, the company chooses the best for you.
In addition, the team uses several methods to come up with the right tool for your business. It also offers competitive insights to show how well your business is working.
After the implementation of the tool, the team will offer consultation to make sure your business functions the right way.
Suggested reading:How to Sell Products On Amazon for Beginners:Free Guide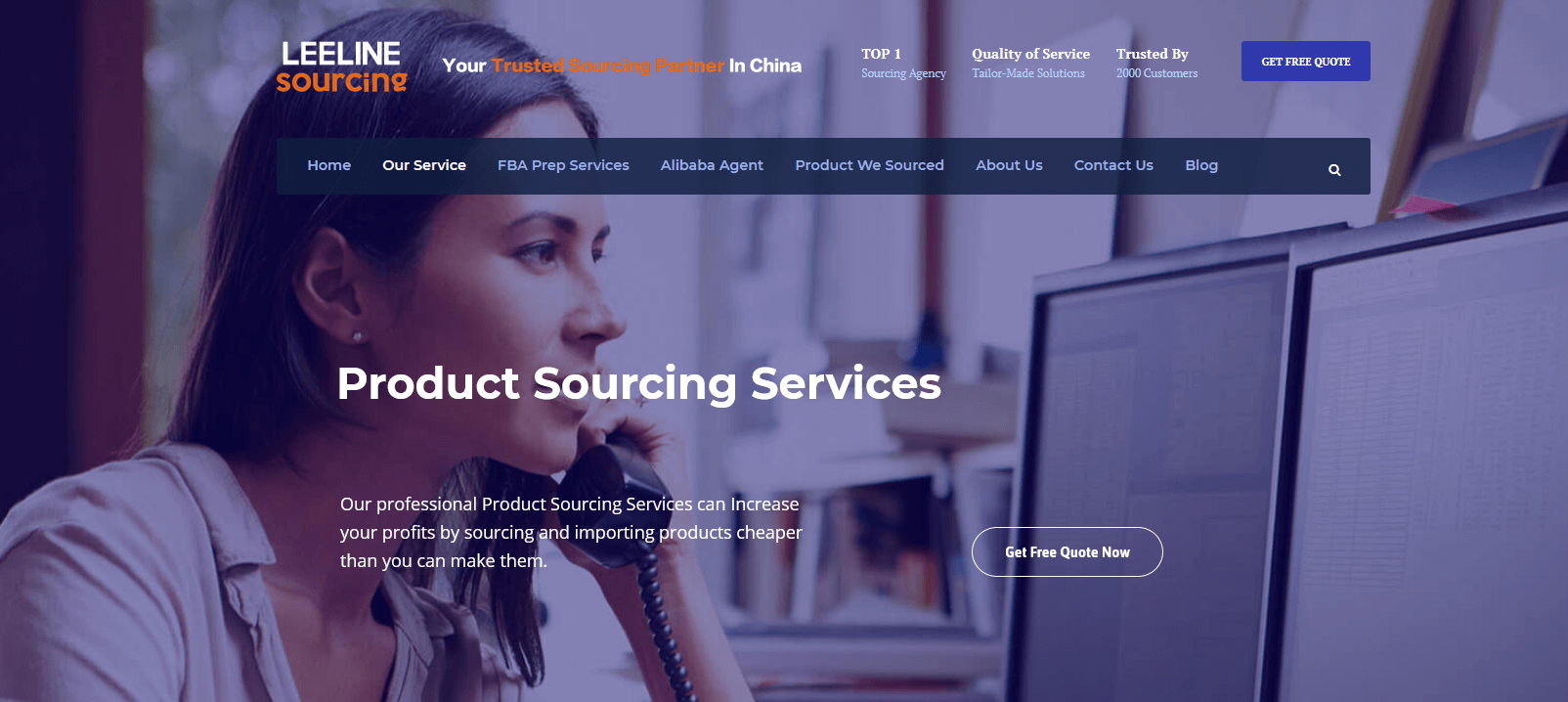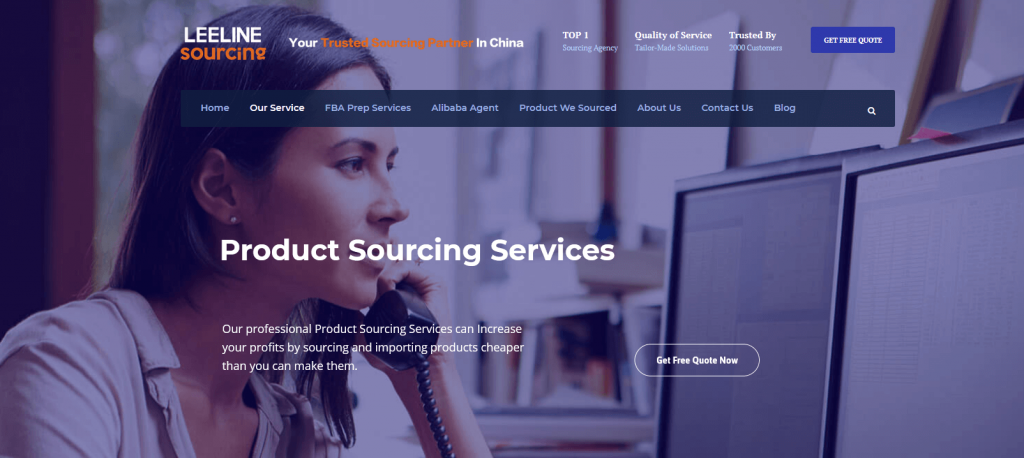 Final Thoughts on Amazon analytics tools
Using an amazon analytics tool can help your Amazon business grow proficiently. It allows you to proceed strategically, giving informed insights for strategic proceedings.
You can also use third party assistance such as LeelineSourcing to help source the right analytics tool for your needs. implement the Amazon analytics tool and get your business directed the right way.
FAQs For Amazon Analytics Tools
Here are some FAQs regarding Amazon analytics tools that will help you in your search:
Does Amazon Have Analytics?
Yes. Amazon is now offering brand analytics that offers insights on your business's workability. From marketing to strategic decision making, it helps in various ways.
How Amazon Uses Big Data Analytics?
Yes. Amazon big data analytics is a real game. Amazon gathers data based on its every user's interaction with the platform.
It then uses this information to make its proceedings efficient. For example, it opts for the warehouse that is closest to the customer.
Which AWS Services Are Used For Analytics?
There are several that are used. These include interactive analysis, big data processing, data warehousing, dashboard visualizations, etc.
What Is The Best Amazon Product Research Tool?
There are several tools that can be considered in this matter. For starters, ZonGuru, Unicorn Smasher, AMZBase, Keepa, CamelCamelCamel, FBA Wizard Pro, etc.
However, you should assess the tools before opting for them.
How Do I Find My Amazon Conversion Rate?
You'll need to log in to your Seller Central account. Next navigate through reports, business reports, and detailed page sales.
This will lead to traffic reports by child items. Here you can see your conversion rate easily.
What Is Amazon's Percentage Of Sale?
This depends upon the type of package you use with Amazon. Sellers need to pay $0.99 for each item sold. It can vary between $0.4 to $1.3. Higher levels are charged more.
We are sorry that this post was not useful for you!
Let us improve this post!
Tell us how we can improve this post?