Have you purchased from 1688 com before? If not, it may be the right time to buy inventory. When purchasing, you need to focus on crucial points for the purchasing process.
Based on ten years of experience, we have dealt with many such cases and helped customers wholesale and find high-quality suppliers. Do you know the details before meticulous research for many suppliers in 1688? It points to safe and secure trading by discussing product specifications and pricing.
Today, we will comprehensively discuss the buying process from 1688.
What is 1688.com?
Whether you've been in business for years or just starting, I'm sure you've heard of Jack Ma. He's the founder of Alibaba, one of the most famous companies globally and one of the biggest e-commerce platforms.
Alibaba is a group of Chinese companies, and 1688.com is a subsidiary of Alibaba located in China. 1688.com, called "阿里巴巴批发网," is mainly part of China's domestic market.
Is 1688 com legit and safe?
1688.com is a branch of Alibaba.com founded by Jack Ma. Both these sites are legit and trusted by peeps all over the world. Their shipping agents consolidate packages worldwide.
These sites are also famous for their quality performance and on-time delivery. Customer satisfaction and best performance are their top priority. Big customers always leave good reviews for them. Their sourcing agents are legit and fast with other services like custom paying, consolidation, and repackaging.
Are the products listed on 1688.com cheaper?
It's prevalent for Chinese suppliers to sell their items to Chinese buyers at lower prices. It's because there are often underlying quality issues.
Chinese suppliers generally understand that they can't offer worldwide buyers the same level of quality.
When selling to European, Australian, or American buyers, Chinese suppliers recognize they need to be able to offer higher quality products, so they will usually quote higher prices overall.
What to consider before buying from 1688.com?
1. Stock information isn't always accurate
When you place an order, You have to first confirm with the supplier if the product you want to buy is actually in stock. Most of the time, stock information is about 90% accurate, so you won't have to worry.Usually, the dropshippers connect with the suppliers and use ePacket shipping. I ask my suppliers whether they use ePacket shipping or not. If they answer Yes, then It creates a huge smile on my face.
However, certain sellers sell incredibly high volumes of products.
2. Purchase Failures & Invalid Orders
If, when you place an order, you run into a purchase failure, the 1688 website will notify you that your order is out of stock, and you will not be able to add the product to the shopping cart.
If you keep getting "invalid," search for another supplier and send a brand new order for a similar product.
However, one thing you need to keep in mind is that it can take a couple of days for users to cancel orders. This process is time-consuming that's why I try to research before placing an order.
3. Local Shipping Cost Adjustment
Local shipping is when the provider ships products to the LeelineSourcing warehouse. 1688.com will usually adjust domestic transport costs for wholesale orders, depending on the final weight of each shipment.
For every order on 1688.com, We will automatically complete any local shipping with a default amount (15CNY) as its minimum domestic shipping cost (DSC).
This happens since we don't have a complete picture of the final shipping method. I use third-party agents like Leelinesourcing to handle all Domestic & international shipments.
4. Don't buy products that are too heavy or too big in size
One of the most significant downsides of purchasing on 1688 is that you will be penalized in total cost by buying products that are either too heavy or too big in size.
If you want to buy extensive products like large TVs, sectional couches, or bicycles, you must factor in the elevated national shipping charges and international shipping costs. Whenever my products are too heavy, then I use cheap shipping methods. My favorite methods are Rail for National & Sea shipping for international.
5. Delays and Timing
Most order lead times, on average, can span between 1 and 5 days. A small number of orders can take 5-7 to the whole process.
But it's important to note that some orders can take anywhere from 2 weeks to 1 month to complete. During busy seasons like November and December, lead times can be delayed by 1 to 3 days.
It could take up to 3-5 more days for local shipping. It often takes over seven days for products to arrive at the LeelineSourcing warehouse once an order has been placed. You can contact us for comprehensive service.
If you hard to negotiate with suppliers and pay on 1688?
LeelineSourcing is ready to help you buy from 1688.com at low cost and efficiently.
Useful tips when you buy from 1688 in bulk
1. Check Threshold First
Before you place your order, make sure to check the wholesale rules and threshold for the supplier. This small precaution help me and my clients to avoid confusion and big hassles.
If your order quantity doesn't' meet or exceed the minimum order amount set in place by the supplier, your order will be canceled, and you will need to place a new order.
2. Always pick a "TrustPass" Supplier
With over 50,000 suppliers, 1688 has plenty to choose from, but that doesn't mean they're all excellent sellers. Make sure you choose suppliers who have the "TrustPass" badge on their accounts. My first step in the search is using the Trustpass badge filter to avoid any unreliable suppliers.
They are usually more trustworthy, reliable, and have better quality products. They also typically have a better return policy.
3. Compare suppliers
If you find a good supplier, they have a trust badge, and you can meet the minimum order requirement, don't place your order just yet.
You should always compare them with other suppliers. My advice is to get many quotes and then compare the pricing or some extent, do negotiations too.
Look for the best deal or a better supplier. You might be surprised to find a more trustworthy supplier or someone who has better quality or prices.
How to buy from 1688?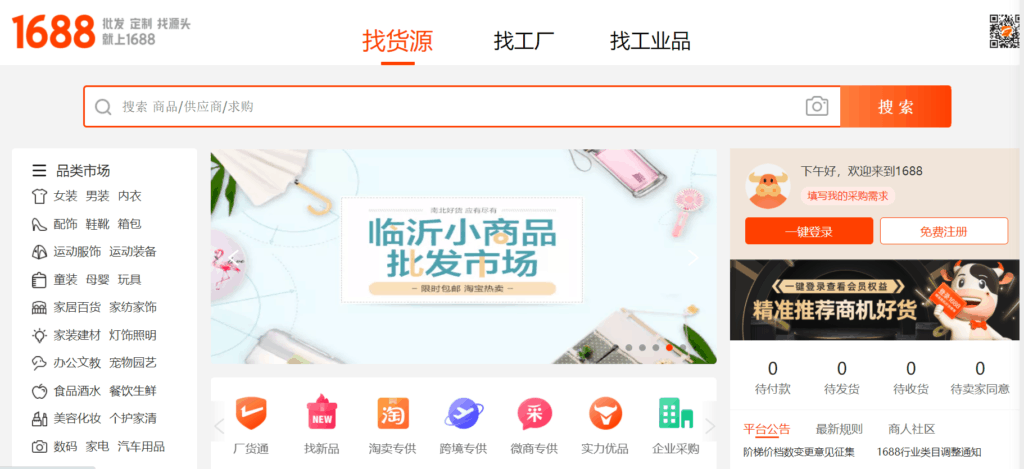 1688 is a Chinese market with no foreign languages translation on the website. That means, it is available in the Chinese version. However, It is not only for the Chinese people but also for foreign brands. However, there is one problem. It is in the local language of China. Before we dive into the step-by-step guide, I also use an alternative solution. My advice is to hire a local agent for negotiation and quality inspection. You will thank me Later.
Here are different steps to purchase from 1688.
Step 1: Install Google Translate Chrome Extension to translate the Chinese version
First, you need to translate the Chinese language. So, install the chrome extension by following steps:
Write Chrome extension on Google
Visit the Extension store on the Chrome
Install Google Translate extension
Turn it on and pin it.
That's all you need to do.
Step 2: Search Products on 1688
To purchase products, search for the product on 1688. For this reason, you can follow the below complete guide:
Go to the search bar
Write the product name
Apply the filters
Now, you will get a list of products with relevant product links.
Step 3: Check out the listings on 1688
The next step is to check out the listings. You can look at the product images and decide whether the product quality control is implemented or not. I also check their reviews and rating to ensure only the best quality products. Moreover, you can assess the target products and get the best quality at hand.
Step 4: Choose the suppliers and Negotiate
Many suppliers are available on 1688. You need to talk directly with them and negotiate the price. Usually, settle on the low prices but remember, the quality is a priority. At a time, you can discuss the shipping options, minimum order quantity, and prompt and personalized service with the trading company.
Step 5: Pay Suppliers
Finally, if you have chosen a suitable supplier, you can move ahead with the payment method. You can select multiple options like Paypal, Bank Transfer, Union Pay, etc. All these are safe to pay to verified suppliers in particular. You can directly pay by checking out the exchange rate in your currency.
How to pay on 1688?
For many foreign buyers, it's not convenient to pay on 1688. Due to the different payment systems of 1688, they only accept Alipay and bank cards to pay orders. For direct payment in 1688, you need a Chinese bank card or use Alipay business account 1688 for cross-border payment.
As for transportation, you have two options.
Option 1: Directly ask the supplier to send the goods to your country, which requires you to communicate with the supplier.
This requires your supplier to speak English or you to speak Chinese. And some suppliers who do not do international trade may reject you because they don't know anything about international transportation. Paying through Third-party apps with refund options saved me in multiple scenarios.
Option 2: You can hire a sourcing agent in China and ask the supplier to send the goods to your forwarder, and then the agent is responsible for transporting your goods from China to your country.
How to Ship Product From 1688?
Shipping from China is way easy than it looks. Although it may require some traveling and delay, the agents 1688.com is associated with are pretty experienced and trustworthy. Two types of shipping methods are there to adopt, Domestic and International shipping.
Within China, you can get your order almost 24 hours after placing and paying for it. Mostly, the shipment is sent through courier or express, which requires 3-4 days t reach its destination. You can also track your shipping with the help of a tracking number assigned before shipment, that when and where shipping will go. In this way, a complete, satisfying procedure is planned by 1688.com for its customers. I track through third-party applications for the right shipping statuses.
Domestic selling and purchasing are easy for Chinese businessmen as they have a Chinese bank account. But international importers may find this situation critical.
Most parties hire a professional agent to place their order and ship at their doorstep. Before importing from China, you should know at least five mainstream different shipping methods to your country so that you can choose the best option for yourself for receiving your shipment in a safe and low-cost process. My favorite option is Sea shipping for cheap shipping. However, I also use Air shipping for High-end time-sensitive products.
How to Warehouse From 1688?
The 1688 warehouses are designed for storing the supplying goods with complete care and protection. When sellers send the products like electronic products, 1688 agents store them at the specific warehouses for repackaging or customization to make the shipment ready for the freight forwarder.
Consolidation And Customization Of Packages:
The first benefit you get from these warehouses is consolidating your packages. They receive products from a typical supplier and ship them to different countries and customers from other locations. My clients receive direct consolidated shipping, and it saves them from big hassle.
Quality Product Inspection:
At warehouses, items and packages are thoroughly checked before shipping them to the buyers' destination country. Still, you receive a defective piece; you can easily apply for returning it through the same agent. You save shipping costs for defective items like mine.
How to Avoid Scam While Buying From 1688?
On 1688, Suppliers are legit and have safe account information and market value. But placing your order, always make sure that your 1688 agents or suppliers have a government business license to create a legit account. Never visit the shopping proxy website for purchasing goods. I avoid interacting with newly registered accounts and pay only through assurance features.
For checking the supplier's information, follow these steps.
Open the home page of their site and click "company."
Click here "View Businesses Registration Information."
Here you can thoroughly view the seller's information
Always have a look at their date of registration and reviews.
How can I check a supplier's information?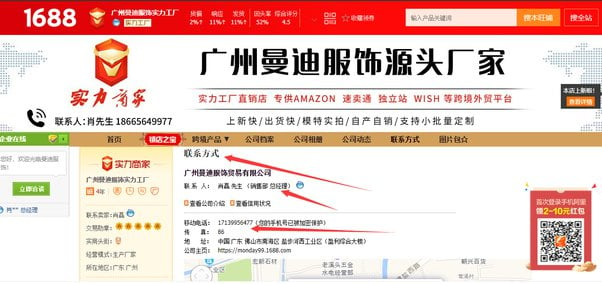 If you want to verify a supplier and check their information for dropshipping service, you have to go to their online store on 1688:
Open up the home page of the vendor.
Click "Company."
Click "View Business Registration Information."
View all information regarding the seller's business registration.
You can see their registration date, registered capital, incorporation, and company address.
There I read about supplier and their business information, I pay attention to their registration dates and addresses.
How to negotiate with 1688 suppliers?
You need to check the product categories and choose multiple suppliers on 1688. The next step is negotiation, in which you need to communicate directly with the suppliers.
Negotiation determines:
Good quality
Better price
Chat with the suppliers on 1688 or the supplier's mobile number, get the quotes, and settle down at lower price suppliers. My best strategy is to show them a bigger picture of collaboration for negotiation.
How can I complete a picture search on 1688?
If you're comparing suppliers and want to search by one package by image, it can help you save a ton of time without hiring more services. I usually use this method for searching for items from my competitors; it gives a better idea about their sourcing prices.
Here are the steps to complete a picture search on 1688:
The image has a white background
There isn't a duplicate image of the image you are searching for on the page you are searching on.
Save the image.
Go to 1688 and click on the camera icon beside the search bar.
Click the file name of the image you saved.
Keep in mind that this only works on the desktop version of 1688, not the mobile or app versions.
How do I translate the 1688.com website to English?

On Desktop:
Download Google Chrome
Go to 1688.com
Right-click on a blank space on the page.
Select "Translate to English" from the options displayed.
The page will refresh and appear in English.
While it is pretty simple to translate 1688 to English on the website, the 1688 app makes it very difficult, so you will have to perform a few steps and get 1688.com English version. I found it pretty easy to translate it on desktop and then Mobile.
On the App:
Install both the 1688 app and Google Translate app on your Android device.
Open the 1688 app. Search for the item you want (you can still search in English).
Scroll down to see the seller's information.
Screenshot the portion of the page you wish to translate.
Open Google Translate
Click the camera option and import the screenshot.
Google translate will scan the photo.
You can highlight a Chinese character to translate or select the entire image.
Tap the right arrow icon to see the translation
SAFE + EASY buying from 1688
We do the hard work in 1688.com, so you don't have to: Product sourcing, quality control, shipping, and more.
FAQs about 1688 com
Do suppliers on 1688.com speak English?
Unlike Alibaba, most suppliers on 1688.com don't speak English fluently. However, there are ways to get around this. You will need to contact more suppliers before finding ones who speak English.
You can also use Google Translate to communicate with your suppliers. There is also a way to translate the website to English which we'll cover below.
How do I know if 1688.com suppliers are genuine or scammers?
Contrary to some beliefs, every 1688 supplier is a natural, legitimate business.
This is verified since any supplier selling products on 1688 must have a confirmed government business license to create an account.
Do I need an Export License for 1688.com?
Before a Chinese product can ship a product overseas, a business must have an export permit. Any vendors on 1688 who are only selling domestically won't need to obtain an export permit.
However, if they want to sell internationally, there is a way to get an export license. 1688 sellers can use export agents. 
Can I pay 1688.com suppliers in US dollars?
It's important to note that suppliers do not accept the US dollar. They only accept Renminbi (RMB or CNY).
If you want to pay in US dollars, you will need to use a sourcing agent; We recommend LeelineSourcing as the best china sourcing agent.
Sourcing agents can accept payments in US dollars. They can accept payment in USD and then pay the supplier in Renminbi (RMB) directly. Sourcing agents can also accept bank transfers and PayPal.
Suggested reading: Best 20 USA Sourcing Agents
What's Next?
If you want to start or expand your online store, 1688.com is one of the most outstanding options available.
If you want to purchase goods from 1688 china in bulk, but you want to skip the frustration of handling the Chinese language, the export complications, or the website, your best option is to find a trusted 1688 sourcing agent, contact Leeline sourcing. You can get the services contact number on our website.
We are sorry that this post was not useful for you!
Let us improve this post!
Tell us how we can improve this post?