Wholesale Children's Clothing Distributors
Leelinesourcing can find best wholesale clothing at an affordable rate. We have the ability to provide quality control to your products, develop new products, and provide logistics support. By working with us, you will be able to save both time and money.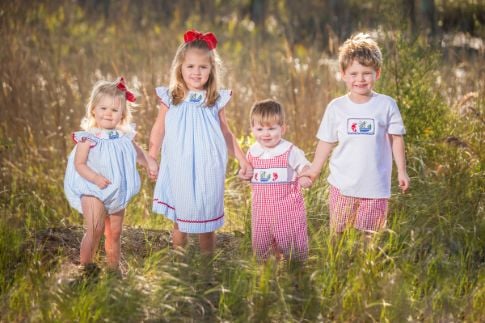 Top 1 Sourcing company in China
With 10 years of experience in china sourcing business
No Risk Free Sourcing No Hidden Fee
You can get Free detailed product quote before order
Trusted by over 2000 Customers
Leeline is your trusted sourcing agent partner in china
Wholesale Best Children's Clothing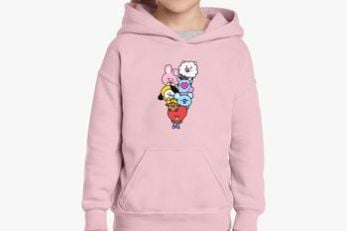 Wholesale Children's Hoddie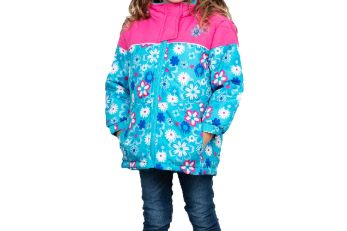 Wholesale Children's Coat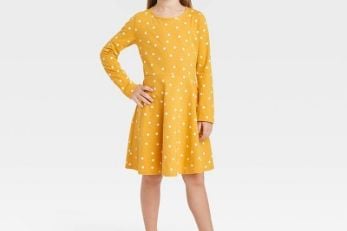 Wholesale Children's Dress
---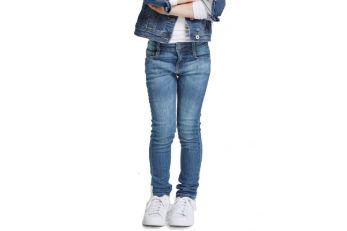 Wholesale Children's Jeans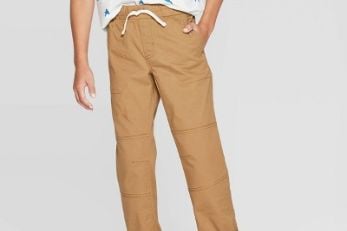 Wholesale Children's Pants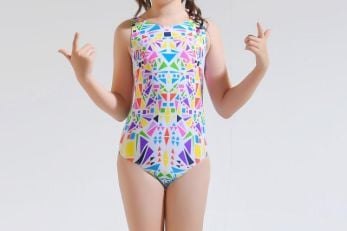 Wholesale Children's Swimwear
---
Our Children's Clothing Manufacturing Services Include: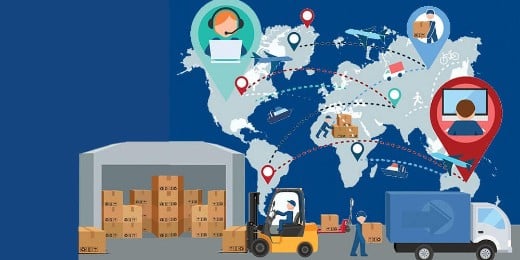 Sourcing Children's Clothing Suppliers
With Leelinesourcing, you can source every category of products from trustworthy wholesale suppliers. You can connect with the greatest bulk children's clothing suppliers and purchase the highest quality. So, offering unique children's clothing at an affordable price can help you stand out from the crowd.
Children's Clothing Quality Control
You can rely on our experienced quality inspection team. Before products are shipped, all goods are double-checked to ensure they are high quality. We also remove any factory tags and repack the goods in attractive packaging.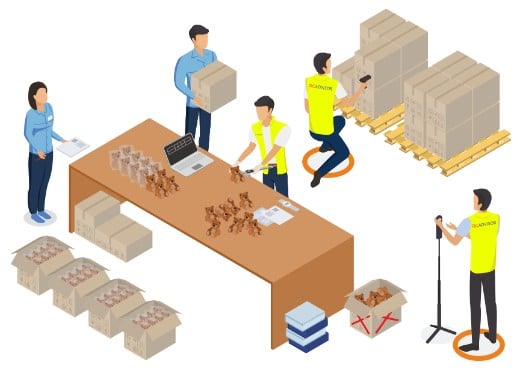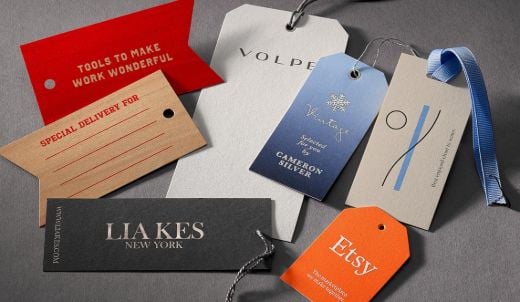 Private Label & White Label Children's Clothing
If your company has its own brand, employing our private & white label services will grow it. We offer our customers various ways to customize their orders' packaging. We can print your company name, logo, slogan, or anything else you wish to put on your packages.
Dropshipping and Fulfillment
You can reach international clients through Leelinesourcing without worrying about inventory management. You can send products to your customers from our warehouses in Shenzhen, Yiwu, and the USA and provide them with different shipping options. Even with a small investment, you can run a profitable business.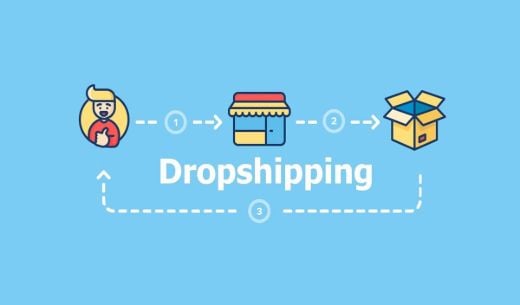 ---
Hear it from fellow Children's Clothing Wholesaler
We were looking for a reliable partner with a competitive pricing policy. We found Leelinesourcing on the Internet, and we are very pleased with their smooth communication and quick, simple problem-solving strategy. I highly recommend them to all.
– Nathan, California
---
Source Your Children's Clothing and Make Big Money
We offer the best wholesale price and high quality children's clothing to help you boost your business.
---
Top 10 Wholesale Children's Clothing Distributors
Children's wear has grown more rapidly than other apparel sectors because of the changing needs of kids. Parents are buying clothes for their kids that are stylish, comfortable, and affordable. So, the retailer must keep them one step ahead to satisfy children's clothing needs.
The Leelinesourcing expert team has extensively researched the children's clothing industry and has come up with a list of the top 10 best wholesale children's clothing distributors.
These wholesale distributors have grown by leaps and bounds over the last couple of years. These companies are now the go-to sources for many retailers in the industry.
Explore the list of kids' wholesale clothing distributors and choose the one that will be the best match for your business.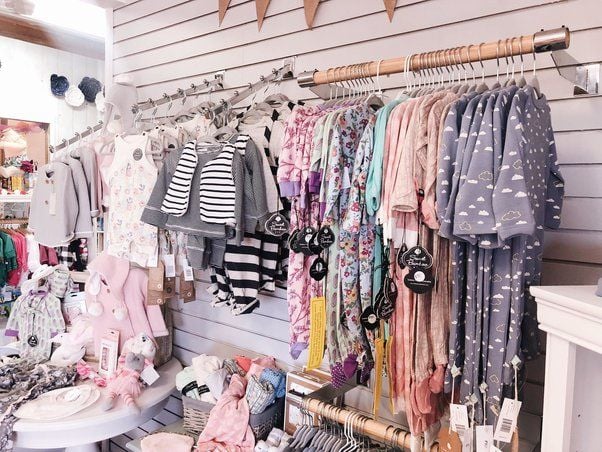 1. Fashion Go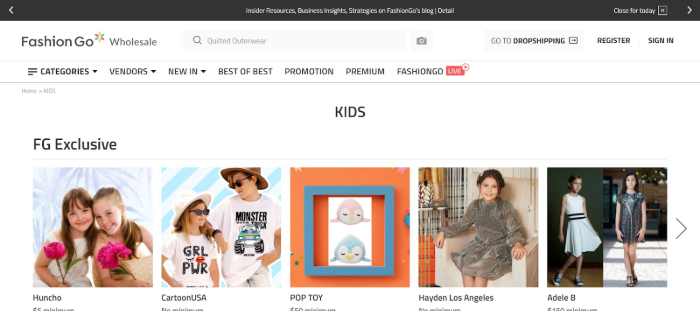 FashionGo B2B eCommerce marketplace connects the fashion industry with a global network of buyers and sellers. It is a very convenient way to buy clothing online. You can browse through thousands of items in one place.
The site is easy to use. I never had any difficulties navigating through it. Even my non-tech-savvy clients say the same thing. They find Fashion Go very user-friendly. You can create an account with just a few steps. It is also easy to order the items that you want to buy. You can just select the size and style of your choice and then select the quantity you want to purchase. You'll be able to find all kinds of items in various styles and colors.
Primary Products:
Women's Apparel
Shoes
Accessories
Jewelry
Bags
Beauty
Kids Wear
Men
Home
Lifestyle
Phone:
Email Address:
Hours of Operation:
Monday – Friday 8:30 am -5:00 pm
Location:
726 E. 12th St. #306 Los Angeles, CA, 90021
2. 1stKidsWholesale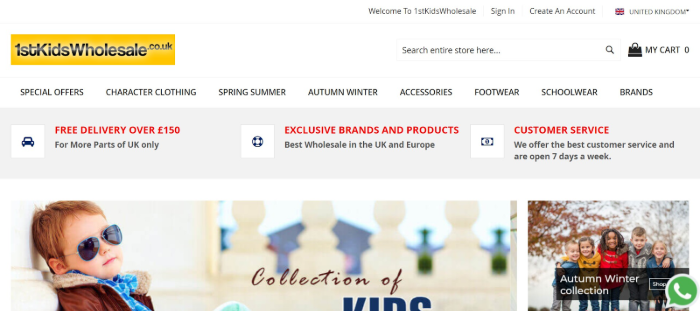 1stkidswholesale.co.uk is the leader in the kid's wholesale clothing field. They are the first company to license the largest number of brands in the children's clothing industry. They are the biggest company in Europe.
It serves both small and large merchants across the globe. Their main focus is to provide their customers with a complete range of baby and kids' clothing products from major brands such as Barbie, Disney, Hello Kitty, Marvel, and others.
Primary Products:
Babies Unisex Wear
Baby Boys Wear
Baby Girls Wear
kids wear
Girls Clothing
Men's Clothing
Tops
Belts
Socks
Phone:
Email Address:
Location:
Unit 13, Manchester Way, Dagenham, Essex, RM10 8PN, United Kingdom
3. Honeydew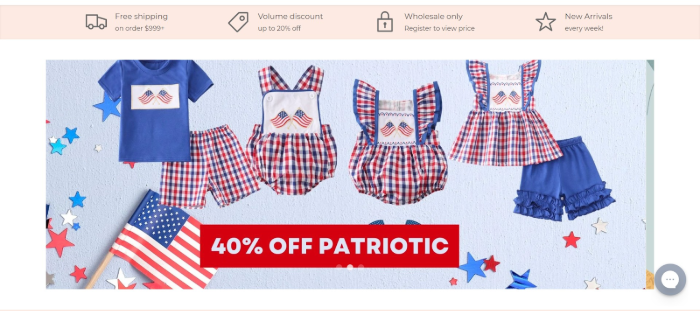 Honeydew is one of the leading websites for children's fashion, where you can find all the latest fashion for kids. The site has a great collection of styles for girls and boys. You can choose from a wide range of styles for your child, including dresses, tops, jackets, shorts, jeans, shoes, skirts, sweaters, coats, etc. The prices on the website are very reasonable, making them one of the top-rated kids' clothing stores online.
Most of their children's clothing is made from soft, light material that makes them comfortable to wear. The designs are cute and come in different colors and styles.
Primary Products:
Tops
Dresses
Top and Pants Set
Pants/Shorts
Kids Swimwear
Pajama/Sleep Wear
Girls Clothing
Boys Clothing
Baby Clothing
Basic Essential
Accessories
Phone:
Email Address:
Hours of Operation:
Monday – Friday 8:00am – 5:00pm (PST)
Location:
37350 Cedar Blvd Ste I Newark, CA 94560
4. Kiskissing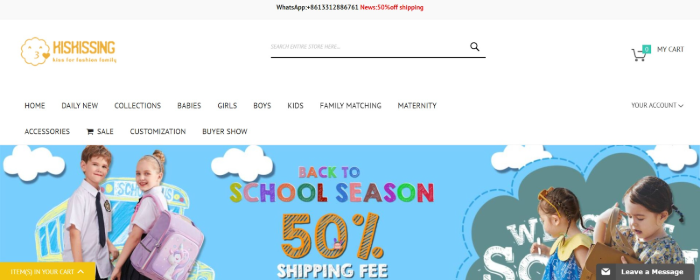 KISKISSING is a professional kid and baby clothing online wholesaler. It is a member of SINTEX, which has over 30 years of expertise in the professional garment production business and collaborates with American and European Brands. It sells baby clothes and kids' clothes in different colors and designs. The clothes are very fashionable and suitable for both boys and girls. My company highly recommends this distributor for new entrepreneurs looking to break through in the baby industry. Mainly because it allows you to buy the latest fashion trends at factory prices.
Primary Products:
Babies
Rompers & Jumpsuits
Dresses
Tops & T-Shirts
Swimwear
Beachwear
Sweaters & Jumpers
Blankets
Headbands
Bibs
Sleepsuits
Knitwear
Cardigans
Trousers
Shorts
Cloth Diapers
Shoes
Sets
Newborn
Coats & Jackets
Girls Clothing
Boy's Clothing
Phone:
Email Address:
5. Prittykid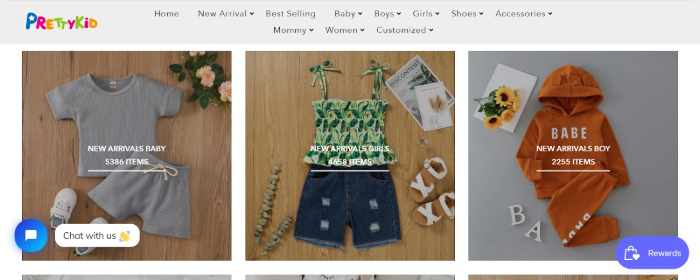 PrettyKid is a very reliable and popular online store for wholesale kids' boutique clothing. They have been supplying a wide range of high-quality children's apparel for several years. Their clothes are manufactured from good quality materials and have excellent designs.
They have an easy-to-use website that makes shopping for children's clothing much easier.
PrettyKid has been cooperating with many OEM services expert clothing manufacturers for a long time, which means they have a lot of experience in selling. They have a lot of customers from all over the world.
Primary Products:
Baby Clothes
Boys Clothing
Little Girls Clothing
Shoes
Accessories
Mommy Clothing
Women Clothing
Phone:
Email Address:
Hours of Operation:
Monday – Saturday (9:30 – 18:30) GMT+8
Location:
Room 508, Unit 1, Chuangyueshidai,61th of Xiannan Road, Nanhai District, Foshan, Guangdong Province, China 528000
6. Alibaba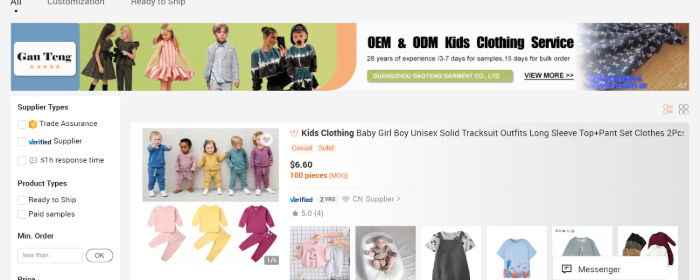 The biggest platform for global wholesale trade, Alibaba.com, has been around for many years. They provide an easy-to-use website where you can find anything and everything in one place. This means that you can buy almost anything online. For instance, the site's business-to-business service allows businesses to find sellers and trade with them quickly.
Every day, billions of dollars worth of transactions take place at the company. Millions of buyers and suppliers are exchanging information about their products. Alibaba.com allows you to buy or sell anything, anywhere, anytime.
Primary Products:
Consumer Electronics
Apparel
Vehicle Parts & Accessories
Sports & Entertainment
Machinery
Home & Garden
Beauty & Personal Care
7. Wholesale Children Clothing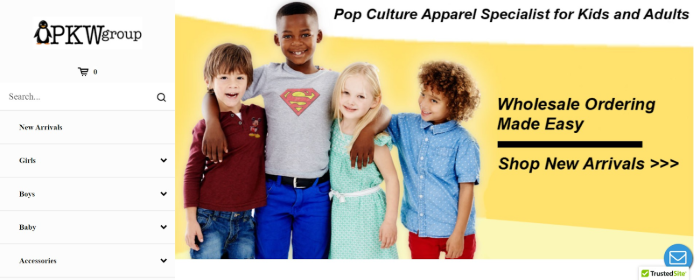 Wholesale children's clothing is one of the leading manufacturers of clothing, and they are also a good wholesale kids' boutique clothing supplier. It is also known as Penguin Kids Wear.
They've been providing a full line of quality items of wholesale baby clothes and adult clothes for over two decades. Making them the cream of the crop among distributors. Let our sales speak for the excellence of this company.
The main products they offer are jackets, shirts, hoodies, shorts, jeans, sweatpants, T-shirts, men's fine resort wear, etc. Their wholesale prices are very reasonable. Their customer service is excellent, and you can contact them by email or phone anytime you need help.
Primary Products:
Girls Clothes
Boys Clothes
Baby Clothes
Accessories
Women's Apparel
Men's Apparel
Backpacks & Bags
Rock Bands
Swim Station for Hot Summer
T-Shirt
Phone:
Email Address:
Location:
2440 South Main Street STE B Los Angele, CA 90007
8. Fashiontiy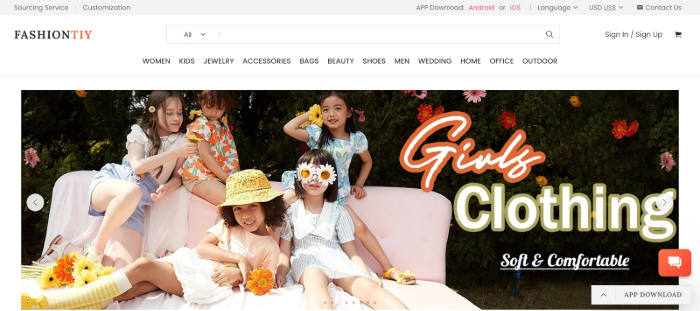 FashionTIY is a wholesale website for fashion wholesale suppliers. There are so many fashion items in their online catalog. You can choose whatever you want from hundreds of brands.
They have clothing for women, men, kids, home decoration items, toys, etc. As a fashion wholesale buyer, you will have access to their entire product range. That means you will be able to get every item you need. They don't have MOQ. You'll get products at a 70 percent lower rate, first global shipping, customized service, etc.
Primary Products:
Women
Kids wear
Jewelry
Accessories
Bags
Beauty
Shoes
Men
Wedding
Email Address:
Hours of Operation:
8:00- 21:00 (UTC+8:00) China Standard Time
9. Bambini Infant Wear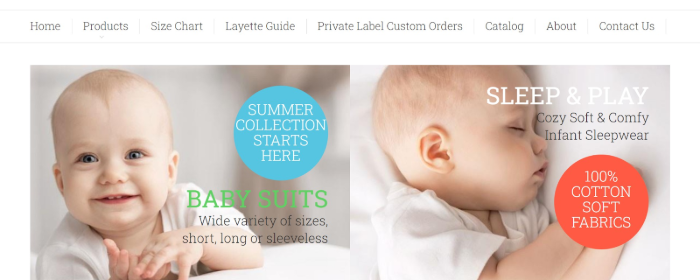 The headquarters of Bambini Infant Wear is in Orange County, California. They offer unique designs and styles that are perfect for babies. Their baby clothes are made of quality materials such as 100% cotton and interlock fabrics. Your babies' comfort is their priority. And as a parent myself, I attest that their products are safe for your precious little ones. They also have a lot of colors available.
You can find different kinds of dresses, shirts, pants, pajamas, robes, and many more. They also offer a wide range of infant accessories. When looking for the right kids' clothing, you can find unique items here that can help your business stand out.
Primary Products:
Girls
Boy suits
Summer
Winter
Rompers
Unisex
Short
Sleeve
Sleeveless
Long Sleeve
10. Spicebaby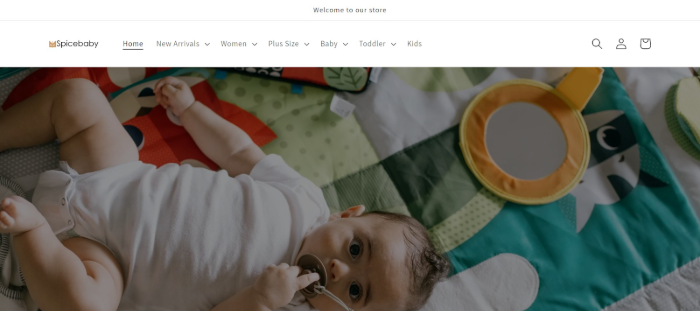 Spicebaby is a fashion wholesale online store that offers various kinds of children's and women's clothing, including clothes for girls, boys, teenagers, and toddlers. You can find a lot of cute and stylish kids' wholesale clothing items. If you are looking for women's dresses, you can find many fashionable dresses in various colors and styles.
They provide excellent customer service at affordable prices, so you should definitely take advantage of their service.
Primary Products:
Women's Clothing
Plus Size
Baby Clothing
Toddler clothing
Kids Clothing
Phone:
Email Address:
Hours of Operation:
Monday – Saturday GMT+8 (9:30 – 18:30)
Location:
Room 508, Unit 1, Chuangyueshidai,61th of Xiannan Road, Nanhai District, Foshan, Guangdong Province, China 528000
How do you start a children's clothing business?
If you are planning to start a children's clothing business, here are 7 essential tips to help you run a successful business.
1. Create a good plan
Before starting any business, you need to make a plan and write down everything that you want to achieve. Make sure you set a deadline for the completion of your work.
2. Make a list of your competitors.
You should make a list of your competitors and their products. You should make a comparison between them and then make a plan for yourself.
3. Find a business location and reliable suppliers.
Before starting your children's clothing business, you need to find a business location that is suitable for you. You should list your wholesale kid's clothing suppliers and the quantity you need for the products you want to sell.
4. Think of a catchy name
The name of your business will become the first impression your customers will receive. My partners and I brainstormed nearly a month to develop our business name. So ensure it's catchy enough for your customers to remember your business.
5. Create a website
Create your business website and Make sure that your website is easy to navigate. Your website needs to include contact information and a map that shows where your business is located. Use pictures to make your website more attractive.
6. Be creative
Customers will appreciate your work if you offer something new and unique. Try to use the latest technology and keep the price low. You should think about your long-term goals when you are running your business.
FAQs about Wholesale Children's Clothing Distributors
How to make a children's clothing store profitable?
The profitability of a children's clothing store depends on several factors. Finding the ideal place to launch the business is crucial. Offering a wide range of products is one of the finest strategies to increase sales. A good variety means that there are a lot of items to buy for boys and girls, and even infants.  
How do I price my clothing line?
Pricing your clothing line is easy once you have determined who you want to sell your products. Then you need to calculate the cost of the manufacturing and the materials. The material costs will include producing the shirts, pants, jackets, dresses, etc. Your production costs will include printing the tags, embroidery, etc. These are all items that you will need to have. You can start estimating the price of your clothes after you have calculated all these costs.
Can I dropship baby products?
Yes, many wholesalers and suppliers specialize in selling kids' clothes, so you can easily find one. Some of them may even provide dropshipping services. The wholesale distributor ships the items directly to the customer with this type of service. It is possible to sell products online without having to purchase them first.
What can I sell in a kids' shop?
You can sell infant clothing such as diapers, shirts, pants, toys, baby blankets, and pajamas. You can sell kids' clothing, shoes, hats, and socks. You have to be careful about the fabrics and the colors of your clothing. All these items should be priced right so that customers will buy them. 
What's Next
Wholesale children's clothing suppliers offer several advantages for both small businesses and larger companies. Whether you are a start-up looking for extra revenue or a large corporation needing wholesale children's clothing for your brand, buying wholesale can benefit you.
These 10 wholesale children's clothing distributors offer many ways to purchase stock. They provide an excellent value for retailers who need to reduce costs while maintaining high-quality standards.
Leelinesourcing experienced professionals will be happy to assist you in sourcing the best quality products at wholesale prices. You can contact us any time you need.
Do you want a successful import business?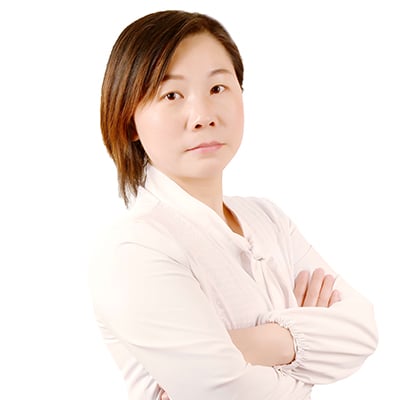 Hey, I'm Sharline, co-founder of LeelineSourcing. We've helped 2000+ customers import from China.
Do you want a better price on product or shipping?
We are sorry that this post was not useful for you!
Let us improve this post!
Tell us how we can improve this post?