Atlanta Clothes Wholesalers
Leelinesourcing.com is the best solution for all of your product sourcing needs. With over 10 years of experience, we are able to source quality clothes from reliable suppliers in Atlanta. Our customers include large corporations to small businesses. We have a reputation for high-quality clothes and excellent customer service.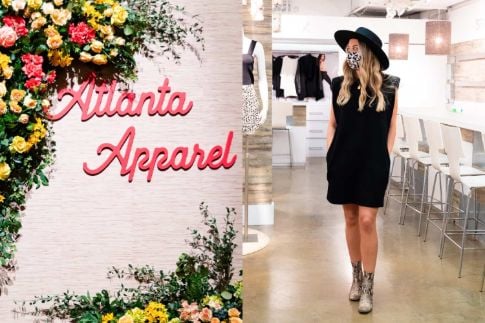 No Risk Free Sourcing No Hidden Fee
You can get Free detailed product quote before order
Wholesale Best Atlanta Clothes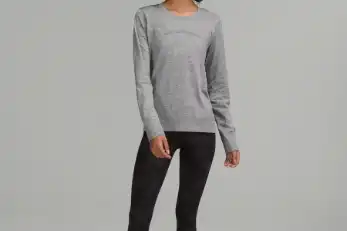 Wholesale Long Sleeves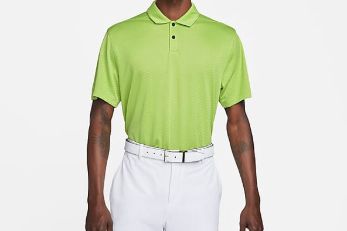 Wholesale Polos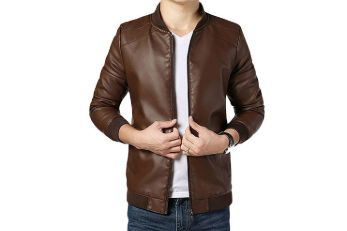 Wholesale Jacket
---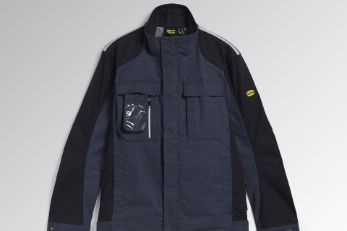 Wholesale Workwear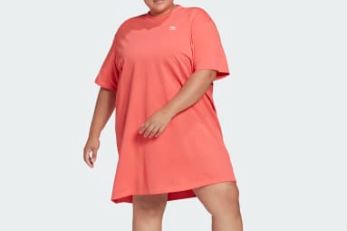 Wholesale Plus Size Clothing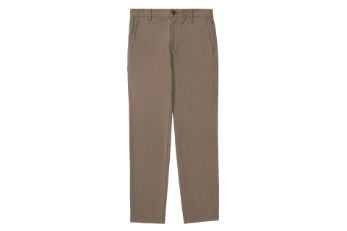 Wholesale Trousers
---
Our Atlanta Clothes Manufacturing Services Include: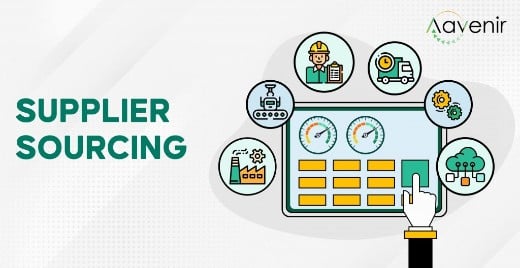 Sourcing Clothes Suppliers
Our decades' experience enables us to connect with the best suppliers for premium quality products. By working around the clock, we ensure that our clients get the best products at the best prices. You will get all categories of product sourcing services here.
Clothes Quality Control
Our quality assurance team is made up of experts in the field of the clothing industry. They work hard to ensure that the products we send out are of the highest quality. They also test the products to ensure they meet the customers' needs.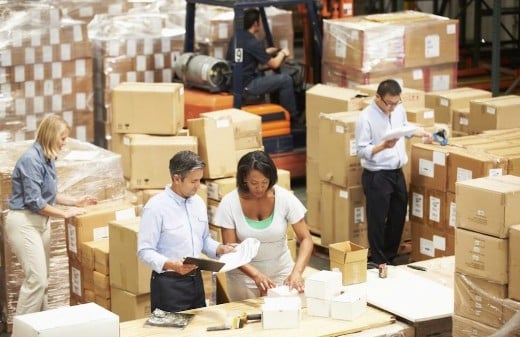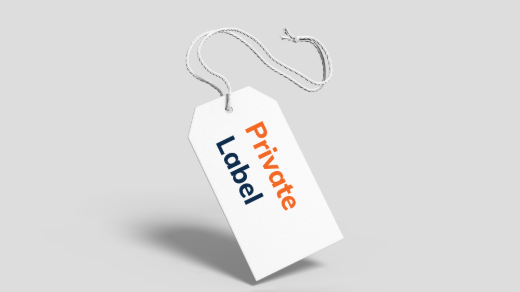 Private Label & White Label Clothes
We have a wide range of private and white label product suppliers who can customize products to your requirements. Our expert team will work with the supplier to create the perfect product for your brand. We will protect your brand and ensure that your products are delivered on time.
Dropshipping and Fulfillment
Leelinesourcing has access to the best dropshipping and fulfillment partners in the industry. Our experts will take care of your orders, ship, pack, and deliver your orders on time. As a result, you will have more time to focus on your business' growth.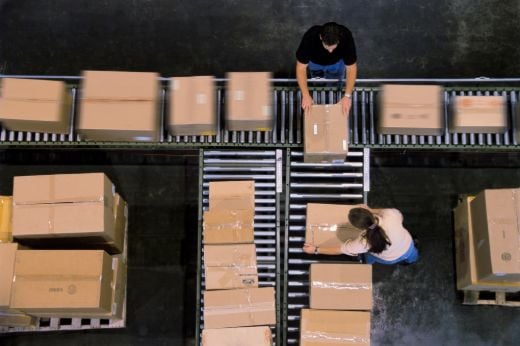 ---
Hear it from fellow Clothing Wholesaler
I had no idea where to start looking for the right supplier for my project. When I decided to give up, I found Leelinesourcing. They are the best! They have the most professional staff and are always there for me whenever I need them.
– Michael, Atlanta
---
Source Your Atlanta Clothes and Make Big Money
We offer the best wholesale price and high quality clothes to help you boost your business.
---
Top 10 Wholesale Clothes In Atlanta
Atlanta is one of the largest fashion capitals in the United States, but some entrepreneurs still struggle to find wholesale clothes in Atlanta. 
Leelinesourcing, as a market expert product sourcing company, we know how it feels when you can't find your desired wholesale business partner. It is a painful experience.
So, if you tried to sell clothes online, only to get lost in the sea of other clothing manufacturers. Or maybe you're a wholesaler looking for the best wholesale fashion products in Atlanta to increase profits.
Then we'd love to help you find the best wholesalers for your business. To find out which one is best for you, read our top 10 listings.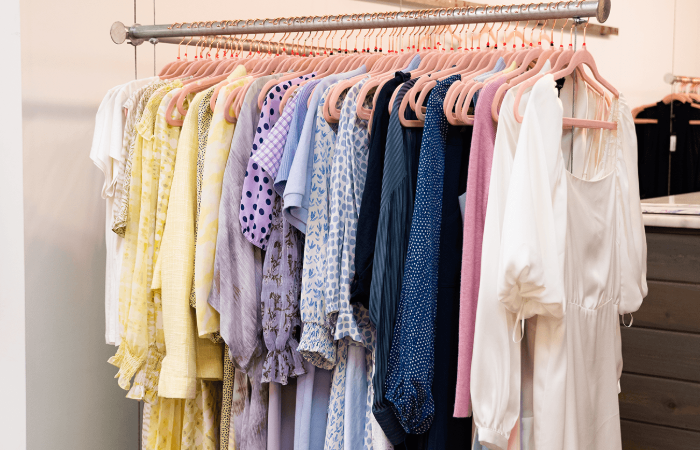 1. VLU Style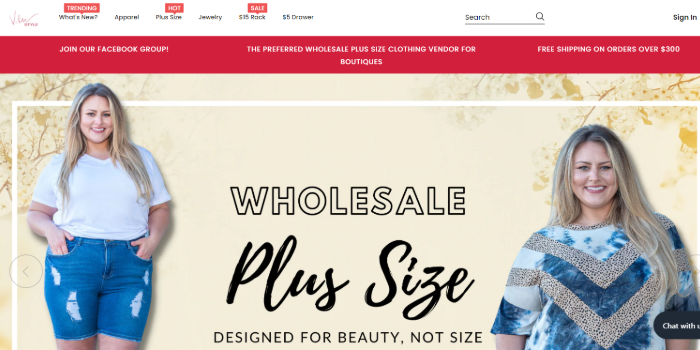 Veronica started VLU style because she wanted to help other women who are not happy with their overweight. She decided to go after plus sizes because she was so frustrated with the lack of options for plus-sized women. There wasn't anything that fit right. And she wasn't finding anything that was stylish.
She wanted to help women who felt bad about their weight and wanted to change. Her brand was designed to give a woman something that would fit right without hurting her pockets.
VLU Style does this by carrying clothes in sizes small through 3XL. They focus on styles that are fashionable and affordable. There is a wide variety of patterns and colors that you can choose from. Their products are not too expensive, so they can be affordable for everyone.
Primary Products:
Women's apparel (Regular size & plus size)
Jewelry
Phone:
Email Address:
Hours of Operation:
Open Daily M-F 9:00 am to 6:00 pm.
Location:
Showroom #7E337 (Behind the Cafe on 7)
AmericasMart Atlanta, 75 John Portman Boulevard, Atlanta, Georgia 30303
2. Before You Collection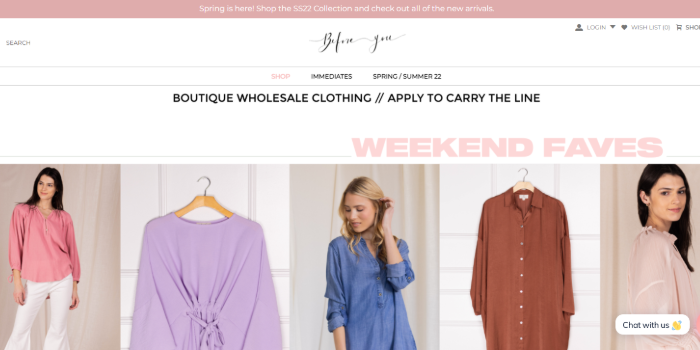 It is obvious that the fashion industry will change, and we all strive to embrace the changes so that our businesses can thrive. "Before You Collection" introduced stylish, fashionable, and comfortable women's clothing.
They offer high-quality accessories and wholesale clothing at an affordable price range. In your retail industry, they're always curious about what drives success – what products sell and what consumers make up each region of consumer base? They engage with buyers beyond processing their orders to provide sellable products better.
Primary Products:
Women's Clothing
Top
Bottom
Dresses
Outerwear
Phone:
Online Inquiry: (404)-749-4726
Atlanta Showroom Inquiry: (404)-749-4746
Dallas Showroom Inquiry: (972)-913-4743
Email Address:
Hours of Operation:
Atlanta
Monday – Friday 9:30 am – 5:30 pm
Saturday & Sunday: Closed
Dallas
Monday – Friday 9:00 am – 5:00 pm
Saturday & Sunday: Closed
Location:
75 John Portman Blvd, NW #8S119, Atlanta, GA 30303
2050 N. Stemmons Fwy #13729, Dallas, TX 75207
3. Needen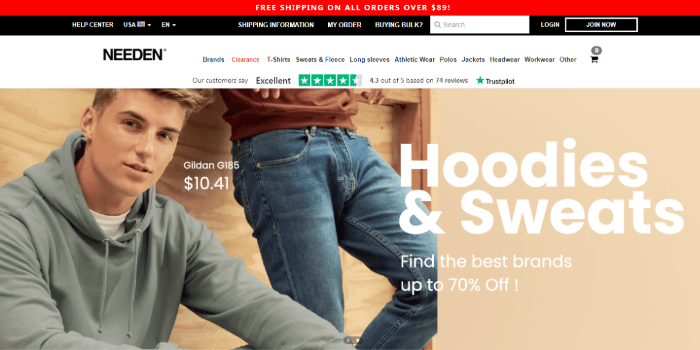 Needen is a website that offers quality products at a low price. Needen.com Inc owns the website. They offer low prices compared to the competition, but they also provide good customer service to all of their buyers.
Their products are all high quality, so you won't have to worry about anything going wrong. Their product line consists of the top 60 brands, which they guarantee are the lowest priced globally.
Primary Products:
T-Shirts
Sweats & Fleece
Long Sleeves
Athletic Wear
Polos
Jackets
Headwear
Workwear
(All the products are available for Men & Women)
Phone:
Email Address:
Hours of Operation:
Monday to Friday 9h-17h EST
4. Americasmart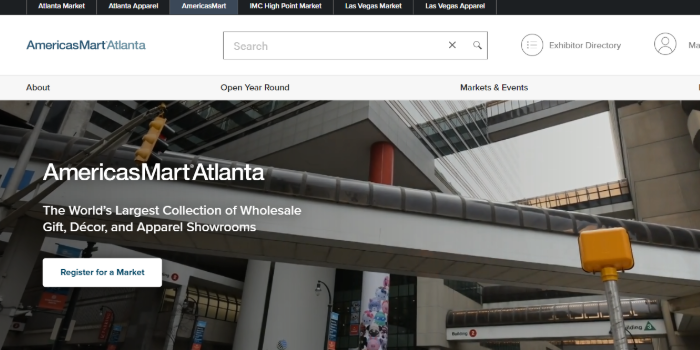 The AmericasMart Atlanta complex is the world's largest wholesale exhibition complex. It comprises an exhibition space of more than 7.1 million square feet.
JuniperMarket (Ameicasmart's new online marketplace) gives you access to thousands of products from various categories. You can easily buy everything you need for your business from your desktop, tablet, or mobile device. They also offer great deals on popular products like gift wrap, candles, tableware, home decor, cleaning supplies, kitchen supplies, office supplies, gift baskets, etc. It's easy to connect with sellers and browse the items available in their stores.
Primary Products:
Home Accents
Decor
Tabletop
Gourmet
Area Rug
Fashion Apparel Merchandise
Phone:
Email Address:
Location:
AmericasMart Atlanta, Peachtree Street N.W. Atlanta, GA 30303, Main Switchboard, 404.220.3000
5. Activewear Manufacturer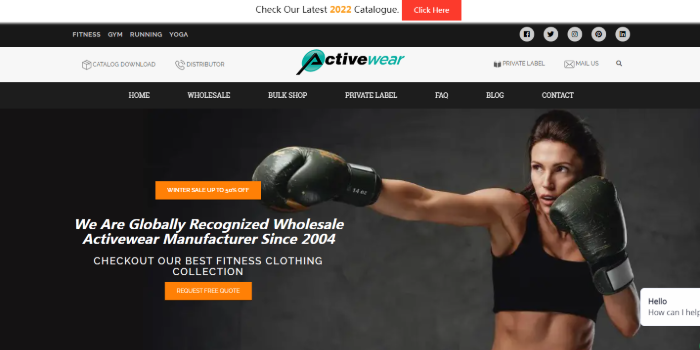 As its name says, Activewear specializes in wholesale Fitness Apparel from the best Fitness Clothing biggest Manufacturer.
They are the original and still one of the leading manufacturing firms of Activewear globally. They use high-quality materials to make their products. Each product is well-known for its durability, comfort, and quality. They are also well known for being reliable, providing excellent customer service, and great value to our customers.
Along with being a top brand in the industry, Activewear has also been an innovative and creative source for Sportswear. Consumers have widely accepted the fashion and style statements that the company manufactures. You can launch your own private label brand store because they provide private label clothing brand services.
Primary Products:
Phone:
Email Address:
Location:
Penthouse, 8730 Wilshire Blvd, Beverly Hills, California 90210, USA
6. Superline Wholesale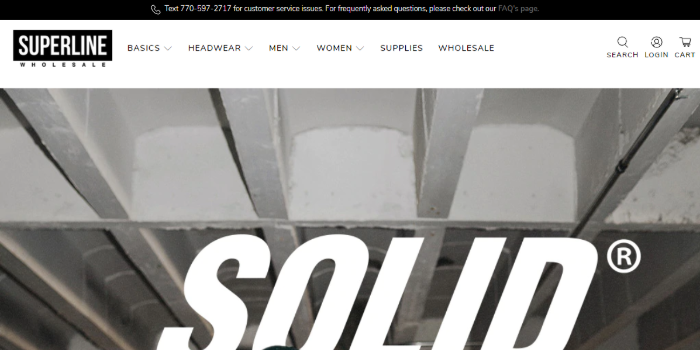 The Superline wholesale platform provides creatives with wholesale garments to repurpose and rebrand. As a result, they provide the fashion industry with wholesale clothing and services that have been created with love and care.
As an independent wholesale company, they are committed to providing high-quality products with friendly customer service.
Primary Products:
All the products are available for men & women.
T-Shirts
Fleece
Shorts
Sets
Tops
Bottoms
Dresses
Trucker Hats
Bucket Hats
Phone:
Email Address:
Hours of Operation:
Monday – Friday 9 am-4:30 pm
Location:
3240 Oakcliff Industrial St, Atlanta, GA 30340, USA
7. Global Clothing Industries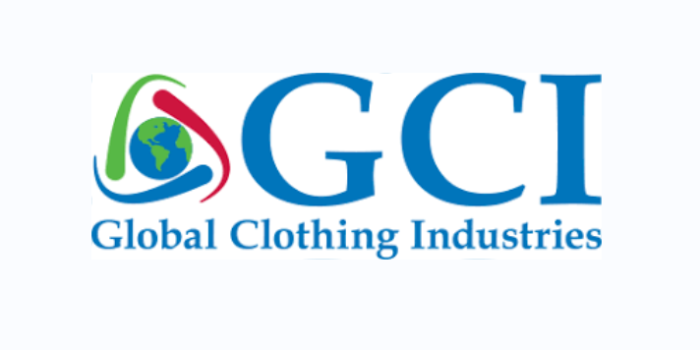 Global Clothing Industries LLC is a worldwide used clothing supplier. They sell top-quality products at wholesale prices.
Global Clothing Industries LLC has a large warehouse where you can find high-quality used clothes, shoes, toys, consignment inventory, and other goods. There are over 600 brands to choose from. You can find a wide variety of vintage clothing for your store. They've been in this industry from the 1960s onward.
Primary Products:
Used Clothes
Toys
Shoes
Consignment Items
Phone:
Telephone: +1-404-505-7339
Whatsapp: 678-722-1686
Email Address:
Hours of Operation:
Monday–Friday 8:00am–5:00pm
Location:
300 Wharton Circle, SW Atlanta, Georgia 30336, USA
8. LTX Sportswear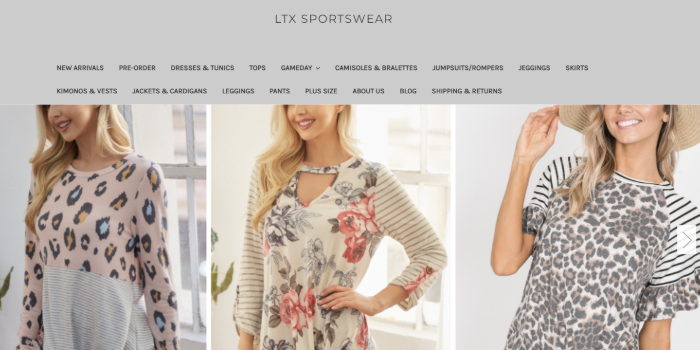 Women's apparel's biggest manufacturer/distributor, LTX Sportswear, has been on the leading edge of women's fashion for over thirty years.
One of the reasons this company became successful was that it decided to stay ahead of the times. They always looked at trends and trends and trends. The company never stopped improving and evolving to remain at the forefront of women's fashion.
Women have long favored the brand, which can be seen because it continues to be an international favorite. The company has a wide range of designs, styles, and fabrics so that the woman can choose her style. The company also gives you options with sizes and colors.
Primary Products:
Dresses & Tunics
Tops
Camisoles & Bralettes
Jumpsuits/Rompers
Jeggings
Skirts
Kimonos & Vests
Jackets & Cardigans
Leggings
Pants
Phone:
Email Address:
Hours of Operation:
Location:
250 Spring St 7W 375, Atlanta, GA Sort 30303
9. Sheppard and Tucker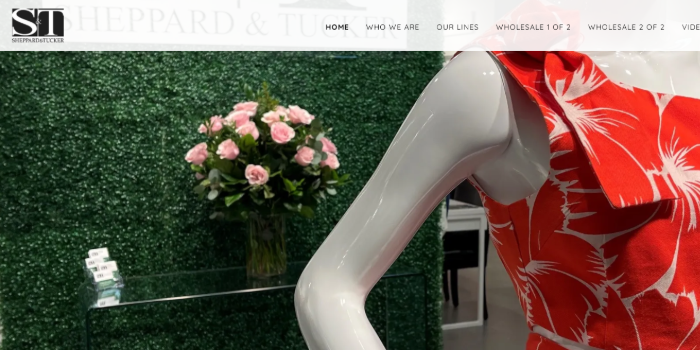 Sharon and Kathy were inspired to start their own company, "Shappard and Tucker," when they discovered that they could have better service at a better price.
They wanted to offer premium quality women's clothing at better prices than their competitors. They didn't want to sell the same merchandise their competitors offered.
Instead, they created a line of quality apparel that was very affordable. They took pride in their quality and customer service. Their clothes are known for being comfortable and trendy.
Developing relationships with buyers and assisting them in maintaining profits remain their top priorities. All the items are manufactured in various locations worldwide, and some are from the USA. Different price ranges are available so that everyone can afford their products.
Phone:
Email Address:
Location:
75 John Portman Boulevard Northwest, Ste. 9E108, Atlanta, Georgia 30303
10. The Adair Group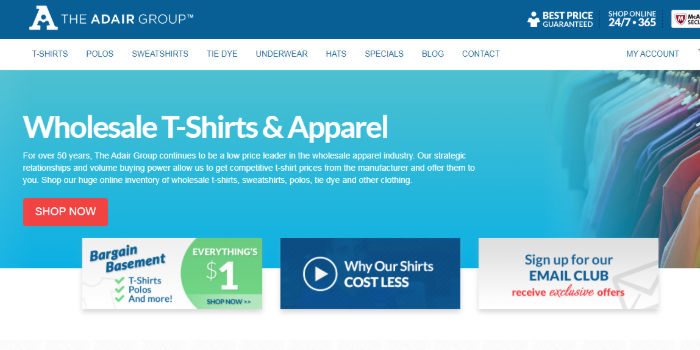 If you want to buy some nice t-shirts for your store, you can check out the Adair Group's website.
The Adair Group, a family-owned company, has been around since the late 1950s. They continue to stay in business today because they understand the importance of providing the best possible products at the lowest prices. They know how to maintain a competitive edge against other companies trying to sell their products for less.
If you wonder why they sell these shirts for less than $10 a shirt. There is a good reason for this. They purchase stock in bulk so that they can pass on the savings to their customers. As they have enough inventory, they can get these deals without going to the expense of paying retail.
They even purchase items that have minor flaws. They only buy in bulk, and this saves them money.
Primary Products:
T-shirts
Polos
Sweatshirts
Tie-dye
Underwear
Hats
Phone:
Email Address:
Hours of Operation:
Location:
Corporate Headquarters, 1379 Logan Circle, Atlanta, GA 30318
Mailing Address: P.O. Box 20417, Atlanta, GA 30325
FAQs about Wholesale Clothes in Atlanta
How do I find a vendor for my clothing business?
There are three ways to find vendors:
1. Do a Google search for the kind of product you're looking to sell. Then click on the list.
2. Look for vendors in supplier directories.
3. The easiest way to find a vendor is by contacting "Leelinesourcing, a high-quality product sourcing company.
How do I become a vendor in the Atlanta market?
The most effective way to do this is to join a local chamber of commerce. These are often tiny groups of business owners that represent the entire city (or metro area). They organize events and activities, such as monthly happy hours, that help promote the city. 
You need to submit the following papers to become a vendor in the Atlanta market-
• Business license/ VAT certificate/ Tax Certificate.
• Current business website proof and address. 
• Invoices of wholesale purchases.
Can anyone shop at the Atlanta market?
The Atlanta market is not open for all. To become an Atlanta Market member, you must first apply for membership. Once you are approved for membership, you can visit the Atlanta Market and shop for any items you want. Once you've found the products you wish, you can register for a credit card online. After that, you can place an order and pay.
What's Next
The best way to find the best wholesale deals for your store is to compare multiple wholesalers to ensure you find the best price. There are hundreds of retailers selling wholesale clothes across the country, so it's essential to keep track of who's offering the best discounts and locations for selling.
We've compiled a list of the top 10 online wholesale clothing retailers based on their prices, shipping costs, payment options, and other factors. Some wholesalers offer better discounts than others. If you're looking to save money on wholesale clothing, you should compare different retailers and check what they provide on each product.
If you're still unable to find wholesale clothes in Atlanta, don't hesitate to contact us. We'll be happy to assist you!
Do you want a successful import business?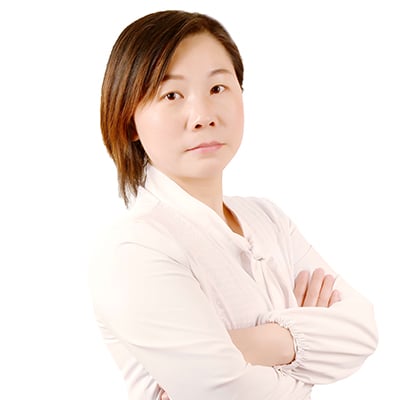 Hey, I'm Sharline, co-founder of LeelineSourcing. We've helped 2000+ customers import from China.
Do you want a better price on product or shipping?
We are sorry that this post was not useful for you!
Let us improve this post!
Tell us how we can improve this post?